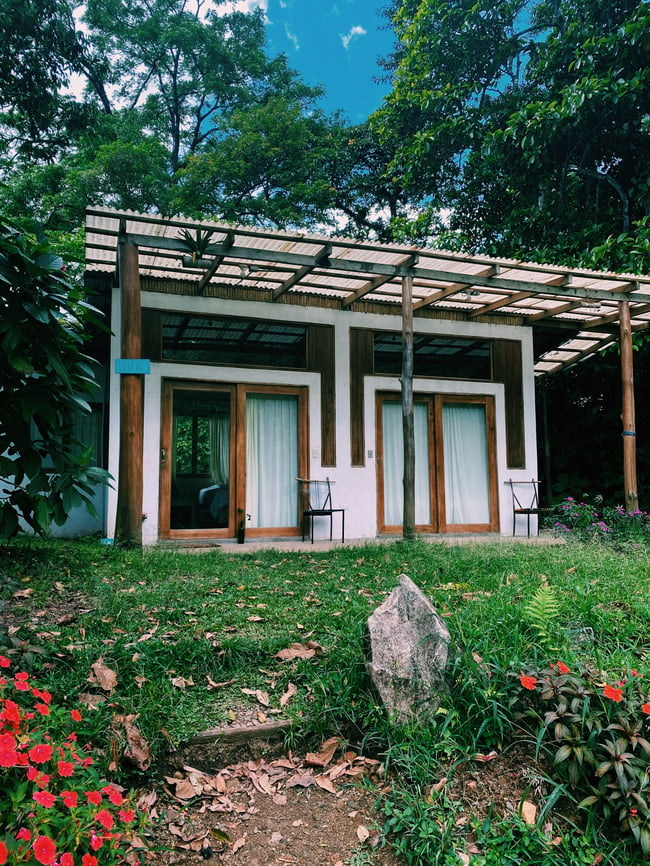 Live in total luxury for way cheaper than you could in any other country, or choose to stay somewhere for the most amazing pictures (and views).
As if you needed another reason to love Nicaragua, we have your ultimate list of places to stay on all of your vacations. The more you look into this country, the more you're totally head over heels. Travel to where few visit to find corners of the country filled with thick jungles. Or see a side of the country that's home to what could be our most favorite vacation no one knows about yet (are you obsessed with the Corn Islands yet?).

But to really seal the deal when it comes to Nicaragua, you have to check out the absolutely unreal places you can stay in this country that won't even come close to breaking the break. Um, stay in dreamy places for just a few bucks? I'm so in.


---
We're trying to keep Nicaragua totally hush-hush
But we'll let you in on the secret: all about volunteering in Nicaragua
---
Just a quick note before we start drooling over our favorite places to stay — you can seriously find hostels for $5-10 a night if you're on a tight budget. But for not much more, you can stay in seriously amazing places. Places that would be 10 or even 20 times as expensive if you were traveling anywhere else. Even with the little cleaning fee that's tacked onto AirBnb's it's still mad affordable if you're splitting things with a group.
So if you're looking for some luxury you can really afford, quirky and colorful places, or dream worthy vacay stays, come to Nicaragua where you can afford it all.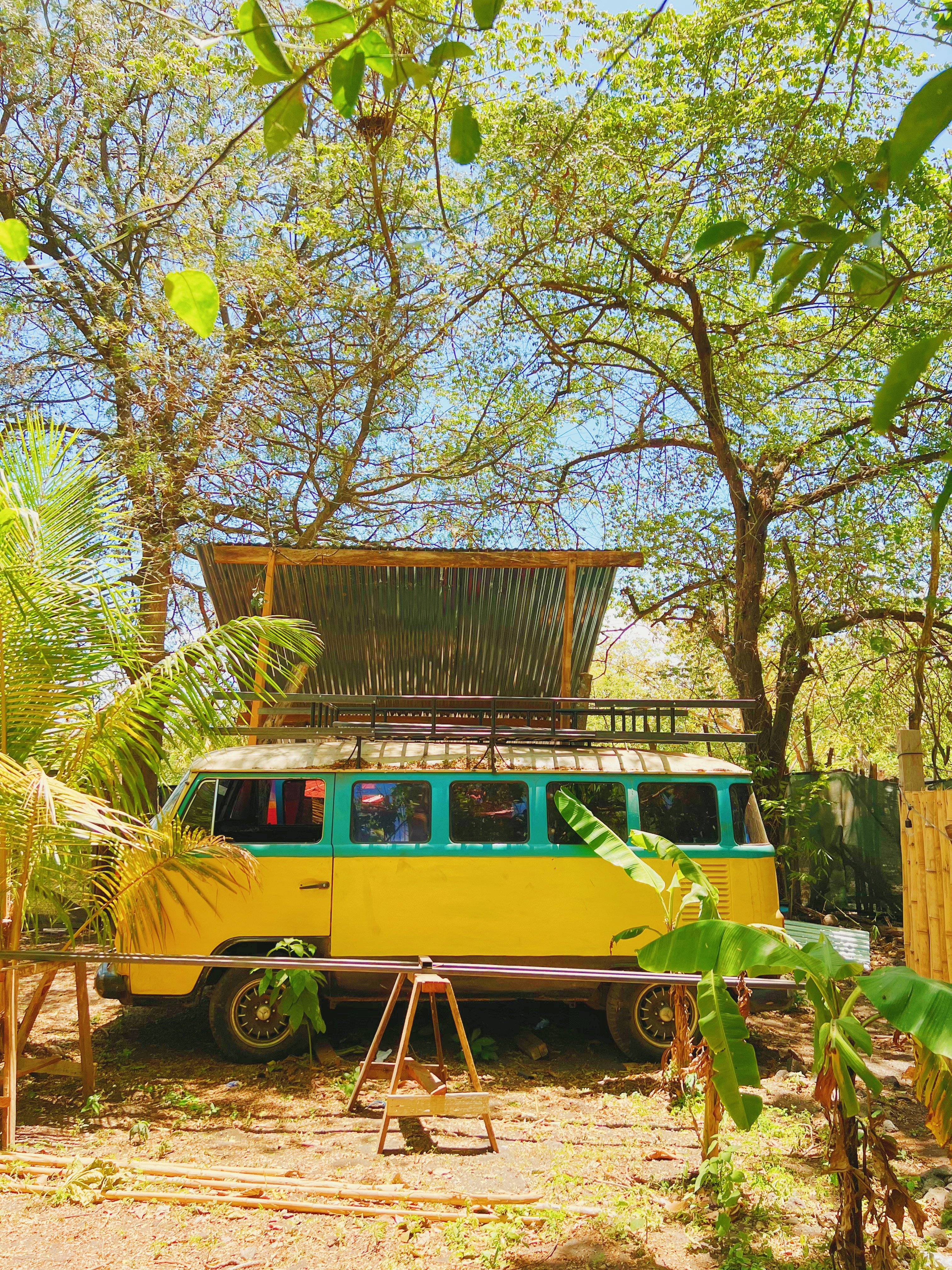 The Corn Islands
Starting off with the most fantastic vacation you can take in Nicaragua. These set of two hidden islands are tucked on the Caribbean side of the country for a remote paradise you can't find on other islands. Seriously, we had Nicaragua volunteers vacation in Costa Rica and Panama, and still said they loved the Corn Islands the most. This place is fabulous — get all the tips on vacationing in the Corn Islands right here.
An Island Cabana - Little Corn Island
Slow down and really delve into island life when you're staying here. It's a remote island bungalow found on Little Corn Island, a rustic getaway in the jungle that has a turquoise-water beach right outside of your door … but you may not make it to the beach if you're a sucker for hammocks. There are a curving palm trees that are the ideal space to hang up your hammock for a lazy afternoon. Talk about the perfect way to spend a vacation.
What About Price?
Snag this island oasis for $83 a night, split between 4 people which makes this beyond reasonable. Book on AirBnB here.
One Beachside Oasis - Little Corn Island
When you're staying on an island you want a place to sleep exactly like this one. It's found right on the coast so you have your own little corner of the beach all to yourself. There's a big open deck where you can hang out, eating fresh fruit for breakfast while you watch the sun rise. There's also palm trees aplenty which just add to the whole "life in paradise" vibe that's kinda mandatory when vacationing in the Corn Islands.
What About Price?
Pay $105 a night, unless you're bringing friends. This painted house features a loft and a couple of bedrooms so feel free to invite yourself and three other friends and split this dreamy getaway 4 ways (and pay just over $25 night which is just outta control for something like this). Book on AirBnB here.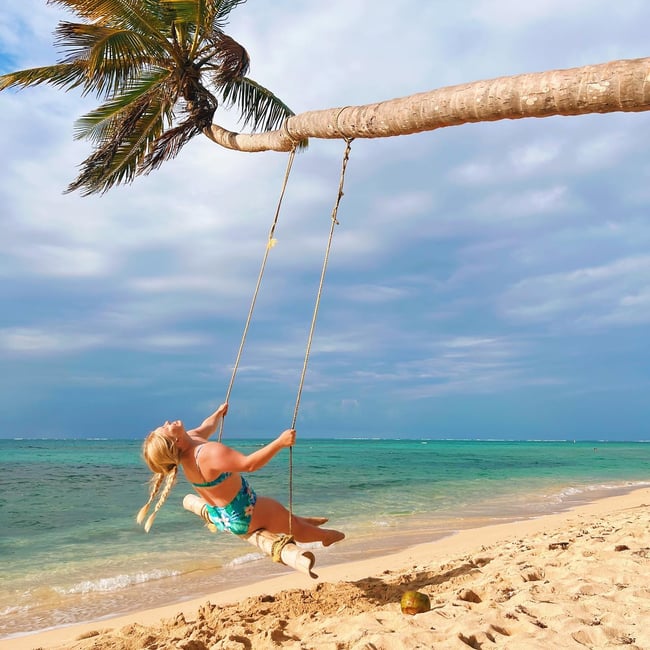 Ometepe
Sunsets And Infinity Pools
Pick your perks when it comes to La Omaja. Come for nice rooms (with A/C!) and a restaurant onsite, with included breakfast. We also cannot get enough of the infinity pool on the property which is officially one of the best places on Ometepe to watch the sunset.
What About Price?
This place looks absolutely unreal, made even more impossible due to the fact that you can stay here for cheap if you split with your ILP group. Some groups have made it work to stay here for $15 a night. Book here.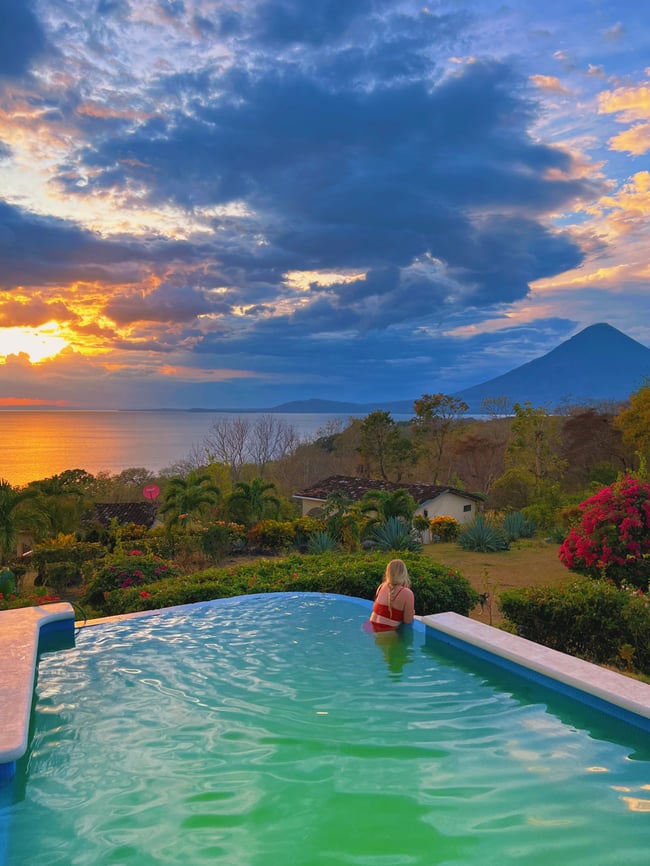 Painted Hippie Buses
We are just going to let Ashley (an ILP Nicaragua volunteer) explain this dreamy place to stay : "This was one of the funnest places I've ever stayed!!
The Emerald Rainbow Caravan Hostel
is "a property full of renovated buses and RVs. It's a really fun and hippy place to stay. There are two Americans that run it -- Julie from CA and another guy from Pennsylvania. They're super friendly and helpful!
"There is a shared bathroom/outhouse, a shared shower, and a shared kitchen on the property. It was clean and spacious and the bed was pretty comfy."
As a heads up, we've had a past group stay here who raved and raved about their experience, and another group who unfortunately encountered bugs in their caravan which made for a less-than-pleasant experience as you can imagine. With any recommendation, it's best to look into reviews and book at your own risk but know we've had groups stay here with rave reviews and others who wished they would have skipped out on this particular stay!
What About Price?
Book one of the Big Bluebird Buses and pay less than $20/night. There are some that are $10/night. Others would be cheaper, especially if you booked the one that fits 4-6 people and you split it between people in your group.
We're totally in!
Book on AirBnB.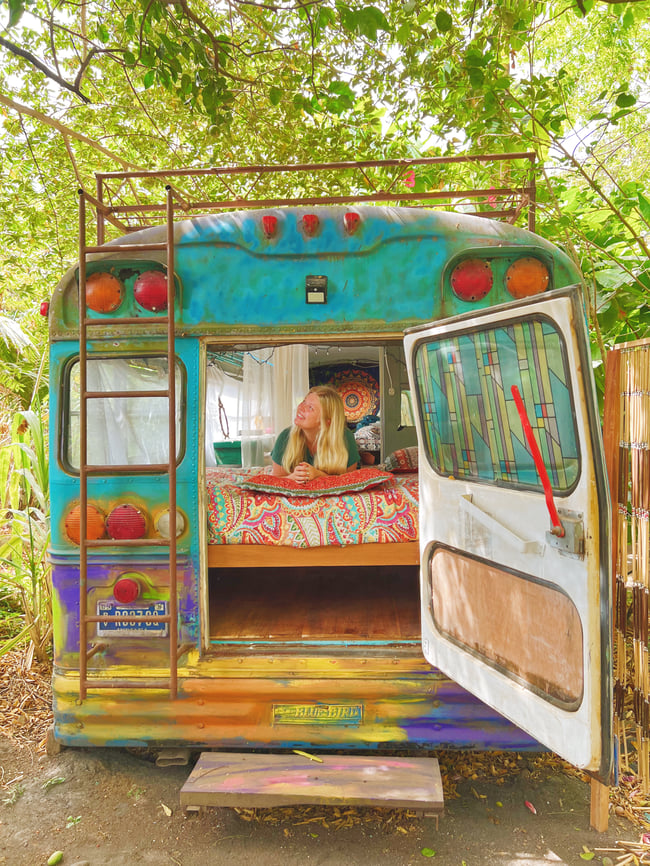 San Juan Del Sur
A favorite surfing beach, this is a bomb getaway if you want to spend some time on the coastline. Plus, we have more than a few favorite places to stay here if you want to step away from the crowds and float in your private infinity pool, or have breakfast in a tree house. Here's everything to do in San Juan Del Sur
An Ocean View Infinity Pool
Dreaming of spending a day at the beach then hanging out at an infinity pool that overlooks the waves? This white-walled-and-pink-roofed AirBnB is exactly what you're looking for. You're perched above the city and beach of San Juan Del Sur, just about 10 minutes away which means visiting everything to do in San Juan Del Sur is a cinch, but you're also far enough away to feel totally removed. I think the little balcony attached to the house would be the perfect place to watch the sunset. The view up here is unreal!
What About Price?
This gem is $64 a night, but sleeps 6, split across three bedrooms. If you're doing the math, that's just over $10 a night for this dreamy spot. Find it on AirBnB.
A Pretty Bomb Treehouse
This treehouse has a pool. I repeat, this treehouse has a pool. Tucked high up in the leafy green trees, you can hang out in hammocks on the deck after swimming in the pool (spotting monkeys while you swim). Plan on falling asleep with a stellar view of the stars and the sounds of the jungle (are you dying yet? This place sounds so dreamy). You're a quick 10 minute drive down to the beach, or a 30 minute walk.
What About Price?
You're looking at just $99 a night, so split that with 4 people, and you're looking at about $25 a night. Peek AirBnB for more.
This Cutie Beach House
Walk to the beach or hang out in the pool? Or, hang out in the hammock, under the palm trees? You'll have decisions to make at this beachfront house. It's a stunner, with big open windows that let you soak up all the tropical views. You're set on a quiet stretch of beach, just 10 minutes away from where all the tourists hang out on San Juan Del Sur so it feels totally private. This house is set up for a long stay too, with a big spacious kitchen, A/C, and a pool complete with patio furniture. Plus a few past visitors mention fruit trucks who drive right by with boxes of mangoes, piles of paydays and bunches of bananas? Major perks.
What About Price?
Get this house for $166 a night, but it has room for you and 8 of your friends. Splitting this cost with 9 people means paying under $20 a night which is unreal. Find it on AirBnB.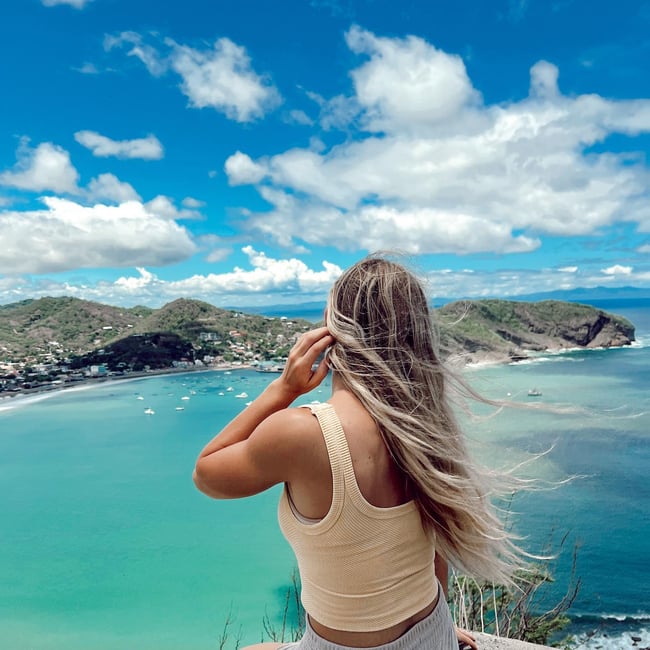 Laguna De Apoyo
An absolute can't miss spot in Nicaragua is hanging out in the volcano-crater formed lake, the Laguna De Apoyo. It's a freshwater swimming spot ideal for a lazy day in the sun after you hang out in hammocks. Get all the info on your trip to the Laguna De Apoyo here, but fall in love with where you can stay below:
This Luxurious Lake House
Pretend you've hit the lottery with a stay overnight at this house. It's gorgeous, huge, and has a killer view. Think a huge open kitchen with floor to ceiling windows, lounge couches stacked with pillows, an outdoor patio space for breakfasts, lunches, and dinners, and a short walk right down to the water. Unreal.
What About Price?
Eight friends can split the $128 a night price, which shakes out be about $18 a person (no way, right?). Get it on AirBnB.
A Waterfront Bungalow
Imagine waking up right on the water and jumping into the blue pool to really start your morning. This home is found right on the shores of the lake itself, so talk about a waterfront property. You'll be sharing your space with a few neighbors because the space is also home to a big garden (and monkeys love to visit).
What About Price?
Six people can split the $94 a night price (that's crazy affordable, at about $15 USD). Get it here on AirBnB.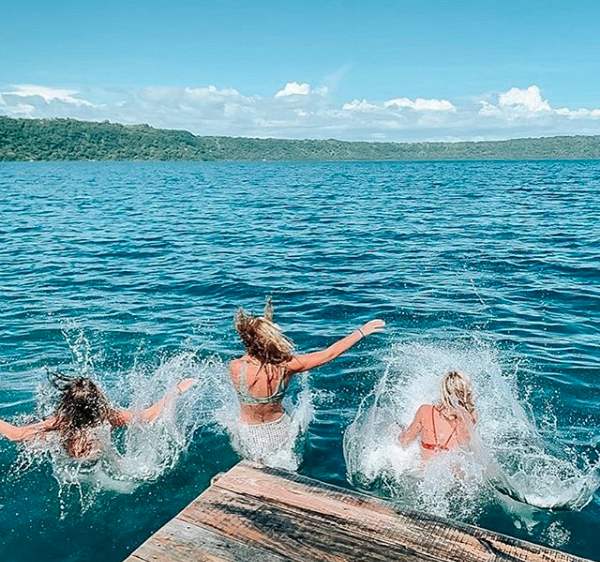 Playa Jiquelite
Many people flock to San Juan Del Sur, but some of the best beaches are in and around Popoyo. You have your pick of a stretch of beaches that line the Pacific side, more removed from the tourist-filled spaces in San Juan Del Sur. Staying in this part of Nicaragua is more remote but just as dreamy.
A Dreamy EcoLodge
Plan on spending time in the sand at Playa Jiquelite, then coming back to your rustic ecolodge, which has some serious perks. Besides being very cute (whitewashed walls and a thatched roof?) you'll love the open kitchen, deck, and stone-walled bathroom. There's a hot tub, a garden where you're welcome to pick what you'd like, plus you can arrange for private yoga lessons. You're going to want to book this gem.
What About Price?
$58 a night, split between 4 guests and you're golden (aka, you're paying not even $15 night for this place). Book on AirBnB.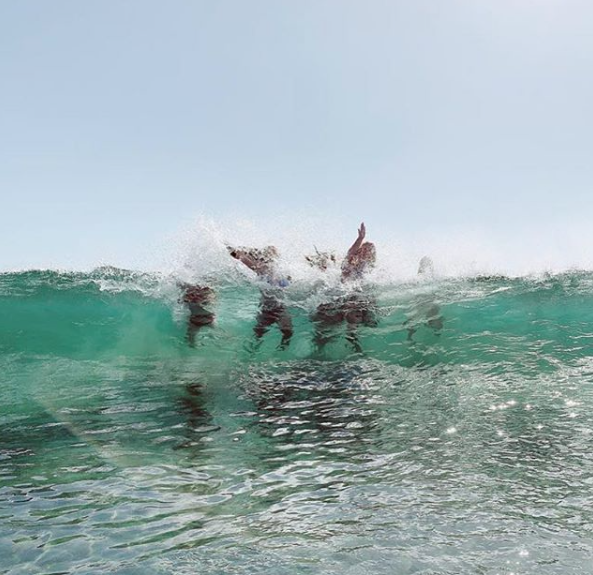 Hidden Jungle Cottages
Looking for a total experience? Come stay in this idyllic corner of Nicaragua's lush jungle, while you fall asleep to the sounds of chirping birds and a breeze rushing through the thick treetops.
Peñas Blancas is a little untouched corner of the country, boasting waterfalls galore and surprises like this ecolodge cottage, nestled into what seems like a fairyland? I mean, there were patches of pink, yellow, and orange flowers and butterflies flitting around the garden. The pictures speak volumes, but picture a set or two of A-frame bungalows fitted with a hammock, an open-air kitchen with bunches of bananas hanging off the beams, greenhouses and local flowers, a big pavilion, and a gurgling waterfall just a 3-minute walk away.
Come stay here because of the atmosphere, things to do at the ecolodge, and the fact that it was a good traveling point between the two waterfalls on our list, and the city of Matagalpa (our final stop). Plus the chance to just relax and unwind.
What About Price?
We stayed in a two-person cabin for $45 a night (so split between my friend, that was just $22.50 a person). They have a selection of cabins and hostel-style rooms, with a shared outdoor bathroom, so prices can vary. You can pay via bank transfer, but I was fine paying in cash at the end of my stay, so I could settle my bill for the room plus the meals.
Meals are all onsite and are very affordable: $2 for lunch and $2 for dinner.
Get all the info on price (and the yoga classes, waterfall, what meals are like, and of course, more pictures here.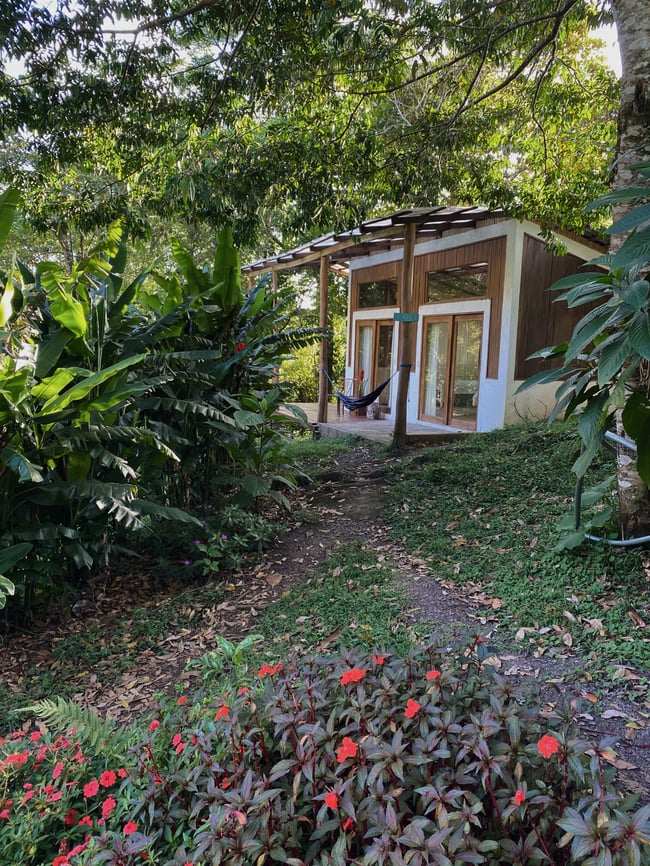 Near Leon
The Surfing Turtle Lodge
You're not paying for a luxurious night out at this hostel, but we're totally obsessed with the Surfing Turtle Lodge. This off-the-grid hostel is on its own private stretch of beach where you can hang out with baby sea turtles, take a horse out for a sunset ride, test your hand at surfing, and join a sunrise morning yoga class. Um, paradise found?
The whole lodge has an "off the grid approach" so everything is powered by solar panels — we're talking lights, WiFi, fans, electrical outlets and more all powered by that bright Nicaraguan sunshine. They have a garden which helps grow the food you can eat at the on-site restaurant. It's remote, rustic, and exactly perfect for someone who is looking for a beyond-relaxing experience that's off the beaten path.
What About Price?
I vote you stay in one of the bungalows, which are $16 - $35 a night (though you can get a room in a dorm for about $10 USD). Get all the details here.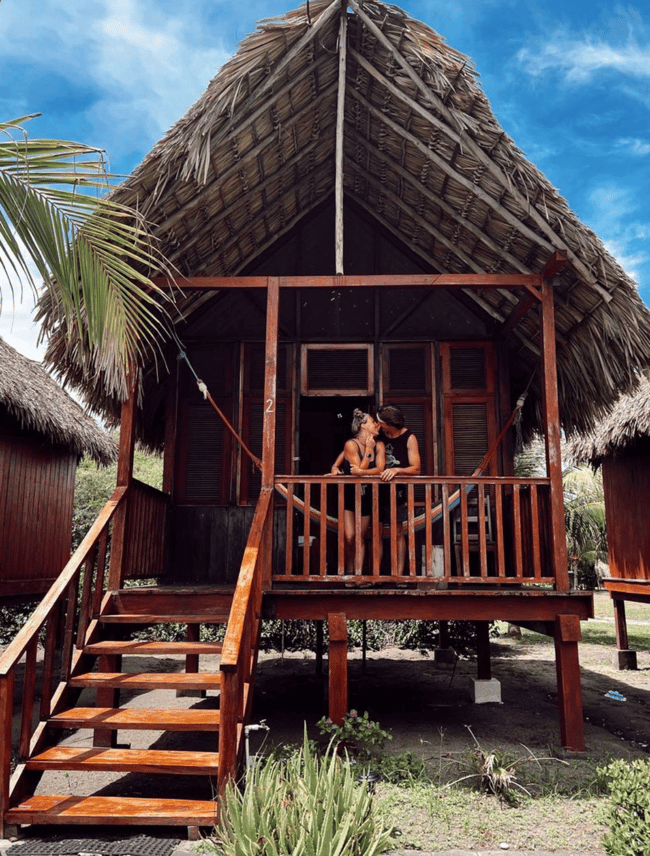 Good news for you ....

Come to Nicaragua with us! International Language Programs is a non-profit based out of Utah, USA that works with schools in Central America. We help college-age volunteers to be able to spend their dream semester abroad, but at a price they can actually afford. Come teach English to kids part time, and soak up the culture while you live like a local. You'll have time to travel throughout Central America, too.
Learn more about our program and how volunteering with ILP works by clicking that button below.