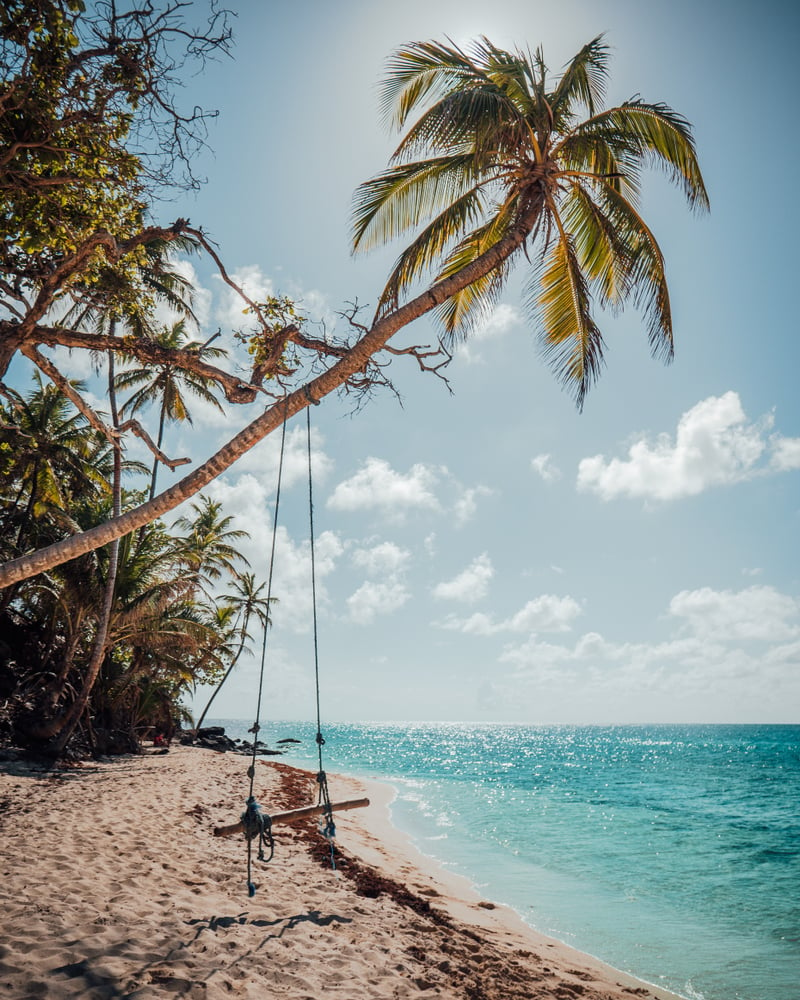 This hidden gem really is Nicaragua's best kept secret — how come the rest of the world doesn't know about these Caribbean turquoise beaches and sandy shores?
A trip to Nicaragua is all about the most amazing vacations and adventures. Come zip line through thick forests, head to the top of a volcano to sled down the side, explore brightly colored Colonial streets and more, all on a budget. You're getting the same adventures with an off-the-beaten-path feel, for a fraction of the price.

Our newest Nicaraguan obsession? The Corn Islands — a couple of amazingly pretty islands that you can have all to yourself, complete with crazy low prices when it comes to places to stay and things to do. Red alert, paradise has officially been found!
---
Interested in volunteering in Central America?
See what volunteering in Nicaragua is all about.

---

Caribbean blue water and swaying palm trees might not come to mind when you think of Nicaragua, but if you head to the Corn Islands, that's exactly what you'll get. Since this spot is such an off-the-radar vacation, we've pulled together all the things you need to plan your trip. Things like how to get here for cheap, places to stay, places to eat, details on what to do, and the pros of both islands (you're welcome!).

Where Are These Unreal Islands?
Find the Corn Islands about 50 miles from the eastern coast of Nicaragua. There are technically two Corn Islands; one known as Big Corn and the other's known as Little Corn, though neither is very big at all — just tiny little specs found suspended in the turquoise ocean. We'll get to the details on both of these islands later, but plan on visiting both during your stay: they are quite different.

Come here for a quiet, hidden getaway; neither of these islands are commercialized or built up. Little Corn just recently got electricity so you can expect days and nights crammed full of relaxation! Either island will mean lots of snorkeling, wandering between palm trees, yoga lessons, and hanging out in the perpetually 80° weather. Yes, please.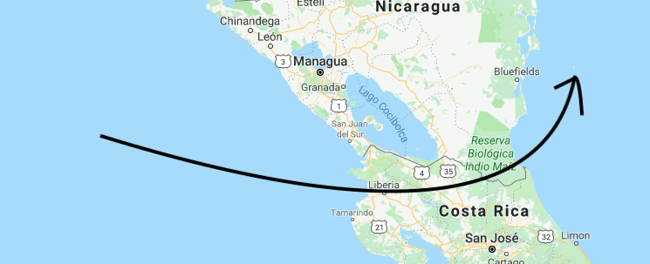 All About Little Corn
As a bit of an introduction, Little Corn is a lot smaller and low-key than Big Corn; you won't find any big resorts and there aren't any paved roads, so it's a lot quieter and more remote. It's very small — you can walk around the whole island in 1-2 hours, depending on how fast you walk.
It's about a 30 minute boat ride from Big Corn, so you can easily visit both islands even if you're staying for a couple of days (just know the boat ride can be a little rocky — if you're prone to seasickness, this is a good heads up!).
It's kind of split between where you should spend your time. Some tourists tend stay on Little Corn for the bulk of their vacation to have a more remote escape experience — (more locals live on Big Corn): This island is home to more restaurants, a handful of expats who have discovered this place, and a few more things to do on vacation than Big Corn, but we also love all the things about Big Corn (more on that island later).

Here's what you can't miss on Little Corn:
Things To Do On Little Corn
The Rugged Beaches
This island is quieter than the already-quiet Big Corn. You'll most likely need to pack up your own food, towels and other beach items; it's not likely you'll visit a beach that has beach chairs to rent out or public bathrooms to use. When we say "rugged beaches" we're talking ones that aren't trimmed back or combed: you'll likely find seaweed drying in the sand, no facilities around, and hardly any crowds at all.
Finding Goat Beach
You have lots of beaches on this island, but a favorite is Goat Beach. It's rarely crowded and pretty private, with decent swimming. Score. Finding it is a bit tricky — you'll want to head to the Fry Fish Bar, then go left (if you're looking at the ocean). When you you think you're at the end of the beach, keep walking ... there is a wood staircase and a remote beach waiting for you! On your way, snap a few pictures at "the swing" (you won't be able to resist).

Visiting Yamaya's Resort Beach
The prettiest beach on Little Corn is in front of the luxury resort, Yamaya. You can spend hundreds of dollars to stay there ... or you can just enjoy the beach in front of the hotel. They clear the sand of seaweed and other debris so you get a postcard worthy picture.
It's highly recommended you spend a day walking around the whole island, with a backpack of beach supplies. That way, you're all set for a beach day when you stumble on some of the hidden coves around the island.
Go Snorkeling
There are plenty of snorkel options that are more than affordable. Some people joke that you don't find snorkeling on Little Corn, it finds you. Most snorkel options are 2-4 hours long for about $20-$40 (so that's crazy affordable). You can easily see why snorkeling is so popular once you dip down below the waves: Little Corn Island boasts its own "barrier reef" with colorful fish and bunches of coral reefs under the turquoise water.
Pretty much every established beach will have some vendors nearby who either rent out snorkel gear, or can arrange a tour with you (especially along the east side of the island). If you don't want to hunt around, head to the beaches in front of the Yemaya resort and the nearby Fry Fish bar: both have good off-beach snorkeling (and a handful of businesses who can rent gear out for you).
ILP volunteers who have visited have snorkeled with Tuba, who is a well-known boat driver in the area. He does a tour for 1500 c.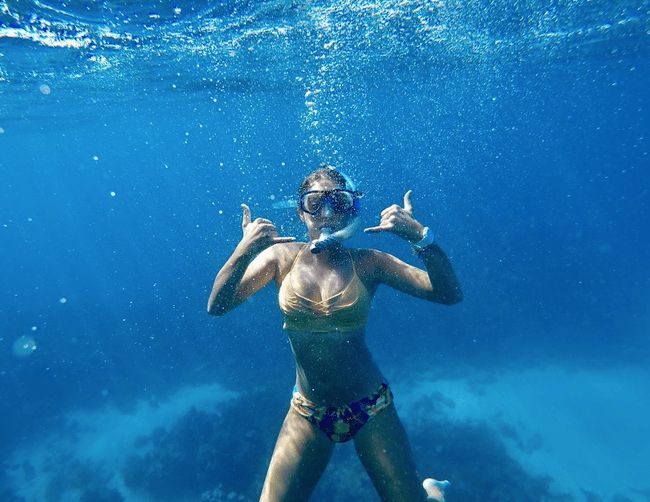 Do Some Yoga
Need to relax a bit more? Take a yoga class at Funk Yoga (it's a big thing to do here). They have a daily, 75 minute yoga class in an open-air studio, overlooking the ocean. There are even options for private classes, if you'd rather have a more personal practice. Contact them on their website for class times and prices during your visit.
Funk Yoga isn't your only option though, there are lots of studios offering classes (no need to set up a reservation). Most have a drop -in fee of $10 and are easy to find once you start walking around the island.
Day Trip To The Pearl Keys - Don't Miss This!
If you'd like to visit another fabulous Nicaraguan island, you can easily book a tour to take you over to the Pearl Keys from Little Corn Island. Some ILP groups said this was the total highlight of their vacation "The Pearl Cays are INCREDIBLE" ... it's a can't miss experience! You'll head out here for the day and feel like you have your very own private island. It's so dreamy.

One ILP group mentions a few tips to help you out if you go their route — they went with Adam and Elvis (Little Corn is so small you can just ask around for these two specifically, everyone kinda knows everyone here). You can take a day trip out here, or do an overnight trip with a BBQ on the beach, just depending on what you want your visit to look like. You will take a smaller boat to get to the Keys, and leave early in the morning (plan on paying the night before so gas and food can be purchased the night before). The boat ride does get bumpy so be prepared with motion sickness medicine if you're prone to sea sickness.
There were other groups who went with another company and had these details to share: Plan on paying anywhere from $50 to $70 (depending on the size the the group going) for the whole day, transportation, snorkel gear, and meals included. This company takes out a group of 10 for $70, book here.
In any case, the Peal Keys (or Cays) are a fantastic addition to your Corn Island experience.
Star Gazing
The electricity on the island isn't 24/7 (more on that later) so you can imagine how brilliant the star gazing is here, so far removed from the lights of the mainland. Tune into the soundtrack of the waves crashing on nearby shores and spend time gazing up at the Milky Way.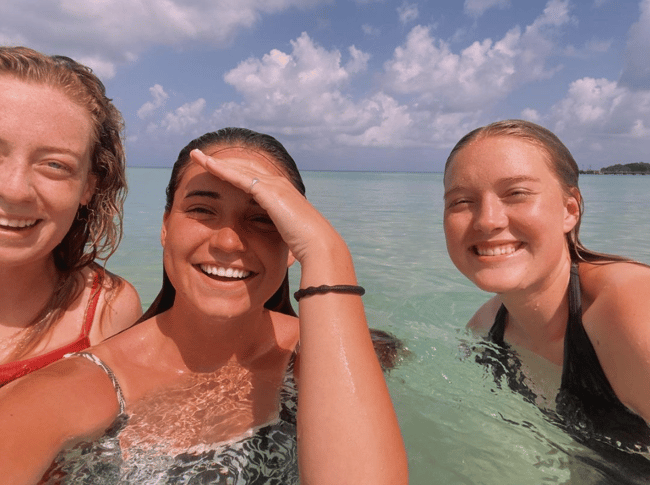 Places To Eat On Little Corn
Rosa's
Easily one of the more popular and tasty places to eat, plan on trying Rosa's a couple of times while on Little Corn. It's known for bomb seafood (try the garlic shrimp) and yummy sides (like mashed potatoes) and dessert for a great price — we're talking in the $5 range for some of the restaurant's best options, and a big breakfast for around $3. If you want to taste the "must try local dish", order a "run down", a seafood soup seasoned with a coconut broth.
Find it: Rosa's doesn't have a set address, Google has it pinned here.
Tranquilo Cafe
Worth a visit for the vibe and food. Found right on the beach, this cafe is serving up some favorites from home like burgers and barbecue, and of course, some fresh seafood. Come for fish tacos, plates of french fries, and loaded nachos, all served with a coastal breeze. They also have smoothies, brownies, cakes, cookies and ice cream for when you want something sweet.
Find it: It's on the "front side" of the two dive shops on Pelican Bay.
Miss Bridget's
Don't miss this post! It's a fan favorite with locals and tourists. Garlic shrimp, garlic lobster, and a dish called the Frito (fried chicken piled high on a plate of fried plantains and cabbage) — this is a number one pick for lunch. The cutie Miss Bridget who owns the place also makes her own coconut oil which makes an appearance in most of the dishes on the menu. Prices are around 260c.
Find it: Near the dock on Pelican Beach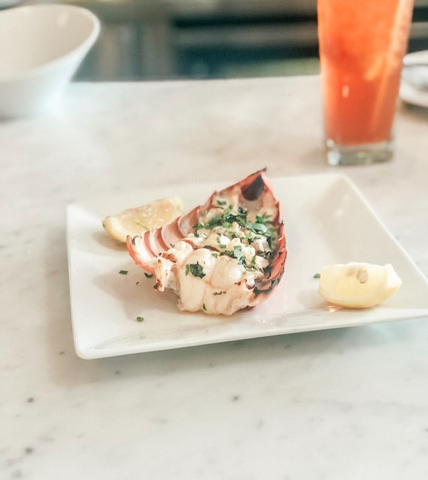 Where To Stay On Little Corn
Sick of all the perks about taking a vacation here? Well, get ready for a few more. The places to stay here are dreamy as heck, and so affordable. In general, you can find a couple of hotels and 1-2 hotels, and a handful of Airbnbs ... the majority have crazy low prices and are beachside to boot. Here are just a few places to check out (good luck choosing!)
Palmeras Beachfront Hotel
We've had ILP groups stay here in the past loving the perk that there's breakfast available. The staff was also helpful, providing ideas on how to spend time on the island or information about different excursions or activities. Book your room here.
Three Brothers

This hostel has a killer location, within a 10 minute walk to the Palanga water taxi pier, a beach or two, and a handful of the restaurants you'll want to visit. Three Brothers also boasts a chill hang out spot complete with hammocks, a shared kitchen where you can cook some meals, and very affordable rooms, starting at $25 a night (shared with 2 people). Book your room here.
This Jungle AirBnB
This place runs on solar, is tucked away in the jungles (near the beach) creating that remote getaway adventurous travelers are looking for. There are hammocks strung upstairs, plants in the living room (growing through the floor) and no glass on the windows. Talk about a low-key vibe! The place sleeps 5, at only $44 a night. Book here.
Sea View Hotel
Found right on the beach, you can plan on splashing in the ocean and hanging out on chairs on this hotel's porch. Rooms are very affordable (pretty basic, but set up with all the necessities) and start at $20 a night for a double room. Book here.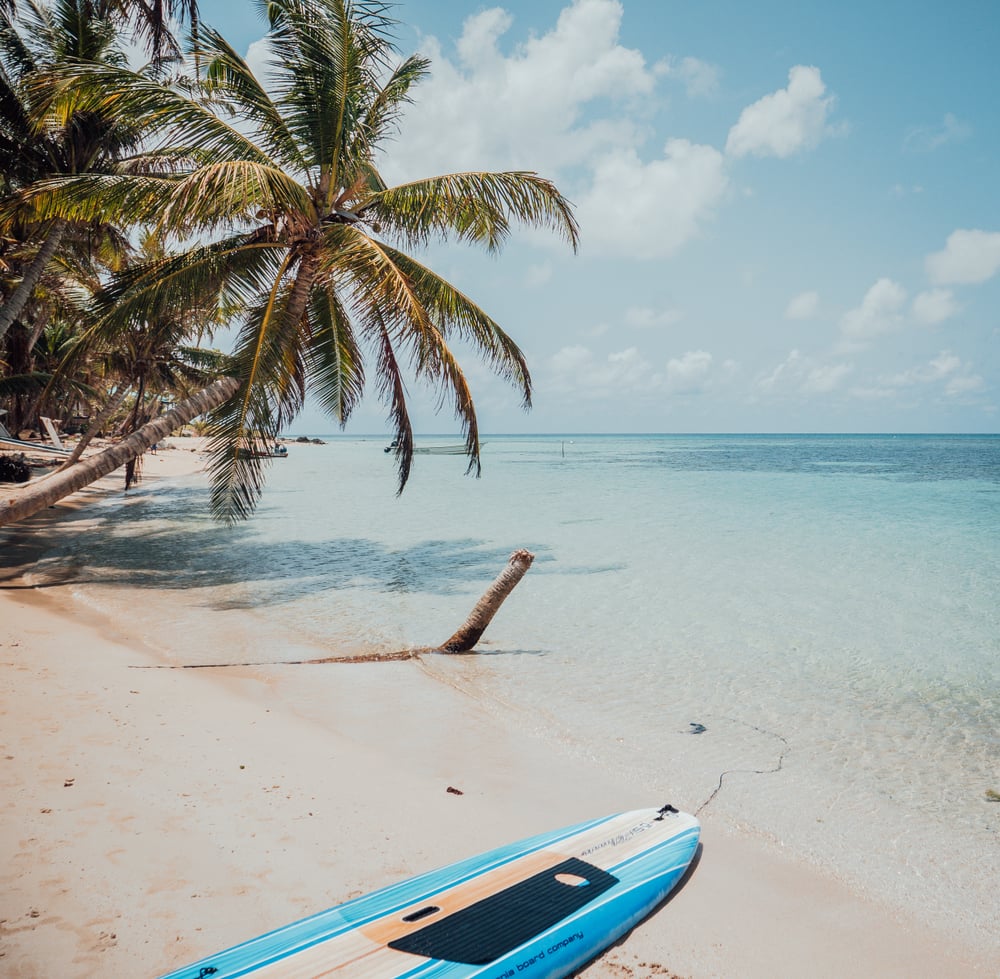 All About Big Corn
This is where the locals hang out — it's more built up, and less of a tourist scene, but well worth your time! Some ILP Volunteers liked the feel of Big Corn more than that of Little Corn (it's really split on where you should spend your time). One thing that is nice about Big Corn is that it's a bigger island, so you have more room to spread out and taxis to take if you don't feel like walking. Taxis are 20 cordoba per person no matter where you are going which is handy. Good to know: They pick up multiple people along the way until the car is full.
Now that you know the down low on how to get around here are the highlights to see on Big Corn:
Renting Bikes + This Deserted Beach
Say "hi" to Webster who can get you bike rentals or anything else you want. He is the manager of the Island Roots Hostel (on the south east side of the Island) It would take about 1-2 hours to cycle around the island which sounds like a spectacular plan for your trip.

Close to his place, there is a private beach that you absolutely have to visit. It's off the radar, so be sure to talk to Webster to get the details.

A Few Beaches
Being an island, you'll want to spend some time in the waves, right? Swimming is calmest on the southwest side of the island — visit a place called Arenas beach. Victoria beach is most well known, found on the north east corner. Long Bay is on the south east side but out of the way — you'll want to take a taxi. Our ILP volunteers also have loved loved loved Picnic Beach.

However, like we mentioned earlier, there is that secret secluded beach Webster can tell you all about if you don't want to hit the crowds at Arenas, Victoria or Long Bay.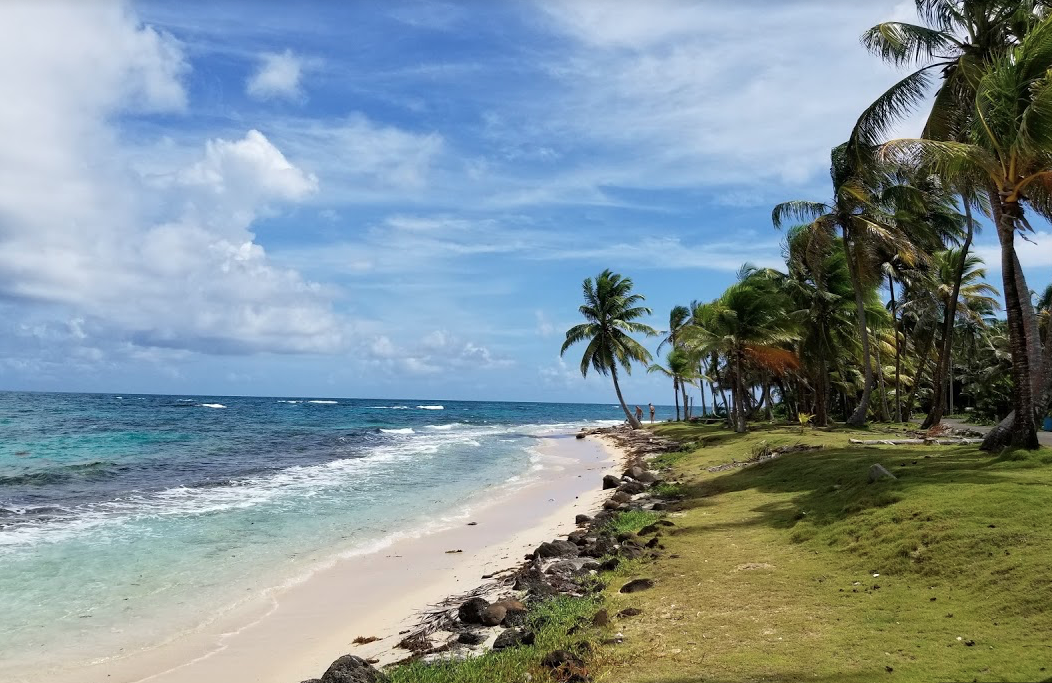 This "Alien" Hike
Pleasant Hill is the name of the highest point of the island, and is worth the climb if you want the view. It's not the highest thing you'll summit if you plan to trek some volcanoes in Nicaragua, but it's nice change of pace from the beaches. One thing that makes this hike even more interesting is this alien-like pyramid that's a part of an artistic movement called the Soul of the World. It's about an hour long hike.
Places To Eat On Big Corn
Spekito's Place
Found on the South East side of the island, this place has good food at pretty cheap prices. They have delicious tacos, salsa served with crispy plantains, really yummy grilled chicken with rice, and a few other favorites. ILP groups love this place! Oh, and as an added perk, you can feed the nurse shakes that lazily swim around the restaurant.

Hours: 11:00 AM to 12:00 AM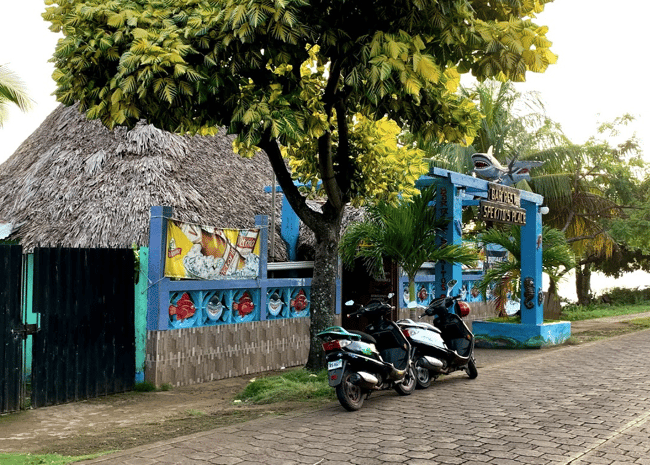 The Pizzeria Italia
A total favorite, this Italian place serves up the yummiest pizza. Prices are a bit higher (around $12) but the pizzas are large enough to share which is nice. It comes highly recommended from ILP volunteers who have gone here again and again ... some even say it's the best food on the island!
Hours: 5:00 PM to 10:00 PM
Seaside Grill
Found on the north end of the island, this place has the best seafood (all in US prices which does make it a bit more expensive). Seafood Grill is a bit of a nicer place, but worth visiting if you want to spend a bit more. They have a bomb blackened fish, really good grilled whole fish, ceviche, as well as chicken and pasta dishes for those who don't want seafood. Prices are in the $8 to $18 USD range.

Hours: 11:00 AM to 9:00 PM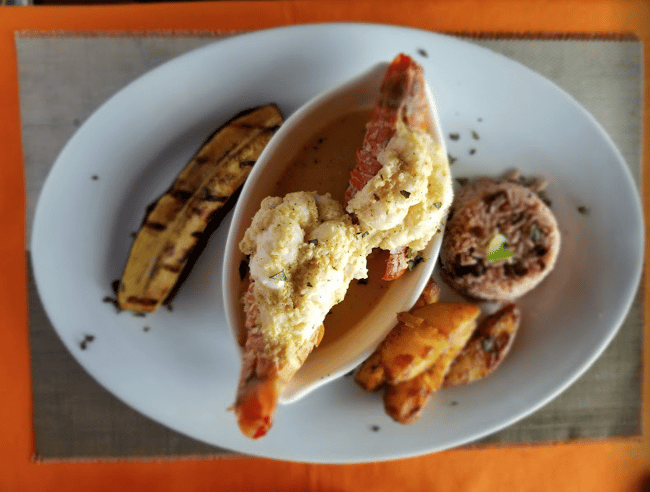 Where To Stay On Big Corn
We have a few places we think you'll just be high-key obsessed over ... because having a fun hostel or hotel is a big part of the vacation, right? As always, check before booking to see if hostels, AirBnBs, or hotels are open!
The Wave (Mimundo) Hostel
This place is right on the beach. No, but really, it couldn't be closer! Look out the windows and see the dreamy, aqua waves and palm fronts. Yep, it's a favorite! Head up to the second floor balcony for a killer sunset view and cook up some breakfast, lunch or dinner in the communal kitchen. Book here.
Just so you know this place is called The Wave, but was formerly known as Mimundo just in case you see both names floating around while booking.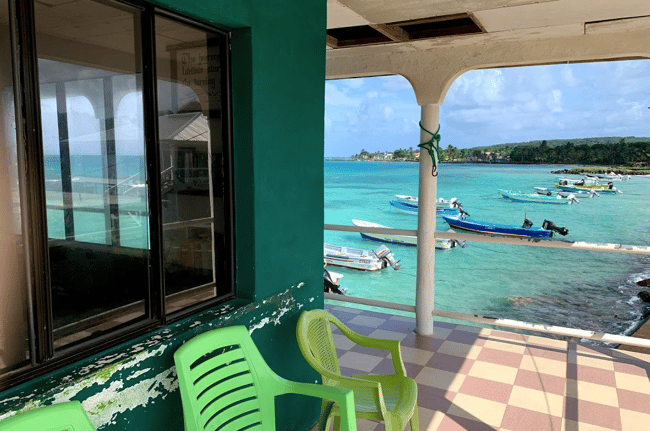 Paraiso Beach Club Hotel
If you're wanting a more luxury experience, this is the way to go. You can book a stay on one of the these very island-y cabanas, take advantage of the free breakfast, and the nearby stretch of beach (with umbrellas and chairs). They even have a morning workout class ($2 for guests, $8 for a drop in). Sounds pretty nice to me!
Rooms are about $70 a night, but you can split the price. Book here.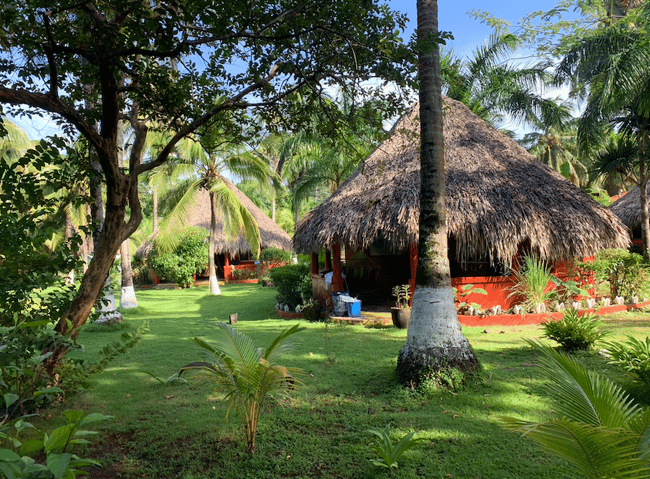 A Few Tips For Your Trip
This Is A Remote Getaway
The Corn Islands are definitely off the beaten track, and you'll see all the perks of this on your trip. You'll run into stretches of deserted beaches, low prices for food and activities, and an experience not many people get to have. That low-key vibe extends to all accommodation options (it's pretty bare bones, filled with your necessities, but not many have luxuries like air conditioning). If you're looking for a luxurious resort-vacation, plan on going to other Caribbean islands.
How Long Do I Stay?
Plan on 4-5 days (you'll want ample time to explore both of the islands). I'd suggest sticking to one island as your base (like Little Corn) then visiting Big Corn for a day or two to check out the vibe there. You can fit everything in if you have about three full days, but this place is all about relaxation ... so best to stretch it for four or even five days if you can.
Bring Cash + A Quick Head's Up On Electricity
There isn't an ATM on Little Corn island so bring over plenty of cash (or make a trip to Big Corn — there's one ATM there). Most restaurants, accommodations, and tours only take cash, not cards.

The electricity doesn't run all of the time on Little Corn, so plan on packing up a flashlight for evenings, and a battery-powered fan to help you keep cool if the power's off when you're sleeping.
What Island To Choose?
Most travelers stay on Little Corn. Though Big Corn is larger (and more established), Little Corn is the spot for backpackers looking for a more off the beaten path experience (though hanging out on Big Corn is also worth your time). Both islands offer beaches, snorkeling, walks through palm trees, lots of hammocks, and casual spots to grab some fresh seafood.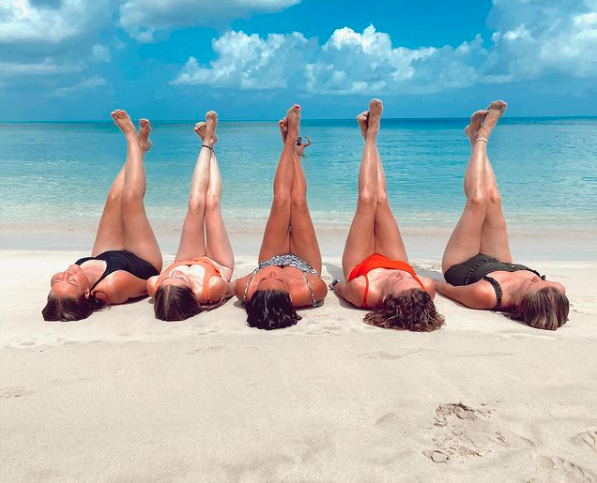 How Do I Get There?
The best way to get to the Corn Islands is by plane. We are huge fans of flying directly from Managua to Big Corn Island. Some adventurous travelers make it to Bluefields first then board a cargo ship that takes 7 hours where pretty much everyone gets seasick. It's adventurous: ie, not convenient or comfortable at all. Like we said, that direct flight from Managua to Big Corn is perfect. It's a 90 minute flight (ish) and the view is absolutely stunning!

Here's the info on flying from Managua to Big Corn. Please double check flight times, prices, and restrictions before booking — the info here and below is for reference, but these details can frequently change!
Fly Directly From Managua To Big Corn
Head to Managua, hop on a small plane that'll take you to the tiny airstrip right on Big Corn island. There are two departures per day, and La Costena is the airline to book with.
Here's their "Managua to Big Corn" schedule (though sometimes the planes leave late, on typical Nica time).
| | | |
| --- | --- | --- |
| Fare Cost | Departure From Managua | Arrival On Big Corn |
| $82.11 | 6:30 AM | 7:50 AM |
| $82.11 | 2:00 PM | 3:20 PM |

And their "Big Corn to Managua" schedule (though sometimes the planes leave late, on typical Nica time):
| | | |
| --- | --- | --- |
| Fare Cost | Departure From Big Corn | Arrival In Managua |
| $82.11 | 8:10 AM | 9:10 AM |
| $82.11 | 3:40 PM | 5:00 PM |
So, total you're looking at $164 for a roundtrip flight there, from Managua. Even when prices fluctuate, they typically hang around the $200-$240 range, which is quite affordable for this kind of beachy-getaway, especially since prices are so low once you arrive on the islands.
Just so you know, these planes are tiny, about 12 seats, and they'll weigh you + your luggage to make sure the planes won't be overweight. Your checked bag can only be 30 lbs, and your carryon bag can only be 20 lbs. After you check in at the counter you'll get your boarding pass, which is a laminated cardstock ticket (all the same except numbered in the corner). Next go to the window on the other side of the room to pay a small taxi (it's about $3 USD on the way there, and $2 USD on the way back. You can pay in US cash or cordobas). Then you go through a security to get into the waiting area. There are bathrooms and a small bar for buying drinks, snacks, muffins, sandwiches, etc.
Once you land on Big Corn, you're good to go, or head to Little Corn.
Getting From Big Corn To Little Corn
Remember, you'll land directly on Big Corn if you take that direct flight. To get to Little Corn, get yourself to Municipal Wharf in Brig Bay. You'll find water taxis (pangas) to take you over, with a one-way ticket costing about $5.
The tickets are first come, first serve so you'll want to arrive about 45-60 minutes early to help secure your seat. The ride takes about a 1/2 hour to an hour, depending on weather, and can get bumpy so best to bring some anti-nausea if you get sea sick. Hint: Sit towards the back of the boat for the smoothest ride, around the middle of the boat if you don't want to get wet. The front is really bouncy.
There are two panga departures daily, so make sure you don't miss the boat!
Here's the boat schedule for getting in between these islands:
Big Corn to Little Corn at 10:00 AM & 4:30 PM
Little Corn to Big Corn at 6:30 AM & 1:30 PM

The ferries hardly every leave on time especially during low season, but you'll want to get there early anyways.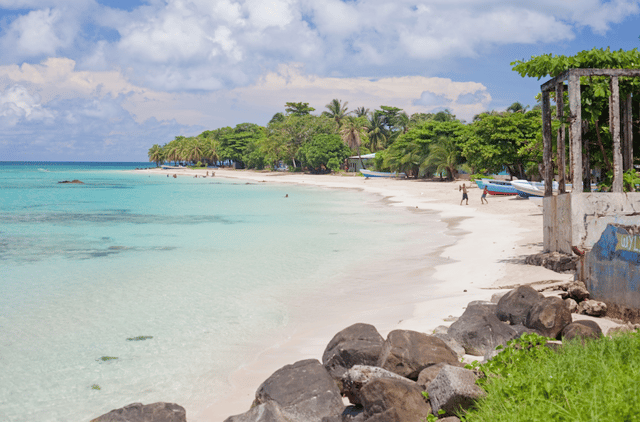 Ready for more in Nicaragua?
If you love the beaches on Nicaragua's Corn Islands, you will adore all the other adventures you can have (for cheap!). Nicaragua is still on the down-low, travel wise, so you can go zip lining in the jungle or sledding down a volcano for just a few dollars. We're sending volunteers to help out in this humanitarian program (and others); you can get more info by clicking that button: