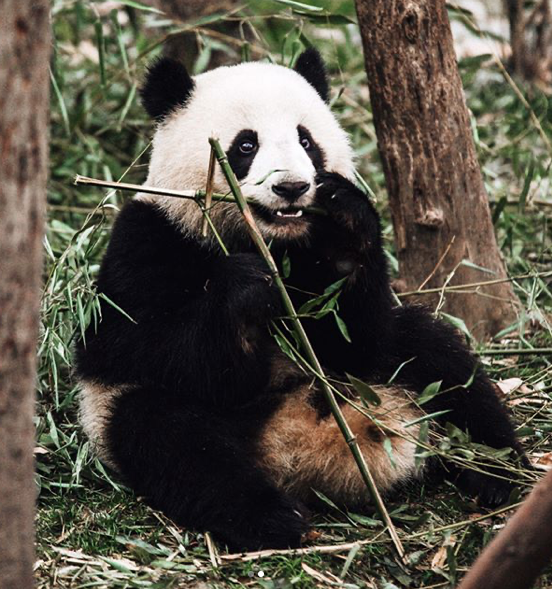 If you're coming to China to hang out with pandas, try some of the best Sichuan Chinese food in the country, and day trip to the most underrated vacation spots on the mainland, Chengdu is where you should be headed.


---
*Quick ILP Update — we have closed our semester abroad program in China and are not updating info found in this post. We're keeping this post live as it may be a helpful resource for you, but know that information was last up to date at the time this post was published.
---
China's all about surprises. For a few volunteers who have headed to Chengdu, they've found themselves completely surrounded by a pulsing city boasting fantastic restaurants, Chinese culture not found anywhere else, plus experiences that you can't leave the country without having … Chengdu is the spot for pandas! According to one ILP volunteer, "Chengdu has been my favorite vacation consistently when visiting China."
Just to make sure you're not missing out on any of the adventures you can have in this city (and all the nearby spots you really shouldn't miss), we've put all the Chengdu tips and tricks all in one spot.
Things To Do

Things + Places To Eat

Recommended Places To Stay

Nearby Adventures

Getting To Chengdu
Things To Do
All About The Pandas
Probably the biggest pull to this region of China are these cuddly black and white celebrities.
Chengdu is home to the most prestigious and successful breeding and research centers for pandas. At the Chengdu Research Base of Giant Panda Breeding, you'll run into a panda museum and the breeding center. Here they specialize in the care of all pandas, from babies to adults (CUTE). You'll even get to see Red Pandas! I didn't even know there was such a thing as a red one until I got to the park and they were so fun to watch. They look almost fox-like and they're quick too. We were having so much fun spotting them when they zipped by.
It's set up similar to a zoo (where you can walk around and see different enclosures) but focuses on housing species of pandas ranging in all ages (as well as several other animals). It's quite large, so you can walk from area to area to check it all out.
If you want to volunteer with pandas, we suggest going to the Shenshuping Panda Base. It's the largest breeding center for pandas in the world and gives people the chance to get up and close with red pandas and the famous Chinese Giant Panda … it's home to over half of the world's pandas! One thing to know is that this center is about 60 miles outside of the city of Chengdu, so you'll need to budget accordingly for a visit (it's going to be more like a fun-day adventure thanks to the distance).
Visit People's Park
Step away from the rush of the bus city into this huge green space. There's a lot going on in this park, which boasts a beautiful ancient tea house where you can participate in a traditional tea ceremony, along with pools filled with golden koi fish, and a bonsai garden nestled in the trees. In one corner, you may be lucky enough to spot parents playing matchmaker, sitting out with their children's resumes and a photo. If you see men walking around clanging two metal rods, you can get your ears cleaned for a small fee. It's our number one spot for the chance to walk around and soak up the sites in Chengdu.
Free to enter
Address: 9 Citang St, Ren Min Gong Yuan, Qingyang Qu, Chengdu Shi, Sichuan Sheng, China
Getting Here: Take Metro Line 2 to People's Park Station, Exit B. The North Gate is less than a 5 minute walk from the metro exit.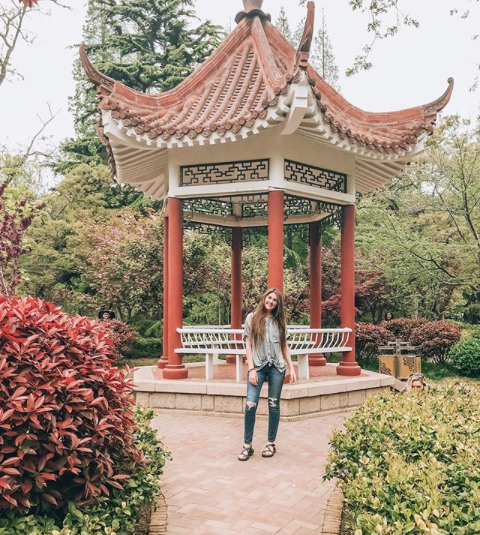 Wide and Narrow Alley
While you're at People's Park, give yourself an hour or two to come over and hang out (although you could probably keep yourself busy for half the day if you have the time). Just a short walk from the park you'll find a series of narrow streets full of ancient architecture, vendors selling everything from ice cream and local snacks to jewelry and little trinket souvenirs, and photographic scenes on every corner. It is a restored area, but gives you a feel for how things may have looked as early as the 1300's during the Ming dynasty. There's actually several courtyards and three parallel streets: Wide Alley 宽巷子 (leisurely life), Narrow Alley 窄巷子 (slow life) and Jing 'Well' Alley 井巷子 (modern life). The feel here now-a-days is a perfect blend of both historic and modern Chengdu.
It's so fun to just wander, enjoy the atmosphere and get a little lost, but you'll also run into maps if you want a better feel for the area. You'll even find a Starbucks here, in case that gets you excited.
To get here: If you're not already at People's Park, just jump on the metro and get off at the Wide and Narrow Alley Station. Then walk southeast.
From People's Park, walk along Changshun Upper Road to get there.
See This Face Changing Opera
Chengdu is famous for a few things (we'll get to them a bit later) but one is the fascinating and low-key very unbelievable face-changing opera. It's been around for 400 years, stumping and entertaining audiences and is something that comes highly recommended. The Opera shows include music and singing, and these dazzling masks that suddenly flip, completely changing in a matter of seconds. It's like magic, and happens lightening fast. Apparently, a photographer came to a performance and tried to snap the exact moment when the faces change, but couldn't — it's that fast.
Come see a show! You'll want to head to the Shu Feng Ya Yun Sichuan Opera House:
Address: Chengdu Culture Park, Qintai Road, Chengdu (and name in Chinese: 蜀风雅韵)
Hours: Performances are daily at 8:00 PM and 9:30 PM
Cost: Depends on where you'd like to sit. Tickets are 140 yuan ($20 USD) to 320 yuan ($45 USD). The VIP tickets often include tea and a massage.
The Silk Brocade Museum
Another cultural highlight in Chengdu. The famous and amazingly beautiful brocade (now famous all over China) originated in Chengdu. The Shu Brocade and Embroidery Museum has over 1,000 collections of brocade and embroidery from hundreds of years ago. It's an incredible and painstaking process, taking hundreds of hours to carefully weave dozens of colored threads to paint a scene. Brocade is one of the most famous Chinese souvenirs to bring home, so this about visiting the gift shop to get a piece right where brocade is from in China. Plan on spending 1-2 hours here.
Free to visit.
Address: No. 2 Caotang Eastern Road, Qingyang District, Chengdu, China
Hours: 9:00 AM to 5:30 PM in the winter, 9:00 AM to 6:00 PM in the winter.
The Dujiangyan Irrigation System
Hear me out — it might not sound like the most amazing adventure, but it's a favorite for those who make the trek out. On a clear day, the swelling river is a gorgeous shade of greenish blue, framed by thick forests and intricate temples. The space is an ancient (and impressive) irrigation system that's been around for over 2,000 years. It's sometimes called the most impressive engineering feat in all of Sichuan, doubly impressive considering how old it is. The irrigation system rerouted the water to both prevent and cause flooding, controlling the life-giving and life-taking swells of the river. The space is blanked in a lush forest which is dotted by a series of impressive temples, a few of which are connected by a rope bridge which spans the river.
If you're visiting, might as well plan time to visit Mount Qingcheng (more on that below) — they are right next to each other.
Getting Here: If you want to come by bus, start at the Chengdu Chadianzi Bus Station and get at ticket to the Dujiangyan Bus Station. Once you arrive, you'll take bus 4 or bus 7 and get off a Lidui Park. You'll also find taxis waiting for you after you get off the first bus, and can taxi to the Lidui Park if you'd rather. The bus ride is about 45 minutes, and buses run from 6:30 AM to 7:00 PM.
You can also arrive by train, starting at the Chengdu North Railway Station. Take a bullet train (a C train) to Dujiangyan Railway Station, where the irrigation system is less than 3 miles away. You can taxi the rest of the way. The train ride should take 20-40 minutes, and the taxi ride to the Dujiangyan Irrigation System should take about 15 minutes.
Cost + Hours:
90 Yuan tickets (more if you'd like to hire a local guide, which some ILP volunteers recommend just so you can understand the history better)
8:00 AM to 6:00 PM (March 2nd through November 30th)
8:00 AM to 5:30 PM (December 1st - March 1st)
It's best to visit during April to October.
The Wenshu Monastery
Visit one of the best preserved Buddhist temples in the city. The Wenshu Monastery is home to an impressive jade Buddha (there is some 300+ Buddha statues inside), impressive gardens and solemn prayer halls. Inside, there's a vegetarian buffet (for 35 yuan) if you're visiting during lunch.
Free to visit: Take Metro Line 1 and get off at Wen Shu Yuan Station.
Hours: 8:30 AM to 5:30 PM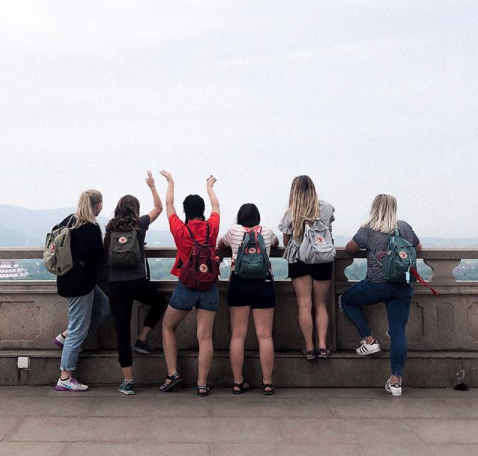 Things + Places To Eat
Kuan Alley and Zhai Alley
Both are tourist-centered walking streets, filled to the brim with souvenir stands, chains from home (hi Starbucks) and a few food vendors cooking up Chinese classics. It's a fun place to walk around, watch all the people walking around in panda gear, and stop by the food stalls to eat things like thick and flakey scallion pancakes, skewered meats, grilled corn on the cob, stir fried noodles, steamed dumplings, fried potatoes, and other favorites.
Find it: 127 Changshun Upper St, Kuan Zhai Xiang Zi Te Se Shang Ye Jie, Qingyang Qu, Chengdu Shi, Sichuan Sheng, China
All The Hot Pot
Chengdu is found in Sichuan province, a Chinese province known for hot and spicy food. Going out to Hot Pot is something you've got to try while in China, but even better if you have it in Chengdu. You'll find spots all over the city where you can sit down and cook thin strips of meat, piles of veggies, and curling ribbons of freshly made noodles in the boiling, spicy broth. To combat some of the spice, locals say to eat a bowl of plain rice or grab a yogurt at a convenience store before your meal (to help soak up that spicy Sichuan oil). You can also get a hotpot that's split: half clear broth, and half spicy broth.
You'll find places all over the city, but Lao Ma Tou Hotpot comes recommended. It's at 116 Hongxing Rd 4th Section, He Jiang Ting, Jinjiang Qu, Chengdu Shi, Sichuan Sheng, China.
Elephant's Garden
In the mood for Thai food? This place has you covered. It's a more upscale option serving up your favorite curries, coconut soups, Pad Thai, other noodle dishes and the classic Thai dessert, mango sticky rice.
Address: #9, No.6 Hangkong Road, Wuhou District
(武侯区航空路6号附9号(丰德国际广场正门)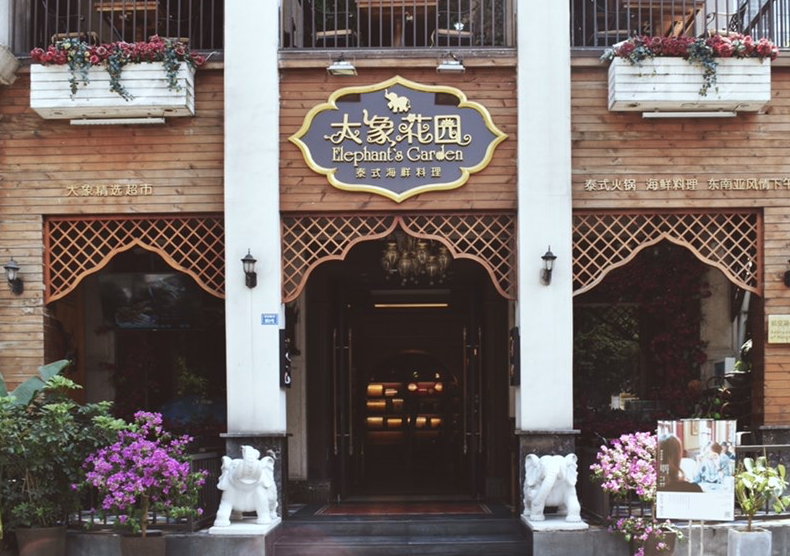 Recommended Places To Stay
Flipflop Backpacker Hostel
A fabulous option if you want a helpful staff willing to help you set up tours around the city, and a cool hang out space. This hostel is right by some of the city's best walking streets, and hosts some social events like group events. The staff is there to help you set up tours, but tourists do mention that you'll be paying more for the convenience than if you did it yourself. Just a helpful hint! Dorm rooms are around $12 for the night, book on Hostelworld.
Chengdu Mix Hostel Poshpacker
Another favorite, this hostel is inside a Sichuan-style house, boasting great style and a very helpful staff. It's very close to the Wenshu temple, and has some free tour options (like free calligraphy classes, free walking tours, free hot pot, etc). Dorms start at just $7, book on Hostelworld.
Nearby Adventures
Chengdu is one of the best jumping off points so spots in China that not everyone gets to experience … but places that make the "top favorite vacation" spots for adventurers who trek all the way out here. Here are a few recommendations on nearby things to see while you're in the area:
The Hugely Massive Leshan Buddha
This Buddha is massive — bigger than you think is possible and luckily for you, it's just about an hour away from Chengdu. The huge Buddha took over 90 years to carve out of the red-rock cliffs, and that's not all: the grounds around the Buddha are hiding 3,000 big and small Buddha statues and a working monastery.
Getting here is very easy thanks to the bullet train. There are four train stations in Chengdu, but Chengdu East or Chengdu South are the ones you'll want to leave from. Tickets are anywhere from $7 to about $20. Once your train arrives at the Leshan station, it's just a short taxi ride to the Leshan Buddha Park is. You can also take a city bus (bus #3), but it's so close, that a taxi is going to be faster (and more convenient).
Here is a map of the Leshan park to give you an idea of what to expect — there's quite a lot to wander and see, but don't worry about getting lost. It's pretty easy to navigate, just bring good walking shoes. This is something you can see in a day, then come back to Chengdu.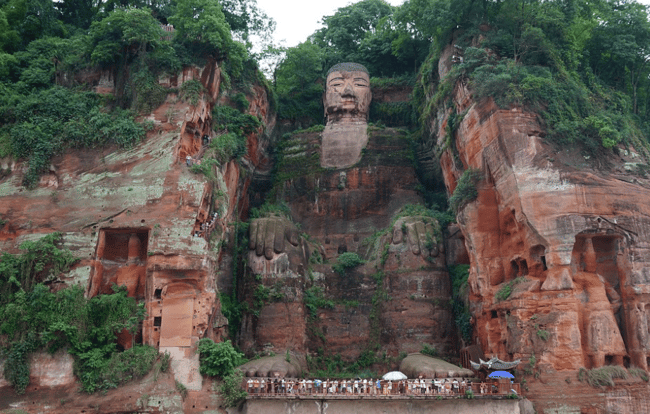 Climb To Heaven On Mount Emei
Hike up rolling green hills to see the whole emerald valley spill out below you, peeking to the right to see a golden pagoda perched over the whole scene. Mount Emei is one of the most stunning hiking trails in China and is just a couple of hours away from Chengdu by train.
You can hike the summit in a day (there are bus routes and a cable car to help you out), but you can also stretch out your time for a couple of days to see even more. If you will be staying overnight on the mountain, you will need to budget at two days for the hike — one day to summit and sleep overnight, then one day to descend.
Here's a route to the mountain's views, outlining some favorite viewpoints and the distance between each site. We'll talk more about this below in pricing, but you can top to ride tourist buses or cable cars to some of the these views if you'd rather not hike.
Apart from some spectacular views, the summit is dotted with lots of caves, temples, pavilions and monasteries, and a hotel. If you stay at the Jiding Hotel, you can wake up and see the sunrise over the mountain (it's one of the highest hotels on the summit). Some people say the site is so incredible it's considered a supreme blessing to merely witness it with your own two eyes. You can also stay at the base of the mountain in Baoguo village.
It's easy to get here, just travel by train. We love Trip for booking trains - just look up the schedule from Chengdu (any station in the city but likely east or south station) to Emeishan. You can get more transportation advice and info on the tourist buses by visiting this Travel China Guide.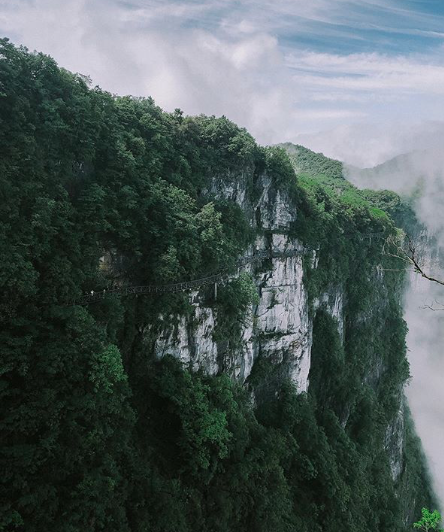 Mount Qingcheng
Known as one of the most famous Taoist mountains in China, this stunning range is found nearby the Dujiangyan Irrigation System which we talked about above. It's about a 3-4 hour hike up to the front of the mountain (or you can opt to take the cable car up). The mountain hike includes a few different attractions like a lake you can walk around (it'll take about 15 minutes, or you can pay 5 RMB for a boat ride) and a few Taoist temples. China Travel Guide has a map to help you picture the trails.
Getting here: From Chengdu take the train to Qingchengshan. It's about a 25 minute train ride. You can taxi or pay 2 RMB and wait for bus 101 to take you to the entrance. The bus drops you off about a mile away from the ticket office where you can pay 10 RMB for a ride if you don't want to walk. You'll first reach the lake, then you can either hike up or take the cable car (35 RMB). There are a few different routes you can take on the mountain, weaving in and out of of the thick forest.
Cost + Hours: 80 CNY (the caves have an additional 5-10 Yuan fee) (the cable cars are 35 for a one-way, or 60 for a two way from the front of the mountain.
8:00 AM to 5:00 PM from March 2 to November
8:00 AM to 6:00 PM from December to March 1
Jiuzhaigou's Turquoise Lakes
We cannot get enough of the lakes found in Jiuzhaigou. The water here is an unbelievably clear shade of green and blue that doesn't even need a filter. Plan on taking a couple of days to hike around the trails that weave in and out of the most impressive lakes. Jiuzhaigou's just an overnight bus ride away, taking about 8-10 hours to get to Jiuzhaigou city for about $20. You can also take a much shorter flight, but since the airport is tiny, prices tend to be expensive. If you're short on time and on a budget, maybe fly one way then bus the way back.
This Jiuzhaigou blog post outlines all the nitty-gritty details you need to plan your visit, plus has a few stunning pictures of what's waiting for you.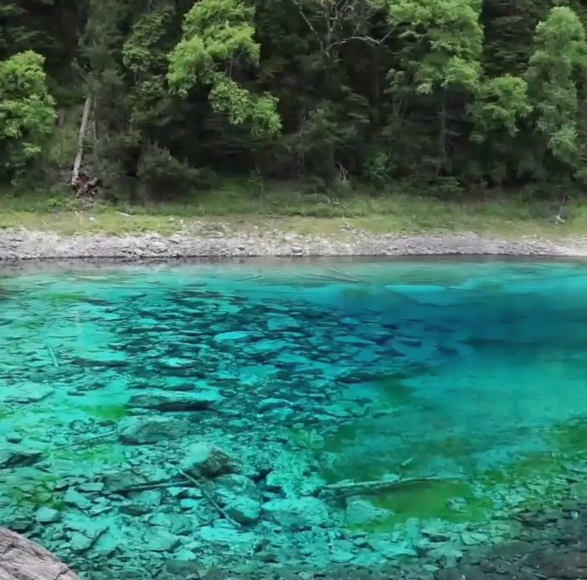 Huanglong's Picture Perfect Waterfalls
Ready for another stunner? These are the waterfalls you see on Pinterest, a cascade of turquoise pools falling between a gorge of thick green trees. The park has a distinctive, almost Tibetan feel, so you really feel like you're visiting a totally different part of China especially since this park isn't one too many foreigners experience. Huanglong is nearby Jiuzhaigou, and it's possible that you can visit both in a 2-3 day trip.
We have the Huanglong guide you're looking for here.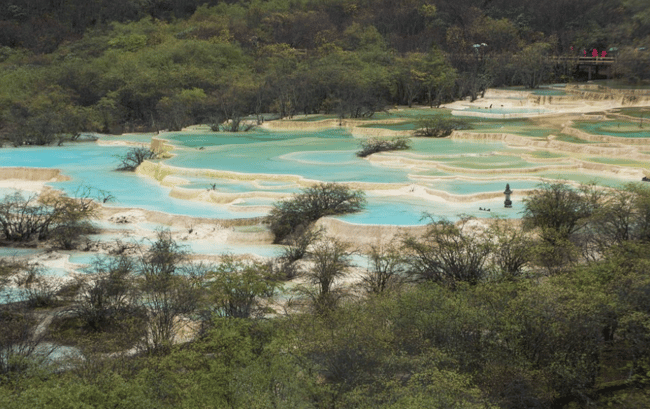 Getting To Chengdu
By Train
Chengdu is very well connected by train and if you're a bit familiar with travel in China, you'll know that our favorite place to book train tickets is on trip.com. You'll be able to look up the routes from your city and figure out how long it'll take you to get there.
One good to know is that Chengdu has a few different train stations, so make sure you know which one you've booked. The Chengdu Station is connected by Metro Line 1 (and is sometimes called Chengdu North Station), and handles a lot of long distance trains. Chengdu East station is reached by Metro Line 2, and has some long distance trains from places like Shanghai, Beijing, and Xi'an. Chengdu South is connected on Metro Line 1, and has short distance trains (like to Leshan).
By Plane
The airport is a pretty big hub, found 12 miles or so outside of the city. You can also look up flights on Trip.com. Metro Line 10 gets you to the airport from the city center (and vice-versa). Or you can take a cab (should be about 50 RMB but make sure you're only using authorized taxis). Book tickets into Chengdu Shuangliu International Airport, CTU.
Getting Around Chengdu
The city makes it easy with a metro system. Right now, it has six lines with plans to open more. LIke most major cities, the lines are numbered and color colored, making it easy to get around. We suggest ILP volunteers download the Metroman app (download the Metroman app here for iOS and here for Android (You might need to search "Metro Subway App" instead of "Metroman"). It works offline and plans your route for you, transfers and all. There's an option to selected individual cities on the "setting" tab on the bottom right. Then just click "select city" and choose the one you want, in this case, "Chengdu".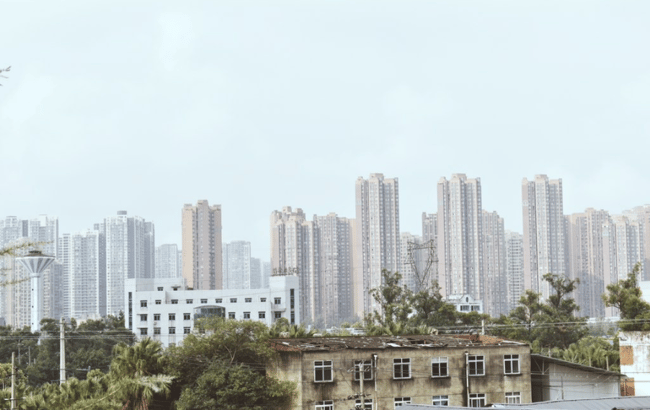 Ready for more world adventures?

We (International Language Programs) host volunteer programs in a handful of different parts of the world. Our volunteers are college-aged individuals who teach English part-time and have weekends plus vacation days off to travel. This means that you get to teach the cutest kids during the week, then hop on a train, plane, or bus to explore everything that country has to offer! Learn more on our Instagram: