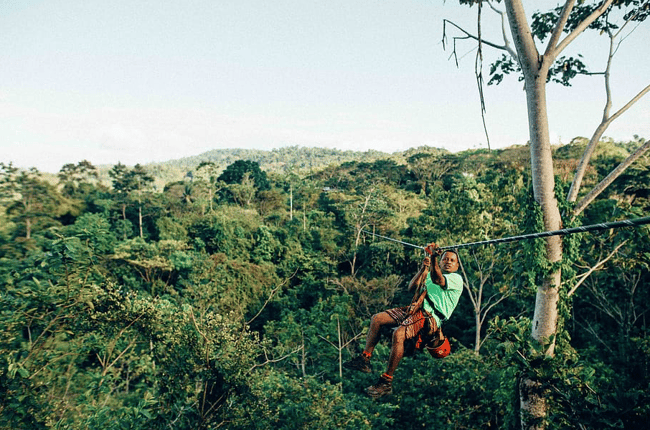 We love a little adventure, especially if that means zip lining into a water-filled cave, over dense jungles, or soaring above towering waterfalls in Mexico.
Wondering where the best places to zip line are in Mexico? Our volunteers spend a whole semester living and teaching English in this country and love finding all sorts of adventures on weekends and on vacation days. We've pulled together the top spots for zip lining in Mexico below, with a few links and resources to help plan your own trip depending on which part of the country you want to see and what your budget is.


---
Like the idea of spending a semester in this beautiful country?
All about volunteering with ILP in Mexico
---

Here's the spread of zip lining places our volunteers have the insider scoop
on —
The Best Places To Zip Line In Mexico
Grutas De Tolantongo
There's this beautiful little hidden gem just a few hours north of Mexico City that you absolutely have to travel to — unless you're not into vividly blue, warm water hot springs, and a $10 zip line.
The main highlight of Grutas are the hot springs perched right in the mountainside. The warm water is heated by surrounding volcanic mountains between the rocky canyon, complete with waterfalls for you to soak under. There are 15+ pools in the mountainside, creating the most magically dreamy infinity pool effect. See why it's a big hit?
Price + Details
But when it comes to the zip line, it's priced at 200 pesos and is a total length of 2066 yards. Here's more info if you're interested in what to wear, more details on the course, etc.
Out of all the zip lines on this post, this is by far the most affordable (and arguably the most picturesque) we've found in Mexico, making it a total favorite!
Plan your trip to Grutas De Tolantongo here, with details on how to get here, where to stay, entry fees, etc.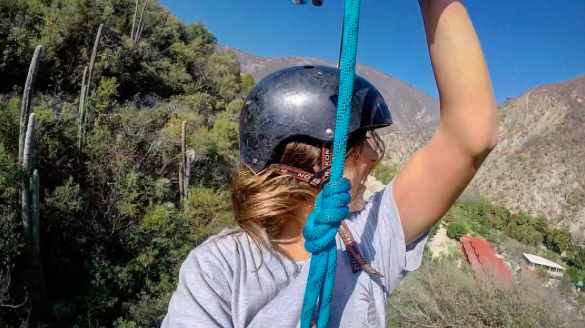 Puerto Vallarta
If you're wanting more of the beach/touristy/tour guide kind of zip line adventure, vacation in Puerto Vallarta. It's a very popular beach town that's a frequent stop for cruise ships and is well set up for all sorts of high adventure tours you can take to fill your time. Think snorkel tours, deep sea fishing, horseback riding on the beach, and a zip line through the jungle, just to name a few.
Price + Details
There are various tour companies who can help arrange all sorts of activities, but one that ILP volunteers have gone with in the past is Vallarta Adventures. Here's what one ILP volunteer had to say "We swam with dolphins, went on a 6-hour adventure tour with zip lines, rappelling, off-roading, boating, slide, and went on an island excursion with beaches, snorkeling and kayaking and boating for like $210 total for all three.". There are typically a few different kinds of promotions if you book online, like a 15% discount, or a 2 for 3 deal where you do three excursions, but pay for two.
If you're interested in just the zip lining with Vallarta Adventures, it's $119 full price but has frequent discounts that price it more like $79. Get the details here.
Another option volunteers have opted for is to spend the day at a waterpark and do some zip lining there — Aquaventuras Park has waterslides, pools, and more extreme adventures like a rock wall and zip lining. Entrance fee is $25. Get the info about Aquaventuras Park here.
As a heads up, there are TONS of tour vendors and guides all around Puerto Vallarta, not just Vallarta tours. Look around online and in-person to find other options if you're interested.
Get your Puerto Vallarta guide here.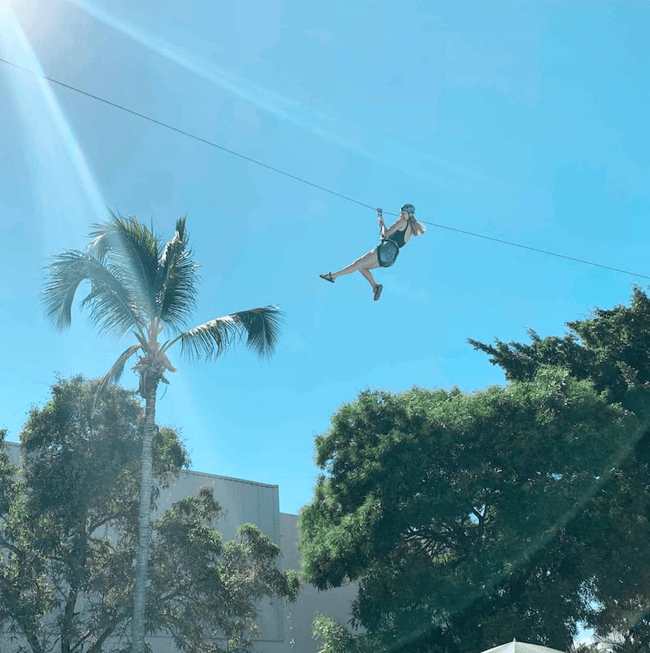 Cancun + Nearby High Adventure Parks
Another tourist destination filled with all sorts of tours and adventures is Cancun. Most ILP volunteers spend a day in Cancun for this kind of activity before using it as a jumping-off point to sleepy yoga towns, beautiful islands, colorful magic cities with less popular (but still stunning cenotes), and others, rather than spending their vacation time in Cancun. But Cancun is home and nearby to quite a few zip line experiences that some volunteers have loved.
Something to know — There are a series of adventure parks that are all-inclusive, with zip lining, rafting, swimming pools, caves, snorkeling, snacks, drinks, lunch, etc all part of the package. Several of them have the highest, longest, etc. zip lining courses in the country and are rather close to Cancun. We've listed some of the more popular ones with impressive zip lining options to make it easy (just know there are several around Mexico).
Xenotes (Via Xcaret) - Pick up in Cancun
One highpoint is the chance to zip line into cenotes (we love love love cenotes). These tours typically pick you up in Cancun and take you all over the Yucatan for a day of swimming, cliff jumping, zip lining, and more around the cenotes in the area. There are many to look into, but one is through Xenotes (via Xcaret) which take you to these cenotes. Tours are $129 without a promotion, though there is usually a discount running if you book online.
Xel-ha - In Tulum
Xel-ha is another one of the huge, all-inclusive adventure parks in Cancun where you can find snorkeling, river tours, zip lining, adventure water parks, etc. It's found in nearby Tulum (get your guide to Tulum here, and info about Xel-ha here).
Find more about Tulum here — it's a favorite spot.
Xavage - In Cancun
Xavage is another one to mention for zip lining which is home to the longest horizontal zip lining in the country, so you can zoom over the water like Superman. Tickets for the park are $149, but typically are running a promotion to get your ticket for less. Here are the details about Xavage.
Xplor - In Playa Del Carmen
At Xplor, there are two circuits with seven zip-lines each (2.4 mi total distance) which include the tallest in Riviera Maya. As far as zip lining goes, Xplor has the highest concentration, at 15 zip line routes in one park. You'll also find swimming spots through an ancient cave, hammocks, rafting, unlimited snacks, a buffet lunch, etc. Tickets to the park are $129, without any promotions (though you can usually save 10% by booking in advance, etc). Learn more here.
Oh, and you can find your guide to Playa Del Carmen here (with restaurant recommendations, tips on getting here, other things to see in the city, and more).
Isla Mujeres
Isla Mujeres is an island only about eight miles away from the beaches of Cancun, making it the perfect day trip, or stay for longer. One side has a rocky coastline and faces the Caribbean Sea, while the other side faces Cancun and has crystal-blue water and soft, white sand. And the entire island is only 4 miles long, so it's easy to see it all on your visit (or find the zip line adventure park while you're out wandering).
Price + Details
The zip line adventure on the island is at the Royal Garrafon park, where you can zip down a 42-foot tower above the crystal blue waves surrounding the island. Prices for just the basic package begin at $89 (without any discounts, but the price is typically less if you book online — 20% to knock the price down to $66.75). Learn more here.
Even if you don't zip line, Isla Mujeres is one of our favorite destinations in the country. Get your Isla Mujeres guide here.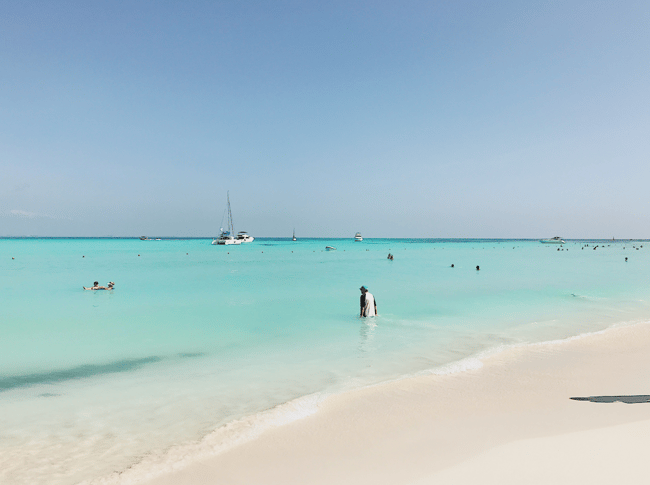 El Chico
You wouldn't think to find such sharp rocky peaks and meandering pathways in Mexico, but here they are, tucked away in the state of Hildago. The El Chico National Park is over 100 years old (first established way back in 1898) and was actually the country's first national forest reserve. It's magically pretty, with dense groups of juniper and evergreen trees with little fireflies lighting up the night sky once the sun goes down for the day.
It's now become an up-and-coming option for people looking to escape Mexico City and surrounding cities and step into nature. Some of the mountains peeking out from the forest are premier climbing destinations, but the trails make for some stunning hikes, and a zip line adventure if you wander over to the old mining village found in the park.
Price + Details
Details are a bit hard to find, but we've had ILP alumni in the past go zip lining in El Chico, at one of the abandoned mining towns — Mineral del Chico — found around the Primera Cascada de Rio de los Milagros on a map of the park.
HG-O is an adventure company with zip lining (and Via Ferrata) opportunities in El Chico, but others report of being able to do a mini zip line for around $15 for a zip line/rapelling adventure if you ask around the little town near Mineral del Chico.
This zip line adventure is more for those looking to head to the area and ask around, rather than having a set adventure park and ticket you can book before arrival. Adventurous, but worth it!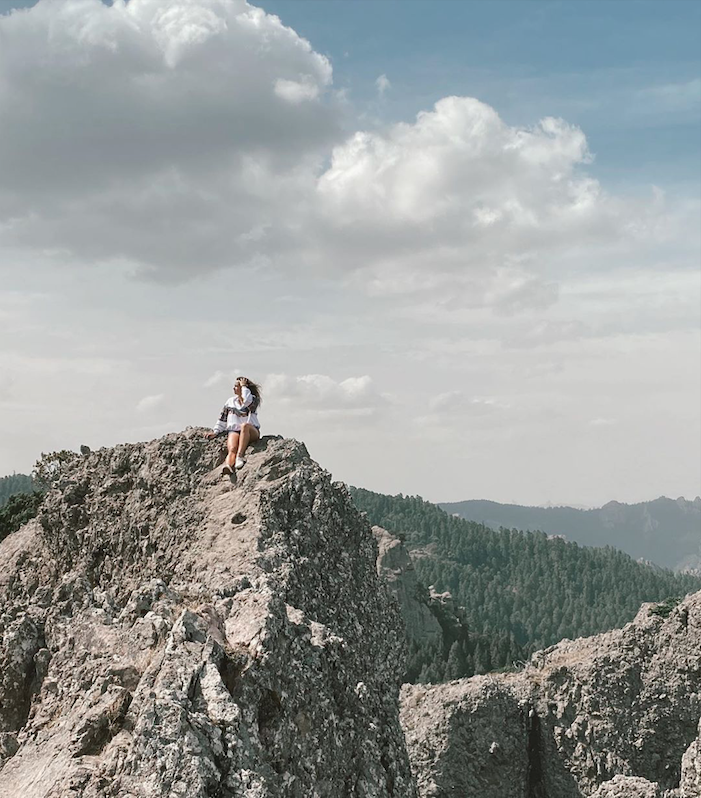 Ready for more Mexico?
ILP (International Language Programs) is a non-profit org that sends volunteers to live for a semester in Mexico — think about a whole semester to travel around, experience the culture, taste your favorite foods, and teach English part-time with a group of fellow volunteers. It's definitely a country we can't get enough of!