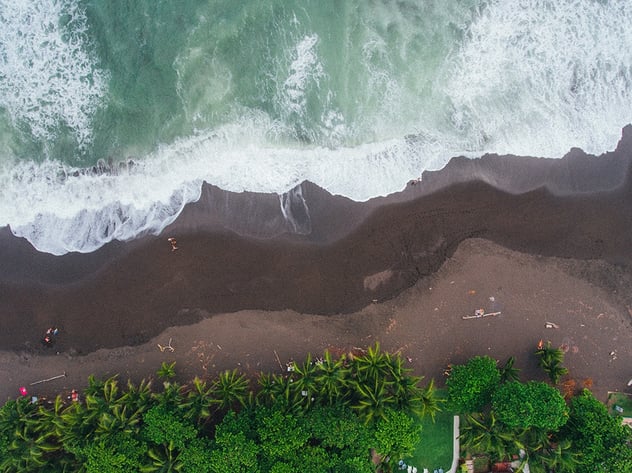 ILP is excited to expand into a new part of the world and offer you two new countries with service opportunities and, of course — tons of adventure! You can now participate in service trips to Central America.
Yep, that's right. COSTA RICA + NICARAGUA! Is your heart racing yet?
International Language Programs is now accepting applications for both of our newest Humanitarian Programs. Come join other ILP volunteers for a semester abroad helping children learn English, seeing firsthand why they call both these countries a "traveler's paradise", and having those experiences you crave that will change your life forever.
What will volunteers be doing?
You'll be helping children learn English through the ILP teaching methodology. Because this is a humanitarian program you'll provide them with an incredibly valuable English education, free of charge, that they would not otherwise be able to receive.
Volunteers work with the kids for about 20 hours per week and then spend their free time how they want — usually exploring their city and really experiencing the culture of Central America.
Where is it?
We are opening two schools in Costa Rica! Both give you tons of adventures and a unique Costa Rica experience, jammed packed full of experiences like ziplining, waterfalls and whitewater rafting in famed National Parks.
In Nicaragua, we are opening one school in Granada which is near the capital city of Managua ... nestled right up next to Lake Nicaragua (it's gigantic and beautiful and you're going to want to kayak through islets there). Granada is the jumping off point for every traveler coming to Nicaragua — it's a must-see. The Spanish style colonial feel of this area is what dreams are made of. One of our friends in Costa Rica was raving to us about how Granada is their favorite spot to go vacation ... and you're lucky enough to live there!
When is it?
The first volunteers went in 2018 and loved it — We are now accepting applications for all available semesters (remember, you can apply up to 1.5 years in advance).
Rough dates are...
Spring semester: mid to late January - late April.
Summer semester: Early May - mid August.

Fall semester: late August - mid December (coming home before Christmas).
Can we travel around?
OF COURSE.
We know that you want to make a difference ... but c'mon, you also want to actually see the country you're living in right? Like with all ILP service trips, you'll have about two weeks spread throughout the semester scheduled as vacation time. Your group will get together and decide where you want to go and what you want to do. I mean you could head to where you can go ziplining through a cloud forest or take a boat out to an island with the bluest of turquoise waters. PS ... you can do those things in both countries.
And maybe some of you are brave enough to try out this swing in Costa Rica?
Check out more adventures in Costa Rica here.
You probably didn't even know that sledding down a volcano should be on your bucket list ... but I bet it will be now. THIS IS A REAL THING. And it's big in Nicaragua.
See more amazing things you can do in Nicaragua here.
And guess what? — whether you're in Costa Rica or Nicaragua, you can easily visit the other on vacation (or even on a weekend if you'd like). Buses run between the two for cheap, cheap, cheap. So, we expect that volunteers will be taking at least one vacation to their neighboring country.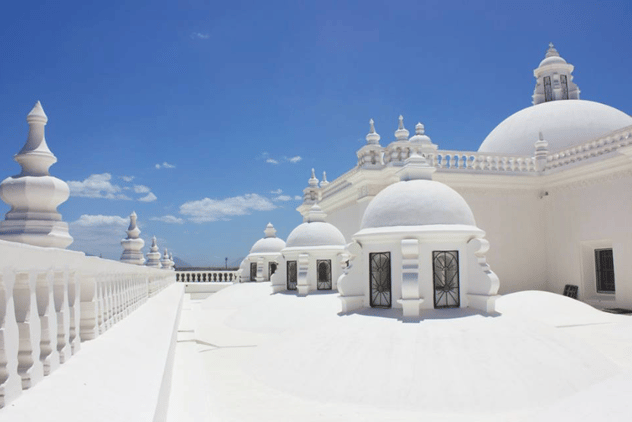 Head to the roof of the largest cathedral in Leon, Nicaragua for an incredible view of the city.
Volunteers have plenty to explore in both Nicaragua and Costa Rica, but if you want more stamps in your passport you could head to places like Panama, Mexico, and some Caribbean islands like the Dominican Republic! Each group is actually required to spend at least one vacation visiting another country, so take your pic of which countries you're going to explore.
Who can go?
ILP volunteers...
Are college age; usually 18-25 years old (you can apply before you turn 18 but you need to turn 18 by the time the semester starts)
Speak English naturally; if you were born speaking English you've got an incredible skill to share!
Have an interest in making a difference by working with children
Have a US or Canadian passport or Green Card
Agree to live by

ILP's Code of Conduct
Oh and guess what?
There's no experience required!
You don't have to be in school (although a lot of ILP volunteers are taking a break from college). You don't have to be a teaching major ... actually it's totally fine if you've never taught before. We'll train ya.
Right now, we will be accepting around 20 volunteers and 3 Head Teachers for our new programs.
Can males go?
Yes! We get this question a lot because we're not able to send males to all of our volunteer locations due to housing issues. But yes, we will have limited spots open for males in both Costa Rica and Nicaragua - check out other male volunteer locations here.
Can married couples volunteer here?
Yes! The housing available for married volunteers is limited, but we have options in Costa Rica and Nicaragua for you.
What's the cost?
$3,970 is the program fee for volunteers in both of these countries which covers international roundtrip airfare, visa, housing, meals, and training for the entire 4-5 month semester.
We recommend that around $1,000+ of that program fee comes from the volunteer's fundraising. We've got tips to help you with that (you'll receive more information about fundraising after you apply and we're always posting money saving ideas here).
Alumni
Want to teach again? Start your alumni application today.
Head Teachers
If you've taught with ILP before and you're up for the challenge of leading a group, send in your HT application.
In our Exchange Programs, Head Teachers have their program fee waived and receive a stipend for in-country costs. In our Humanitarian programs (like Costa Rica and Nicaragua), it is the same but we ask that Head Teachers fundraise $1,000 to contribute to the program.
Why do

es it cost mor

e?
In traditional ILP schools where you are teaching English, your costs are being subsidized by the host school (through student tuition). The programs are a true cultural exchange with you sharing your English skills with the children and the schools helping pay some of the costs of your semester abroad.
In Costa Rican culture, those who can afford and education (there's a huge population of expats and wealthy immigrants) typically send their children to private schools, which is not where our volunteer program will be held. Your English classes will be free of charge for those who attend, similar to an after school program following public school.
This is a huge gift — ability to speak English fluently is invaluable for a child's future, especially in a country like Costa Rica who thrives off of tourism.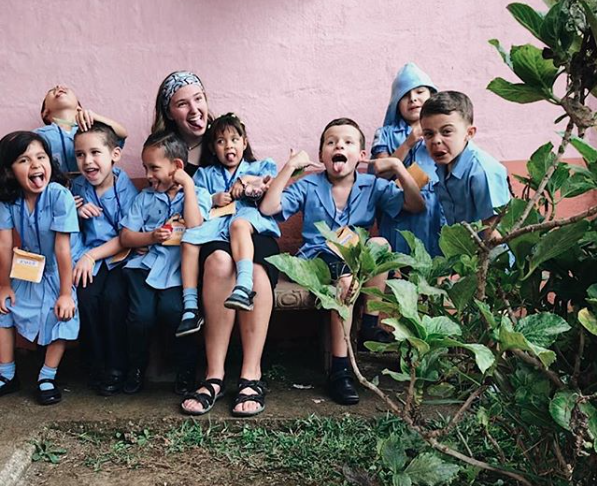 In Nicaragua you will be teaching children who come from a deeper poverty than Costa Rica, but the service you give is all the same, and is given to them without charge. The children here come from limited means, similar to our program in the Dominican Republic.
Because of this, your program fee is Central America is not being subsidized which results in your program fee being a bit higher.
Is Costa Rica like the other ILP Humanitarian programs?
It is, but there's something unique about each country that is part of ILP's Humanitarian program and that's the same for Costa Rica.
Your students will come from a variety of backgrounds, but they typically fall somewhere in lower economic situations, with a few in middle economic situations ... they aren't all from impoverished means (like in our Nicaragua and Dominican Republic programs) but they aren't wealthy either.
ILP has programs with varying costs and types of service. Compare programs here to see which one is right for you.
Where can I learn more?
Visit our country page to learn all about our new programs here as well as our other country options.
---
Or...if you're ready, apply now!
Hurry, hurry! ILP operates on a first-come-first-serve basis, so if you are excited to volunteer in Costa Rica or Nicaragua it is best to apply as soon as possible ... we're thinking you should apply today so we can help you get ready to go live your best life completing a semester abroad in Central America.