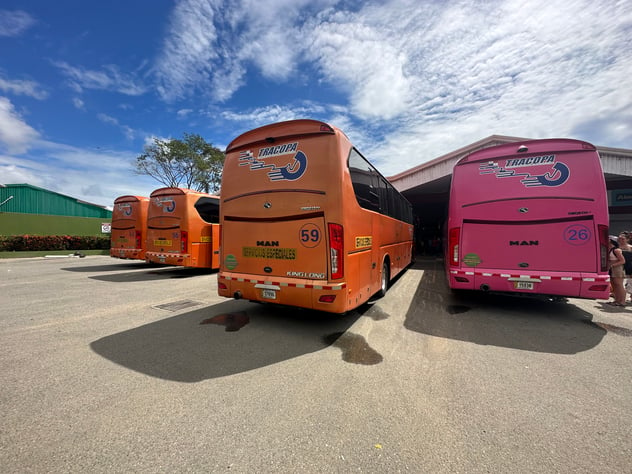 You'll probably be taking a lot of buses while you're volunteering in Central America — here's your go-to guide for getting around by bus.
Costa Rica might not be a huge country, but so many of the sites you're going to want to see can feel really spread out. The thick jungles and road conditions make for some long bus rides to get from one coast to the other, especially if you don't want to splurge on a flight. Luckily, you can pretty much get wherever you need to be by hopping on a bus.
---
See way more than you could ever see as a tourist
Come volunteer in Costa Rica with ILP!
---

We have a guide about getting around Costa Rica right here, but right now, we're here to talk all about buses in a lot of detail.
First Off, Download This App
If you'll have data while you're living and volunteering in Costa Rica, download the MOOVIT App. Here's an awesome step-by-step walkthrough of how it works, but basically, when you open the app in Costa Rica, it'll autofill with your location and give you bus routes to take to various locations. Once you choose your location, you can see how long it will take you to get there, what stops you'll pass and where you are on the route. Pretty handy, right?
Download here for Android and here for IOS
What About A Data Plan?
If you'll be traveling with your phone, you have some choices to make. Do you get a data plan? Do you rely on WiFi instead? We have a post all about traveling with your phone that you'll want to look into, with details about an affordable data plan you can get for your whole semester.

What Kind Of Buses Are There?
You can get pretty much anywhere by taking a public bus or hiring a private shuttle, especially when you're leaving from the city of San Jose.

In Costa Rica, you'll find lots of types of public buses that fall into one of two categories: directo and colectivo. The directo buses are typically the fastest, going from one destination to the next with fewer stops. The colectivo buses make more stops and travel more slowly. You might even see decommissioned school buses used for public transport - cool.

You'll also find lots of different bus companies and shuttle companies. Shuttles will be nicer and about 10x more expensive, but you won't have to worry about making transfers. We'll talk more about shuttles in a bit.
What Are The Buses Like?
It depends what kind of bus you're riding. There usually is not air conditioning on the public buses, just windows (but Ticabuses are usually air conditioned) and if your journey is 3-4 hours or longer, the bus driver will make a restroom stop, as there are no toilets on the bus.
The shuttles or minibuses are usually smaller, less crowded and do have air conditioning (but are more expensive). Some have bathrooms on-board (and wifi). Since they aren't making stops along the way, you'll get there faster but will you pay more.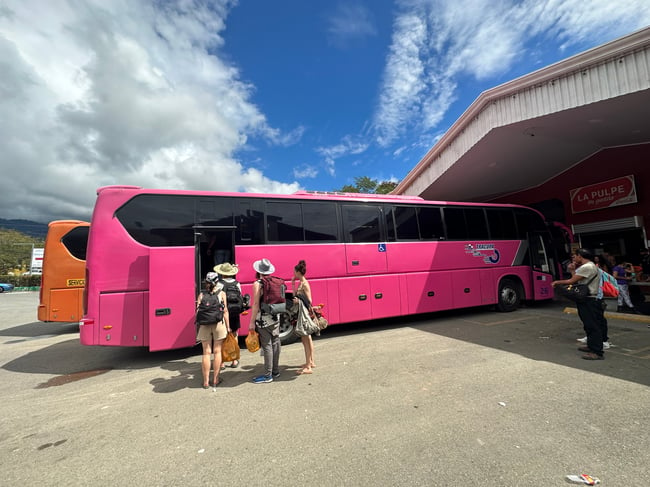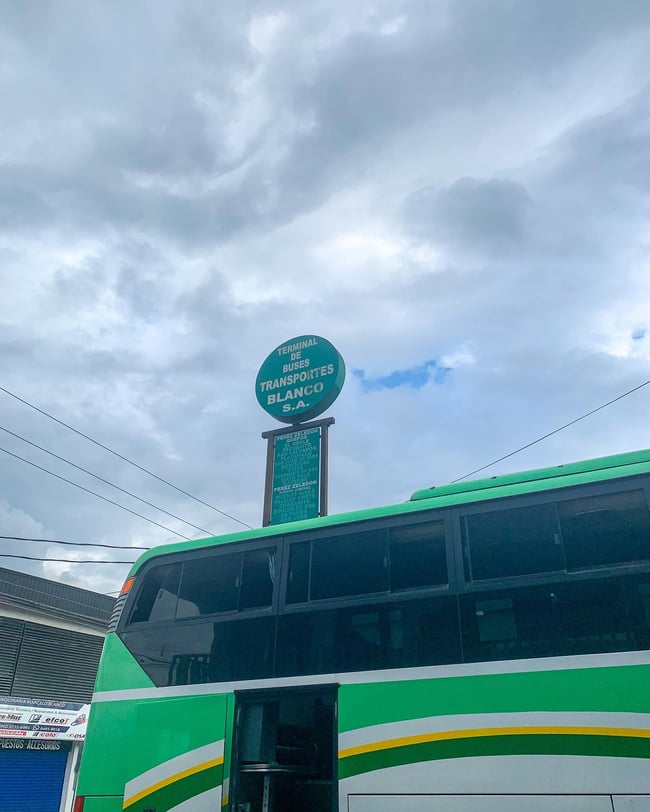 What Are The Bus Schedules?
This is tricky in Costa Rica; there are several online schedules you can look at, but it is always best to double check anything you see on the schedule in person (they have been known to make errors).
You can download this PDF with tons of helpful information and Spanish to English translations and a massive list of the most popular bus schedules.
This blogger has put together a list of popular bus routes and times, but doesn't tell you which terminal to go to in San Jose (there are several). Still, it helps give you an idea of the route.
You can look up your own bus schedules on this website, but past users have said that there are sometimes mistakes, so be sure to double check at the actual station!
Overall, the PDF seems to have the most information and is the most helpful.
How Do I Book Tickets?
There are some routes you can purchase online, while others must be done in person or over the phone. You can find phone numbers using the PDF above, but that's easier to do if you know or learn basic Spanish (or, you can ask someone - like your Local Coordinator - to help you out). Each ILP group is set up with local staff who may be a resource to ask when it comes to questions about bus schedules. If you book online or on the phone, you can purchase tickets with your card.
If you go in person, you can use the bus schedules above to figure out what bus terminal sells your tickets. (If you're going from San Jose to Fortuna, you'll find the address to the bus terminal here): San Jose Terminal: 7-10, Ave 7, C. 8 If you book in person, you can only pay in colones.

Remember, that PDF gives you the English translations of the Spanish, so you understand what's happening.
Once there, go to the ticket counter to purchase your ticket. You should arrive 1 hour (or earlier) to help make sure you get a seat.
Can I Book Tickets In Advance?
Typically, if you get to the bus station early, you won't need to buy your tickets in advance to get a seat. However, if you do need to make a reservation (recommended if you're traveling around Christmas, Easter or if there's a local festival happening where you want to go), you'll need to buy your tickets in person, for a later date.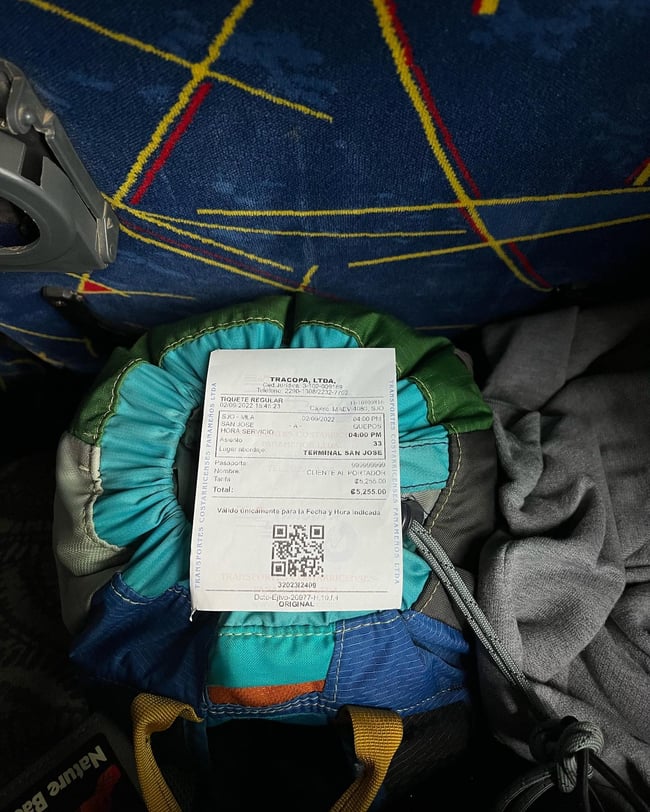 How Much Do Buses Cost?
Public buses are inexpensive; you'll pay in cash and get change back (so don't worry about counting out exact amounts), though it is best to have smaller bills. Most mid-length or long-length public bus trips will cost around $4-20 each way.
You can get an idea of what specific trips will cost right here, but we've pulled out a few more popular places to help you out:

San Jose to Playas De Coco (a gorgeous beach in Guanacaste): About $8
San Jose to Golfito (a pretty coastal city near the border of Panama): About $13
San Jose to Braulio (this is the jumping off point to the Cloud Forests): About $6
San Jose to Uvita (the spot for whale watching and waterfalls): Around $10
How Much Are Shuttles?
It depends on the company and where you're going — On Grayline, a shuttle from San Jose to Uvita is $93, but you can get there on EasyRide for $59, but if you take a public bus, it'll cost around $10.
Check out Grayline, Interbus, and EasyRide for more shuttle prices and destinations. Remember, you can also use a private shuttle and plan your own itinerary (they'll usually do pick ups at your hotel).
You can also hire a private shuttle van if you'd rather go that route!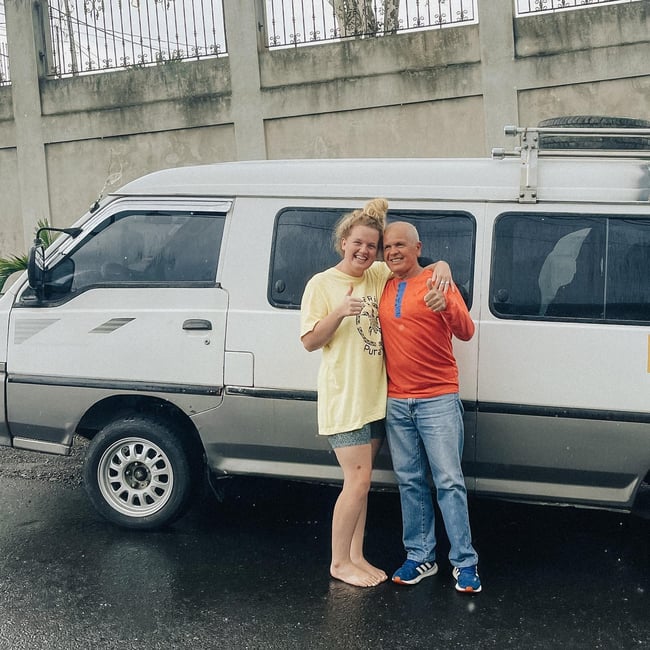 Where Is The Bus Terminal in San Jose?
There are a few bus terminals in San Jose, so you will need to know which one to go to depending on where you are headed on vacation and what type of bus or shuttle you are taking — different companies operate from different terminals.
What About Smaller Towns?
If you're hanging around, or living in smaller cities and towns in Costa Rica, you may not have a central bus terminal like you would in San Jose or other larger cities. You may have a corner or a small parking lot "hub" down the street, where bus times and itineraries are passed around by word of month, or on pieces or paper or signs.
If that's the case (common along those small, coastal towns), it's best to ask around. If you're here with ILP, your Local Coordinator can help fill you in, or you can ask your local hostel, or restaurant (soda), for information. Here's an example of a bus schedule posted around the small town of Uvita.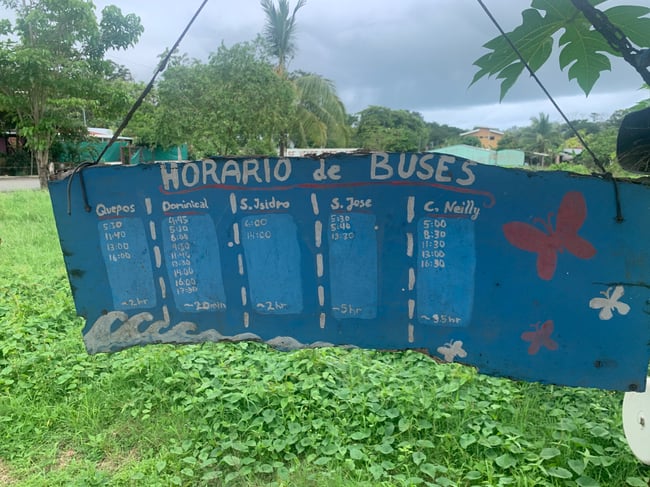 + A Tip Or Two
Make sense? Hopefully this info helps making your rad vacations a bit easier to plan. Past volunteers have mentioned that it's nice to have local cash and US dollars to pay some extra fees that you might get from crossing borders, and double checking routes with the actual bus drive to make sure you're on the right bus.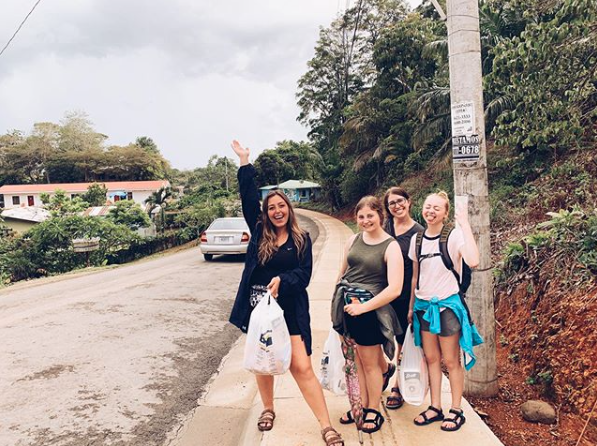 If you're ready for a semester of adventure ...
Come volunteer in Costa Rica! International Language Programs has a humanitarian program there where you volunteer to teach English, but get plenty of free time, weekends off and vacation days to really experience this country.