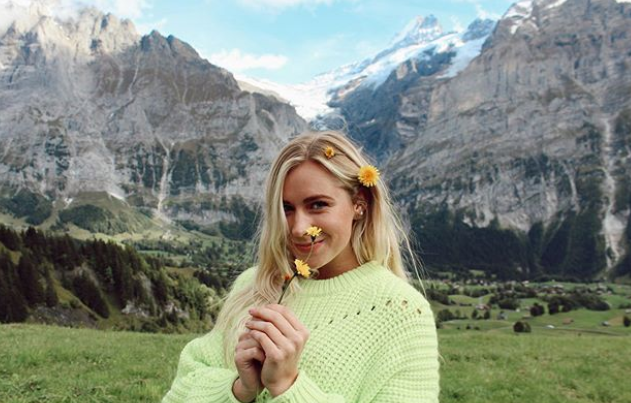 Is Switzerland at the top of your list of dream destinations? Well, you're definitely not alone because this is one of the most beloved countries in the world! If you're trying to decide exactly which cities to visit during your travels, then this is the info you'll need.
Since Switzerland is known for having the prettiest hikes and views, yummiest chocolate and fondue, bluest water for the best kayaking, and a thrilling mountain coaster, of course you're planning a trip there, right?! And if you're volunteering for a semester in Europe with International Language Programs, then this should definitely be incorporated into your vacation plans.


---
Have you wanted to do more than just be a tourist?
Experience the best parts of Europe during a semester abroad
as a volunteer through ILP!
---

While there are countless gems spread across all of Switzerland, there are a handful of cities that just take the cake when it comes to being the ideal vacation spots. And choosing between then is HARD. So, we're here to help you out by passing on the most essential info for our top seven must-experience destinations in Switzerland.
Our Favorite Destinations In Switzerland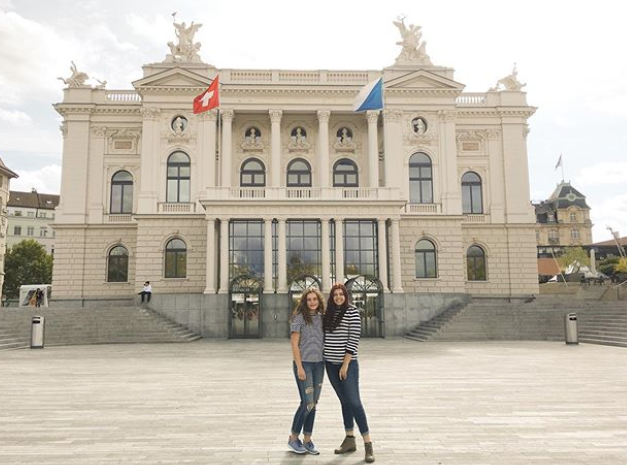 Bern
The capital city is usually a great place to get a taste of the history and culture of a country, and Bern provides exactly that. It stands in the bend of the Aare River, and offers fascinating insights into history, especially since this was the home of Albert Einstein during the first decade of the 1900s when he devised the Theory of Relativity.
Key Spots
Old Town: You can spend hours wandering around the medieval architecture preserved in this endearing part of the city. As you're exploring, try finding the eleven Renaissance fountains located throughout the town, spread between charming shops and cafes. Make sure you also stop by Zytglogge, the tower at the end of the western city gate, that has been home to an extraordinary clock since the early 1500s.
Bern Cathedral: This is Switzerland's tallest cathedral and you absolutely have to climb to the 312 steps to the top of the spire to get a stunning view of the surrounding Alps. Also take a peak at the stained glass and other art pieces exhibited in the cathedral. Check out this website for operating hours and ticket info.
Bundeshaus: You have to stop by the Swiss Federal Assembly, which is one of the world's oldest democracies. While the exterior is stunning with its arches, pillars, and 26 water jets, you should also take a tour of the interior that boasts impressive sculptures, wood carvings, and stained glass. A guide will provide many interesting facts about the government and fill you in on all of the myths about its founding. While guided tours of the Parliament Building are free, you do need to book them in advance by visiting this website.
Museums
Museum of Fine Arts: With a collection of over 3,000 paintings and sculptures, not to mention the 50,000 other various art pieces, this is the oldest art museum in the entire country. Check out this website for operating hours and ticket info.
Bern Historical Museum: This museum houses exhibitions from periods of history, starting with the Stone Age, and even includes many pieces that were obtained during times of war. This is also where you'll find the Einstein Museum that contains lots of photographs and objects about his time in Bern. Check out this website for operating hours and ticket info.
Einsteinhaus: Didn't get your fill of Einstein history? This small apartment is where he lived with his wife and son, and where he wrote many of the papers that gave the world a new perspective on the universe. Check out this website for operating hours and ticket info.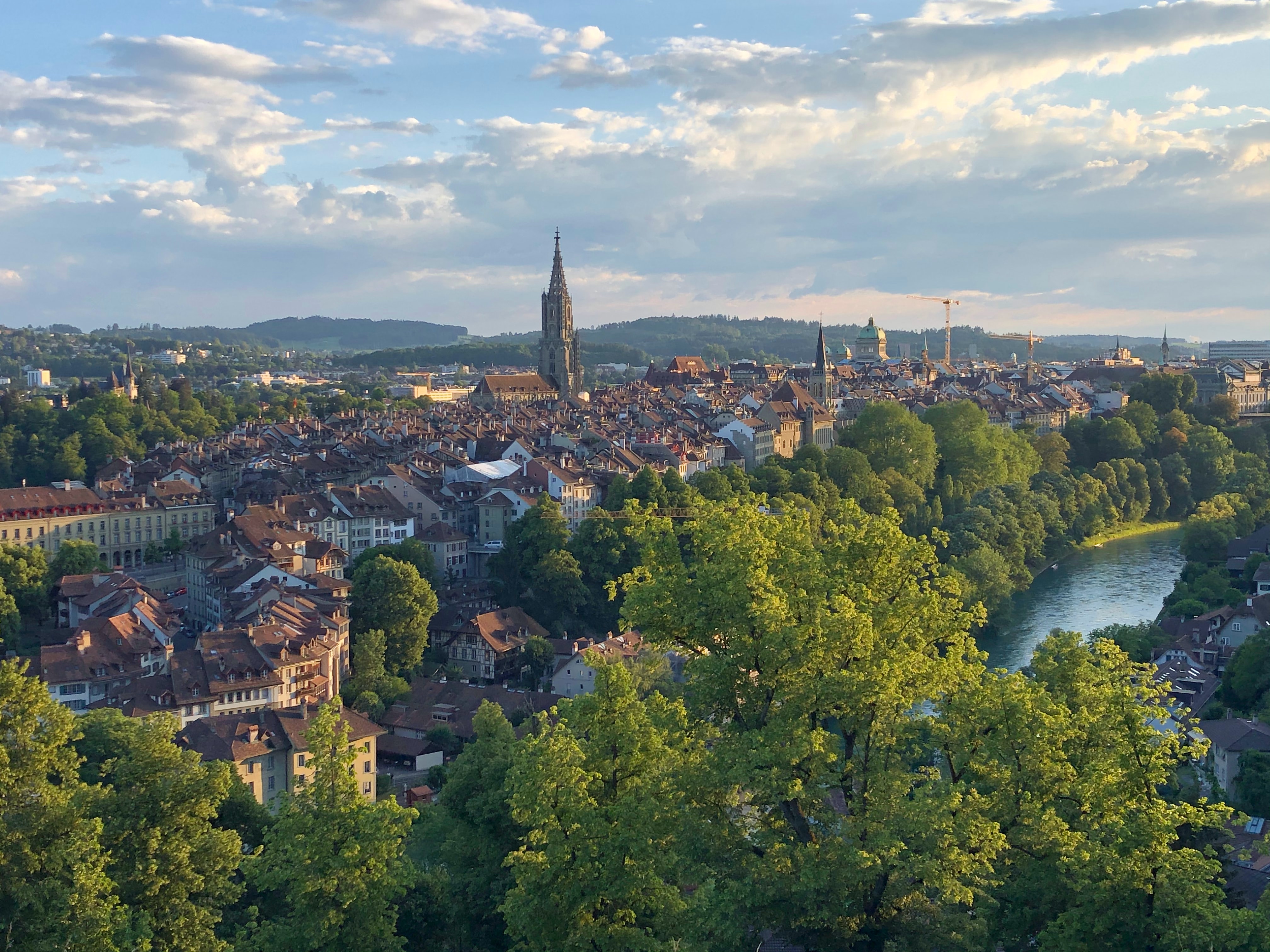 Geneva
This large city is just across the border of France and is still French-speaking today. It's the perfect spot to enjoy some chocolate, cheese fondue, important moments in history, and stunning views. Sounds like most of Switzerland, right?
You can get a whole run down of the highlights of Geneva on this blog post (it's more in-depth) but here are some noteworthy mentions, if you want a sneak peek.
Key Spots
Lake Geneva: This is the biggest lake in Central Europe, and it is beautiful! There are many activities to do on the lake, including paddleboarding and boat tours.
Jet d'Eau: Arguably the city's most famous landmark, this water jet has been around since 1886. It's maximum height is just under 300 feet, so it can be seen from all over Geneva and even from the air.
St. Pierre Cathedral: Located at the center of Geneva's Old Town, this cathedral has stood for over 850 years. It was initially a Roman Catholic cathedral, but following the Reformation, it became a Protestant church, and actually served as the home church of John Calvin. The North and South towers serve as excellent viewpoints for the city, while the interior is a combination of various architectures and a work of art itself. Check out this website for operating hours and more info.
The Vielle Ville: As the largest historic center in Switzerland, you can spend hours wandering these cobblestone streets, discovering the fountains, lookouts, and many little significant spots.
Mount Salève: Fondly known as "Geneva's balcony", this peak provides stunning views of Geneva itself, and the Alps around. But if hiking to the summit doesn't sound appealing, take the cable car that will whisk you right up to the top. The peak is the ideal starting point for wandering around the mountain meadows. Visit this website for operating hours and ticket info for the cable car.
Museums
Musée Ariana: This museum's exhibitions are all about ceramics and glassware, with over 20,000 pieces from around the world. Check out this website for info about operating hours and tickets.
Natural History Museum: Here you'll find three floors that feature exhibits for the Animal Kingdom and two floors that are dedicated to astronomy and geology. Visit this website for operating hours and ticket info.
Art and History Museum: This museum focuses on German and Swiss art, but contains a 3,000-year-old mummy too. Check out this website for operating hours and ticket info.
Patek Philippe Museum: The collections at this museum feature five centuries of watch-making.Here you can see both the very first watch ever made, and the most complicated timepiece ever made. For operating hours and ticket info, check out this website.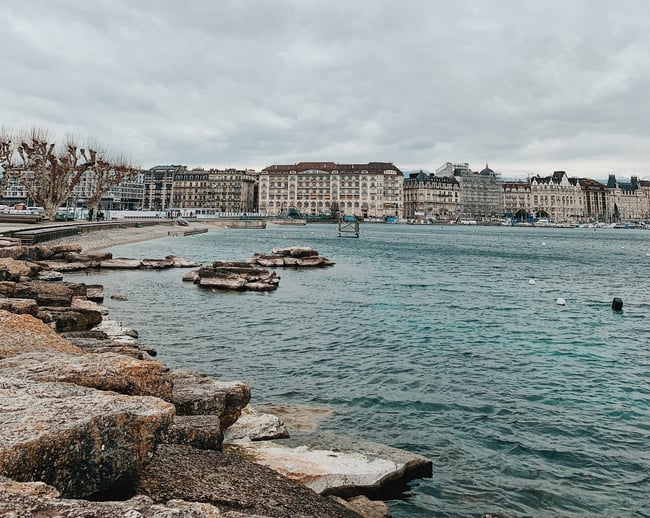 Interlaken + The Jungfrau Region
We love this region of Switzerland, full of charming chalet-filled towns, towering alpine peaks, glittering glacial lakes, and too many hikes to count. You'll find the famous village of Interlaken in the Jungfrau region, as well as places like Grindelwald and Lauterbrunnen as well — plus a few other notable towns to add to your life.
Here you can explore mountain meadows, caves with underground waterfalls, and charming lakeside villages, panoramic restaurants perched on towering mountain peaks, zip line adventures, and places only accessible via cablecar. Do you see why it's a popular place to spend a few days?

We have a whole guide about the Jungfrau Region to help you know how to get here, where to make your base, and all our favorite things to do.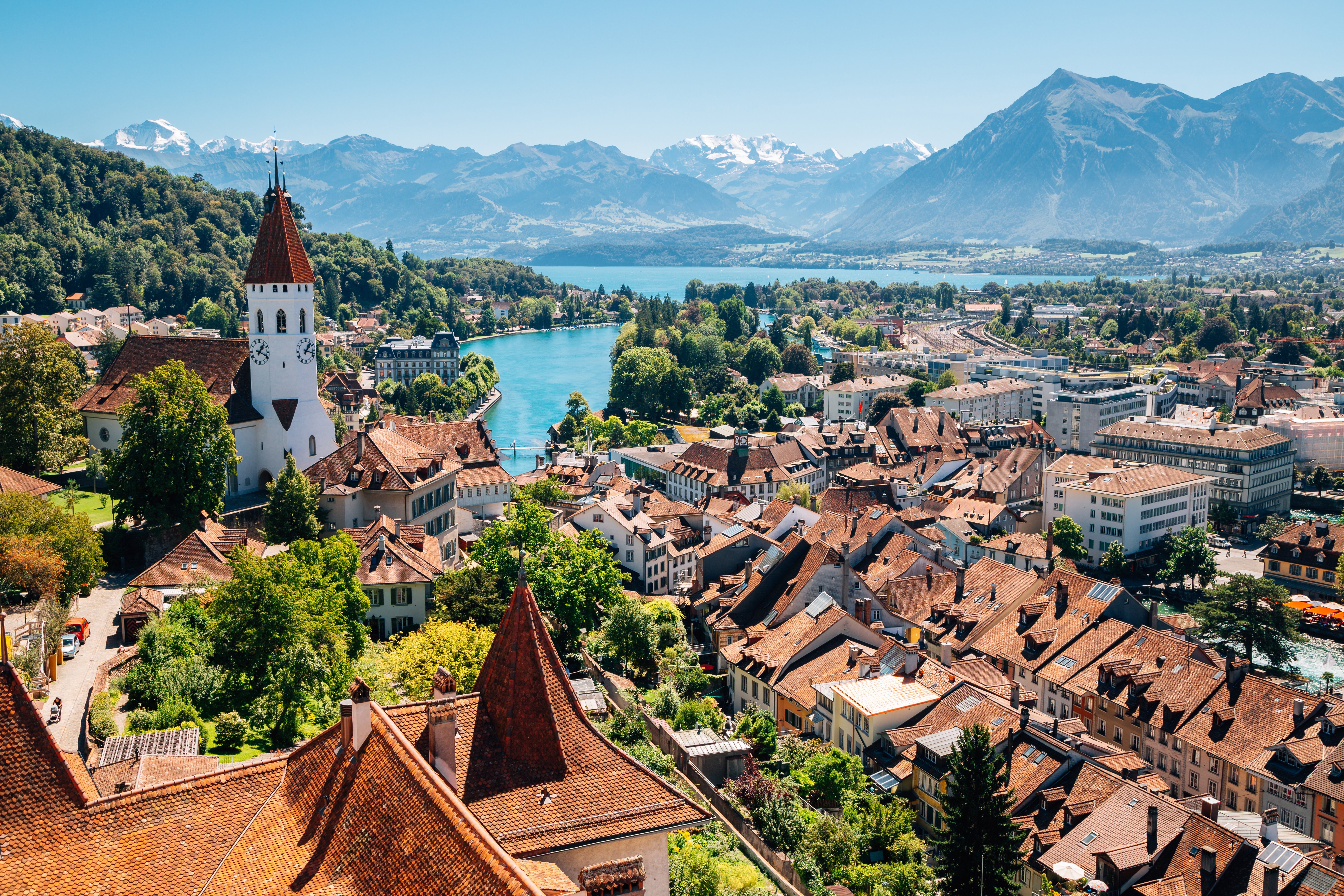 Lucerne
Love lake views, exploring charming cities, and mountain adventures? Lucerne has all three, making it a very popular among tourists and the ideal spot to spend a full weekend.
Chapel Bridge: This 650-year-old bridge is the world's oldest surviving truss bridge and the most photographed spot in Lucerne. It is beloved by tourists and locals alike, partly due to the 30 paintings along the ceiling that depict scenes from Lucerne's history.
Old Town: This historic and traffic-free center is full of tall painted buildings, many of which have entire frescoes on their facades. Spend hours wandering and window shopping through the cobblestone streets.
The Lion Monument: This depiction of a dying lion was created in memory of the Swiss Guard which was massacred while trying to protect Louis XVI during the French Revolution in 1792. Mark Twain even said this is "the most mournful and moving piece of stone in the world."
Musegg Wall: With its nine individual towers, this is where you can catch the best views of nearby Lake Lucerne. The Zyt Tower also houses the oldest clock in town, which you'll notice chimes one minute before all of the others as a tribute to Lucerne's respect for the past.
The Jesuit Church: This large Baroque church has quite the religious history but today it serves primarily as a concert hall. Our favorite features of it are the onion domes that top its two towers, and the pink marble that ornaments its interior.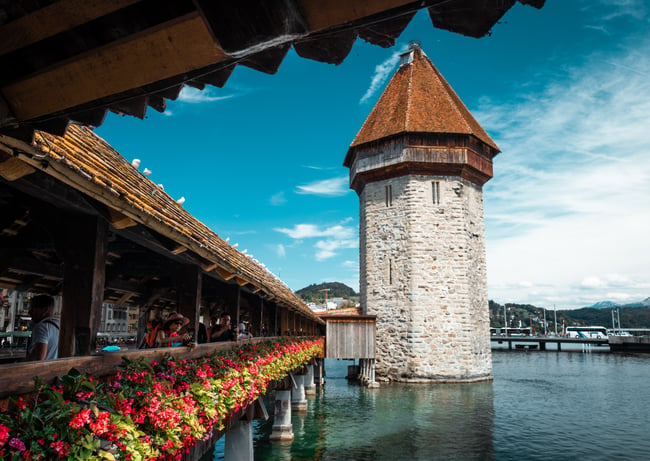 Zurich
This is the most populous city in Switzerland and is bustling with people, entertainment, and experiences that will keep you enthralled for hours. Many also argue that it is the prettiest city in Switzerland, but you've got to visit to be the judge of that.
Key Spots
St. Peter Church: This is the oldest parish church in Switzerland and has the largest church clock face in Europe. Some of the 9th century foundations are still visible today. A unique thing about the church is that the tower is owned by the city, while the nave belongs to the Canton of Zürich, because in the past, the tower was used to spot fires throughout the city.
Zurich Opera House: Although the exterior itself is very stunning, if you're interested in actually attending an opera or ballet, visit this website to look over the calendar events and ticket pricing.
University of Zürich Botanical Garden: No matter the time of year, this is a stunning place to relax and experience the beauty of nature. With over 7,000 different plants and flowers there is always something blooming. While entry is free, you can still check out the operating hours by visiting this website.
Museums
Swiss National Museum: Exhibited in these rooms is the largest collection of artifacts documenting the cultural history of Switzerland. You'll see handicrafts, everyday objects, sculptures, and paintings from prehistory to the present day. Visit this website for operating hours and ticket info.
Zoological Museum: Over 1500 animals are featured here, with native animals displayed on the first floor, and other animals from all over the world in the basement. Although entry is free, you can still check out the operating hours and other info here.
Beyer Clock and Watch Museum: Here you can see 260 exhibits that explain the history of timekeeping all of the way from 1400 BC to the present day. It also has one of the world's largest private collections of clocks. Check out the ticket info and operating hours on this website.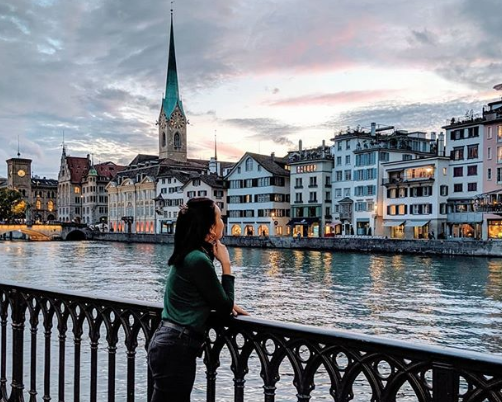 Tips For Traveling Around Switzerland
If you're wanting to visit multiple cities in Switzerland, then you're really in luck! Since it isn't a very big country, you can easily jump from one city to another on either the train or bus. There are international airports located in Zurich, Bern, and Geneva, so if you can find a good flight into one of those cities, then it's easy to catch a train to one of the other destinations.
The trains are usually very clean and punctual. Plus, this is how the locals get around, so you'll really get the full experience. This is also one of the best ways to see the surrounding scenery and landscapes. A train from Zurich to Bern is just over an hour and costs about $50. The trip from Zurich to Geneva (on the opposite side of Switzerland) takes about three hours and will cost just over $60. Book your tickets on Rail Europe.
You may be able to find cheaper bus tickets, but the trips are likely to take longer than a train ride and will also be less comfortable. The best deals are usually on Flixbus.com, although the bus schedules are much less regular than the train schedules.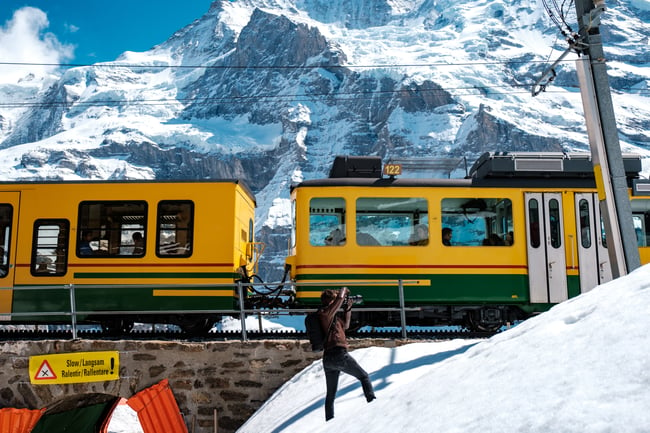 Want to see the adventures our volunteers get to experience every semester?
Between spending their weekdays with the cutest kids and traveling to stunning destinations during their scheduled vacation days and on weekends, our volunteers are busy and love sharing about their time abroad!