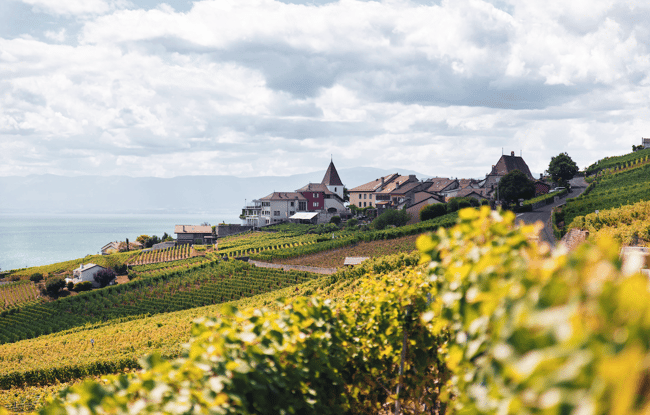 Come for all things Swiss — stores filled with chocolate, cafes with overflowing fondue, surrounded by spectacular mountain views, and so much more.
Take one look at Switzerland to see why it soars to the top of so many travel lists. It's a captivating destination point, full of bucket list adventures like hiking the Alps, a crossroads for so much history, world-famous chocolate, and so many picturesque cities and towns. Though there are countless places to visit in Switzerland, there is one place you can get all the quintessential Swiss experiences — Geneva.


---
Don't miss a thing, with updates every Friday.
Our travel-obsessed team is sending out weekly Adventure Updates
---

Our ILP volunteers based in Europe are in luck because Geneva's a location reached by an inexpensive flight from dozens of cities, is right around the corner from a favorite vacay spot in France, and has oh-so-much to do. Here's a breakdown of enough to keep you busy for 2-3 days, then a few suggestions on where to go next, and info on how to get here on a budget, among other things:
A Bit About The City
Geneva sits on the southwestern end of the huge Lake Geneva and is surrounded by mountains. The city's old, dating back over 4,000 years, and borders France (the border is just 4 kilometers away ... you could walk to Annemasse if you wanted to!) — which influences many aspects of the city. You'll find that French is the dominant language in Geneva, though English and German are also widely spoken.
Geneva's Highlights
Viewpoints From St. Pierre's
One of my favorite things to do when I'm first exploring a new city is to see it from above. It's the best way to soak in the views, see the layout, and snag a few great pictures. And in Geneva, that means climbing up the towers of St. Pierre's cathedral. This 840-year old church has two towers to climb (the south has an open-air balcony, which is ideal for lovely sunny days, while the north tower is enclosed, and ideal if rainy or windy outside).
But don't miss out on the interior of the church either. In typical Gothic fashion, the vaulted ceilings are adorned with beautiful stonework and hung with chandeliers. Even the pews are worth noting, carved individually to properly seat each person, big or small.
Address: Cour de Saint-Pierre, 1204 Genève, Switzerland

Find information about the hours, events, and details about the cathedral

here

.

Lake Geneva + Jet d'Eau
This beautiful lake is one of the main attractions of the city, made a bit more famous by the iconic Jet d'Eau. It's a massive jet of water that's pumped hundreds of feet in the air — it's so tall, you can see it from the window of a plane if they fly over the lake at the right angle. We recommend seeing the jet up close, though it's visible from several spots in the city. The jet only operates in warmer months (and not on windy days), typically from March to October.
You can hire a boat tour to take you around the lake if you wish, but walking along the promenade also comes recommended. The shores of the lake are lined with walkways, tree-filled boulevards, and lawns to sprawl out on. If you fancy a swim, there are public lake swimming baths along the shore (Bains des Pâquis) that are open in the summer.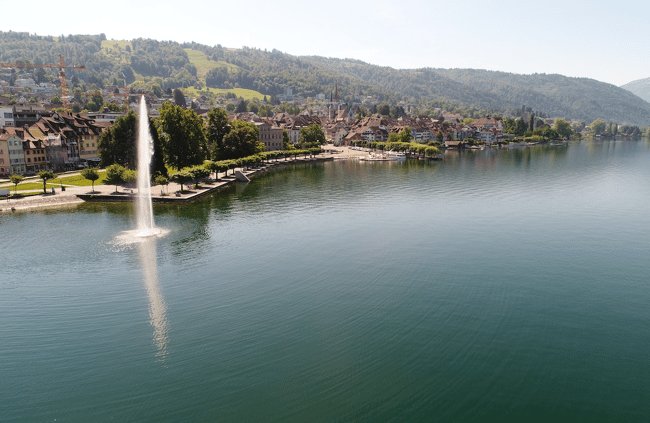 The Red Cross Museum
Geneva is a city full of history, but one notable museum in this metropolis centers on the humanitarian efforts of the Red Cross, spanning over 150 years. On your visit, you'll find very detailed and moving exhibits, especially if you walk through with an audio guide (which gives you even more details about what you're viewing).
Address: Avenue de la Paix 17, 1202 Genève, Switzerland

Hours: 10:00 AM to 6:00 PM in April to October (closing at 5:00 PM the rest of the year).

Cost: 15 CHF

If you're interested in other museums on your visit, there are tons to choose from, but here are a couple of recommendations: See the CERN, which is the headquarters of the European Organization for Nuclear Research. Or, you can explore Swiss Watchmaking at the Patek Philippe Museum (a free guided tour is included in your visit,
more info here
).
The Reformation Wall
Geneva is a city steeped in history, especially religious history. There is a huge International Monument to the Reformation, known as the Reformation Wall, featuring the figures like John Calvin, who also founded the University of Geneva. Find the wall right next to the Promenade des Bastions (which is a large park complete with giant chess sets and checkerboards if you're into a leisurely afternoon at the park).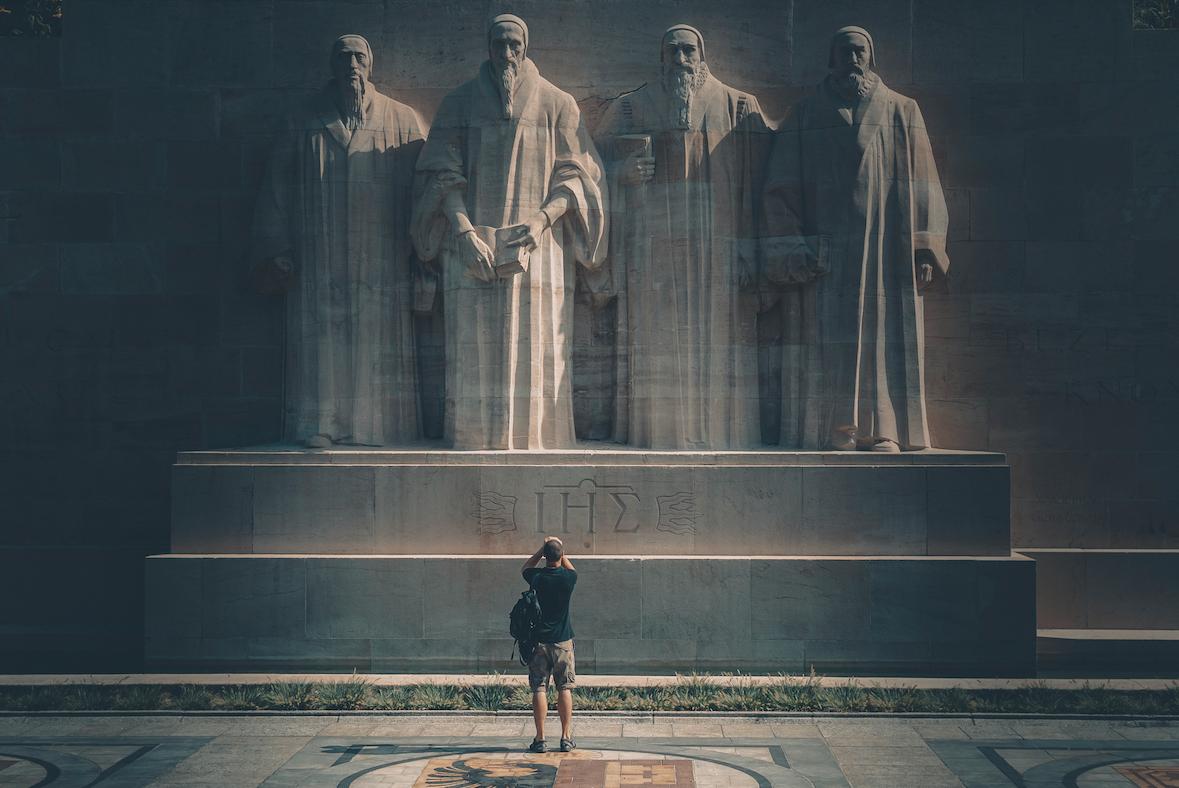 The Secrets Of The Old Town
Any European city has an Old Town, but not all of them are worth experiencing. That's not the case with Geneva. Full of pastel-painting buildings, cobbled streets, and buildings that date back to the time of the Romans, there is a lot to unpack in this part of town.
We love taking walking tours around cities like this because you'll miss so much if you just wander yourself. Here's a list of self-guided tours you can follow, or check out this site for free walking tours.
The Flower Clock + English Garden
While the Jet d'Eau may get a lot of attention, Geneva's floral clock is also a can't miss attraction. And yes, it's exactly what it sounds like: a working clock made from flowers. This clock is made up of thousands of flowers and stands as an ever-growing symbol of the country's watchmaking. Find it in the Jardin Anglais (English Garden) which is a delightful place to take a stroll.
Another place to see quite the spread of flowers is Geneva's Botanical Gardens and Conservatory — the Conservatory is full of over 14,000 species of living plans and is free to visit.
When It Comes To Food
We love the food in Switzerland because highlights include a lot of chocolate and a lot of melted cheese. Yum.
For Fondue
Cheese fondue is also a must, with several recommendations. Bains des Pâquis, Café du Soleil, Café Bon Vin, and Le Gruyerien are just a few of the popular places to try fondue (with other excellent menu items).
For Chocolate
Auer is one of the oldest shops in the city, running since 1939. Everything here is made by hand (and is delicious). La Chocolaterie de Genève and Du Rhone Chocolatier are two other highly rated confection shops.
You can also purchase local Swiss chocolate brands at nearly every market or corner store: look out for Lindt, Cailler, Toblerone, Villars, Ovomaltine, etc.
Or, sign up to make your own chocolate bar at the Stettler laboratory!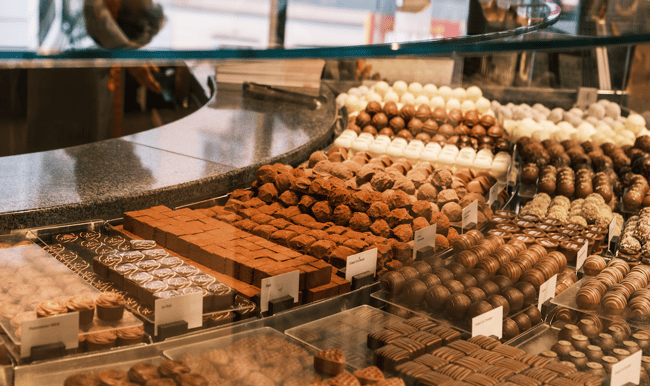 Nearby Things To Check Out
Mont Saleve Cable Car
Technically located in France, you'll need to bring your passport to visit this huge mountain! Mont Salève is found extremely close to Geneva and is a pull for hikers, bikers, rock climbers, and those who want to take a cable car up to the top. The ride up gives you huge panoramic views of the city (and is actually free if you have the Geneva Pass — we talk more about this below).
Annecy, France
We think Annecy is the most charming canal city, not Venice. This gem of a city sits in southeastern France, rather close to the border of Switzerland — it's. common day trip for those in Geneva. Plan on picturesque views, pretty canals, the same Euro-vibes, and the same postcard pastel homes in this lesser-known city in France.
From Geneva, it's an hour drive each way, with a roundtrip ticket of 32 Swiss Franks).
You can also take a bus from Geneva airport to Annecy instead of taking the bus from Geneva's intercity; Catch Bus T72 (operated by Transalis) — it's a 90-minute ride, with a €10.50 cost if you buy online or at a ticket booth, or €12.60 if you buy on board. Book tickets from Geneva to Annecy here.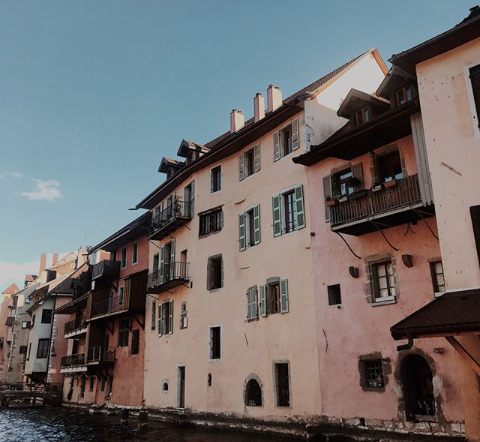 How To Save A Bit of Money On Your Trip
Switzerland is touted as one of the most expensive destinations in Europe — things like activities, dining, and accommodations tend to have a higher price point here than other locations across Europe. However, you can do a few things to keep costs low if you're traveling to Geneva on a budget.
For one, quite a few of the activities listed above are free or only require a few Swiss Francs. Another way to save is getting the Geneva pass, with discounts on major attractions and also acts as a free public transport ticket. They have ones valid for 24, 48, and 72 hours. If your plans include visiting many of the attractions discounted on the card (and riding lots of public transport), you will save money with the Geneva pass. Purchase here.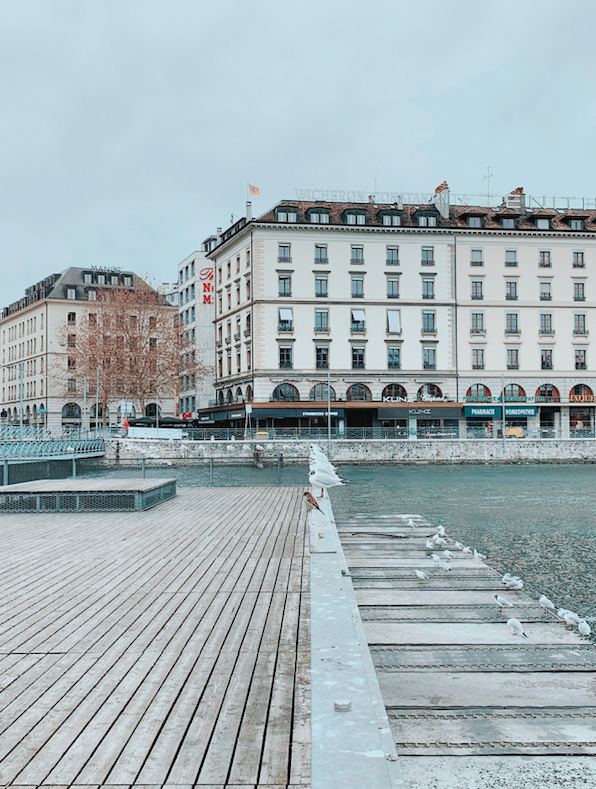 Getting To Geneva
Snagging Flights
You can grab some quick flights all over Europe to get into Geneva (sometimes for a rad price). I love searching on Skyscanner to see what's available, but it is also handy to search budget airlines in Europe for deals, like Wizz Air, Vueling, and Easy Jet.
You can easily find flights from places like —
Barcelona, Spain: $49

Nice, France: $67

Naples, Italy: $80

Lisbon, Portugal: $85

Bucharest, Romania: $85

Athens, Greece: $100

Berlin, Germany: $105

Vilnius, Lithuania: $135

Kiev, Ukraine: $140
By Train (or Bus)
If you're somewhere else in Switzerland, the high-speed SBB rail is the way to go, connecting all of the major Swiss cities. Here are a few nearby cities (one-way) to give you an idea of how close you are to other destination points:
From Bern: Less than 2 hours

From Zurich: 2 hours, 45 minutes

From Interlaken: 3 hours

From Lucerne: 3 hours
If you're traveling from other countries, I love searching for buses and trains on Omio. Check into other cities you're interested in visiting — you may be surprised to find an overnight bus option that'll take you from Paris to Geneva for less than $20, among other deals. Geneva is very well connected to the rest of Europe, making it an easy addition to your itinerary, even if you're doing a lot of country-hopping.
Getting Around Geneva
The city has an excellent transportation system, complete with buses and trams. Generally, public transport runs from 5:00 AM to Midnight, then a few night buses run.
There are a few different tickets to consider. A single ticket is valid for 1 hour and lets you access the entire transportation network (they're 3 CHF). If you'd like a day ticket, they're valid for 9 hours (and cost 8 CHF), or you can go the 24-hour route for CHF10.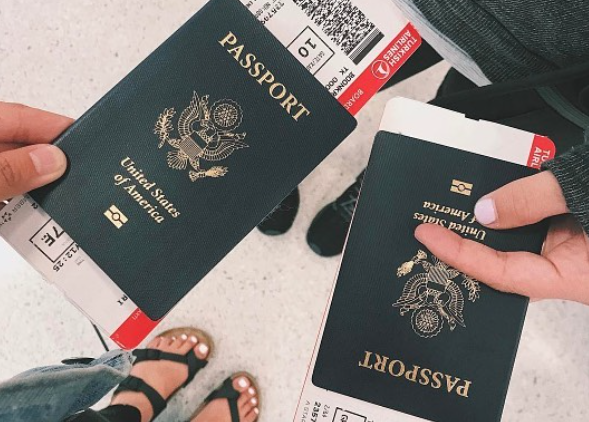 Ready for a European adventure?
We (International Language Programs) host volunteer programs in a handful of different countries around Europe. Our volunteers are college-aged individuals who teach English part-time and have weekends plus vacation days off to travel. This means that you get to teach the cutest kids during the week, then hop on a train, plane, or bus to explore everything that Europe has to offer! Learn more on our Instagram: