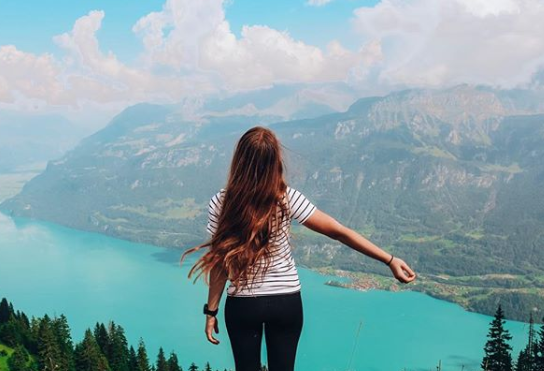 Do you like castles? Cows? Jagged mountains and turquoise lakes? This resort town is an ideal place for tourists wanting to get a taste of Switzerland. Keep reading for everything you need to know before planning a trip to Interlaken!
If you have any kind of love for the outdoors, then Switzerland is the place for you! But since it's easily one of the most expensive countries in Europe to visit, we recommend putting some careful planning into this trip. A lot of tourists will head over to Zurich or Luzern, but we recommend this stunning lake town, Interlaken!


---
Interested in volunteering abroad but not sure where to start
Let's get your questions answered—we'll text you
---
As a volunteer with International Language Programs, you'll have plenty of vacation time to plan memorable trips to so many countries in Europe, including Switzerland. Everybody says the beauty of Switzerland is incomparable, and for good reason. Have you seen the pictures?!
Pretty much all of the recommendations we have are best enjoyed between May-October when the temperatures can get up to the 70s. Here's everything you need to know for planning that perfect trip to Interlaken!

Everything To Know About Interlaken
How To Get There
Getting Around Interlaken
Where To Stay
What To Do
What To Eat
Nearby Adventure
How To Get There
Located in between two lakes, this picturesque Swiss town is in the Bernese-Highland region of the Swiss Alps in the center of Switzerland. Our volunteers who have been say that the best way to get here is actually by flying into Zurich and then taking the train to Interlaken.
The train ride will take around 2 hours and could cost you about $100. Go to this site to book your tickets.
Getting Around Interlaken
For traveling within Interlaken, make sure to ask your hostel for your Guest Card (you're already paying for it in resort tax). This is a free document that lets you use the public buses in Interlaken and in some of the villages around it for no additional charge. It also gives you a 50% discount on the Harder Kulm funicular (keep reading for more info on that hike).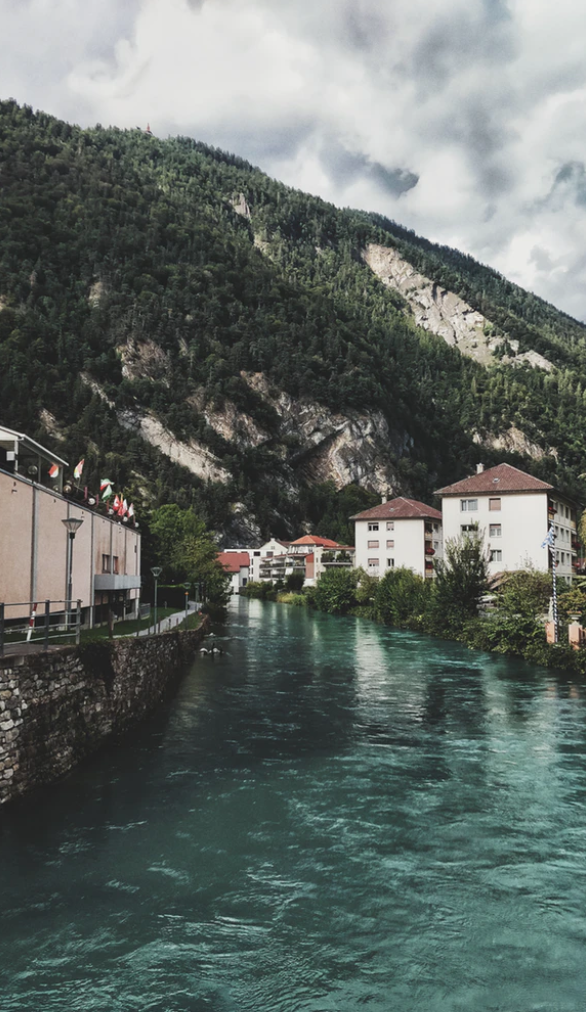 Where To Stay
Balmer's Hostel
This hostel comes highly recommended by some of our volunteers. With a hot tub, hammocks, wifi, and a light continental breakfast included in the cost, this is a great place to stay! They even have washers and dryers (for a little extra charge) to use if this is just a stop on a longer adventure. The cheapest you'll pay here is about $30 per night.
Book your stay here.
Tent Village Hostel
So fun fact, this place is actually owned by Balmer's Hostel, but is a little cheaper option if you are visiting Interlaken during June through mid-September. You'll be paying about $15 to stay in these cutie, high-ceilinged tents. With access to the jacuzzi and hammocks, it's really only the wifi and breakfast you'll be skipping out on.
Book your stay here.
What To Do
Harder Klum Hike
This hike is 14 miles long and takes about 2 1/2 hours each way. But, the views along the way are not like anything else you'll ever see!
If hiking isn't your thing, but you still want to see the view, jump on the funicular from the station near Interlaken Ost, and you'll get there in about 10 minutes.
Explore the Villages Of Lake Brienz and Lake Thun
These are the villages of the two lakes surrounding Interlaken, and we're pretty sure you won't find anywhere else more charming. Lake Thun is most famous for its castles and caves, while Lake Brienz is known for its wood-carving villages and the Giessbach waterfalls. You can easily get to them by train or bus.
Take bus #21 towards Thun for a 12-minute ride that will take you to the St. Beatus Caves. Legend has it that the namesake of these caves successfully got rid of the dragon that used to live here. Today you can explore them after a small hike to the restaurant located above the waterfalls.
Get more info by going to the official website.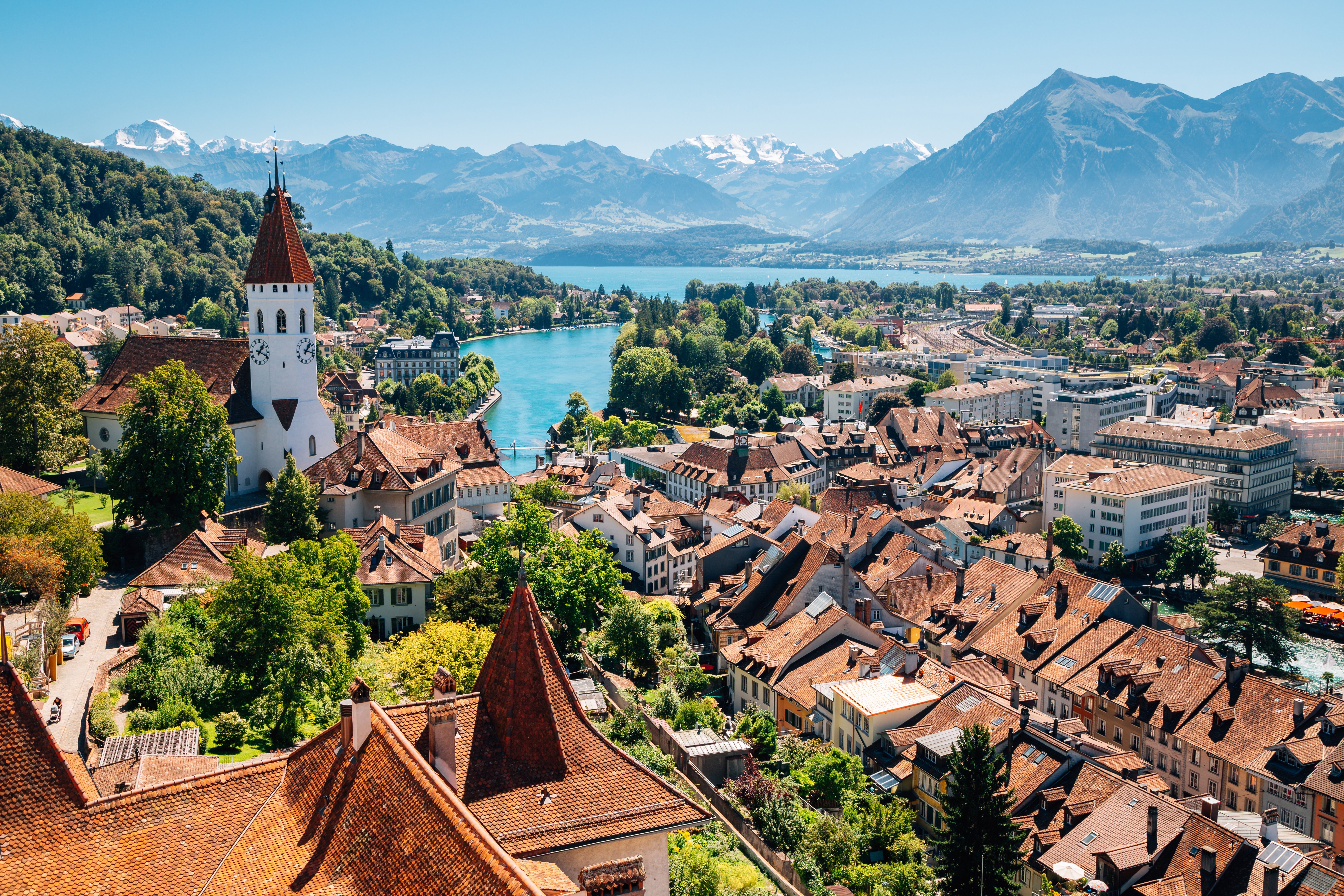 Take a Train Ride to Schynige Platte
Jump on a historic train (running since 1893) that will take you right up to one of the best viewpoints in the area. The train leaves every 40 minutes from Wilderswil Station, and the panoramic views from the train windows and the viewpoint are breathtaking.
The train usually operates from the very end of May through the end of October, but make sure you check for specific dates and purchase your tickets on the official website. Heads up, this is yet another thing in Switzerland that is not exactly wallet-friendly. You'll be paying about $65 per round-trip ticket.
Make Your Own Chocolate
Ummm everyone knows that one of the best things about Switzerland is their chocolate, right? So why not make your own? For about $70 per person, you can participate in a chocolate-making workshop that includes eating all the chocolate you want! It lasts for 60 minutes, but your chocolate will need to cool for another hour, so make sure you have time to go back and pick it up later.
Book your workshop here.
Visit Lauterbrunnen
With over 70 waterfalls, this town nestled in the Alps served as the inspiration for Tolkien's Rivendell in Lord of the Rings. For about $10, you can catch a train ride from Interlaken to Lauterbrunnen that only takes 20 minutes. Once there, the best thing to do is just walk around, take pictures, and soak in all the views.
Purchase tickets here.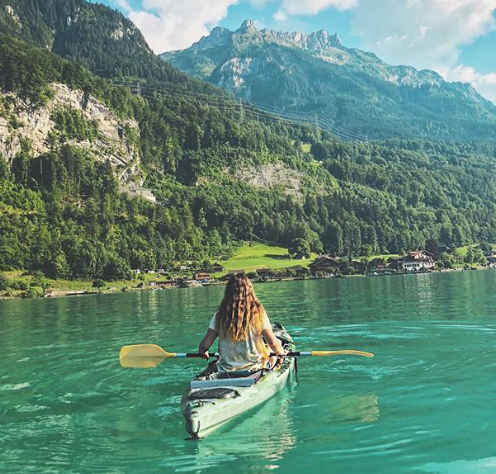 What To Eat
Since the food is pretty expensive, most of our volunteers recommend just going to a grocery store and grabbing stuff to make sandwiches every day you are there. But if you're feeling up to splurging at least once, we recommend the fondue! With all the cows in the area, you can bet they have some dang good cheese. Then head over to one of the many local bakeries to grab a few pastries for dessert.
Nearby Adventure
Swiss Mountain Coaster
Ready for a real thrill? Most people say that the Alps are best appreciated while you're on the move...so if you've already done the hiking, and it isn't skiing season, consider this coaster an unforgettable option! It's located at the Hotel Oeschinensee, by another mountain lake, about 2 1/2 miles east of Kandersteg, and less than one hour away from Interlaken.
This 2,500 foot metal slide will take toboggan-riders down the mountainside through forests and fields of wildflowers. And if you go before 11:30 AM, then one ride is only about $5 (about $7 if you go later)! So worth it! The slide is only open mid-May through mid-October, so if that fits in with your vacation plans...get there!
We have more info about the mountain coaster here.
Zipline The Alps
Just about 30 minutes away in Grindelwald you'll find the First Flyer where you can zip across the mountain, feeling like you're flying with the birds, all while securely harnessed. From the videos I've seen, the views look like something you can't miss!
Check out their website for more info.
Ready to start your own adventure volunteering abroad?
Everyone that works in our office has volunteered with International Language Programs at least once before. Click the button below to get in touch with one of our reps who can help to answer all of your questions.