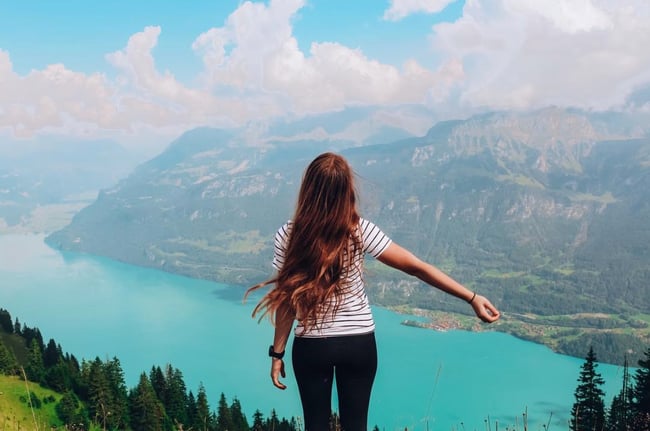 As if we couldn't love the country of Switzerland any more, there's now an epic slide you can ride to get the best views of the Alps.
You won't regret a trip to Switzerland. Picturesque villages stacked in the mountains, breathtaking hikes to unreal views, and let's not forget the chocolate. Switzerland is a vacation perfect for anyone who wants some of the world's most amazing scenery, that's for sure.
---
See our other favorite post in Europe
European Destination Guide
---
While there is plenty to do in this country, one thing you absolutely have to make time for are the Alps, Europe's highest (and dare I say most beautiful?) mountain range that stretches through several countries. In the winter, these mountains provide world-class skiing but in the summer? They sport amazing views and even better adventures, like the Alpine Coaster.
What Is The Mountain Coaster?

Info On Cost

Where Is It? + How To Get Here
What Is The Mountain Coaster?
Imagine a metal slide that lets you zoom past grassy fields dotted with wildflowers and dense forests, all with the famous Alps in the background. The slide is almost 2,500 feet long and lets visitors board a single-rider or double-rider toboggan and whizz down the side of the mountain: you control your speed by pulling up or pulling down on a lever. As you can imagine, it's crazy pretty and crazy fun.
Info On Cost And Other Details
Things in Switzerland are rather spendy, but not this coaster. It's about $5 per ride …. but you'll definitely want more than just one. Luckily you can buy a package of 10 trips for around $35. We recommend riding multiple times (as in 10 might not even be enough).
The coaster is open in good weather, May through October, but you will want to carefully watch the weather on the day of your visit. For safety reasons, the coaster will not operate if it is raining or has been raining. The coaster is open from 9:30 AM until 4:30 PM.
Pro tip: Prices per ride are slightly less expensive ($5 instead of $7) if you buy them and ride before 11:30.
Buy your tickets online here (head's up: this page changes per season, so if you don't see the Alp Coaster it's probably because it's still the winter season). And remember, the coaster is closed on rainy days so it might be best if you buy your tickets the day of just to make sure it's operating.

Where Is It? + How To Get Here
The coaster is found in the mountains near Lake Oeschinen which is just outside of the city called Kandersteg. You'll need to ride a gondola from the city of Kandersteg to Oeschinen (it's about an 8 minute ride and tickets are about $28 for a round trip ticket, or about $20 for a one-way ticket). Get prices and operating hours for the cablecar here.
Or, you can hike to the top which should take about 1.5 hours. You can't access the Alp Coaster by taxi so plan on paying for a cablecar up or budget time to hike up and down.
Once you get to the top, you'll be directed to the ticket booth for the sky coaster, as well as the famous hike to the beautifully blue Lake Oeschinensee. Here's a map of the area to give you an idea of what else you could do after riding the mountain coaster a few times.
Get To Kandersteg By Train
Our volunteers already love visiting cities in Switzerland that are closer to Kandersteg, so getting here is easy. Check Omio for exact dates, booking, and prices but here's an idea from a few spots:
From Bern: 1 hour, $29
From Interlaken: 1 hour 15 minutes, $22

From Lucerne: almost 3 hours, $68
From Zurich: 2.5 hours, $78
From Geneva: 3 hours, $52
Once you arrive at the Kandersteg train station, it's only a 15 minute walk to the Lake Oeschinen Cableway. Here's the address: Oeschistrasse 50, 3718 Kandersteg, Switzerland.
Psst: If you're coming from Interlaken, make sure you check out our guide for that area as well.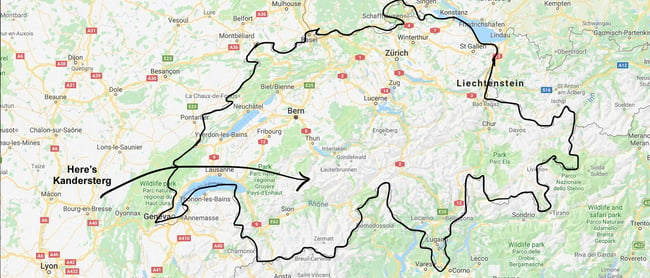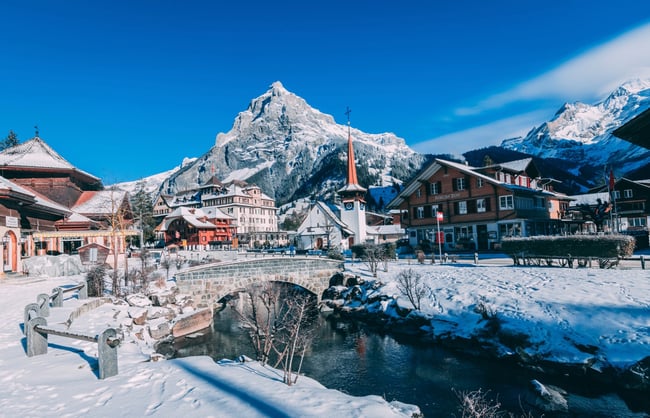 Can't wait to see Switzerland?
Come spend a semester living in Europe as a volunteer with ILP! Volunteers spend part time teaching English or helping in the orphanage program, and part of their time exploring their country and countries like Switzerland.