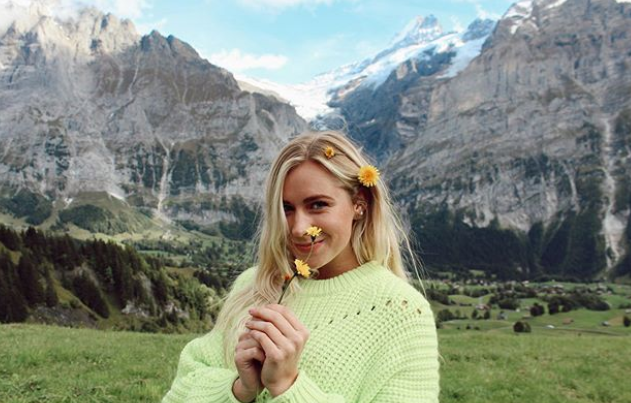 Do you like alpine climbs and hikes? Picturesque towns? Jagged mountains and turquoise lakes? Then this particular area of Switzerland is where you want to visit.
If you have any love for the outdoors, Switzerland is the place for you, specifically the Jungfrau region. Many tourists will head over to Zurich or Luzern, but we recommend this stunning area, full of little towns — since this region of Switzerland is somewhere you can spend a lot of time in, we're going to give you a quick guide to the most famous towns (including Interlaken, Lauterbrunnen, and Grindelwald) as well as highlighting a few other things to do here if you have the time.


---
Interested in volunteering abroad but not sure where to start?
Let's get your questions answered—we'll text you
---
As a volunteer with International Language Programs, you'll have plenty of vacation time to plan memorable trips to so many countries in Europe, including Switzerland. Everybody says the beauty of Switzerland is incomparable, and for good reason. Have you seen the pictures of this country?? Since ILP volunteers are typically visiting a few different cities on their longer vacations, we've catered this blog post to fit in with that plan — visitors who are here for a little bit, on a budget, and want to see the highlights.
Everything To Know About Jungfrau
A Bit About This Part Of Switzerland


The area we're focusing on is the Jungfrau Region — situated at the base of the Bern Alps. It's very famous for a few reasons. Mostly, it's the home of several popular tourist towns we'll talk about later, is full of a smattering of lakes and gorgeous hikes, and is just as picturesque as you'd think. The Jungfrau Region is sometimes nicknamed "The Top of Europe" due to the elevation of some of these towns, and the fact that you can get a surplus of those famous alpine views, all around you. It's also home to the highest train station in Europe, Jungfraujoch, at a towering 3,454 meters. Combined with the alpine views, list of activities, and charming towns, it's the place to be.
Now that you're oriented, understand that this region is where you'll find the very picturesque and popular mountains towns of Interlaken, Lauterbrunnen, and Grindelwald, along with a few others. This post is here to guide you through the highlights of the region, and give you some hints on which ones to visit depending on what you want to do, how to get around, and how to spend your time in this very beautiful part of the country. Helpful, right?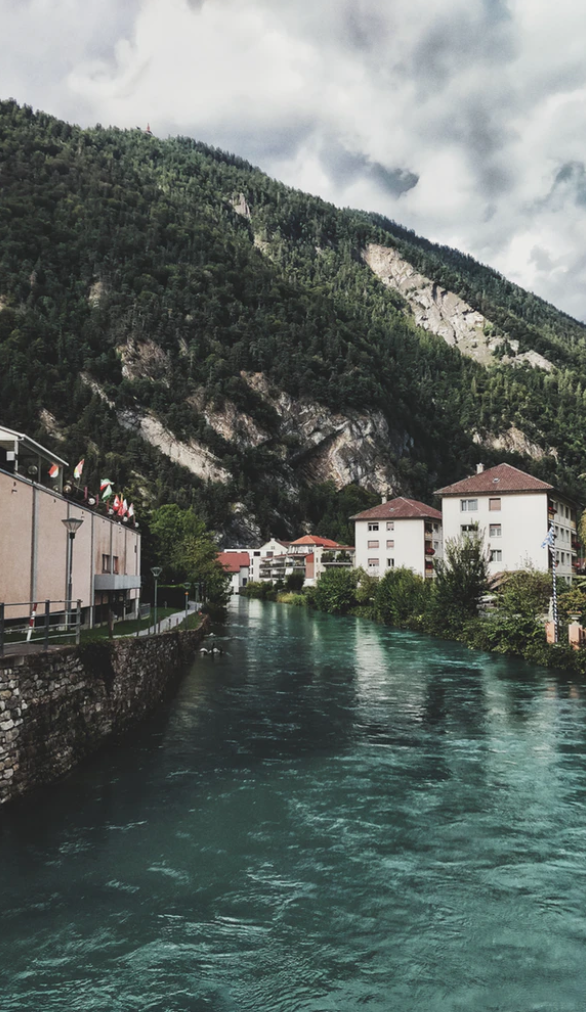 About The Villages Here
First off, let's dive into the towns found in the Jungfrau region. In this blog post, we're listing the most noteworthy, and outlining the most popular and unique things to do in that particular town that you can't do in the others, so you can decide which ones you're most interested in seeing (if you have to choose between the list — in a perfect world, we'd have as much time as we wanted in each of these darling locations, but typically that's not the case).
Interlaken
Probably the most famous on this list, Interlaken is home to quite a lot to do, and some of the most popular activities/viewpoints in the Jungfrau region. It's known for a smattering of high adrenaline adventures, whether that's river rafting or canyoning, or hiking to breathtaking heights to see impressively blue lakes and incredible views. This town is situated between two lakes on the valley floor, so plan on hiking, driving, or taking a cable car to see higher altitude views.
Tourists visiting Interlaken typically hit a few highlights, including the Harder Kulm hike — a 14-mile trek that's well worth the views at the end, or tackling the view found on the Schynige Platte trails, a meandering collection of trails that can lead you to alpine gardens, views to snowcapped peaks, and more. Another very popular activity is the mountain coaster where you can zip down a track totally surrounded by gorgeous mountains, or taking a boat trip around the glittering Lake Thun or Lake Brienz.
Is This The Town For You? Interlaken is an important route connecting trains and trams to other locations (like other towns in Jungfrau) but also easy access to nearby attractions like the Giessbach Waterfalls, Jungfraujoch, and others. Along with the specific hikes and lakes found in or very near Interlaken, this town is also known as the gateway village to the Jungfrau Region. You will probably end up here even if you're just passing through.

Just so you know, Interlaken is described as a mid-sized town that doesn't boast the same kind of beauty or charm as others on this list but is easy to navigate, a popular tourist destination with the resources you're looking for, and of course, home to these activities (and more). If you want to have a quieter experience, some suggest staying in nearby Wilderswil — it's considered more picturesque, but still with good access to the Interlaken and the rest of the region.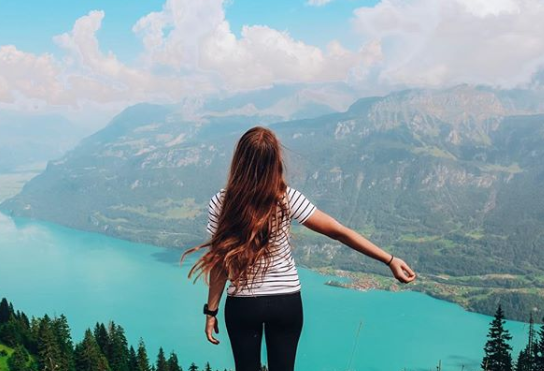 Lauterbrunnen
Lauterbrunnen is home to more than 70 waterfalls, picturesque alpine valleys, and dozens and dozens of hiking trails. This darling village is nestled between a "U-shaped" curve of mountains (cascading with waterfalls) on the valley floor ... and yes, it's as pretty as it sounds.
Most visitors to this town in the Jungfrau region spend a day or two appreciating the charm of the authentic Swiss village of Lauterbrunnen itself, then heading to one of the many waterfalls in the area. One of the most famous is Staubbach Falls or Trümmelbach Falls. Supposedly, this area was a key point inspiring Tolkien's magical kingdom of Rivendell, in the Lord of the Rings.
Others plan on riding a handful of cablecars to get up to the Schilthorn summit (admiring the view up there, as well as at the top where you can see several notable Swiss peaks). It's also famous thanks to its feature in the 1969 Bond film. If you're looking for more viewpoints, think about hiking from Lauterbrunnen to the nearby village of Panoramaweg, or the Wasserweg hike which takes you past even more waterfalls.
Is This The Town For You? If you're looking for a postcard-pretty town surrounded by classic Swiss views and attractions, Lauterbrunnen is probably what you are looking for. It's easily reached via Interlaken (just 20 minutes away), is full of mountain views, easy to difficult hikes, unbelievably pretty valleys, almost too many waterfalls, plus a town center full of churches and classic Swiss chalets.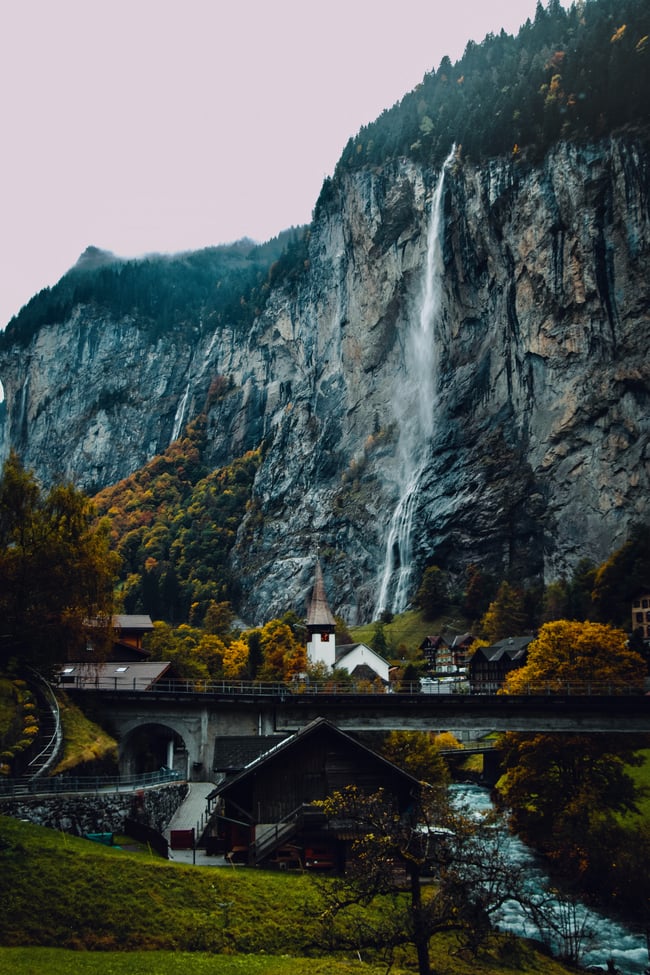 Grindelwald
This charming town is one of the "the spots" to ski or snowboard in Switzerland, but visiting in the summer is equally as popular. One major highlight is the cablecar from Grindelwald-First which is a jumping-off point to many attractions.

To start, how about soaking in the views from the First Glider? It's a sort of zip line experience where you're zooming down the track Superman-style, connected to a glider. You can also access the Cliff Walk by Tissot which gives you amazing views as you walk the metal walkway to the viewing platform. There's also another zipline adventure called First Flyer if you didn't get quite enough at First Glider. You can also spend time making the scenic walk to Bachalpsse Lake, reached once you make it up to Grindelwald-First, or try the "Go-Cart" trail down the mountain. There are tons of hiking trails around, too, if you're looking for more.

A few other things you can access from Grindelwald include Gletscherschlucht(a dramatic stone ravine), the charming Swiss Alpine village feel found in Dorfstrasse (the main street in Grindelwald), easy access to Mannlichen, etc.

Is This The Town For You? If you're wanting the experience of a quiet mountain town with a whole network of activities above you, find that in Grindelwald. As we outlined, you'll need to cablecar up to Grindelwald-First (or other connection points, like Pfingstegg) to access most of the highlights, but there's a big range of activities available: hikes, zip lines, gliders, scooters, Go Carts, and more. You can also easily reach places like the Jungfraujoch from Grindelwald, or hike the First to Schynige Platte. However, there is a network of hiking and biking trails accessible right outside of your hotel door.

Grindelwald is a popular tourist town, with activities to do in both the wintertime and the warmer months. It's not as busy as Interlaken (and just 25 minutes away), but still has shops, restaurants, and the picturesque views you're looking for.


Wengen
We're switching tracks here with a quieter mountain village, known as Wegen. It's totally car-free, giving you what some say is a more authentic alpine experience. It's a popular winter location thanks to the ski resorts, but we love some of the other activities, too.

Hiking is a big one in the warm months in Wegen. Treks to Kleine scheidegg, Eigergletscher, or Maanlichen are a popular way to soak up the views of glacier lakes and alpine views ... but you can also ride down the mountain from Maanlichen to Grindelwald on "Go Kart" style bikes.

Is This The Right Village For You? If you're looking to escape the main tourist track, come to Wegen. It's a quieter experience with meandering mountain walks, cable cars to stunning views and lakes, and a few more perks, like easy access to Jungfraujoch or Grindelwald by train, a cablecar to Murren, it's close to Lauterbrunnen as well.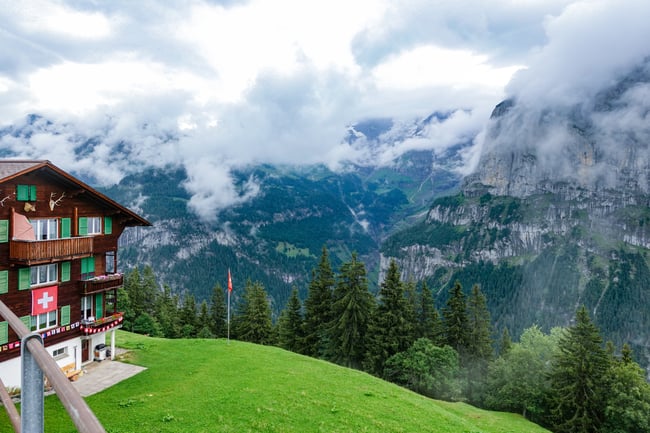 Murren
The hilltop village of Murren is your pick if you're looking for a quieter mountain village that's all about the charm of being surrounded by sweeping mountain views. Murren is another car-free village and full of a few unique things to do, like the Murren to Winteregg walk. Unlike other alpine hikes, this trail is completely flat but boasts the same stunning mountain views. You can also walk to the nearby village, Gimmelwald, for a visit to an even quieter farming town.

Before leaving, make sure you visit to the Schilthorn restaurant, made famous by the where part of a 1969 James Bond movie was filmed. It's a place people visit as a half-day trip from Interlaken, Lauterbrunnen, and others — it's a thing not to be missed! The whole restaurant rotates, giving you an incredibly beautiful panoramic view (Don't want to eat at the restaurant? Take a visit to the outdoor viewing platform to admire 40 glaciers and 200+ mountains instead ... just don't miss visiting Schilthron) Visiting the alpine cheesemakers is also a noteworthy experience in Murren.

Is This The Right Village For You? The appeal to Murren is the chalets and cottages, the quiet atmosphere, a host of panoramic (yet expensive) restaurants, and quaint walks to nearby villages. It feels like a bit of an escape from the more commercialized, touristy, and busier villages on this list.

If you want an even more remote and quiet experience, plan on visiting (or staying) in nearby Gimmelwald.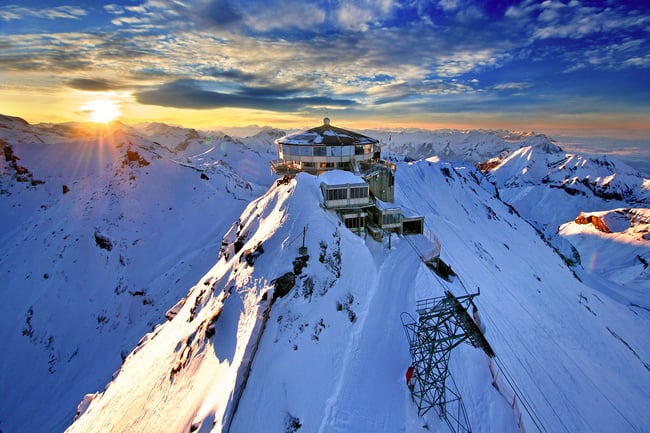 The Best Way To Get Here + Get Around
Getting To The Jungfrau Region
You'll want to get yourself to Interlaken — As mentioned, Interlaken is typically regarded as the transportation hub to this region, with train accessibility to the other villages which may be your final destination, or where you can catch your next train or cablecar to where you're actually headed. It's the gateway town to the Jungfrau Region.

Interlaken is closest to the city of Bern, so flying into Bern then taking a train will get you there in about 45 minutes if you're on the fastest tracks. Bus is also an affordable option that should take less than an hour. You can also access Interlaken from Zurich if you have more time — about 2 hours via train, and 3+ hours via bus. If you fly into Geneva, plan on a 3-hour train ride and a 4.5-hour bus ride.

Taxi is available for either option but prices are more like $250 - $390 USD, compared to $7 - $65ish (and up) you could be paying for a bus or train. Yikes! Also something to consider? There are more expensive train routes to look into if you're interested in a panoramic ride to your destination if that's an experience you're looking for.
Getting Around To Each Village
Once you're in Interlaken, you can access all the little villages mentioned in the post above. We love booking buses and trains on Omio if that's helpful, plus we've included a bit of a breakdown of how to get there and timing to help you plan your schedule

To Lauterbrunnen: From Interlaken, it's a short bus or train ride, about 18 - 20 minutes. Bus routes are a few times a week, with daily train schedules all throughout the day.

To Grindelwald: Plan on about a 30 or 34-minute ride (things are slightly shorter via bus). There are regular bus and train routes between Grindelwald and Interlaken.

To Wengen: Wengen is best reached via Lauterbrunnen, so get yourself there first, then plan on taking the funicular up to Wegen. It's around a 10-minute ride.

To Murren: This is another one best reached from Lauterbrunnen where you can take the cablecar to Grütschalp before changing to the narrow gauge train to Mürren BLM.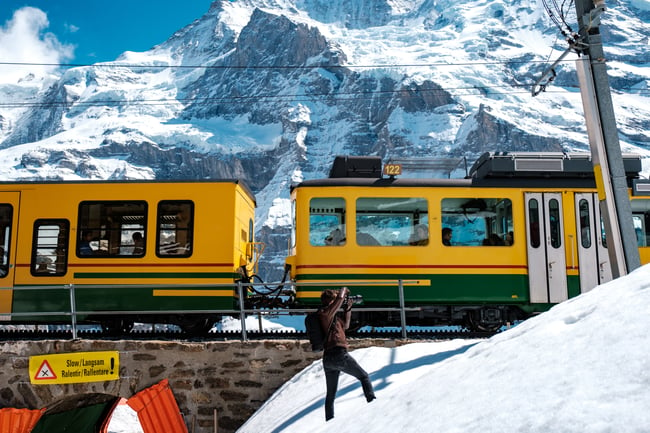 Where To Set Up Your Base
I'd suggest looking at where you want to visit (remember, Lauterbrunnen is the base for visiting Wengen and Murren), and starting there. You'll pass through Interlaken to get to this region, so maybe plan a half-day or more in Interlaken if you're interested in just one or two things to see via Interlaken, then making your base in Grindelwald or Lauterbrunnen.
I'm Short On Time, What Do I See?
First off, plan on spending at least three days in the Jungfrau region if you want to visit a few places on this list and have your days full of all kinds of adventures. Of course, more time would mean longer days in your chosen locations or seeing and doing even more but plan on at least three days.

If you have less time, I'd suggest picking either Interlaken or Lauterbrunnen/Grindelwald depending on what kind of activities or vibe you're going for. Since these three are so close to each other you could cram in two locations in two days (or even one day) but I'd advise against that — you don't want to feel rushed especially since some activities are best structured as a full half-day hike or other activity.
A Few More Tips And Suggestions
When Should I Visit?
Most people head to Switzerland in the summer months, where temperatures are a warm 60 - 80° F -ish degrees. It's not really warm enough to take a swim in any glacier lake, but it makes for very nice hiking weather.
The high season is from the end of June until about September, with some shoulder seasons in June, and another one from September to October. Visit outside of these ranges, and you'll be seeing this place covered in snow and chilly temperatures — which might be your goal if you're here to ski or toboggan.
How To Save A Bit Of Money
Switzerland is one of the most expensive countries to visit in the world, and our ILP volunteers are typically on a bit of a budget. Along with the basics like staying in hotels and grocery shopping for breakfast and dinner rather than going out, splitting what you can with friends, etc., we suggest prioritizing what's important to you — in each of these locations, there are free activities you can do which offset the costs of the activities/meals you want to enjoy.
Another handy tip? There are a few tourist passes available that can give you discounts or free access to some of these activities which can be a big help. You can look into what you want to do, and see if the Swiss Travel Pass or the Jungfrau Travel Pass would save you the most money — depending on where you are going and what is on your itinerary. These passes can be expensive, but sometimes if you're traveling a lot or want to cram in lots of activities, it's helpful!
You may also want to ask your hostel for your Guest Card. Depending on the town you're visiting, you can get some discounts. For example, in Interlaken, that free document lets you use public restrooms and some public bus routes free of charge, along with discounts like 50% off the Harder Kulm funicular. It's not available in every city, but definitely worth asking about.
The Weather Can Change
Some visitors mention having some backup activities in case of changing weather, like an unexpected drop in temperatures, some rain, or even snow. Activities like visiting a nearby museum, switching the hike you had planned to do, taking a spa day, picking a restaurant where you can a cheese fondue lunch and a chocolate fondue dessert, etc. are all ones to consider as a backup.
Ready to start your own adventure volunteering abroad?
Everyone that works in our office has volunteered with International Language Programs at least once before. Click the button below to get in touch with one of our reps who can help to answer all of your questions.