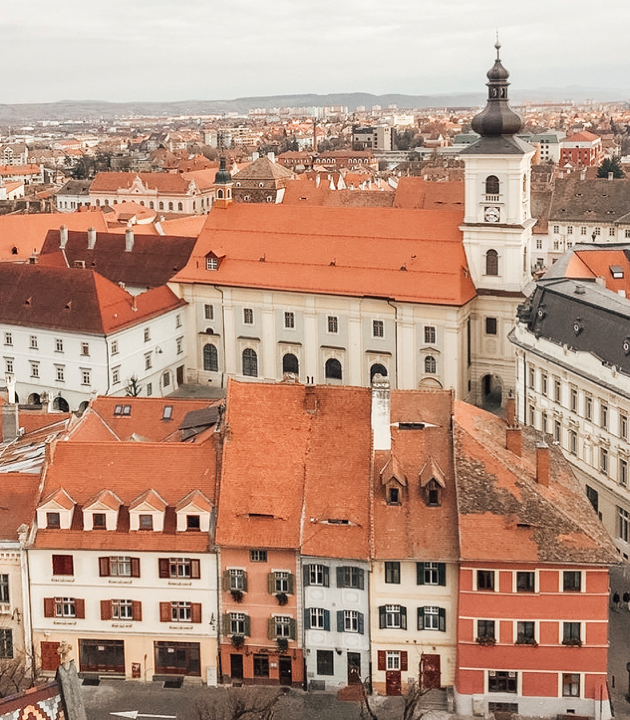 I've been able to see more than a few of Europe's cities, but here's why I fell completely head over heels with Romania.
I'm pretty obsessed with Romania. In my last trip to Europe, I visited some countries I was dying to see — famous touristy spots where I had a dozen friends who had visited before me and told me what to expect. But I also added Romania to the itinerary which ended up being my favorite for more than a few reasons. It caught me off guard and had me wishing I would have spent twice the time there for starters.


---
Want to call this country home for a semester?
Come volunteer in Romania with ILP!
---

So maybe you're thinking that Romania can't possibly be the prettiest country in all of Europe … and maybe it's not, even though the pastel villages stacked up against rolling green hills is pretty hard to beat. The things I absolutely loved was how surprising Romania was. The charm, the history, and all the castles were things I hadn't seen splattered all over Instagram (yet). Sometimes places seem less pretty or enchanting in person because you have a set of expectations.
Even if you haven't been to Paris, you know what a visit there will be like, right? Maybe the thing I loved the most is that my time in Romania didn't feel "done before" by all of my friends. instead, it was totally new and completely enchanting. Ever since I visited, I find myself saying "Romania" when people ask where I loved traveling .. and honestly, it's not hard to see once you glimpse at how picturesque all these places are!
The Most Instagram-Worthy Spots In Romania
Brasov

Peles Castle

Bran's Castle

Balea Lake

Constanta
Tunnel Of Love

Sighisoara
Bucharest
The Transfagarasan Road

Corvin Castle

Decebalus' Face
Brasov's Postcard Views
This place could not get more picturesque. Tucked away high up in the green rolling Transylvanian hills, this colorful city looks like a postcard. I can't believe this gem isn't more of a tourist hot spot — how does this scene not lure in all of the crowds? Brasov has cobbled streets, painted baroque homes, a towering Gothic church and even boasts a "Brasov Hollywood" sign up on the hills. It's number one of this list for a reason. To make this place even better, it's the best jumping off point to see a couple of other spots on this list (Peles Castle and Bran's Castle). And since one picture isn't enough, here's more about Brasov.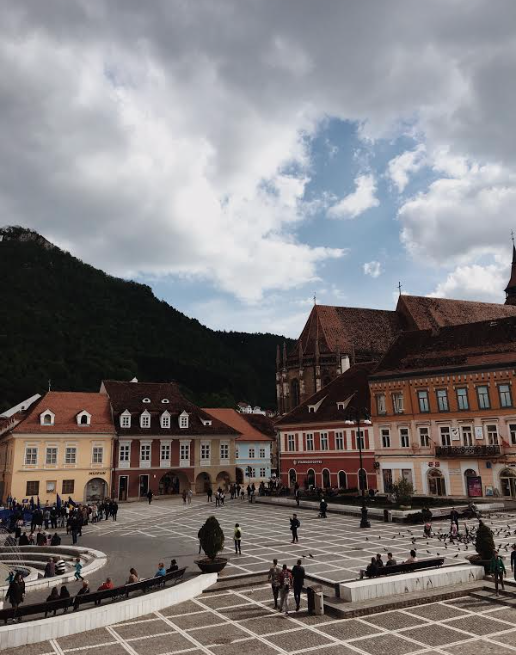 The Stunning Peles Castle
Found in the nearby city of Sinaia, you can easily take a train from Brasov to see this stunner. Built over a hundred years ago, this Neo-Renaissance castle is utter luxury, perched between sloping alpine mountains. The outside is incredibly impressive, but inside, you'll see what you'd expect of a royal residence (we're talking lush ornamental rugs, vaulted ceilings with detailed chandeliers, rich wooden doors that are intricately carved …. you know, total luxury).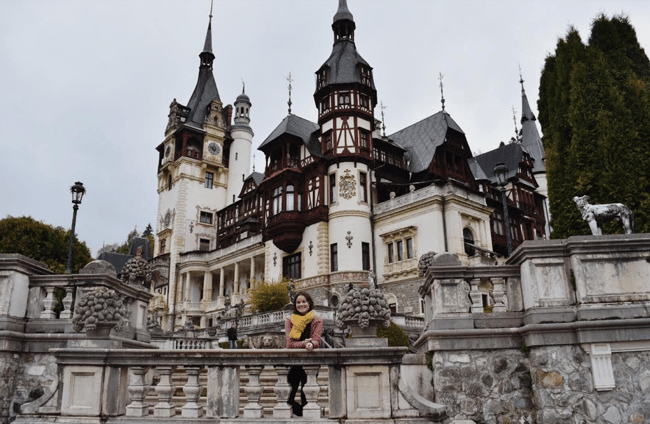 Bran's Imposing Hilltop Castle
Fan of the horror genre? Then you'll need to grab your camera to see the supposed Dracula's castle, and iconic and imposing medieval castle supposedly inspired the legend of Dracula. The castle is said to be the only one in all of Transylvania to match Bram Stoker's description in the novel, hence the idea that Bran's castle inspired Dracula's home. The picture you have to get of this hilltop fortress is the shot of the tower — head upstairs through the winding spiral stairs and walk under the shingled roofs until you get to an opening that's situated right above the courtyard.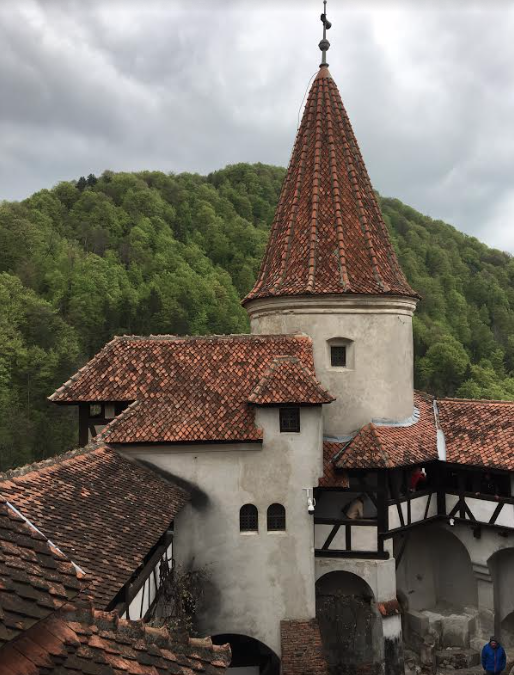 Balea's Blue Blue Blue Lake
This glacial lake sits between the towering mountains in the center of the country and is rather stunning all year round. In the winter, it's a hot spot for ice hiking and skiing, (and staying overnight in an ice hotel!). But in the summer months, it becomes a mist-shrouded destination for hiking. Exploring dramatic valleys or surrounding waterfalls is easily the best way to get pictures of Lake Balea.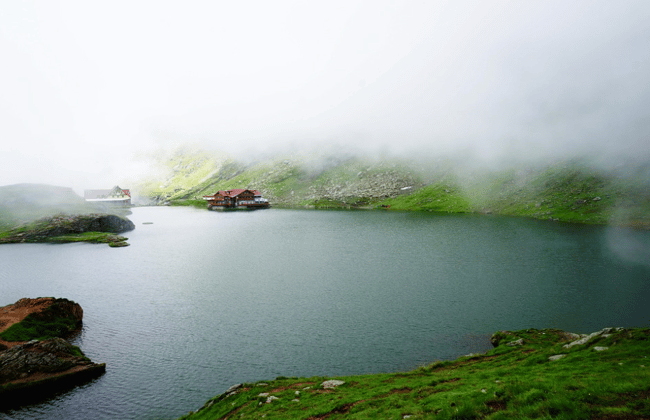 Constanta's Opulent Seaside Casino
You'll need to trek to the coastline of the Black Sea to get to this photogenic spot. We love the coastline in Constanta, with sweeping stoney beaches that boast some rather lovely sunsets, but there's one building in particular we love more. The opulent Art Nouveau Casino used to be the talk of the town, complete with sweeping staircases, rows of arched windows, and carved capitals. It's been abandoned since the 1990's, but seeing this structured perched right on the seaside makes it worth a few photos. See more of Constanta here.

Romania's Own Tunnel Of Love
Same as the botanical tunnel you'll find in Ukraine (more about Ukraine's tunnel of love here), you can take the same kind of pictures without ever leaving Romania, near the small village of Obreja. After a railway track was abandoned, dappled green trees grew over the rusted rails creating a near-perfect archway of quivering leaves. Pictures are best in the summer (when you'll find the most dense, green canopies) and the fall, where there's a mosaic of yellow, orange, and red tinged leaves.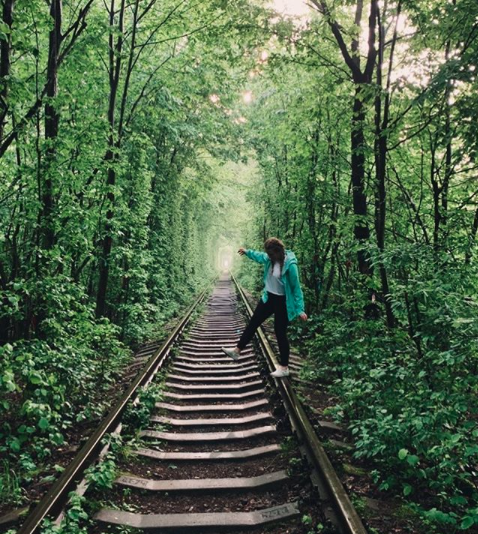 Sighisoara's The Most Colorful Little Village
It's a bit unfair to only list a couple of Romania's pretty little cities, but there are a few reasons why Sighisoara made this list in particular. The walled-city center is crammed full of medieval fortresses, homes painted with coral windows or splashes of canary yellow, and tiny cobbled streets that are lined with a rainbow of colors. Picture a box of tropical-colored crayons all stacked together and you have a pretty good idea of what's waiting for you in Sighisoara.
Want a few more charming towns to visit in Romania? We have you covered.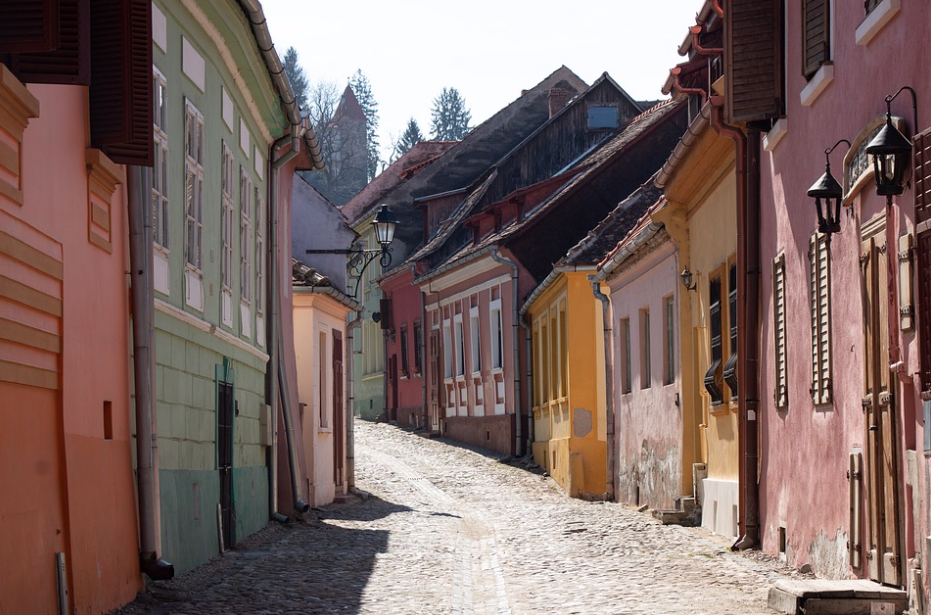 A Rainbow Umbrella Street In Bucharest
The city of Bucharest is a smashing combination of Paris and Berlin, with a Romanian flair. Peek between doorways of abandoned buildings and find street art, or head inside to see flea markets stacked with canvases, piles of antiques and rows of delicately handpainted eggs before stumbling on the picturesque alleyways. Pasaj Victoria is topped with a ceiling of rainbow umbrellas, aka an Instagrammer's dream. Plan a quick trip to Bucharest with these tips.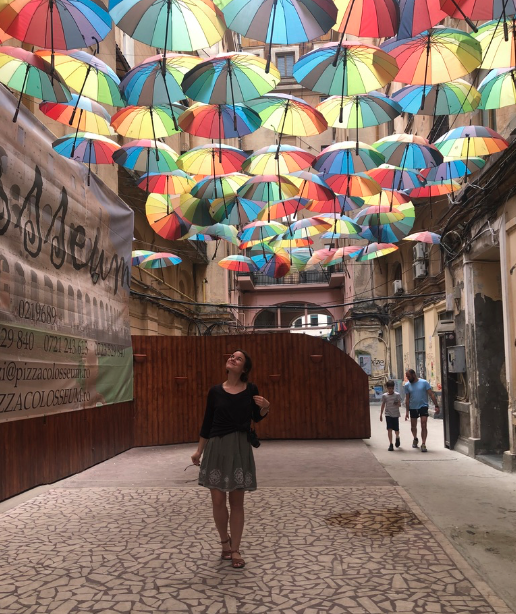 See Hairpin Turns In The Transfagarasan Road
Also known as the DN7C, this winding highway cuts through the rugged Carpathian Mountains, between the highest peaks in the country. The most famous section of this 56-mile road is a criss-cross of hairpin turns that's been the site of quite the cycling competition, the "tour of Romania" — all the tight turns create a difficult "hors catégorie", a French term that was originally used for tricky mountain roads that cars weren't expected to pass. In any case, it's one of the most challenging roads that whizzes you past green hills peppered with tiny mountain villages.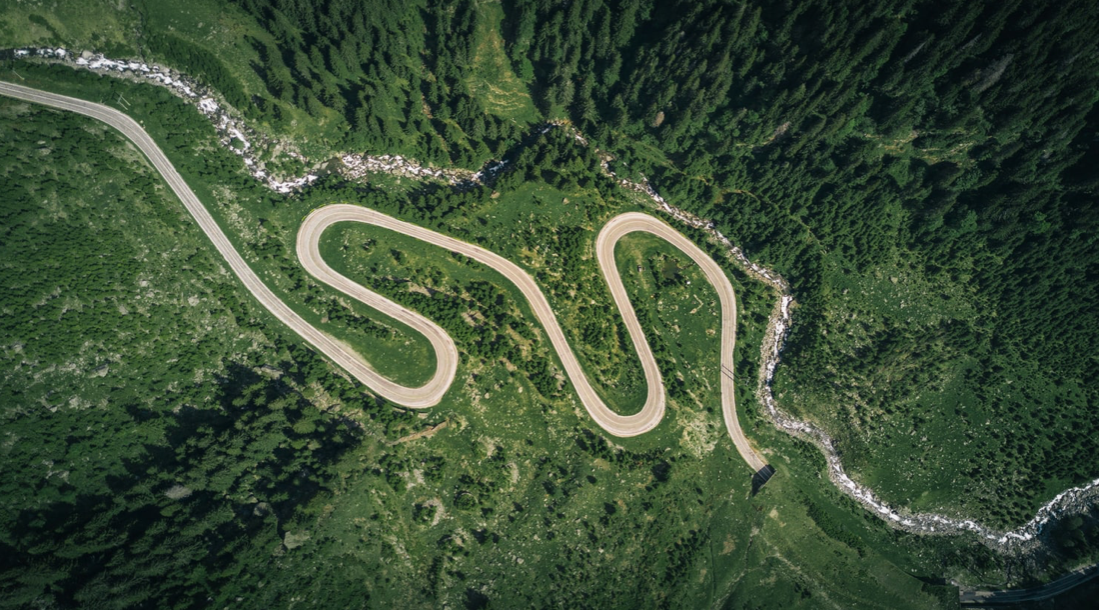 The Ancient Corvin Castle
One of the most popular castles around, this is supposedly where "Vlad the Impaler", the infamous ruler who served as Bram Stoker's inspiration for Dracula, was held prisoner in 1461 by military leader John Hunyadi. It's also sometimes known as Hunyadi's castle, for some obvious reasons. Built in the 1300's, tourists are welcome to trek through spiral staircases to vaulted ceilings, glass boxes full of costumes from hundreds of years ago, and walkways that open up to massive courtyards. It's easy to see why it made the list of Romania's top castles.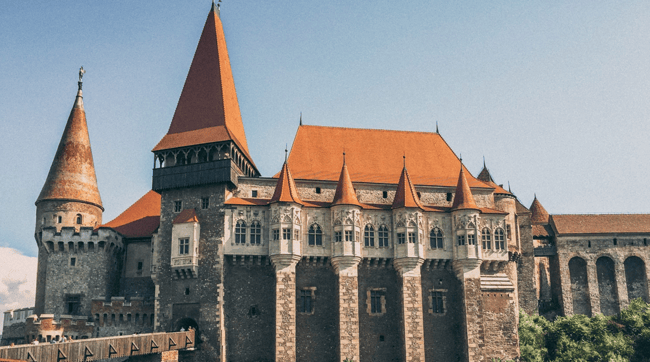 Decebalus' Face
Like something out of Lord of the Rings, the rock sculpture of Decebalus is something to see for yourself. It's a rock portrait of Decebalus, the last king of Dacia who fought against the Romans to gain the country's independence. The colossal head is stacked above the curving Danube River, best seen on a river cruise.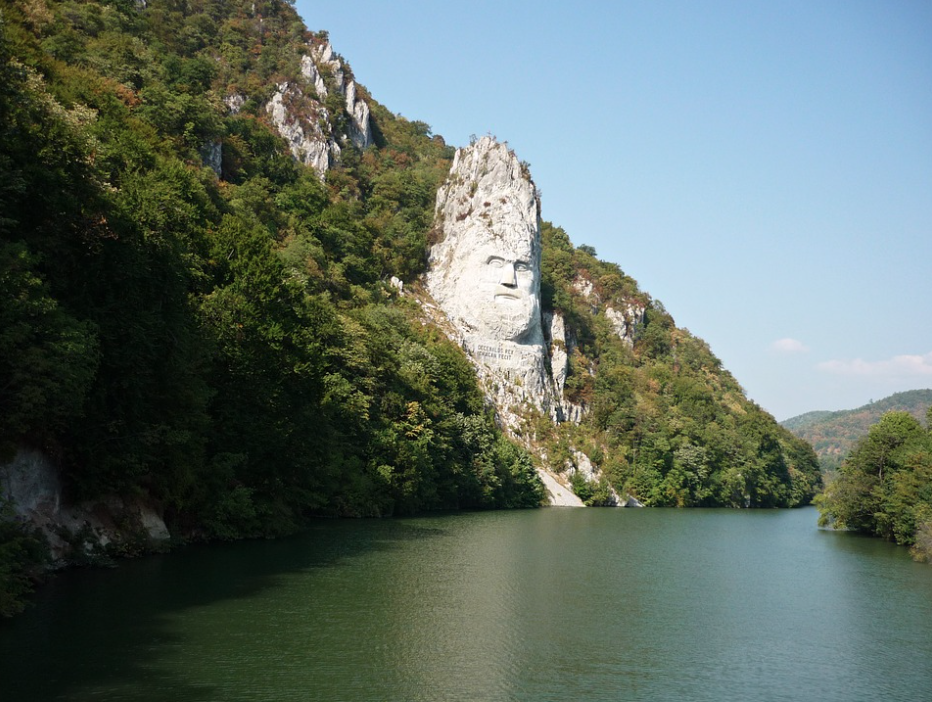 Are you ready to volunteer in Europe?
Come to Romania with us! You'll spend part of your time volunteering in an orphanage, and part of your time exploring all of the prettiest spots in Romania (plus some other vacation spots around Europe). Come see what volunteering in Romania is all about: