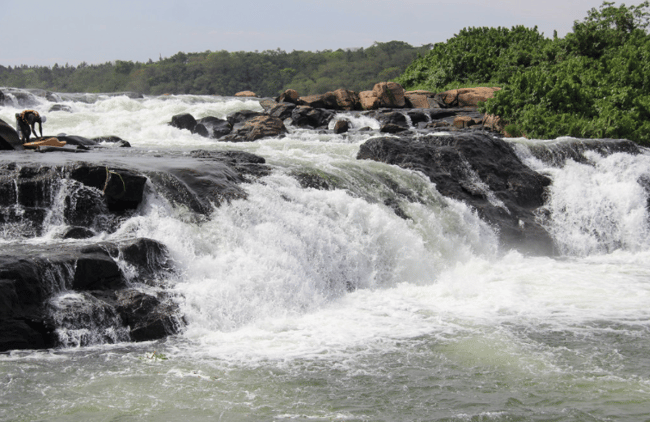 Spend a Saturday tumbling over waterfalls in the Nile River.
It's a good thing you have weekends off as an ILP volunteer; since you'll only be teaching English part time Monday through Friday, volunteers in Uganda have plenty of free time to explore close to everything this country has to offer. One of the highlights? Rafting the Nile River.
Pst: Not an ILP volunteer yet? We'll make it easy — apply right here for a semester in Africa.
Since this is an absolute must-do for all our adventurers out there, we've put together what you need to know about a weekend trip on the Nile.
Where Do I Go + Transportation From Kampala

What Are The Rapids Like?

Costs + Things To Look For In A Tour

When's The Best Time To Go?

Helpful Tips
Where Do I Go + Transportation From Kampala
The Nile river actually starts in Uganda, fed from Lake Victory and flows north. Dubbed the longest in the world, this famous river winds its way through South Sudan and Sudan until finally reaching Egypt.
If you're into rafting the Nile at it's most tumultuous point, head to the city of Jinja, which is about 44 miles away from the country's capital city of Kampala.
Getting from Kampala To Jinja
You'll have a few options depending on your budget and how much time you have:
By Tour
If you're doing a full day (or longer) river tour, it's likely your overnight accommodation will provide pick up and drop off. Transportation from your tour company usually is included in full-day rafting packages, but be sure to ask about half-day rafting pickup/drop off costs, if available.
We'll go over a few tour options if you keep reading.
By Taxi
Since the drive isn't all that far, it's not unreasonable to hire a taxi to take you to Jinja, especially if you will be splitting the fare with a few people.
Prices vary, but you can budget for about $45 - 75 each way (prices seem to vary quite a lot according to your bargaining skills and the mood of the driver). Contact the company you're going rafting with for the best drop off spot to tell your driver.
By Bus + Shuttle
In Kampala, you'll notice mini passenger buses that can take you all over the country. These buses are more than affordable (plan on around $5 for longer distance travel), but are a slower and more crowded way of traveling.
You can also hire a shuttle (Pineapple Shuttles is a popular option: They charge $14 per person, from Kampala to Jinja).
A Note On Traffic
Wondering how long it takes you to get there? That depends. Kampala is infamous for gridlock traffic; because there are no traffic lights, it's all-too-common for your car to be stuck in a total traffic gridlock, turning your two long drive into a 4 1/2 hour traffic jam. It's best to budget quite a bit of time to arrive places via car or bus just in case you get caught in gridlock.
What Are The Rapids Like?
The rapids are rated on a numerical scale, 1-6. Five is the highest grade of rapids that you can raft commercially, so you won't run into any 6 rapids on your tour, but even then, the 5's are something to be reckoned with. 1 rapids are calm, flat water while 2-3's are full of splashes and bounces. Moving up to 4's and 5's, and you're looking at barreling over waterfalls and more than likely tip-overs. It's an adrenaline rush, to be sure.
Some rafters have dubbed this section of the Nile "the wildest white waters you can raft" so don't take that lightly. It's a crazy rush for confident swimmers.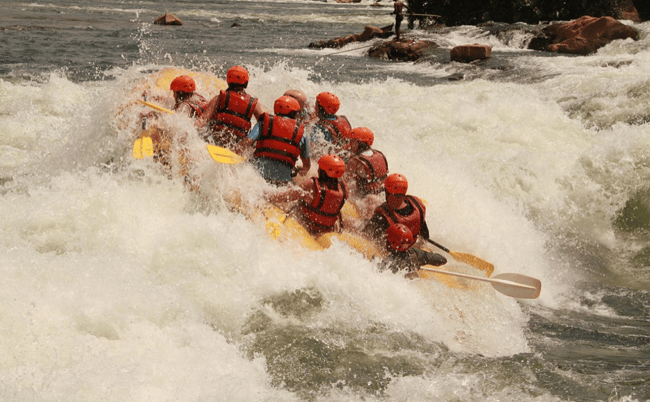 Costs + Things To Look For In A Tour
Tour prices depend on who you are booking with. As a guideline, half-day tours are around $115, and full day tours are close to $125 - $140. There are also two-day tour packages available for about $250, but a half-day gives you a really good taste of what rafting on the Nile is like.
Things To Look For In A Tour:
— What's Included
We suggest booking with a tour who can ideally arrange transportation, who include meals (snack and lunch for a half-day, and that plus dinner for a full-day). If you want pictures of your adventure that's also worth looking into (some companies include pictures, some cost about $20 for a CD).
Safety training is also a must; we go into this a bit more below but along with a safety instruction and a professional guide, tours should also include all necessary gear like helmets and life jackets.
— Rafting Options
It's also worth booking with a company who can fit your group's level; there are often at least two river routes which cater towards rafters who want a calmer course (Grade 3 rafts) and rafters who want a more "exciting" course that includes Grade 5 rafts.
— Safety Outline
Your crew should give you safety training on how to raft before you board the boat. This includes knowing what commands to follow, what to do in case you tip (which will probably happen, by the way), and what other safety measures are in place.
For example, the Adrift company offers safety kayaks who follow the raft and are there to offer you a hand if you end up in the water. There's also a safety raft that you can sit on if you think the upcoming rapid is going to a bit too much for you to handle.
— Tours To Know
Note: These are not ILP recommendations; they are meant to be informative, help you know what's out there, and how much it could cost for an activity like this.
There are a few around, but the most popular (with the best reputations) are Adrift Rafting and Nile River Experts Rafting. White Nile Rafting is also a very popular option.
To help you choose, make sure you factor in safety measures, the professionalism of the company, what's include, and read reviews on Trip Advisor to see what other people thought about their experience. Most companies also include breakfast/a BBQ so that's something to consider, too.
When's The Best Time To Go?
That being said, January to February or June through September are going to be the best times to raft. You'll find bluer skies and a drier season, but since the temperature hovers around 80° all year round, there really is not a horrible time to go rafting here. Note that May through August tend to be slightly busier.
Helpful Tips
Things To Pack
Pack (and wear) sunscreen. Even on cloudy days, you can get sunburned after a half-day or full-day of rafting in the African sun. You can keep small bags behind the front desk of most agencies (check beforehand). As always, best not to pack and leave valuables even under a lock an key in case of theft.
Lost Items
There are far too many reports of tourists loosing anything that isn't tied down. No necklaces, no rings, no earrings, no hats, no sunglasses, no shoes. Nothing. (Yep, major rafting companies have you raft barefoot because the force of the water has stripped off shoes of any kind).
Do This In A Weekend
Since Jinja is relatively close to where you're living (a couple of hours away on a good day, four with traffic) this is an unbeatable weekend activity. You can book an overnight trip (there are some hotel options in Jinja, or your two day rafting could include accommodations) but a half-day or full-day rafting experience fits in nicely on any Saturday or Sunday.
Especially since there are loads of things that are farther away that would take more time (like a safari), it's best to use your weekends rather than vacation days for rafting the Nile.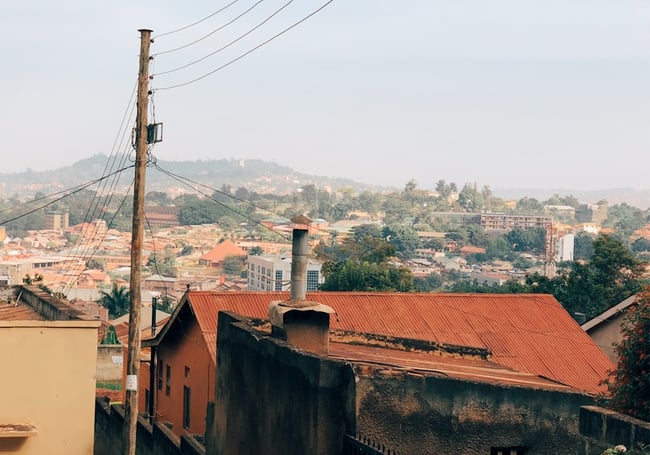 Trying to figure out how and when to get yourself to Uganda? A weekend trip to Jinja is a cinch when you're already living in Africa!
ILP volunteers will be living in Uganda and teaching English part time Monday - Friday, which leaves weekends open for adventures like this. Get a little more info about what volunteering in Uganda is like, right here ... but if you're already into a humanitarian semester that also allows you to experience Africa, you're ready to apply: