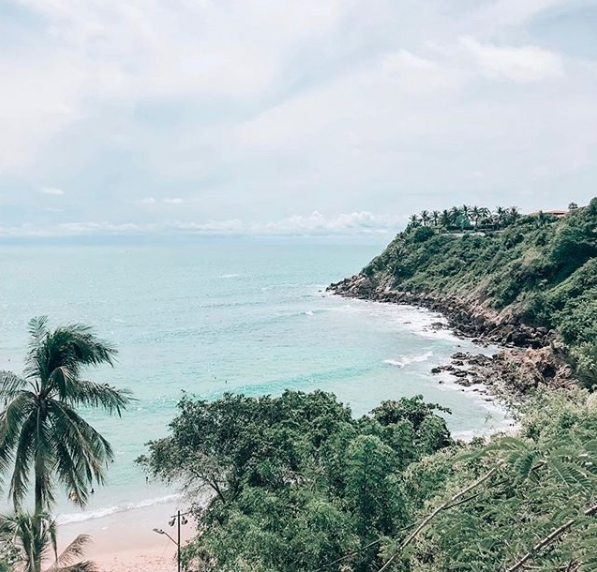 With the hundreds of beach options to choose from, make sure you know hit up the best spots in the Dominican — we have our favorite beaches mapped out, just for you.
You will fall in love with the DR sooo quickly during your semester abroad volunteering in the Caribbean with ILP. You too will have a million reasons why you love it, especially if you check out these beaches during your vacation time.


---
Learn more about volunteering in the Dominican Republic here.
---

Grab your swimsuit, get ready to soak up the sun, and get that killer tan you're hoping for. Here are the beaches you should be checking out:
Northern Beaches : Close Enough For A Day Trip Or Weekend Visit
One huge perk of volunteering in the Dominican Republic is the chance to live near Puerto Plata (which is a huge tourist destination because of the beautiful beaches) and teach English during the week ... but have time after teaching to head to the beach or visit a few of these beaches on the weekend: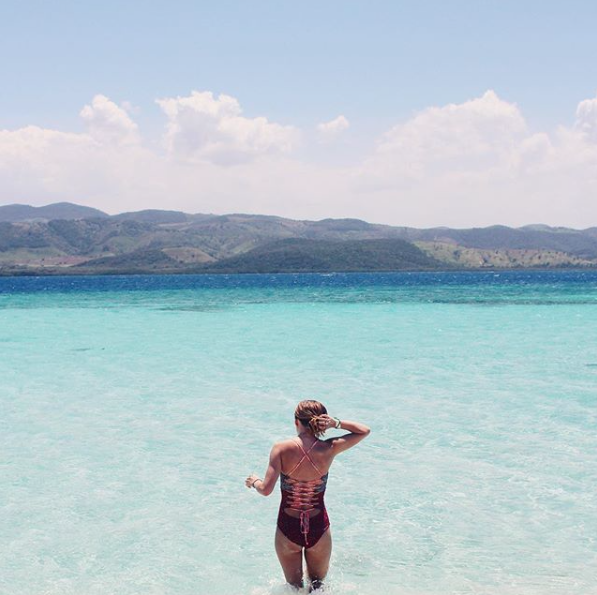 Sosua
Close enough for ILP volunteers to visit on a Saturday or Sunday ... but pretty enough to stay for the whole weekend. We love Sosua. You'll find sea glass in the sand, excursions like snorkel boats to take you out on the reef, and some of the prettiest blue water you've seen.
Get more info (and stunning pictures) about a trip to Sosua here.
Playa Alicia
Playa Alicia isn't the most popular with tourists, which means less crowds for you. It's also on the north side of the island not far from Puerto Plata and our volunteers love visiting on a Saturday. Most visit Sosua on a weekend if they also plan to see Playa Alicia on the same trip.

Playa Alicia has easy access, calm water, gorgeous sunsets, and is quiet, making it the perfect place to relax in peace. We have info about getting to Playa Alicia here.
Paradise Island
Just two hours away from Puerto Plata is a place literally called paradise. You'll first head to a place called Punta Rucia then take a speed boat over to a small island filled with white sands, turquoise waters, and swaying palm trees. Easily done on a Saturday or Sunday.

Here's how to plan a day trip to Paradise Island. We weren't kidding about that turquoise water ... wow!!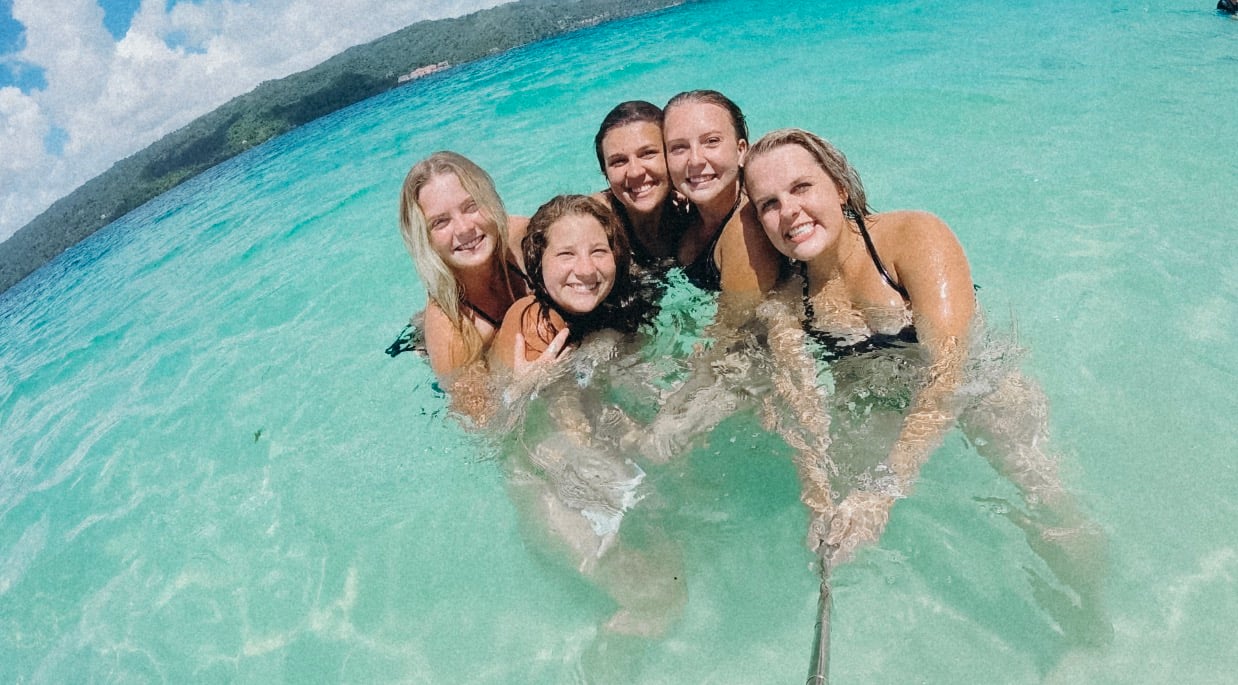 Playa Caleton
Found just a couple hours away in Rio San Juan, the views from Playa Caleton are pretty unreal. This stretch of sand is peppered with lagoons so you'll find lots of boat tours bringing in tourists to different part of the beach, but it's worth getting to early, staking out a good spot, and hanging out for the day (or a weekend).
See more on Rio San Juan here.
Cabarete
Volunteers love Cabarete: You'll find surfers, kite surfers, vendors, restaurants and a whole host of things to do. It's very popular with tourists so you may have to battle some crowds, but that means that you can easily rent chairs, umbrellas, and find something to eat on such a popular beach.
It's just past Sosua, so a visit to Cabarete makes for a quick weekend trip or a part of a longer vacation. See some pictures of + info about Cabarete here.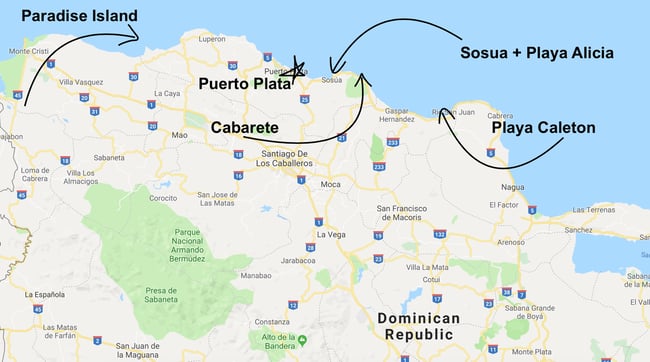 Eastern + Southern Dominican Beaches : For Your Vacation Days
Some of our favorite beaches are farther away from Puerto Plata, which means just hopping on a bus to reach the other side of the island for a weekend in the waves. Don't worry, traveling by bus is our favorite way to get around the island because tickets are so so cheap. Get more on how to get around the DR here, but below are the top beaches to see.
Punta Cana
This gem is located on the eastern coast of the Dominican Republic (near Samana, another favorite beach getaway) and gets its fair share of vacationers from all over the world. Punta Cana isn't a city, but an area .... the entire stretch of coastline on this portion of the island has white-sand beaches and crystal clear water.

We particularly love Macao Beach and Playa Bavaro and Arena Gordo. Plan on visiting Punta Cana and spending your days beach hopping if you'd like to test out our favorites.
Samana
We love Samana for two reasons: First, the beaches here are stunners, with pristine water and sandy stretches. Second, volunteers who say at the Tree House Villages say it's the best place they have ever stayed. Hidden in the jungle you can hang out in hammocks above the trees and trek to waterfalls before riding on horseback to one of the beaches? Yes, please.

Plan a visit to Samana here.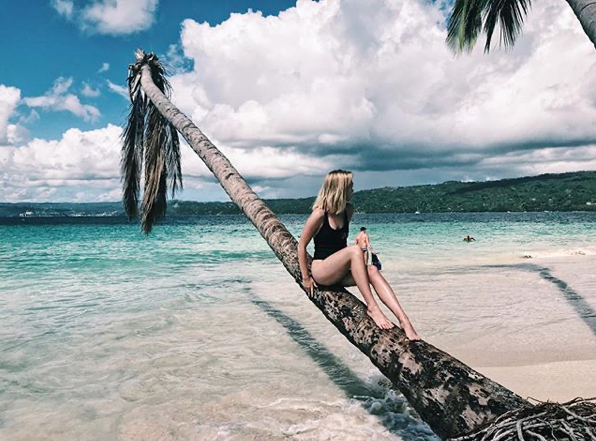 Barahona
Lush green, jungle-y mountains hug the coastline of some of the country's most beautiful beaches (just see pictures of Playa San Rafael if you need a little more convincing). The small city itself is home to a colonial-era cathedral and pretty walking streets that are vaguely European, but the tall palms remind you that you're still in the Caribbean.
See what Barahona is all about here.
La Romana + Bayahibe
Oh, if we picked favorites, La Romana would be at the top of the list. There is a ton to do here, especially since you can take a short boat ride over to Saona Island, aka Starfish Island. You can also take a boat over to visit Catalina Island, a little gem right across La Romana. This region of the Dominican is a favorite vacation spot for anyone who visits. See why we love this place?
The tiny area of Bayahibe boasts the islands most impressive beaches, too so that's also worth a visit. Get more info on Bayahibe and La Romana here.


Pedernales
Found on the border of the Dominican Republic and Haiti, is home to what one volunteer called "the most beautiful beaches in the Caribbean." One of the major perks of this spot is the beaches are about ten times prettier because you'll probably have the whole beach entirely to yourself. One ILP group said they spent three days walking the empty streets, trying to find restaurants that were open, and thinking that this whole place felt so dreamy, it was more like a movie set than real life.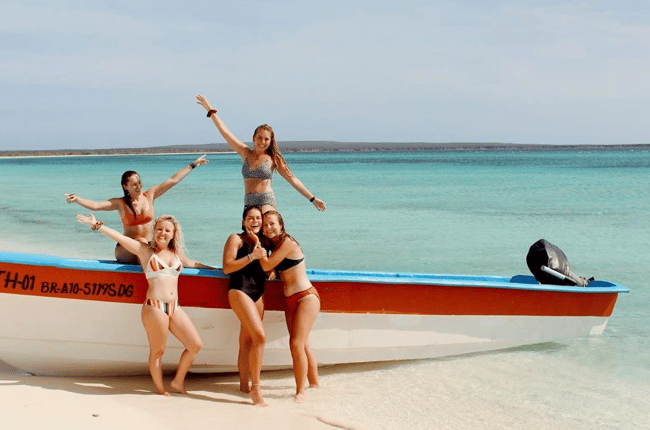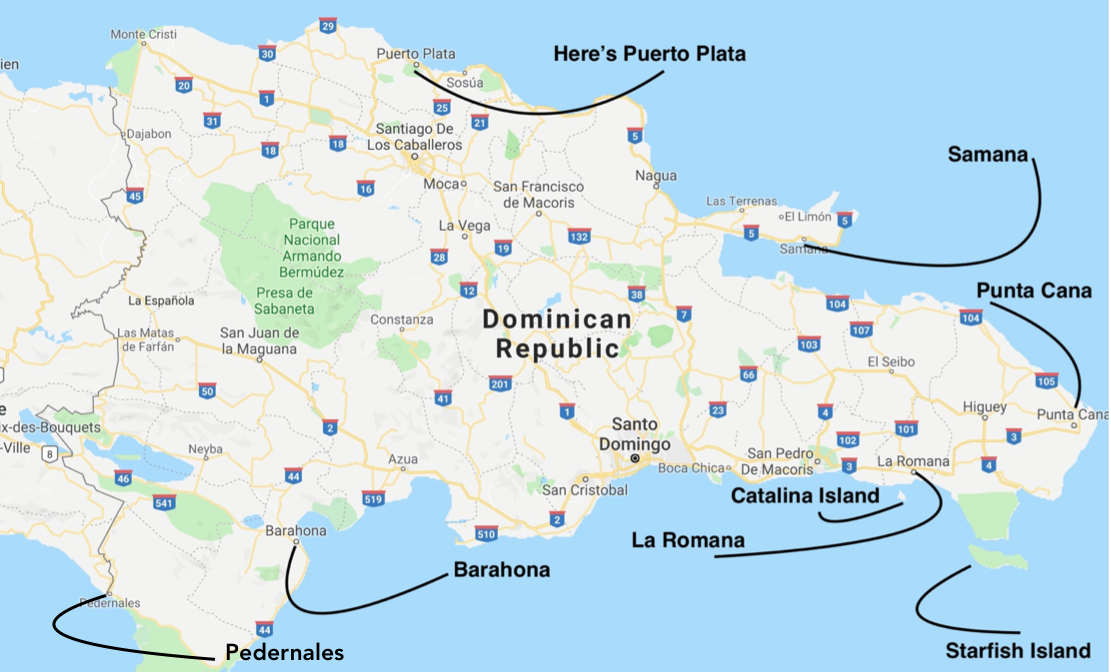 Spend time at the beach + really make a difference
The Dominican Republic is home to one of ILP's humanitarian programs, along with all these pretty beaches. Volunteers here spend part of their time teaching English to underprivileged children, and part of their exploring this country.