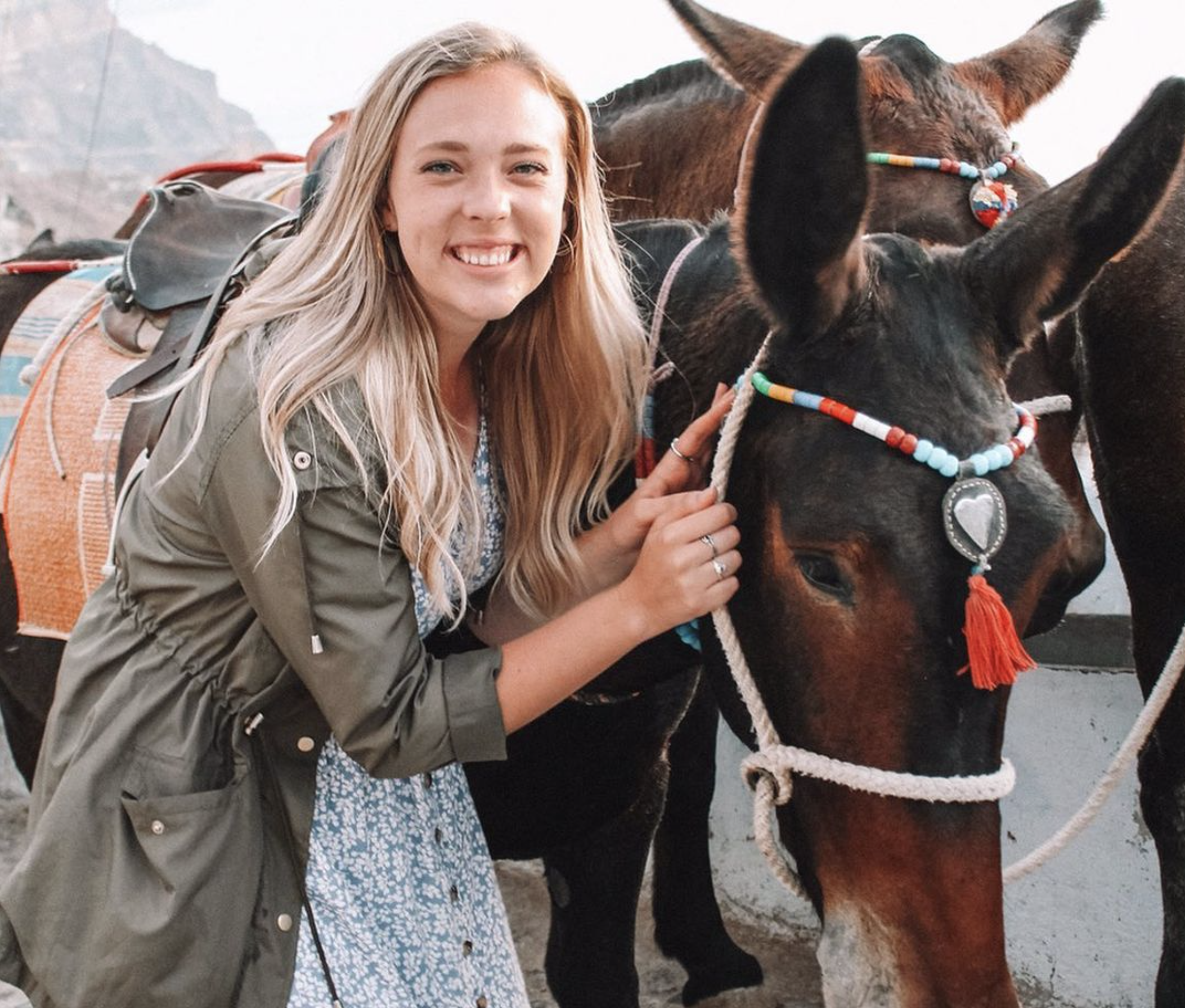 Is Greece on your bucketlist too? And ready to make it happen for reals? During your travels through Greece, you'll definitely want to stop by one of its islands in the Mediterranean Sea and snag a pic of those iconic coastlines. Shouldn't be too hard to decide — but holy cow there's like 6,000 islands. Which one should you visit?
We (International Language Programs) host several programs throughout Europe where college-age volunteers can spend 4 months living abroad. Part of the experience is, of course, traveling around Europe on vacation ... and I have a feeling you're not surprised that Greece is one of the most popular spots when deciding where they'll be heading.
And who can blame them!? Crumbling ruins where Greek temples once stood, turquoise seas backdropping the white homes, and so much more. Whether you're a history buff, outdoorsy, or just love exploring, Greece has something for you.
---
Discover other unique places in Europe to visit
This European Destination Guide will help you decide!

---
If you only have a couple of days in Greece, we wrote another post helping you decide which Greek city is best for the type of trip you're looking for, because there's so much more than the islands. But the islands truly are one of those once-in-a-lifetime type of experiences, so if you already know you're jetting right for those we get it.
We weren't kidding when we said there's like 6,000 islands though, but luckily for us, only 227 of them are actually inhabited. Well... that's still a lot. Especially if you're only planning on visiting Greece for only a few days. So let's dive into which islands might be the right pick for you.
Santorini
Let's start with one of the most popular islands for tourists and locals alike: Santorini. And if you're wondering which island ILP volunteers typically choose for their vacation, you guessed right — it's Santorini. You can't go wrong with this island.
Santorini is well known for its breathtaking views that make up what we picture when we think of Greece, like the bright blue roofs topping white homes that line the island, the perfectly peachy churches surrounded by blooming flowers, and the warm sunsets in Oia. And don't forget about the beaches and crystal clear sea you'll absolutely be dipping your toes in!
Another draw is the archaeological discoveries here. Over 3,000 years ago there was a huge volcanic eruption that buried half of Santorini. This event led to the myths about the lost city of Atlantis and that it had sunk during this eruption. You can still find awesome old relics from this time, and visit places like the archaeological site of Akrotiri, the Museum of Prehistoric Thera, or the Archaeological Museum to learn more about Santorini's history!
If you're more into the outdoors, you'll love snorkeling, relaxing on the beach, and hiking. Hiking Santorini Volcano on neighboring Nea Kameni Island or hiking to the top of Profitis Ilias to see an old monastery that overlooks the island are a couple of favorites.
It's pretty straightforward to get here too — if you're coming from Athens, you can catch a ferry, and there's an international airport that makes flying convenient as well. If this island is your pick, we've got a blog post full of tips to help you plan your trip to Santorini.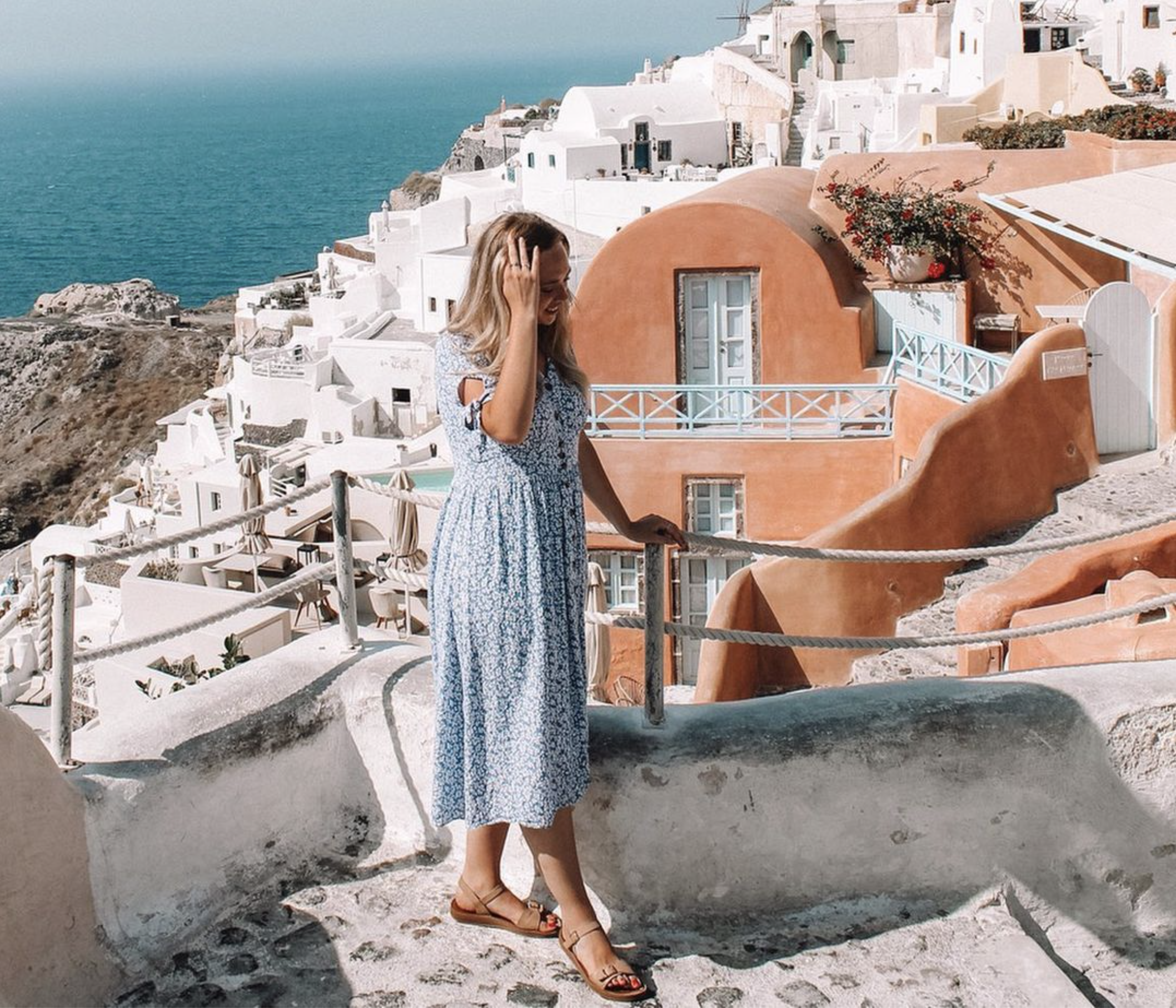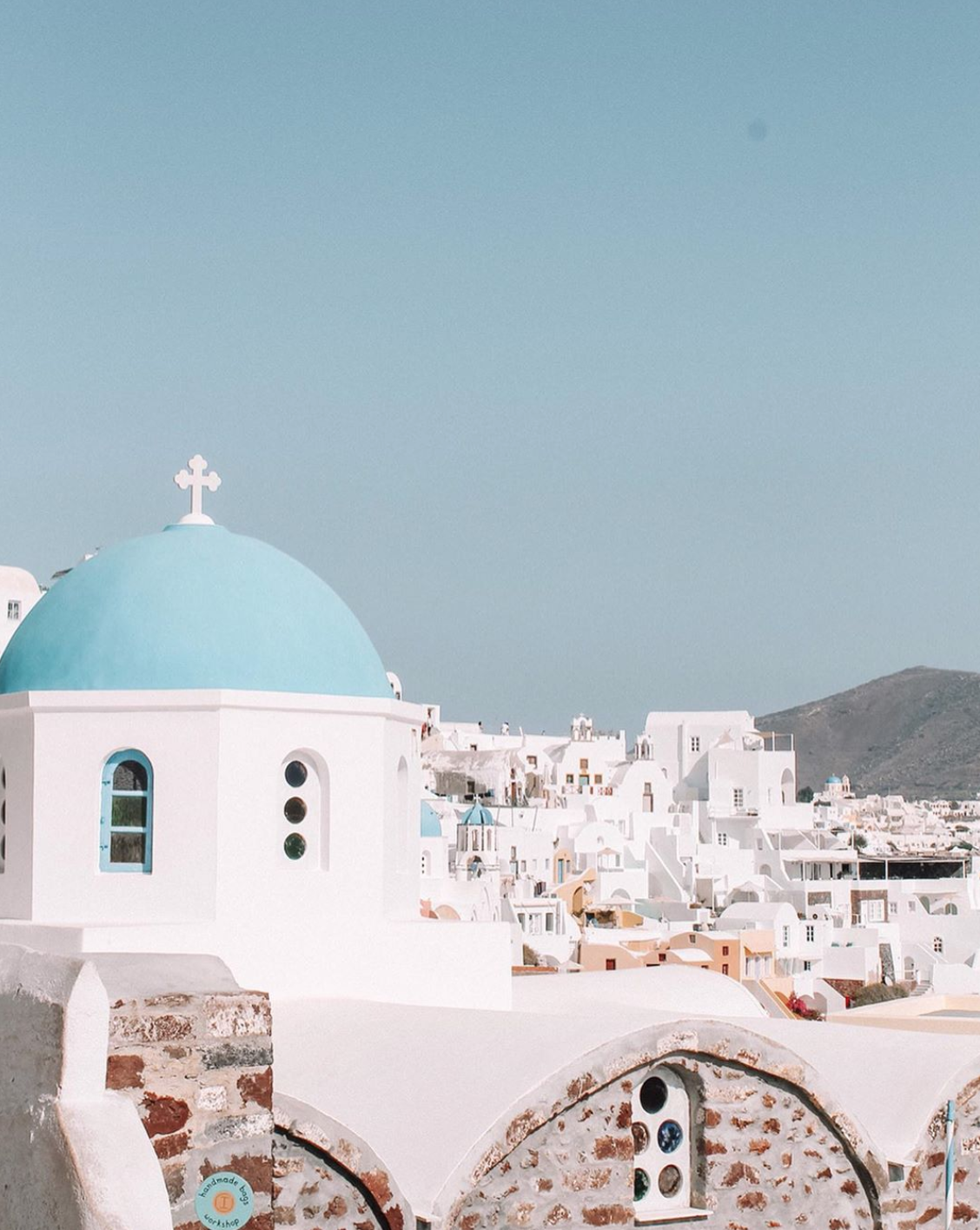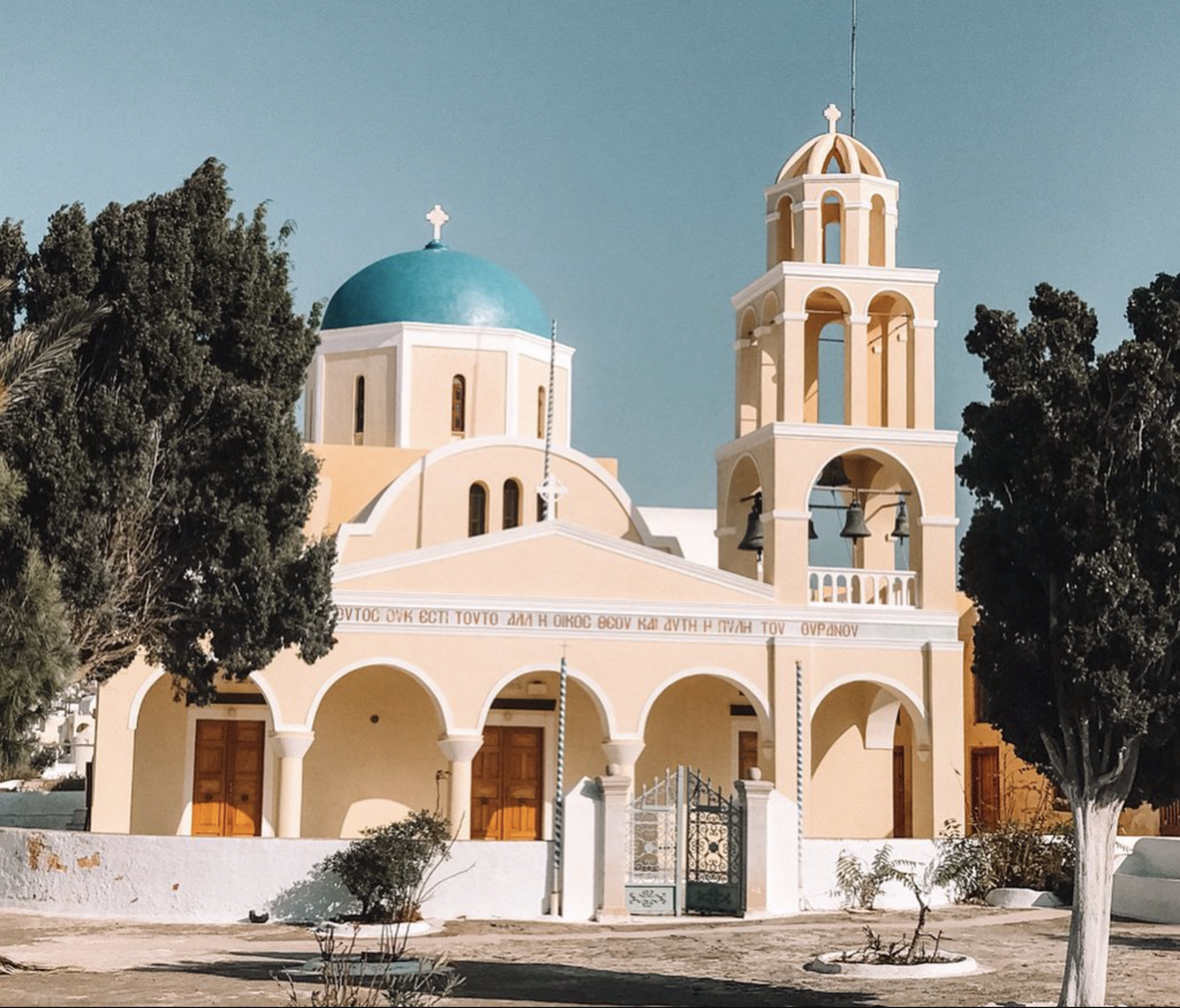 Corfu
Now going much further north, just off the city of Ioaninna, we come to the lovely island of Corfu.
One unique feature about this island is that there's a ton of different types of architecture here. Just taking a walk around Corfu's old town, Keryka, you'll find buildings from different time periods. There are Venetian, French, British, and, of course, Greek style houses. Walking through this town is almost like walking through a museum on European architecture.
Corfu's also got some beautiful beaches. Places like canal d'Amour or Agios Giorgios Pagon are especially incredible. Agios is a relaxing horseshoe beach with fluffy sands and especially popular amongst tourists. Canal d'Amour has large rock formations you can swim between and it's rumored that you'll be in love forever if you swim through canal d'Amour.
Corfu's a great place to see rich cultural history and go swimming or snorkeling in their many beaches. For more information on what to do in Corfu, check out this website.
Corfu is a bit out of the way (which is probably why it's lesser known) and easiest to get to if you're catching a flight that brings you straight here. One of the biggest advantages is that there are direct flights from cities our ILP volunteers are frequenting. Check out our guide to Corfu right here.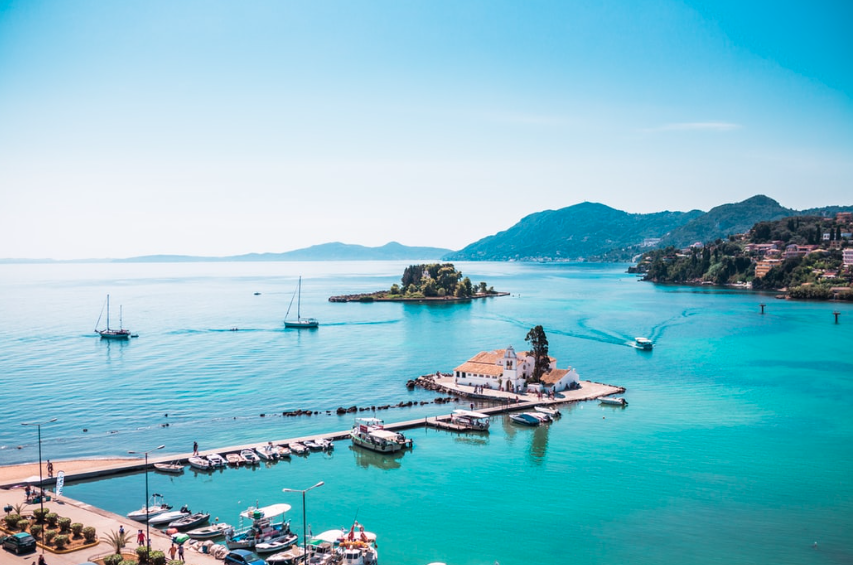 Milos
You might be picking up on the common theme that every island has great beaches, and that's the case with Milos as well.
Just Google search images of "Sarakinko" and you're sure to find one of the most unique parts to this island — the bleach white volcanic rocks that line the turquoise sea. It's a great place to swim, lay out, and take photos. Walking over these white rocks will almost make you feel like you're on the moon! There are spots where the rocks lead right up to the sea, and it's popular to dive in and get a view of the naturally formed rock arches from underwater.
Another highlight would be to visit the fishing village at Klima. Here you can get a tour of the fishing industry and see the colorful homes. Learn more about what Klima has to offer here.
Milos is the perfect place to visit if you're looking for adventures like beaches, swimming, and hiking (and if that's the case you've got to check out Kleftiko Cove). We have an entire blog post about Milos if you're interested in visiting!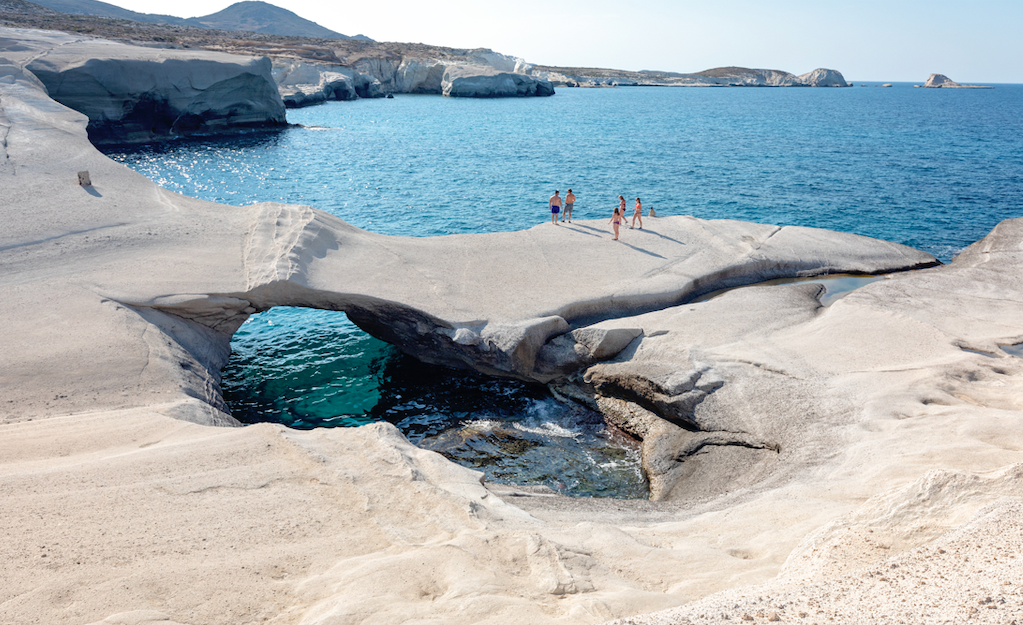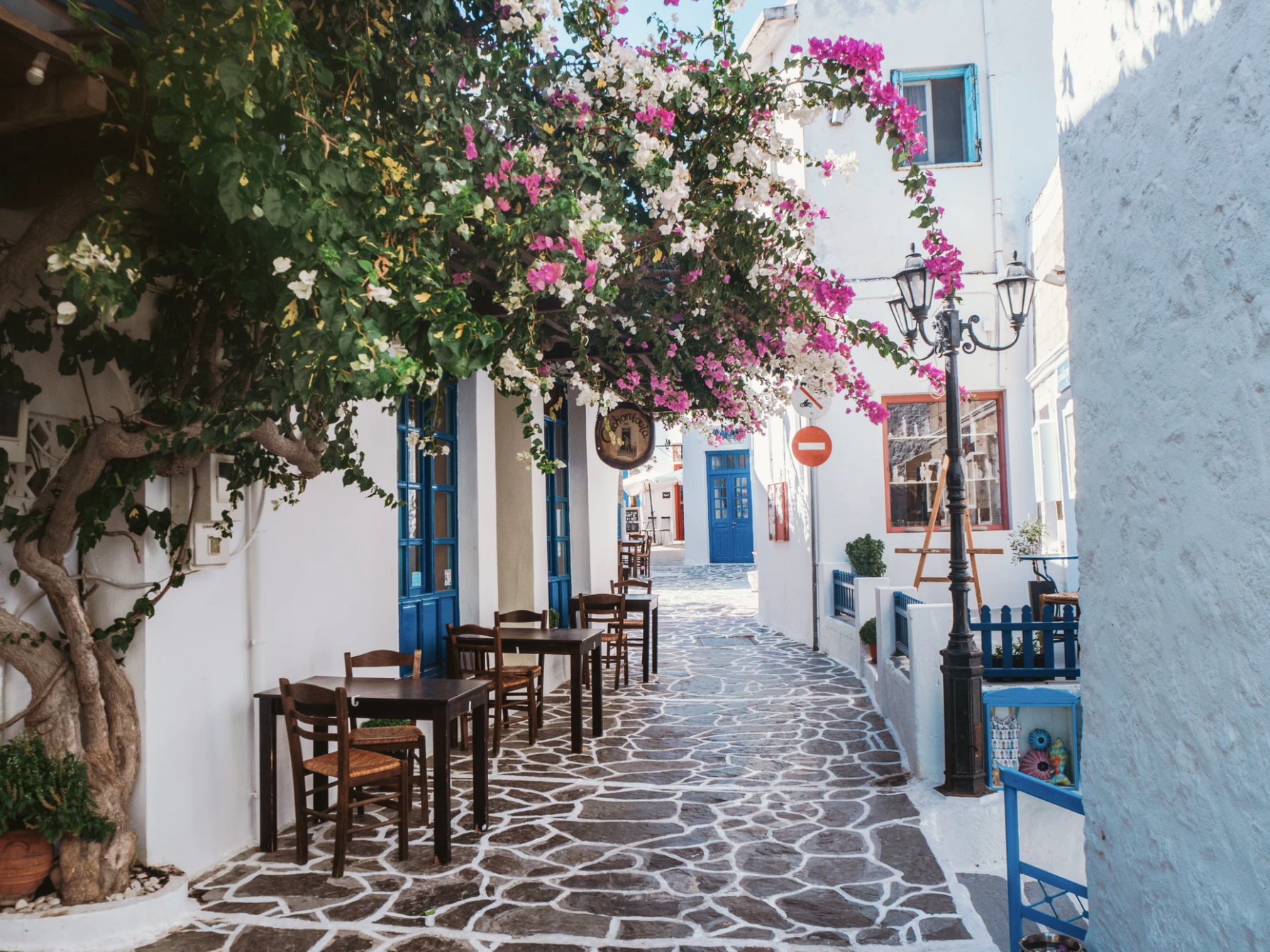 Crete
Crete is Greece's largest island! Being home to the ancient Minoan civilization, it is packed full of history too.
That means Crete offers a lot of really rad ruins to see. One of the most popular is the ruins of Knossos which is located in Herkalion. This old palace is mainly columns and a few crumbling structures. Something unique about these ruins compared to others is that a British archaeologist, Arthur Evans, tried to restore what the palace originally looked like by painting over the old ruins. Definitely controversial, but hey, at least you get to see what Greek ruins looked like according to historians. It only costs 6 euros and is well worth the visit. Learn more about it here!
It's also worth checking out some of Crete's other cities like Rethymno and Chania. They have ancient monasteries to visit, plenty of local goodies to buy, a Venetian harbor, Minoan ruins, and, of course, beaches. These are perfect cities to wander around in to get a taste of some local Greek cuisine and experience a bit of the culture. Learn more about Rethymno here and check out our own blog post on Chania here.
There's also some incredible hikes here, like Samaria Gorge. You'll be walking between tall rocks on either side and you might even see some wild goats along the way. The only drawback is that this is a 9 mile hike and basically takes the entire day to get through (plus you'll be worn out by the end of it). It starts with a car trip from Rethymno to Omalos and ends in a small village called Agia Roumeli and a ferry ride back. If you're interested you can go on an excursion that costs about $40.
There are also countless beaches for you to visit here. Some of them include Elafonisi Beach, Balos Beach, and Falassarna Beach. The water's shallower here so you can wade in further before going in for any dives.
Crete's further away, so especially if you're short on time, flying is going to be your best bet.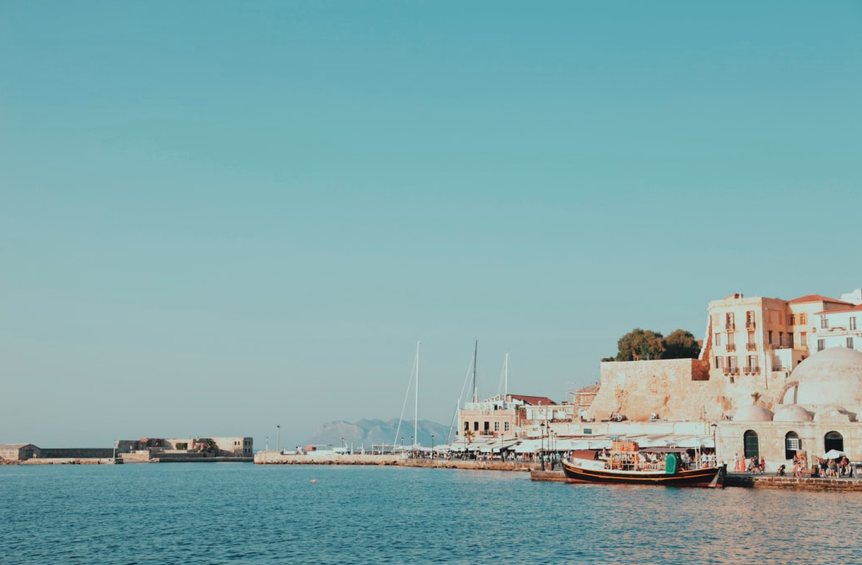 Naxos
If you want to steer clear of the tourist hubs and move into quieter islands, Naxos is definitely for you. It's much quieter, and while it isn't overflowing with ancient ruins to visit and touristy shops like Santorini or Crete are, it has its own charm.
The main city here is beautiful and there are buses that can take you out to smaller villages as well. Some of the highlights include climbing the Venetian castle, seeing the museum, and maybe even popping in for a bouzouki concert if you get the chance. Bouzouki concerts feature traditional Greek music and dancing.
As far as rad archaeological sites go, seeing the Portara is going to be part of your plans. This structure is basically a large stone doorway, meant to be the entrance to Apollo, but it was never finished. It sits on a little island just off of Naxos and is connected by a causeway which means you can just walk over to it. So basically it's a big ole stone square in the middle of an island! The best time to see this place is absolutely at sunset.
There are the long beaches here as well. Naxos doesn't have as many of the strange rock formations like some of the other islands, but it's still a fun place to swim in.
You can easily get to Naxos from Santorini by a 2 hour ferry ride that only costs about 20 euro, so you might just add this on if you're headed to Santorini as well! It makes it easier to see both these islands rather than deciding between the two. You can also get to Naxos by ferry from Athens, or by flying from several airports across Europe as well.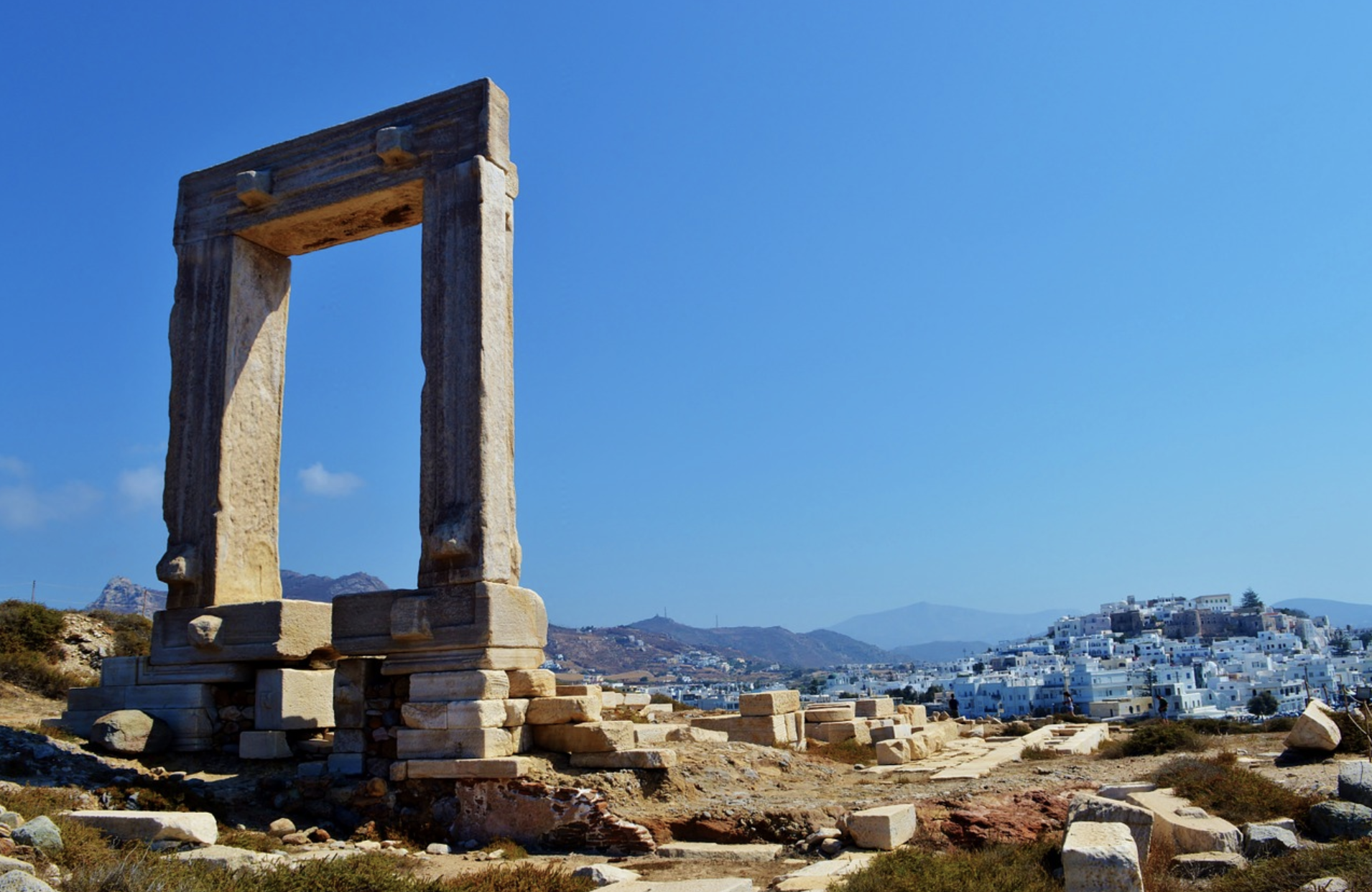 Agistri
Moving to an even smaller and more laid back island, we have Agistri, best known for its diverse beaches. An added bonus is that it's a pretty cheap island with affordable housing and food!
This island is pretty close to mainland Greece making it only a 1-2 hour ferry boat ride from Athen's Pireaus port and only costs about 12 euros. The crowds aren't overwhelming since it's a lesser-known spot, and that's probably why the island feels so laid back compared to other busier ones. After a day in crowded Athens, it's a welcome swap for a quiet afternoon near the sea.
Even though the island's small, there's a surprisingly large amount of things you can do here. You can visit the port city, Skala, and visit the beach. Aponisos and Dragonera are two of the more popular beaches you'll probably want to head to. Then there's the old monasteries and hidden hikes and villages you can see. Learn more here!
A highlight though is kayaking along the coast! There are private tours that take groups out, which is really convenient if you're just here for the day and don't want to worry about renting gear and where to go. There's several options, but to get you started check out Go Kayak Greece. They also make some stops at private beaches where you can go snorkeling, sounds pretty dreamy huh?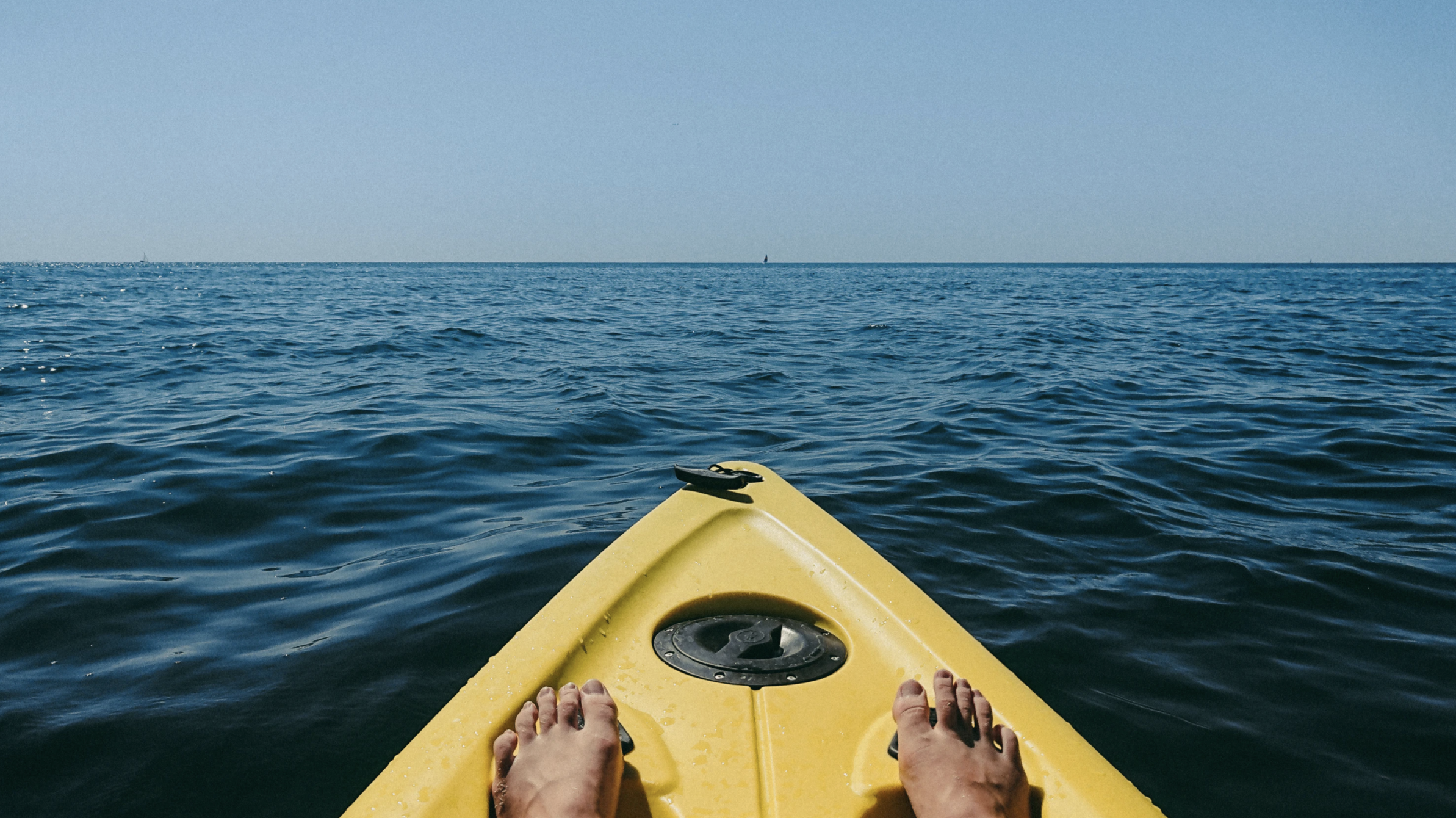 Okay... but which one?
There are so many Greek Islands out there to visit, how do you even choose? These are just some of the most popular spots, but like we mentioned before there are a lot more islands like little Agistri. The only problem is, if you're on a time crunch, you can only see so many of these islands. There's pros and cons to each spot and it really just depends on what type of vacation you're looking for. Once you understand that, it's a bit easier to narrow it down.
What kind of tourist are you?
One of the most important things to know when picking a destination is considering what there is to do there, and what interests you. I've been so surprised with some of my trips in the past — there have been places that I was so excited to see because I had seen a beautiful photo, but ended up loving a place I didn't know much about just because of the adventures that I found there.
If you're more laid-back and want to spend time relaxing, I'd recommend going somewhere like Agistri. It isn't far from Athens (which is where most tourists start off their trip anyways because Athens is a major hub for flights coming in from through Europe), it's less crowded, and there are plenty of beaches to explore and hang out at. Naxos also wouldn't be a bad place to go either.
If you prefer to see as much as possible, I'd recommend somewhere like Crete. It's big and there's always something to explore every day whether it be some old ruins, a cool section of the city, or a new beach. You'll never be bored in Crete.
How much time do you have?
If you're like most travelers in Europe , you might only have a day or two in each location so that you can jet off and see the next country, packing in as much as you can. That means you have to really prioritize what you want to see and plan your islands according to vicinity.
If time's short, I wouldn't recommend going to Corfu unless that's where you really want to visit. It's the furthest away from the rest of the islands since it's in the north-west part of the Mediterranean sea. You can't get there from Athen's main port like the other islands either. The same goes for Crete which is much further south.
Some islands are relatively close together (like Santorini, Milos, and Naxos) making it pretty easy to go to different islands. If you're interested in seeing a lot of the Greek islands, I'd recommend checking out the Ferryhopper site to see how long it takes to get between islands!
How big is your budget?
It's also important to consider how much you can spend on this trip. In general, Greece isn't going to be as affordable as vacations in many Eastern European countries, but you can make it fit your budget a bit more depending on where you stay.
Hostels and Airbnbs are typically an option, which does bring costs down. The budget starts adding up though when you throw transportation and specialized tours into the mix.
Crete is a pretty large island which means you'll probably be paying for taxis or bus fares to get from place to place. You can calculate taxi fare here. You can also learn more about traveling by bus here. The tours you may opt to go on will add to the price, but remember that all the beaches are free.
Prices also depend on when you travel. Greek tourist season begins in April and lasts through October (with its peak in July). The winter months tend to be cheaper, but then again, the weather and water are colder.
If budget is your biggest concern (especially if you're here over the summer months), I'd recommend an island like Agistri. You still get the nice beaches, but fewer tourists means that it's less expensive to visit here!
Overall Recommendation
Much of what you visit in Greece depends on you! What do you want to see?
Santorini remains a major hit for just about every tourist, and our volunteers who vacay here have rave reviews. It has a little bit of everything and it's very easy to navigate for first-time tourists. Santorini has great food, architecture and cities, archaeological spots and items, and nice beaches. Crete has this as well, but it's also bigger which can be a little overwhelming for many.
Honestly, you can't go wrong though. You're in Greece! Whichever island you choose to visit, enjoy it. You'll carry those memories with you for the rest of your life!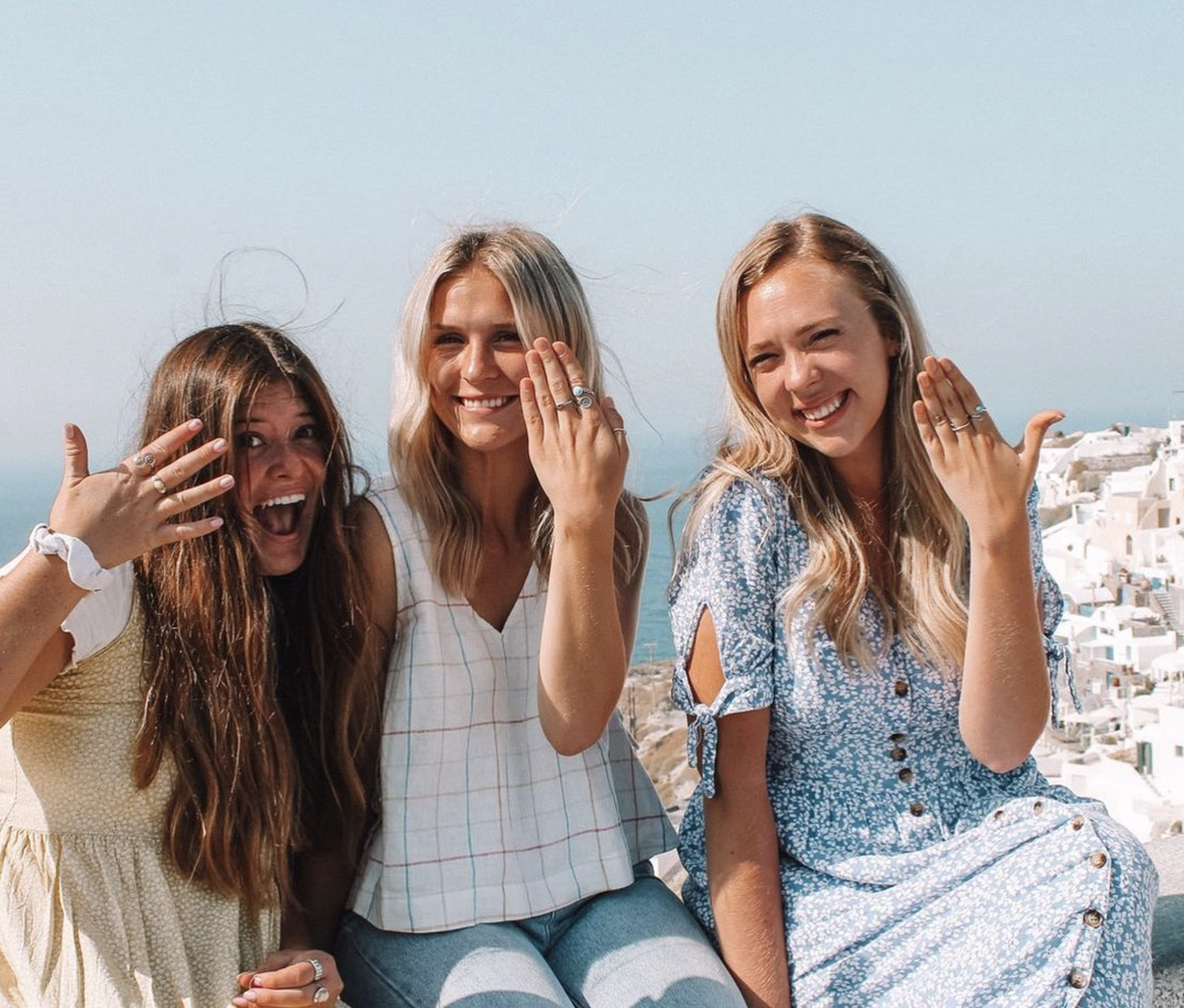 Come see Europe for yourself!
Catching that travel bug after seeing all these stunning photos of Greece? Sure, you could come vacation on your own for a week or two, and maybe we're a bit biased, but we think you need so much more time. We're fans of living here for a few months, experiencing life like a local (it really starts to feel like home after a month or two) and doing it all with a group of new friends.
We have a couple of programs in Europe — you could volunteer in a Romanian orphanage, or teach English to kids in Eastern Europe. Your program fee covers your international flight to and from Europe, housing, meals, and support for the semester. We'll hook you up with a group of other volunteers so that you're not navigating traveling for the first time on your own, and make sure you have lots of free time to see all that Europe has to offer. And yes, there's time to come vacation in Greece if that's on your bucketlist! Ready to get started?