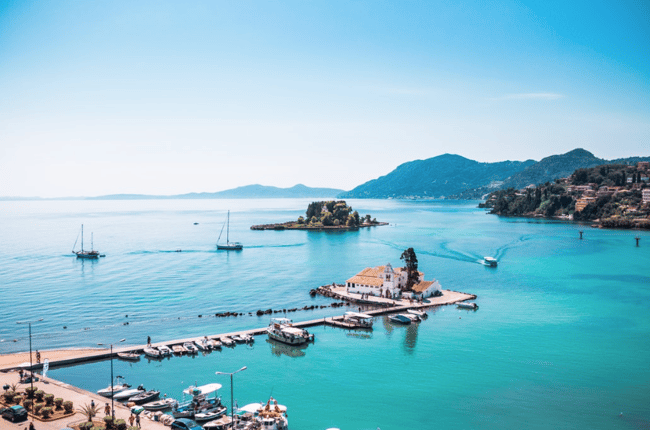 Want to make that trip to Greece happen? You can get flights straight here from a lot of ILP countries, plus it's just a ferry ride away from this European secret.
Quick trips are my go-to way to visit a country I've been eyeing but might not have the time (or budget) to spend a full vacation there. If you're a bit tight on the time or the budget to visit the more popular spots in Greece, I have a total win-win situation for you.
You can get a flight straight here from a couple of ILP Europe locations, plus it's just a ferry ride away if you ever find yourself in the country of Albania. Oh, and if you've never thought about a vacay in Albania, think again. It has beaches that'll challenge the ones you can find in Greece, but with way less crowds (and way better prices).


---
Wondering how to travel all around Europe?
See the best spots around in this European Destination Guide.
---

Because we want to make your vacay as simple as possible, we've outlined all things Corfu, below — the best things to do there, some travel tips, and a bit more about Albania in case you find yourself dreaming about the beaches there (they are so beautiful).
Things To Do In Corfu
All Things Beach
Being an island, there's really no shortage of coastline for you to explore, but the unbiased favorite section of Corfu for beach is Paleokastritsa. Around this neighborhood, you'll find a collection of six bays, surrounded by hills that are covered with olive and Cyprus trees. It's a very popular part of the island and can get crowded in the summer months, but that's just the reality of such a pretty section of beach. The main beach (Agios Spyridon) is all set up with things to do: sun beds to rent over the pebble beach, snorkel gear for the day, boat trips to a nearby cave where you can jump off and go swimming, and more. It's rimmed with resorts and restaurants, too making it an easy spot to spend a whole day, but there are other beaches to explore.
Agia Triada is the first beach you'll reach when you arrive in Paleokastritsa. It's also a popular one, boasting prisinte waters (and a few crowds). For a more secluded swim, you can hike to Ampelaki beach which is only reached by foot. Alipa beach is a section of a boat port that actually doesn't get too crowded, either. Platakia beach and Agios Petros are other options. Sounds like you're set when it comes to beaches!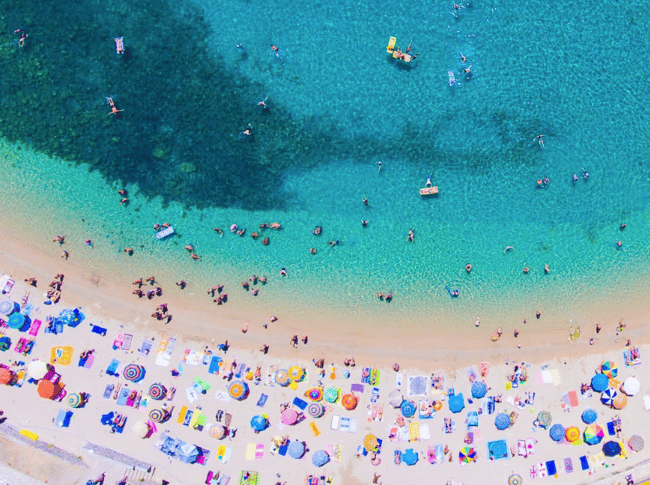 Visit The Panagia Paleokastritsa Monastery
While you're in the neighborhood, take a hike up to the famous Panagia Paleokastritsa monastery. It's been around since 1225, and tops a steep cliff with a view of the coastline below you. Don't miss hiking up here! The views are outrageously pretty. Along with the reverent art inside the monastery, it's also home to a museum which walks visitors through the honey and olive oil making process which is so integral to the island.
The monastery is free to visit (but encourages a donation). Make sure you're dressed appropriately before visiting — that means shoulders must be covered and no shorts. There are some clothes and shawls you can borrow if you're not wearing something modest enough. The monastery closes from 1:00 PM to 2:00 PM for lunch.
There's a restaurant atop the hill next to the monastery if you also want a grab something, but the view is definitely much better than the food, just as an FYI.
Getting here: you can hire a taxi (it's a 30ish minute ride from Old Town) but a bus will be more affordable to get you to Paleokastritsa. It takes an hour and only costs €2.50. You can check the bus timetable here (it has a varied schedule Monday through Sunday, so make sure you're looking at the right days). You can pay the driver directly, or by the bus station there's a ticket kiosk. Either way, don't snooze on the trip over, this is one scenic drive.
Photograph The Venetian Old Town (+ Eat Some Greek Food)
Step into what feels like a backdrop to a movie on your visit to the Old Town. The history of this country seeps into the wide open courtyards, the cafe-dotted streets and the winding Venetian walkways that form a tangled maze of bougainvillea, painted shutters, and laundry handing above you on clotheslines.
You'll feel a slice of Italy, a smidge of the United Kingdom, and a heavy dose of "wow" when you're touring the UNESCO Old Town. These narrow alleyways open up into huge boulevards where cafe tables spill out in front of towering church spires and clock towers. If you've been traveling Europe it can seem repetitive to always visit the city's Old Town, but this really is something you shouldn't miss. Plan on getting lost, wandering around, and hopefully not running out of battery with all of your picture-taking.
Plus, all that walking around is going to make you pretty hungry, which is the opposite of a problem, thanks to all the spots to grab something to eat.
Pane e Souvlaki
If you're looking for foodie recommendations, Pane e Souvlaki is a must-stop spot, serving local dishes like chicken souvlaki and other Mediterranean-inspired favorites like falafel. Some think it's the best place to grab chicken souvlaki in all of Corfu, so you'll have to be the judge of that. Pane e Souvlaki is also a number one spot for excellent service, a killer view, and a yum-yum-yum menu.
They're open from 12:00 PM to 1:00 PM, daily. Find them at 77 Guilford, Town Hall Square, Corfu Town 491 00,.
Abakas Mezedopoleio
Abakas Mezedopoleio is another restaurant to test out, serving up lots of grilled feta, zucchini, kababs, and Greek moussaka. It's delicious, affordable, and some with really fantastic service (and is also found rather close to the city center, so that's a plus). Get a little more info on the restaurant, see pictures from their menu and other info on their Facebook page.
They're open from 7:00 PM to 11:45 PM (so just for dinner), daily. Their address is Velisariou 30, Corfu Town 49100.
Getting here: From the Corfu Port, it's about a 30 minute walk or a 8 minute taxi ride to get to the Old Town. If you're heading from the airport, it's about the same, just from the south: a 27 minute walk or about a 6 minute taxi ride.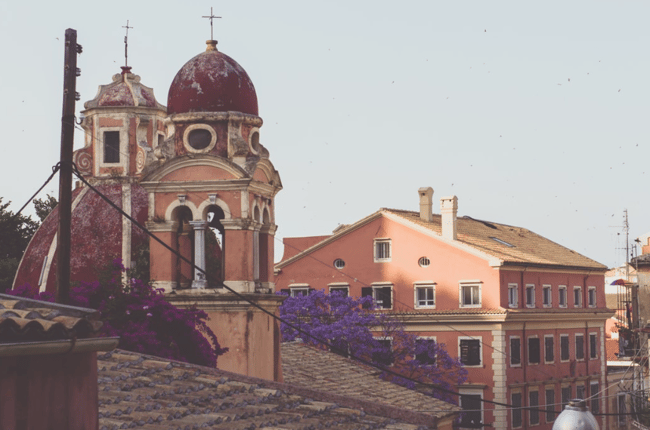 Explore Some Imposing Fortresses
The Old Fortress



Found right on the outskirts of Old Town, you'll probably find this fortress on your own if you spend some time meandering through that part of Corfu. This fortress has roots in the 6th AD (so compared to the New Fortress, you can see why this one is nicknamed the "Old Fortress"). Through the structures's history it's been added to, fortified, and revised to further protect the city, resulting in an impressively imposing fortress perched atop this mini peninsula that juts out into the ocean.
Inside you'll find cannons, an old Doric church a massive cathedral (St. George's) a museum, a coffee shop if you need a pick-me-up, and enough to look at to keep you busy for a couple of hours.
The fortress has a €6 fee, and is open from 8:00 AM to 8:00 PM, daily.
Getting Here: A short walk from Old Town (you can see the fortress on the eastern peninsula and can walk towards there until you run into the pathway that'll take you up to the fortress).
The New Fortress
This stunning Venetian fortress sits atop the hilly island, giving you quite the view if you make the trek up there. The fortress was built after the 1537 invasion of the Ottomans, built in stages (the required that some 2,000 homes were razed to make room for the structure). On your visit, you'll find a rambling, multi-layered building complete with Baroque dates, and Italian flourishes.
Just so you know, the historic site has been closed in recent years, off and on. There's no posted reason as to why the site is closed, but it's worth checking out from the outside and to see if you can get inside. It may be worth contacting the Tourist Information Center to see if it'll be open on your visit: find them at Alykes Potamou, 49100 Corfu Town (+30 266 103 7640). You can also visit their website.
When open, the fortress is open from 9:00 AM to 3:30 PM, closed on weekends. There's a €4 entrance fee.
Getting Here: Within a 10 minute walk from Old Town.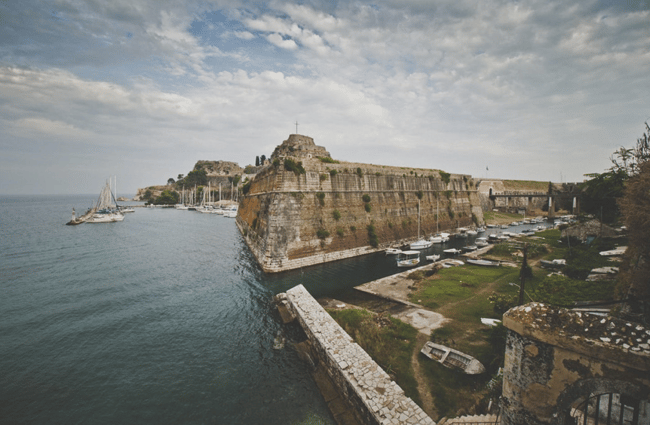 Getting To Corfu
We are big fans of spending half of your vacation in Corfu, Greece, and the other half of your vacation in Sarande, Albania. The two are just a ferry ride apart, so it's easy to split your time in both. Here are details on how to get to Corfu whether you fly there from other spots in Europe or are starting your vacay in Albania.
Fly Straight To Corfu
Maybe it works best in your itinerary to fly straight to Corfu, then hang out there for a day or two, before spending most of your time in Sarande (and the nearby coastal town of Ksamil for the lower prices on food, things to do, and places to stay.
We love looking on skyscanner.com to see what prices are like from major European cities you may already be exploring on your trip. Price can vary wildly (I saw a $17 ticket from London but also a $200+ ticket from the same airport in the same month). But there are some pretty affordable one-way fares out there, like these:
$50 fare from Paris, France (one way)
$70 fare Rome, Italy (with cheaper routes from Milan and Bologne) (one way)
$80 fare from Kiev, Ukraine

(one way)

$80 fare from Vilnius, Lithuania (round trip!)

$20 fare from London, England (Look on RyanAir)

(one way)

$60 fare from Munich, Germany (similar prices in Frankfurt + Berlin)

(one way)
The airport is very small and very close to the Old Town, about a 5-6 minute drive, so you're in good shape once you land. You'll find that most of the things to do on the island of Corfu are mostly clustered on that little eastern peninsula, making it easy.
Get To Sarande, Albania
First, get yourself to Sarande, Albania. Sarande is well-connected by bus, especially from neighboring countries like Montenegro. You'll find regular bus routes from the country's capital, Podgorica (most route through Tirana, Albania). You can also fly directly here, or just catch a flight to Tirana and bus the rest of the way.
If you want to really plan a vacation full of pretty beaches, you can head to the coastal city of Budva and hang out on the beaches in Budva, then take a bus to Sarande. From Budva, it's a 6ish hour bus ride to a city called Tirana in Albania (look up tickets here). From Tirana, it's a 4.5 bus ride to Sarande (look up tickets here). The whole journey should cost around $20 for the first bus ride, and $15 for the second, then the same prices for the way back.
Taking The Ferry From Greece To Albania
There are two ferry companies who ferry back and forth between Saranda, Albania and Corfu, Greece. There are 30 minute routes and 70+ minute routes for about €19 each way, with multiple routes per day. (Just so you know, the prices do fluctuate depending on the time of year you're visiting, but that's a good average).
Ionian Seaways typically has 3 departures each day, while you'll find double that number for Finikas. Between the two of them, you have pretty frequent departures. You can check times and routes for Ionian Seaways here and times and routes for Finikas Lines here. You can also book through those web links.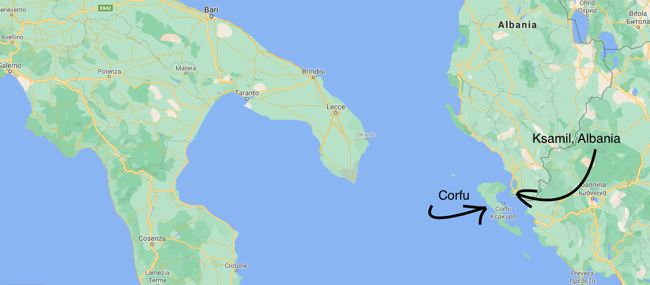 Some Travel Tips For Your Trip
Watch The Time
Corfu is one hour ahead of Albania, so make that adjustment in your itinerary (don't miss the ferry back!).
The two countries are also on different currencies — Greece is on the Euro and Albania is on the Lek which have wildly difference exchange rates. You'll find that some places in Sarande accept the Euro but you'll always get a better exchange rate when you're using the country's local currency. There are ATMs near the ports on either country to get the currency you'll need.
Know About Kerkyra
Fun fact — the Greeks know Corfu as "Kerkyra", and has a huge, melting pot history. It's been invaded and occupied by the Corinthians, the Venetians, the French, and the British, and in 1864 was attached to Greece.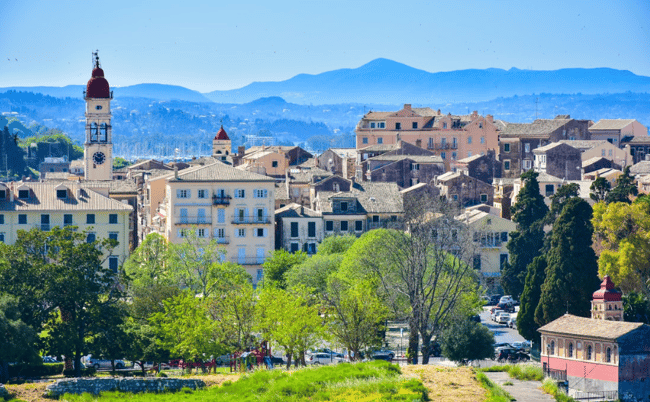 A Bit About Sarande + Ksamil Albania
The newest beachy getaway on your radar should be the beaches in Albania. More specifically, the area called Ksamil. Ksamil is a little peninsula-like extension off the mainland of Albania. It feels small, and is all about the beaches, cafes, seafood restaurants, and soaking up the sun on the shoreline. Sarande is the bigger town you'll travel to (that's where the ferry to Corfu comes in and departures from). From Sarande, it's just about a 10-minute taxi ride to Ksamil, or a 30 minute bus ride.
The stretch of beaches just out of Sarande are sometimes nicknamed the Mediterranean of the Balkans if that helps paint a picture of what to expect. You'll find rocky coves sheltering turquoise water that couldn't be clearer, all under that warm Mediterranean sunshine. It shouldn't come as a shock that Albania is hiding such pretty beaches when you look at a map: it's found right across from Italy and right above Greece (both that have very crowded coastline) but it still comes as a shock when you're vacationing in Albania and come across Caribbean blue water.
From Ksamil, you're also just hop and a skip away from some hidden treasures like the fabled "blue eye" and the Romani ruins found in Butrint (a UNESCO site). You can easily spend 3-4 days here (or more!). Come see what a trip to Ksamil is all about here.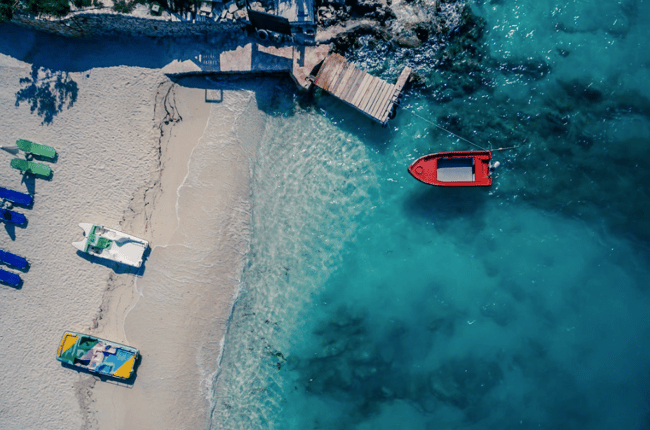 Here's how you can hit all of your favorite European cities in one trip
Come live in Europe for a semester! ILP is looking for college-aged volunteers who want to live in Europe for a semester while they make a difference and do some traveling. Volunteers are teaching English or helping in an orphanage on a part-time schedule, with weekends off and vacation days to explore spots like Albania, Greece, France, Germany, Italy, Austria, Croatia and more.