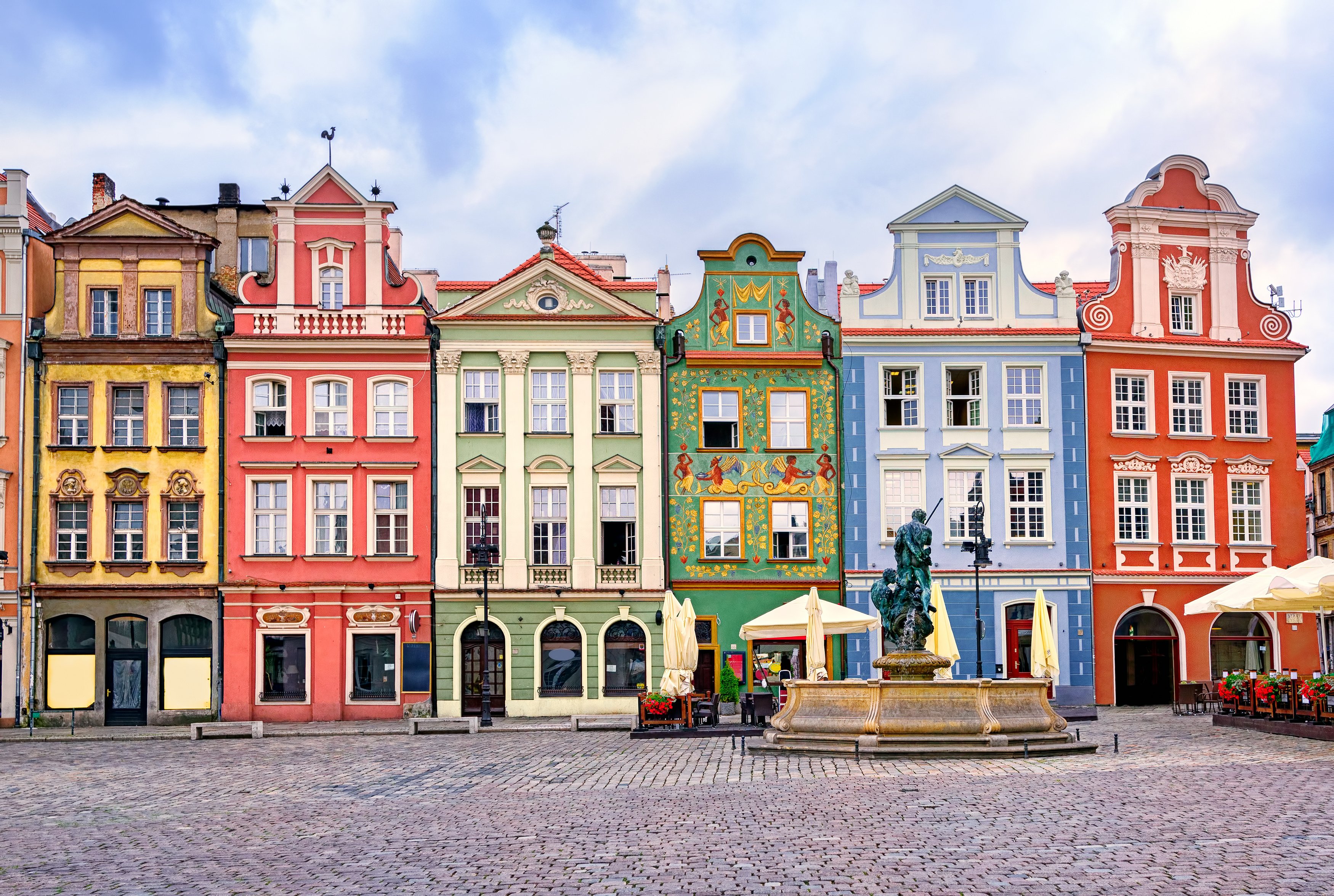 We're here to say it: Poland is a favorite. Gorgeous cities and architecture, delicious local foods, rich history, and incredible hikes. The only questions are, which cities should you visit and what should you do there?
Every semester we have volunteers who come vacation in Poland, and Krakow is usually the city the choose to enjoy for a few days. We definitely recommend experiencing Krakow since there's so much to do here, like touring the Auschwitz-Birkenau concentration camp, visiting Krakow's holocaust and art museums, and see its beautiful cathedrals. If you want to learn more, check out our guide to Krakow to get tips on planning your trip there.
Now I'm not recommending you skip Krakow — it really is an experience — but I think you should also check out the lesser-known city of Poznan. It's a colorful town that's home to museums, brightly painting buildings, a charming town square, and may be one of the most budget-friendly places to visit in all of Europe.


---
What should you see in Europe if you're volunteering here?
Check out our list of recommendations
---

Here's your essential guide for a quick trip to Poznan, complete with all of the city' highlights, a few recommendations when it comes to food, and the info you need to know how to get here from your fav spots in Europe:
What To Do In Poznan
Out To Eat
A Few Other Tips
Getting To + Around Poznan
What To Do In Poznan
Town Hall + Old Market Square
Whenever you visit a European town, you have to visit their main square — This is where you'll find the old architecture, cool restaurants, and dreamy cobbled stone paths. An afternoon hanging around this spot is likely to be the highlight of your visit, thanks to the colorful and historic buildings found in this part of the city.
To start, the town square is lined with rows of colorful painted homes known as the merchant houses. Some of them are green, others are pink, blue, orange — you name it.
Then you have the stunning Town Hall (Koziolki Poznankie Ratusz) which almost looks like a cathedral and acts as Poznan's historical museum. You're welcome to visit: It's open on Mondays and Tuesdays from 10:00 AM - 4:00 PM, Wednesdays from 12:00 PM - 6:00 PM, and Saturdays and Sundays from 10:00 AM - 3:00 PM (the museum's closed on Thursdays).
Even if you don't go inside the Town Hall, you can still listen (and watch!) the clock ring at 12:00 PM. When it does, two mechanical billy goats come out just above it and butt heads twelve times to the bugle call.
Address: Stary Rynek 1, 61-768 Poznań, Poland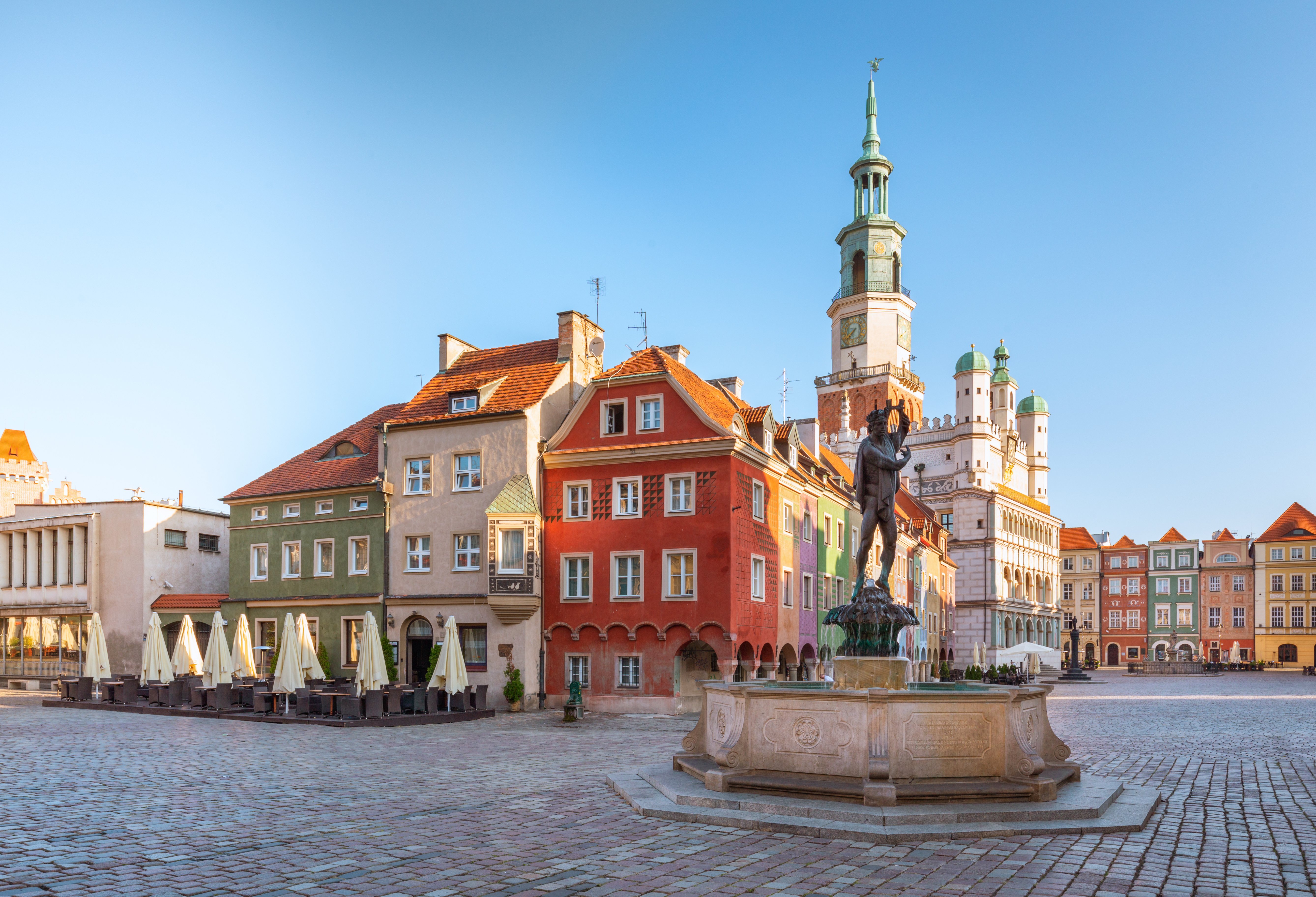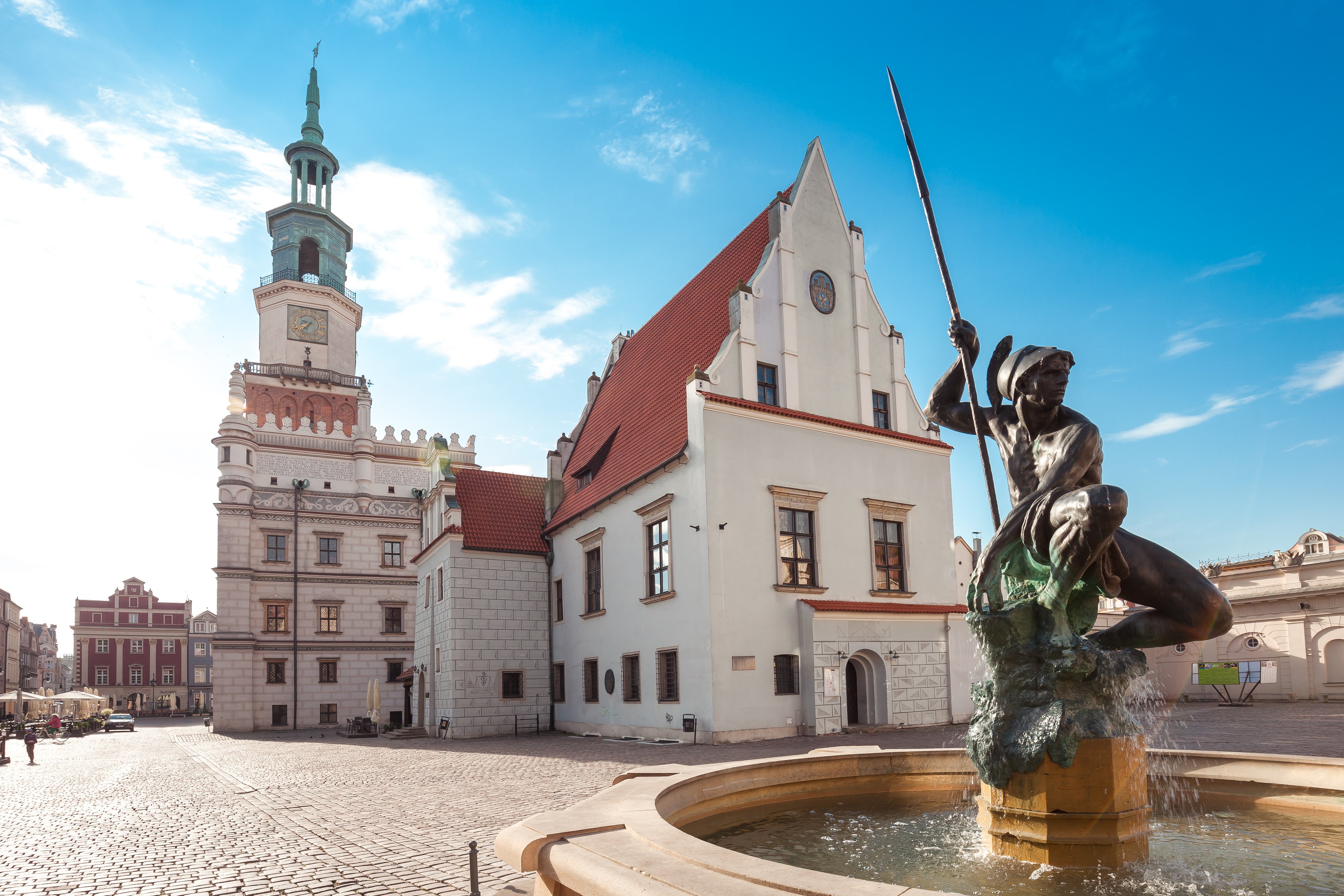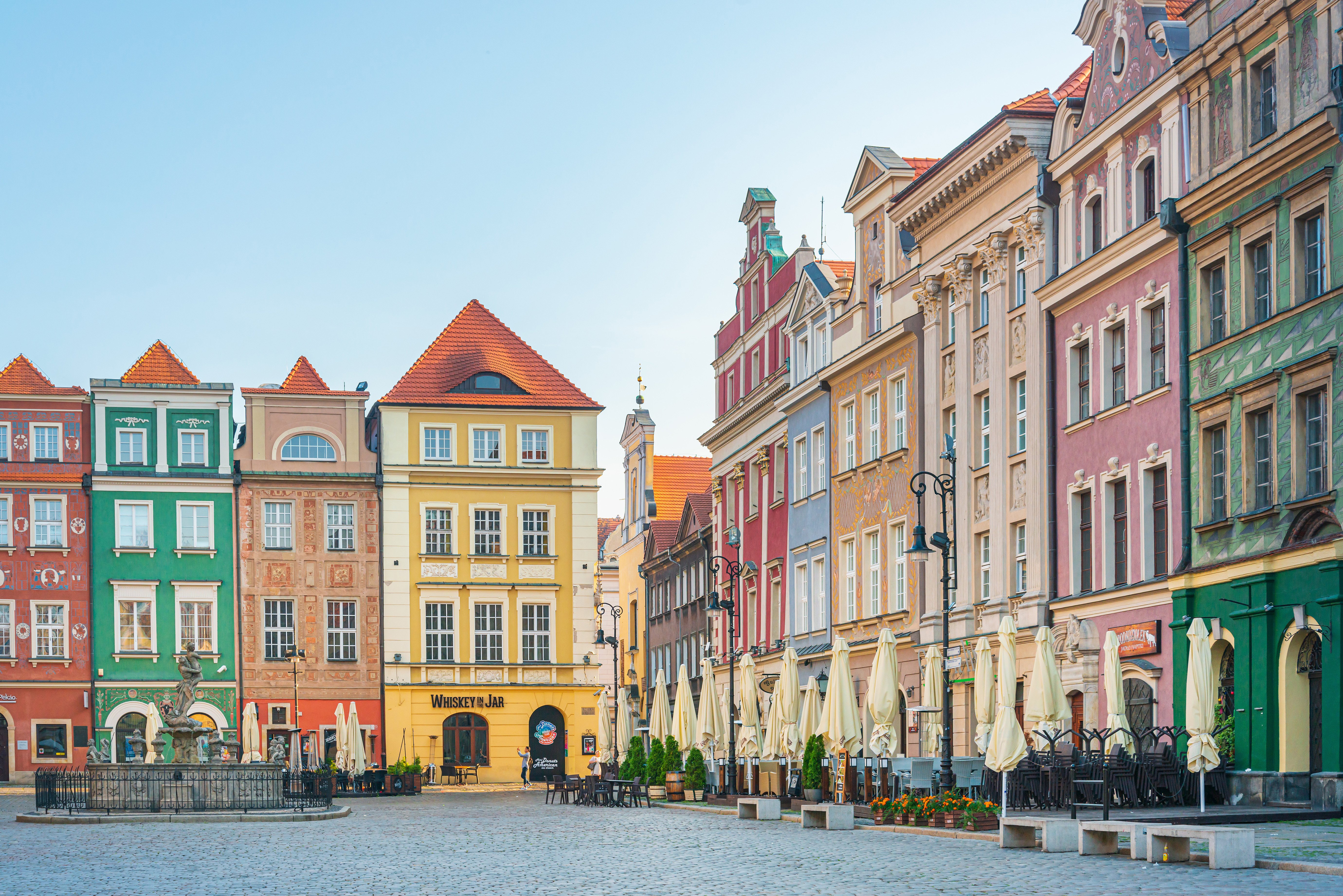 Imperial Castle
Some say if you only see one thing in Pozan, make it this castle. This old Neo-Romanesque style palace was first built by Kaiser Wilhelm II, but it's since gone through massive changes. Today it's acts as a cultural centre that hosts theatre performances, concerts, films, and other events. There's also several restaurants and cafes, making it a half day adventure to be sure.
In the basement of the Imperial Castle, they have a 1956 Uprising Museum which has information about the first armed Polish resistance to the Soviet Russia communist regime. This place has history, dictatorship, massacres, cafes, music, art, culture and more — get an inside guide to what's waiting for you on this site.
Hours: This museum's open from 10:00 AM - 5:00 PM and closed on Mondays.
Cost: You can get an hour long audio guide of the castle from 11:00 AM - 6:00 PM for about $4. If you want to know about the cultural schedule, check out their programs here.
Address: Święty Marcin 80/82, 61-809 Poznań, Poland
Croissants Museum
Yep, you read that right ... a museum for croissants! Poznan has a very unique museum that's completely dedicated to St. Martin's special recipe for croissants.The story goes that in 1891, a young priest was trying to inspire the congregation to be more giving to the poor in the freezing winter months. After this inpiring sermon, a member of a congregation (and baker) saw a horse without a horseshoe and was inspired to make a croissant in that horseshoe shape and give it to the poor. The pastry was filled with a mix of almond and poppyseed and is now a national icon.
Now, only a certain number of bakers can make this pastry — it's a must-try before leaving!
In the museum, you get to see all that goes into making this type of croissant and by the end you get to sample the freshly made dessert. See if you can count the 81 folds!

Cost: The tour costs about $6. They only have English tours on Saturdays and Sundays at 2:00 PM and they'd like you to show up at least 10 minutes early.
More Info: If you're interested, check out their website and book your tour in advance.
Address: wejście od, Klasztorna 23, 61-779 Poznań, Poland
Cathedral Island + Museum
First, learn a bit more about the island before visiting at the Porta Poznania museum. The museum is dedicated to teaching their visitors about the history of Cathedral Island in an intuitive and fun way — if you're looking for a way to make history more interesting, this place is for you. We're talking interactive light features, era-costumes, and the chance to get up and close with medieval lift in this city.
Hours: Tuesday to Friday from 11:00 AM - 6:00 PM while Saturday and Sunday is 10:00 AM - 7:00 PM (Monday's are closed).
Cost: Tickets cost about $5-$6.
Address: Ostrów Tumski 17, 61-109 Poznań, Poland
Then, plan your visit here. Cathedral Island (or Ostrow Tumski) is connected by two bridges that lead to the city, but it still feels separate with its beautiful landscape that runs along the river. Inside are the tombs of the first rulers of Poland. It's also filled with Romanesque relics and filled with architecture from different eras — things you'll know if you visited the museum first, and then walked over the bridge to see history come to life.

It's open from 9:00 AM - 4:00 PM.
Check Out the Church of St. Stanislaus
St. Stanislaus is a gorgeous baroque style parish that was once a Jesuit college. It's filled with religious artwork of saints and Christ, has large columns inside it, and lovely alters. You can also hear the organ play if you come visit the parish on Saturday at 12:15 PM.
The parish offers tours that cost about a dollar depending on what you want to see (some tours just take you around the church while others let you go underground) and last 30-40 minutes. You don't necessarily need a tour though since you're free to visit and explore the church by yourself from 6:00 AM -7:30 PM.
You can learn more about the church at their website (Note: Everything is in Polish so you'll need to translate to English, unless you're fluent!)
Address: Klasztorna 11, 61-779 Poznań, Poland
Basilica of Our Lady
You'll be sure to wander into this stunning pink-and-white building while walking around Old Town. We love walking the streets between the structure, but like the view of the building even more from far away. About a 15-minute walk away is the Collegium Altum of the Economic University of Poznan — climb to the top of this orange building and get a panorama of Poznan for free.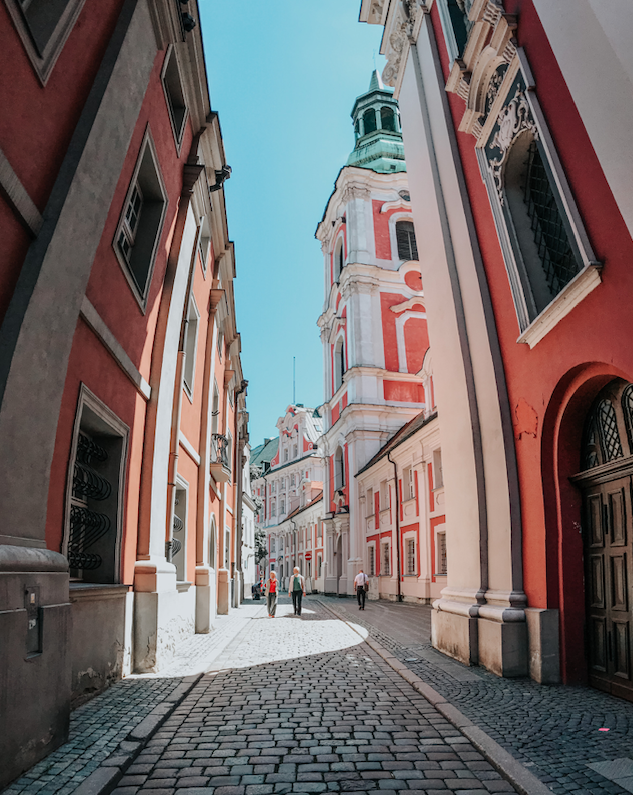 Out To Eat
Restaurants
Now this all depends on your budget and what you're interested in. If you want something cheap and yet traditional, I'd recommend you go to Pierożak Pierogarnia. It's a come in, eat, and leave kind of deal since they don't have any waiters and they only serve one dish: pierogis. Pierogis is a classic Polish dish that you absolutely must try while you're in Poland — it's basically dumplings wrapped around a savory filling and then fried. Here you get a Polish experience, but it also doesn't hurt your wallet!
Pierożak Pierogarnia
Półwiejska 10 and Wrocławska 23
Open from 10:00 AM - 9:00 PM
If you're looking for variety and something more high-end, then I'd say go to Pierogarnia Stary Młyn. They still offer pierogis here, but you'll find other yummy options like potato pancakes and a variety of soups.
Pierogarnia Stary Młyn
Zamkowa 7
Open from 11:00 AM - 11:00 PM
Another favorite dining experiencing is paying for your meal by weight at one of the canteens in the city. This bistros have a huge array of meals that you pile onto your plate, which is weighed to determine the price. There are several to choose from in the shopping centers, but some recommend Kitchen Marche. It's also popular to visit milk bars, which are old-school canteens that are a remnant of the Soviet-Era. You can find them around, but a few to check out are U Dziadka, Apetyt, and Pyra Bar.


You can also snag a few things to eat on the foodie street, Wielka.
Ice Cream
Poles love their ice cream and you will too! You'll find a bunch of different kinds whether it be big soft served cones or specialized flavors. If you want to hit up one of the more popular restaurants, head to Kolorowa.
Kolorowa

61-001 Poznań, Poland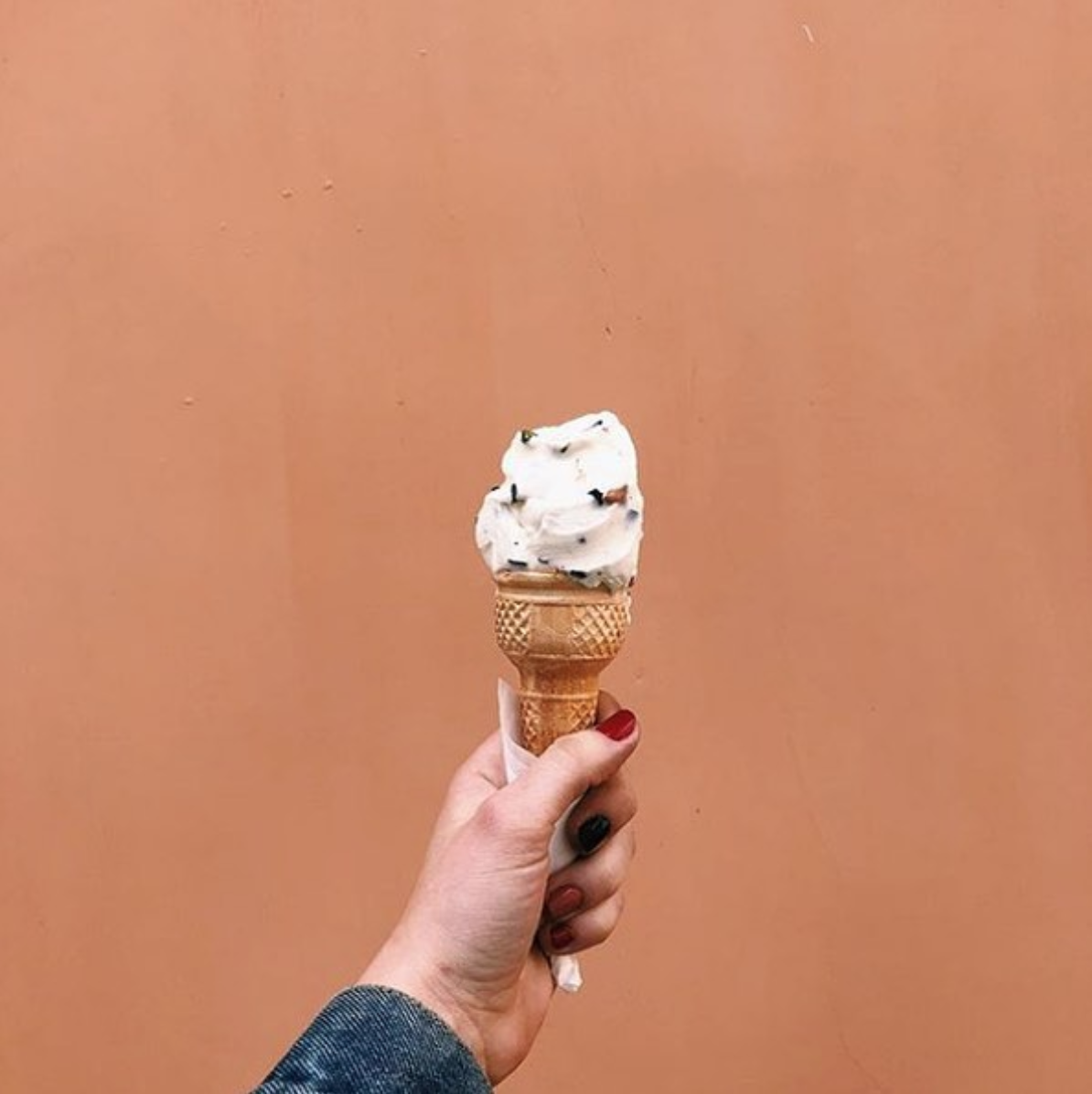 A Few Other Tips
How Long Should I Visit?

Poznan's structured perfectly for a weekend trip, where you're able to fit in the highlights in 2-3 days without feeling rushed. Plus, as we outline below, you can easily get to Poznan on a quick bus or train ride, or hop on a quick flight from a handful of nearby cities.
It's Stunning In The Fall
Summer is high tourist season for the rest of Europe, but I think it's best to visit Poland in the fall. For one, it's considerably cooler, plus the fall colors in Poznan really can't be beat. The city is made up of around 10 parks, botanical gardens, and other and green spaces, that shake out to make up 25% of the city.
While very nice in the spring and summer, imagine having a backdrop of yellow, red, and orange leaves to frame the colorful buildings in the town square as you snap a few pictures? Also, I'm pretty sure pierogis are the definition of cozy, autumn comfort food.
Another perk of visiting in the cooler weather? It's an ideal time to visit theMalta Thermal Baths, complete with indoor and outdoor swimming pools, water slides, and naturally warm pools. Learn more here.
A Smidge Of History



If you're like me, knowing a bit of history makes all the difference in your trip. And in

Poznan

, there's more than a few things to note. This city was the first capital of the whole capital (well, there's a bit of competition between some between Poznan and nearby Gniezno) but Poznan is still one of the most important — you can find over 100,000 university students in this city alone! It's also fascinating to pay attention to the local language — people speak Polish here (as you might guess) but there's a unique dialect that uses words you can only find here.
Getting To + Around Poznan
You'll find a handful of nearby cities you can easily travel to before or after your visit to Poznan. We've included the most detailed info on how to get there from Krakow (another Polish city we just adore) but also have some times for other locations in case you find yourself elsewhere in Poland or the nearby Czech Republic.

In all cases, we love checking out options and booking on Omio, whether you want to travel by bus, train, or plane.
Getting to Poznan from Krakow
By bus: One option would be to hop on a bus in Krakow and go straight to Poznan. This trip takes just over 7 hours and costs about $24 USD.
By train: A quicker (and often cheaper) option is going via train which is just under 5 hours and typically costs around $16 USD.
By plane: You might even want to consider just jumping on a flight. Traveling by plane can be surprisingly cheap in Europe — you can often find flights to Pozan from a handful of major cities (including Krakow) for around $35. It's not a direct flight, so plan on a layover in Germany and arriving in Poznan within four hours or so.
From Other Cities


There are handful of other do-able itineraries from other cities we love nearby, like a 7-8 hour bus (or train) ride from
Prague.
You can also hop over to Poznan from nearby
Gdansk
, a beautiful port city with a strong German influence. A bus can get you there in about 5.5 hours or so. Warsaw is another jumping off point that makes it easy to visit
Poznan
. A bus can get you there in just over four hours, while a plane ticket will cut that itinerary down to just an hour.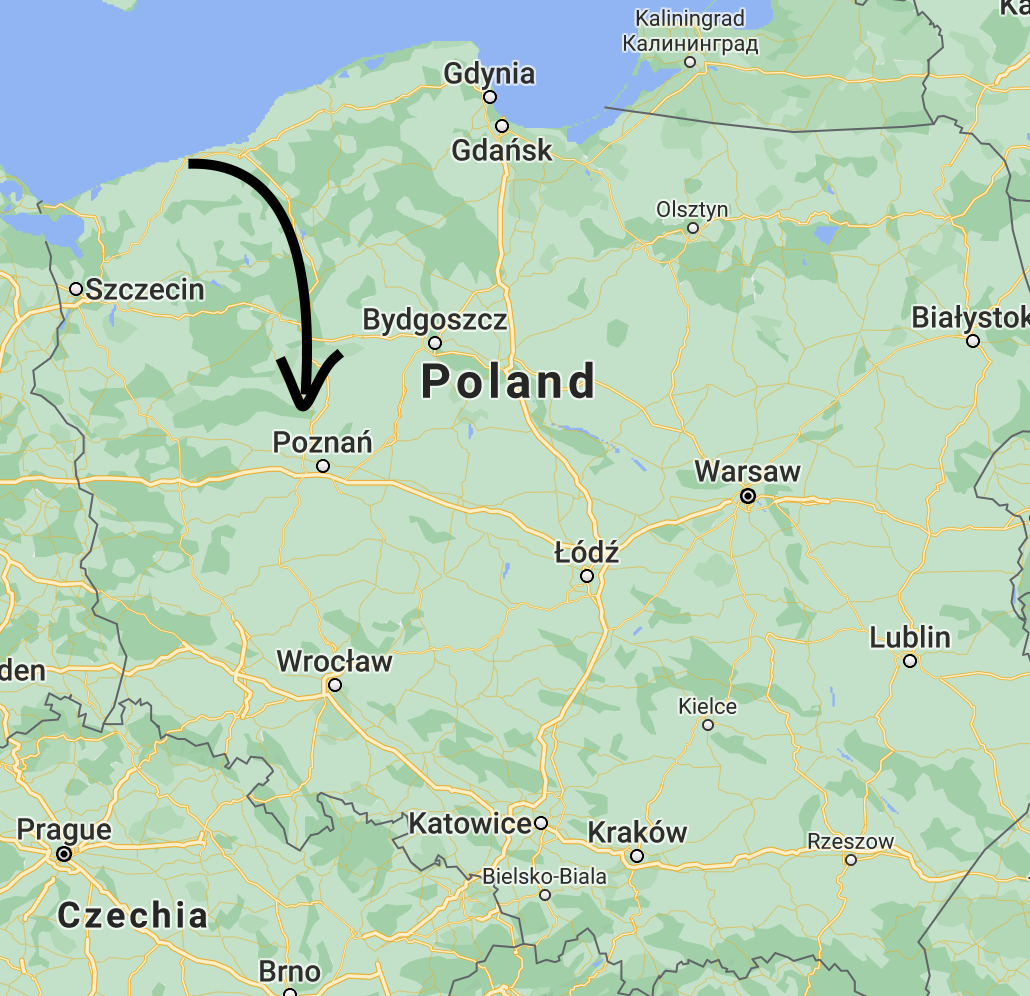 Getting Around Poznan
Once you're actually in Poznan, the best way to travel is either on foot (especially when exploring Poznan's Old Town square) or by tram or bus. The day trams and buses run from 4:30 AM to 11:00 PM in Poznan giving you plenty of time to explore the city.
The price of tram/bus varies depending on how long the ride is. A 24-hour pass costs about $4 USD while a 3-day one costs about $6. You can also buy one ticket to get to and from one place to another at about $1. I personally recommend using those feet to get around most of Poznan, but a long-lasting pass would help if you ever just needed to get on a tram and didn't want the stress of constantly having to buy a new ticket every time.
You can buy tram/bus tickets at ticket boxes that are usually in main bus/tram/train stations. You can learn more about that here.
You can also check out which trams to take that lead to important places in Poznan here.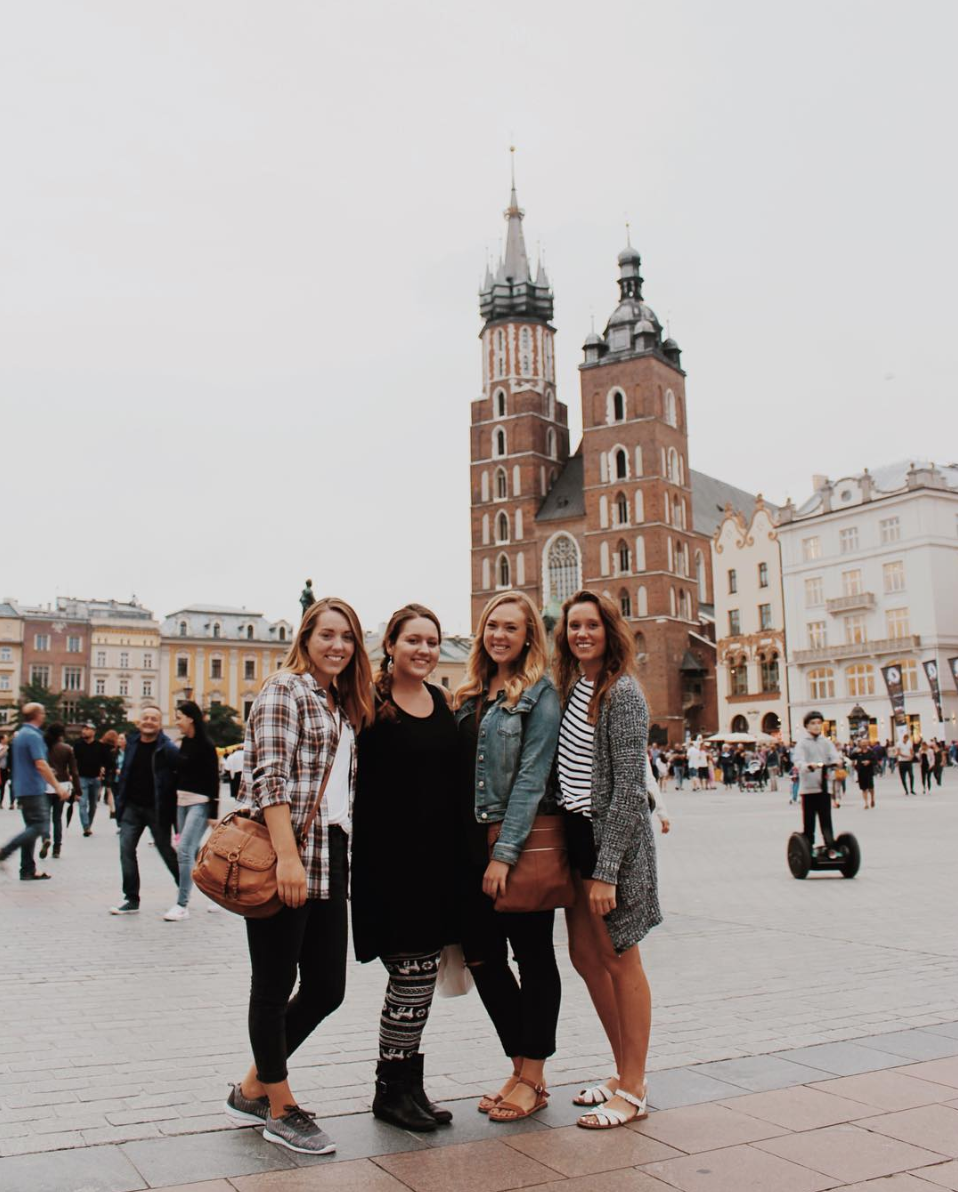 Come join us for a semester living + traveling in Europe!
We send college-aged volunteers abroad for a semester of volunteering and traveling in locations all around the world (with more than a few programs in Europe). You'll be set up with your group, housing, provided meals, support, and more, along with a part-time teaching schedule (or you can opt to serve in our orphanage program). Learn more here!