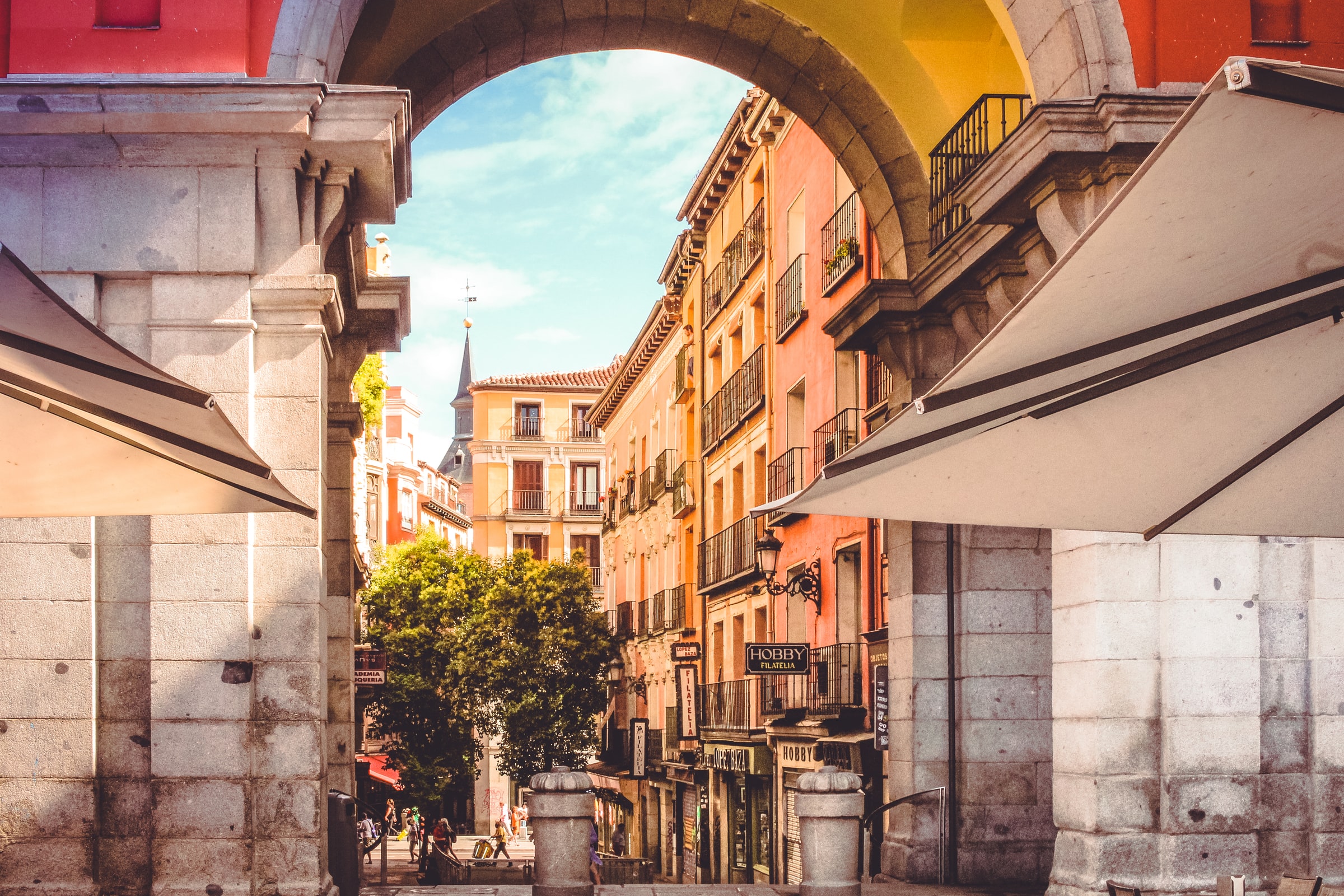 If your travel dreams are made up of charming cities, exploring art museums and sampling local delicacies, then Madrid is the perfect little getaway for you!
Do you dream of one day checking off all those European Bucketlist items? One of the biggest perks of spending a semester abroad volunteering with ILP is that you have weekends free to jet off and explore all of the hidden gems that Europe has to offer!


---
Do you want to spend a semester abroad in Europe?
Fill out an application now to make your dreams come true!
---

Madrid is easily one of the dreamiest, classic European cities that visitors love to come experience! Its delicious food, charming architecture, enchanting museum exhibitions and luscious green parks make it a picture-perfect place to explore. We're going to give you the ultimate Madrid guide so you can hit up all the bucketlist worthy spots during your weekend getaway!
Eat like a local
Chocolateria San Gines
If you want to kick off your trip by truly feeling like a local, make sure to visit Chocolatería San Ginés for breakfast! An 8-minute walk from the Royal Palace (more on that below) is a super famous and charming little café that has been around for 125 years! They serve up delicious crispy churros and thick hot chocolate 24/7 so you are in for a treat at any hour!
Address: Pasadizo de San Ginés, 5 28013 Madrid Spain
La Mallorquina Bakery
Everyone who is anyone will know about La Mallorquina bakery. A darling little shop filled to the brim with fresh pastries, there is no better way to start your day than with one of their famous lighter-than-air fluffy pastries stuffed with custard called vanilla napolitanas!
Address: Plaza de la Puerta del Sol8, 28013, Madrid
Sobrino de Botin
Want to eat lunch at the oldest restaurant in the world? Just a one minute walk from Plaza Mayor you'll find one of the most iconic restaurants in Madrid! According to the Guinness Book of World Records Sobrino de Botin is the longest-running restaurant in the world! They even still use the original wood fire oven from 1725 when they first opened. The menu includes dishes from all over Spain from gazpacho to delicious seafood straight from the coast!
Address: Calle Cuchilleros 17, 28005 Madrid Spain
San Miguel Market
San Miguel Market is one of the oldest and most popular food markets in Madrid! Here you will find tons of local delicacies to sample. As you walk up and down the aisles you'll find everything from Spain's famous mouth-watering tapas to stuffed olives, cured hams, meats on skewers, seafood dishes, paella and croquettes, to heavenly flaky pastries. It's open every day from 10am to midnight so it's a perfect place to explore for lunch or dinner!
Address: Plaza de San Miguel, s/n 28005
Getting Around
In general, Madrid is a very walkable city! Most of the famous landmarks are just a few minutes away from each other by foot which is just part of what makes it such a popular city for travelers.
If you're headed further in the city though, you can also ride the metro or wave down a taxi.
Visit the Famous Landmarks
Tour The Royal Palace
Spain is a monarchy! It's officially called the Kingdom of Spain and the royal family, The House of Borbón has been reigning since 1700. Although they have no political power, they are adored by the people and play an important cultural role.
The Royal Palace is the official residence of the Spanish Royal Family in Madrid, but because it is really only used for ceremonies it is totally open to the general public to visit! The Royal Palace is Western Europe's biggest royal residence and it was built in the 1700s. Make sure to explore the inside to experience the history of the palace, and see beautiful paintings by famous Spanish and Italian artists! You can even check out an exhibit that features a collection of royal clothing and jewelry.
Address: Calle de Bailen, s/n 28013
Entry: Free!

Operating Hours:

October-March, all days, 10 AM-6 PM. April-September, all days, 10 AM-8 PM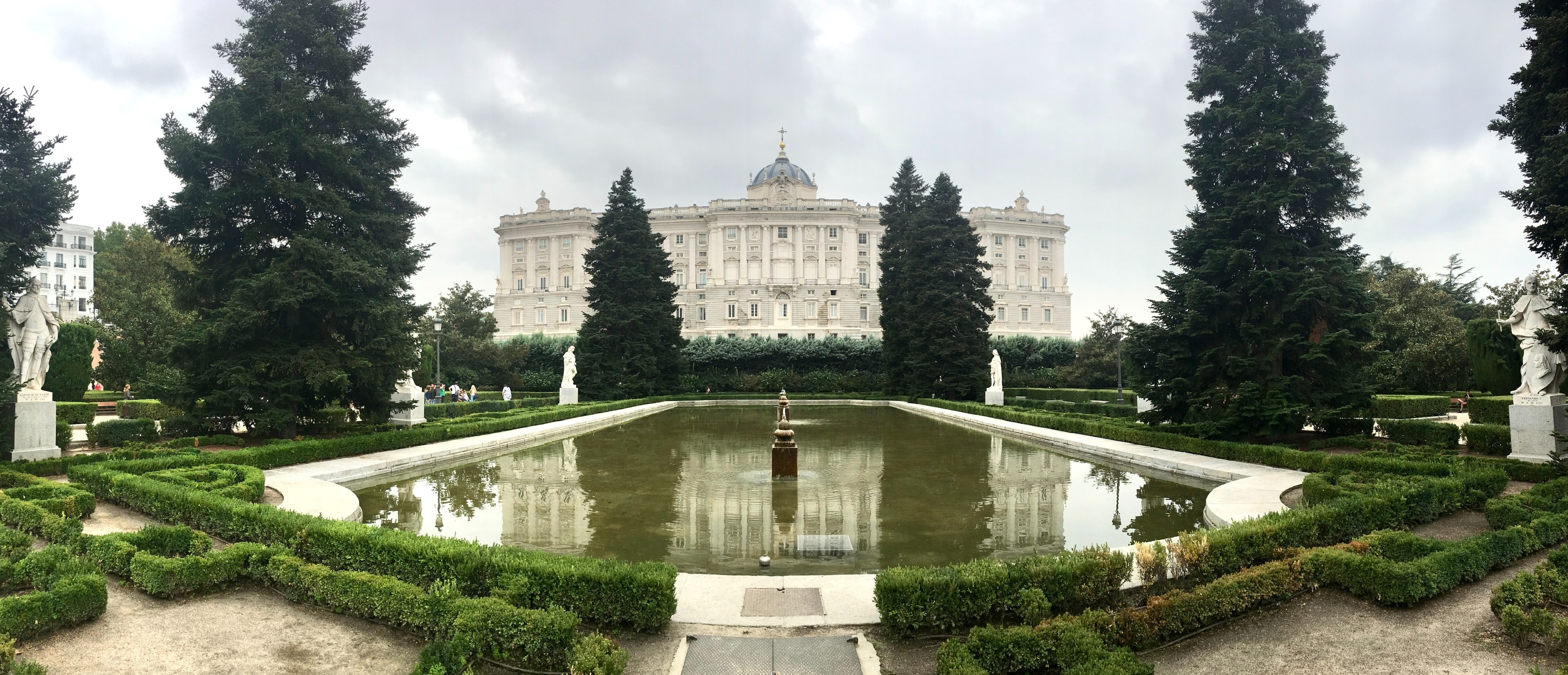 Almudena Cathedral
On your way from the Grand Palace make sure to stop by The Catedral de Almudena! One of Madrid's most grand churches. This is where King Felipe IV and Queen Letizia got married in 2004. Go inside to discover stunning Gothic-inspired interior and incredible brightly-colored contemporary murals.
Entrance is Free!
Operating Hours: from 10 AM to 2:30 PM
Address: Calle de Bailen, 10 28013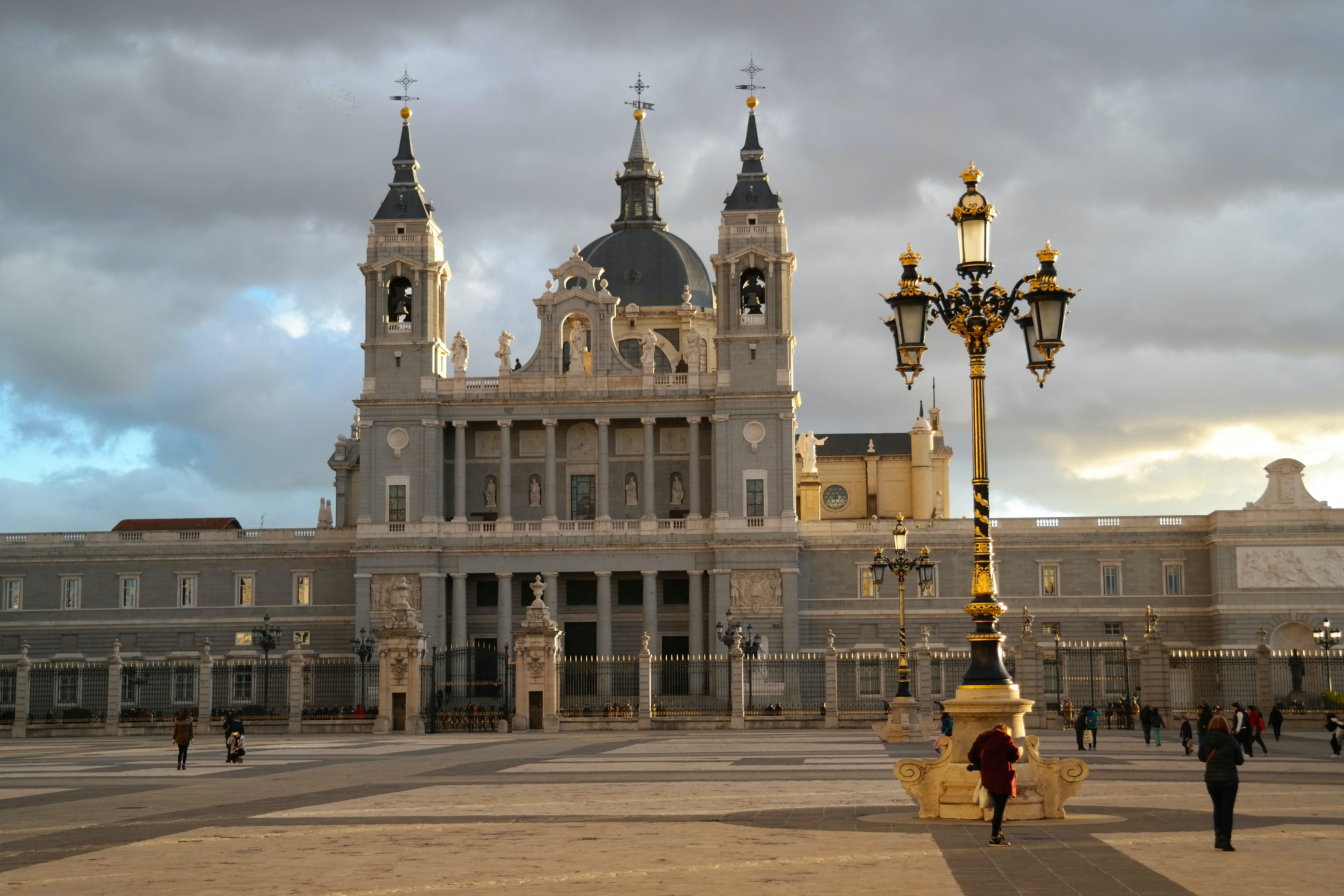 Plaza de Cibeles
Plaza de Cibeles is an iconic square, one of the best-known and most beautiful historical monuments in Madrid. Surrounded by intricate tall white buildings is the gorgeous Cibeles fountain, which is one of Madrid's most famous landmarks. The fountain has stood in the center of this emblematic square since 1782. It depicts the goddess Cybele atop a chariot drawn by two lions. The Cibeles Palace (the stunning wedding-cake like building) was once the headquarters of the Spanish postal service. Today it has been transformed into Madrid's City Hall building (which means it is strictly businesses, so it's probably not a place you want to go inside) but it is a picture-perfect place to take some cute group photos from the outside!
Address: Plaza de Cibeles, s/n 28014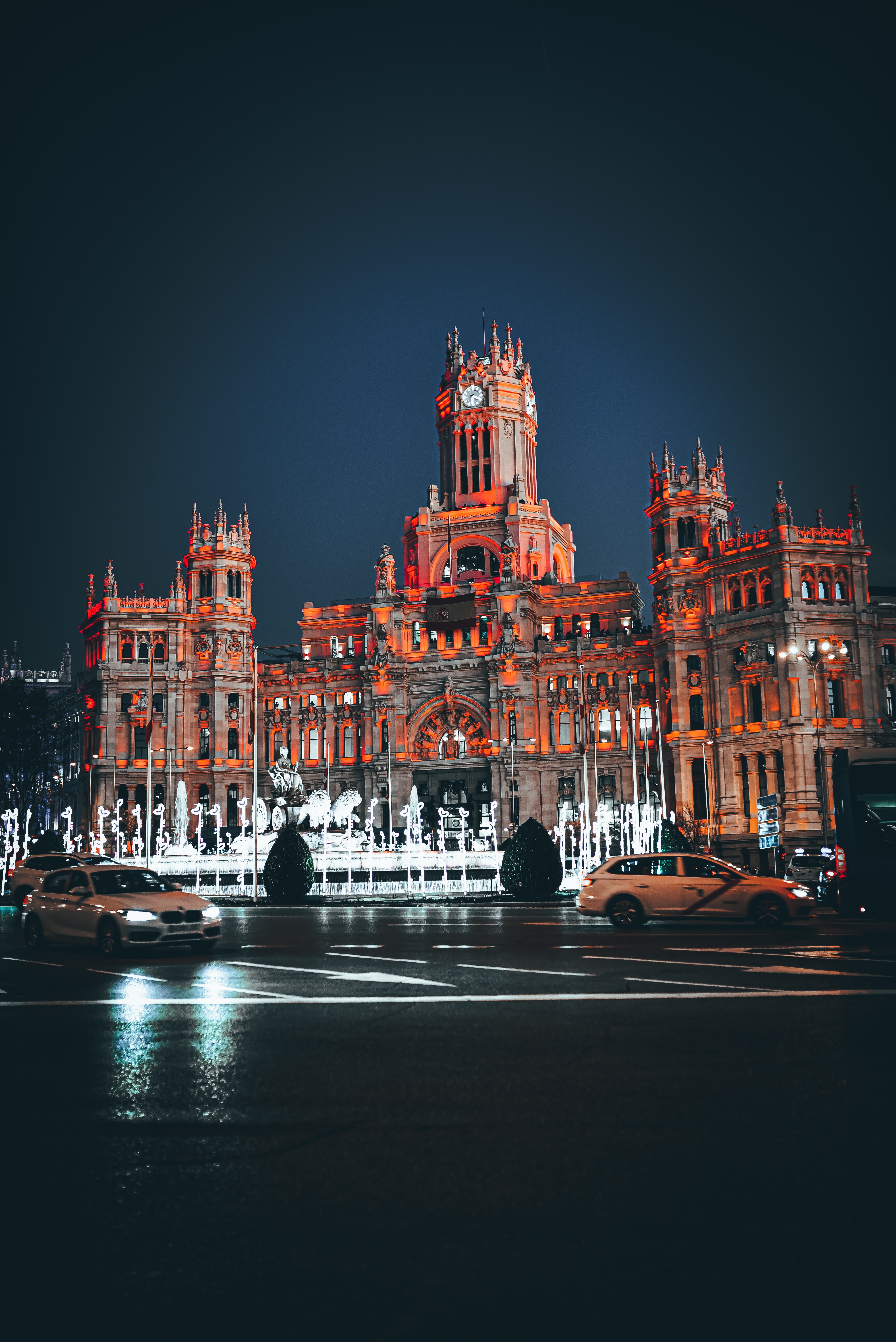 Plaza Mayor
You definitely don't want to miss taking a stroll down Plaza Mayor. One of Madrid's most emblematic (and Instagram worthy) squares, it is full of vibrant colors, charming balconies and super cute cafes. It was built by King Phillip the III who is featured riding his horse in the middle of the square.
Address: Plaza Mayor 28012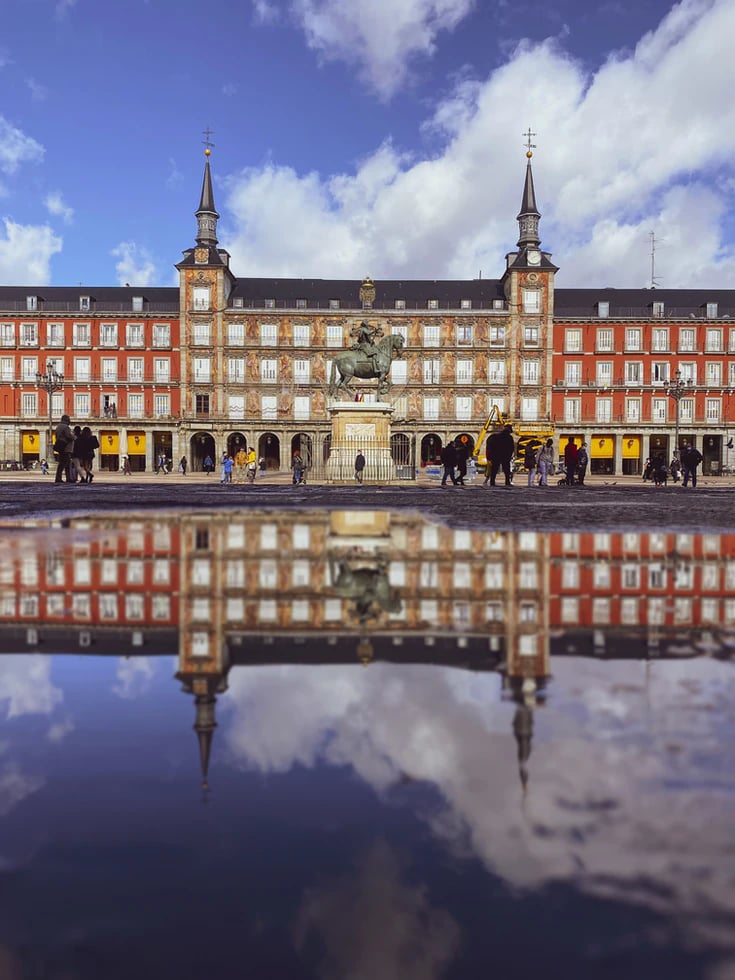 Relax at Retiro Park
Parque del Retiro is the most famous park in Madrid. It was once exclusive to Royals, but lucky for us it opened up to the public in the late 1700's. Today Retiro Park is a dreamy green oasis where you could easily spend an afternoon, taking a stroll with peacocks through the maze-like gardens, having a picnic, rowing a boat across the lake, or you can even opt to take a grand tour of the park by segway!
Eventually, find your way to The Crystal Palace, a charming, fairy-tale-like building entirely made up of glass that sits upon a little sparkling lake. Make sure to go inside to admire the art exhibitions, and see the golden sunlight streaming through the glass panes.
Address: Plaza de la Independencia, 7 28001
Entry is free!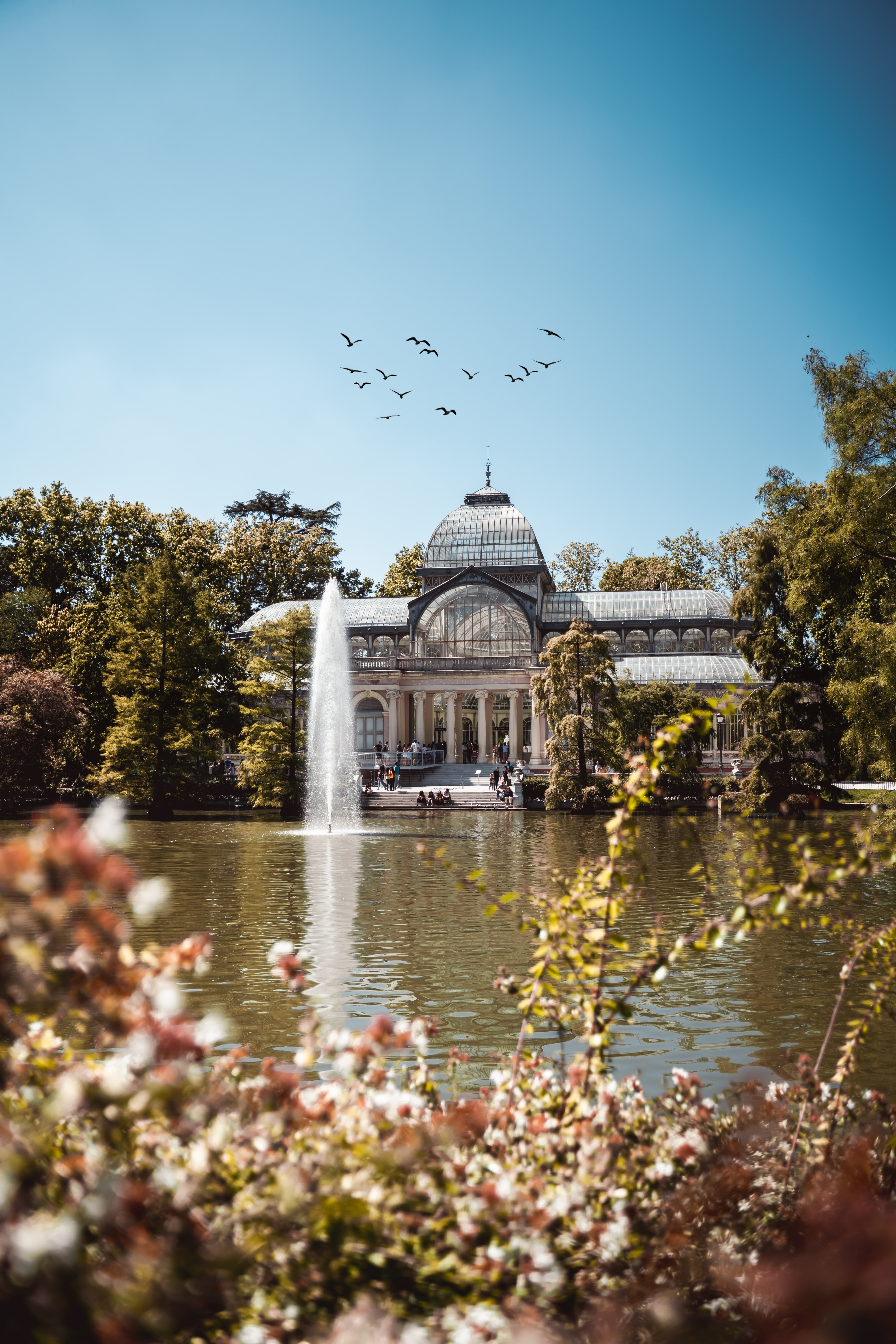 Debod Temple
See an Egyptian temple in Spain! The Debod temple was a gift to the city of Madrid by the Egyptian government. It was originally constructed in 2nd Century B.C. and thousands of years later it was transported to Madrid and rebuilt stone by stone! It is a magical place to watch the sunset and see the colors of the sky reflected in the pools.
Open: Tues-Sunday 10 AM - 7 PM
Entry is free!
Address: Calle de Ferraz, 1 28008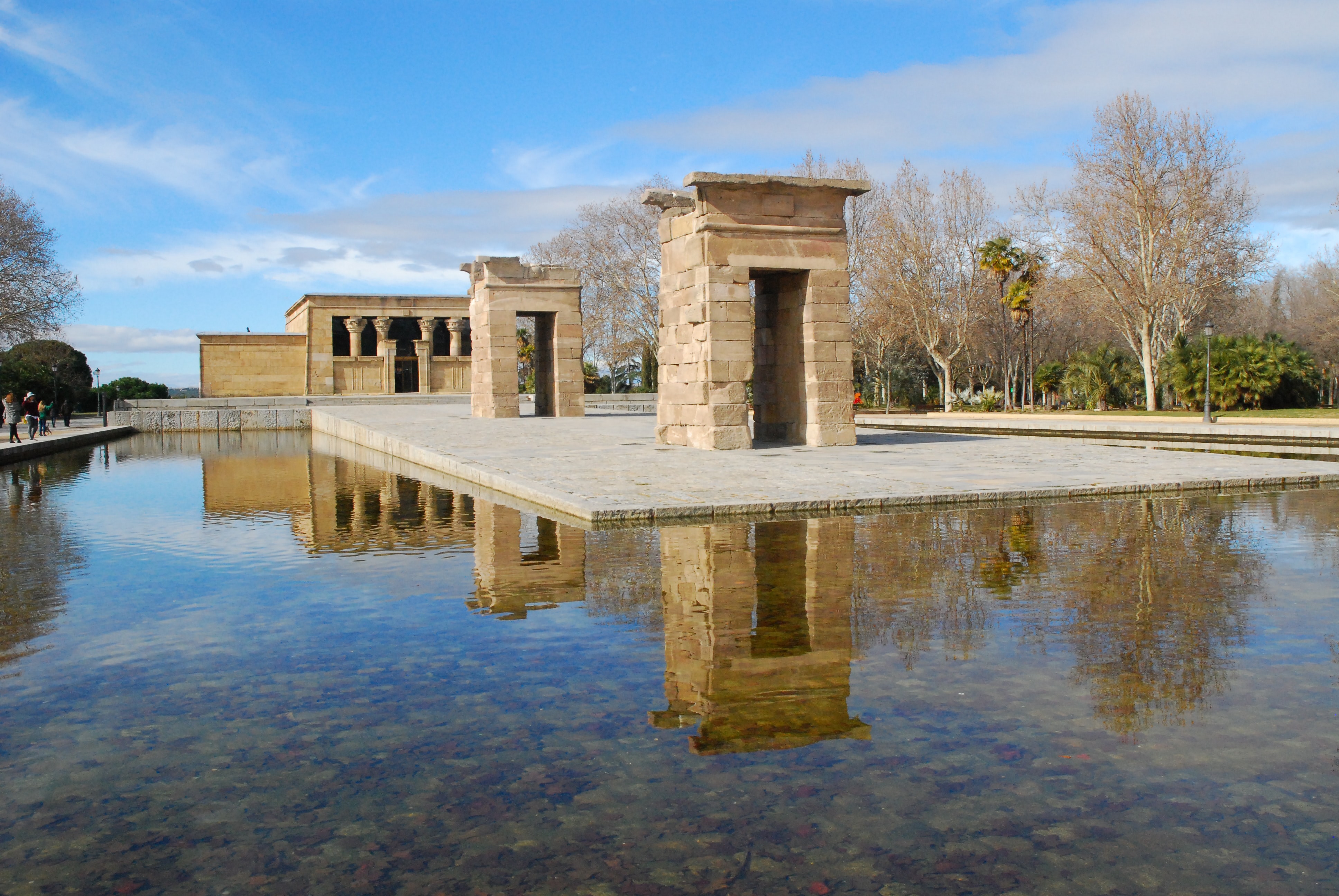 Wander around Puerta Del Sol
This is the heart of Madrid, with lots of cute little shops and trendy restaurants. Whether you are looking for souvenirs, clothes, unique jewelry or even gourmet foods, you'll be able to find it here! There are tons of shops here with different price points so it is perfect for travelers of all budgets! Puerta Del Sol is a bustling walking street that has a super fun and lively atmosphere all day and all night. Here you will find the iconic statue of the bear and the strawberry tree, which is the symbol of Madrid.
Address: Plaza Puerta del Sol, 28013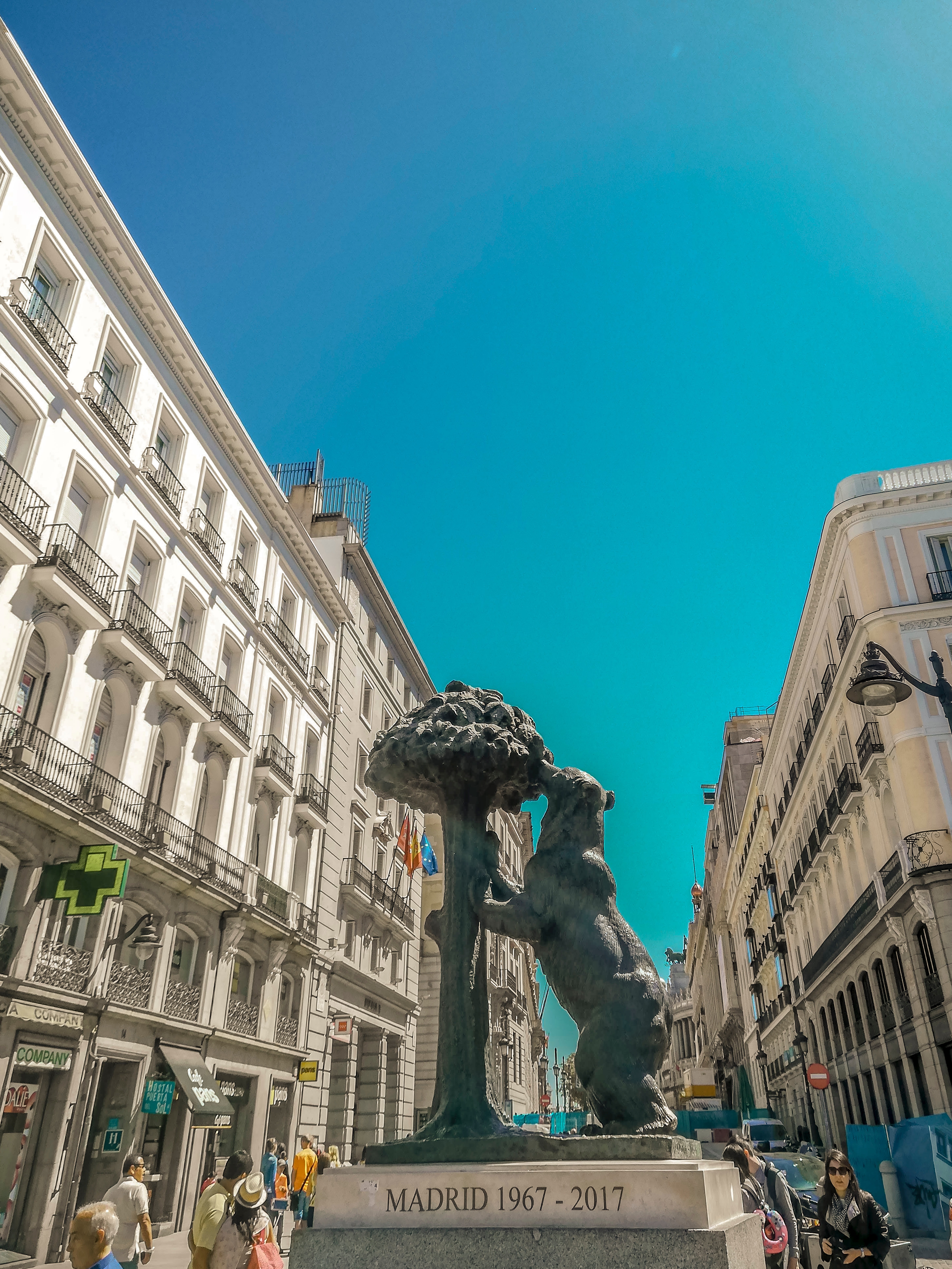 The Golden Triangle of Art
El Prado
El Prado is one of the top art museums in the world. Basically, you can think of it as the Spanish equivalent of the Louvre in Paris! It is one of the most beautiful places you can visit in Madrid and a must-see for anyone who appreciates the arts. Here you will find a large collection of art by masters of the Baroque and Renaissance era. It is easy to get lost wandering around the halls while you admire each piece, and you could definitely spend a whole day here!
Address: Paseo del Prado, s/n 28014
Hours: Open Mon-Sat 10AM-8PM Sun and public holidays 10AM-7PM

Entry:

You can get your General Entry ticket for just this museum here or you can get the Art Walk Pass which gives you entry to all three museums in the Golden Triangle of Art (El Prado, Reina Sofia, and Thyssen-Bornemisza Museum)
Reina Sofia Museum
This huge museum houses a collection of over 20,000 works of art. Among this impressive collection is Guernica, Picasso's most famous painting. The Reina Sofia Museum opened in 1990 and is known as Madrid's Spanish contemporary art museum. If you are a lover of modern art and architecture then this museum is the one for you!
Address: Calle de Santa Isabel, 52 28012
Hours: Open Mon, Wed, Sat 10 AM - 8 PM Sun 10 AM - 2:30 PM. Closed on Tuesdays and public holidays.

Entry:

You can just grab a General Entry ticket for this one museum or snag the Art Walk Pass (Valid for entry to El Prado, Reina Sofia, and Thyssen-Bornemisza)
Thyssen-Bornemisza Museum
The Thyssen-Bornemisza art museum is part of the "Golden Triangle of Art" which also includes the Prado and the Reina Sofia galleries. The Thyssen-Bornemisza museum features 1000 different paintings, from the German Expressionism period, the Russian Constructivist period, and also American art from the 19th century! This incredible collection features pieces from Van Gogh, Renoir, Durer, Titian and many more!
Address: Paseo Del Prado 8 28014
Hours: Mon 12PM-4PM, Tue-Sun 10AM-7PM

Entry:

Grab you General Entry ticket here or you can purchase a Art Walk Pass so you can visit all three famous art museums in the area!
Book Your Museum Tickets here
How to Get to Madrid
Because Madrid is a major city, it's well connected and easy to visit by air from just about anywhere in Europe.
Good news for our Romania volunteers: there are direct 3-4 hour Ryanair flights from Bucharest to Madrid! You can also check Wizzair for flights from several other Romanian cities.
Nearby Vacays
There's so much to see and do in Spain! You have more than a few picks if you have extra days to see more.
Alicante
This coastal city is only 5 hours by bus, but there are often very cheap flights available too that are worth looking into that will get you there real quick. We've often seen budget routes on Vueling. And we've got a full blog post to help you plan your trip to Alicante.
Valencia
Another nearby coastal city and this one has such a modern edge that you just have to see for yourself. There are lots of options for your transportation whether it be by bus, train, or flight. There are typically budget options that take more time vs options that cost more, but that get you there in just over an hour. Here's a post all about Valencia.
Barcelona
Another favorite and one we definitely recommend not missing, especially if you love art and architecture. Bus and train routes are available if you're not in any rush, but can often take 7+ hours. There are direct budget flights that will get you there real quick though! Check out our full post to help you plan your trip to Barcelona.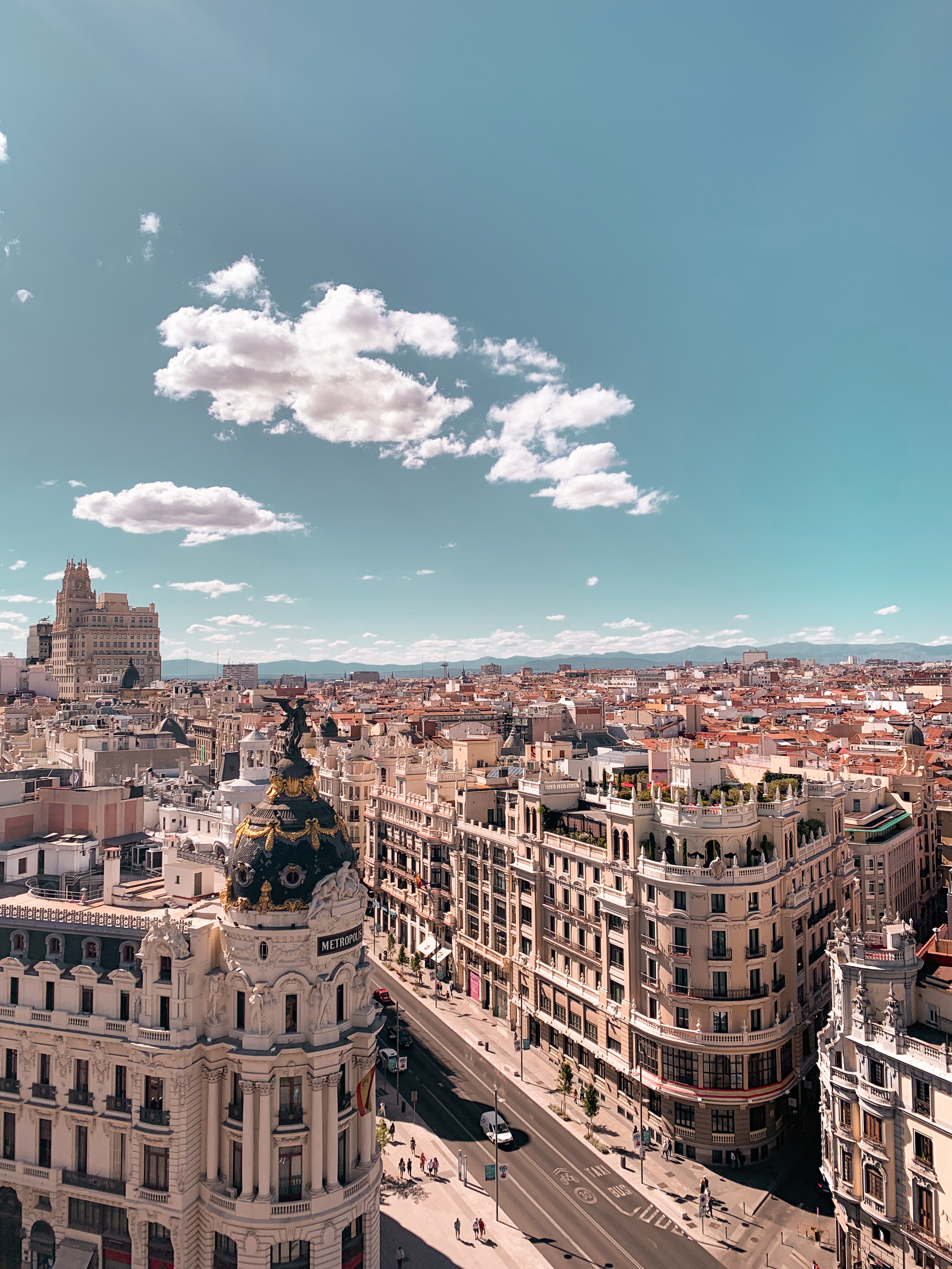 Come Volunteer in Europe with us!
Are you ready to see the world and make a difference while doing it? Fill out an application now to volunteer with ILP for your semester abroad!