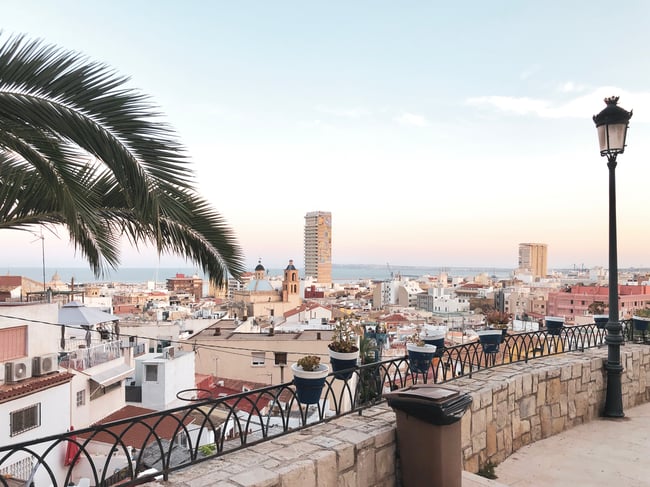 Dreaming of a beachy vacation you can visit year-round? Snag a cheap flight to Alicante and soak up the sun, explore free museums, and escape the crowds in this bright and quirky Spanish town — or take a trip to thundering waterfalls, pirate islands, or a pink lake. We love love love Alicante.
Spain is one of the biggest hotspots for tourists, meaning you'll likely be battling crowds if you visit favorite cities like Barcelona or Madrid — it's well worth it (you have to see the La Grada de Familia after all!) just know it's not going to be as much of a laidback Spanish experience you may be looking for ... which is exactly what you'll find in Alicante.
It's an ideal spot to spend a sunny weekend, or more time if you want to tack on another adventure, like Spain's pink lake.


---
READ NEXT: These European cities are too popular, go here instead.
---

With a bright and colorful downtown, miles of Mediterranean beaches, a hilltop castle, and more, we think you'll be adding Alicante to your travel list (especially with all these travel tips to help you plan your trip).
A Bit About Alicante
History, free museums, stunningly beautiful beaches, charming (and colorful) narrow streets, and way more are waiting for you in Alicante. It's a relatively popular tourist getaway found in the Mediterranean Costa Blanca region of Spain's southeastern coast.
Another perk? One of the main appeals of the city (apart from being incredibly picturesque) is the weather. In the summer months, you'll see temperatures in the 80's Fahrenheit, but even in the fall, winter, and spring, you will have sunny days in the 60s and 70s, meaning you can have a beach weekend any month of the year. This part of Spain sees some rain (good for time at the free museums) but you'll still see your fair share of the sun even in January.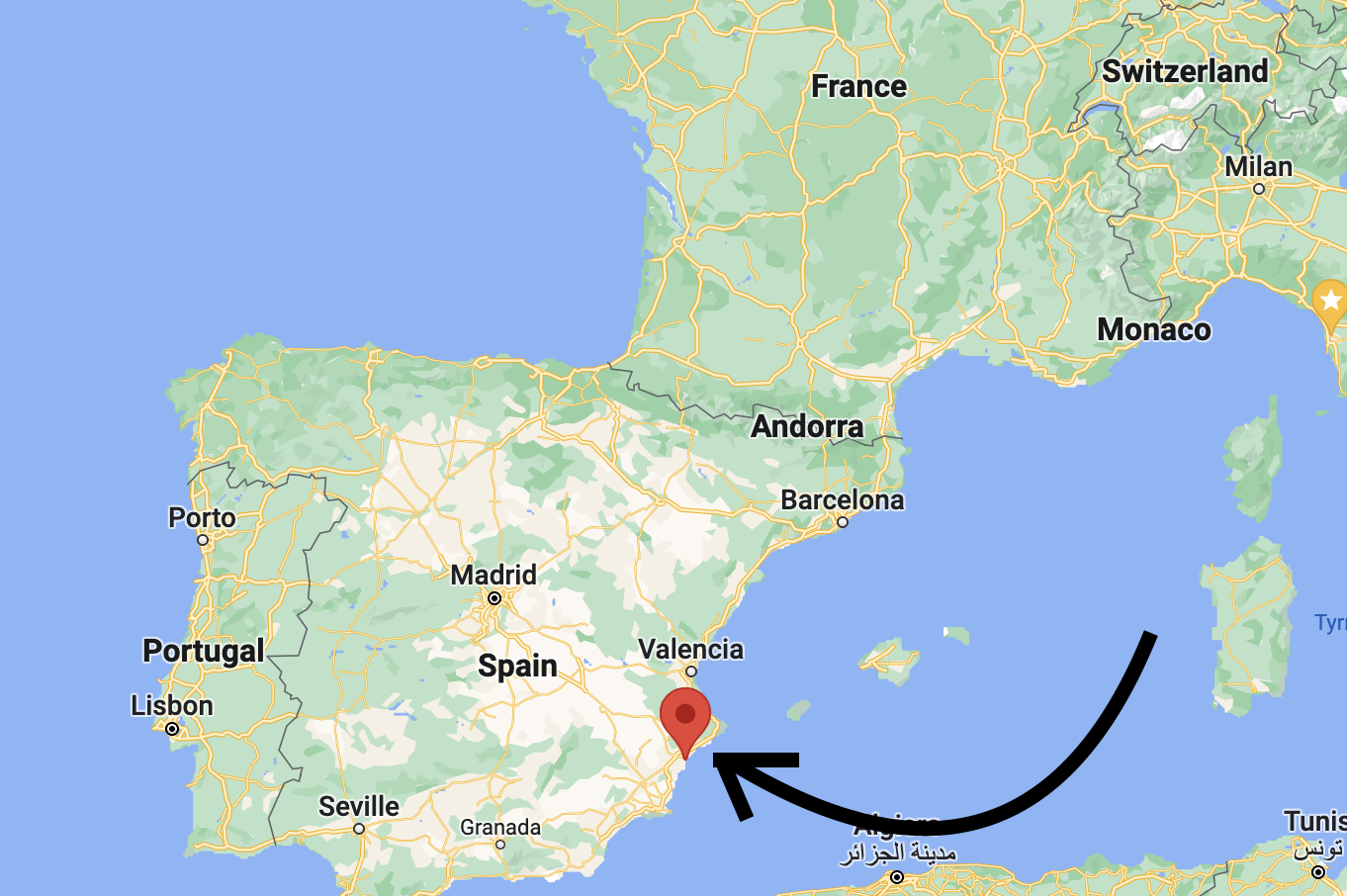 Alicante's Best Beaches
Situated right on the coast, the beaches in Alicante are a big pull for the visitors who spend a weekend here. We've outlined a few of the most popular in and around Alicante if you're planning a beach day:
El Postiguet Beach
It's the central beach in Alicante, located under the Santa Barba castle, complete with a walkable promenade and backed by a row of palm trees and cafes for breakfast, lunch, (or dinner if you're an all-day beach-er). The easy access and central location make it a good option if you're just here for a day or two and want to see the coast — it's a 5-10 minute walk from major sites in the city, like the MACA.
Umbrellas and chairs are available for rent as well as access to showers and restrooms.
San Juan Beach
This is the most popular beach in the area, found 4-5 miles away from Alicante, but well worth the trip out there. It's more crowded than the others on this list, but you'll find a list of water sports available like surfing, kayaking, and windsurfing, plus there are volleyball nets along with glittering waters and soft sand. It's known as one of Spain's best beaches. Tram line 3 from Alicante can get you to Playa San Juan in about 15 minutes from the Mercado, or you can travel by bus (line 22).
La Albufereta Beach
This beach is found between the centrally located El Postiguet Beach and San Juan, and is a favorite for those looking for a relaxed beach day. It typically doesn't get as busy as either beach, giving you a nice cove to swim in. Like the others, find showers and restrooms available, as well as beach chairs and umbrellas to rent. It's found near town so you can easily take a break from the waves to get lunch nearby or pack your own snacks for the day.
Trams 1, 3, and 4 can take you from Alicante to a stop called La Isleta, where you can make the 2-5 minute walk to the beach.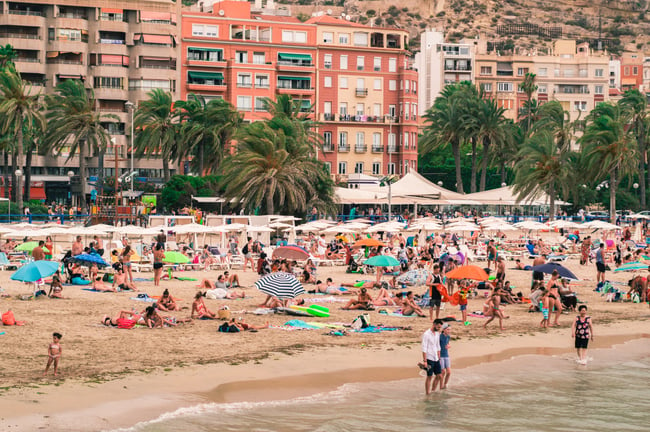 Highlights In The Coastal City
This Hilltop Castle
Get a stunning view of the city and coastline by taking a visit to the Castle of Santa Barbara, found on top of Mount Benacantil. The perched medieval fortress is one of the most impressive and largest in all of Spain, built way back in the 9th century. Visiting now lets you wander the courtyards, lookout points, guardhouses, and more, all separated into three separate sections of the castle's distinct historical and cultural periods of rule: Islamic, Christian-Muslim, and the later Renaissance.
It has a fascinating history that includes acting as a stronghold during the War of Succession (1706-1709), only to be exploded when a mine of gunpowder was ordered to be excavated during the recovery of the city. The castle was repaired and used actually as a prison on two separate occasions, as well as a hospital for cholera patients, and now is easily one of the best ways to see the history of the city (and the stunning coastline).
Find it: You can walk from the Plaza de Carmen (with amazing views all along your hike through some winding streets), but you can take the elevator through the core of the mountain if you'd rather. Find the elevator near the Avenue de Juan Bastia Lafora (here are the coordinates 38°20'48.17"N 0°28'36.71"W): purchase your tickets and enjoy the ride.
Check hours here

(they vary depending on the time of the year).

Cost: Free to enter (though the elevator has a fee of €2.4)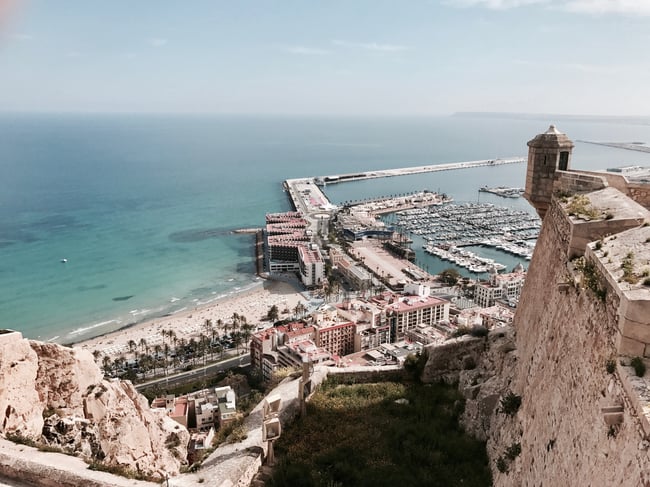 A Few Other Castles
You have to love a city with two castles in it, right? Actually, Alicante is home to over 100 ancient castles, watchtowers, and fortresses. So if you need a few more to visit, this post outlines a few more castles to see in Alicante.
The Basilica of St Maria
Don't miss out on taking pictures in front of the detailed Valencian Gothic basilica. The impressive facade is full of twisting columns that frame saints carved out in exquisite detail, all surrounded by ornamented angels and curling swirls. The church itself has a fascinating history, first built over the remnants of the city's Great Mosque, and is the oldest still active church in Alicante.
If you walk to the Santa Barbra castle, you'll likely pass by this church on your walk. If you'd like to visit the inside, time your visit with the church services: 10:00 AM to 1:00 PM, 6:00 PM to 7:00 PM, daily.
Walking Along The Marble Promenade
If you'll be getting around Alicante on foot, you'll probably run into the tiled promenade, made up of millions and millions of tiny little tiles which create a wave-like pattern below a row of palm trees. It's the place to take a stroll, poke into a few shops, find an empty bench for some people watching, etc. It's also a popular place for pop-up markets, street musicians, and leads to the marina.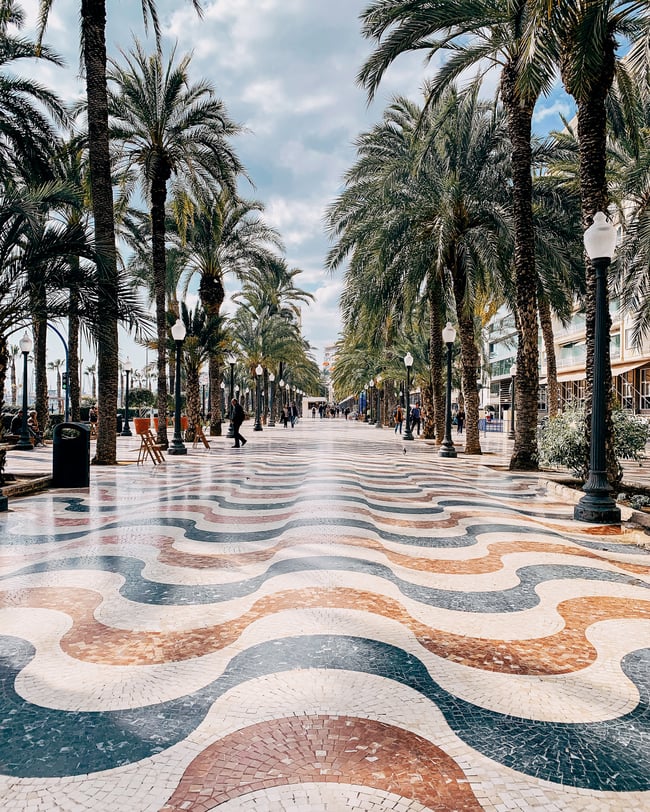 A Colorful Neighborhood To Explore
If you didn't know, a highlight of traveling in Europe is wandering down narrow streets, with towering buildings stacked on either side of you. In Alicante, that neighborhood experience should happen in Barrio de la Santa Cruz. It's a part of the old town and sports buildings with bright and colorful murals splattered on the side, stone steps with clusters of plants in colored pots in the corners, and balconies strung with flags, adorned with flowers, or bright blue doorways. It's a very photogenic part of town to just get lost in.
While you're in the neighborhood, spend time at the nearby L'Ereta park, a huge span of exhibition halls, plazas, fountains, and some of the best views in the city. It's a popular spot to watch the sunset if you time your visit right.
Another notable street in the area is Calle San Francisco which is decorated with colorful mushroom statues. It's a fun place to get lunch and snap some pictures if you didn't get your fill of cute streets in the Santa Cruz neighborhood.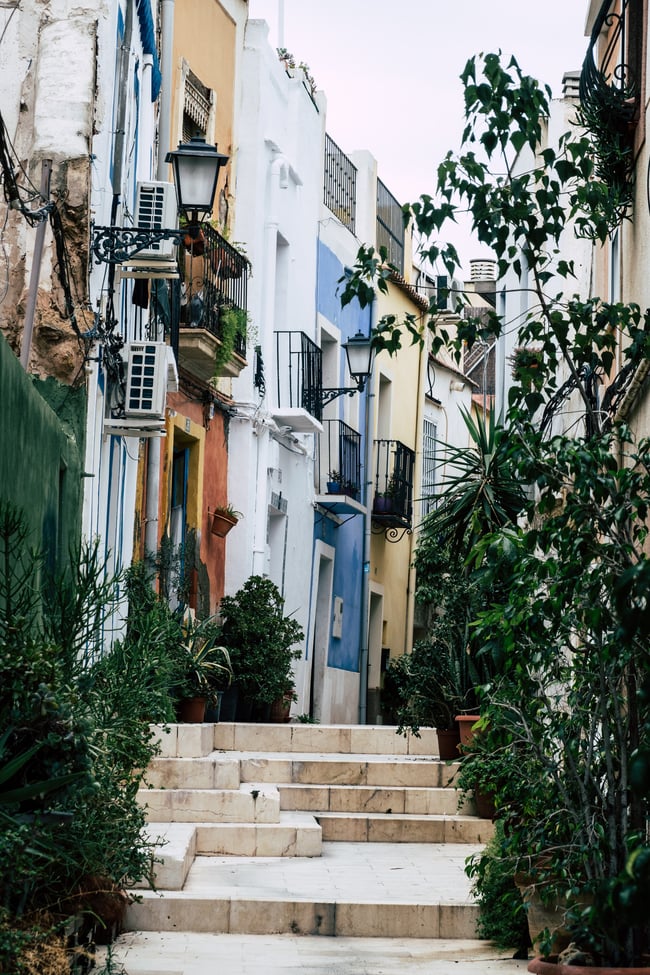 A Couple Of Free Museums
Need another reason to visit Alicante? The museums here are free, meaning you have more euros for coffee shops when you visit these favorites:
Asegurada Museum of Modern Art (MACA)
Find a bit more peace and tranquility while wandering through the exhibits of contemporary artwork curated from a selection of talented Spanish artists, among other contributors. Find the space split into temporary and permanent exhibitions that are both free to enjoy. Learn more here.
Hours: 11:00 AM to 8:00 PM

Free to enter.
Gravina Museum of Fine Arts (MUBAG)
Take a break from the beach and wander around this intimate little museum. You'll find a selection of beautiful paintings by internationally acclaimed artists (including Picasso's teacher), creating a gallery supported by Spanish artists. Learn more here.
Hours: 10:00 AM to 8:00 PM (2:00 PM on Sundays) Closed Mondays.

Free to enter.
Archaeological Museum of Alicante (MARQ)
The MARQ isn't free to enter, but for just €3, it's quite a steal to see the 2004 winner of the European Museum of the Year Award! This well-deserving museum houses thousands of artifacts excavated from the surrounding region, as well as more ancient treasures from the Iberian, Roman, and medieval chapters of history. Within the museum, you'll be able to admire painted pottery, intricate marble statues, glittering jewelry, a video displaying the excavation of a sunken Roman ship, and more. Learn more here.
Hours: 10:00 AM to 7:00 PM (2:00 PM on Sundays). Closed Mondays.

Cost: €3
A Few Places To Eat
Spain is one of those destinations you come for the food, as well as the architecture, coastal cities, and all the other reasons you're here in this country. And in Alicante, you may want to extend your visit just so you can eat at more than these well-loved spots:
Tapa-Caña (D'Tablas)
Spain is known for tapas (basically small little snacks that range from chips and olives, cheese and charcuterie, egg and potato omelets, shrimp in garlic, stuffed peppers, fried squid, and more). This tapas place has options at 1.10 euros — you order and everything comes on these wooden planks you stack on your table once you're finished. When it's time to pay the bill, the server counts the number of planks and writes out your bill.
Hours: 10:00 Am to 12:30 AM (closed Mondays).
Baker & Co
Known for breakfast, with a menu full of things like eggs and toast, yogurt parfaits, specialty coffees and teas, pancakes, pastries, cakes, and more. Also open for lunch (and dinner if you're not visiting on the weekends).
Hours: 8:00 AM to 8:00 PM daily (9:00 AM to 2:30 PM on the weekends).
La Mas Coketa
Another popular breakfast spot with crepes, cakes, croissants, smoothies, toasts topped with salmon, omelets, and more. Yum.
Hours: 7:00 AM to 2:30 PM (3:00 PM on Saturday, closed Sunday).
Heladería Borgonesse
In the mood for ice cream? Of course, especially when you can get scoops of decadent gelato, ice cream sundaes, chocolate-drizzled waffles, filled crepes, a whole host of cakes and pastries, along with quite the drink menu. It's a favorite in Alicante.
Hours: 10:00 AM to 10:30 PM (Monday - Wednesday), Midnight the rest of the week.
The Central Market
If you're looking at snagging some local fruit, bread, cheese, olives, and other picnic items for a day at the beach, some visit the local market. It's a beautiful, 100-year old building split into two levels and filled with the go-to groceries you're looking for.
Hours: 7:30 AM to 2:30 PM (3:00 on Saturdays, closed Sundays).
Things To See That Are Just A Tram, Bus, Or Boat Ride Away
Though you can soak up quite a bit of the Alicante experience in a couple of days, extending your time here means the chance to explore waterfalls, find your favorite colorful coastal town, and see some of the other experiences hiding in this part of Spain. It's recommended you add on an extra day or so if you're interested in these adventures!
The Algar Waterfalls
We're all about the chance to dive into emerald green water right below a thundering waterfall! That's exactly what's waiting for you if you take a trip to Fuentes del Algar, a nature reserve that's just about 40 miles away from Alicante. Inside, you'll find a network of paved walkways leading you to the various pools and waterfalls, along with restaurants, cafes, little fruit stands selling what's in season, a cactus botanical garden, and more.
If you plan to swim, plan on packing up your swimming suit and a towel, as well as sturdy hiking shoes to make the mile-ish walk around the park, or surrounding hiking trails.
Get Here: A bus can take you there, just hop on the 018 bus headed to Benidorm, then walk to Av. Alfonso Puchades 19 (about 15 minutes) where bus 18 will pick you up and take you to the entrance, Fonts de L'Algar. In total, it's about a 2.5-hour trip.
Cost: Between 3-5 euros, depending on when you're visiting (you will see higher prices in the summer).
Torrevieja's Pink Lake
Found in the nearby city of Torrevieja is a lake that's naturally colored pink. It's a part of a couple of lakes in this national park, El Parque Natural de las Laguanas de La Mata y Torrevieja. While Google images can trick you into thinking this lake is an impossible shade of bright Pepto Bismal, the lake is still rather stunning (and yes, is a red, pinkish color in real life). The water is pink due to a special algae that grows in areas with high (and very particular) levels of salt.
Laguna Rosa is the lake you are looking for (the other lake is touted as having green water), and it has several entry points. One blogger mentioned preferring the entry point from Calle Munera and Via Verde de Torrevieja if that's helpful to know.
Getting Here: There is a bus you can take from Alicante to Torrevieja. You can either take the Costazul bus from the airport in Alicante or the city's center.
The bus from the airport to Torrevieja is 7 euros, and is a direct route (no stops). The journey is about an hour and typically departs every hour from 7:00 AM to 10:00 PM. Book tickets online here.
The bus from Alicante's city center is 4.65 euros, and makes 12 or so stops before arriving at your stop in Torrevieja. There are around 9 departures daily from here to Torrevieja. Book tickets and look up routes here.
Either way, you'll be dropped off at the bus station in Torrevieja (found on Calle Patricio Zammit). You may want to bus here, then take a taxi to your desired lookout point on the lake, or enjoy the sites, beaches, and cafes found in Torrevieja.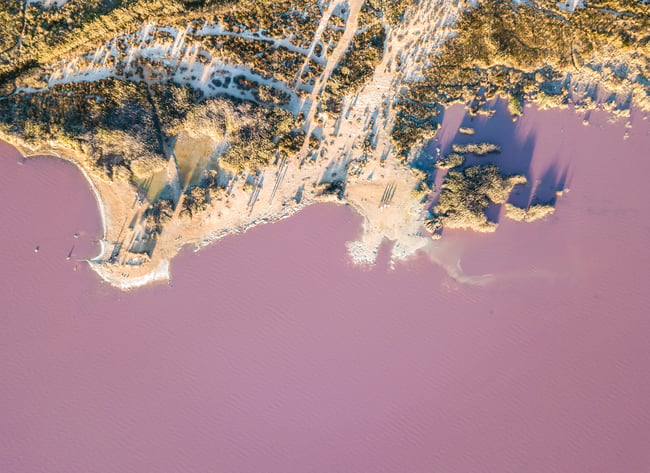 The Pirate Island Of Tabarca
Found just off the coast of Alicante, Tarbarca is the only inhabited island in the Valencian Community and the smallest inhabited island in all of Spain. It also shares a rather fascinating chapter of history. Supposedly the debarkation point of St Paul, Tarbaca was used as a base for Barbary pirates as they raided cities along this coastline. This little island used to be a part of the Genoa Republic before passing hands and was under the rule of King Charles III of Spain. The island was first officially inhabited by a group of Genoese sailors who settled there and renamed the island Novo Tarbaca (New Tarbaca). At one time, the island was fortified with walls, a lighthouse, barracks, a governor's house, and more, creating a home for over 1,000 inhabitants. Now, the numbers are more like 40-50 inhabitants on the island, though numbers swell to the thousands in the busy months from tourist daytrippers.
A visit to Tabarca is about walking around the tiny island, snagging lunch at one of the eateries, and maybe taking a glass-bottomed boat there and back so you can admire the waters below (they're declared on official marine reserve, thanks to the fish and sea flora found in this part of the ocean). If you have the gear or want to rent, the surrounding waters are known for snorkeling.
Get here: Ferries run daily from the harbor for €18-€20 round-trip. Check here for routes (they're seasonal, with more in the summer months). The ride is about an hour.
Colors Galore In Villajoyosa
Take a tram ride and end up in the city that translates to "Village of Joy" — the bright colors of this town certainly seem to make that come true! Villajoyosa is a neighboring seaside town with more tropical vibes than Alicante. A visit here means lunching on the beach, admiring the rainbow-colored houses, and soaking up the sunshine under palm tree-lined streets. Oh, and enjoying the local chocolate made by the artisan, Valor. Not sure about you, but I'm all about visiting a tiny coastal town known for beaches, colorful boardwalks, and chocolate.
For chocolate, check out a couple of museums detailing the sweet treat's history (and make sure to taste some, as well) at the Valor Chocolate Museum or the Chocolates Clavileño. Then, soak up the sun at a few of Villajoysa's most popular beaches: Playa la Villajoyosa is found right in town, or visit tons of others stretched out on either side of the colorful town.
The L-1 tram can get you here (leave from the Mercado Station and head towards Benidorm). The ride is about 45 minutes and costs just over 4 euros.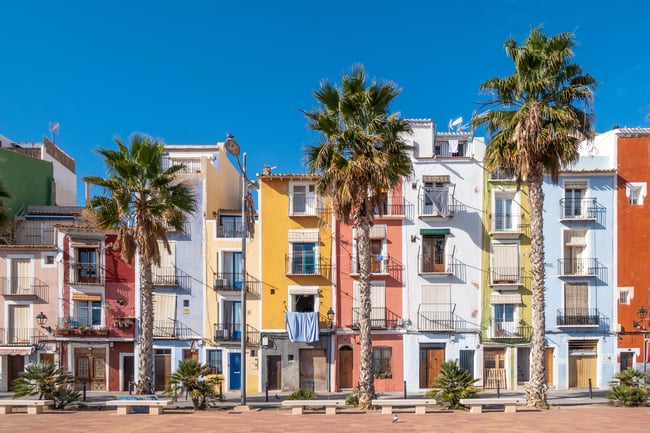 Tips For Getting To Alicante
Alicante has bus connections to Madrid, if you find yourself in the Spanish capital (check routes here, it's a 5-hour trip) — and a few other major cities in Spain, like Barcelona. The route is about the same amount of time.
However, you can often get a (very) cheap flight here which means less time traveling and more time in Alicante.
Snag A Cheap Flight
There's a small airport in Alicante that luckily has several affordable connections from a few major cities in Europe, thanks to flights from budget airlines in Wizz Air and Ryanair. You can find direct flights to Alicante from Bucharest, Romania for as low as $50 USD, or Kiev, Ukraine for less than $100.
Or, if you find yourself in Portugal (like Lisbon or Porto), Italy (Venice, Rome, etc), or France (Marseille, Paris, etc), you can find flights to Alicante for less than $25. Vueling also has cheap fares from Barcelona, Madrid, and other locations in Spain.
Getting Around Alicante
If you're flying, you can get into the city by bus. Bus #C-6 picks up passengers every 15-20 minutes or so to make the drive into the city, and the major train, tram, and bus stations. Plan on a 20-minute ride for around €4 (you can purchase your ticket from the driver).
Once you're off the bus from the airport, the city of Alicante is rather walking, letting you wander in and out of the colorful neighborhoods, the palm tree-lined promenades, and to and from the city's cafes.
However, the city is set up with a tram service that can take you around the city's six zones (A, B, C, D, E, and F) and to the nearby little cities in the Costa Blanca area. Here's a map of the tram routes and the breakdown of the tram ticket prices.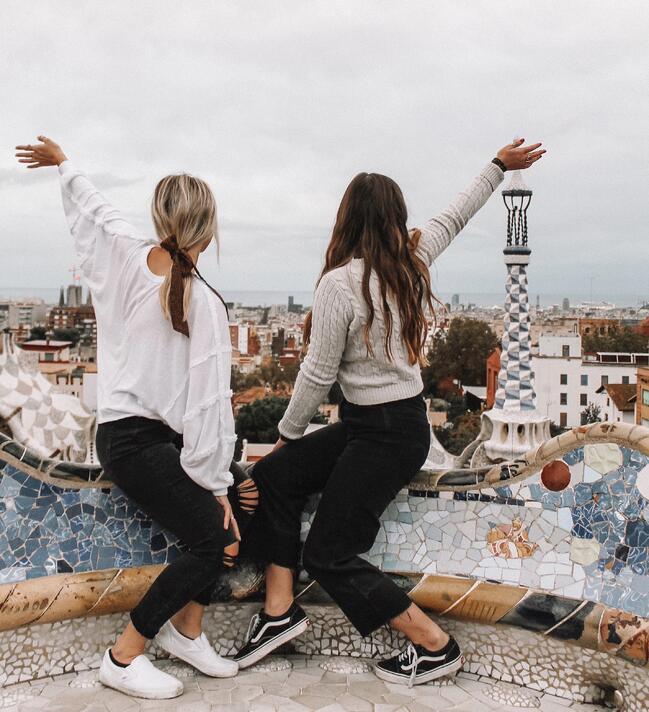 Looking to spend time in Europe?
Instead of just traveling and visiting Europe, how about something better? Come make a difference and serve while living there for a semester abroad with International Language Programs (ILP).
We're sending groups of college-aged volunteers for a semester of teaching English (on a part-time schedule), with vacation days and weekends off. You're set up with a group of friends from the US and Canada to travel, teach, and adventure with. Come learn more!