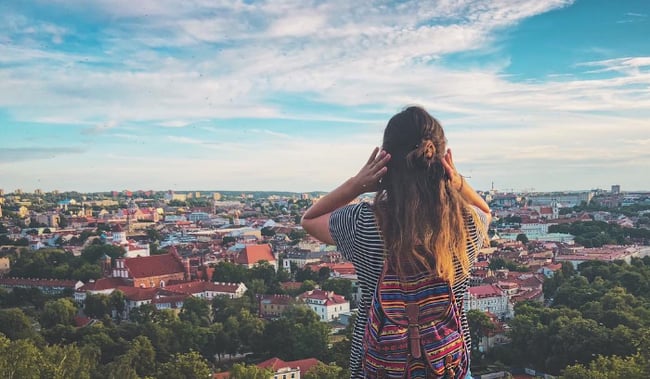 Lithuania probably isn't at the top of your travel goals, right? Well, keep reading to find out why it should be. Here are some of the things we love about Lithuania that you may not know about.
This beautiful country makes all of our European dreams come true. No joke. If you're applying to volunteer with International Language Programs, and trying to decide which countries you're interested in, definitely don't overlook this one. It's the perfect spot to spend a semester as an English-teaching volunteer. Or even just to visit for a few days.


---
Want to learn more about how you can live in Lithuania for a semester?
Volunteering in Lithuania

---

Lithuania isn't getting a ton of social media coverage yet and doesn't have quite the crowds that some other European spots do (thank goodness). Here are a few of the golden highlights that we love about this country, but that you may not know about!


7 Things You May Not Know About Lithuania
All Of The European Charm

You Can Sail Around A Castle

Take Pictures At Perfect Foodie Cafes

Visit The Republic of

Užupis

Learn The Troubling History

Walk The Coastlines

It's A Great Starting Point
All Of The European Charm
Colorful houses, rivers, bakeries, street musicians, castles, museums, cobblestone streets, folklore, traditions, fortress walls, festivals. . .it's all there! Lithuania is basically the epitome of European charm, so you will feel like you're living in a fairytale every time you stroll the Old Towns. While it is such a fun mixture of the cultures and countries surrounding its borders, the Lithuanian people are also very proud of their history and independence as a country, which wasn't reestablished until the 1990s.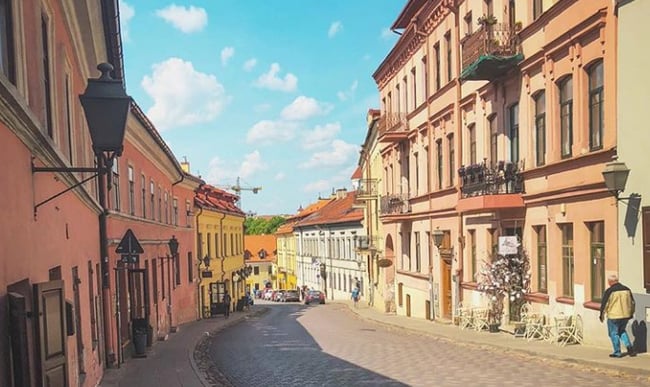 You Can Sail Around A Castle
Even though we already mentioned castles, this deserves its own highlight. Trakai is just a 30-minute drive from Lithuania's capital, Vilnius, and makes for the perfect day trip. You can wander around and through the castle, but if you're here during the warmer months you can also spend some time either in a canoe, paddleboat, or even sailboat for a unique way to view the exterior of the orange castle from every side.
Read all about visiting Trakai Castle here.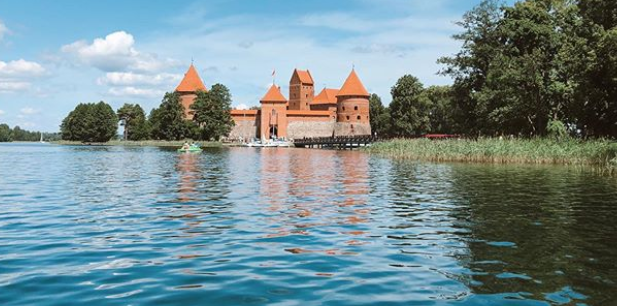 Take Pictures At Perfect Foodie Cafes
As everyone who visits Lithuania quickly learns, the food is unforgettable. Both flavors and presentation always get a 10/10 from visitors! If you're planning a weekend trip, make sure you leave enough time (and funds) to be able to fully enjoy and savor this essential part of a true Lithuanian experience. And don't forget—pic or it didn't happen!
Read all about our favorite cafes in Lithuania here. Here are a few extras that we love in Vilnius.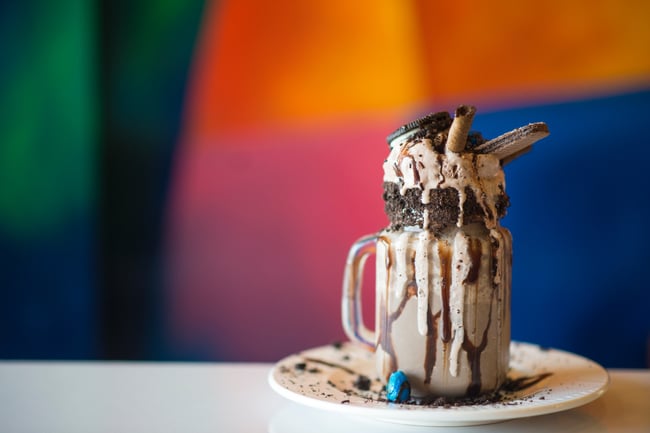 Visit The Republic of
Užupis
This neighborhood of Vilnius was historically the Jewish center of the city. Then, in 1997 they declared their independence from Lithuania and now have their own president! Užupis has a spunky personality, with quite a lot of unique and quirky artwork.
The #1 thing you won't want to miss during your visit is seeing the copy of their constitution posted in sixteen languages on the wall of Paupio Gatve Street. It consists of 16 points, many of which will make you think (#22 Everyone has the right to have a design on eternity.), while others will make you laugh (#13 A cat is not obliged to love its owner, but it must help him in time of need).
Read all about Visiting the Užupis District here.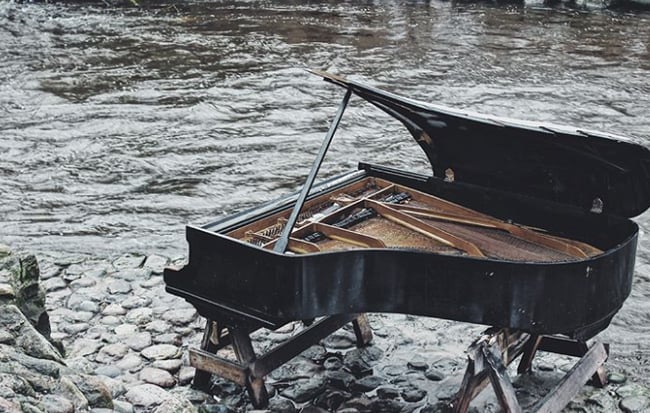 Learn The Troubling History
Like many other places in Europe, Lithuania has seen a lot of political conflict, and has even been the victim of several tug-a-wars. It's been fought over by Germany and Russia a few different times, including during both World Wars. It officially gained its independence from the Soviet Union in the early 1990s. There are many museums, monuments, and other historical sites to visit, some of which will leave you feeling inspired, while others have a lot of heavy information that can be difficult to process.
Read all about the historical sites in Vilnius here.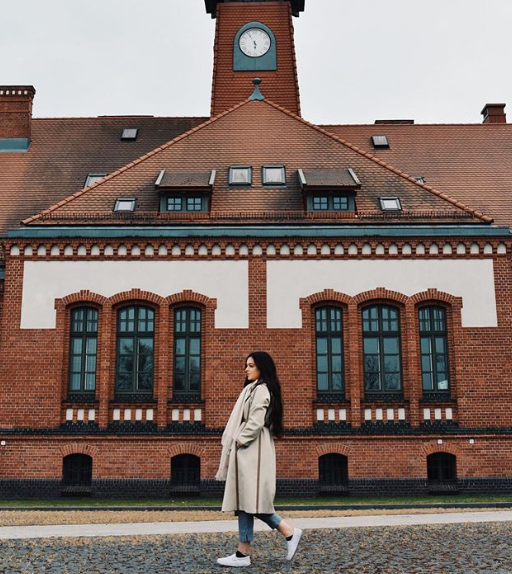 Walk The Coastlines
Full disclosure—these are not your extra warm European beaches (which we also recommend visiting). In fact, the warmest the coastal cities in Lithuania will ever get is about 70 degrees. But you can still go swimming during the warmer months. If you've been to beaches along the Oregon Coast, then expect the temperature of these beaches to be about like that. And if you just love the sounds and smells of the ocean, then these beaches are perfect for enjoying a relaxing afternoon.
Read all about visiting the beaches here.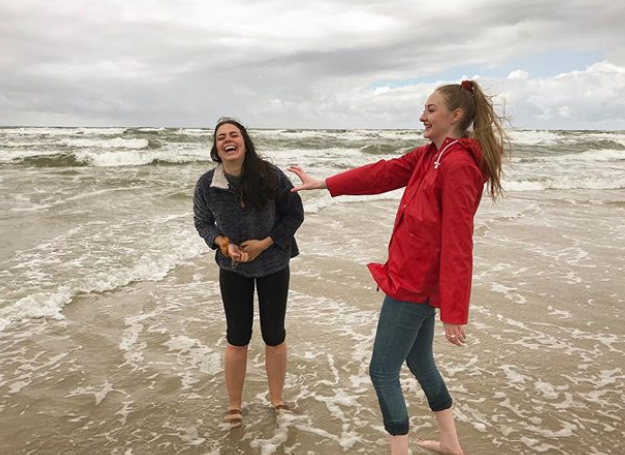 It's A Great Starting Point
Since Lithuania is located in northeastern Europe, it is the perfect springboard for flying to nearby countries like Sweden and Finland. But, you can also find relatively cheap flights to other dreamy European destinations like Paris, London, and Copenhagen!
And don't forget about the other two Baltic states, Lithuania's sister countries, Latvia and Estonia. We are huge fans of their capital cities Riga and Tallinn, which are just bus rides away! Many of our ILP volunteers who are living in Europe get to see 10+ countries during their semester abroad. Even while on a student budget! Here are some tips for planning trips!
Heads up: Make sure your travels don't take you through Belarus or Russia unless you have their required visas, as their rules are very strict and you may run into trouble.
Read some of our tips for buying cheap flights from Lithuania here.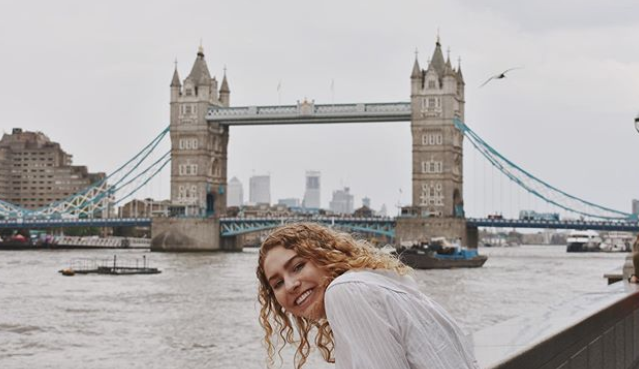 Want to see what our volunteers are doing all around the world?

Every semester our volunteers are teaching the cutest kids while going on all kinds of adventures to discover beautiful places during their vacations.
Click the button below to see all of it on our Instagram!