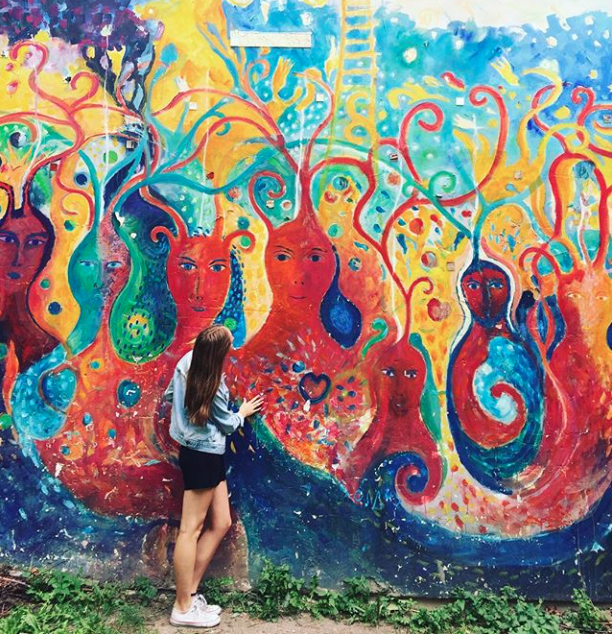 There's tiny little country hiding in the middle Vilnius, Lithuania (and it's a must-see).
Some think this place is like Montmartre in Paris, or more like Freetown Christiania in Copenhagen ... but we just think this place is awesome. Uzupis is your go-to spot in Vilnius if you're looking for artsy street art, cool cafes, a slice of fascinating history and a bit more.


---
Want to live in Europe for a semester?
Come volunteer in Lithuania!
---

About 10% of all the people who live in this little independent district are artists to give you an idea of what this place is like. But if you still need a bit of convincing, here's all about Uzupis — the spot that has to go on your bucket list while you're living in Europe.
What Is Uzupis?
Best Things To Do
A HUGE Warning!
Getting To Uzupis
What Is Uzupis?
Uzupis District is a neighborhood located in the heart of Vilnius, Lithuania — The whole district is known for its art and graffiti, and the free spirits that live there.
Uzupis District is more isolated than the more welcoming capital Vilnius, but welcomes visitors when they come ... and visitors love to come. After all, how cool is it to hop over and visit a whole other (self-declared) country on a Saturday??
The constitution talks about how everyone has the right to hot water, heating in the winter and a tiled roof. Everyone has the right to be unique. Everyone has the right to love. A dog has a right to be a dog. No one has the right to violence. Everyone has the right to cry, etc. There's a few more notable things if you'd like to read over the full thing here.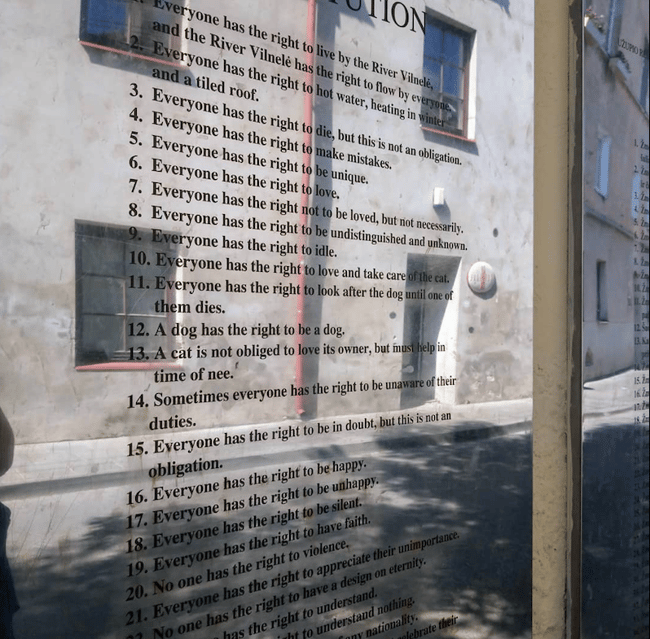 A Smidge Of History
This place has been around for a while, and includes some of the oldest sections of the city. It was inhabited by a large Jewish population until the Holocaust, and was home to the largest Jewish graveyard in the area until that was destroyed by the Soviets. Through the years, it's been a section of Vilnius which has endured a lot of destruction and tragedy, but artists have always thrived in the run-down houses.
However, things changed when Lithuania gained independence. In 1998, the people who lived in Uzupis created their own currency, flag, president, and own constitution. Per the people's wish, the area was granted independent from Vilnius (thanks to an 11-person army!) and is now a gathering point for all artists and free wishes. If you're there on April 1st, they celebrate their republic's independence ... we love that independence day here just happens to be one elaborate April Fool's joke.
You can even spend the "fake" currency (Uzas) on the holiday.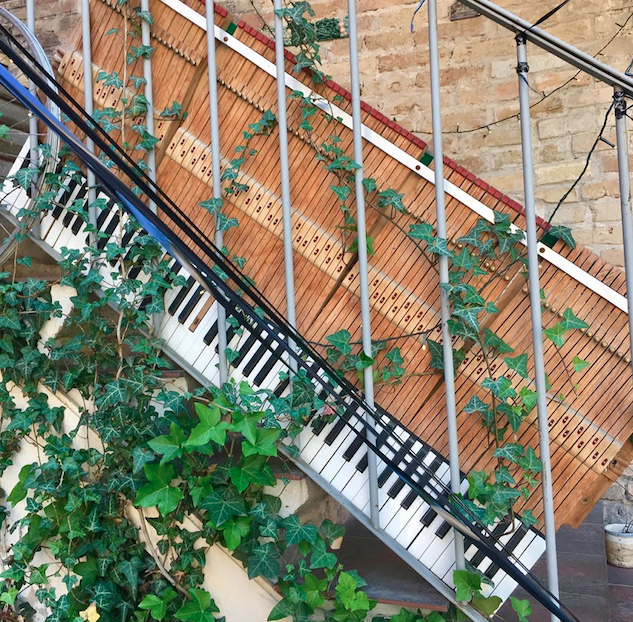 Best Things To Do
Even though Uzupis District is pretty small, there are plenty of things to do there. They have shops you can go into, a couple of restaurants and many art displays. As you walk around the area, you will notice all the creative statues that line the streets — we've pull out a few of the most famous, along with a few more adventures.
Photoshoot On The Constitution Wall
Reading the District's constitution is a must. I'm hoping that sneak peek you got earlier in the history section only piqued your curiosity. If you're like me, you'll want to visit the section of the city where you can read all 41 points of the Uzupis Constitution, translated in 14 languages. You'll want to bring your camera and snap a quick pick with the city's painted hand emblem, too.
Find it: On Paupio Gatve
Peek The Famous Statues
Art is a big thing there, with alleyways splattered with colorful murals and a few notable statues popping up around town. One statue to not miss is the Angel of Uzupis — It's located in the heart of the country. The statue represents the archangel, Gabriel, blowing his trumpet in honor of the revival of artist freedom in eastern Europe. Be sure not to miss it! It's huge and bronze, and put there by a Lithuanian sculptor, Romas Vilciauskas.
Find it: Found on Užupio g.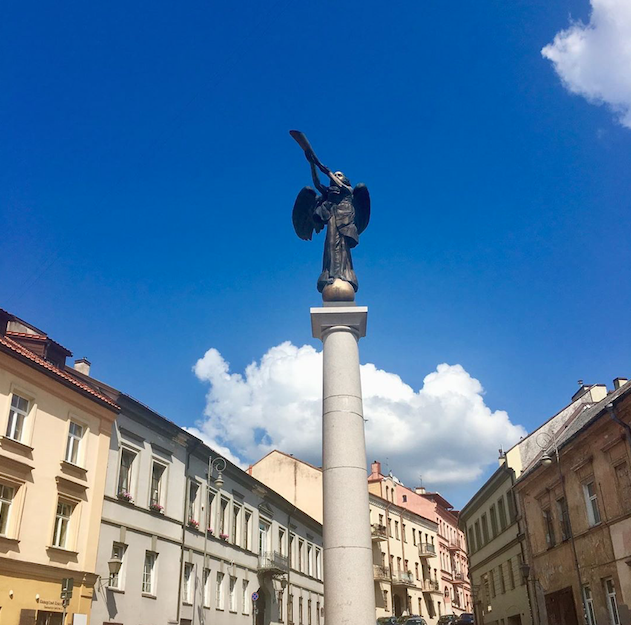 Visit The Art Incubator
This small district is riddled with art gallery and artisan shops where you can get custom printed leather shoes, and a few fun and quirky souvenirs you can't find in the rest of Vilnius. But if you only choose one museum to visit while touring Uzupis, make it the Art Incubator.

The space as been around since 1996 and began as a section of the district for young artists to create. It encouraged free thinking and embracing your potential, taking over a set of ruined buildings and bridge. Now, one home in particular (where the museum is) shows the public what these artists were able to produce. It's a colorfully painted facade, with striped trees adorning the outside, and so many original works on the inside, ranging from boldly diverse to modern. Now, artists from over 160 countries have participated in the project. Here's more info, on their website.
Address: Uzupis str.2 and Kriviu str.10
Hours: 12:00 PM to 6:00 PM, Tuesday to Saturday (closed Mondays and Sundays)
Find The Uzupis Swing
You can also see if you can find the famous Uzupis swing — we've got more details on how to find it right here.
Tibet Square
Adorned with colorful prayer flags and a free library, this space is found over one of the bridges that breaks up the small district. Tibet Square does give you a stellar view of the winding Vilnia River and is nearby a few more statues for you to check out.

Find it: it's in the northern section of the city, split by Malūnu g.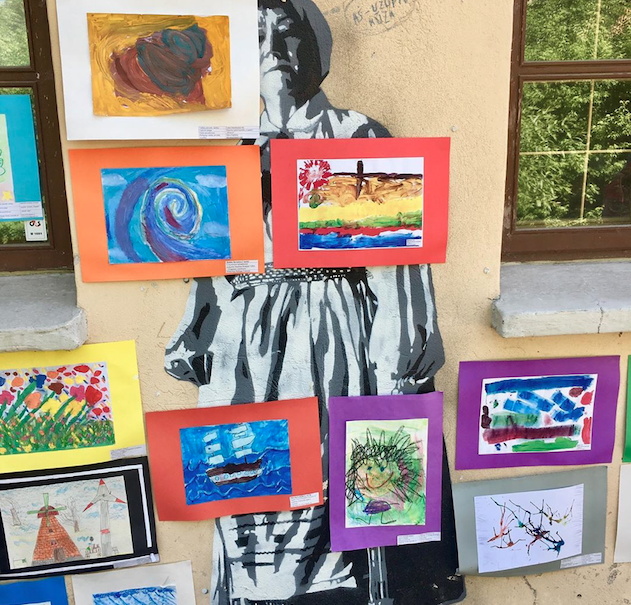 A HUGE Warning!
Since Uzupis is its own country, they have their own passport stamp. As a travel enthusiast, we all know one of the best souvenirs you can take home is a stamp in your passport.
But don't get your passport stamped without reading this!!
There is only one person in Uzupis that is allowed to stamp passports, and finding him is more of a scavenger hunt. Most times it takes multiple visits before stumbling upon him (sometimes he's hanging around the Gift Shop). If you do get your passport stamped, heed this warning: GET 2 STAMPS.
When they stamp your passport for the first time, you are technically leaving the EU (European Union). If you do not get another stamp, you have not "entered" back into the EU, and thus voiding your Lithuanian visa. Do not do that! If you are set on getting the stamp, make sure the stamp is not on the same page as your Lithuanian visa, and make sure you have a departure stamp AND a entry stamp. But this is at your own risk.
For ILP volunteers: We recommend you do not get the stamp, just to be on the safe side. You'll be able to get plenty of stamps in your passport during all of your ILP vacations. Seriously, we have volunteers visit 15 different countries (or more) during their semester so we think you'll be fine if you skip out on this one. We've actually had volunteers have issues at their airport when they're trying to leave because of their Uzupis stamp.


Getting To Uzupis
From Vilnius city, it's relatively easy. The district lies between the curve of the Vilnia River, so you'll need to cross one of the five bridges that span the river to get into Uzupis. If you want the sign that welcomes you into Uzupis, cross over the Uzupio Undinele bridge. From Vilnius Old Town, it's just at 9 minute walk to cross over the bridge and into Uzupis. Google Maps gives you really clear walking directions.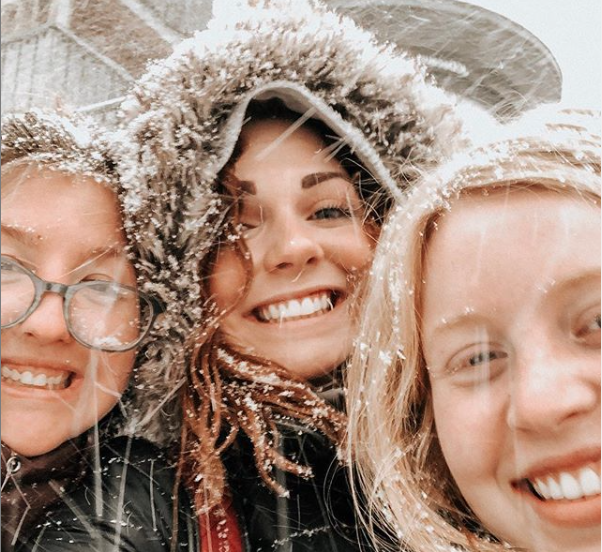 Ready for even more Europe?
International Language Programs (ILP for short) has programs in multiple countries in Europe (but Lithuania is a total favorite). Come see what a semester here is like!