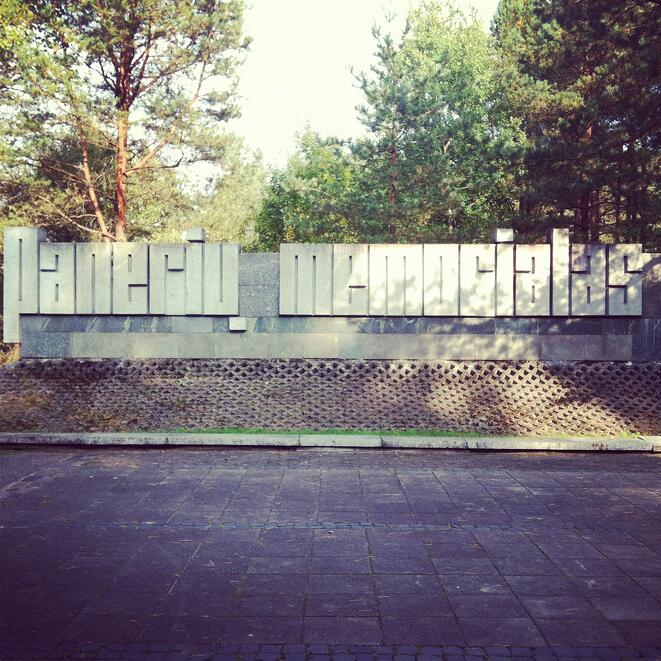 If you are getting ready to spend a semester volunteering in Europe, you'll be able to see WWII history in several different countries — including one site, nestled right in Lithuania.

---
You'll be able to see lots more of Lithuania if you live there as an ILP volunteer! See what volunteering in Lithuania is like, right here

---

While you're exploring Vilnius, you can see important and tragic remnants of WWII history first hand.
You've probably heard of world famous sites like Auschwitz in Poland, but I was surprised to learn that similar sites were spread all across Europe. Some are much larger than others, but having been to both Auschwitz and this much smaller memorial in Lithuania, I can tell you that both sites carry the same feel.
Come pay your respects at a burial site located just minutes outside of the country's capital — Here's what you should know before visiting.
What Is Paneriai Memorial?
Panerių Memorialinis Muziejus is a memorial site where approximately 70,000-100,000 souls (many Jewish) were murdered and buried during the war.
There is a small museum there where you can view photographs and memorabilia to give you a glimpse of what happened. There is also a trail that allows you to walk around the grounds and view how the site operated, as well as multiple mass burial locations.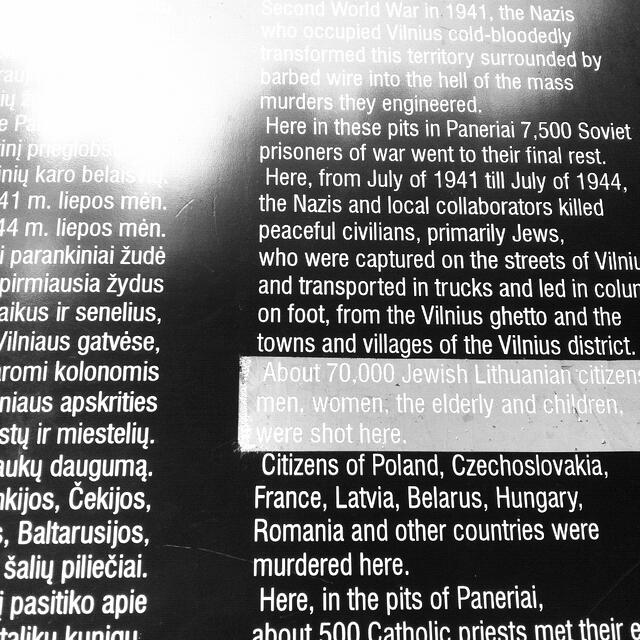 Getting There
Take the train
Getting there is easy with these directions.
From anywhere in Vilinus, take a trolley bus to the Stotis stop which drops you off at the Vilnius train station. As you enter the train station, go to the right and you can purchase your train tickets for Paneriai heading towards Kaunas and Trakai. Likewise if you're coming from another city, like Kaunas, just make sure to choose Paneriai as your stop.
Oh and by the way, Trakai is also worth a visit — we love the castle there.
It's a very short train ride from the Vilnius train station to Paneriai (about 8 minutes and less than 1 Euro). You can look up times the prices here.
It's a really good idea to make a note of what times the train will be returning to Vilnius, so that you can make plans to catch a ride back.
From the Paneriai train stop
When you step off the train, you'll feel like you were dropped off in the middle of nowhere. There is a small building for the train station at this stop, but most likely will be deserted and locked. In the area surrounding, it's basically some homes, a small neighborhood, and a quiet road. Don't worry, you're in the right spot.
Just cross the train tracks, go right, and walk down the road (parallel to the train tracks) called Agrastų street until you see the memorial site at the end of the road. It's a short walk, a little over half a mile.
Coming home, walk back to the same spot you were dropped off. You'll purchase your tickets coming home after boarding the train, so make sure you have cash for the ride back.
At the memorial site
There is no fee to explore Paneriai, and there's usually no one there either which makes for a very quiet experience.
Even though there's no one there, there are hours of operation when the museum is open. I would highly recommend going when that is open as it's really crucial to teaching you what happened here and understand what you're seeing as you explore the grounds. Head here for up to date hours, but it's typically open 9 AM - 4 or 5 PM and closed on Saturday and Monday. I think it makes for a perfect Sunday afternoon activity. From October to May it is open only upon request.
I recommend first visiting the museum/exhibition so that you can read the stories and learn more about it. Then, you're free to walk the grounds. There's a series of spots to go see and a trail that will guide you around.
You can do it on your own, or you can hire a guide if you'd like. I did it on my own with my group and had no trouble finding things. But if you'd like a guide who can help explain the history in more detail that's an option, you'll just need to arrange it at least 2 days ahead of time. Here's all the info on who to contact and prices.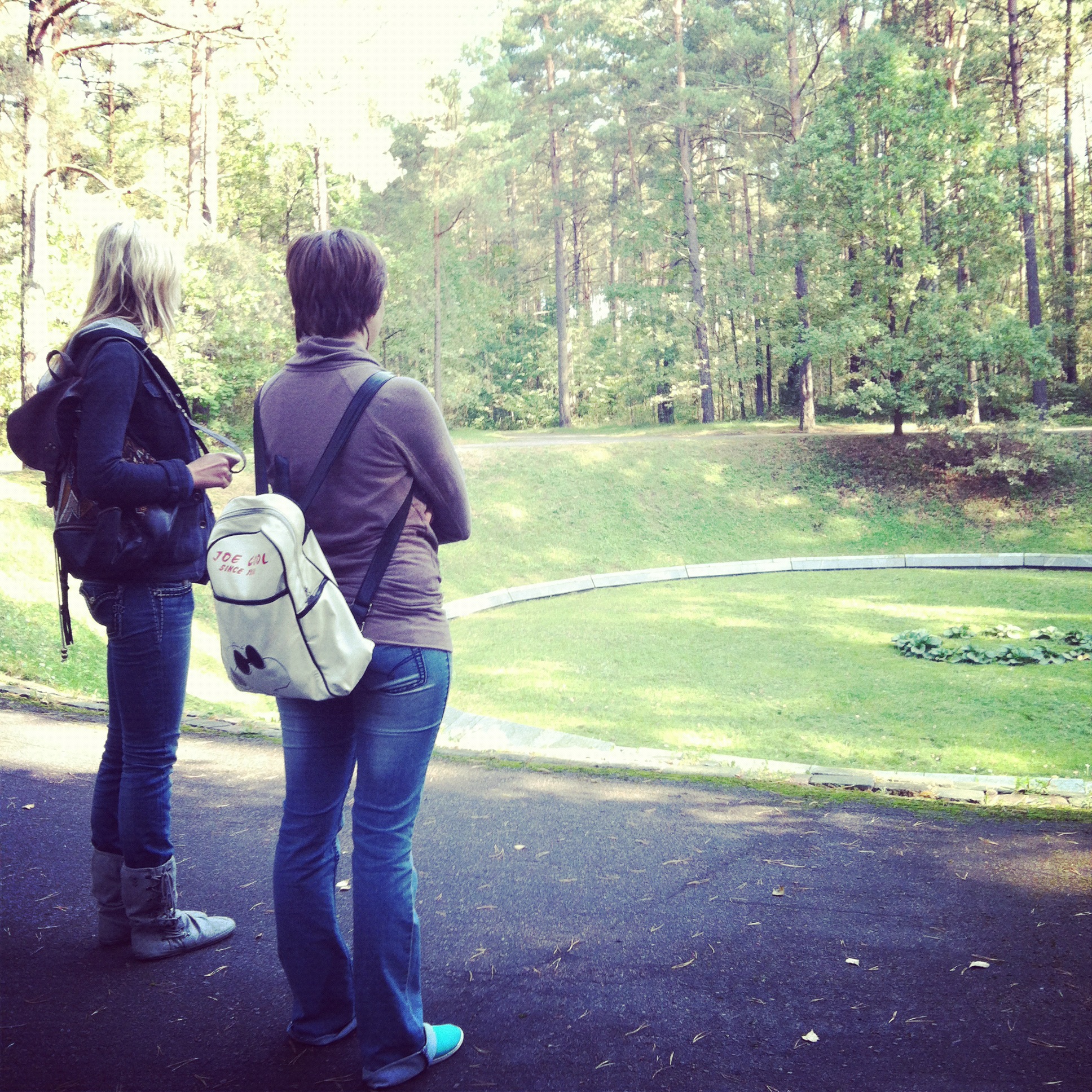 Tips
Check your times
Like we mentioned, make sure you check to see what time the train is coming back through so that you can time your trip to the memorial site right. Depending on the day you go, if you miss your train you may be waiting an hour or longer for the next one.
When should you visit?
The museum portion is closed on Saturday and Monday. If you come these days you can still walk around the grounds, but I highly recommend trying to plan your trip so that you can visit the exhibition and read about the history to get a deeper understanding of what happened here.
You only need about a half a day for this whole experience if you're coming from Vilnius. I would say this would make for a perfect Sunday afternoon. When I went, my ILP group and I taught English in Vilnius in the afternoons during the week, so we headed out here after breakfast and were back in time for lunch.
Be respectful
This goes without being said, but I'm going to say it. Remember what occurred here, this experience can be a quite spiritual one if you allow it to be. There's usually no one here, but even if you are the only visitors at the moment, please remember the significance of the memorial as you explore the quiet grounds.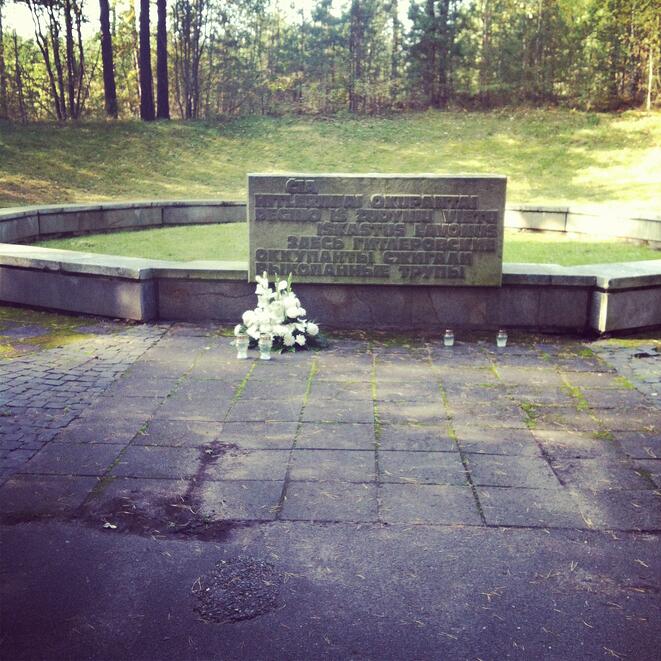 Ready to serve abroad in Lithuania for yourself?
You'll be able to explore this site and see so many others that you've learned about in school, including the Auschwitz concentration camp — tons of ILP volunteers choose to explore Poland during a weekend trip on or vacation.

Come get a little more info about a semester abroad here and what International Language Programs is all about: