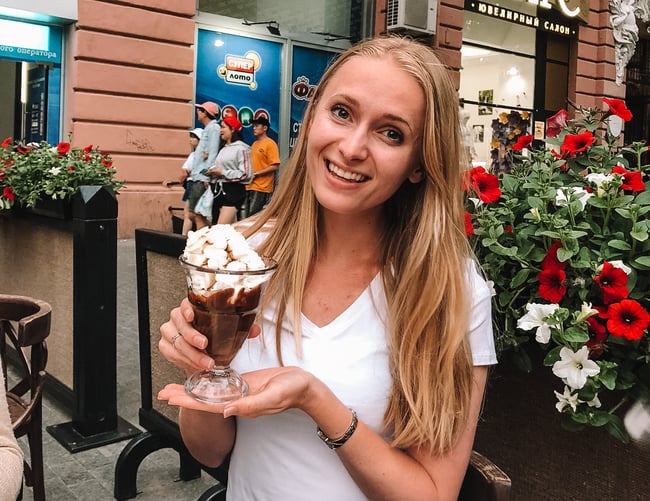 While in Ukraine, you'll likely come across many sweet treats to try, but we know where you can get the sweetest. Here's all the info you'll need to make your visit to one of Ukraine's chocolate factories a day that you'll never forget!
Europe is known for its chocolate, right? So whether you're just visiting Ukraine for a weekend, or get to live there for a semester as a volunteer with International Language Programs, you absolutely need to visit a chocolate factory! Not only is it a way to taste some of the best chocolate you'll ever EVER have, but with an amazing atmosphere too, you'll love every minute of your time there!


---
Want to spend a semester in Europe as more than a tourist?
Learn More About Volunteering In Ukraine
---

We've collected all of the info you need to make the most of visiting one of these magical factories! Although they're not identical to Willy Wonka's laboratories, there's still a lot that will be surprising and enjoyable. Their delicious desserts are the perfect treat after a long day of teaching or walking around the city with friends!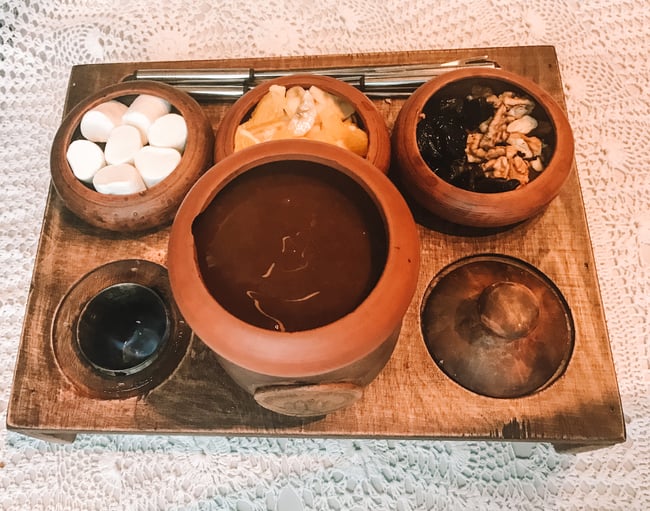 The Chocolate Factories
The official name of all of these factories is "Lviv Chocolate Factory", but you can actually find them in several cities! The ones most frequented by our volunteers are located in Kiev, Odessa, and of course, Lviv. Each of them will give you a unique and memorable experience, so if you love your first trip, don't hesitate to visit the others as well!
Kiev Chocolate Factories
There are five of these in Kiev itself, so you can just put the addresses into Google Maps and find the one that is closest to where you'll be! Make sure you don't miss out on these 10 free things to do in Kiev or the best places to eat out. And here's the entire scoop on visiting this beautiful, historic city!
Hours: Every day from 10 am to 10 pm.
Addresses: Antonovycha St, 45, Kyiv, Ukraine, 03150
Tarasa Shevchenko Blvd, 36/16, Kyiv, Ukraine, 01032
Antonovycha St, 45, Kyiv, Ukraine, 03150
Lobanovskyi Ave, 6А, Kyiv, Ukraine, 03027
ТЦ New Way, 02000, Arkhitektora Verbyts'koho St, 1, Kyiv, Ukraine, 02091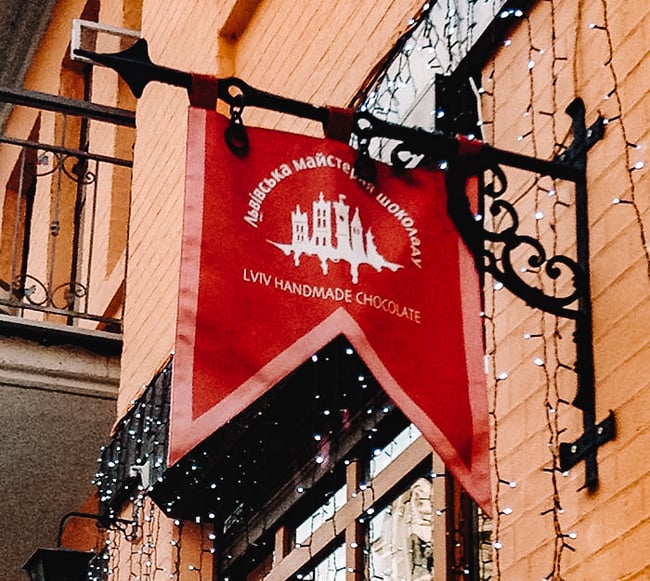 Odessa Chocolate Factory
This is a favorite seaside destination for our volunteers in Ukraine, so don't forget to include it in your semester plans! Here's everything you need to know about visiting Odessa, and just below is the address for the one location of the chocolate factory in this city.
Lviv Chocolate Factories
We cannot say enough good about Lviv! Might just be our very favorite city in Ukraine?! It's definitely one you cannot miss, especially when it makes for such an ideal weekend vacation for all of our volunteers in Ukraine. Here's a list of our favorite spots in Lviv! And don't forget about all of these perfect little day trips around Lviv. Like Kiev, there are several different chocolate factory locations within Lviv, so just pick the one that works best for your plans!
Hours: Every day from 10 am to 10 pm.
Addresses: Serbska St, 3, Lviv, Lviv Oblast, Ukraine, 79000
Kulparkivska St, 226А, Lviv, Lviv Oblast, Ukraine, 79000
Liubinska St, 168, Lviv, Lviv Oblast, Ukraine, 79000
Sichovykh Striltsiv St, 5, Lviv, Lviv Oblast, Ukraine, 79000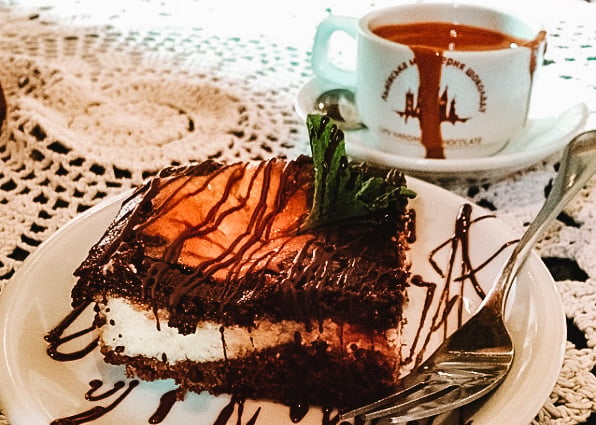 What To Order
When you enter one of these chocolate factories, you will be seated by a waitress in a black dress with a frilly white apron. Most of the waitresses speak English because it is such a popular tourist attraction, and they have English menus as well that are filled with every variation of decadent chocolate desserts you can imagine. Not sure about you, but that pretty much sounds like paradise to me.
The most popular thing for customers to order at the chocolate factories (which is a favorite for our volunteers too) is a cup of hot chocolate. But heads up, it's a lot different than the just-add-water powder mixes at home. A cup of hot chocolate in Ukraine (and most other places in Europe as well) is literally a cup of perfectly melted chocolate served to you with a little spoon. Yep, chocolate soup. Rich, thick, and oh so yummy.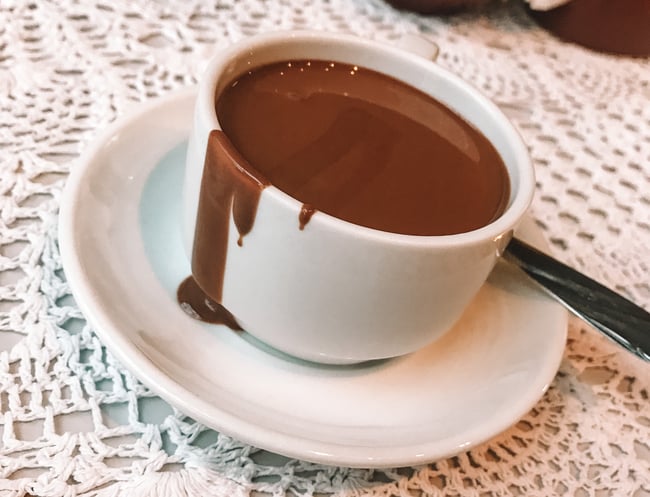 When we asked alumni what their other favorite menu items have been, we got a list that still has our mouths watering. Cakes and drinks and fondues and tarts and ice creams all dressed in white, milk, or dark chocolate.
Plus, the factory always has seasonal menus featuring different fruit. Love a good cherry tart topped with ice cream and chocolate sauce? What about strawberries with chocolate fondue? No matter when you plan to visit the factory, they're sure to have a winning selection that will leave you floating in chocolate heaven.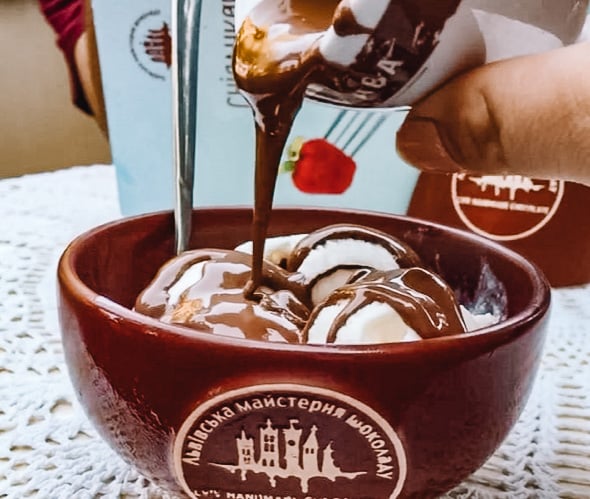 +Other Tips
When your meal is over, the receipt will come to you in the tinniest treasure chest. They always combine the ticket with what everyone at your table has ordered, so make sure you have small bills handy. Ukrainians hate giving change back for your huge bills. If you loved your experience, consider also leaving a tip for your waitress. Need a little refresher on what tipping around the world is like? Check out this blog post.
And don't forget to walk out with a bag or two of handmade chocolates and truffles that you've selected from the huge assortment of treats. Our alumni say this is THE BEST souvenir for friends and family.
So there you go! That is how to experience the L'viv Chocolate Factory. Guaranteed you'll fall in love with this place and have to go back over and over again during your semester. Ain't nothing wrong with that!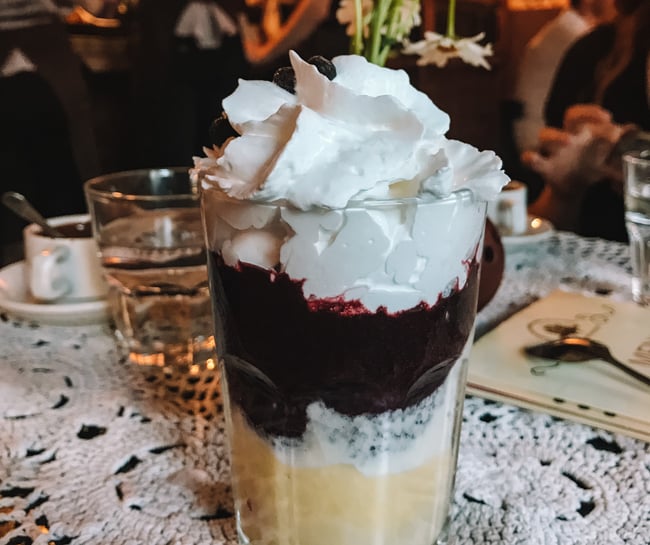 Want to get more travel tips and tricks?
ILP has been sending volunteers to different countries around the world for 30+ years, so we've definitely learned a few things. Plus, we have a major passion for helping people to make the most of their time abroad! There's just so much to see and experience in this big, beautiful world. Every Friday we send out an email full of cool things! We call them "Adventure Updates". Click the button below to sign up for these emails.