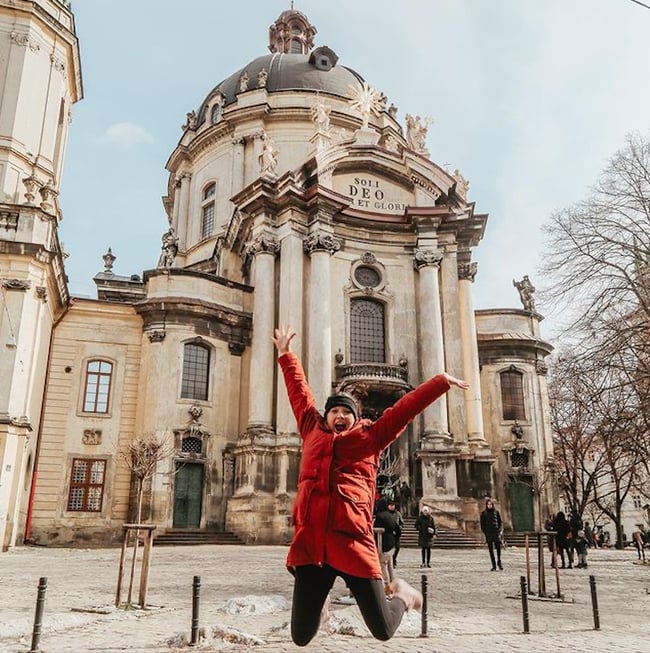 Ready to visit one of Ukraine's most colorful historic cities that's home to the best chocolate shop around? Here's all you need to know when planning a weekend for the books to Lviv, Ukraine!
Lviv is a classic European city that's very proud of its history, home to some of our favorite sites to see in Ukraine, and the location of the BEST place to get a delectable chocolate dessert. And if you're spending a semester living in Ukraine as a volunteer with International Language Programs, then it's a spot that really shouldn't be missed. With so much to see and do in this Ukrainian hotspot, you'll have everything you need for the perfect weekend adventure!


---
Quick ILP Update — This post was written prior to the war and information is likely out of date. We're keeping this post live in hopes to update it once travel and peace returns to Ukraine.
---
To make trip planning nice and easy for you, we've included all of the info you need to know in this ultimate guide. Plus, we've crammed in lots of tips to help make your Lviv vacation a total success.
With over a dozen stunning churches, a well-known Opera house, a plethora of museums, and endless streets to explore, you'll have a lot to experience in just a short weekend. This is by no means a comprehensive list. It's just the highlights of what our volunteers typically have time to see and do during a visit to this unforgettable city. Experience some of it for yourself and see why they all love it so much!
Things You Can't Miss
Rynok Street (Market Square)
This is one of the biggest attractions in the area, so plan on spending a fair bit of time here. It's the central square of Lviv and is framed with picturesque buildings, ranging from Gothic to Renaissance styles. We'll pull out a few of our favorite places to see, but just know that this sprawling market square is a cool place to hang out, look at monuments, photograph palaces and private homes, and catch a couple of street performers if you're there in the evening. Plus, it's THE spot to go shopping.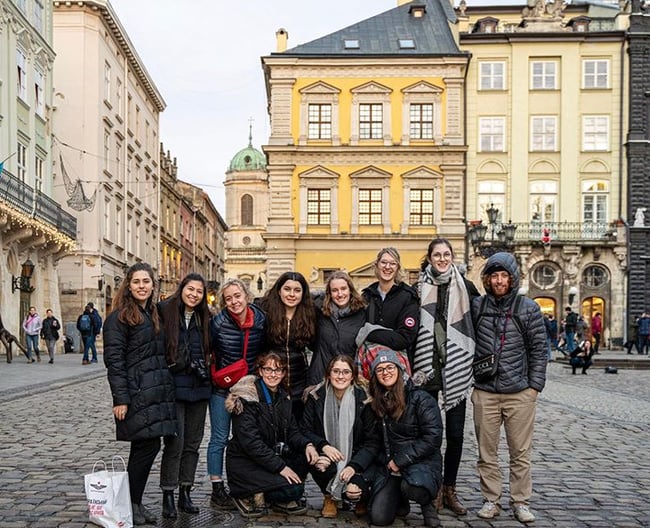 Black House: One of the most famous around, and will be hard to miss. While its neighbors are creamy pinks, blues, and oranges, this striking charcoal home really stands out.
Location: #4 on the eastern side
Lubomirski Palace: It has an extensive history, and one of the most striking events that happened here was when Yaroslave Stetsko proclaimed the independence of Ukraine, just a handful of days after Nazi Germany had invade Soviet Union.
Location: #10 on the eastern side
Gutterer House: Also called "Pharmacy under the Golden Deer", is in the Rococo style and has been here since 1533. It used to be the called the prettiest house in the block, and we think it should still hold that title.
Location: #18 on the southern side
Scholz-Wolf House: This house was built way back in 1570, and stands as a pretty example of the Renaissance style.
Location: #23 on the western side
Krakivsky Market: This Soviet-style market sits on the site of the Old Jewish Cemetary, which was destroyed by the Nazis during WWII. You'll find a huge variety of items sold, including fresh fruit, raw meat, and even traditional Ukrainian clothing.
Address: Bazarna St, 11, Lviv, Lviv Oblast, Ukraine, 79000
Book Market: This very cool book market comes recommended by a couple of ILP Ukraine volunteers, and you'll find loads of second-hand books in a variety of languages. Also keep an eye out for a large statue of Ivan Fedorov, who lived during the 1500s and was a father of printing in the Eastern Slavic countries.
Address: Pidvalna St, 13, Lviv, Lviv Oblast, Ukraine, 79000
Vernisazh Souvenir Market: This one is by the Opera House and in front of the Zankovetsky Theather. It's the perfect place to buy vintage collectibles, plus traditional and unique Ukrainian souvenirs.
Address: Vicheva Square, Lviv, Lviv Oblast, Ukraine, 79000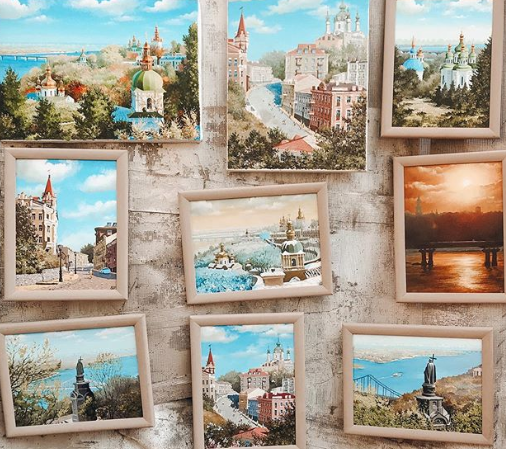 High Castle Park
If you want a place where you can see all of Lviv spilling out below you, this is where you'll find it! The trek up to this park can be a bit treacherous in the winter time (thank you, ice and snow) but it's still doable if you're careful and are wearing boots with good tread. No matter the weather, it is well worth it. Once you climb 300+ old stairs, you'll see observational platforms and old castle ruins at the park itself. The amazing views of Lviv are a real eye-catcher!

Getting here: It's about a 25-minute walk to the park entrance from the middle of the city. Go to Zamkova Street and you'll see a narrow path and then some stairs to get you up to the park itself. This website has a handy guide to what buildings you can see from the top.
Old Town
If you're looking for a space crammed full of churches, look no further than Old Town. You'll find ornate and colorful domes, tall spires peeking above the apartment and storefronts, and pockets of neighborhoods home to people from all over the world. An UNESCO site, Lviv's Old Town was awarded this prestigious title because the area combines Eastern European architecture with styles you'll see in Germany and Italy.
National Theatre of Opera and Ballet
This is really the symbol of the entire city and has been around for 120+ years. Stand outside and admire the statues of eight muses around the top rim, or pay to attend a ballet or concert inside. If you purchase your tickets online ahead of time, you can get amazing seats for under $20! So affordable compared to what you'll pay at other concert halls around Europe. Check out this 3D video of the breathtaking interior!
Address: Svobody Ave, 28, Lviv, Lviv Oblast, Ukraine, 79000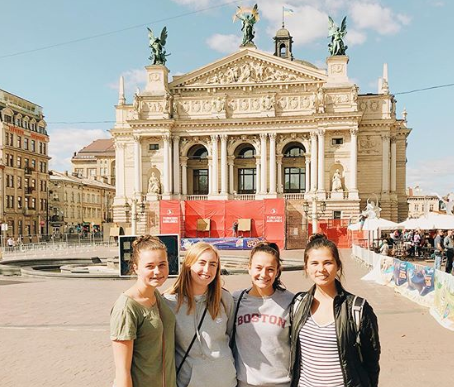 Lviv Historical Museum
This building used to be the home of King Jan III Sobieski and gives visitors a good glimpse into all of Ukraine's history. Scattered between various exhibits you'll spot things like a lock of Napoleon's hair, an Italian style courtyard, old currency, newspapers, musical instruments from decades ago, and one exhibit even highlights how King Jan III Sobieski lived.
As with most museums in Ukraine, you'll pay for a ticket for each exhibition you'd like to see, or a combined ticket that gets you into a combination of rooms. See a list of rooms and prices here.
Address: Rynok Square, 6, L'viv, L'vivs'ka oblast, Ukraine, 79000
Hours: Daily from 10:00 AM to 5:00 PM.
Cost: Depends on which rooms you'd like to enter, but no ticket is more than 10 UAH.
Pharmacy Museum
One of the oldest museums in the city, the Pharmacy Museum, is full of curiosities provided by former pharmacists and enthusiastic collectors. You'll find a room that replicates what an old-style Ukrainian pharmacy looked like, shelves full of dusty bottles containing dark colored liquids, plus the tools that were used to create pills. It's an oddly captivating little museum.
Address: Stavropihiiska Street, 3, L'viv, L'vivs'ka oblast, Ukraine, 79000
Hours: Daily from 10:00 AM to 6:00 PM.
Cost: Free to enter, but a small fee if you'd like a tour (5 UAH).
Pototsky Palace
You'll see this under a few names, like Potocki Palace and the Lviv Art Gallery, From the outside view, the building itself is worth admiring and is known to be the best example of French architecture in the city. You'll find that the inside is just as beautiful though. Some exhibits show off the history of the interior, while others are dedicated to art from areas throughout Europe (like Italy, France, Austria, Holland and others). Learn more on the official website!

Address: 79000 Lviv, vul. M. Copernicus, 15
Hours: Open Tuesday-Friday from 11 am to 4.30 pm and Saturday-Sunday from 10:00 AM to 5.30 PM. Closed Mondays.
Cost: 90 UAH or 50 for students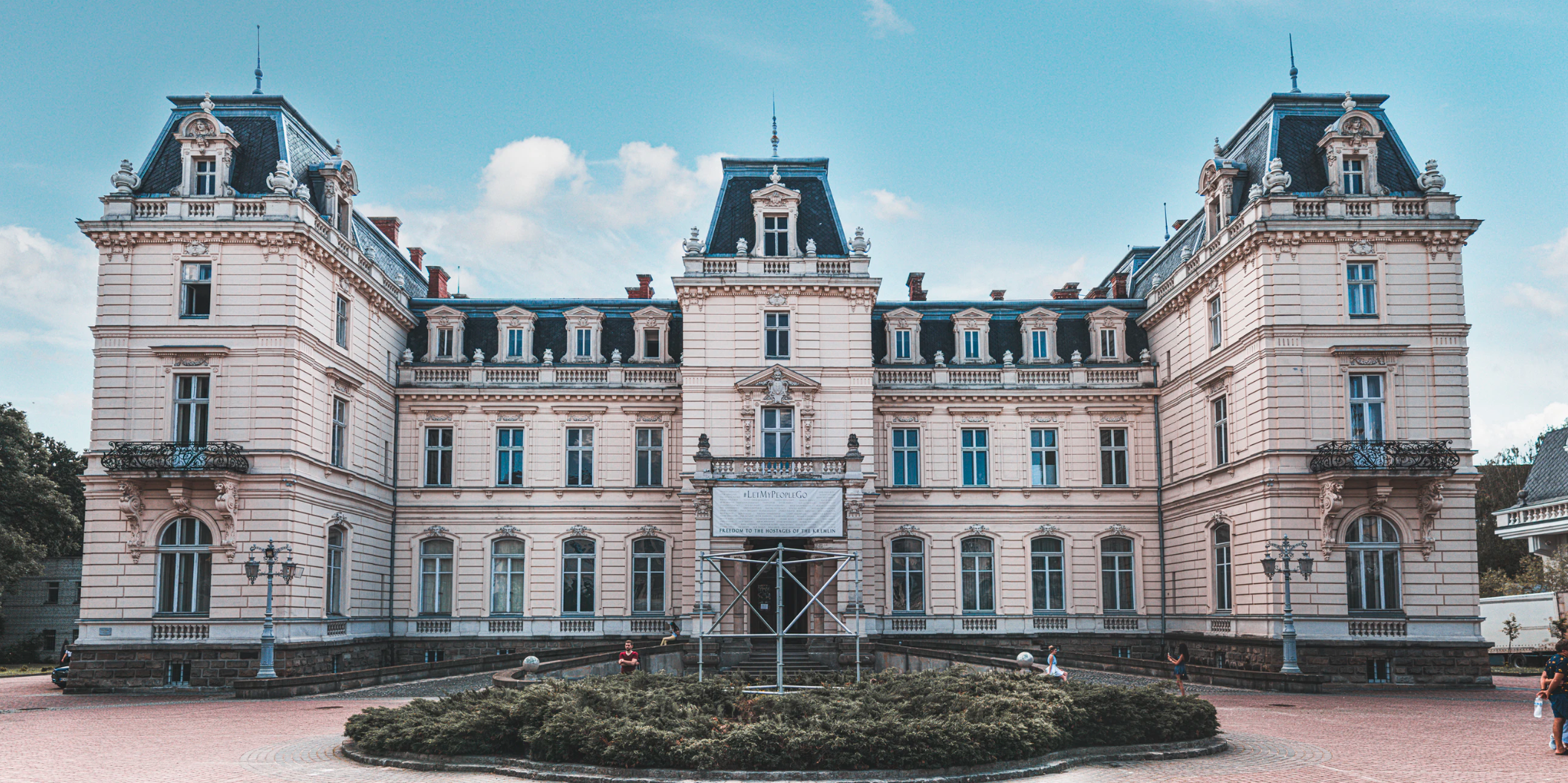 Churches and Cathedrals
We could write a bit of mini description about each of these churches … but, we'd end up saying the same thing for pretty much all of them. But guaranteed, each one is worth visiting!
St. George Cathedral
Opened in 1762 and it's probably the most famous in Lviv.
Address: Ploshcha Svyatoho Yura, 5, L'viv, L'vivs'ka oblast, Ukraine, 79000
Church of Saints Olha and Elizabeth
Opened in 1911 and the inside is stunning!
Address: Kropyvnyts'koho Square, 1, L'viv, L'vivs'ka oblast, Ukraine, 79000
Dormition Church
Opened in 1629.
Address: Ruska Street, 5/7, L'viv, L'vivs'ka oblast, Ukraine, 79000
Armenian Cathedral
Built in the 14th century.
Address: Virmens'ka St, 7/13, L'viv, L'vivs'ka oblast, Ukraine, 79000
Dominican Church
Built in 1749, and might be picking favorites, but the baroque architecture is impressive.
Address: Muzeina Square, 1, Lviv, Lviv Oblast, Ukraine, 79000
Latin Cathedral
Opened in 1493.
Address: Katedralna Square, 1, L'viv, L'vivs'ka oblast, Ukraine, 79000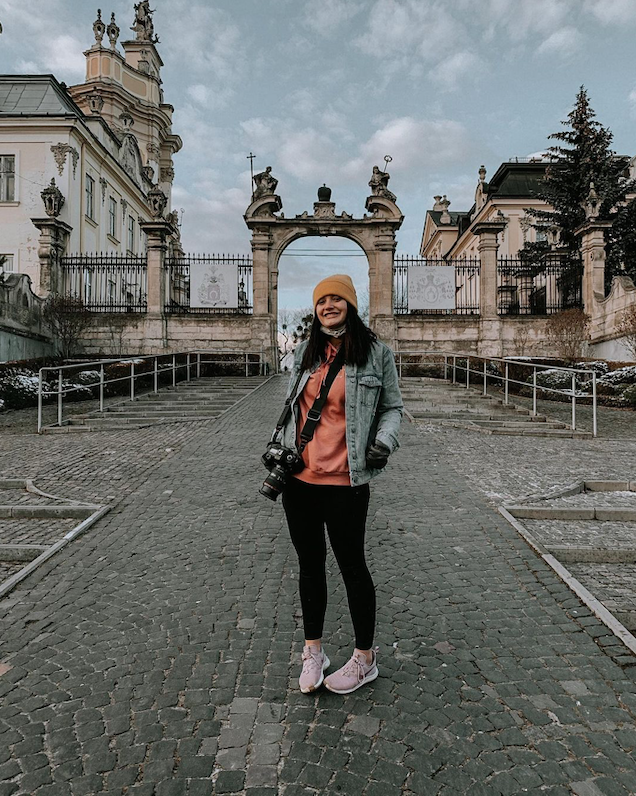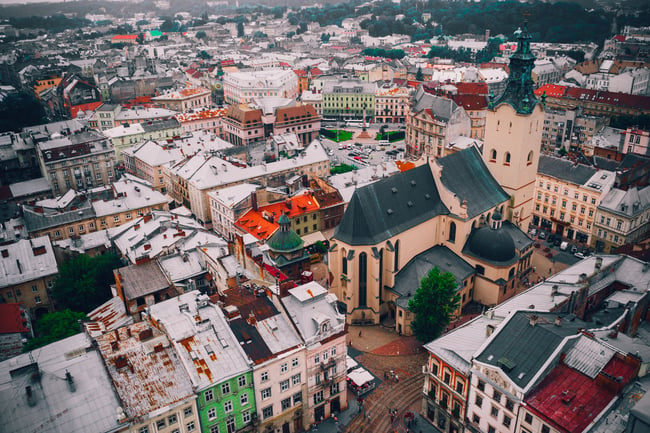 Restaurants For Lunch And Dinner
House of Legends
This place offers a unique atmosphere the leaves quite the impression on nearly everyone who visits. It's a multi-level cafe, with some tables hidden up in front of huge glass windows that overlook the alley and others nestled together between walls lined with old maps, books and photographs. Here you can order warm soups, classic meat and potatoes, and open faced sandwiches. But heads up, a lot of people say the place itself is better than the food.
Address: 48, Staroievreiska St, L'viv, L'vivs'ka oblast, Ukraine, 79000
Hours: 10:00 AM to 12:00 AM (closes at 2:00 AM on Saturday and Sunday).
Iyerusalym
Can you guess from the name that you'll be eating Israeli food at this restaurant? Platters of creamy hummus, crunchy falafel wraps, and Shakshuka — the spicy tomato-and-egg brunch item I can't get enough of. Yum!

Address: Mechnykova St, 39, L'viv, L'vivs'ka oblast, Ukraine, 79000
Hours: Daily from 11:00 AM to 10:00 PM.
Gasova Lampa
A unique restaurant with a cool old vibe, it pays homage to the man who invented the kerosene lamp, and has some of the top reviews of any restaurant in Lviv! Here you can order a huge variety of hearty food, with lots of meat, veggie, and potato options. And don't forget about dessert!
Address: Virmens'ka St, 20, L'viv, L'vivs'ka oblast, Ukraine, 79000
Hours: Daily from 11:00 AM to 10:00 PM.
The Most Expensive Galician Restaurant
Don't let the name fool you, prices at this place really aren't too high — as a joke, they list the price at 10x the price, and offer you a special 90% discount if you're lucky. Or you can snag a "discount card" from the gift shop at the exit of Kryjivka on the first floor.
This restaurant has an amazing atmosphere, complete with old photos, an antique piano, and a vintage car tipped upside down, hung from the ceiling, and filled with plants. Off the menu, find quite the spread of chicken/pork/duck/goose/steak dishes, salads, soups and dessert.
Address: Rynok Square, 14, 2 поверх, Lviv, Lviv Oblast, Ukraine, 79000
Hours: 1:00 PM to 11:00 PM (Midnight on Friday and Weekends)
Try Mitly
(Three Brooms)
If you are a big Harry Potter fan, you will NOT want to miss this. Step right into your favorite book, as the entire restaurant is full of props matching those in the movies. Plus, the dishes all have names related to wizardry and sorcery. The entrance is hidden to "Muggles", so be sure to be on the look out for it.
Address: Ukraine, Lviv oblast, Lviv, square Yavorskogo, 1
Hours: Daily from 12:00 PM to 11:00 PM.
Breakfast, Coffee, And Dessert
Svit Kavy
Known for its rich coffee, this place also serves breakfast sandwiches, fresh-made yogurt, and bowls of warm oatmeal for a couple dollars each (USD). Breakfast is served all day too, which we're big fans of. But you can also get a dessert if you're craving something sweet.
Address: 6 Katedralna Sq., Lviv, Ukraine
Hours: Daily from 7:45 AM (but 8:45 AM on Sundays) to 11:00 PM.
Grand Cafe Leopolis
Find some yummy savory options at this cafe, but our hearts belong to the pastry cases which house the most beautiful bakes and cakes. Find puddings covered in cream, slices of cakes topped with fruit and chocolate curls, and cream stuffed pastries. It's go-to fo rdessert.
Address: Rynok Square, 1, Lviv, Lviv Oblast, Ukraine, 79000
Hours: 8:00 AM to Midnight (daily)
Street Markets
While you're in the middle of the city, keep an eye out for cutie pop up shops selling desserts, snacks, treats, and snacks. These volunteers found skewers of the most darling-shaped marshmallows to munch while they did some exploring.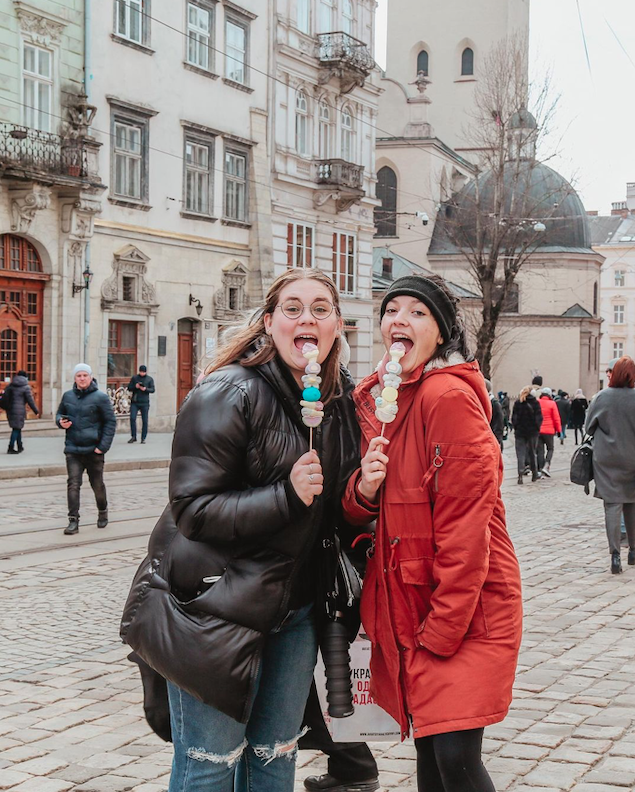 Lviv Croissants
Here's another place that our volunteers can't stop raving about! Just check out the menu to understand why. It's basically a super dressed up European version of Subway.
Address: There are actually 20+ locations in Lviv, and most are close to the city center. Just google search and find the one closest to where you'll be!
Hours: Most are open daily from 9:00 AM to 9:00 PM.
Lviv Coffee Manufacture
This is a full coffee experience! Gift shop included. Our volunteers love eating here, and a few thousand others agree (according to the reviews). Head underground and order breakfast pastries, rich hot chocolate, fragrant coffees, and more.
Address: Rynok Square, 10, L'viv, L'vivs'ka oblast, Ukraine, 79000
Hours: Daily from 10:00 AM to 10:00 PM.
Lviv Chocolate Factory
The name itself should be enough to convince you that this is a must-visit! Here you can spend your time on the 1st floor enjoying a cup of coffee or melted chocolate as you watch the professional chocolatiers create their masterpieces. On the top floor, step onto the summer terrace and treat yourself to a decadent pastry or dessert before heading to the chocolate shop. Heads up, you won't be able to leave without purchasing a few pounds of the BEST homemade chocolates. We. Love. This. Place. Get more info and pictures here.
Address: Serbska St, 3, L'viv, L'vivs'ka oblast, Ukraine, 79000
Hours: Daily from 9:00 AM to 10:00 PM.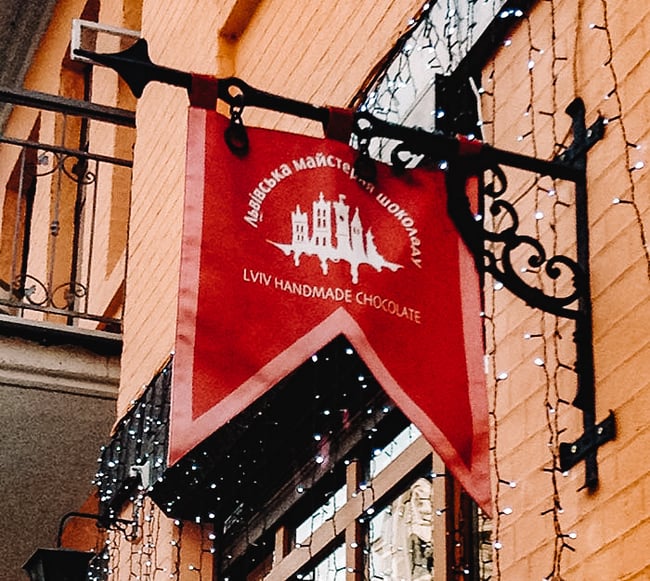 Where To Stay
Hostels
Finding an awesome hostel can be a bit tricky, so here are some tips! There is quite a large handful of great hostels in the heart of Lviv for you to choose from, but here are a couple that look especially good.
Old City Hostel: The location of this one is unbeatable—literally in the heart of the city. And get this, the balconies open to a view of the Theatre of Opera and Ballet! You will have to share bathrooms and showers with other guests, but that is pretty typical of hostels. They offer hot drinks, free wifi, and they'll let you know about any events or festivals going on in the city. Plus, they have perfect reviews! That says it all. Check it out here!
Dream Hostel Lviv: This one is another clear winner, also in an ideal location. It's the biggest, modern hostel in the city and is the only one with its own cafe! They offer free wifi, luggage storage, and walking tours. Just make sure you take a look at their check-in policies once you figure out exactly what time you'll arrive. Plus, staying here is a bit pricier than other options so you'll have to see if it fits within your budget. Check it out here!
Park Plus Hostel: With some rave reviews and 24-hour reception (helpful for early morning arrivals or departures), this is another hostel past ILP groups have stated at. Check it out here.
Airbnbs
If you want a little more privacy and the experience of staying in a place owned by a local, then this is going to be the best option for you! Plus, Airbnbs are often cheaper than hostels, depending on how many other people are in your group that you can split the cost of the Airbnb with. There are literally dozens of great options available in Lviv! Check them out here, and find the one that will be best for you group.
Make sure you also read about the differences between an AirBnb and a hostel (and tips for booking both).
Shelter AirBnb is just one AirBnb ILP groups have stayed at, with more than a few perks. It sleeps 13 guests, so big enough for a group, plus has cool exposed brick walls for an industrial, urban design. The spot is just 2 minutes away from the Opera Theater, and 10ish minutes in a car from the Train Station, making it an easy taxi ride once you arrive in Lviv. See it here.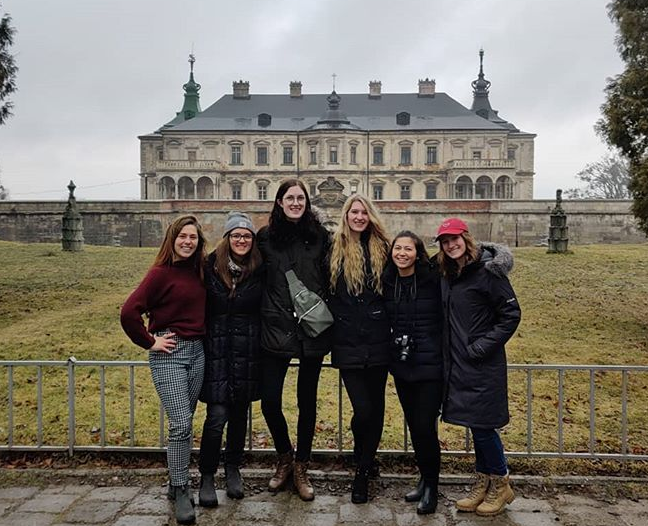 Getting Here From Kiev
Lviv is west of Kiev, rather close to the border of Poland (hence all the Polish influence) and is easily reached via train. Lviv does have an airport, but we found that trains are a more memorable experience. Plus, they're usually cheaper than a flight and who likes to hassle through airports when you don't have to.
By Train
You'll find many different trains that can get you to Lviv, leaving all hours of the day and night. Luxury liners can get you there in under four hours, but they are quite expensive. Our pick? Take an overnight train and arrive in 6 -10 hours instead. You're likely to share a compartment with (or next to) some locals, who may even share snacks with or join in on a card game.

Our volunteers love this booking site! It's very easy to use, is in English, and gives you very clear options when it comes to picking the train and the compartment for your route. On this site, the "L" is for luxury compartments and the "C" is for a 2-person compartment, and then you can book S1 or S2, which are first and second class seating. A sleeper ticket is around $20, which is a steal if you think about it — $20 for transportation and accommodation. Win win!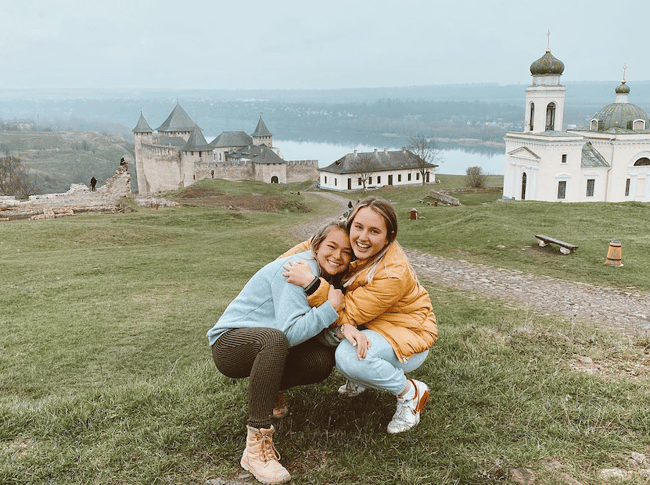 Transportation Around Lviv
First of all, we highly suggest using Google Maps to help you get around. A lot of things in Lviv can be difficult to locate on your own, but are easy to find on Google Maps. If you don't have data, you can download the offline map and mark all the places you want to visit while you still have wifi, then you'll be able to find where you want to go data free.
Buses, Trams, and Trolleys
The city is pretty walkable, but you can also get around via trams or city buses (or yellow mini buses called marshurytkas). If you see a bus approaching, just hold your arm out to board, then tell the driver where you'd like the get off, and the driver will pull over at the nearest stop.
Tickets are 5 UAH for buses, and 3 UAH for trolleys or trams. They can be purchased from the little news kiosks or from the driver. If you have a lot of luggage, you'll need to get a separate ticket for it. If you'll be in Lviv for 3 days it might be worth getting a transportation pass for 50 UAH instead of buying a separate ticket each time. Buy here.
When you board and get your ticket make sure you punch it in the little metal machine. Your ticket may be checked and you'll want to make sure it's been validated to prove you've paid for it.
Taxis
You can also call a cab: Rides usually cost around $3-5 USD, and you can use an app like Uber (called Uklon) to call your group a car. There are card and cash options to pay your driver.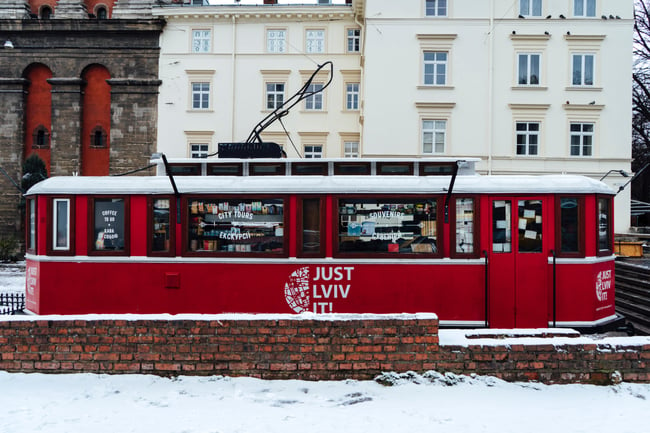 Insider Tips
How Much Time You'll Need In Lviv
There is a ton to do in this city, but you can definitely get the highlights in just a weekend, especially if you are taking a night train. That allows you to wake up in Lviv Saturday morning, leaving all day Saturday and all day Sunday to explore before catching another night train back to Kiev. Not the ideal way to get your beauty sleep, but so worth the extra hours of adventuring!
Things To Pack
Make sure to take cash with you to Lviv! Sometimes the ATMS don't work well, so pack enough cash for your trip (and some smaller bills for paying taxis and trams).
As always when traveling, it's a good idea to pack snacks! They're helpful to have for in-between meals when your hiking to viewpoints or strolling Old Town. Also, bring toilet paper and hand sanitizer, too. Not all restrooms in Europe will be like the ones you're used to. Better to be prepared than sorry.
Free Walking Tour
This is a great way to learn more about Lviv's important sites and history from a local who really knows what they're talking about. There are a couple of different companies that both look like amazing options and provide several kinds of tours, highlighting culture, architecture, or insider spots. You may even want to do more than one depending on what you'd like to see. Check out both Walkative Tours and the Lviv Buddy Tours for the specifics and options.

Note: While the tour is free, most of the guides are volunteers so it's nice to leave a bit of a tip if you really enjoyed the tour.
+Nearby Adventures
One of the biggest perks of visiting Lviv is all of the nearby spots to include on your itinerary! You can easily fit one of these bucketlist gems into your weekend plans (but don't ask us how you'll choose just one) or squeeze them all into a longer vacation. Only a couple of hours away from Lviv you'll find painted cities, a handful of castles, the adorable "Tunnel of Love", and other towns that we can't get enough of.
And to make your life even easier, we've put all of our day trips from Lviv into one place, just for you.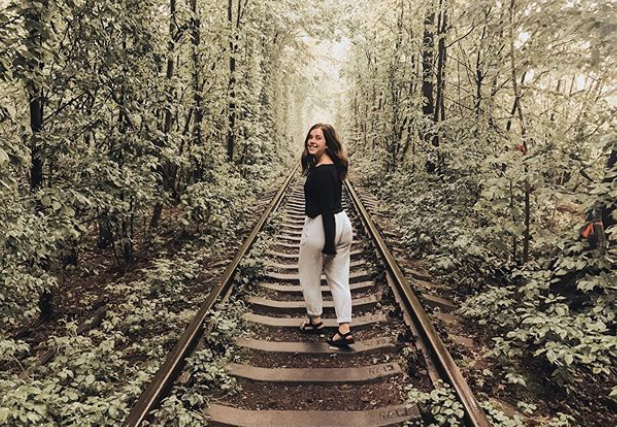 Wanting to spend a semester living in Europe, but still have some questions?
We know this is a lot to think about, but we really want to help you have the experience of a lifetime like so many of us have been able to do! With ILP, volunteers get the chance to teach English in Ukraine for about 20 hours per week, then use weekends and vacation days to travel around their country and visit so many others too (like France, Italy, Greece, Spain, Sweden, Poland, Norway, Iceland and more).
Sound too good to be true? It isn't! Click the button below to read through all of our applicants' most frequently asked questions: