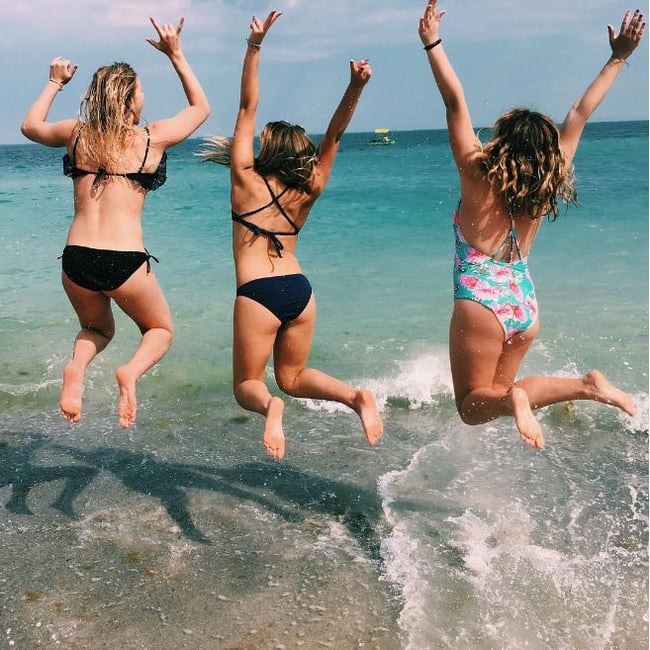 Head down to Odessa and dip your toes in the Black Sea (a secret only the locals and ILP volunteers in Ukraine are onto!).
While ILP volunteers in Ukraine love touring around to see places like France, Spain, Ireland, Greece and other favorites, we also love the coastal city of Odessa — the dreamiest beachside vacation you can head to in Ukraine.


---
Love the idea of living in Europe?
See what volunteering in Ukraine is all about
---

To make your beach vacation even more ideal, we've pulled together all the tips on what there is to do, our recommendations on things to check out, favorite places to stay, and of course, which beaches are best.
All About The Beaches
We love what there is to see in downtown Odessa, but let's be real — you're probably here for the beach? Full of soft sandy, swaying palm trees, and blue water, all along the Black Sea. There are a few different beaches to choose from, but here are the ones we recommend.
Zolotyi Bereh
Zolotyi Bereh is a favorite beach — a long stretch of sand ideal for a day in the sun, calm green and blue waves that are perfect for swimming, and lots to do. One ILP group paid about $8 to go tubing for the day "and loved it!". This group also said that the water was best at Zolotyi Beach (plus we love that there are showers along the restaurant row where you can rinse off a bit before heading back into the city).
Getting Here: It's about an hour out from the city center, accessible by bus and tram (from the Odessa Opera House, you'll take bus 150 then bus 127).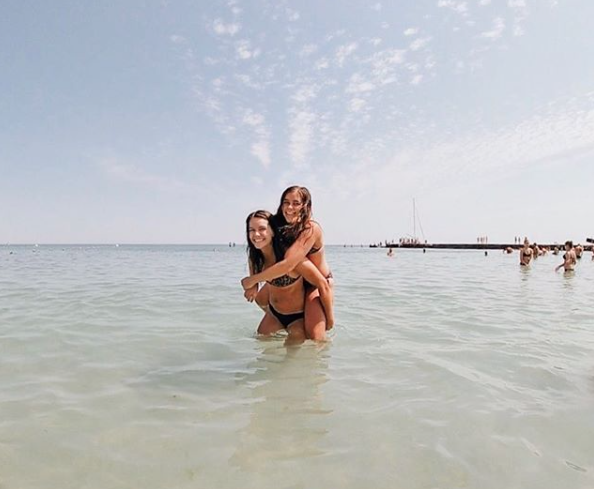 Villa Otrada Beach (Yellow Stone)
There's a huge golden yellow boulder that bookends one side of this sandy beach, giving it the nickname "Yellow Stone Beach". It's one of the most popular in the area, with umbrellas and lounge chairs to rent for the day, and other activities (like riding on those huge inflatable bananas pulled behind a boat). There's a freshwater spring that runs right into the ocean, and a huge stretch of sand for all the crowds that come to this part of Odessa. The ocean here has calm waves, making it a good swimming beach.
The areas surrounding this beach are full of restaurants and shops, so you don't have to go far to get food or buy a few souvenirs. There are showers along the boardwalk where you can rinse off after your swim.
Getting Here: Found about 40 minutes from the city center. Get here on the local buses. Buses 137, 175, and 203 get you here from the Odessa Opera House.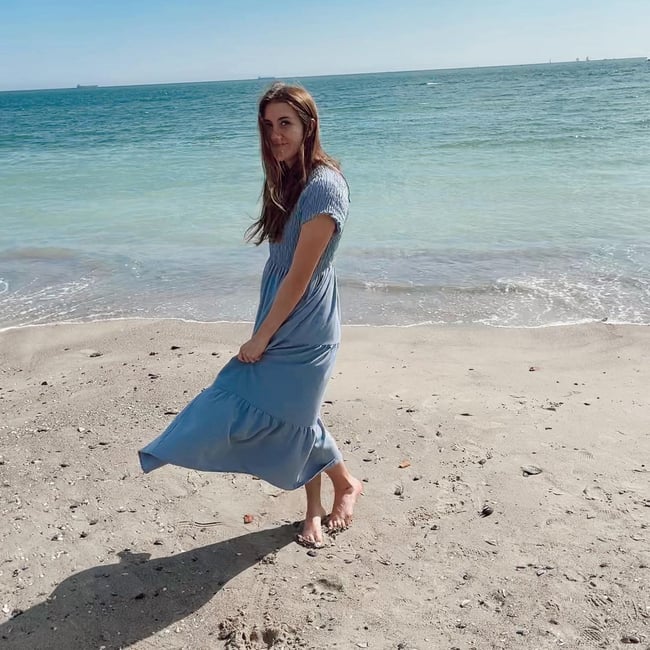 Arcadia
Arcadia is also a favorite popular, with tons of fun shopping and really good food right by the beach. In the summer, a little carnival sometimes sets up right here meaning you can ride a few rides if you'd like a break from the ocean. The area is lined with resorts, restaurants, cafes, and tends to get pretty busy (like most of the beaches in Odessa ... this place is very popular in the summer months!) Arcadia is a sandy beach, great for lounging, swimming, and just hanging out.
Getting Here: It's around 45 minutes away from downtown (the Odessa Opera House). Like the other beaches, it's easy to get to on the buses and trams — we have more about getting around in Odessa below.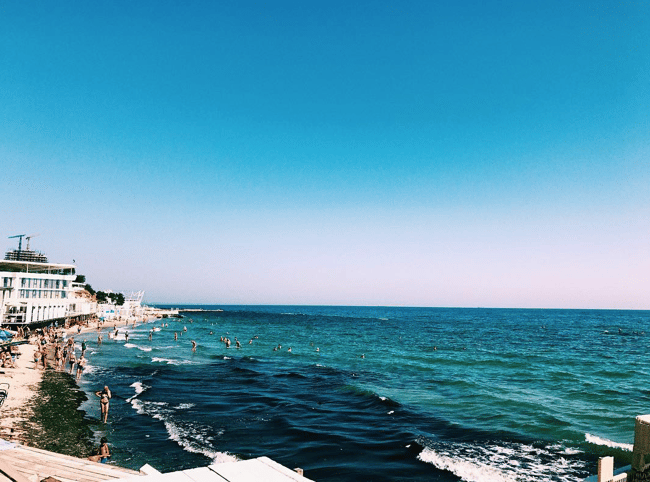 Lanzheron
Volunteers also love Lanzheron; it's closest to the city center and doesn't quite have the same vibe as Arcadia, but they say it has nicer sand. It's one of the most popular beaches in the area (mostly due to location). The waters here are calm, and clear, with lots of lounge chairs and umbrellas open to rent (for about $3) for the day. Behind the beach, there is a huge park which is a nice break from the sand if you want it.
Getting Here: Only about 30 minutes away from the city center, this is one of the closest beaches. Like the others, multiple bus routes can take you close enough that the shore is just about a 10 minute walk.
Beach Tips
It gets very crowded, especially in the high tourist season (July and August in particular). You'll want to get to the beach early, and expect to share the shore and the surf with lots and lots of people. Because of all of the crowds, some mention things like trash and empty bottles at a few of the beaches. Make sure you do your part and toss your trash instead of leaving it in the sand.
Watch your stuff. Like any beach vacation, make sure someone is always watching your things while the rest of your group is playing in the ocean. We've had volunteers get their phones and wallets stolen because they just left them out for anyone to take.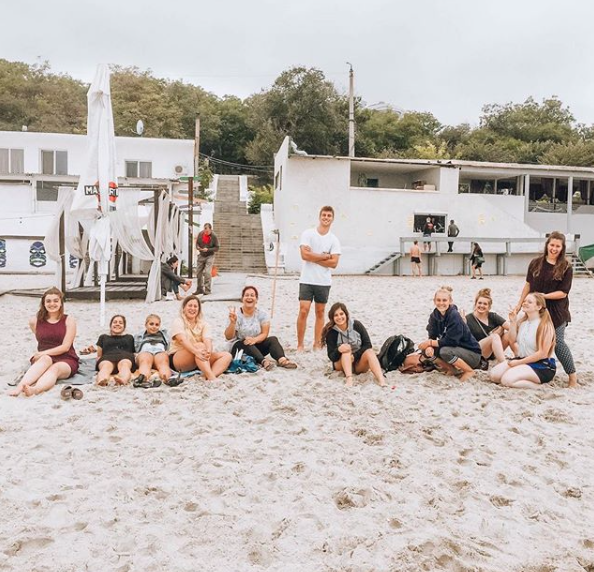 Things To Do
You'll probably spend a day or two on the beach, but there are tons of things to do in Odessa! Think gorgeous walking streets, monuments to admire, pretty parks plus, the cutest cafes and shops.
The Best Walking Streets
We love Derybasivska street, a huge boulevard that is absolutely packed with restaurants, cafes, huge trees along the sides, and lots and lots of tourists. It's a hang out place where you'll find street musicians, street performers, and souvenir shops. It's your classic, pedestrian-only, tourist street.
Take out your camera to photograph the pastel buildings and get ready to fall in love on Prymorskyi Boulevard. It's found right by the Potemkin Stairs and is a residential streets made up of some of Odessa's most impressive and photogenic buildings.
Some Can't Miss Monuments
Monument to L. Utesov
Utesov was a famous singer and actor in the beginning-middle of 20th century. He was born in Odessa and to honor his life and music, the city created this monument. Take a seat next to Utesov and touch his nose (according to rumors it will bring you good luck).
Find it: Deribasovskaya, St. Odessa, Ukraine
Monument to The 12th Chair
This monument is honoring Ilf and Petrov, authors of the famous book, "The 12th Chair". On the back on the chair, famous quotes from the book are inscribed, along with Ilf and Petrov's well wishes for the city of Odessa.
Find it: Deribasovskaya, St. Odessa, Ukraine
Heads up: both of these monuments are found in the city garden, which is gorgeous in the summer and spring time (lines of colorful flowers). You might have to wait in line to get your turn taking pictures at both of these monuments — they are that popular!
Monument To Catherine The Great
A towering pinnacle honoring Catherine the Great and the founders of Odessa, this statue is situated in front of three pastel-colored-and-stately-mansions. It's a picturesque part of Odessa, found right by the Potemkin Stairs.
Find it: Ekaterinenskaya sq, Odessa, Ukraine
The Potemkin Stairs
Made famous by the Soviet film, "Battleship Potemkin", this massive staircase is a icon in the film world. Climb up all 192 steps (best going from bottom to top, rather than top to bottom, according to some), and get a view of the port from the top.
Address: Primorsky Boulevard, Odessa, Ukraine

The
Odessa Opera House
is also a can't-miss experience. It's a huge focal point of the city, and boasts quite the repertoire of ballets and operas. Tickets can be very affordable, costing just $15 (or less!) for some shows. We recommend seeing what's playing when you're in town, and
booking your tickets
early.
Ukrainians will dress up for a night out in the theater, so be sure to pack up a dress or nice pants + shirt for your show. Even if you don't go to a performance, the opera house is an incredibly gorgeous and historic bit of architecture that's worth seeing.
Address: Chaikovs'koho Ln, 1, Odesa, Odes'ka oblast, Ukraine, 65000


Places To Stay
Orpheus Hostel
A total favorite if you talk to some of our ILP volunteers, Hostel Orpheus has a few dorm rooms to choose from, with a communal kitchen, A/C (handy in the summer months), and a helpful staff who can point you in the right direction. See pictures on Booking.com.
Grand Babushka Hostel
Here's what one ILP volunteer said about her stay here: "If you haven't booked a place yet, stay at the Grand Babushka Hostel! It's not like other hostels and the hosts live there and are soooo nice! So if you're looking for a good authentic Ukrainian experience, book there! " It does not have A/C, as a heads up, but does come highly recommended. Book here.
AirBnB
This is another popular option for groups of ILP volunteers visiting on a weekend. One group loved their stay at this 4-bedroom AirBnB. It sleeps up to 8, has a washer and dryer, and a kitchen. Plus, it's just a short walk from the Otrata beach. See other available spots in Odessa here.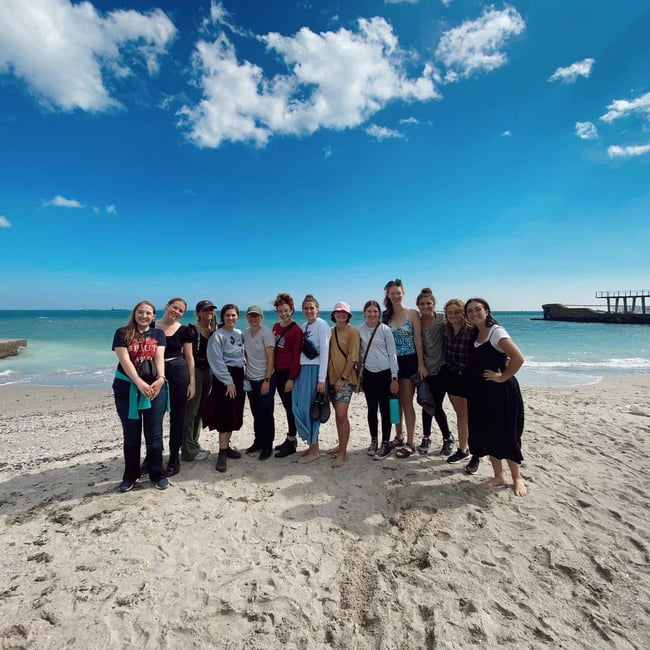 How To Get There (+Costs)
From Kiev, Ukraine
If you teach English in Kiev with ILP (lucky lucky!) you have it easy — you can easily take a sleeper train from Kiev into Odessa. It takes about 7-10 hours and costs around $15 for a roundtrip ticket (or triple that if you want a first-class ticket). You can also take a bus there, which takes around 6 hours and costs about the same.
ILP volunteers have gotten help booking tickets and things online with the help of their Local Coordinator, but you can also check out this website for booking overnight trains to Odessa.
Getting Around Odessa
Around Odessa, it's very easy to get around thanks to all of the trams. They are very inexpensive to ride (less than a dollar, usually around $0.30 or so per ride) but the buses and trams can get very crowded. We suggest downloading Google Maps offline (if you don't have data) to help you navigate around the city, but that app gives you accurate bus and tram routes.
There are also taxis aplenty but will be more expensive; here are some tips for travelers when it comes to avoiding taxi scams.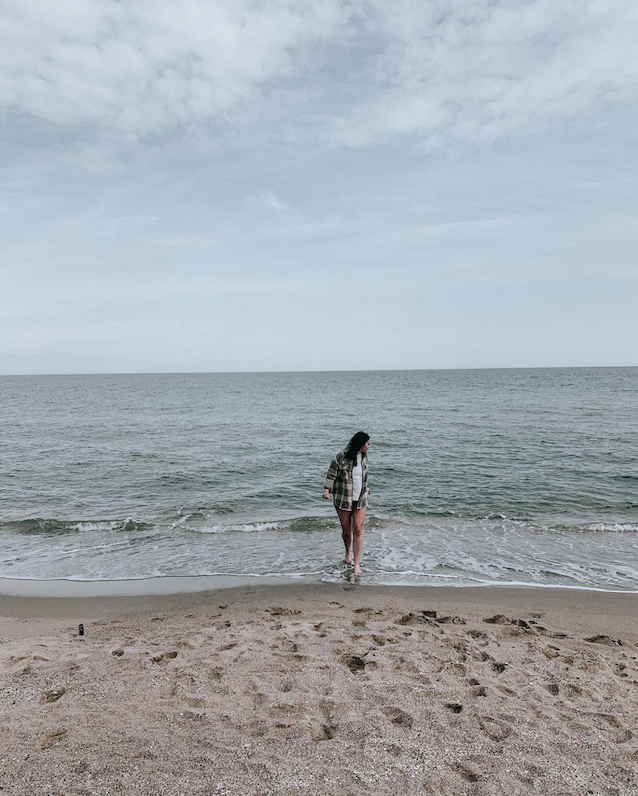 Come vacation all over Europe!
We're now accepting volunteers for our program in Ukraine — you'll be teaching English during the week, with weekends off (to come visit Odessa), and vacation time to see the rest of Europe.