Of course you've got to try all the best food while visiting (or volunteering) in Kiev, Ukraine? So, where should you go?
Kiev is full of great food and trying local treats is always one of my favorite ways to jump into another culture. Whether that be traditional Ukrainian food like varenyky or those chocolate-y desserts, you should definitely be getting excited to have a lot of delicious options.


---
Headed to Kiev? Find places to stay, and other tidbits to help make your trip a success in our Kiev Go To Guide
---
We've talked to our ILP volunteers who have lived in Ukraine for a semester to see which restaurants they loved and frequented and they couldn't stop raving! It's obvious they fell in love with some spots and still dream about the yummy dishes they had in Ukraine.
You won't want to waste your time hunting for the best restaurants or cafés so we've done the work for you. Here are the places you need to add to your "must try" food list, according to our volunteers who lived in Kiev for a few months! Take a look and get ready to eat because you won't regret trying these places!
Our Favorite Spots To Eat Out In Kiev


Traditional
If this is your first time to Ukraine, I can't recommend enough trying some of the local dishes! It's such a great way to really step into the scene and also get a glimpse of their culture. These restaurants we've listed below offer a taste of local food in this part of the world. Many dishes you'll find all throughout Eastern Europe.
Korchma Taras Bulba
An ILP alumni tells us about this cool place, "I took my dad there when he came to visit and it's set up like a traditional Ukrainian house and serves traditional food. The servers all dress up in traditional clothing and do traditional dances and play traditional music. It was really cool!!"
Click here for the menu
Address: Pushkinska St, Kyiv, Ukraine, 02000
Hours: 9:00 AM to 11:00 PM
Puzata Hata
Kinda sounds a little like Pizza Hut, but don't get them mixed up. Puzata Hata is a cafeteria style restaurant that is pretty inexpensive and a good way to try lots of different Ukrainian food. There are so many Puzata Hata's in Kiev that you are sure to run into one at some point.
Click here for the menu
Address: (Here's one of 25 locations) Khreschatyk St, 15/4, Kyiv, Ukraine, 01001
Hours: 8:00 AM to 10:00 PM (hours may vary with different locations).
Chach
apuri
Chachapuri serves up Georgian dishes (and so many of our volunteers rave about those). They have a lot of options on the menu but if you go you have to try the Khachapuri. Khachapuri is a traditional Georgian dish of cheese filled bread. The bread is shaped different ways, often has different toppings, and never has a shortage of cheese! If you're brave you should get it with the egg on top — it's really a must try!

Click here for the menu
Address: Tarasa Shevchenko Blvd, 36А, Kyiv, Ukraine, 01032
Hours: 10:00 AM to 11:00 PM
Cafés
The cafés in Europe might be one of my favorite things, and in Kiev they've become the hang out spot for lots of our volunteers during their semester living there. There's so many around this city that there are endless opportunities. I definitely recommend trying out some that are near wherever you're staying in Kiev (especially since you probably will want to hang out there multiple times), but these are just a few of our ILP volunteer's favorites.
Milk Bar
Satisfy all types of tastebuds here with unique and delicious dishes like a creamed corn hot dog, a Milk Bar burger, waffles with strawberries, salmon toast and more. We've also heard the fries are to die for and someone else said that this is home to the best grilled cheese they've had in their life. Don't forget to finish your meal off with one of their famous desserts.
Click here for the menu
Address: Shota Rustaveli St, 16, Kyiv, Ukraine, 02000
Hours: 8:00 AM to 11:00 PM (9:00 AM on weekends)
City-Zen
This cafe was at the top of the list of favorite cafes for a few volunteers. It's a go-to spot for yummy cakes, coffees with some amazing flavors (in the fall, they have a latte with mango and pumpkin puree), salads, burgers, sandwiches, and other desserts. Another perk is the free WiFi.

Get the menu, here.
Address: (one of a few locations) Velyka Zhytomyrska St, 20, Kyiv, Ukraine
Hours: 7:50 AM to 10:00 PM (May vary for different locations)
Blue Cup Coffee
Another fantastic option for delicious coffees, and quite the line up of cakes. You can also find breakfast dishes, salads, hot and cold sandwiches, and a few local favorites, like syrnitki. We love the outdoor seating in the spring and summer.
See their menu on their Facebook page.
Address: Pushkinska St, 5, Kyiv, Ukraine, 02000
Hours: 9:00 AM to 10:00 PM
Pesto Café
Take a seat at Pesto Café and enjoy a warm hearty meal. Along with your soups and salads you can also find a good pasta or pizza dish here. This is a restaurant chain that you'll find all over or you can even get it delivered.
Click here for the menu
Address: (Here is one of many locations) Vulytsya Marshala Konyeva, 7, Kyiv
Hours: 10:00 AM to 10:00 PM (May vary for different locations)
F.R.I.E.N.D.S Cafe
If you are an avid watcher of the show Friends, like myself, you have to visit this cute place in its honor. It might not be Central Perk, the actual restaurant that it was filmed in, but it is designed to look just like it. It's pretty cool to see they have pictures of the cast all over and on the menus. You'll have to visit to at least take a picture and have a reminder of home.
Click here for the menu (It's not in English but you can see some pictures)
Address: 11K2, Obolonska Naberezhna St, 11К2, Kyiv, 02000
Hours: 10:00 AM to 11:00 PM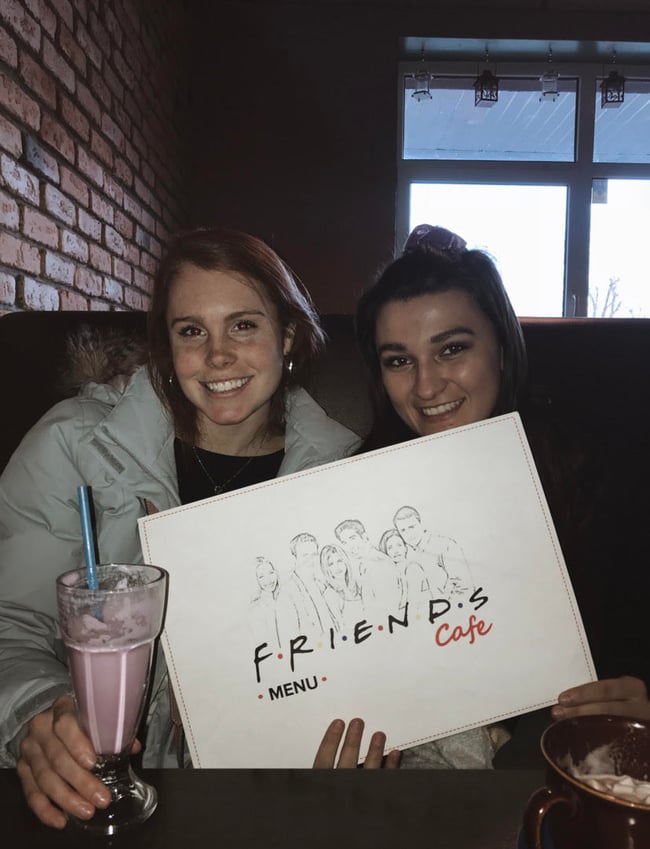 Inexpensive
You'll want to try all the flavors of Kiev, trust me, you can definitely do that on a budget. Here are some options that won't burn a hole in your wallet.
Shawarma Stands
Okay I'm getting hungry just thinking about these, but don't worry because they're so popular that you'll find them all over the city. One ILP volunteer was a shawarma stand regular and this is what she tells us, "At each metro stop we'd come up and the streets would be lined with little vendors! One of our favorite ones that we'd go to after a long day of teaching was at the Obolon stop! It'd be the same kind, older gentleman and he'd recognize the English teachers right away! He'd always try to have little conversions with us and practice his broken English. He was so sweet and would ask how our day was."
There are definitely stands with other foods you might want to try (be adventurous!), but definitely don't skip getting some shawarma while you're in Kiev.
Lviv Croissants
Welcome to croissant heaven! You can choose from a selection of sweet, savory, or even make your own. Mouth watering goodness as low as $1.50 if you go with some pretty basic croissant options. This place is a must-visit (at least a few times in your semester!).
Click here for the menu
Address: (Here is just one of 23 locations just in Kiev) Khreschatyk St, 24, Kyiv
Hours: 9:00 AM to 10:00 PM (10:00 AM on weekends). Hours may vary with locations.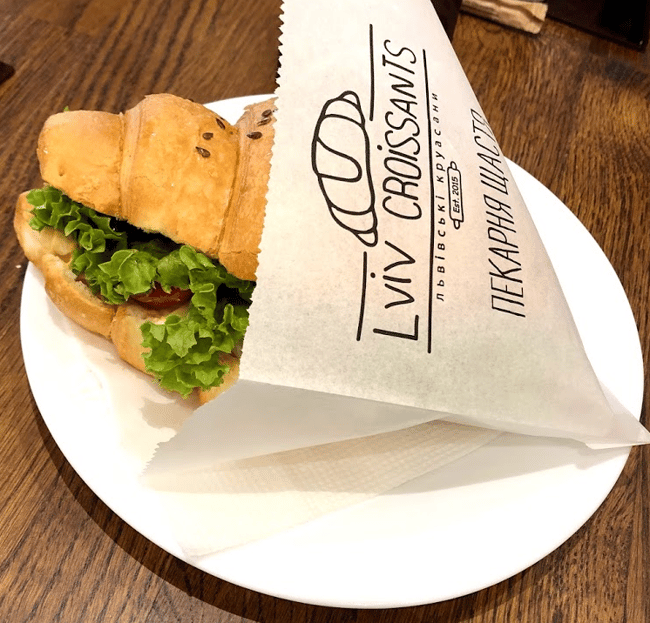 A Few Others
After a few months of living in Ukraine you might need a little something that reminds you of home. No judgements here. If you're craving American food, know that you will be able to find place like Dominos, KFC, and McDonalds in Kiev. Volunteers also recommend these spots when your pallet is craving something other than Ukrainian cuisine.
Mafia
They put their spin on pizza and ILP volunteers are telling us this is the place to go. Kind of like the foot longs at subway, you can find what they call meter pizza — extra big. Don't be surprised when you find you can pair your pizza with some sushi (yes you read that right). Our volunteers know this place for its hipster vibes and virgin mojitos.
Click here for the menu
Address: Khreschatyk St, 6, к. 2, Kyiv, Ukraine, 02000
Hours: 11:00 AM to 12:00 PM (11:00 PM on Saturdays). Hours may vary with location.
Noodles VS Marketing
Have you tried a bowl of real, delicious ramen yet? Not the 10 cent kind you'll find in the grocery store ... the good stuff. It's so addicting! The chef puts right on the website that he's never been to Japan, but he's developed his own recipe and put his own take on the classic dish. And it's good, real good.
Click here for the menu
Address: вхід у дворі, Khrestovyi Ln, 8/9, Kyiv, Ukraine, 02000
Hours: 12:00 PM to 4:00 PM, then from 5:00 PM to 9:00 PM
Star Burger
When our ILP volunteers were wanting American food you can be sure to find them here. You can't go wrong with a good burger and fries. More than a few volunteers said this was their go-to spot for food they missed from home.
Click here for the menu
Address: Хрещатик, вулиця Хрещатик, Європейська площа, 7/11, Kyiv (they have a few locations)
Hours: 12:00 PM to 10:00 PM (May vary with location)


Rojo Ojo
If you're in the mood for Mexican, we have a few volunteers who can't get enough of this place. We've heard that you can find "literally the best quesadilla ever" at Rojo Ojo, along with other favorites like tacos, churros, and fajitas. Some visitors mention that the food is more Tex-Mex style and that things aren't spicy (even when he menu says it is) but it's still a top stop to grab a quesadilla.
Find their menu on their Facebook page.
Address: Obolonskyi Ave, 26, Kyiv, Ukraine, 04205
Hours: 1:00 PM to 12:00 AM
The Burger Mexico
Be transported to Mexico with this restaurant's Mexican feel and friendly waiters. Quench your Mexican food cravings with your options of burritos, fajitas, or a large selection of any type of burger you can think of.
Click here for the menu
Address: Nyzhnii Val St, 25-17, Kyiv, Ukraine, 02000
Hours: 11:00 AM to 11:00 PM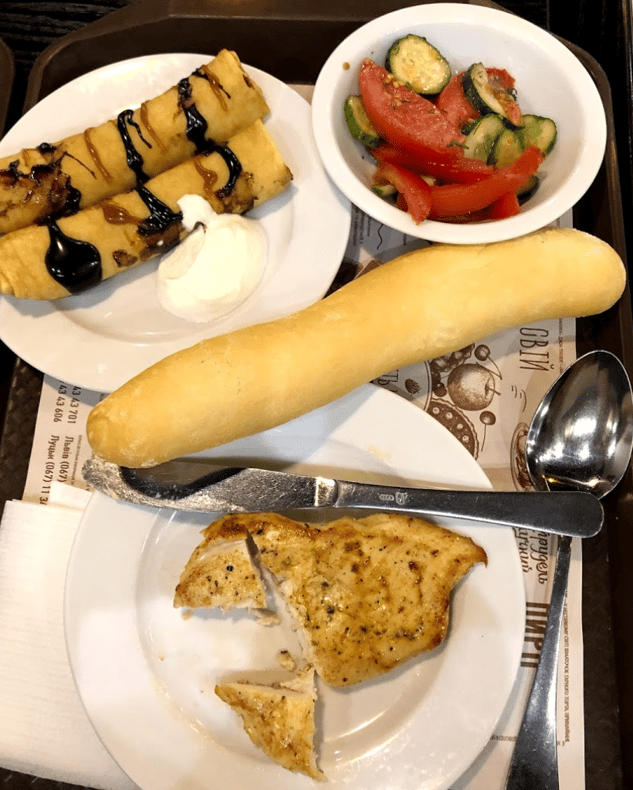 Dessert
Calling all my fellow sweet tooths! This section is written just for you. You haven't been to Europe if you didn't try their chocolate and you haven't been to Kiev, Ukraine if you don't take a stop at one of these places. I'm not kidding, my friends have told me that they made sure they had chocolate in their backpack at all times during their semester abroad and that is something I can definitely get on board with.
Lviv Chocolate
Get a chocolate bar on the go or for a souvenir for your family back home. If you're taking a seat there's even more options to make your mouth water. Some of our volunteers favorites are the melted chocolate drinks (it's like hot chocolate, but literally a cup of thick, rich melted chocolate), fruit with melted chocolate, and cheese cake. It is one of the most beloved destinations of all the teachers and it is a must try. There are three of them in the city and you can also find it if you visit Lviv.
Click here for the menu
Address: (One of a few locations) Antonovycha st., 45, Kiev 03150, Ukraine
Hours: 10:00 AM to 10:00 PM


The Cake
This is another good stop for those sugar cravings we all know you are going to get. Although you will find more than just dessert here (some volunteers still dream about their green salad), the bulk of the menu consists of tasty cakes, macaroons, and cool looking desserts.
Click here for the menu
Address: Velyka Vasylkivska St, 5, Kyiv, Ukraine, 01004
Hours: 8:00 AM to 10:00 PM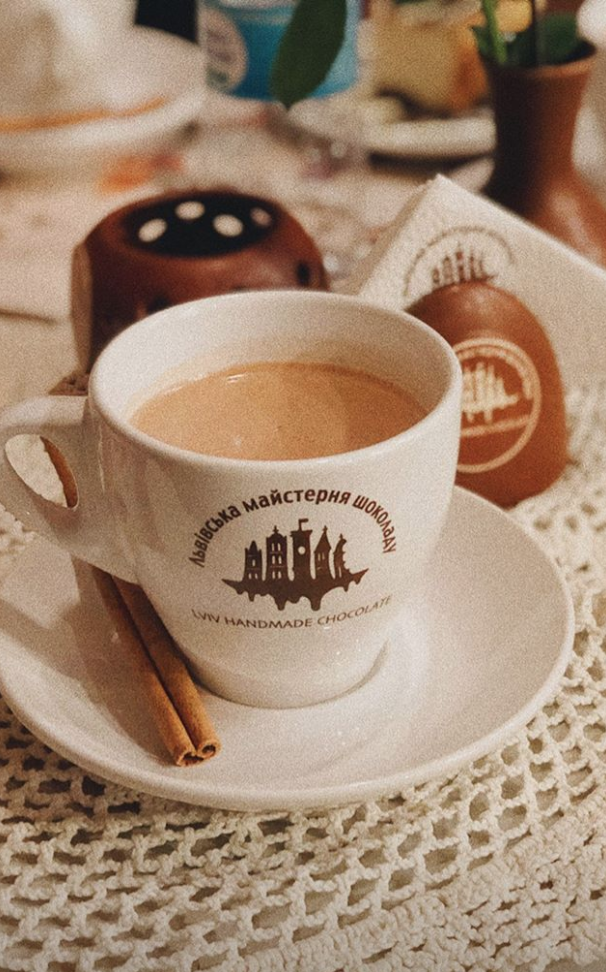 Need more than a short visit to try all of these places?
Volunteering in Ukraine gives you plenty of time to explore the city and try all the food. Click that button if you have questions about what living in Ukraine is like and to see if volunteering with ILP is a good fit for you!