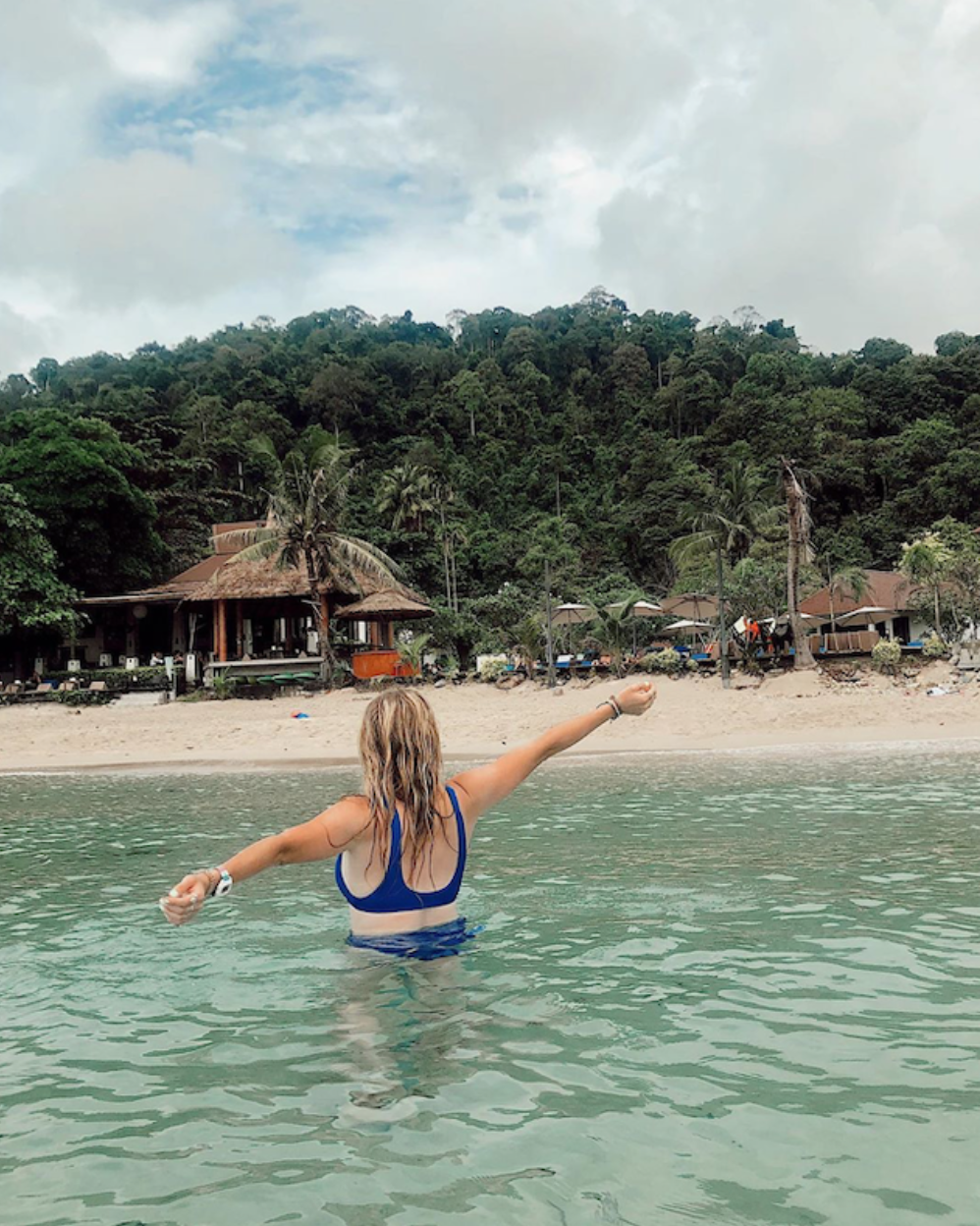 This Thai island is a bit of a secret which means you can have these dreamy beaches and taste of paradise all to yourself.
There's really no way around it — Thailand is an absolute dream. To be honest, I didn't really get the hype until I saw this place for myself. Then I totally understood why this place is pretty close to perfect. With tons of amazing places to visit and beaches to lounge on, how in the world do you choose where to spend your time? Let's just say I think you'll be glad you don't have spend a couple of weeks in Thailand because you can spend a whole semester living in this country if you volunteer with International Language Programs.


---
Come spend a semester in the "land of smiles"
Apply to volunteer in Thailand here.
---

Now that you're going to be living here, not just visiting, you'll have more time to choose more than just one vacation spot. And I vote you at least consider Koh Chang if you're looking to find the best Thailand beaches. We have a whole guide to the best beaches in Thailand if you'd like to see the other contenders, but here's why I think Koh Chang most definitely makes the list. It's not so much of a tourist's hot spot, more of a local gem which means you're going to get a totally different level of relaxation.

Out of all the places I saw in Thailand, this quiet little island was the ideal getaway — complete with sandy shores that aren't the least bit crowded.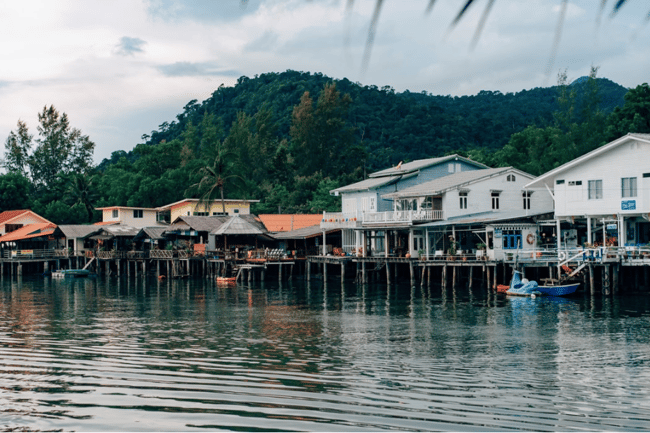 Koh Chang's Best Beaches
Since you're here for some sunshine on one of Thailand's islands, you probably have a few days planned where all you'll do is hang out on the beaches. It's the number one thing to do in Koh Chang, with a few to choose from. I have my favorites outlined below, but know there are a handful of little coves and private beaches that I didn't get to explore when I was visiting.
One thing to know is that most of the best beaches are all clustered on the western side of the island, so I would suggest finding a place to stay nearby, or planning time in your schedule to songthaew over if you're staying in the south or eastern edge of Koh Chang.
Here are the best beaches in Koh Chang, from north to south.
White Sand Beach
Found at the very tip of the island, this is my favorite beach in Koh Chang. It's a really long stretch of sand backed by that really dense tropical jungle we all love. There are a sprinkling of restaurants to visit if you get hungry, and a handful of vendors that were walking around selling snacks and these very pretty Thai wraps that made for great impromptu beach towels.
The water is calm and shallow so it's a textbook swimming beach. And you may be able to guess from the name, but the sand here is sugary-soft and white. There are some places to stay and restaurants backing the beach which does lead to some tourists, but you won't have to fight for a space (it doesn't get that crowded). If you want a little more privacy, you can walk to the very north portion of the rocks to a little alcove that's really quiet. You'll need to climb over some rocks (and get a little wet) but you will probably have the place to yourself.
Find It: Found on the almost-northern most tip of the island. If you look up the address for one of the beachfront restaurants called "Pen's" you'll get an address to head to : 1 Ko Chang, Ko Chang District, Trat 23170, Thailand.

Or here it is in Thai if that's helpful to give to your driver: 1 ตำบล เกาะช้าง อำเภอ เกาะช้าง ตราด 23170


Lonely Beach
Looking for yet another beach where you can relax and hang out? All the beaches on Koh Chang are relatively similar, with wide stretches of sand rimmed with a thick jungle and dotted with a couple of coffee shops and restaurants. That's exactly what you'll find here. The waves are really gentle and the water on the whole is pretty shallow so come to Lonely Beach for an afternoon of sunbathing and swimming.
Find It: This beach is about a 30 minute drive south of White Sand Beach. Here's the address in Thai if that's helpful: ตำบล เกาะช้าง อำเภอ เกาะช้าง ตราด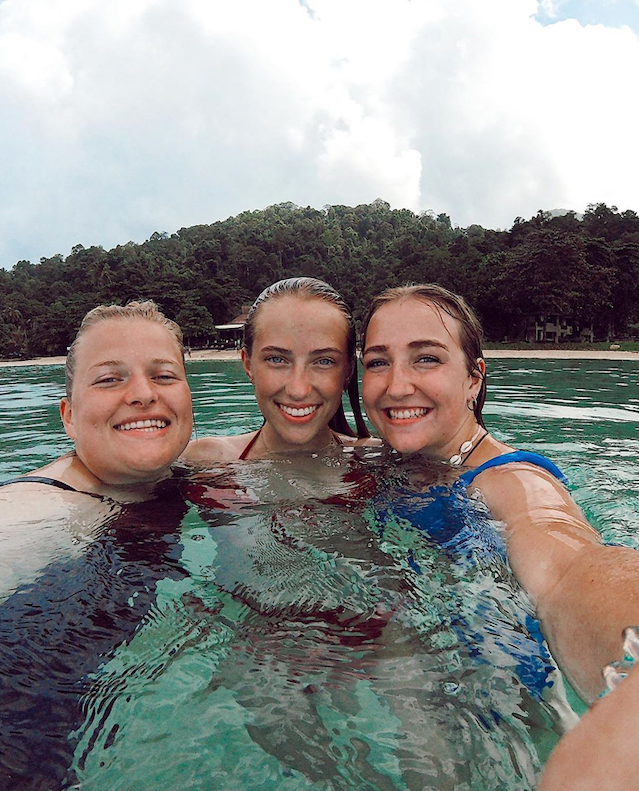 Kong Prao Beach
The water only gets about waist deep even if you walk way out from shore, so it's a great swimming and relaxing beach. Another thing to love? There are cute hermit crabs and lots of little sand dollars to keep you company. Half of the beach is filled with restaurants and bistro lights, but the other half is completely deserted so you can have it all to yourself.
Another perk of this place? You'll find a couple of swings in the trees before you hit the stretch of sand. It's a prime spot for a little mini photoshoot.
Find It: It's on the western side of the island, in the middle. It's the beach right by the Pajamas Hostel if you'd like to stay there. We have more info on the hostel below, but here's the address in Thai if that's helpful : 18/22 หมู่ 4, ต.เกาะช้าง, จ.ตราด เกาะช้าง 23170, Thailand
Other Things To Do Here
Hike To Klong Phlu Waterfall
Take a break from all the beaches to do a bit of hiking. This waterfall is one of the best parts of the island, a cascading waterfall that pools below for a fun place to swim, tucked away in the jungle just a bit. It's a fun half-day adventure, just know that it can get a bit crowded if you're visiting on the weekends during December - March which is the high season.

After paying the entrance fee, you'll make a short walk along the river outfitted by steps and ropes. It should take about 15 minutes before you reach the falls that tower around 500 meters above you.
There is another trail (named the Nature Trail) that's been opened which is more like a 30-40 minute hike if you'd rather take that.
Hours: 8:00 AM to 5:00 PM
Cost: 200 baht per person

Getting Here: Here's the address in Thai ตำบล เกาะช้าง อำเภอ เกาะช้าง ตราด 23170 (but if you type in the name of the waterfall, it pops up on Google if you'd like to find your own way there).
Check Out Some Viewpoints
Koh Chang is covered in rolling hills and mountains, leading to some pretty unmatched views. One favorite to not miss is the overlook above White Sand Beach, but this blogger has a list of 50 iconic viewpoints to hit on the island (which gives you a few more options on things to do as well).
Chill Out At The Sand Bar
There are so many different islands in Thailand and each one is known for something different, so the cool thing is that you can really get whatever experience you want by choosing specific islands. Some are more touristy, some are more deserted, some are more party-ish. One thing to know about Koh Chang? It's chill (and feels deserted in the best way possible). I felt like everyone who was in Koh Chang was there just to unwind. It was so relaxed, and a well needed break.
Case in point? At sunset each night, a handful of people just hang out on Kong Prao Beach to collect sand dollars and watch the sunset. It's very chill, very relaxed, and feels like the farthest thing from the tourist-crowded beaches you find in so many other corners of Thailand.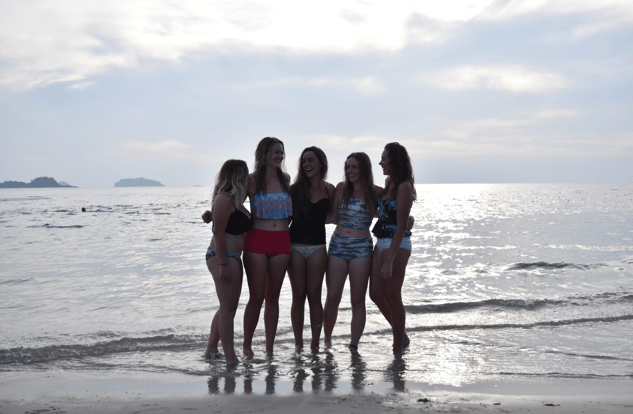 Where Should I Stay?
Stay At "Pajama's"
I've stayed at my fair share of hostels but this is one of my absolute favorites. Wondering what's a hostel in the first place? It's kinda of like a hotel, but with less amenities. You'll have the chance to save money by staying in a dorm room which may have a series of bunkbeds instead of having your own private room. When I'm traveling on a budget, I always stay in hostels.
If you're wanting my recommendation on where to stay in Koh Chang, make sure you stay at Pajamas. First of all, the name is adorable, plus it's a 2 minute walk to Kong Prao Beach. This plan also has a pool surrounded by bean bags and hammocks which are just perfect for napping in. A yummy breakfast is included and you can stay here for around $15 a night. Book on Hostelworld.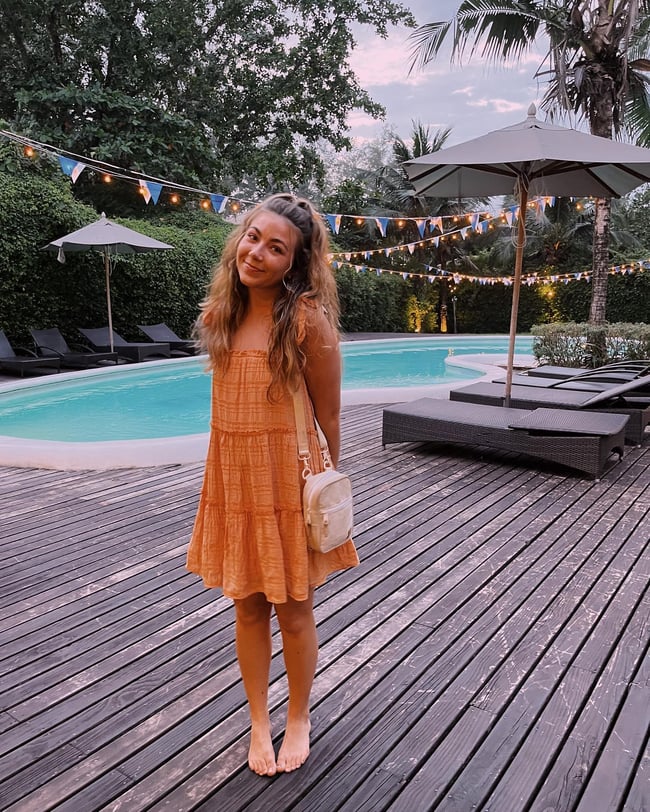 A Few Other Things To Know
How Long Should I Stay?
It's a small little chill island — I stayed for 2 nights and 3 days and got to see it all but I could see how you could stay longer, just lounging around. But I'd recommend about that time frame especially since there aren't really other islands to explore around (the other places you may have heard about like Krabi or Koh Phi Phi or Phuket are on the other side of the country, on the west).
If You Stay In The Bungalows
Koh Chang has some really cute bungalows that you can stay in, just be aware of the location. Here's what one ILP group said about their stay:
"We chose to stay in Bungalows which was so fun but there were bugs everywhere and it was a hike up there and not super close to the beach. But still incredible. I would recommend going just do your research and find something that isn't so far away from everything."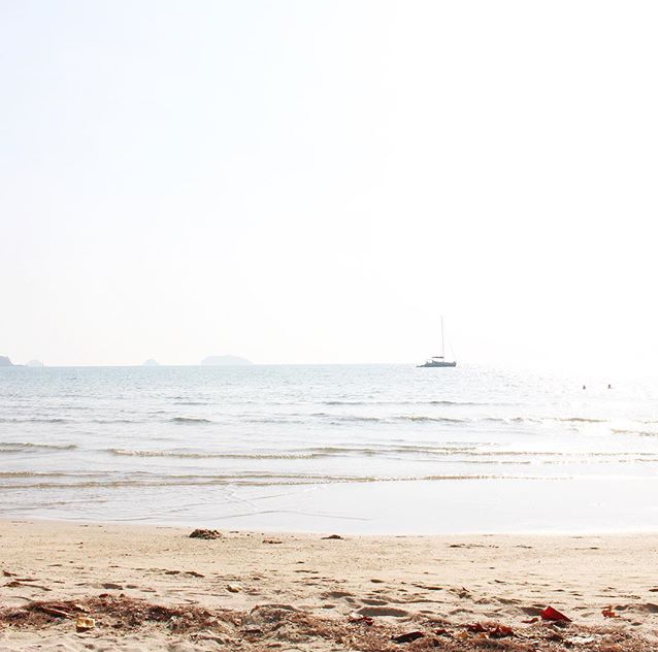 Getting To Koh Chang
This island is tucked off of the south-eastern coast, several miles up from the classic peninsula of Thai islands you typically think of when you think of Thai beaches. We adore the beaches and such in Krabi, but if you really want to get away, come to Koh Chang.
You'll need to head to the eastern side of the country, to a tiny little town called Trat. From there, there's a pier where you can take a ferry over to Koh Chang island. Here are those steps broken down in more detail (with some timing and price estimates).
Getting To Trat
Whether you're coming from up north like Chiang Mai or Phitsanulok or somewhere closer like Bangkok, you'll need to get to a place called Trat. In the past, ILP teachers have gotten help from their Local Coordinators hiring a van to drive them to Trat, so see if that's a possibility for your semester. It's about an 11 hour drive.

You can also go by bus. It's a bit longer (plan on 12-13 hours) but prices are in the 700 baht range from somewhere like Phitsanulok and about a 6 hour drive (for around 350 baht) if you're leaving from Bangkok. I like booking buses on 12go.asia
Flights are also an option. You can get a short flight from Bangkok (BKK) to Trat (TDX is the airport code). If you fly to Trat, just know the airport's terminal is basically the size of my apartment, it's itty bitty! Roundtrips from Bangkok are typically in the $120 range, give or take $15. Look on airlines like Bangkok Airways.

From Trat, Get To The Pier

Whether you are dropped off at the bus station or the airport, you'll need to get to the pier. You can easily hire a taxi (or pick up truck taxis called "songthaews" which cost around 50-80 Baht per person). It's going to be about a 35 minute ride just so you can plan on that.
Another thing to consider? Most hostels you book to stay at at Koh Chang include a passage via shuttle from the airport to the ferry if you ask when booking.
Then, Take The Ferry To Koh Chang
Via taxi, songthaews or shuttle, head to Ao Thammachat on the Trat side to ride the ferry to the Ao Sapporot pier in Koh Chang. It's about a 30 minute ferry ride and the ride is gorgeous. It's 80 Baht for one person, for a one way ticket. Get more info here.

Mainland pier departures: 6:30 AM - 7:00 PM
(usually leaving every 45 minutes)

Koh Chang Pier departures: 6:30 AM - 7:00 PM.
How Do I Get Around Koh Chang?

The island is rather small, and you'll easily be able to walk to most places depending on the location of your hostel. Where I stayed (at the Pajamas Hostel), we could walk to a restaurant street and a couple of beaches.

There are also songthaews you can hire to take you to the other side of the island if you'd like to explore the beaches. You'll likely see them around and can just flag them down like a taxi, or talk to your hostel if you're having trouble grabbing one. Several local gas stations have roadside maps of the islands that are clearly labeled in English, giving you a good idea of how to travel around the coast and visit the beaches you'd like to see.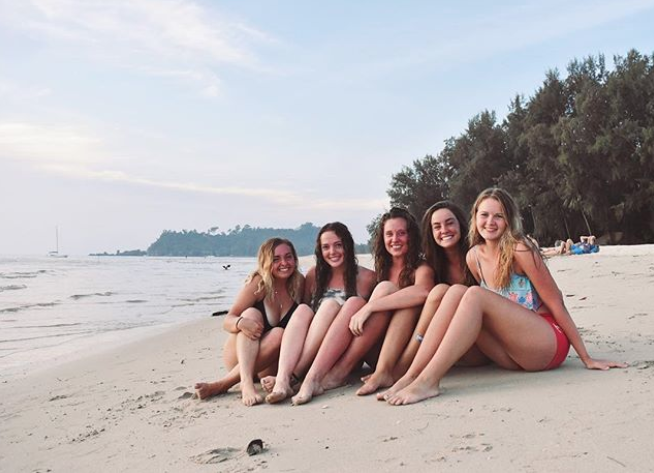 Need more Thailand in your life?
Of course you do — get a little more info about what a semester abroad with International Language Programs in Thailand looks like and other details by clicking that button: