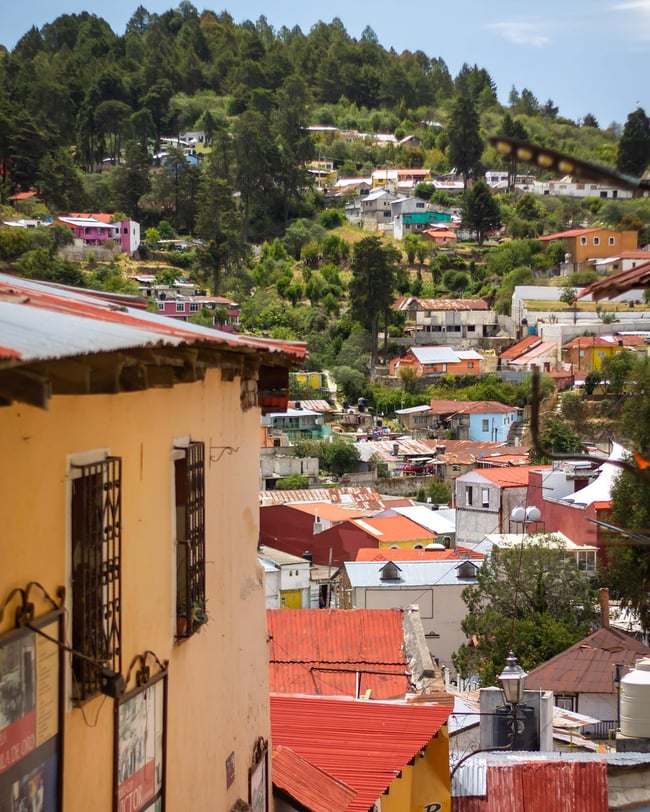 If you're hanging around Pachuca, Mexico, and are looking for the ideal place to spend a Saturday, take a combi over to Real De Monte.
I've been to Mexico a couple of times, but I've done the typical tourist thing — a cruise, a quick trip to Cancun to stay at a resort, etc. But once I had friends go to Mexico for a whole semester, I instantly wanted to do the same thing. Wondering why? Well, first off, the vacations are unreal, and the traveling? You could spend every single weekend of your ILP semester in Mexico visiting a new colorful city that the typical tourist trip never includes. Unreal.


---
Don't miss all the best vacations in Mexico
---
Every ILP location in Mexico has dozens of weekend trips. Seriously. That means every single weekend could be spent diving into waterfalls, trekking in the jungle, grabbing churros in a new city, and taking walks down colorful avenues in new Magic Towns. If you're looking for another weekend option for your ILP semester, I can't wait for you to read about Real De Monte.
A Little Intro To Real De Monte
First off, this place is charming. And it's packed with history. And visiting kind of is like taking a trip to Europe? But let me back up with a little background first. Real de Monte is found in the mountains of the Hidalgo region and boomed once silver was found there. This one town had silver mines that were producing more than half of all the silver produced when Spain was ruling Mexico (between 1521 - 1821). We're talking about over a billion ounces of silver (not to mention the gold which was mined here) which all brought wealth and prosperity to the small town.
The town also has a strong English influence because of these mines. When they needed serious repairs, the mines were purchased by a group of English investors who brought over 100 miners and engineers from England (more specifically, Cornwall). Many more Cornwallers came over to Real de Monte and nearby Pachuca, bringing familiar parts of their culture. The result is a region of Mexico with a unique soccer (or futbol) heritage and a tasty snack we love grabbing on the street: pastes. They're also famous for their cheese pies, so come to Real De Monte hungry!
Real de Monte is one of Mexico's Magic Towns and is well worth a weekend if you're nearby. Today, it's most famous for pasties, mine tours, and the colorful city center. (Oh, and it's sometimes called Mineral del Monte if that's helpful info to know).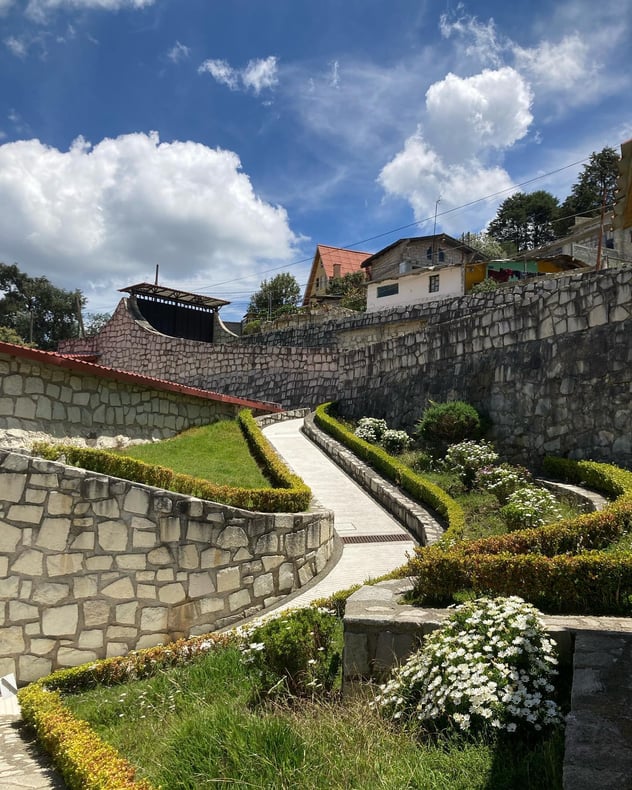 Highlights Of The City
See The Acosta Mine
This massive mine was operating between 1727 and 1985, but now is part museum, which allows visitors to take a look into the expansive mining operation that shaped this town (and many others). The museum allows a look at how the mine transformed from the time of the Spanish (where all materials were carried out by hand in long, 18-hour shifts) and the English (who installed tracks and other infrastructure which sped up the mine's production).
In addition to a deep dive into the history of the mine, and a glimpse at the mining tunnels, the tour includes a stop in the house where the British superintendent lived as well as a stop at one of the oldest fireplaces in the mine.
Hours: 10:00 AM to 6:00 PM, closed Mondays.

Cost: About 55 pesos.
Tour The Casa del Conde de Regla
Real de Monte is peppered with expansive Spanish and English mansions built by the families that prospered from all of that mining. One of the most famous is the home built by Pedro Romero De Terreros, also known as the Count of Regla. He was most likely the wealthiest man in Mexico, thanks to the mines. His mansion was nicknamed the "house of silver" because of all of the silver objects that decorated the space. Now, you can visit the Spanish-style mansion and courtyard.
Find it here.
Visit The Paste Museum
We touched on this topic in the intro, but the beloved Cornish pastry has really taken hold in this part of Mexico. If you didn't know, pastes are a type of empanada-style snack, where various fillings are surrounded with dough, then baked or fried. Find pastes filled with potatoes and ground beef (if you're being traditional), but you can also find ones filled with cheese, mole, or beans ... or find sweet ones filled with fruit.
You can find a few recommended places to buy pastes below, but a major thing to do here is to visit the Museo del Paste which details the history of this famous English pastry, and even learn how to make your own!
Hours: 10:00 AM to 5:00 PM, closed Tuesdays

Cost: 35 pesos (includes the cost of making your own paste)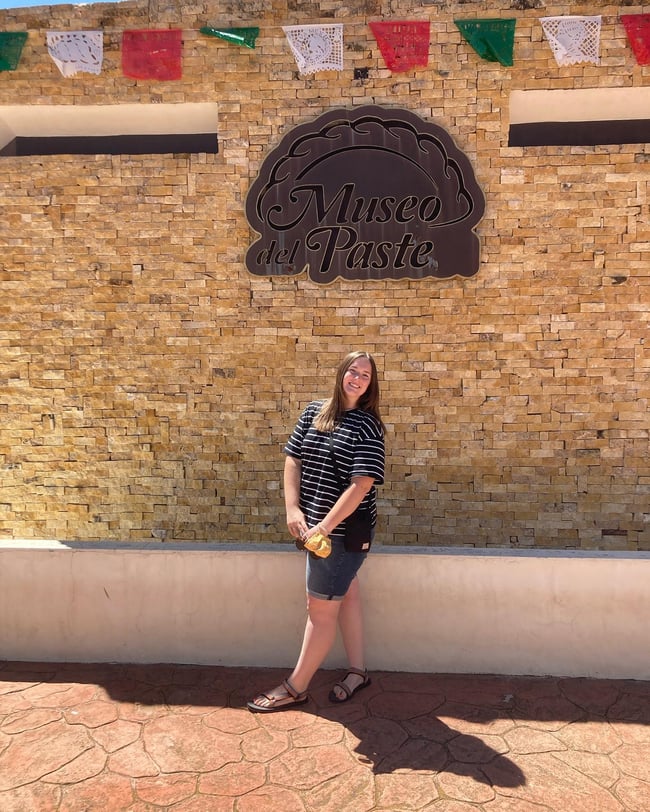 Stroll Around The English Graveyard
This picturesque spot is found on the hills about a mile outside of the city. About 400 headstones are found in the Panteón Inglés, which is about half of the number of former Cornish residents buried here). It is known for its beautiful tombstones (there are approximately 400 headstones representing the approximately 750 Cornish buried here). Here's what one ILP group had to say about their visit here: "We also walked all way to the English cemetery. That was fun too — it was very peaceful up there and got to have a beautiful view of the town from the walk."
Soak Up The Colorful Streets
This is kind of something you just have to do in almost every Magic Town, but the colors in Real de Monte seem to be extra vibrant. The town center is home to an orange cathedral, pink restaurants, and cream churches with red staircases. I typically like to have a little direction to my wandering around, so if that's you as well, highlights to see include :
There's the impressive English-style mansions, as well as the kiosk and fountain in the main garden. Of course, every few steps you will have shops that offer you pastes and several silver workshops
Maybe you'll be lucky enough to visit when there's a festival or celebration, and the city streets will be strung up with colorful Papel picados.
A Few Tips
Eat The Pastes
There are several paste places around, including a paste museum (more on that above). If you're looking for recommendations, these are some of the more popular options around town: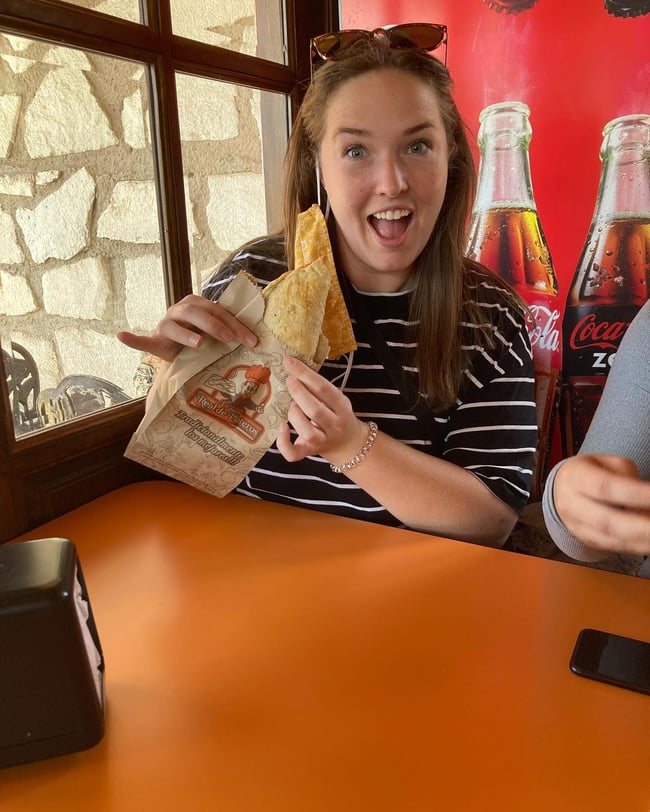 Silver Souvenirs
You already know that silver is a favorite souvenir from this part of Mexico. Around the town square, you'll find a handful of stores and shops selling the two most famous things in Real De Monte: pastes and silver. If you do some shopping here, we'd love to include some ideas on prices and recommendations — let us know in the comments!
It's A Fun Trip If You're Nearby
We love all the places to see in Mexico, but consider Real de Monte as one to explore if you're already close. Some weekend trips are worth a long bus ride, but this is more of a fun Saturday or Sunday thing if you can grab a taxi or pay for a cheap combi ride over. If you're not living or vacationing close to Pachuca already, I'd rather spend my at these top weekend trips in Mexico.
Getting Here From Pachuca
As we mentioned, this is a quick getaway if you're nearby — we've had groups visit from Pachuca. From this fun city, you can easily hop in a taxi to visit Real de Monte for the day. Or, go by bus. Both are around a 30-minute ride and are just a couple of dollars (you can split the taxi fare with members of your ILP group). A combi is about 15 pesos each way.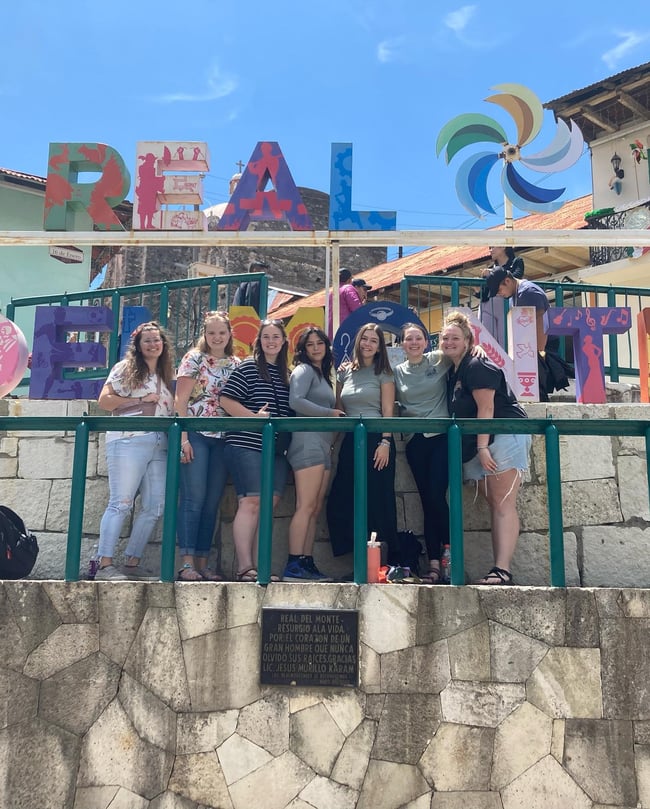 See the real Mexico
We love the favorite beaches most tourists know about, but something about spending every weekend in a different city and calling Mexico home for a semester seems to be the best way to experience this country! See what living in Mexico as a volunteer is like, right here: