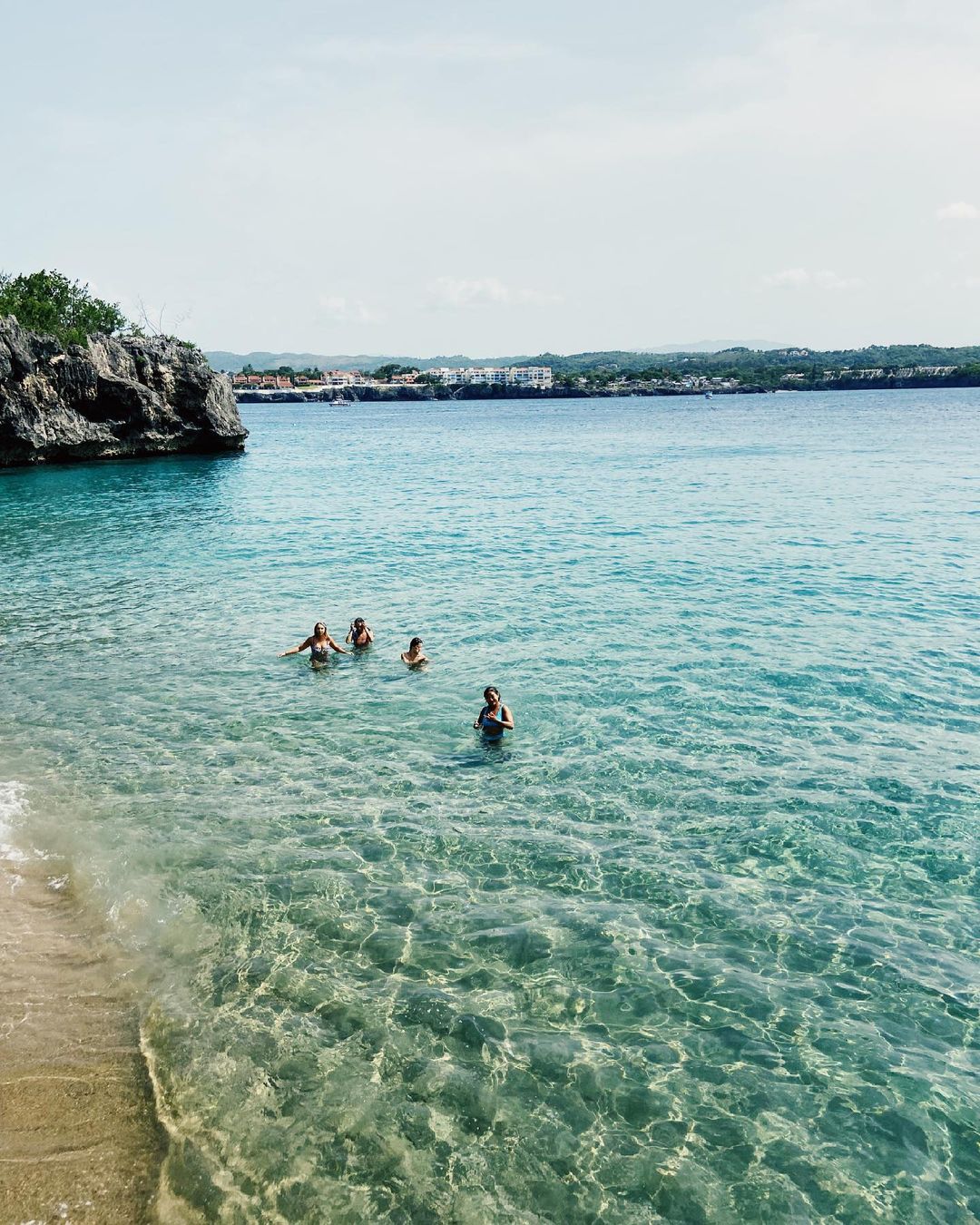 Splash around in the clearest waters on this side of the island, hire a glass bottomed boat for an afternoon of snorkeling, and more on Playa Alicia.
Heading to the Dominican Republic means days and weekends on the beach. But when you're surrounded by coastlines, which beaches are the best to visit? When you're looking for soft sand, sun-soaked coasts, and warm Caribbean blue water, Playa Alicia fits the bill. Out of all the beaches in the DR, this is one of the favorite beaches for a whole list of reasons.


---
Our favorite adventures, in one spot
Dominican Republic Destination Guide
---
Things To Do At The Beach
Snorkel On A Glass Bottom-Boat Tour
On the shore, you can hire a boat out for an afternoon of snorkeling. Double check to make sure your tour includes the snorkel gear (masks, lifejackets and maybe fins) before taking them out for the day. We've heard of some tours that will also include a bottle of bread that you can use to feed the colorful fish that float along the reef, so ask about that too if you're interested.
The glass-bottomed boat isn't a necessity, but it's super rad if you can find someone who has one to take you out on … while you're cruising to the snorkel spots around the coastline, you can peer down and see the fish underneath the glass.

When it comes to cost, there is some wiggle room. One group of ILP volunteers got a snorkel trip for a couple of hours for about $10, which included the fish food and all the snorkeling gear. You'll find vendors advertising by their boats along the shore or signs right up by the entrance of the beach, along the boardwalk that's near the resorts above the beach.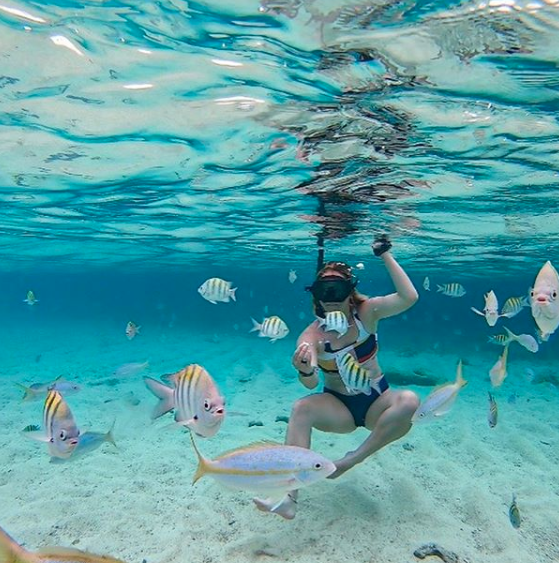 Jump Into The Blue Waves
The waves are gentle here, making Playa Alicia the perfect swimming beach. While you're more than welcome to walk into the waves, the beach itself is rounded into a half moon shape with rocky little cliffs on one end .... and these cliffs make for the perfect jumping off point. If you're brave enough, you can climb up on the black rocks to where the cliff levels off and you can jump into the turquoise waters. It's not a terribly high leap, but it's quite the thrill.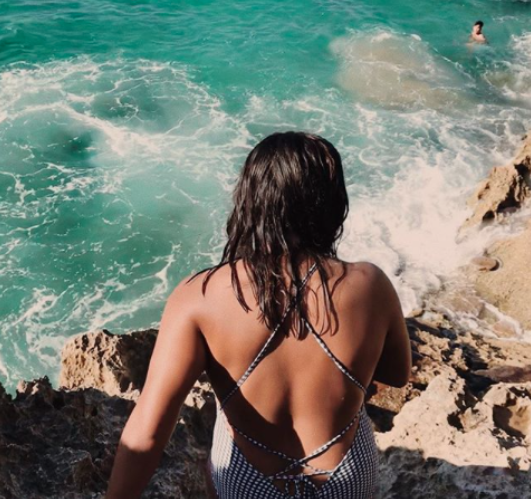 Rent Chairs And Sunbathe
There is no shade on this stretch of sand unless you head to one side of the beach where there is a thin line of trees. If you don't want to camp out there, you can rent out chairs and an umbrella to give you some shade during your day in the sun. You can rent a chair and umbrella for the whole day for about 100 pesos, but vendors will sometimes try to get you to pay more.
Sometimes there are also vendors walking around selling fresh coconuts if you get thirsty, but overall, it's a pretty quiet beach that's not totally overcome with tourists or vendors trying to sell you things.

A Place To Eat
The beach is right next to a resort, so you'll find a few restaurants up on the boardwalk near the resort entrance. However, ILP volunteers highly recommend trekking out to Captain Bailee's (formerly known as Bailey's). The food is fabulous and has killer good prices. Order things like pasta dishes, platters of fresh fruit, burgers and fries, kabobs, and a bomb American breakfast: complete with pancakes, scrambled eggs, and bacon (to name a few). It's just a short walk from the beach, maybe 5-15 minutes depending on where you are on the sand.
Address: #3, Dr. Alejo Martinez, Sosúa 57000, Dominican Republic
Hours: 8:00 AM to 12:00 AM, daily
Getting To Playa Alicia
From Puerto Plata
Our advice is to take a gua-gua. They are little busses/vans that go around the city and are the way to go for visiting beaches on this side of the island. Plan on paying about 100-150 pesos for a gua-gua to get to Playa Alicia. It's about a 45 minute ride typically, though can sometimes be more like an hour or an hour 15.
If you can't catch a gua-gua home, you can take a cab or Uber (although just notice this option is more expensive so we like the gua-gua much more). Sometimes, Ubers aren't super common in this part of the DR (they tend to hang closer to Puerto Plata) so it's nice to have a phone number or business card of a taxi driver you can call to come pick you up, just in case.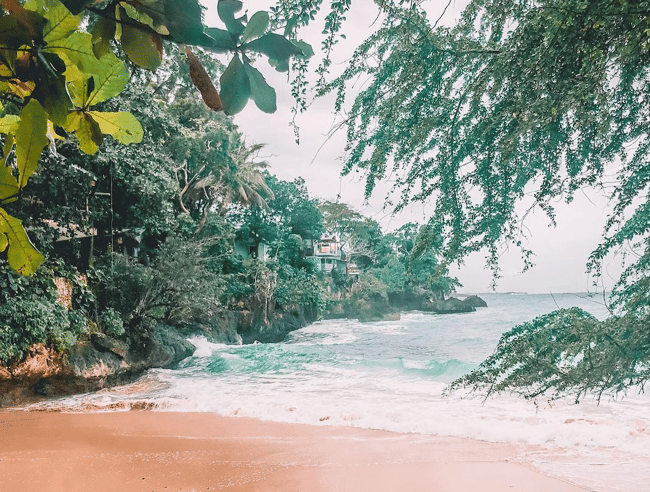 How Long Should I Stay?
It's an easy day trip from Puerto Plata since it's so close, and such a gorgeous beach. One ILP volunteer said that "Playa Alicia also has the clearest water I've seen around here and not a lot of tourists so it's nice to go and chill around there." It's a pretty quiet and relaxed beach where you can easily spend a lazy afternoon.

However, some ILP volunteers like to make it into a weekend by visiting both Playa Alicia and nearby Sosua (another total favorite spot). It's another great beach, where you can soak up the sun, clear waters, and the soft sand … and hunt for some sea glass. You'll also find cute cafes (with yummy smoothie bowls) and other water excursions. Get our guide to Sosua here: the beaches are about a 10 minute drive away from each other, so think about making a weekend trip out of both places.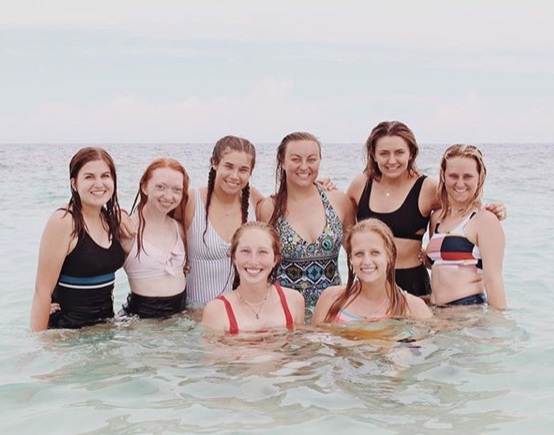 Spend a semester in the Caribbean
ILP's a non-profit organization who sends volunteers to the Dominican Republic to teach English and experience life in this part of the world! You'll spend part of your time giving back on this humanitarian trip and part of your time finding your favorite beaches.