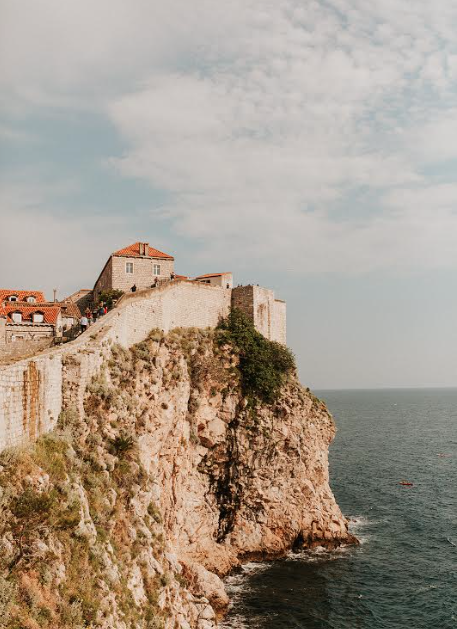 Most tourists are flocking to the southern coast of Croatia, but hiding up north is the country's prettiest peninsula.
Found right across from Venice, Italy is the Istria peninsula, a best-kept secret for travelers in the know. This space juts into the glittering Adriatic ocean (boasting pretty beaches) and rimmed with colorful coastal fishing villages with a strong Italian influence. We're huge fans of exploring the more popular parts of Croatia (who can say "no" to all the islands you can visit from Dubrovnik?) but there's something about lounging on beaches that the rest of the world isn't visiting.
Wondering why this part of Croatia isn't on your radar (yet)? We're not surprised since it's not as touted by Instagrammers and travel bloggers as other parts of this country. But we love it even more because of that fact.


---
We've mapped out the best of Europe right here.
European Destination Planner
---
You'll find a blend of Italian and Slavic influences in this part of the country, along with a smattering of cities hugging the coast, full of towering lighthouses, colorfully quiet streets, ferry rides to national parks, and small fishing villages. To help you figure out which gems are perfect for your itinerary, we've highlighted a few things that are really worth seeing in Istria, plus some tips to help you plan your trip.
Rovinj

Pula

Fazana

Bale

Labin

Getting To + Around Istria
Rovinj Town
This photogenic spot is a network of twisting city streets painted a rainbow of colors. There are still some crowds who visit Rovinj, but it's nothing like the swarms that hit Dubrovnik or Split. Make sure you schedule out time to just wander around — you'll stumble on melon-colored buildings adorned with flower boxes and sunshine-yellow shutters. Tito Square (Trg Marsala Tita) in particular has a distinctly Italian feel: peek overhead to see laundry strung out to dry between apartments and tiny alleyways that step down into the blue-green water of the harbor.
For a view of the whole red-tile city, head to the Church of St. Euphemia's Bell Tower. It's situated uphill from Old Town, and once you climb almost 200 creaky wooden stops, you can hang out on the viewing platform for a view of the city situated on the glittering coastline.
If you're visiting in the middle of the summer, a swim is definitely in order. Best swimming spots are all over: We like the idea of grabbing lunch at Mediterraneo Bar then hopping right into the water from the deck where you can order sandwiches, fresh seafood and smoothies. There are pastel-painted wooden tables and chairs set up right by the water's edge. Balota Beach is another favorite pick, found right near Old Town and is peppered with sunbathers on the rocky beach.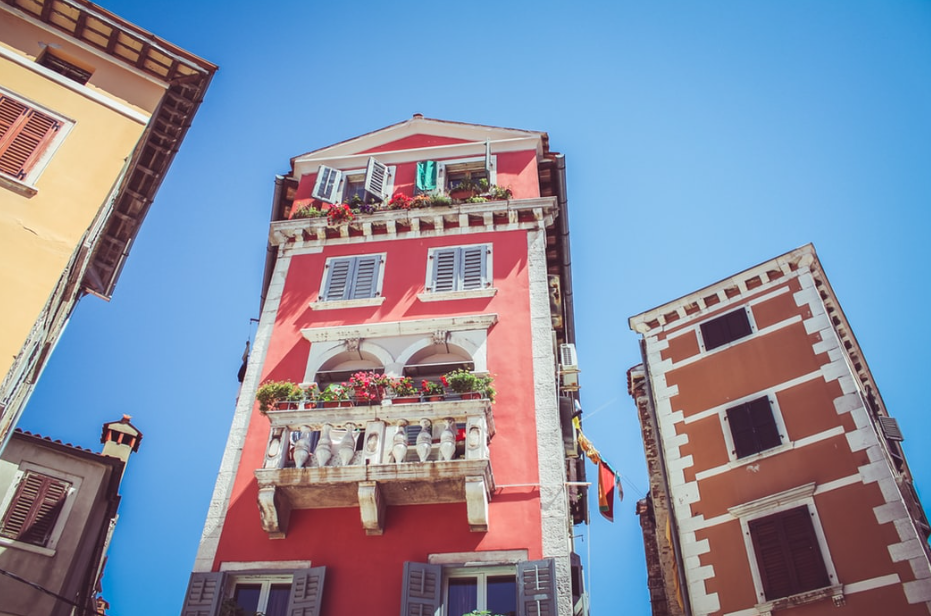 Pula
Who knew a visit to this part of Croatia would feel like a mini trip to Rome? The city has a distinctive Italian feel (a nod to its history), made particularly prominent when you see the huge coliseum that was used for gladiator fights (complete with lions!) until 400 AD. The arena is incredibly well-preserved and is the highlight of the city. Roman temples and forums mark the entrance to a crumbling Old Town, adding to the Italian flair found in Pula.
Overall, Pula feels more urban than the others on the list (it is the largest city in the area) but that does come with some perks: the city sports a few of the best museums in the area. Spend an afternoon in the Galerija Makina, the premiere spot for emerging Croatian photographers, or the Archaeological Museum of Istria if you want to browse remnants of Pula's Roman past. You'll run into coins, jewellery, pottery, and other artifacts. There's also the Olive Oil Museum for all the foodies around. The area around Pula is often compared to Tuscany, with sweeping grape and olive orchards (keep an eye out for flavored olive oils around town to take home as a souvenir). You'll want to check out Sergijevaca Street for little boutiques and restaurants, too before you leave.
If you'd like to spend a few hours by the beach (who wouldn't with that gorgeous turquoise water?) Pula's near a few great beaches. We're big fans of the sandy bits of Valkane beach, or you can hang out in the shady shores of Histria beach.
Fazana
Tucked away on the southwestern part of the peninsula, Fazana is most well-known as the gateway to island hopping. Just off the shores of Fazana are the Brijuni Islands, a collection of islands boasting Italian history, a National Park, and a few surprises. Just hop on a ferry (here's the schedule from Fazana) and you'll reach the largest island, Veliki Brijun where you can take a guided tour (by foot or by train) around the National Park or rent bikes to go exploring on your own. You'll run into the ruins of sprawling Roman villas or explore the safari park (complete with elephants, lions, and zebras). Some of the oldest olive trees in the Mediterranean call this island chain home.
After your day trip to the islands, spend a sunny afternoon in Fazana. It's a sleepy coastline, with a small yet colorful city dotted with palm trees, a striking clock tower, and restaurants serving seafood, of course. The Old Town is bookended by the ocean, allowing an easy few hours on the beaches. "Children's beach" is the most famous because the pebble beach is shallow and calm, making a great swimming spot. In a nutshell, Fazana is a city you visit to just sit, eat gelato, and watch the sunset over the bobbing boats in the harbor.
Bale
A smattering of medieval houses surround a Gothic-Renaissance in this bohemian city. Bale is rather spread out, reaching the coast and the hilly mountain section towards the north. The city itself is situated atop a hill, giving you quite the view from above. It's a quiet little city, with buildings mostly built in the 14th and 15th century — you'll find colorful art galleries, a cantaloupe-colored Town Hall building, and some restaurants in the "downtown" but the real charm of the city are the soundless stone streets. The entire network of neighborhoods are tucked away behind gray stone archways, with weathered wooden doors and painted shutters. It's gorgeous.
If you do want to spend some time on the coast, just head down from the city itself about 4 miles and lounge on the pebble beaches. San Polo is one of the most popular, with beach chairs and umbrellas to rent out for the day and calm waves. You can make a whole day of the visit, riding on the whimsical train transfer that will take you down from Bale city, to San Polo beach, over to Paleo Park (a dinosaur-themed water park), then back to Bale City. Get the train schedule here.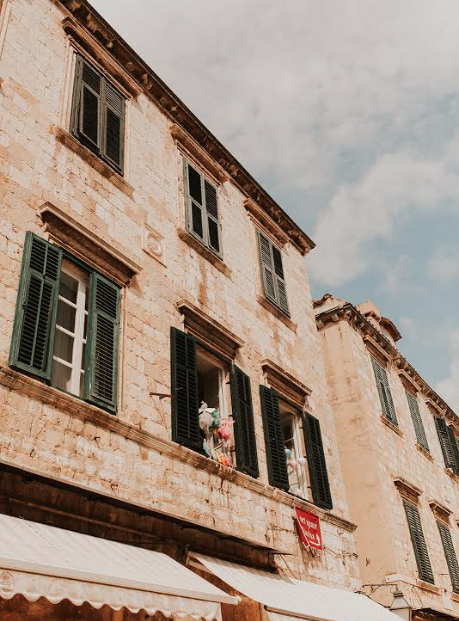 Labin
Labin's a hilltop city painted a rainbow of colors. Formerly a mining town, now Labin is a quiet day trip from the bustle of Pula. You'll find canary-yellow homes adorned with green shutters, and towering red-orange Baroque palace, orange towers, and a thick hedge of bougainvillea adorning most of the restaurants in the Old Town. It's a colorful mix of Baroque, Gothic and Renaissance architecture. If you're looking for something other than just admiring the stoney city wall and colorful buildings in Labin, you can do a tour of the mine in the City Museum, which houses a recreation of the mine's claustrophobic chambers.
Head down to Rabac if you fancy some time near the beach. It's a sheltered cove, pebble strewn beach that dips in the turquoise water of the Adriatic. Behind the shore, there's a swarm of high-rise hotels creating one of the more popular beach resorts in the area. It's just about 2-3 miles away from Labin.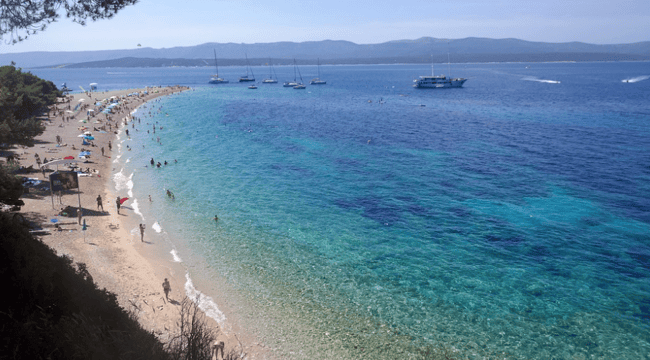 Getting Around The Peninsula
Get To Pula First
Time for a little logistics. The best option is for you to get to Pula, then use that city as a jumping off point. Pula is easily reached by bus (Check routes, times, and prices on GetByBus) — there are multiple routes a day from popular spots like Podgorica, Split, Zagreb, Venice, Ljubljana, and several others. Or you can fly. The Pula airport is just a few miles outside of the city center, so just a quick taxi ride and you're right in the downtown.

We like looking on Skyscanner for flights to Pula (PUY) if a flight works better in your itinerary, but flights tend to be very expensive (around $200+ from Montenegro or Slovenia).
Getting Around By Bus + Taxi
The cities we listed above are all easily reached from Pula, whether that's by bus or by hiring a taxi to take you out.
Pula to Fazana: It's a 12km drive, best reached by taxi
Pula to Rovinj: Best reached by bus, just a 30-45 minute drive that will set you back 5-6 euros. Check times on GetByBus.
Rovinj to Bale: There's a 3-4 euro bus that'll get you there in under 30 minutes. Check times on GetByBus.
Pula to Labin: A bus from Pula to Labin is just under an hour and costs 6 euros. Check times on GetByBus.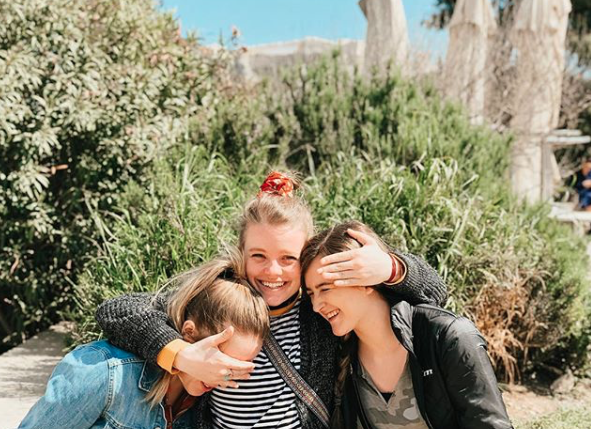 Come see Croatia with ILP!
We're now accepting applications for our exchange and humanitarian programs in Europe! Volunteers will be teaching English or helping in an orphanage, with weekends off and vacation days to hop over to places like Croatia. Sound like your kind of adventure? Let's keep in touch —