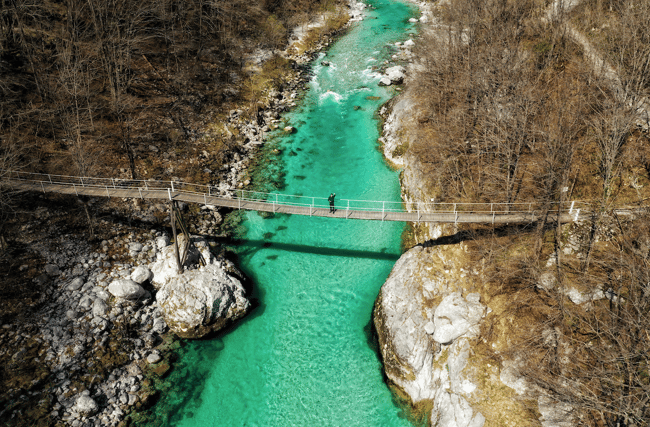 Spend a weekend in Venice, Italy before hopping over to Slovenia to explore part of Europe while paddlboarding.
Vacations in Europe are pretty topnotch. Think about spending your afternoon touring famous museums, lunching in the cutest cafes, and seeing iconic buildings for yourself. Plus, it's beyond easy to hop on a train or bus for the day and end up in a different city or even a different country. But one thing I love the most is finding experiences that you wouldn't expect ... like paddleboarding through the most magically colored river (just wait to see pictures of this place!)
If that sounds like your kind of adventure, you're going to want to read all about the Soca River, just outside of Bovec, Slovenia.
---
Pst, wondering how to get to Europe in the first place?
Spend a semester volunteering in Europe, complete with vacation time.
---
When I was volunteering in Europe as an ILP volunteer, I ended up visiting 10+ European countries before leaving ... but wished I could have seen more! One spot I didn't get to see but have plans to visit as soon as possible? The country of Slovenia. It's weirdly less popular than buzzword spots like Croatia or Italy but boasts the same pretty perks, plus other adventures, like loads of paddleboarding. Here are the details you need to know.
Paddleboarding The Soca River
What To Expect
The Soca Valley is a stunner, with a winding turquoise river that's only interrupted by emerald foliage and surrounding hills that rise into snow-topped alps. Think of getting a 360° view that looks like it should be printed on a postcard.
The river and surrounding valley are found in the western corner of Slovenia, which is found right by the border of Italy. You can see why several adventure companies have jumped on the opportunity to set up camp here — besides paddleboarding, you can find rafting, canoeing, hiking, and more.
We have pulled a few companies to look into on your own to see which would be the best fit. Just know there are a lot out there, so do your own research to see who to book with.
Some Tour Options
There are a lot of companies who can take you out for an afternoon of paddleboarding on the Soca River. In general, most leave from the Bovec — we have details on how to get to Bovec below (and some other things to do, so you can make a full trip out of it). Make sure you're looking into a company that'll give you all the necessary equipment like a lifevest and neoprene (for colder weather) and a little "how to paddleboard" lesson.
Plan on around a 45-minute drive from Bovec into the Soca Valley (which is beautiful). Most tours include the chance to jump off into the water and do some swimming, so be prepared for that. Most tours are a half-day deal.
Bovec-SUP has a tour for 60 euros which includes complimentary photos and some snacks.

Get more info here

.



Boka Outdoor Spoors has a SUP tour for 65 euros or other tours that go up in price but include a few more perks.

Get more info here.





This option

shakes out to be around $60 USD with some very happy reviews you can read on Viator.
When To Visit?
The water is nice and refreshing for the hot summers, so if you're visiting in the summer months you're good to go. The last bit of April and May are also nice times for a SUP in the Soca Valley, same with early fall. The river depends on snowmelt which impacts the levels of the river, but also the temperature. Just keep that in mind! If the weather (or the water) will be chilly, most tours offer neoprene suits to help keep you warm while you paddle around.
Get Yourself to Bovec (And Do A Few Things)
Bovec is the best jumping point for paddleboarding the Soca River, so you'll want to find a place to stay in Bovec and go from there. But don't just stay for one day! There are tons of things to keep you busy in Bovec, so it's a good 2.5-4 day play to hang out. We have some suggestions on nearby trips to add to your stop to Bovec to help you figure out the rest of the itinerary.
More River Adventures
Like was hinted at earlier, there are tons and tons of adventures around the river and mountains in this part of Slovenia. Hiking, canyoneering, kayaking, paddleboarding, and more are all options. We linked above to a few well-known tour agencies in the area for paddleboarding, but quite a few also offer tours for additional mountain/river adventures so check those out if you're interested.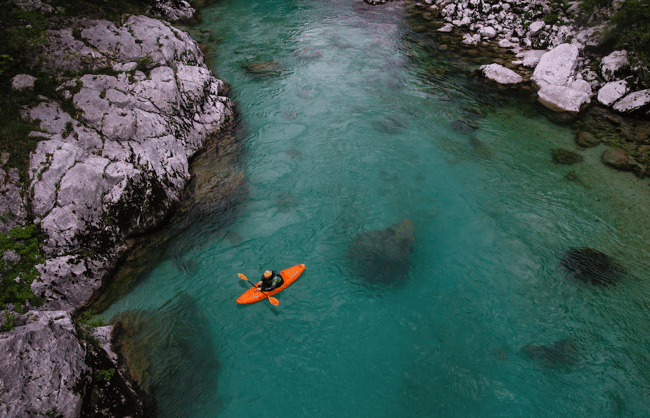 See The Small Town Of Bovec
Bovec is a little town that is the definition of charming. It's home to picturesque little cafes and restaurants, all surrounded by towering alps (and too many outdoor adventures to count). Though small, Bovec is nicknamed the adventure capital of Europe!
Before leaving you'll need to try Čompe & Skuta which is a cottage-cheese and potato dish that's hugely popular here. Though it's a pretty small and quiet place to be, there are more than a few restaurants to choose from, so make sure eating is on your to do list.
If you really want to dive into the cuisine here, drive down to Kobarid (around 30 minutes away). It's home to some of the country's' finest restaurants and most famous chefs. There is also a fantastic museum about the town's influential role in WWI.
Hike To A Few Waterfalls
Try hiking Slap Virje. The little town of Pluzna is just a 5-10 minute drive from Bovec, making it a nice little side activity. Some even hike there from Bovec which ends up being around a 10k loop if you'd rather (it should take about two hours). The waterfall pools at the bottom leaving a refreshing spot for a swim in the chilly water. This site has turn-by-turn directions on how to get yourself there.
Another option is Slap Boka. It's a tall and wide waterfall that's easily seen from the main road through the Soca Valley. From Bovec, it's around a 7-minute drive where you can see the waterfall from the road (just as your driver to park north of the bridge or by the hotel and enjoy the views from there) or hike on up. From the left of the bridge (you'll be facing the falls) there is a sign that lets you know where the hiking path is. It's well-marked and a pretty short hike (it is rocky, so wear the right shoes).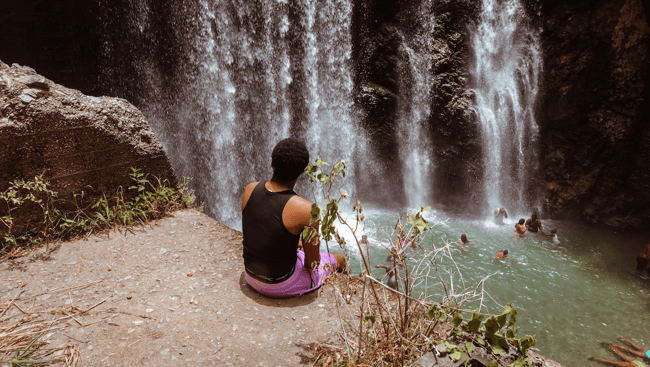 Nearby Vacays To Add On
Ljubljana, Slovenia
If you'd like to do more paddleboarding come to Ljubljana! You can SUP on the river which winds right through the middle of the city, meaning you can trade walking around Old Town to paddling around Old Town. Ljubljana is a bridge-strewn city is lined with charmingly pretty European buildings and topped with towering castles and a place to see if you're going to be in Slovenia. Get more on Ljubljana here.
From Ljublana, you can take a 4ish hour train ride to Bovec. Check routes and itineraries on Omio.
Something else to note? Several cities have good train/bus connections through Ljubljana so that may be an option as well (for places like Zagreb, Croatia for example). Plus, loads of flights from nearby European cities fly here (check routes on LOT airlines, Wizz Air, Aeroflot, Easyjet and, AirFrance) then you can just hop on a bus or train to Bovec.
Bled, Slovenia
Surrounded by the towering Julin Alps, Lake Bled is just stunning. I mean, a few pictures give you an idea of how pretty this place is. In the summer months, the lake's water takes on an almost Caribbean appearance, with pockets of baby blue that melt into a bright turquoise that will transport you to more tropical getaways ... until you glimpse the island. In the middle of the lake, there's a leafy island that is home to a steepled church decorated with Gothic artwork that's some 600 years old. Get more on Bled Lake here.
You can get to Bovec from Bled is around 3-hour via bus (it's a summer-seasonal route for around $10-$21). Going by car is also an option (for about half the time but 10x the price).
Venice, Italy
I'm sure this isn't a city that needs a lot of introduction — you should know what's waiting for you with a visit from Venice! Think those beautiful canals, gondola rides, and more. You can get more on Venice here for some insider tips on what to do, where to stay, and what to eat while you're here.
Bovec is just a 3ish hour train ride away. You can start in Venice and train to Tarvisio Boscoverde before taking a car the rest of the way there (Uber or Taxi). We love booking trains on Omio.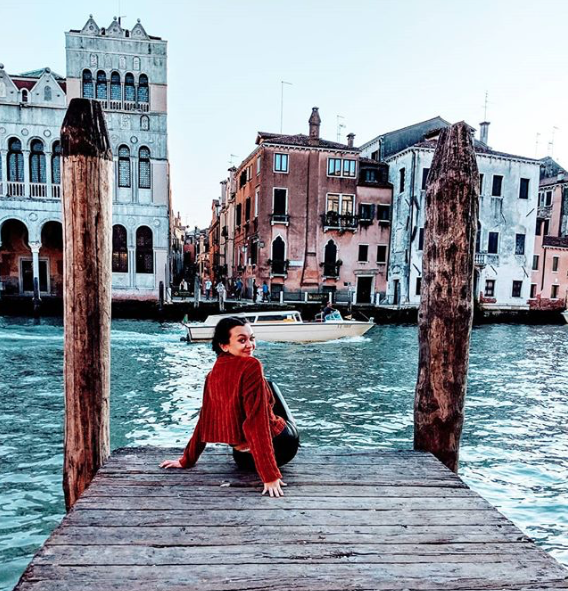 Thinking you're ready for a trip to Europe?

How about the chance to live in Europe for a whole semester? I loved volunteering in Europe with ILP! I spent time teaching English part time, but always had weekends off (and vacation days) to do so much traveling. Come learn more here: