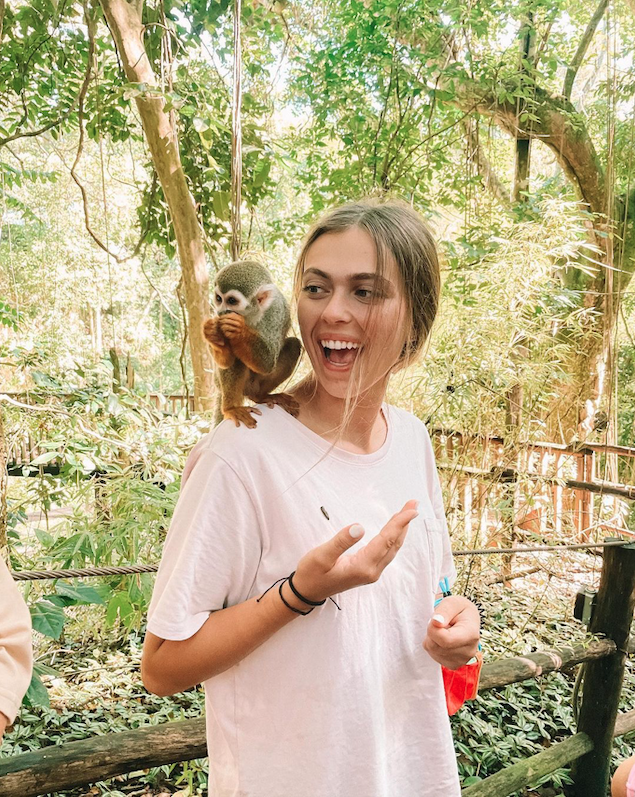 The next time you plan to visit the Dominican Republic, don't miss your chance to play with monkeys in this jungle park.
Found just around the corner from one of our favorite beaches on this island (hi, Sosua!) is a national park full of these cute little monkeys. Join them for snack time (they love munching on nuts and fruit) then zip line through the jungle. Sounds like the perfect day trip to me!


---
Thinking about volunteering in the Dominican Republic?
It's easy to get started, just fill out an application
---

Here's all the info you need for a trip to this monkey jungle:
What Can I Do There?
Time For Monkeys
When you're in the monkey jungle, you are given a plate full of fruit and nuts and the monkeys know you have food so they climb all over you (including on top of your head) to eat. There are dozens of squirrel monkeys (who are all pretty messy eaters so make sure you don't wear white!) There is also an area with Capuchin monkeys in an enclosure you can get up close to.
The cool part about this jungle is that all of the monkeys are rescues. In the Capuchin monkey area, you get to learn more about them and each of their individual stories, which can be pretty sad but also hopeful — this organization is focused on rehabilitation and protection. By nature, these types of monkeys are more aggressive so you won't get to feed them, but it is still fun to learn more about them and see them up close
Go Zip Lining
You can also go zip lining here. The park is home to a series of 7 zip lines, all with varying speeds and distances. The guides are all qualified volunteers who'll set you up for your zip lining trek. As far as pictures go for this part of the park, you can purchase the photographs taken by the ziplining company for around $18 (or you can take your own pictures).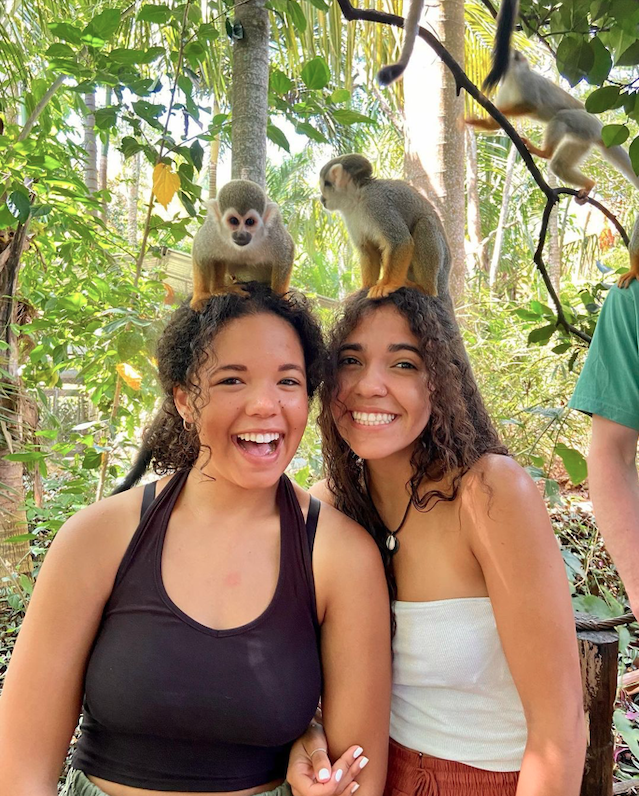 Location + How to Get Here
Monkey Jungle is located right outside of Sosua, on the outskirts of El Choco National Park. Most volunteers are here on vacation, then take a day to explore the National Park.

To help you navigate the island here's a post about transportation in the Dominican Republic. Once you know how to get around, you can save some money by using public transportation to first get to Sosua, then over to the Monkey Jungle!
From Puerto Plata take a guagua (a type of bus) to Sosua. It should cost about 65 Dominican Peso, which is about $1.50 USD. It's easily the most affordable way to get from Puerto Plata to Sosua. That post above has more info on how to take a Gua-Gua here.
From Sosua the best option is to take a taxi to the actual park — round trip it'll cost you about $50 USD. But hey, if you have 4 passengers then that'll cut the price to about $12.50 USD each, which isn't bad for each person in your ILP group! You can hail a taxi or call and Uber to take you there. Here's the address if that's helpful: Carretera El Choco 9km, 57000, Dominican Republic. It's about a 35 minute drive there from Sosua.
There aren't any taxis in the jungle, so you will need to set up a round trip taxi to take you back to Sosua. Just give your taxi driver a time to meet back up with you (make sure you pay at the end, or pay half to help make sure they'll wait for you while you're out in the park).
Take A Tour
There are also many different tour companies that are willing to take you here. Isaira Tours is an option to consider — they have a fee to pick you up in Sosua, or around somewhere elsewhere (and want to visit from somewhere around Puerto Plata). Their website has contact information that's very receptive to questions if you have them.
Price is $90 per adult for this tour option.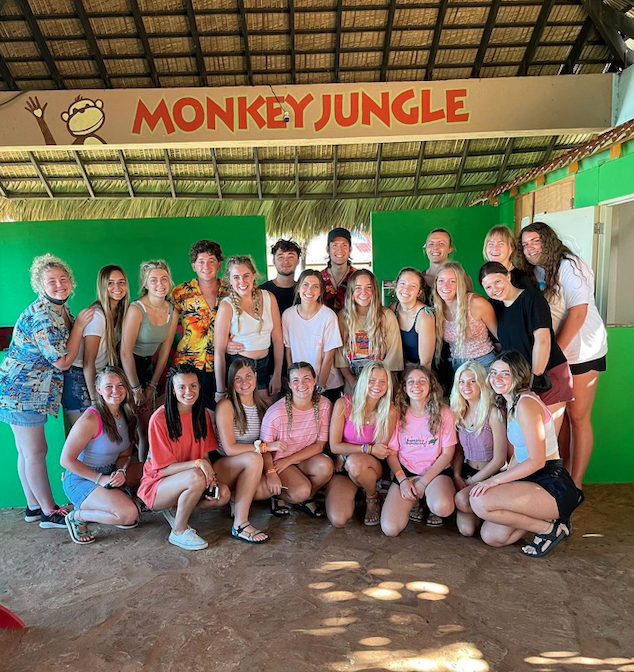 Hours + Costs
Hours: 9:00 AM to 4:00 PM (every day except for Christmas).
Access to the Monkey Jungle is $28 and the zip Line is $55 or you can buy a combo ticket and do both for $70.
They do not accept credit cards so make sure you bring cash with you!
Where Your Money Goes
All proceeds help finance a free medical and dental clinic for the poor of the Sosua, Cabarete and Sabaneta neighborhoods and many clients come from as far away as Puerto Plata. Visit the Monkey Jungle website where you can learn more about how they are helping the community.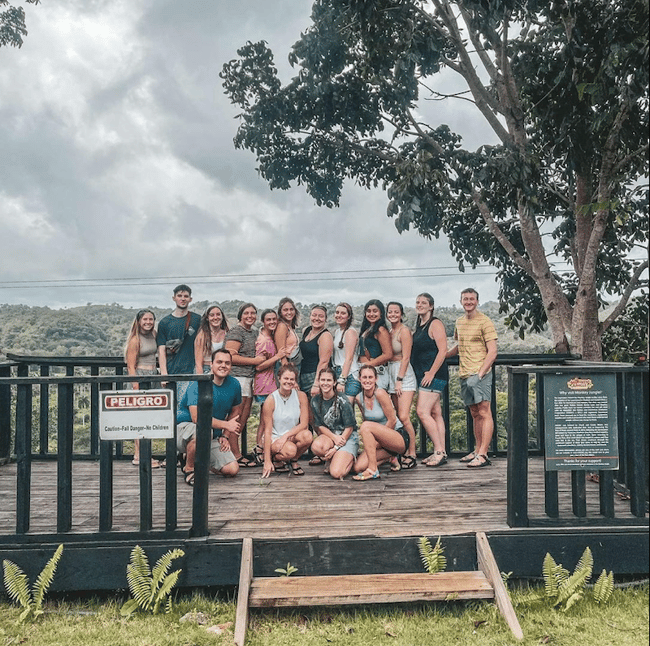 Ready to visit the Monkey Jungle and the Dominican Republic?
How about the chance to volunteer and make a difference in the lives of underprivileged children? Do all that (and tons more) when you volunteer with International Language Programs.