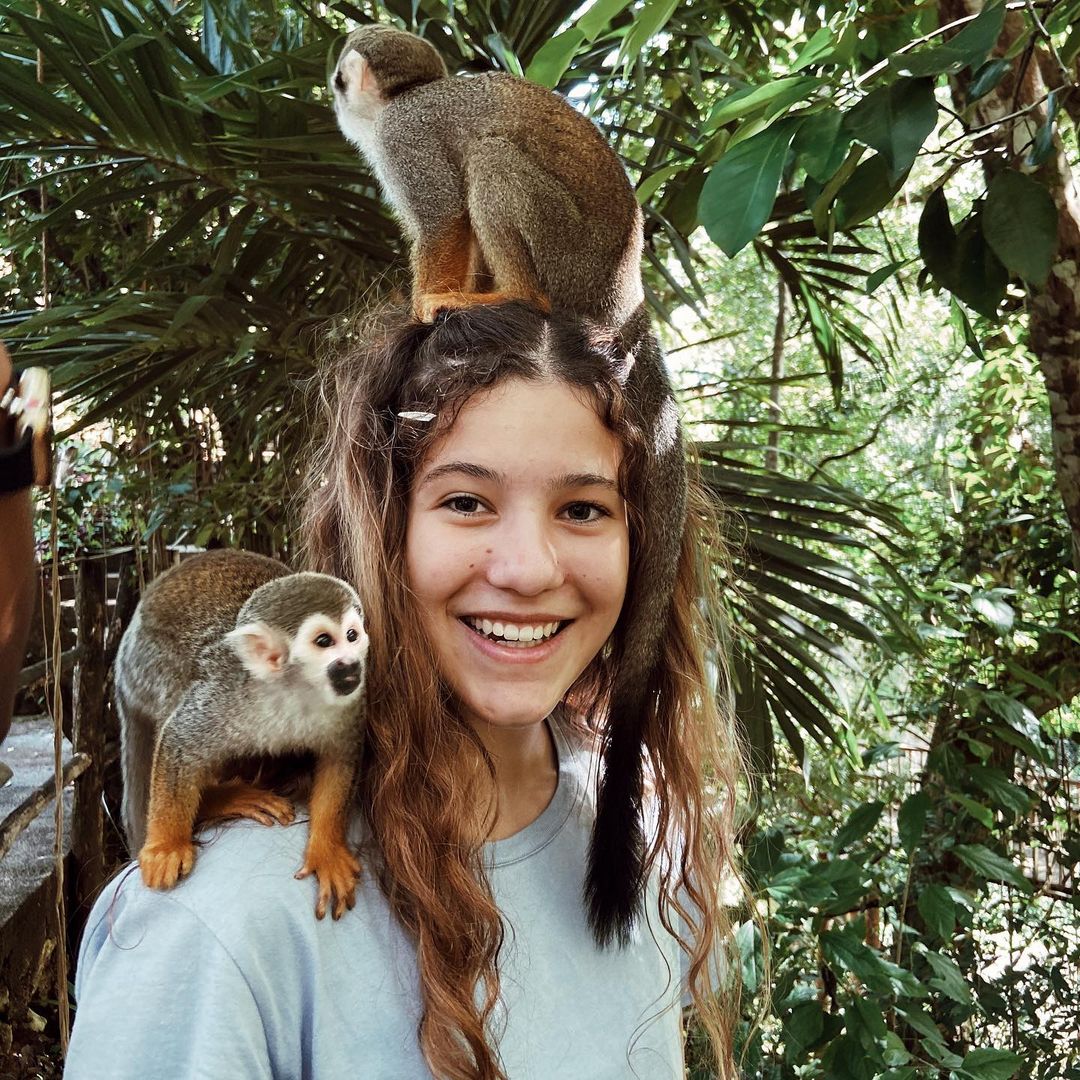 The next time you plan to visit the Dominican Republic, don't miss your chance to play with monkeys — it's such a unique experience here!
Found just around the corner from some of our favorite beaches on this island (hi, Sosua!) is a park you can come visit that's full of these cute little monkeys. Join them for snack time (they love munching on nuts and fruit) then zip line through the jungle. Sounds like the perfect day trip to me!


---
Thinking about volunteering in the Dominican Republic?
It's easy to get started, just fill out an application
---

Here's all the info you need for a trip to this monkey jungle:
Their Story + Where Your Money Goes
We love that this organization is doing good on so many levels. Not only is it a really fun experience (seriously, it was a major highlight on my DR trip!), but you can also feel good about spending your dollars here.
Monkey Jungle was founded by an American couple, Chuck and Candy — they were visiting the Caribbean on vacation, and once they saw the poverty in Haiti and the DR, they knew they had to do more. They set up residence in the Dominican and started making an impact. They formed non-profits that would support the local community via free medical clinics and began serving locals, many of whom had never had the opportunity to see a doctor and dentist before. It became quite busy and they quickly realized they needed a way to fund their dreams of not only maintaining, but expanding the clinic.
Monkey Jungle's Mission
That's how the idea of Monkey Jungle came about! They wanted to create an attraction where tourism in the Dominican could be put to good use. And this quickly spiraled into doing even more good (which we'll get to in a minute).

Monkey Jungle takes in both Squirrel Monkeys and Capuchins who have been rescued, often from illegal trade — some of the monkeys currently here are from spots around Africa, Costa Rica, and more. They've unfortunately become too accustomed to human interaction to be released back into the wild, so Monkey Jungle provides a new, safe home.
Your money spent here goes towards so many things — a home for the rescued monkeys, free medical, dental, and eye clinics for the community, and other ways they find they can help. On my last visit, they shared with me that they're currently working on finding solutions for local children who are hungry. You're also supporting an organization that provides jobs for the staff who are usually local Dominicans.
Visit the Monkey Jungle website where you can learn more about how they are helping the community.
Monkey Jungle Today + A Little More About The Monkeys
Following a devastating hurricane, Chuck and Candy's plane was unfortunately lost at sea in 2016 after a trip to Haiti to donate needed supplies. But their mission continues on through different individuals and organizations who have joined in.
From my experience, the staff is still just as passionate about their work. They know that their customers are key in making these causes possible and they work hard to make sure you love your visit here. Many of the local staff have even started learning English so that they can better connect with visitors who don't speak Spanish.
You'll see right away how much they love their animals. During my visit, our guide knew the monkeys by name and told us about their different personalities and what makes them unique. With as many monkeys as there were, I couldn't believe he could even tell them apart, let alone know them by name!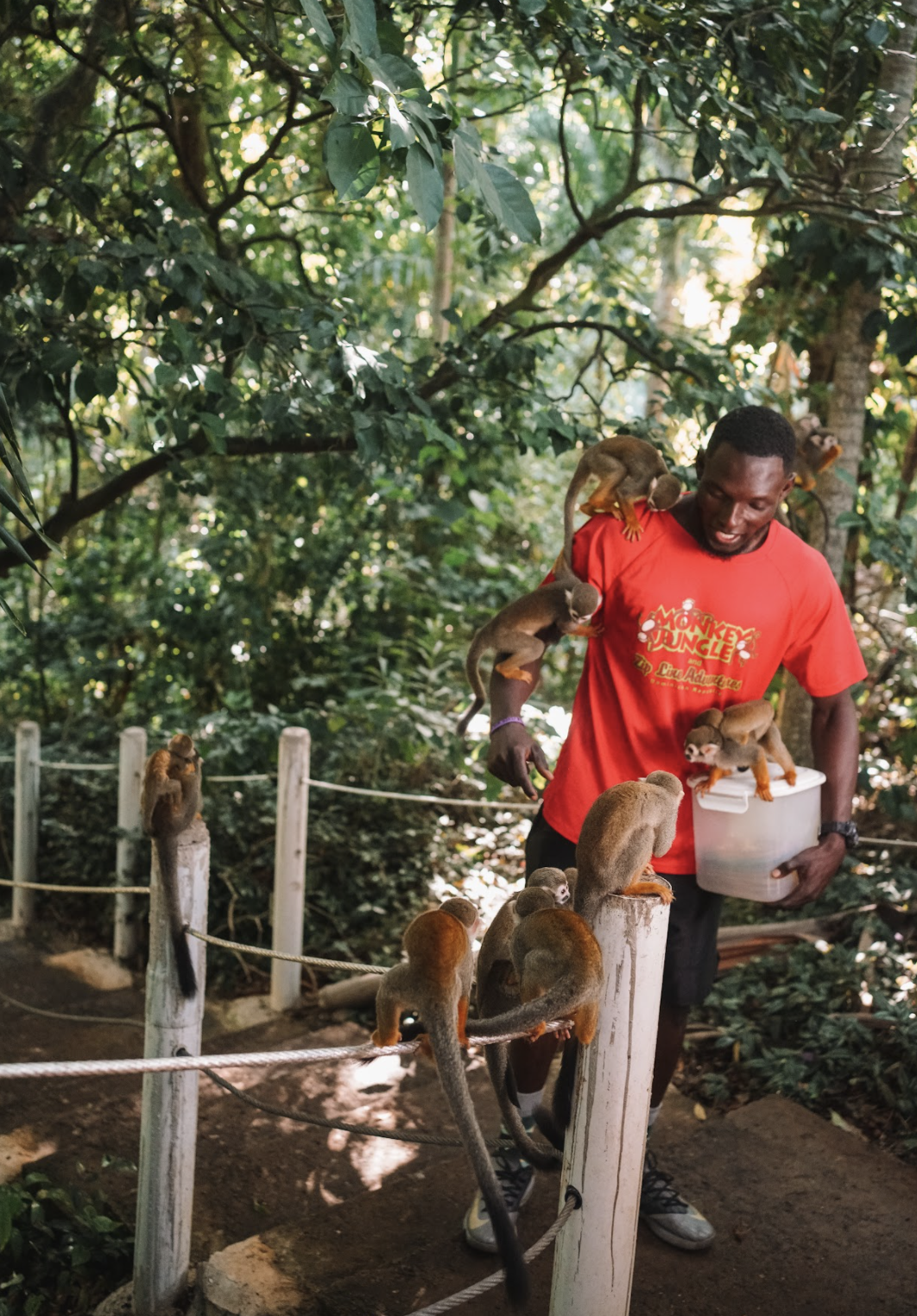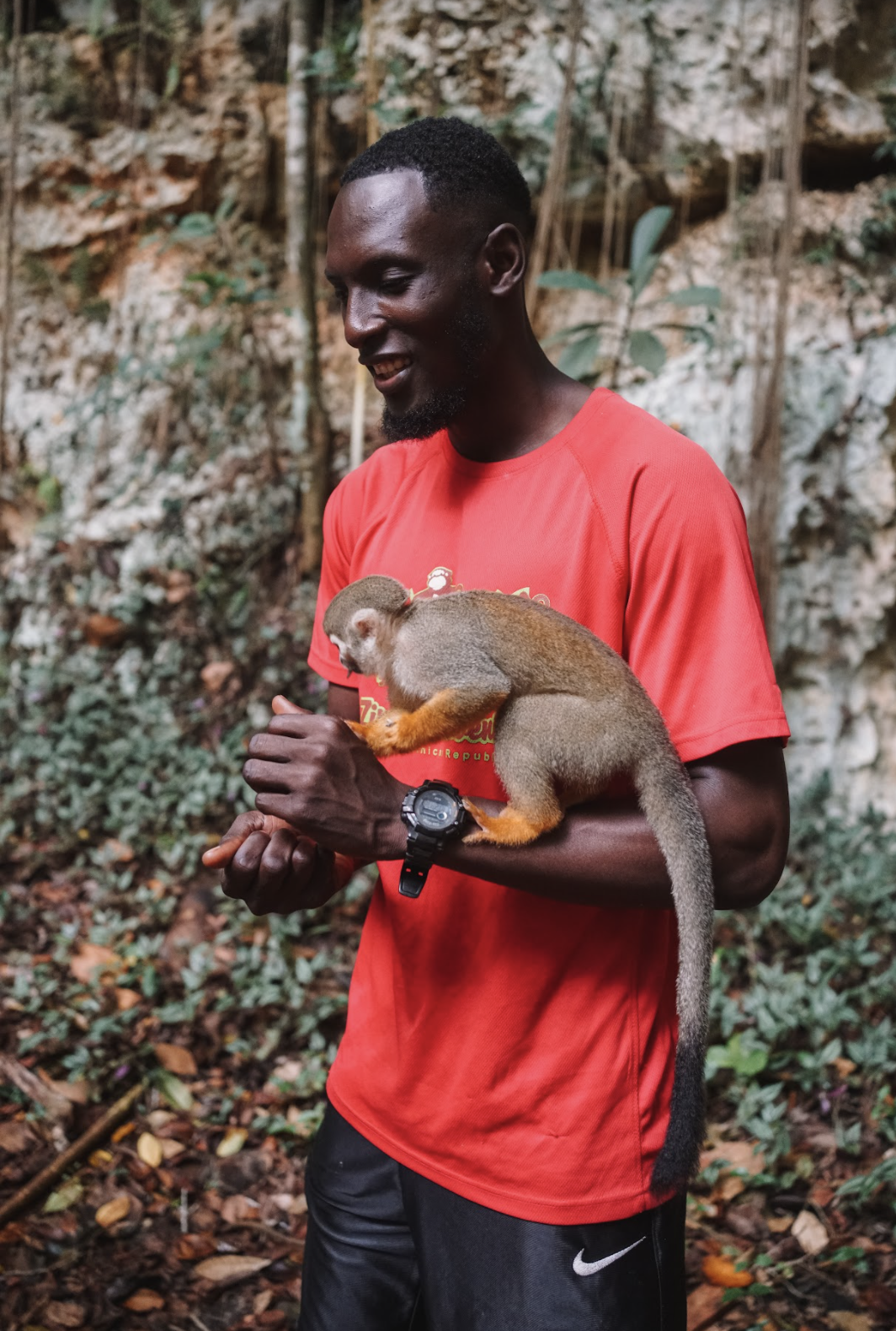 Feeding The Monkeys
Trust me, this is a once-in-a-life time kind of experience that you can't miss! I have to admit, I was a little nervous at first — I've traveled and had interactions with different species of monkeys in the wild and at other tourist sites and ... well, some monkeys can be a little aggressive, to say the least. I quickly realized this was a much tamer, more enjoyable experience though (in my personal opinion, anyway).
When To Go
The monkeys are on a once-per-hour feeding schedule. When you arrive, you'll pay the entrance fee and may need to hang out and wait a bit until the next feeding time. Once it's time, everyone who is waiting will have a chance to go through the enclosure as a group with a guide to see and interact with the monkeys.
What To Expect
You won't be able to take anything other than your phone or camera inside the monkey enclosure. Monkeys are pretty curious creatures and they've been known to grab bags and run off so that they can riffle through and see what you've got. You can leave your bag in the car if you have a driver that's waiting for you, or the front desk may offer to store your items at their desk for you. Just remember that your bag is still your responsibility even though you've left it in someone else's care. It's best to not leave anything of value (you can put some items, like cash, deep in your pocket just so you're not leaving it anywhere that's easy access to humans ... and monkeys!). Best to just bring as little as you can.

When it's feeding time, one of the staff members will take you and your group (plus any other visitors) through the monkey enclosure ... and just make sure to have your phone or camera ready to go. As soon as you enter, you'll start seeing and hearing Squirrel monkeys running in from the trees. They know you're here to feed them, so they're more than a little excited to see you! They're not at all shy, so just be prepared for these cuties to jump right on your shoulders or head.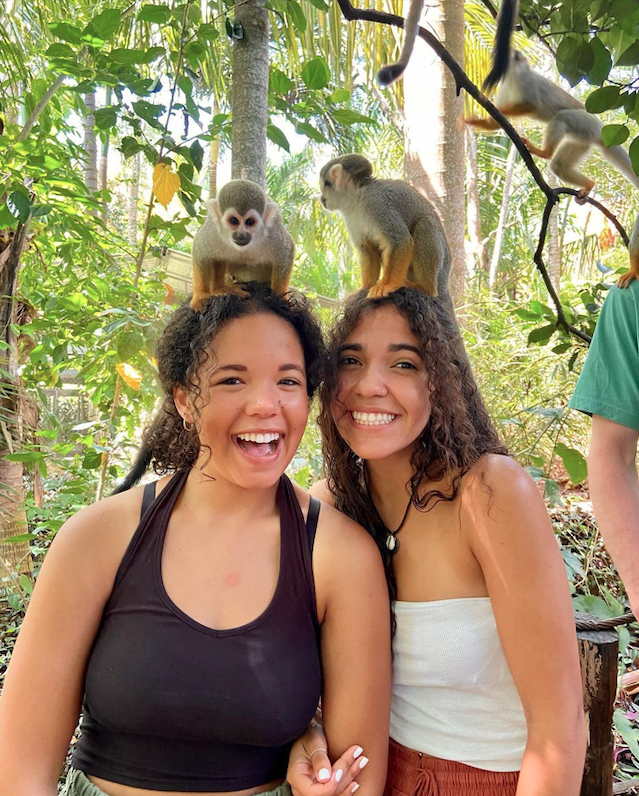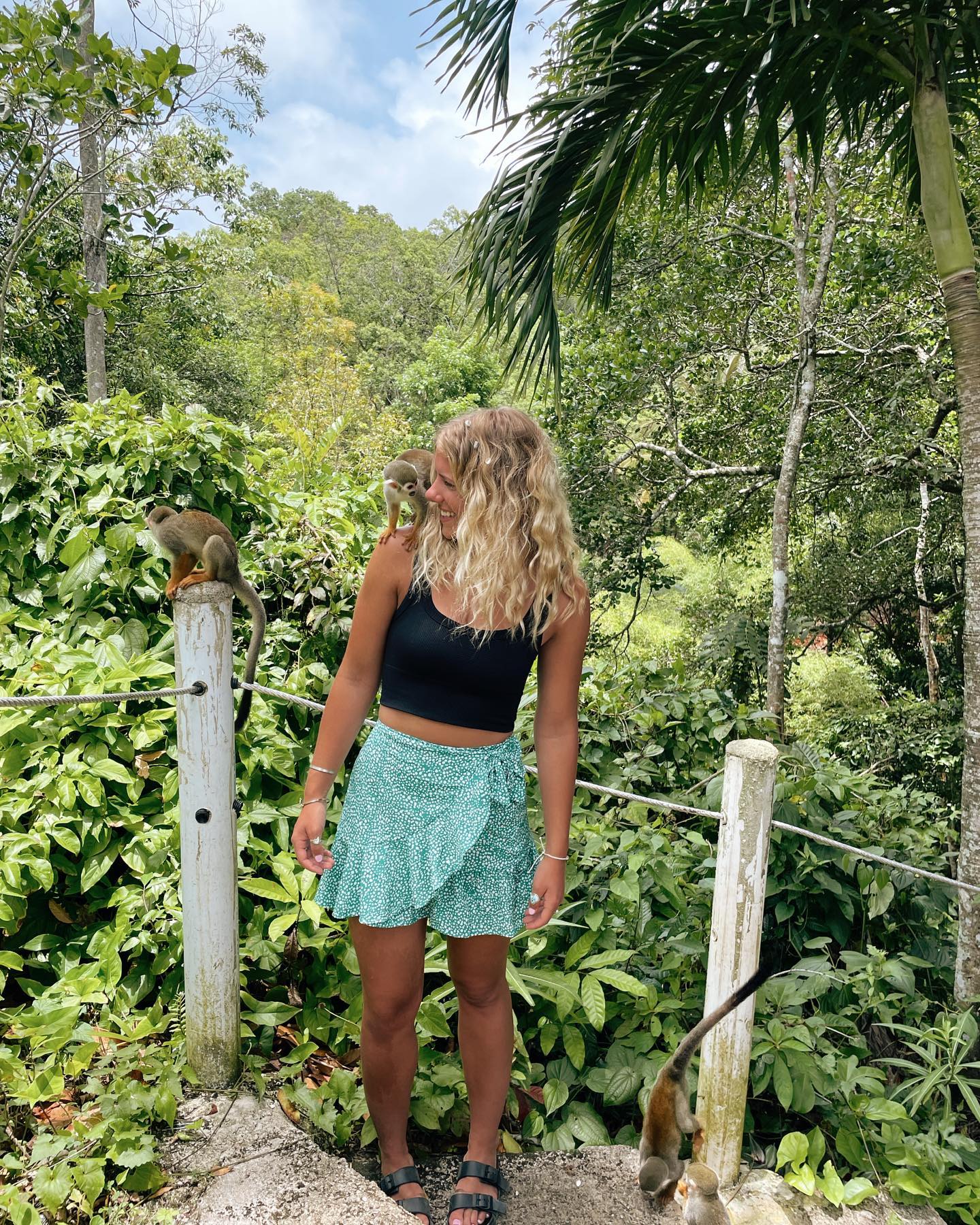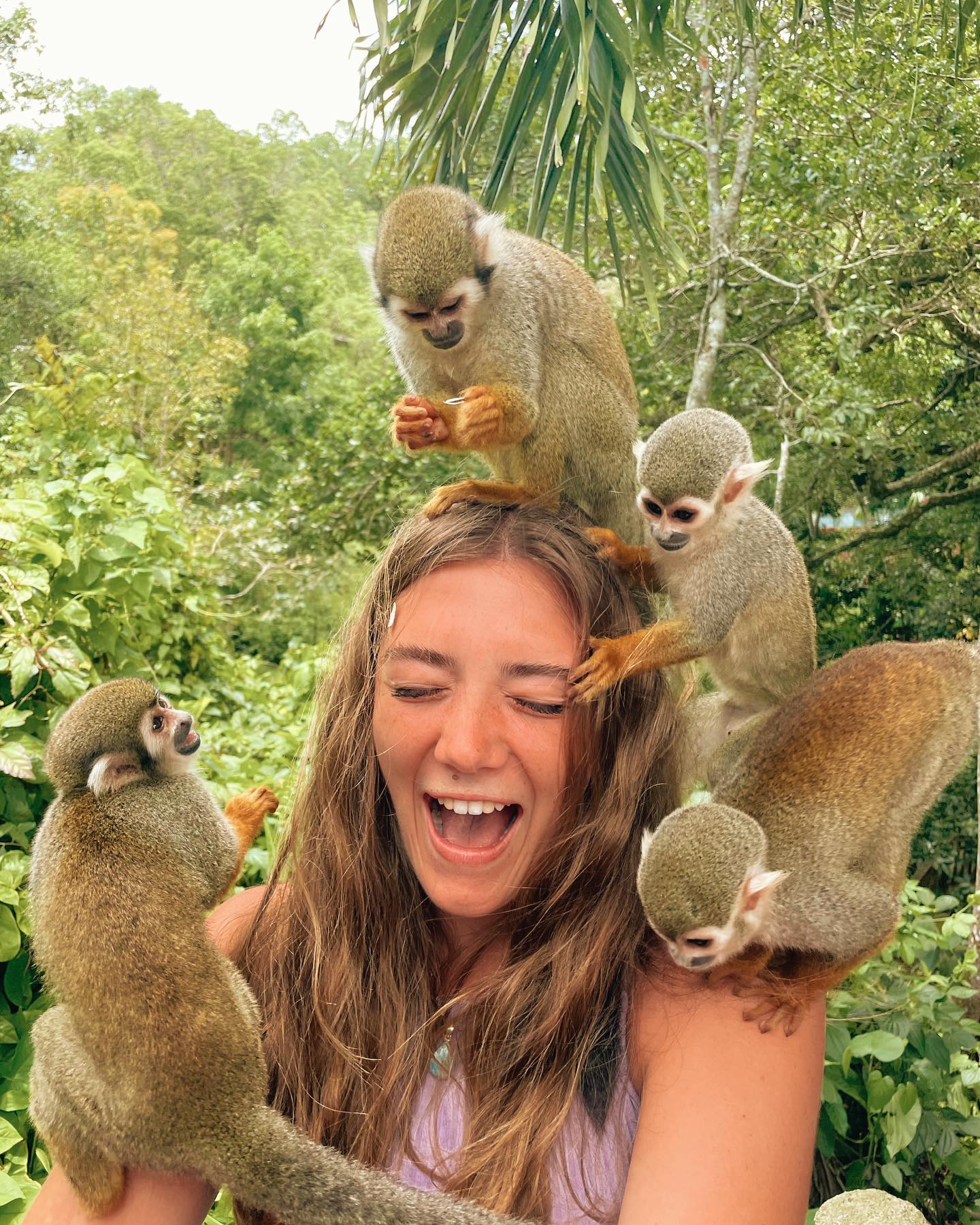 Your guide will hand you food for the monkeys, which is usually something like a plate of pineapple bits and sunflower seeds. Once you have food in your hands, know that the monkeys will be all over you, scrambling to get their snack. It's a bit chaotic, but oh so fun!
You'll then make your way down the path to see the Capuchin monkeys. Quick little tip — there are some stone steps that are very slippery as you get close to the Capuchins. More than a few people have slipped here, so just watch your step and hold on to the handrail.
The Capuchins can be more aggressive, so they are housed in another enclosure. For some of the Capuchins, you can toss a sunflower seed into their enclosure which they will skillfully catch and eat. There are some that you can get close enough to hand over sunflowers seeds right into their hands. Again, these little guys are so excited to see you! I tried to hand them sunflower seeds one by one so that I could make it last, but they would try to open my hand so they could grab a bunch at a time. Little cuties.
Extra Tips
If you feel something warm on your shoulder ... you can probably guess what's happening. Yes, these animals do pee and poo and that might happen while they're climbing all over you. You might want to bring an extra t-shirt with you in case that happens and you want to change after your time with the monkeys. You also might not want to wear white ... just in case.
If you're able to time your trip so that you arrive soon after they open at 9:00 AM, you're likely to have fewer people waiting who also want to feed the monkeys.
As I mentioned, you won't be able to take any bags in to see the monkeys, so just plan to not bring anything of value that you'd need to leave out of your sight. You are welcome to bring your camera inside, though.
September, October, and November is the best time to see new babies! I went in November and there were tons of four-month old Squirrel monkeys clinging to their mama's back while they jumped around. If you're here in the fall, get ready for extra cuteness.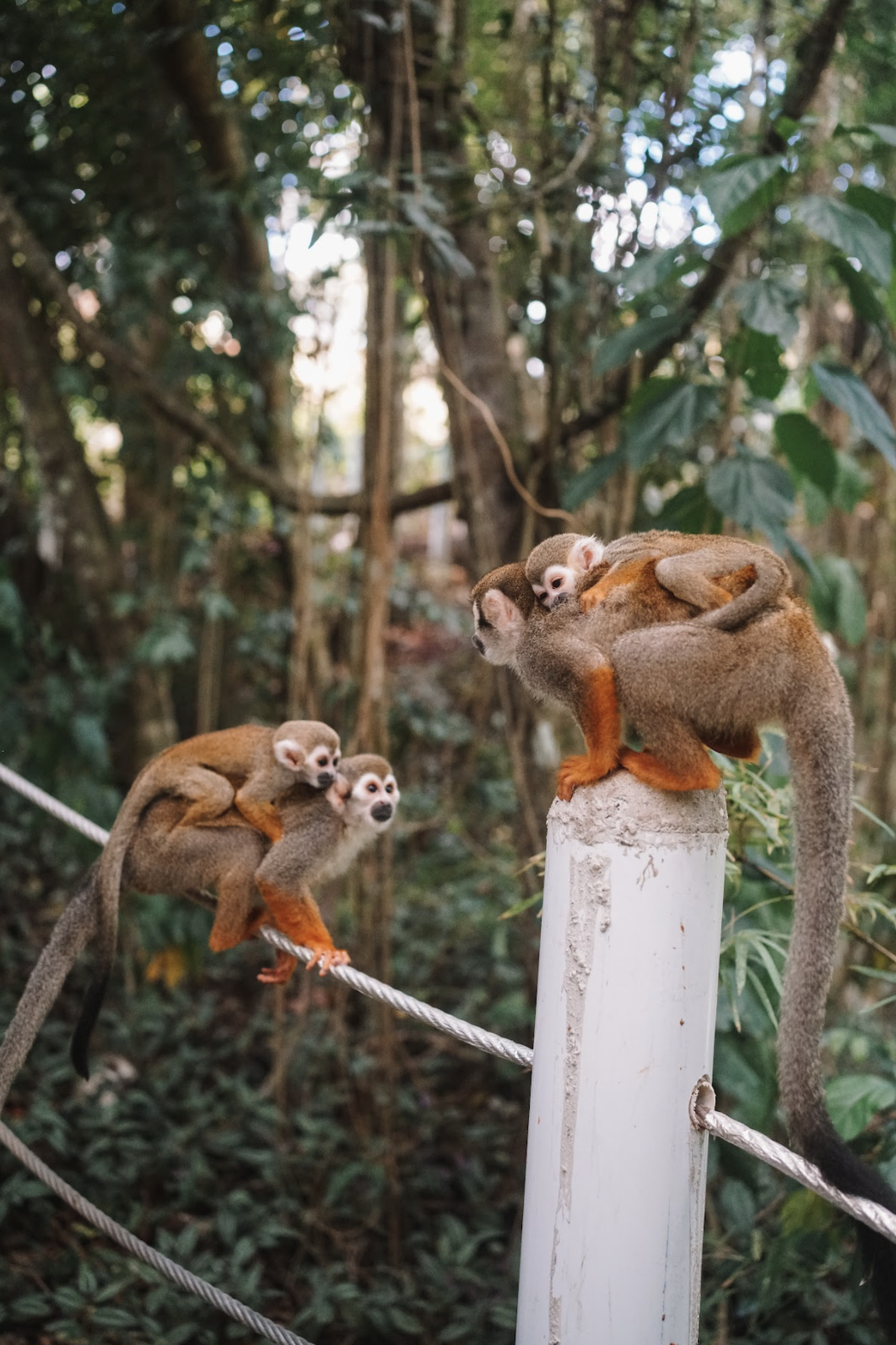 Go Zip Lining
You can also go zip lining here. The park is home to a series of 7 zip lines, all with varying speeds and distances. The guides are all qualified volunteers who'll set you up for your zip lining trek. As far as pictures go for this part of the park, you can purchase the photographs taken by the ziplining company for around $18 (or you can take your own pictures).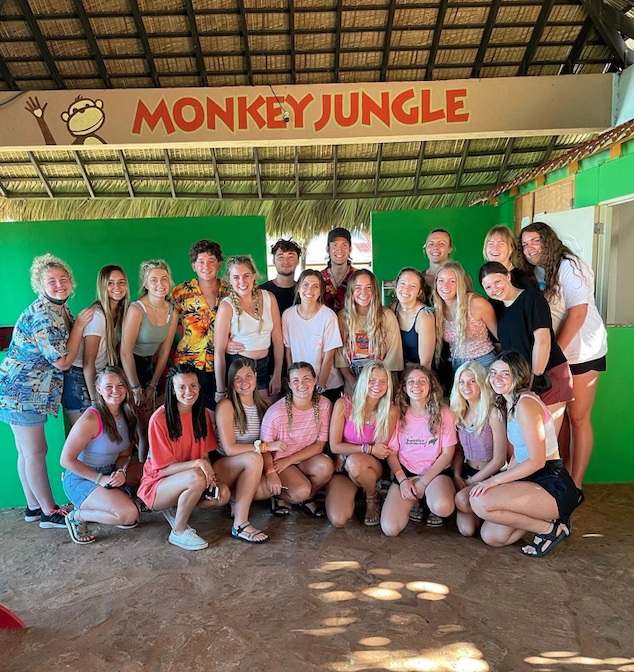 Do More By Volunteering With Monkey Jungle's Mission
ILP volunteers do so much good and we've seen groups looking for even volunteer opportunities outside of what they do with ILP teaching. We love that! Some groups have spent time visiting nursing homes, they've done fundraisers to do everything from help build a home to build a playground for kids to have a safe play to hang after school, and so much more.
Another idea? Check with Monkey Jungle to see if there are any current projects where you could be helpful. They do work with volunteers who can lend a hand for a period of time, but even if you only have a day to give, you might be able to help. They mention needing help for everything from painting and gardening to translating and photography. Contact Rob to see if there's any way you can be of use.
Location + How to Get Here
Monkey Jungle is located outside of Sosua, on the outskirts of El Choco National Park. Most volunteers are in Sosua on vacation, then take a half day to come play with the monkeys.
From Sosua, you'll take a very bumpy, dirt road through the jungle out to the park. That portion of the drive (from Sosua to Monkey Jungle) isn't far ... only 6 miles, but it does take about 30-45 minutes — you have to drive so slowly because of the poor road conditions. If you're prone to car sickness at all, you might want to take something like Ginger or nausea medication before the drive.

It is possible to join a tour where they'll pick you up and take you to Monkey Jungle, but this is usually the much more expensive way to go, and you're really only paying for the transportation to get there since you're good to go once you reach Monkey Jungle. We suggest doing it yourself — here's a post about transportation in the Dominican Republic. Once you know how to get around, you can save some money by using public transportation to first get to Sosua, then over to the Monkey Jungle!
From Puerto Plata take a guagua (a type of bus) to Sosua. It should cost about 65 Dominican Peso, which is about $1.50 USD. It's easily the most affordable way to get from Puerto Plata to Sosua. That post above has more info on how to take a Gua-Gua.
From Sosua the best option is to take a taxi to the actual park — round trip it'll cost you about $50 USD. But hey, if you have 4 passengers, that'll cut the price to about $12.50 USD each, which isn't bad for each person in your ILP group! You can hail a taxi or call an Uber to take you there. Just tell the driver you want to go to Monkey Jungle — it's very well known.
There are a couple of taxi services I've used in Sosua that were really responsive and helpful. If you're having a hard time hailing a taxi, or if you want to arrange transportation in advance, you might want to contact them for a quote and to see if they're available.
Michel Taxi, an organization with a network of drivers — contact via WhatsApp and email
Kenedy Ruiz, an independent taxi driver based in Sosua — His WhatsApp # is +18098856557
There aren't any taxis hanging out at Monkey Jungle, so you will need to set up a roundtrip taxi to take you back to Sosua. Your driver will likely just wait in the parking lot for you, but make sure to let them know whether you're doing the zipline or not so they know how long to expect. Usually, you'll pay for the taxi ride at the very end of the trip.
Hours + Costs
Hours: 9:00 AM to 4:00 PM (every day except for Christmas).
Access to the Monkey Jungle is $28 and the zip line is $55 or you can buy a combo ticket and do both for $70.
If you're an ILP volunteer though, you might be able to snag a discount. Our volunteers frequently visit the jungle every semester and the owners are happy to see you there. They love that you're here serving the communities in the Dominican, a cause which they are obviously passionate about! Rob, an American who has moved to the DR to come join the team at Monkey Jungle, is typically at the front desk from Tuesday-Saturday. He said to just mention that you're an ILP volunteer when you're checking in and he'd love to give you the locals discount (which is $20 for the monkeys and $50 for both the zipline and the monkeys).
They do not accept credit cards so make sure you bring cash with you.
Oh and there's a tip jar at the front desk which goes directly to the staff. They really appreciate any tips you can give!
Final Tips
This is about a half day activity. Plan on time getting to Sosua, then around 60ish+ minutes of drive time to and from Sosua, around an hour with the monkeys (plus some time waiting to get into the enclosure for feeding time), and additional time if you decide to zipline.
It makes a great addition to a day hanging out at Sosua. We love two beaches in Sosua: the main beach (Sosua) and the sister beach, Alicia. It makes for a basically perfect Saturday to head out to Monkey Jungle first, then have your taxi drop you off at one of the beaches to hang out for the afternoon. Here's more info about planning your trip to the beach in Sosua.
Remember to bring ...
Cash for the entrance fee, tips, and for your taxi driver
An extra shirt to change (if needed)
Nothing of value (since you can't bring much into the enclosure)
Your camera or phone for lots of photos
Anti-nausea remedies if you're prone to car sickness
Swimsuit + sunscreen to go enjoy the beach after
Water bottle and snacks (you can purchase drinks and snacks at Monkey Jungle, but it's more expensive than you'd find elsewhere)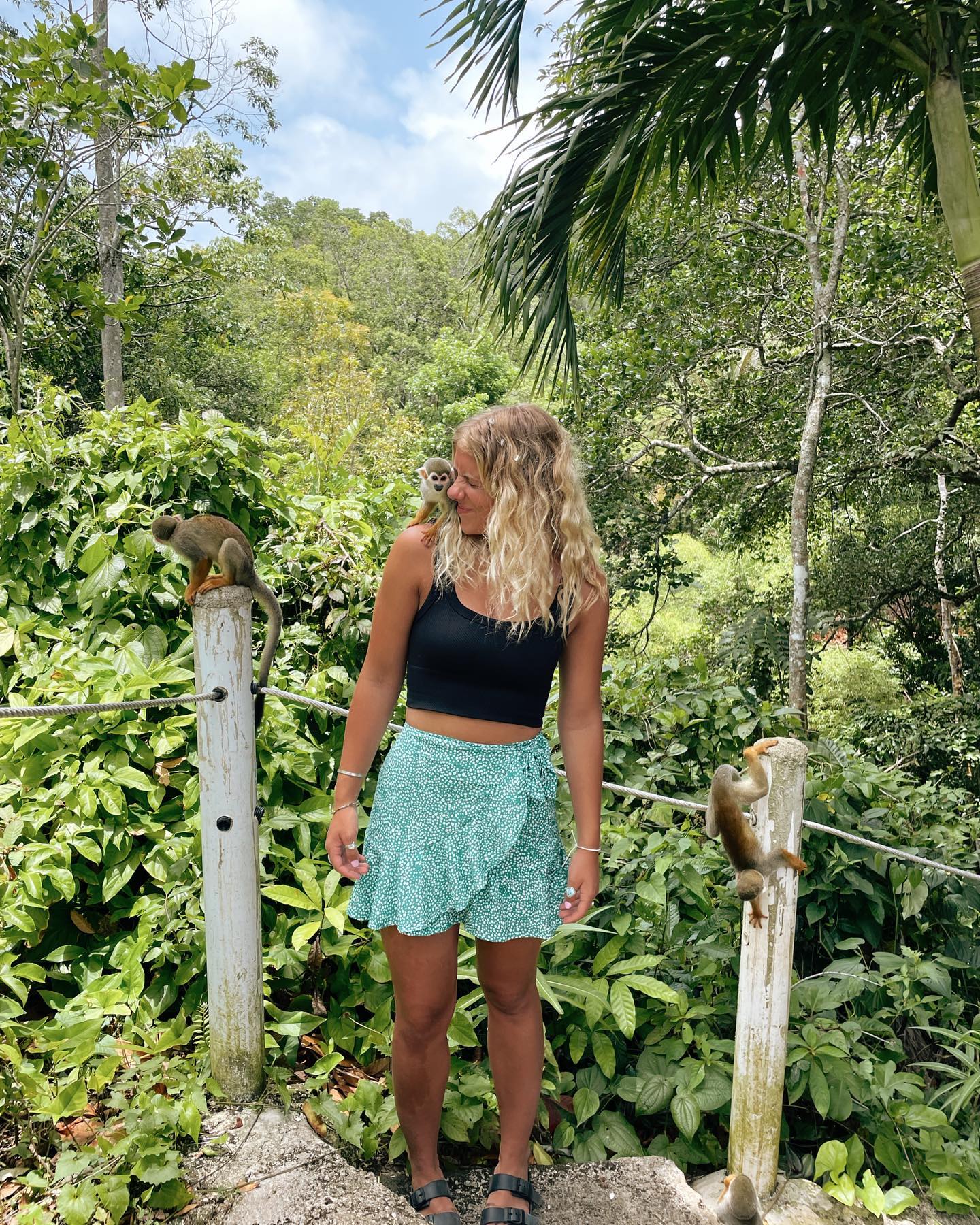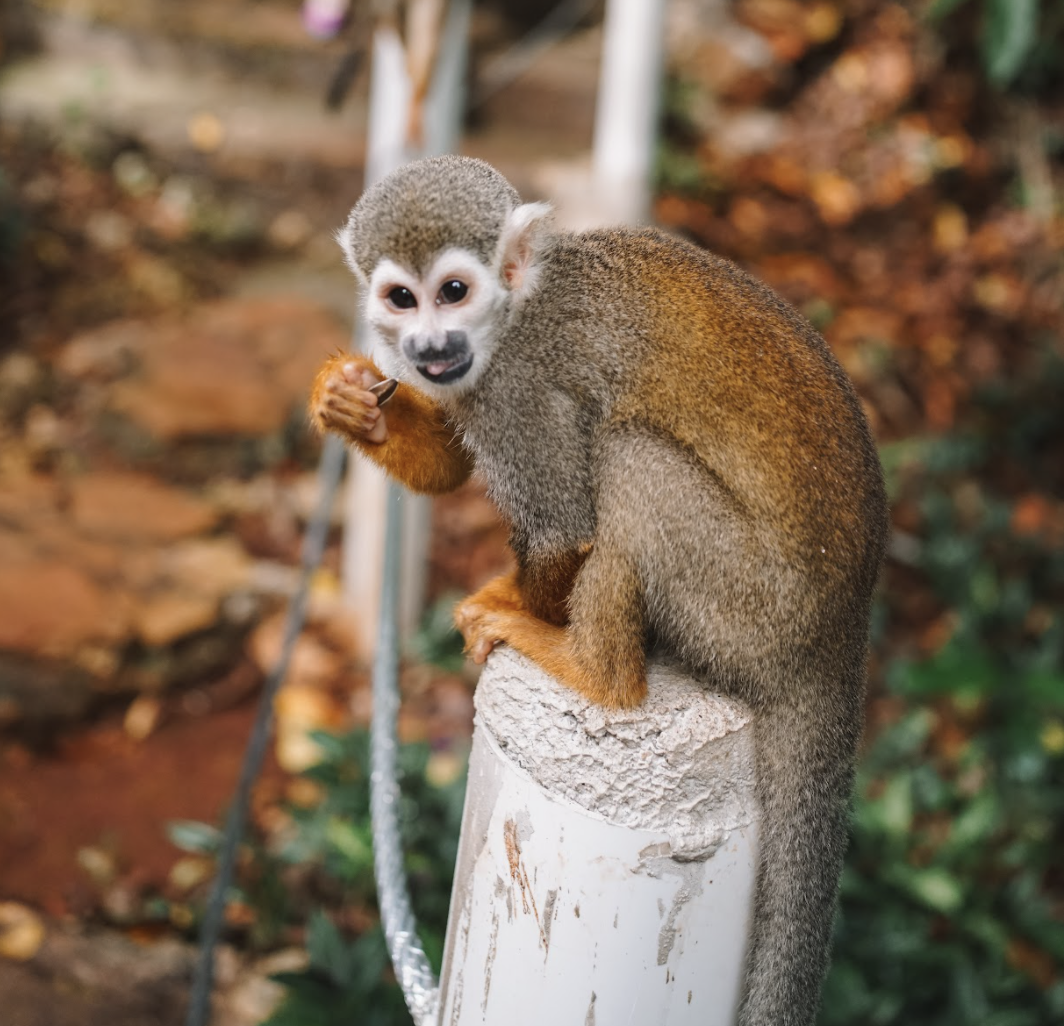 Ready to visit the Monkey Jungle and the Dominican Republic?
How about the chance to volunteer and make a difference in the lives of underprivileged children? Do all that (and tons more) when you volunteer with International Language Programs.