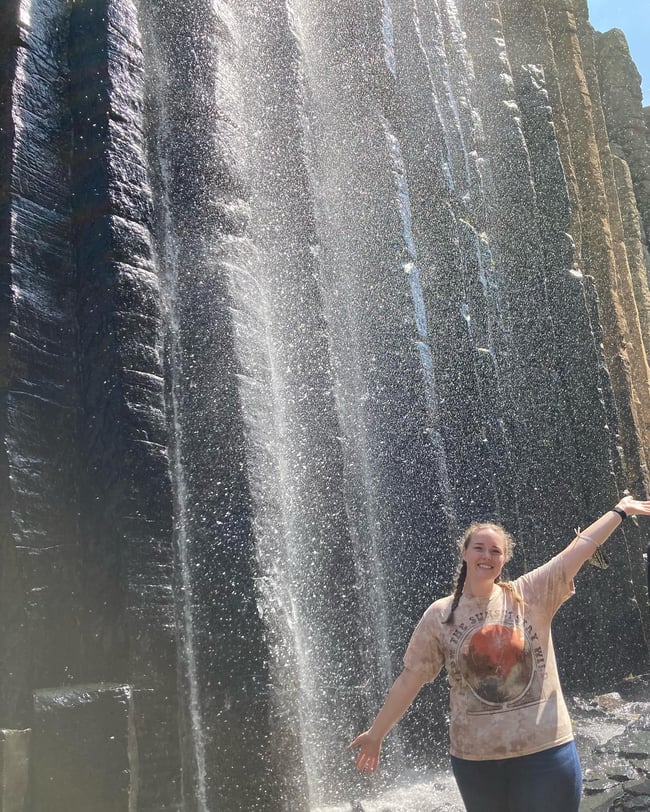 This seemingly impossible waterfall park is close enough for a day trip or weekend getaway when you're in Pachuca or Puebla!
We're all about the classic vacations to take in Mexico. Of course, you have to see Chichen Itza. And spend time on some of Mexico's best beaches. But we're also about those secret spots — the ones that aren't flooded with tourists just here for a week at a resort or on a cruise. If you spend time in Mexico as an ILP volunteer, you'll have quite a list of weekend spots and day trips that add so much more to your semester than those classic vacation spots!


---
What's this about volunteering in Mexico?
---

ILP volunteers have every weekend off, meaning Saturdays and Sundays are for hopping on a bus to explore a new spot. And if you're nearby in Pachuca, Mexico, the impossibly pretty and seemingly unreal sites of Huasca de Ocampo are perfect for a quick day trip or weekend getaway.
A Quick Intro To Huasca de Ocampo
Learning just a bit more about your newest favorite weekend trip will add so much to your vacation there. To start, Huasca de Ocampo has a lot to be famous for. The area has a huge mining history, home to Count Pedro Romero de Terrenos who established this town as a mining hot spot. He quickly became extremely wealthy and used his wealth to build four haciendas in Huasca de Ocampo. Hacienda Santa Maria Regla is still a tourist draw today (you can even stay at the luxury hotel) or just admire where a few scenes of "The Mask of Zorro" movie were filmed.
Huasca de Ocampo is also Mexico's first Magic Town, established in 2001. (Pst, you can read all about Magic Towns and get the short list of our favorites, here). The history that awarded Huasca de Ocampo its Magic Town status pulls in visitors from all over. You'll find colorful streets, vibrant markets, brightly painted murals, and tons of history. In some ways, the city feels relatively unchanged in the last 100 years (or thousands of years, if you're hanging out by the rock formations).
You'll find this magical town in the Hildago state of Mexico, just outside of the city of Pachuca (more on how to get there in a minute).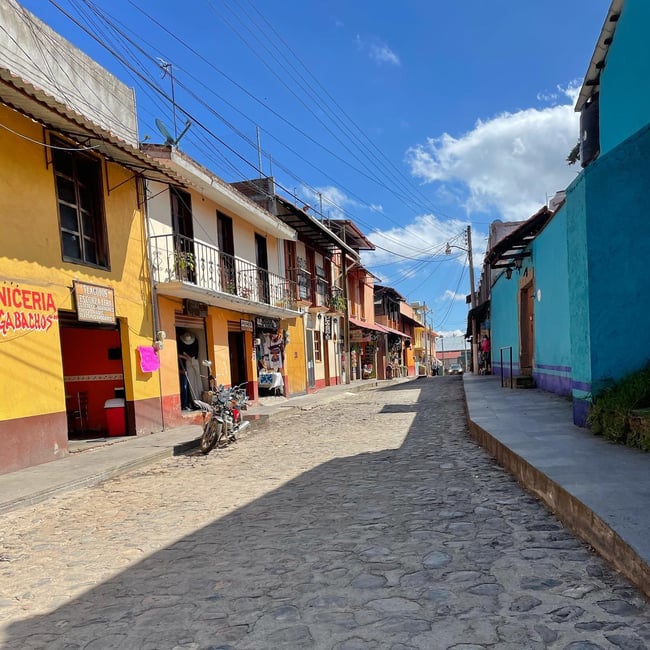 What You've Gotta See
The Basaltic Prisms + Waterfalls
This is the main draw to the city. I mean, if you only see one thing in Huasca de Ocampo, it'll be the waterfalls found in this ecological park. There are a few pools and waterfalls scattered around the park along with a few activities (more on this later), but first, let's talk all about the rocks found here.
The outer-worldly basaltic prisms are what have made this area of Mexico oh-so-famous. These towering columns of intensely heavy and hard basalt shoot up from the ground in the Sant Maria Regla ravine, formed by a volcanic explosion. The boiling lava slowly cooled in what's called an aqueous medium which created the unique hexagon shape of the columns. The ecological park gives you plenty of viewpoints of the phenomenon including a suspension bridge over the valley for a 360° view.
Four waterfalls are in the park, surrounded by seemingly unrealistic columns stacked perfectly together. There's a zip line over the falls and the valley, as well as a few other activities (plan on spending a half-full day here, depending on how much of the park you'd like to see).
Costs: 50 pesos per person (other activities have an additional cost).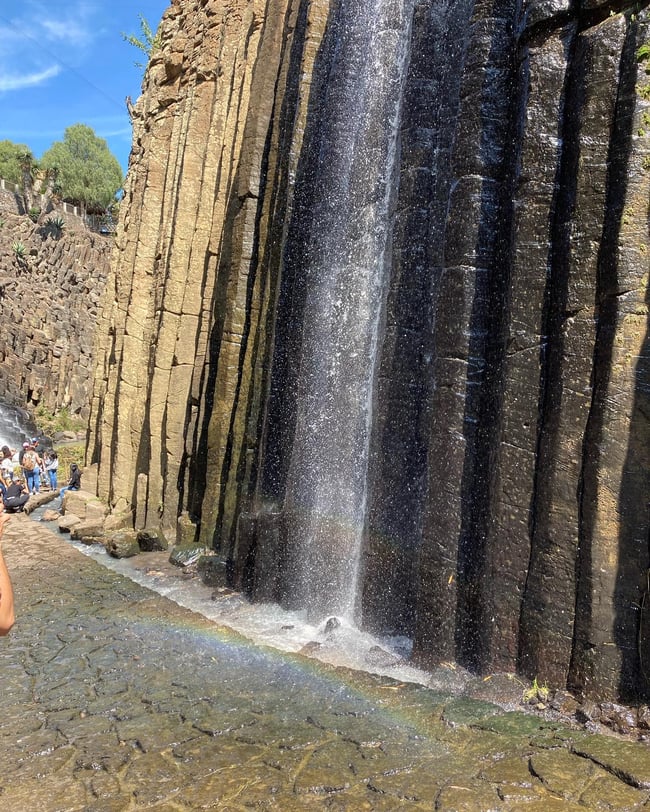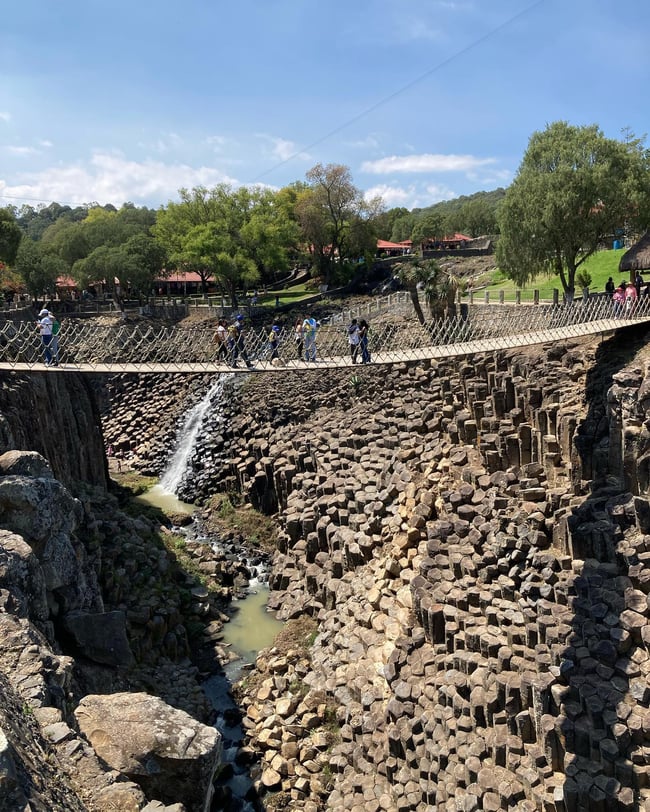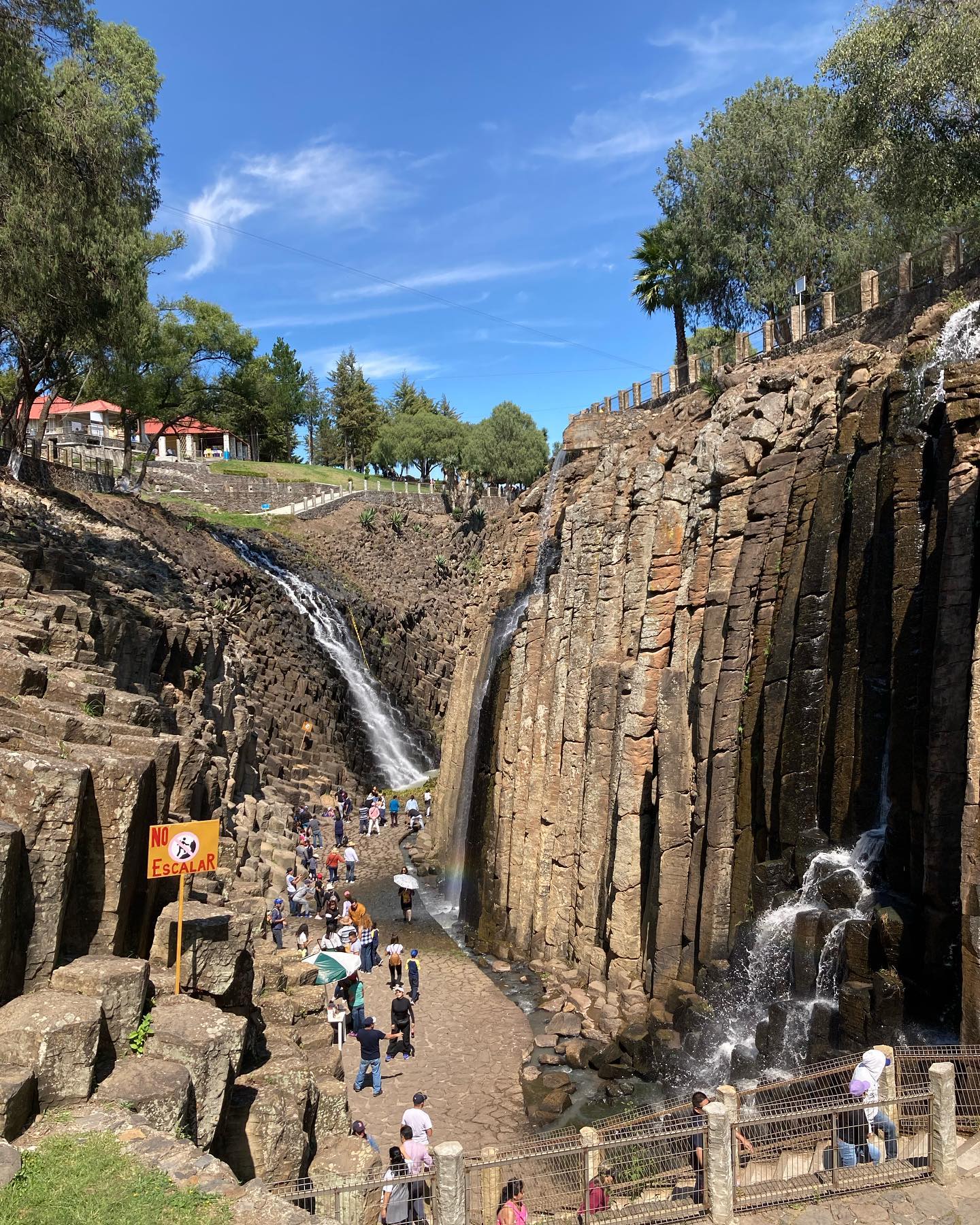 The Castle-Like Hacienda Santa Miguel Regla
Feel like you're stepping back into history when visiting this hacienda. The Santa Miguel Regla was built in the 18th century and seems more like a medieval fortress, peppered with lush gardens, surrounded by an aqueduct, and is even home to a series of underground rooms (or dungeons) where they kept patients with smallpox and measles. Rumor has it, the hacienda is also home to confusing labyrinths with secret tunnels.
As we mentioned before, you can book a room in this luxury hotel, where guests have access to the swimming pool nestled amid the ruins. Or, you can block out some time to take a quick tour around the baroque-style architecture, expansive courtyards, manicured gardens, and other accessible amenities.
If you'd like to book a room, find that

here

.
This Lake + Hacienda
Officially known as El Bosque de las Truchas, this lake and activity park was once a very profitable fish farm, which started offering tours when people became interested in seeing the lake and fishing for fresh trout to have for dinner. Now, the former hacienda is full of activities, like fishing, paddle boats on the lake, a zip line across the lake, a handful of restaurants, hiking trails, horseback riding, and more.
It's a nice place to spend an afternoon in, especially since there are more low-key activities (like getting a bag of fish food to feed the trout, wandering the gardens, admiring the lake on a paddleboat, and grabbing lunch) or more high-adventure ones (like a horseback ride, a zip line, etc).
Find it here

. Catch a bus to San Miguel Regla, or get a taxi straight there. It's a short ride from the downtown area of Huasca de Ocampo.

Costs

: 25 pesos per person for entry, though each activity has individual costs (there is a 200 pesos package which includes the entry fee + select activities). Most places are cash only.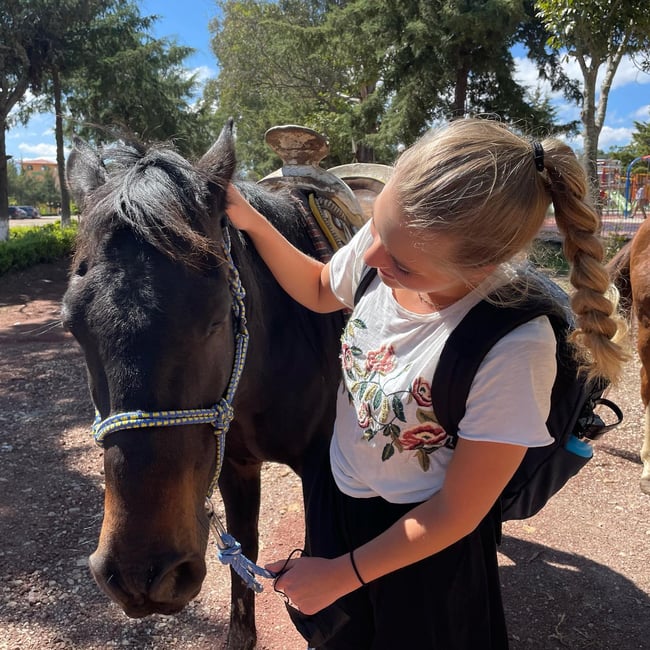 The Magical Elves Museum
The official name of this museum is "Museo de Historia y La Casa de los Duendes" and if you know Spanish, you have a glimpse into what to expect on your visit. If not, know this museum is a showcase of elves, trolls, goblins, and gnomes, along with a few folktales and magical tales. You'll see statues, figurines, paintings, dolls, and other magical creatures here (like fairies) in the museum as well as the surrounding gardens. It's a little bit whimsical, a bit magical, and maybe just a little bit haunted.
There are volunteer tours available (a small tip is expected) to hear more about the stories surrounding the elves, gnomes, and tricksters in the garden and museum.
Costs: 30 pesos per person, though there are some additional costs for any activities happening the day of your visit, if there are any.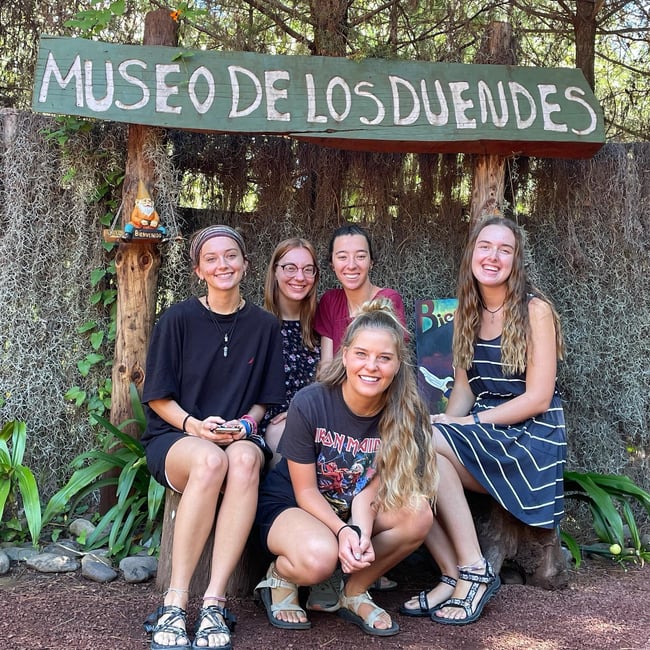 A Few More Tips
Day Trip Or Overnight Trip?
This spot makes for a great day trip or weekend trip if you want more of a slower pace (or don't want to make a longer bus ride twice in the same day). If you're staying overnight, past groups have stayed here if that's helpful to know (but you have quite a selection of Airbnbs, hotels, and hostels around town).
The Trolley Tour
In the city's centro, you can buy tickets for a trolley tour (it's about 3 hours long and takes you to to the Museo de los Duendes, a rompope place — there is an ice cream stand next door to visit for ILP volunteers instead, then the Prismas Basalticos).
It's a good way to see a quick highlight of the city if you're short on time but some ILP groups regret doing the tour, because you're on a schedule. Some groups wished they had more time at the waterfalls to do the zip line and see more than what the tour allowed.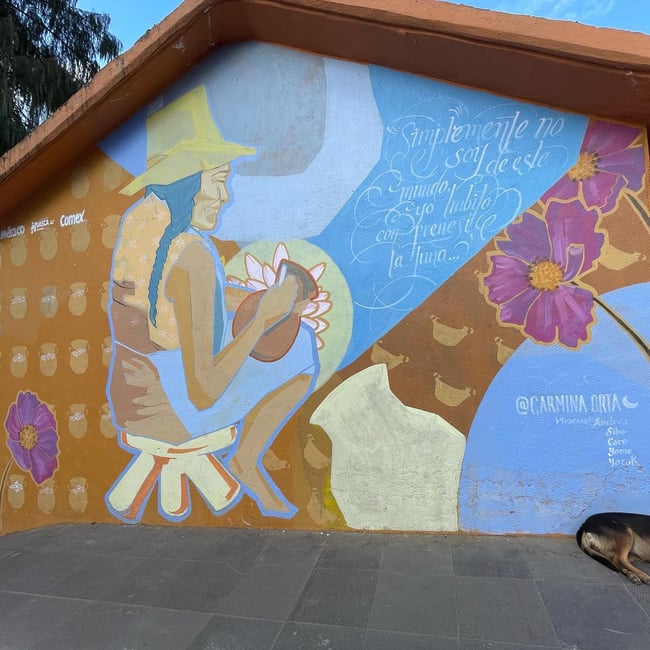 Getting Here
From Pachuca
The city of Pachuca is the best starting point. It's just a 30-minute taxi ride from the city that should only set you back about $7-10 US (though you can always split that with your ILP group you're traveling with!). You can also take a combi to the centro, which is about 23 pesos per person.
From Around Pachuca
Traveling by bus is the way to go in Mexico — many connecting routes can get you to Pachuca. For example, from Puebla, two buses can take you to Pachuca, then you'll just hop in a taxi to ride the rest of the way to Huasca de Ocampo. That journey will take about 3 hours, making it an easy choice for a weekend getaway. First, catch a bus to Sahagun City then another bus to Pachuca (check routes and costs here).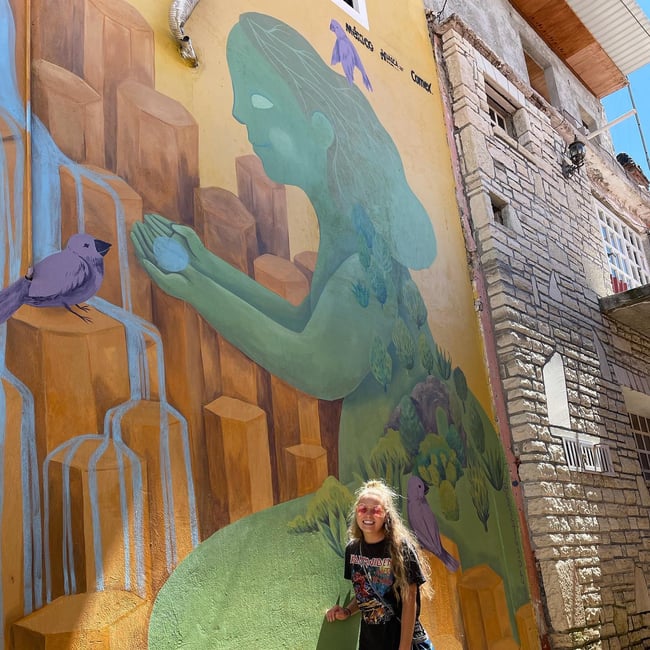 Come explore Mexico with us!
Come volunteer to be a part of one of ILP's programs in Mexico. You'll stay busy teaching English during the day and exploring your local town, then can head out to places like Huasca de Ocampo on the weekends, and over to places like Costa Rica, Nicaragua, or Panama on your ILP vacations.
Have a couple of questions? Not a problem! Come talk to an ILP representative about that and learn more about Mexico, right here: