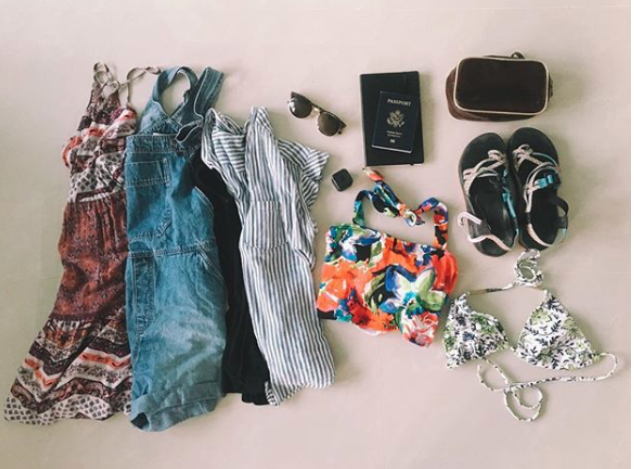 If you're packing for an extended international trip, it's important to have a plan, especially when it comes to your clothes and how much you're bringing!
If you're not careful, you're going to end up like me when I packed for my first semester living abroad with International Language Programs. No plan when I started packing my clothes, shoving any clothing item I thought I *might* wear during the next four months and bringing half of my closet.
That's a huge mistake for two reasons — you'll waste so much suitcase space on clothes you end up not even wearing and you'll also leave a lot of things you'll actually want (like comfort food from home).


---
Just in case you want a little more help,
make sure you check out this packing guide; it's full of our best tips
---
Luckily for you — I've volunteered with ILP a few times and have some tips to share from trial and error packing experience.
But First, A Big Disclaimer
Here's the thing: Everyone will tell you something different when you ask about packing ... because everyone has different preferences. Some of us are more minimalistic and others want more options. You really need to decide for yourself exactly how many pairs of shoes you want to bring. The only reason I'm writing this post for you is because one of the biggest questions we get is "Okay ... but really though, how much clothes should I bring though?"
So that's why we've got these recommendations below! Not because you need exactly 4 pairs of pants — but because so many of you want something more specific than the very vague recommendation to "bring pants".
Obviously, you can cater this to your needs. Please do. Like I've said earlier, this list may vary depending on where you are going or your preferences. If there is something on this list that you don't use — don't bring it! You can omit that item and bring an extra thing of something else you will use.
Here's What I Pack For My Semester Abroad
7-10 shirts
4-5 pairs of pants
1-4 pairs of shorts (depending on the country)
2-5 dresses/skirts
3 pairs of shoes
4-7 pairs of socks
10 pairs of underwear
1-3 swim suits
1-2 light jackets/sweatshirts
1 coat**
7-10 shirts
Bring neutral colored shirts that all sort of "go" with your neutral shorts, pants, and skirts. If you have ten shirts, it's important that they can go with any colored bottoms and are versatile enough to go with both pants and skirts so that you can mix and match, allowing you to create multiple outfits. It'll shock you how many outfits you can create with seven to ten neutral colored shirts!
If you're going somewhere hot:
Don't even bother bringing a long sleeve or heavy material shirt! Bring all light weight, easy dry tank tops/short sleeve shirts. Later on we'll talk about a sweatshirt or jacket which you will want for things like train rides, but as far as just day-to-day shirts are concerned, go lightweight and comfortable.
If you're going somewhere cold:
Make sure you bring a mix of long sleeve and short sleeves that will get you through a variety of weather and temperatures because you'll likely see it all! Bringing short sleeve shirts will give you the option to layer (which is so important in countries in Europe where it's freezing outside, but really warm inside).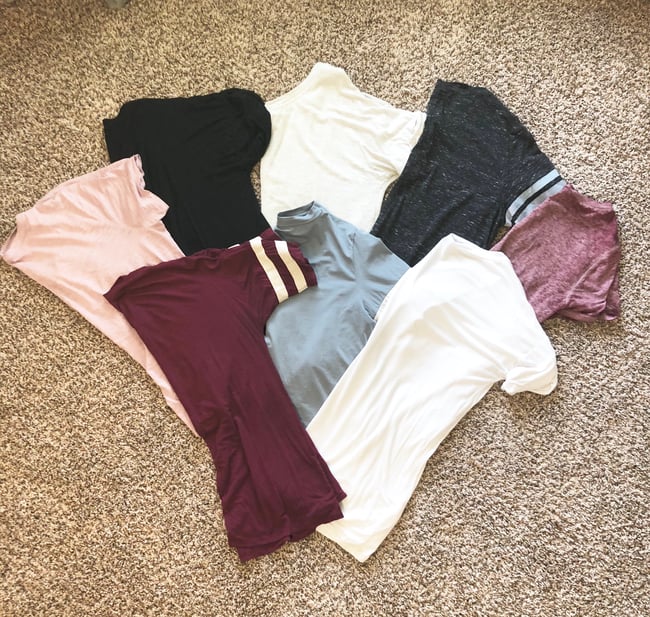 4-5 pairs of pants
When I say pants, I mean any kind of pants! That does not mean bring four pairs of jeans, four pairs of yoga pants and four pairs of sweat pants.That means, bring four pairs of pants total.
Pants are typically one of the heaviest and bulkiest things in your suitcase, so I prefer to limit it to just my favorites that I love wearing again and again.
If you're going somewhere hot:
Don't bother bringing any jeans — bring more shorts and skirts! You might want a pair of yoga pants for traveling, but I never once worn jeans while I was in humid countries like Thailand.
If you're going somewhere cold:
You'll need to decide what kind of pants you'll wear the most. If you will wear jeans the most, bring two pairs of jeans, one pair of yoga pants and one pair of sweats. If you live in yoga pants, bring two of those, one pair of jeans and one pair of sweats. If you never wear sweats, bring two pairs of jeans and two pairs of yoga pants...you get it, right?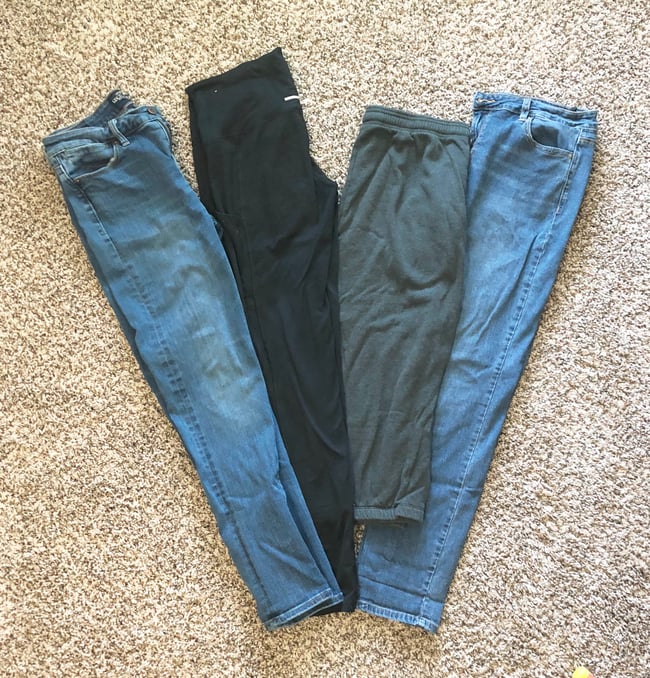 1-4 pairs of shorts
Again, the amount of shorts you bring really depends on how much you wear shorts and how hot the country is you're going to. Some people love shorts while others prefer joggers or a dress. If you're one of the latter, consider ditching the shorts and bringing an extra pair of what you wear the most.
If you're going somewhere hot:
If you're going somewhere that is hot all the time like the Dominican Republic, I highly recommend you don't skip the shorts. I would honestly say, only bring shorts and skirts because pants of any kind are just too much.
If it's going to be hot constantly, I would bring up to four pairs of lightweight, easy-dry shorts. If you're going to be working out and living in them, you'll need a good handful of them. I loved wearing exercise shorts pretty much my whole semester (when I wasn't teaching).
In hot and humid places, denim is not a good idea. It's sooo hot and they will take forever to dry.
If you're going somewhere cold:
For cold places, you obviously won't need many shorts. I would bring one or two pairs if you like to sleep in them or if you're planning on visiting any warmer countries during your semester abroad. Keep in mind that even "cold places" get warm too. You'll likely have a handful of nice, sunny days during your semester where you may possibly want shorts.
If it's not going to be humid, denim is a great option. Just keep in mind that even though it's not humid, they may still take a while to dry (most countries will not have driers so you'll air-dry your clothes).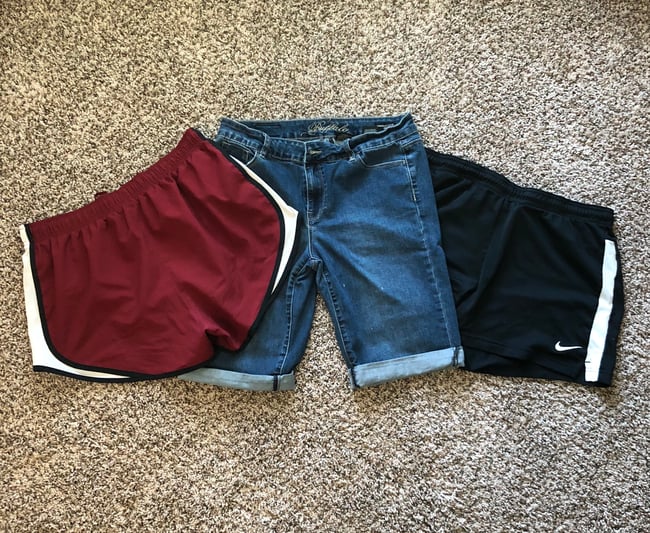 2-5 dresses or skirts
For the female volunteers, having a few dresses/skirts is a good thing because you'll be using them while teaching (especially in countries like Thailand and Lithuania), if you attend church and just to wear for special occasions when you want to feel a bit more dressed up. This number is a bit tricky to narrow down ... some ILP teachers will do all of their teaching in dresses/skirts, so you may want to pack more. Maybe you'll only need 2-3 dresses for Sundays. This number can vary.
I'd recommend bringing one nice dress and two skirts (again, make these skirts black, gray or something neutral; you can go crazy on the dress color if you want). With two neutral colored skirts that you can pair with your seven to ten shirts, you'll have tons of outfits.
*If you're going to Thailand or Lithuania you'll be wearing a dress to teach in 4-5 days a week, so if you don't want to wear the same one multiple times a week you might want to bring one or two more. Teachers in the Caribbean and Central America also usually prefer to teach in dresses due to the heat, so you might also want to pack more than 2-3.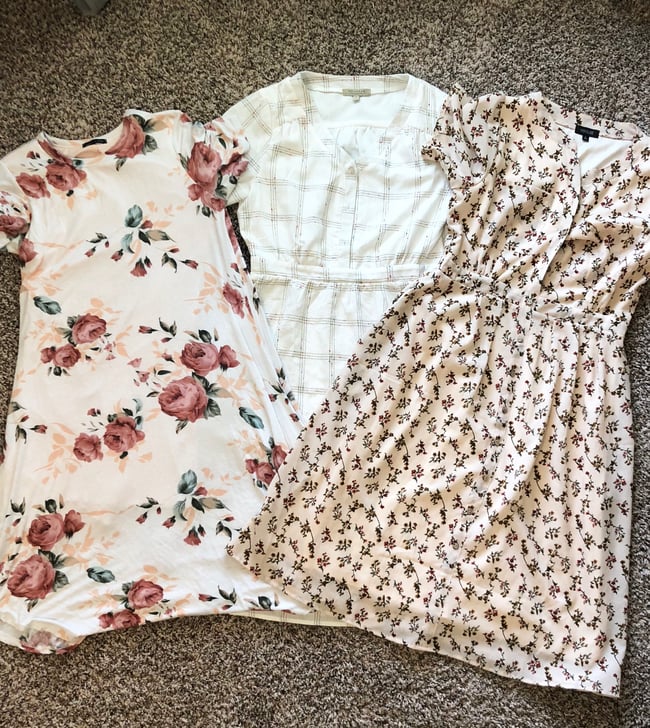 3-4 pairs of shoes
This is the hardest one for me, but it's so important to not load down your suitcase with shoes! Deciding what three pairs of shoes you'll bring will depend on where you're going.
My biggest piece of advice to help you stay minimalist here is to bring 1 pair of shoes for each type of activity you'll be doing. I only brought one pair of sandals (instead of the 5 I had in my closet) knowing that I'd be fine wearing the same pair with every outfit.
If you're going somewhere hot:
—

Neutral colored sandals (preferable ones that can be dressed up and down like Birkenstocks or Saltwaters)


—

Tennis shoes (for working out and every day use)


—

Water shoes (like flips flops, Tevas or Chacos)

If you're going somewhere cold:

—

Nice pair of warm boots (you can also buy these in country to save room)


—

Pair of black flats (for dressier moments)


—

Tennis shoes

4-7 pairs of socks
Of course how much you think you'll be wearing sandals vs tennis shoes could affect how many socks you bring, so again use your best judgement here.
I'll just say that I really only did laundry about once a week while I was living abroad, so it's nice to have enough to last you from wash to wash. And of course if you're heading somewhere with colder weather, bring a few pair of thick, warm ones for your boots.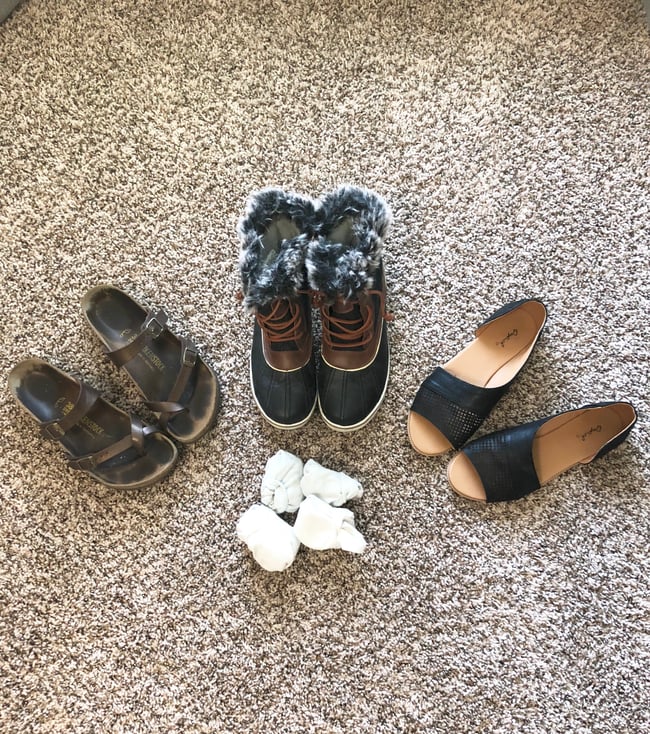 10 pairs of underwear
Again, the only reason I'm saying 10 is because of the laundry situation. You'll be sharing a washing machine with everyone in your group and it's not always convenient to frequently do your laundry. So if you're washing your clothes once a week, or maybe you have a 9 day vacation and don't want to wash clothes while you're out backpacking, then you just want enough to get you by for that period of time.
1-3 swimsuits
Bringing a swimsuit is a must even if you're going somewhere cold. You may end up visiting a place where a swim suit is needed (like the thermal baths in Budapest) and you don't want to caught without one.
If you're going somewhere hot:
If you're going somewhere hot — bring a few! You'll be using them a ton and you'll want to have a few for your vacations when you're constantly at the beach.
If you're going somewhere cold:
If you're going somewhere like Europe, you won't be using your swim suits as much, but I'd suggest bringing at least one, possibly two. They don't take up much room and are always good to have!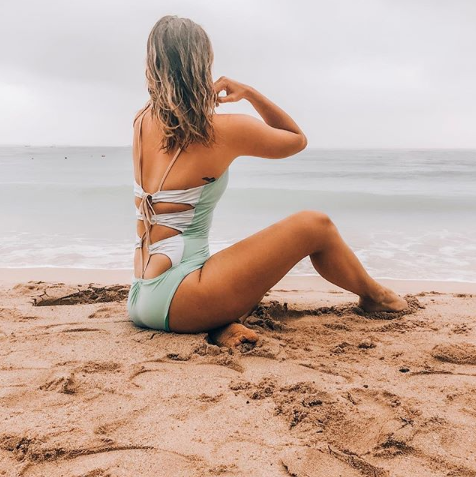 1-2 light jackets/sweatshirts
No matter where you're going — bring at least one light jacket or sweatshirt. You will never know when you'll need it.
If you're going somewhere cold:
Bring a few light weight jackets or sweatshirts. These will be key in being able to layer. You can put on a shirt, then your lightweight jacket then your heavy jacket to go outside. When you go into a warm building, you'll be able to shed layers as necessary. You'll also want less intense winter gear for when the weather is warmer in the spring/fall, but you still need a bit of coverage.
If you're going somewhere hot:
Bring one lightweight jacket or sweatshirt. You never know if you'll have an cold day or if it'll get a little chilly in the evenings. Also, buses and trains tend to get cold so you want one anytime you're traveling.
Pro Tip: wear your jacket on the plane. Then it won't take up any room in your suitcase!
1 coat
Winter coats are only needed in certain countries during certain times of the year. Of course, do not bring one if you do not need to.
Also, I'd recommend buying a heavy coat in country if at all possible. It'll save you lots of suitcase space. If you can't buy your coat in country (our Spring volunteers will want a coat right when they get off the plane) think about vacuum sealing your coat into a bag to help you pack it up, or just wear it onto the plane.
If you're going somewhere cold:
Consider what time of the year you will be there. If you're arriving when it's already freezing cold, consider bringing one (wear it on the place and shove it under your seat for more suitcase space). If a jacket/sweatshirt will do for a day or two when you arrive, buy one there.
If it won't be winter, just bring jackets and sweatshirts. You won't need a huge puffy coat.
If you're going somewhere hot:
You likely don't need a coat, so just stick with a sweatshirt or light jacket.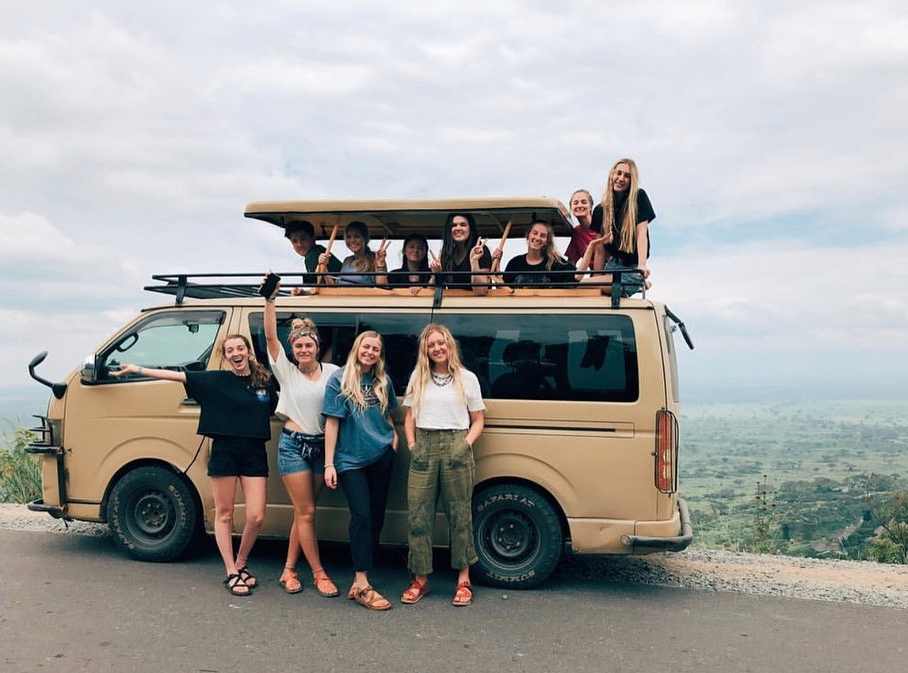 Spend your semester abroad with ILP volunteers
When packing clothes, never bring that one thing that sits in your closet all year that you never grab because you think you might actually use it. Make sure every item you pack is something you like and will wear!
Are you ready to become an ILP volunteer and start your adventure around the world while making a difference? Click that button below to get your application started!