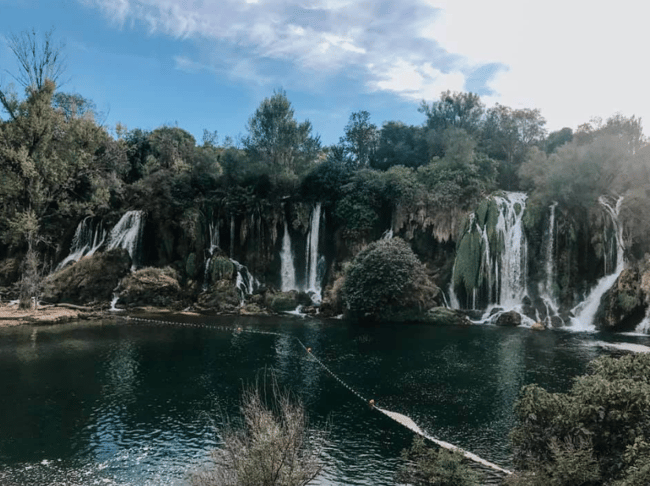 Hanging out in Bosnia? These thundering waterfalls are an easy day trip from Mostar, which just happens to be home to the prettiest bridge in Europe.
Don't get me wrong, I adore visiting all the places you typically see on a European vacation — trips to Italy, some time in France, hikes in Switzerland, and a quick stop in England are all fantastic options for a vacation. But there really is something unbeatable about visiting places that are totally off the traditional tourist track and experiencing corners of the world that aren't completely flooded with crowds (yet).
---
Planning your own trip?
Get all our favorite cities mapped out in this European Destination Guide
---
Bosnia is definitely one of those gems. It's not completely unheard of, but in comparison to the crowds and things you'll find in places in western Europe, you'll fall in love with the quieter mountainside towns and adventures hiding in the jagged hills in this country. Now that you're totally sold on adding Bosnia to your itinerary you should know about our newest "I can't believe everyone doesn't go here" day trip. We're all about the Kravice waterfalls, a series of thundering falls that pour into a natural swimming pool. Sometimes nicknamed the "Niagara of Bosnia", it's amazingly pretty and something you've got to do if you're visiting Mostar, Bosnia.
About The Kravice Waterfalls

Getting To The Falls + Prices
Things To Do At The Falls
Some Helpful Tips
Taking A Day Trip From …
About The Kravice Waterfalls
The Kravice Waterfalls (also known as the Kravice Falls Mostar) are just over 20 miles from Mostar and are absolutely worth visiting — imagine diving into turquoise pools when it's hot and sunny out. The falls are a series of 20 different waterfalls, that all tumble over the edge of a cliff covered in thick lichen and moss. They are amazingly pretty, and swimming in the cool mountain water after a short hike from the entrance of the park can't be beat. The whole area is protected by the state government, but it's open to the public for all sorts of swimming and picnicking.
Getting To The Falls

+ Prices
Typically, we're fans of the DIY option where you hop on a bus to get there on your own, but there isn't a public transportation option so a tour is your best bet. Typically tours are around 6 hours, and costs about 25-40 euros for the whole deal if you're leaving from Mostar, Bosnia. It's actually a popular day trip from Dubrovnik, which helps add to the popularity of these falls.
You'll want to double check to see if the tour you booked includes or doesn't include the entrance to the park. If you're visiting in October, entrance fees are 6 KM, 8 KM in June through September, and 10 KM in July and August.
Most hotels and hostels have a tour company they like to use, so that may be something to consider when looking at where to stay when you're in Bosnia! If you'll be visiting Mostar, Bosnia keep reading for a go to guide that has tips for your visit, including some places to stay that offer tours to the waterfalls.
Once you get to the falls, you'll reach a small parking lot and then can hop on a tram to take you up and down from the parking lot to the actual falls (it's about 2 euros per person, each direction). Or you can just take the short hike down a set of stairs and around a few bends in the forest (we vote to just hike, it's very short and very doable).
Things To Do At The Falls
Swimming and taking in the view is an obvious choice. Once you get there, you'll see a series of stacked waterfalls carving through the jungly cliff, and a huge pool that's perfect to swim in. If you decide to swim up to get a closer look at the falls, you'll find a few mini rock pool, several mini cascades, and a few places to perch under some of the smaller falls. Just know that the waterfalls are extremely powerful so you'll want to be careful swimming too close, and the rocks nearby are extremely slippery, so be careful!
You can also hop on a boat trip if you want to see the falls that way. It's pretty laid back and a good way to soak it all in. Plan on paying about €5 for a 20 minute ride (per person) or €10 for 40 minutes. Get some more info about the boat trip by contacting Tom: vuktom@ymail.com. (It's not always an option depending on the water level).
Other Details
There are changing rooms at the falls, so you can change in and out of your swimming clothes. Just peek for the huge tarps that look like massive advertisements. You'll find some basic toilets here, and more modern toilets up at the entrance of the actual park.
If you're hungry, there is a restaurant and a couple of other eateries by the falls in the summery months (when you'll likely be visiting). You'll find options like sandwiches, salads, grilled chicken, pork chops, pizza deli platters and your mix of coffee, soft drinks, and juices, along with ice cream, of course.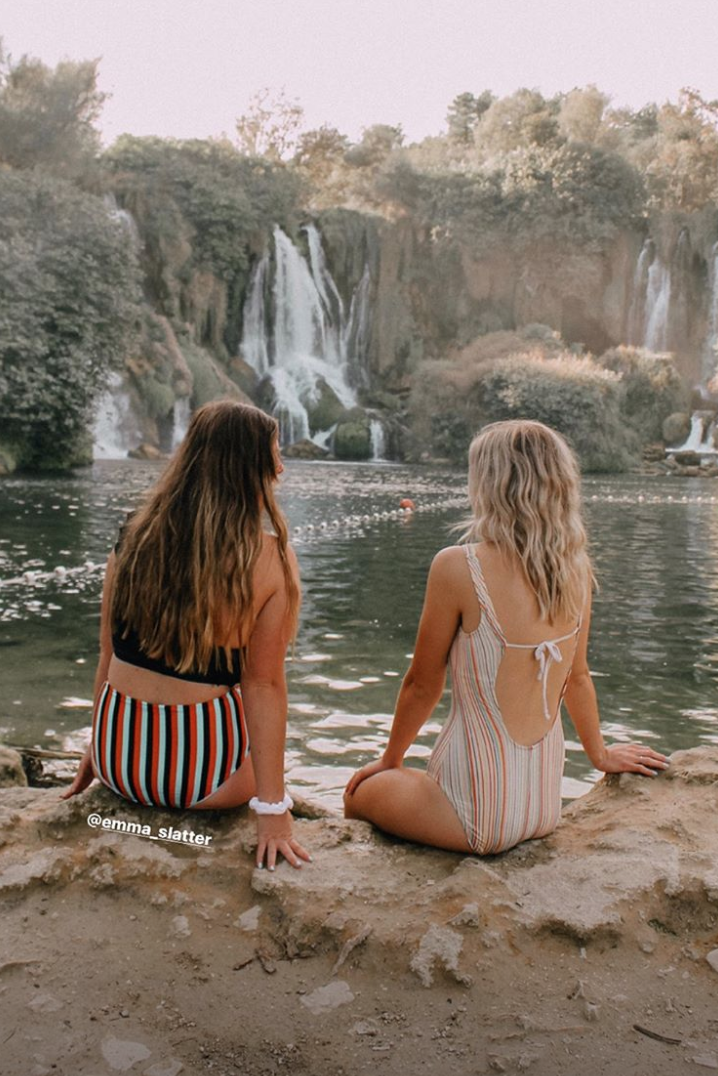 Some Helpful Tips
When To Visit?
It's usually warm enough to swim from April to October (but the lake stays pretty chilly even in the hot summer months). You'll find the biggest swells of crowds in July and August (which are also the warmest months) so best to visit in May, early June, late September or even in early October to help beat hiking in the heat and avoiding some of the crowds.
What To Bring?
Your classic go-to swimming gear. You'll want a swimming suit, shoes to swim/hike in (we love adventures sandals for stuff like this), a towel to lay out and catch some sun (and to dry off with). You'll need cash to pay the entry fee if that's not included in your tour, and for any drinks, snacks or food you'll want. It's handy to bring a trash bath with you if you're packing in your own snacks to help keep this place as pristine as possible. There's a "pack it in and pack it out" mindset around this natural wonder.
Taking A Day Trip From …
Mostar, Bosnia
Stari Most (also known as the Old Bridge) is arguably the prettiest and most iconic bridge around, and is easily the city's most famous attraction … reason enough to come visiting, right? This high, half-moon bridge is something you can't leave without photographing, and watching for the whole afternoon. Some of the brave locals will jump almost 80 feet from the bridge to the river below (which his quite the show). The city is also home to a towering mosque, a sprawling Turkish bazaar, and a few other favorite ways to spend a day or two. Get your Mostar guide here.
From Mostar, it's just a 20 mile drive to the falls making it a very easy day trip and very easily booked once your in the city. It's been mentioned before but you'll find places to book a day tour all over the city, including where you may be staying the night. Lots of hotels and hostels have tours you can book with them, or can point you in the direction of where to go to book your trip to the falls.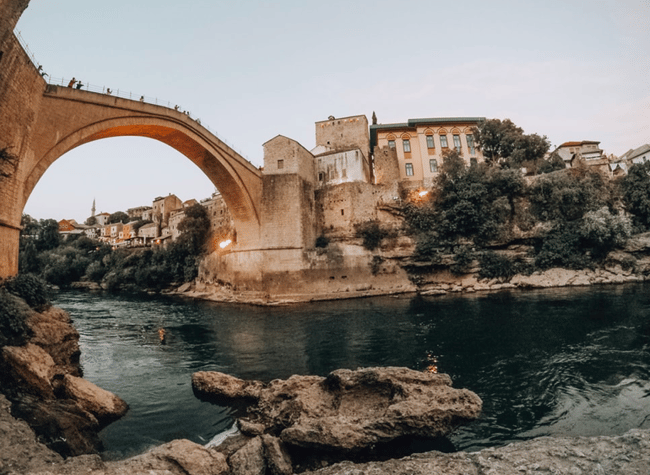 Dubrovnik, Croatia
Another very very popular option is visiting Bosnia when you're staying in Dubrovnik, Croatia — a city set on the glittery cliffs of the Adriatic. A visit here means seeing an Old Town complete red-tiled roofs, white limestone walls, and views overlooking the sea, encircled by a stone wall. Get your Dubrovnik guide here, full of things and places to eat, popular day trip options, info about the city and more. The city is set up for day trips galore, surrounded by a smattering of islands you can visit for the day, or the chance to hop over to places like Bosnia. Since the waterfalls are that amazing, you'll find tours taking you from Dubrovnik to Mostar then back. These are typically 10-12 hour tours for around $50 - $60 USD or so.
From Dubrovnik, it's about an 80+ mile drive to the falls. Most tours will include a tour of Mostar City and an hour or two at the waterfalls. If you're looking for more time, I'd suggest setting up camp in Mostar so you can have most of the day at the falls instead of needing to rush back to Dubrovnik. But if you're wanting to do it all in a day, it's possible!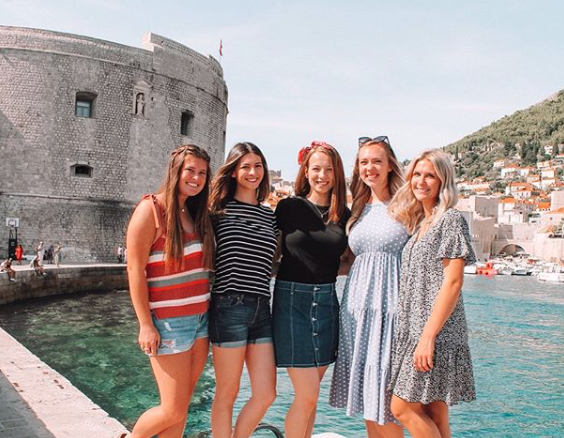 Thinking a trip to Europe just isn't long enough?
We get you — come spend a semester living in Europe instead! ILP volunteers spend a whole semester living in Europe, spending part of your time teaching English or volunteering in an orphanage, then the rest of their time exploring and vacationing. It's a total win-win, the chance to give back and to have some serious adventures!