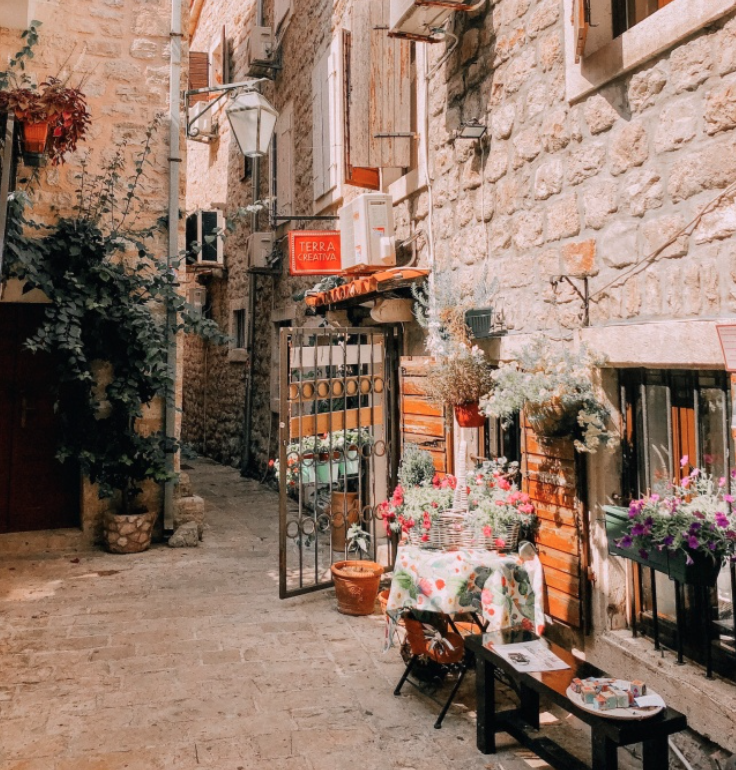 Skip out on the crowds in Dubrovnik, you can get the same kind of charm (without the floods of tourists) by visiting Cavtat instead.
Okay, I'm all for seeing "the city" in the country you're visiting. I mean, there's a reason why people go to Paris to see the Eiffel Tower … it's just something you do. But if you're wanting to skip out on the cities that are much too crowded, way too touristy, and are looking for something a bit more untouched, I think we can be good friends. And if you're thinking that you might not love the crowds and high prices found in Dubrovnik, I'm happy to introduce you to Cavtat.


---
I spent a semester living and traveling all over Europe
Come see what volunteering with ILP is all about.
---

Dubrovnik is easily the most famous and visited spot in Croatia for good reasons. I mean, just look at all the reasons to love Dubrovnik. It's a glittering city situated right on the Adriatic and the people swarm here to soak in all the pretty views … but you can get the same kind of postcard views and coastal vibes by visiting nearby Cavtat. Find Renaissance palaces, ancient villages clinging to the cliffs, all nestled right on the Adriatic. I say anytime you can escape the crowds in Europe, do it … especially when Cavtat is only 30 minutes away.
Say "Hi" To Cavtat
Alright, if you're like me, you'll want to know a bit about your newest favorite city. Cavtat has a Greek past, a detailed history that stretches back to the Middle Ages. We'll get to all the things to see and do in a minute, but it's pretty important to know that this lesser known city has a pretty parallel history to it's much more famous neighbor, Dubrovnik.
This city has a relaxed low-key vibe. While Dubrovnik swarms with tourists willing to pay higher prices, you'll find more affordable options here. Places to stay are going to be less, meals are going to be less, and things to do are going to be less. Perfect for anyone looking to travel Europe on a bit more of a budget.
Oh, and one more thing to know before we dive into all the reasons you'll love Cavtat — the geography. The city is spread inland and over two peninsulas (Rat and Sustjepan) that sorta jut out like crab claws. Most things (like the beaches, things to do, and Old Town) are on the Rat Peninsula side of things.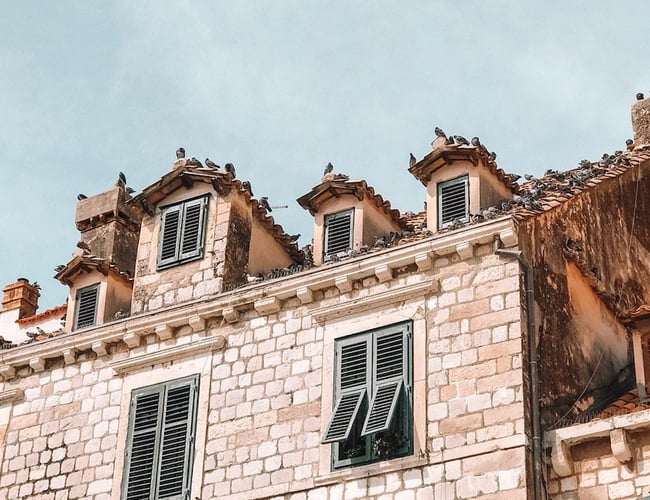 The Gems In Cavtat
Go Sea Kayaking Or SUP
Being situated right on the coast, it's no surprise that the ocean is a main pull when it comes to things to do. You'll find lots of tour operators (especially in the high season, which is late May/early June into early September) who can help you rent out kayaks for the day or a paddleboard or two.
Or you can book a tour, like Sea Kayaking Cavtat if you want more of a structured paddle. They have guided tours and rentals available. They have kayaking tours three times a day (9:30, 1:30, and 5:00) for 250 kn per person. Tours are around 2.5-3 hours. Their SUP and kayaks are also rented out by the hour (100 kn per hour, or 400 kn for a half day).
The Best Beaches
One highlight of Cavtat is the seafront location of this little city. It hugs the coastline and doesn't have too many restricted swimming spots, meaning you can jump in wherever you feel like you need to cool off. I'd recommend walking around the city and finding your own spot for swimming, or hitting some of the popular beaches.
Most of the ones in front of a hotel or resort will let you rent out lounge chairs and umbrellas for the day if you're wanting a more established beach day. Prices really fluctuate, with 30 kuna for a sunbed and umbrella, up to 120 kunas for two sunbeds and umbrellas which is crazy expensive. Don't pay more than 120.
Beach Cavtat
Hotel Croatia Beach
Obod Beach
Klucice Beach
Beach Rat
Beach Zal


A Seaside Stroll + This Church
One of my favorite ways to unwind in coastal towns is to grab an ice cream and hang out with some palm trees where I can listen to the ocean. Cavtat is on the same page as me, with a pretty seaside promenade that rims the edge of Luka Bay. It's paved, backed with towering palm trees, and dotted with a spread of restaurants, cafes, and ice cream spots. There are also little open-air pavilions you'll stumble across on your stroll. In the warm months, these terraces are full of little couches and chairs where you can really sit and relax.
It's a prime spot to watch the sunset, plus you'll be right by the St. Nicolas Church. It's just another one of the pretty buildings creates the picturesque views of Cavtat, those classic buildings you love about this part of the world. It has a creamy stone facade, with a rounded bell tower, adorned with a clock face. Peek inside and admire a few paintings by the famous Croatian artist, Vlaho Bukovac.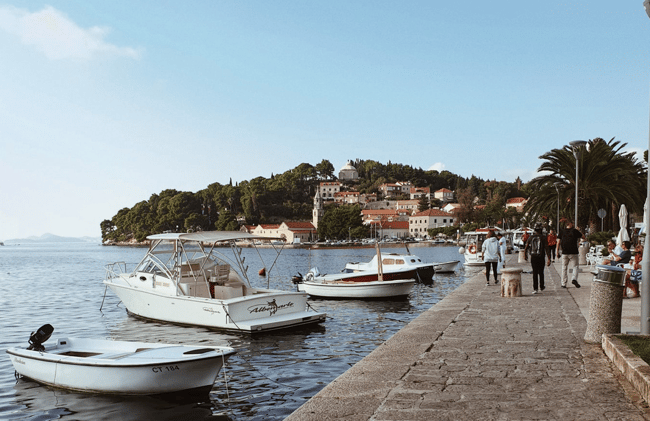 Vlaho Bukovac's House
Not too familiar with this Croatian artist? I wasn't either until I looked a bit further into his work and became a big fan of his heavily Impressionist-influence pieces. While in Cavtat, you can tour his childhood-home-turned museum. It's a charming three story home where visitors walk through the rooms still decorated with his artwork and set up with some of his materials. It's a more intimate glimpse into the life of an artist, not something you can get in a traditional museum.
When you arrive, you can download an app (provided by the museum) that guides you through Bukovac's house, life, and over 200 of his paintings, sketches, and drawings, and other documents.
Hours: Hours fluctuate, check this site for more info.
Cost: 30 kuna, 15 for students
Address: Bukovceva 5, 20210, Cavtat, Croatia
Hike The Ronald Brown
This rocky climb is a 5 mile trek that leads you up to an impressive vista. It's about a five hour hike that's rather strenuous, but is well worth the climb, thanks to those coastal mountain views. This site has a really detailed description on how to find the trailhead and the tragic history of how the hike got its named.
You'll want to have those instructions handy to make sure you don't lose you way along the switchbacks (and so you understand the significance of the memorial at the top of the climb).
Go Island Hopping + Day Trips
Since Dubrovnik is so close to Cavtat, and there are so many day trips available from Dubrovnik, you can easily make your base in Cavtat and still hang out in all these nearby places. In the summer months, double check ferry schedules because a few of the ferries do have routes to the nearby islands (like Lopud Island) from Cavtat, while others require you leave from Dubrovnik. You can peek the ferry schedule here for places like Plat, Mlini, Srebreno, Dubrovnik and Lokrum from Cavtat.
Get a big long list of Dubrovnik day trips here. It's full of info you'll want to know when planning your trip.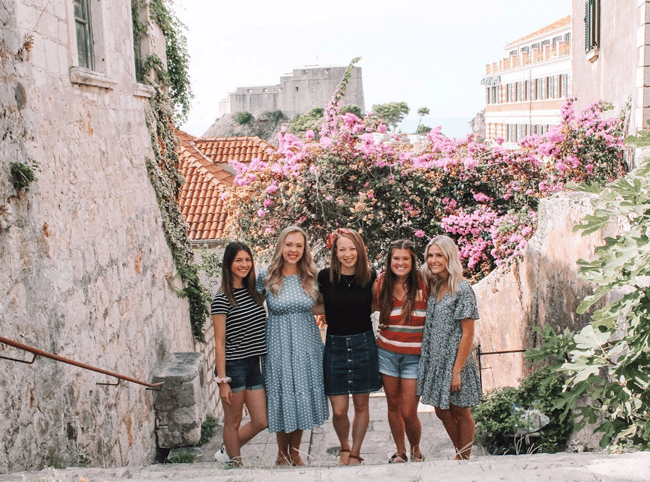 Where To Eat
Pizzeria Kabalero
With a menu full of pizza, fresh calamari, a bright ceviche dish, and a squid ink risotto, handmade pastas, this pizza place is more of a combination between Mediterranean and Croatian cuisine, with a heavy dose of Italian. It's a popular option (one that people tend to visit more than once while here!)
Address: Put Tihe 8, 20210, Cavtat, Croatia
Hours: 7:00 AM to 11:00 PM
Kuca Sladoleda (House of Ice Cream)
A must-stop place, right? Vacationing is all about ice cream, and this house of ice cream should be on your daily itinerary at least once (or probably twice a day if you travel like me). You can snag a generous scoop for about 10 kuna, with flavors like Nutella, pistachio, cheesecake, cherry, salted caramel, creamy coconut, tart lemon, and Bueno bar. $1.50 per scoop?! Yep, you're going to need to go more than once.
Address: Villa Andro, Trumbićev put 21, 20210, Cavtat, Croatia
Hours: 7:00 AM to 2:00 AM (12:00 AM on Saturday)
Posejdon
Yum, find some favorites at this restaurant. You can start with appetizers like prosciutto and cheese, then have a main course like grilled fish, a greek salad, steak sandwiches, omelettes, and a few different kinds of pizza. Their dessert menu is also worth a look, with options like a cake of a day and ice cream.
Address: Trumbićev put 21, 20210, Cavtat, Croatia
Bugenvila In Cavtat
More of an upscale option, this is one of the most famous (and delicious) restaurants around. It's found right on the coast, so you can steal a spot on the open porch and take in the ocean views while you eat. The menu is full of fancier options, like seared white fish, poached lobster, fresh octopus, and oysters on the half shell. It comes with a price tag, but it's a more-than-delicious splurge.
Address: Put dr. Ante Starčevića 9, 20210, Cavtat, Croatia
Hours: 12:00 PM to 4:00 PM, then from 6:00 PM to 10:45 PM daily.

Places To Stay
Typically I'm a fan of looking into hostels, but you'll want to hit AirBnB instead for this city. You have more than a few to choose from, with some pretty insane prices for this part of Europe.
This apartment has a rooftop pool that's nestled right above the red tile roofs, plus an ocean view. I love the idea of the two patios and bright kitchen. Snag this gem for $73 a night, sleeping five.
Or maybe you want a spot right on the ocean. This apartment is right on the beach, a close walk to the city center, and right near the ferry port where you can hop on to a boat for a day of island hopping if you'd like. Book for $50 a night, sleeps three.
Getting To Cavtat
From Dubrovnik City
Most bus routes will take you through Dubrovnik. I'm still a fan of visiting this popular city, then hopping over to Cavtat for a bit of breathing room. From the old bus terminal in Dubrovnik's Gruž Port, bus #10 runs to Cavtat. It's a 25ish minute ride, for about 25 kn (around $3.75 USD). You'll pay the driver directly. Here's the bus schedule — there are multiple daily departures, mostly every hour from 5:00 AM to just under midnight on most days. The Cavtat bus station is right by the Old Town.
Taxi is also an option. From the airport, some travelers said they were able to snag a taxi there for 115 kn, roughly $16 USD.
If you're visiting in April to November, you can reach Cavtat by boat. Tickets are 50 kn for a one-way, 80 kn for a roundtrip, and you can check the ferry schedule here. The boat ride is incredibly picturesque, taking you south down the Dalmatian coast over glittering waters until you finally arrive in Cavtat bay, rimmed with rolling hills and stacked with old brick buildings. It's about a 45 minute boat ride.
From Dubrovnik Airport
You'll need to drive right past Cavtat if you fly into Dubrovnik and want to visit the city by the same name. From the airport, Cavtat is a quick 10 minute drive by taxi that you can book from the airport for a few dollars.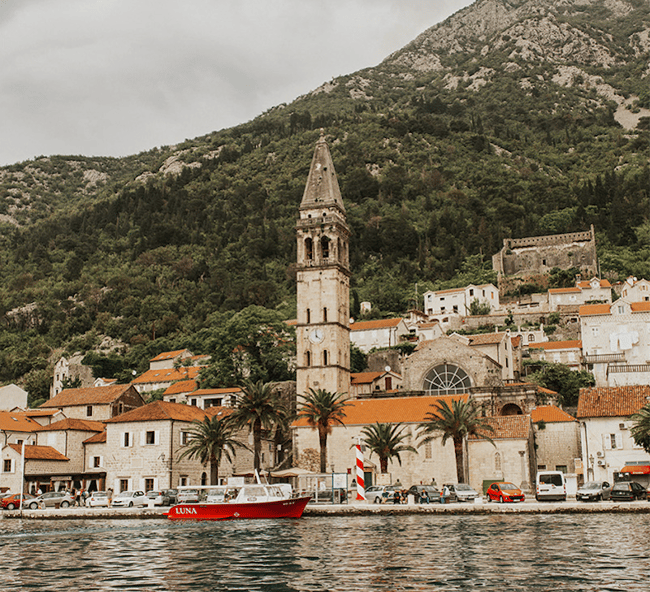 It's absolutely time to hang out in Croatia
It's way easier to take a quick trip to Croatia when you're already living in Europe! Some spend a semester volunteering in Europe as an English teacher or volunteering in an orphanage. You'll have weekends off and vacation time to visit your favorite coastal cities like Cavtat.