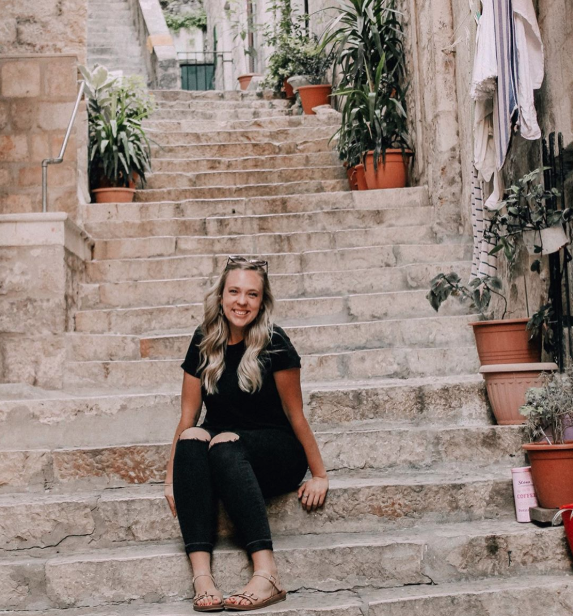 The country of Bosnia and Herzegovina isn't nearly as famous as other countries in Europe, but that just means you'll get to soak up these sites without any crowds.
Trebinje probably isn't a city you've heard of, let alone one on your travel list, but it definitely should be. Nestled in the heart of Bosnia's wine-country, a visit here is all about strolling through the postcard-pretty town. It's a red-tile rooftop city, tucked on the shores of a lake where weeping willow trees drip into the water. Stone bridges guide you over to rolling fields of grapes, all found at the base of a pine-studded mountain. It's definitely your favorite city you haven't heard of yet.


---
Visiting Bosnia is easy if you're an ILP volunteer
Come volunteer in Europe and see this gem on a weekend!
---

The real pull of this city is all about authenticity. It's not on the tourist hotspot map, so you won't get caught in long lines or find intentionally expensive English menus. It's a real look at local life, instead of running around to see all the tourist traps. We have a feeling this place is going to be your new favorite weekend getaway.
The Prettiest Spots To Photograph
A Place Or Two To Eat
Where To Stay
Nearby Spots To Explore
Getting To Trebinje
The Prettiest Spots To Photograph
Arslanagic Bridge
The most picture perfect views of the city has the Arslanagic Bridge in it. Since about 15 years ago, this bridge has been a national monument and symbol of the country and the city (it's that iconic). But years ago, this route connected Trebinje to Dubrovnik, built in the 16th century. From the top of the stoney bridge you can get a view of the city (and some really great pictures) but pull out your camera on the walk over there: Getting to the bridge has you walking along a dusty road that turns into a paved path that hugs the Trebišnjika river. It's gorgeous.
Getting Here: Plan on packing a picnic and making a day of it: the river is about a 20 minute walk from the city center, but we think you'll want to stop off on the side to soak up the views if the weather is nice.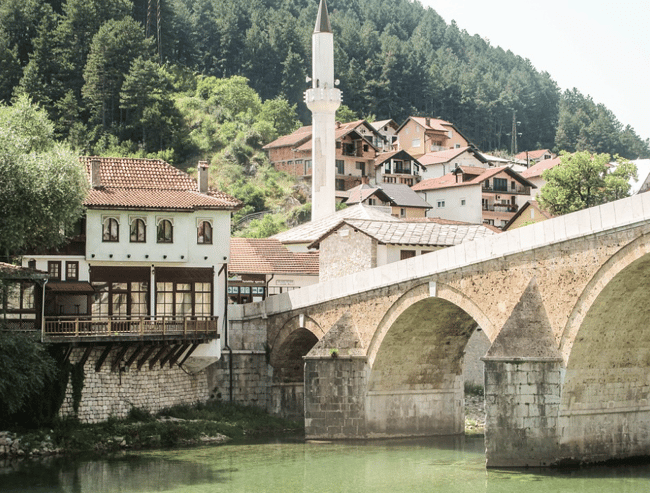 The Hercegovacka Gracanica Monastery
One thing I love about this part of the world are the churches. Unlike the Catholic churches found in Western Europe, or the Orthodox churches in Eastern Europe, there's such a strong Turkish influence that makes the monasteries here perfectly photographable. The monastery itself is a stunner, with striped bricks on the outside and hugely intricate ceilings on the inside … but another huge perk are the views you get from the monastery. It's perched on top of this sloping hill, so you can see the Trebišnjika river cutting through the city of Trebinje.
At the top are some grounds to admire (with trees lining the pathways), a souvenir shop, and a place you can get lunch or snacks. They have bomb lemonade for sale there, so be sure to grab a glass.
Getting Here: it's walkable from the city center, a scenic but steep 40 minutes or so.
Fort Strac (Tvrdava Strac)
Hike up to this Austro-Hungarian fort and see some of the best views of the city. The pathway you'll take hugs an old trade route, slowly leading you up the mountain to the fort itself. Fort Strac was built in the early 1900's, but was heavily bombed during the Second World War. Now the space is a spot for some of the most impressive views of the valley but is a pretty eerie area to explore. The fort is now abandoned, with rows and rows of bunkers that wind around dark coordinators and hidden stairwells. Now, there are a few hundreds of bat who hang out here, so careful not to disrupt them while you're out hiking around!
Getting Here: It's about a 2.5 hour hike, and you'll want to be prepared with plenty of food, water, warmer clothes for the breeze up at the top. Google Maps pull it up, with walking directions.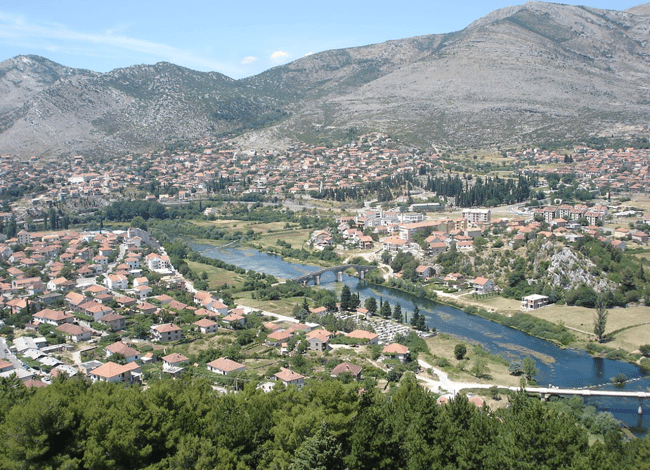 A Few Foods To Try
The Old Town of Trebinje is dotted with little cafes all around the city, this place is known for Bosnian coffee. You'll see lots of locals hanging out on the tables outside (in nice weather) sipping a cup or two. Since the Old Town is really small and walkable, you'll stumble on more than a few places to eat, but make sure you test out these local dishes.
Try Out Burek
One food you have to eat in Bosnia is burek. It's a whole family of filled pastries. The pastry here is really light and flakey, like the Greek phyllo pastry, and the filling? You can get really creative. Traditionally it's meat filled (a mix of lamb and beef) then rolled into a big round spiral before being cut into slices. But you can also have veggie ones, filled with creamy cheese and herbs, with some spinach. Yum.
You can find slices of burek all over, but it's more traditionally served at breakfast. Bakeries and any restaurant serving Bosnian food will have 'em.
Eat At Ćevabdžinica
A restaurant where you can try another local dish, cevapi. It's Bosnia's local dish, a mix of ground meat formed into a type of kebab that's grilled, and served up on a fluffy roll. Sometimes you'll see them topped with sliced onions and tomatoes. You can get this dish in a few spots, but Ćevabdžinica supposedly has the best around.
Found in the heart of Old Town
Hours: 7:00 AM to 10:00 PM
Eat At Tarana
Found on the outskirts of the city, this is one of the best places to try some local dishes in Bosnia. You'll find grilled meats served with potatoes, goulash with bread, baklava with plums for desserts, and a few other dishes. The staff here is friendly and the portions are big, with pretty low prices.
Address: Mira Popare 1, Trebinje 89101, Bosnia & Herzegovina
Hours: 7:00 AM to 11:00 PM
Visit The Local Market
Easily put together you own meal by buying a few things at this market. Farmers pull in the freshest produce and foods — everything from fresh cheese, jars of amber honey, baked bread warmed in the sun, brightly herbs, and piles of veggies and fruits. It's all seasonal, so you may spot juicy figs, baskets of berries, or piles of grapes depending on when you visit.

When: Daily, from 8:00 AM to 2:00 PM (ish).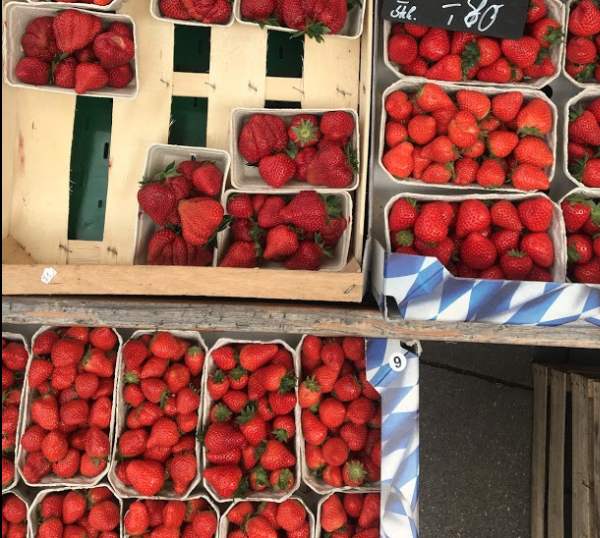 Where To Stay
There are just a couple of hostels to stay at in Trebinje, so your best bet is with the ones we chat about below, or by renting out an AirBnB.
Hostel Polaka
A favorite place to stay, that's just a short walk from the city of town and a beyond homey feel. The staff here have rave reviews about making travelers feel at home. You'll find lots of activities (the staff can help you set up a quick day trip to Dubrovnik if you'd like), group meals, and there's a free breakfast, too. Dorm rooms are around $12 a night, book here.
The Red Door
This hostel comes with a lot of perks. The Red Door has free pickup from the bus station (which is super handy), breakfast for 2.5 euros, plus a cool terrace space that makes for the idea spot to hangout after a day of exploring. This gem is about a 20 minute walk away from the city center, with dorm rooms for about $11-14 a night. Book here.
Nearby Spots To Explore
Dubrovnik, Croatia
One of the easiest day trips around, Dubrovnik is a hot spot for tourists. Who wouldn't want to hang out on what they call the Dalmatian Coast? Beaches aplenty are waiting for you, outside of this walled city. There are cable cars that can take you high over the coral rooftops, or you can spend an afternoon island hopping. Get your guide to Dubrovnik here, so you know the best things to see, do, and eat.
Getting Here: We have info below if you keep reading.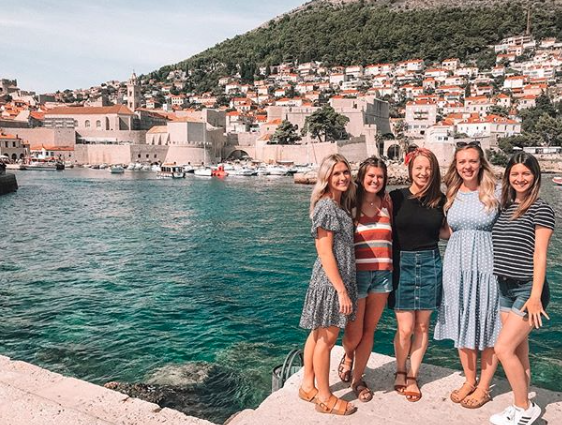 Mostar, Bosnia
Probably the most famous city in Bosnia, for a few reasons. This riverside charmer is home to Stari Most (also known as the Old Bridge) which is arguably the prettiest/most iconic bridge around and is easily the city's most famous attraction. The high half-moon curve sits high above the blue Neretva River, and connects the two sides of the charming stone city of Mostar. Watch people jump right off, before taking a day to explore the practically perfect Kravice Waterfalls.
Get your Mostar guide right here, complete with a few recommendations you'll want to check out.
Getting Here: Mostar's just about 70 miles away, so it's an easy spot to spend a day or two from Trebinje. There are regular buses that run here. Plan on a 3ish hour drive in the 8 euro range (based on this site).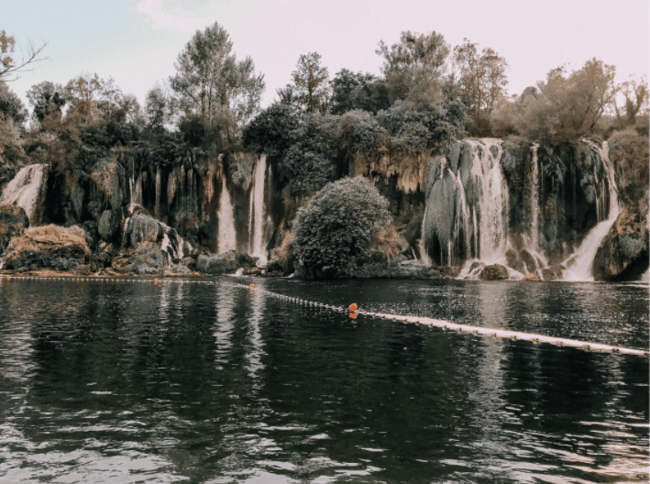 Getting To Trebinje
From Dubrovnik, Croatia
Already a very popular vacation spot, you can easily escape the crowds in Dubrovnik and head to Trebinje for a weekend. The bus ride from Dubrovnik is quick, about 45 minutes (or around an hour) and affordable, with one-way bus tickets in the 3 euro range. It's common that bus tickets for this route aren't available online for purchase, but you can check potential schedules here and here.
From Podgorica, Montenegro
The capital city of Montenegro is another popular jumping off point to a few countries and cities in the Balkans. There are 1-2 bus departures daily — it's a 3 hour bus ride and prices are in the 6 euro range. Look at potential routes and prices here and here.
From Budva, Montenegro
Hanging out near the coast of Montenegro? Budva's a popular vacation spot and an easy jumping off point for a handful of weekend trips, including Trebinje. There are regular buses that leave Budva to Trebinje, with routes that are between 3-4 hours. Tickets for a one-way bus ride float around the 10 -15 euro range making it an affordable weekend getaway. Check out potential prices and bus schedules here and here.
Getting Around The City
It's very walkable. From the bus station in Trebinje, it's under a 10 minute walk to get to the heart of Old Town, so you won't need to handle any public transportation. Many hostels offer bus info or tours if you'd like to take any day trips to nearby spots.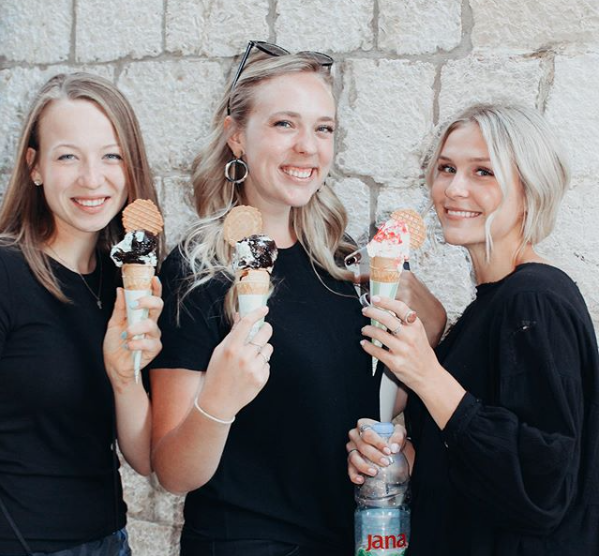 Are you ready for Europe?

Come spend a semester living here! I volunteered in Europe with ILP and not only got to call Europe home for a semester, but did so much traveling ... I saw all the countries on my bucket list, and a few cities that I ended up completely smitten with.