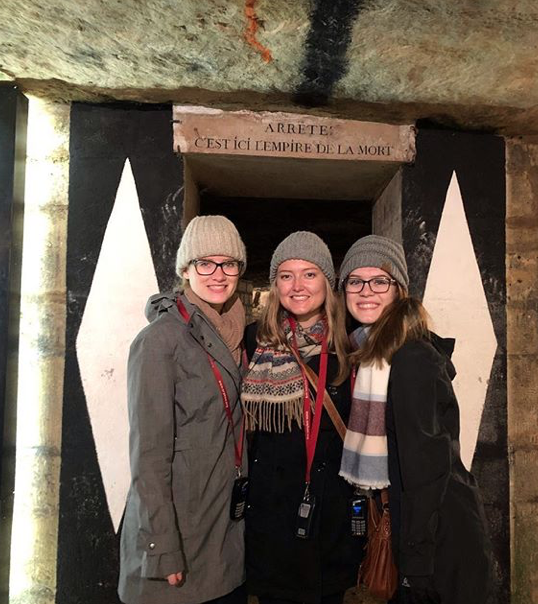 Paris is never a bad decision, especially if you go underground to visit the catacombs of Paris.
Heading to France? Please tell me you're visiting Paris. It may be filled with tourists, but it's also filled with gorgeous buildings, stores sporting pastel-colored macarons and the Eiffel Tower.
And under that maze of cafes and apartments, Paris is covered with catacombs, nestled deep underground. It's worth a visit, that's for sure.
What are the Catacombs?
The Catacombs are a small part of Paris' ancient mine tunnels. These underground tunnels hold the remains of over 6 million people. Wow.

It sounds a bit odd to want to wander these dark alleys, but let's have a little trust here, okay? First off, it's crazy to be so deep underneath Paris — You don't realize how deep underground you are until you take the winding staircase back up to the streets of Paris. And it's probably the most memorable history lesson you'll get on your vacation here.
You'll get a tour of the underground well there, and a few other signs to commemorate digging crews ... then you'll hit the chilling main attraction. Thousands and thousands and thousands of bones and skulls are neatly stacked, everywhere you look.

Certain sections are all designed (a Post-Revolution appeal to make the catacombs more sightly) and you can get as close as you'd like to these walls and towers of bones — just don't touch anything.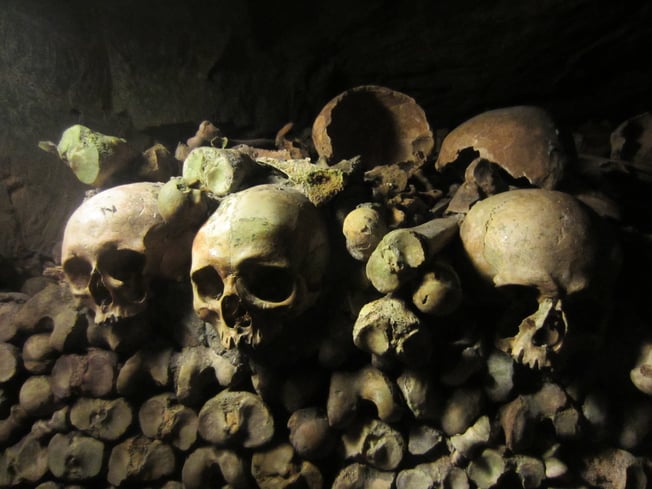 Where are they?
The Catacombs are a pretty big attraction which makes it super easy to find. You can ask your local hotel or hostel for more detailed directions — they will most likely have a tour option you can sign up for.
If you'll be taking the metro to get around, get off at Denfert-Rochereau; the exit is right where you'll enter the Catacombs. .
We have more information about the metro in Paris, here.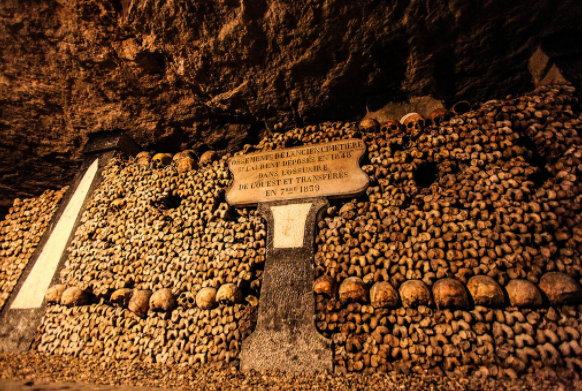 Admission + Pro Tips
General admission is 10 Euros (about 11 US dollars). You can also pay more for tour guides and pay more to skip the line. Only 200 people are allowed in at one time, so the line may stall to wait for people to exit before more people can enter.
The Catacombs are open Tuesdays to Sundays from 10:00 AM - 8:30 PM (last entry is 7:00 PM). They are closed Mondays, and on certain holidays. Visit that link above to book tickets and see their specific holiday closures.
Because the Catacombs are popular you may want to consider going early before they open to get in line. When we went it was about an hour and a half wait to get in, so avoid that by going early.
It gets chilly so far underground, so we suggest bringing a jacket if it's sunny and warm above ground on your visit.
It should take about 45 minutes to tour the catacombs.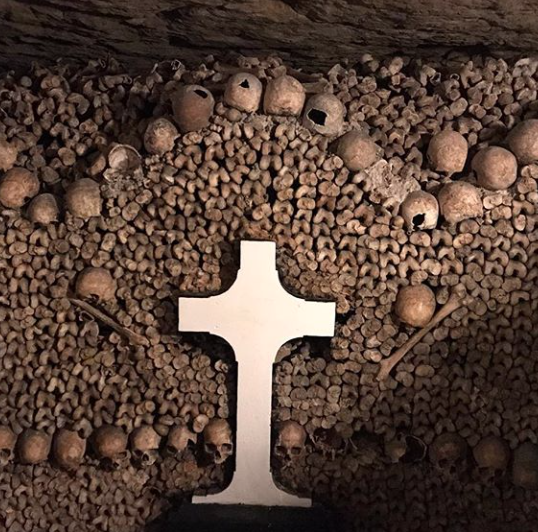 See what else the city of Paris is hiding with this Paris Go To Guide: it's full of tips from our volunteers who have figured out the very best of what this city has to offer.
International Language Programs (ILP) sends volunteers abroad to a few countries, more than a few of those are in Europe ... which means taking vacations to cities like Paris.

If you're a fan of making a difference by volunteering, taking trips all around Europe and not paying that much for all of that, ILP could be the perfect fit: