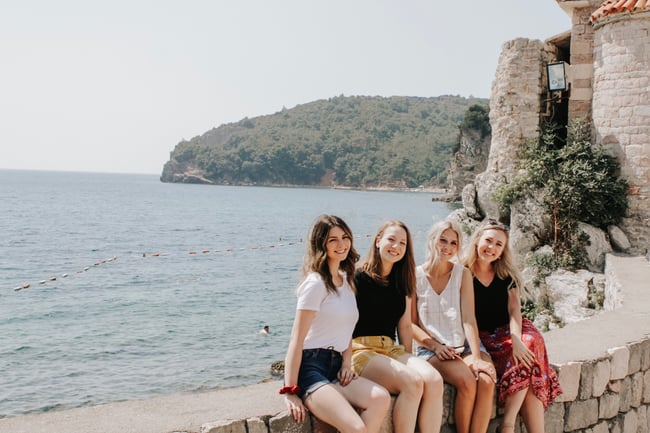 This beachside town is quaint and relaxing, with the perfect mix of both the old and new. Here's everything you can't miss when visiting Budva!
Montenegro is a true gem that international travelers are just starting to find out about. But, local Europeans have been flocking to this little country, especially to Budva's beaches, for years! It is the perfect place to chill out for a sunny weekend, or if you're lucky, maybe even spend a semester living in Budva as an English-teaching volunteer!


---
Want to know more about volunteering with International Language Programs?
Quick ILP Facts You Need To Know
---
The tourist season in Budva only lasts from about April-September. During that time there are so many restaurants, beach umbrellas, night-time light shows, street performers, and just people. Everywhere. Outside of those months, it's pretty quiet since tourism is the main source of income in Budva. Some of the things on our Budva Bucket List are only possible to do during those summer months, but most of them are possible to cross off all year round.
Ballerina Statue
Street Art
Churches Of Old Town
Old Town Walls
Little Red Submarine
Chalkboard Of Wishes
Movie Theater
Beaches
Visit Hawaii
Dinner With A View
Ballerina Statue
Of all the things to do in Montenegro, we have to start with the most iconic. This beautiful bronze statue is on the far end of Old Town (right side if you're facing the water). Just follow the path along the side of the rocks. Make sure you get a picture of her, but also watch out for the HUGE waves that come washing up onto the pathway during the winter months.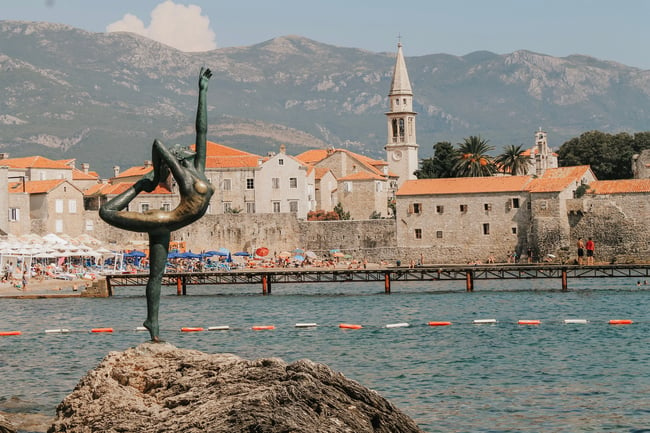 Street Art
Unlike many other cities in Europe, Budva actually has no mural-covered buildings. Instead, their street art is what you'll see sold by the local artists and vendors up and down the walkways around Old Town and the beaches beyond it. Use your bargaining skills to get a great price for one (or a few) of these beautiful and unique canvases! These ones were found along the path leading to the ballerina statue.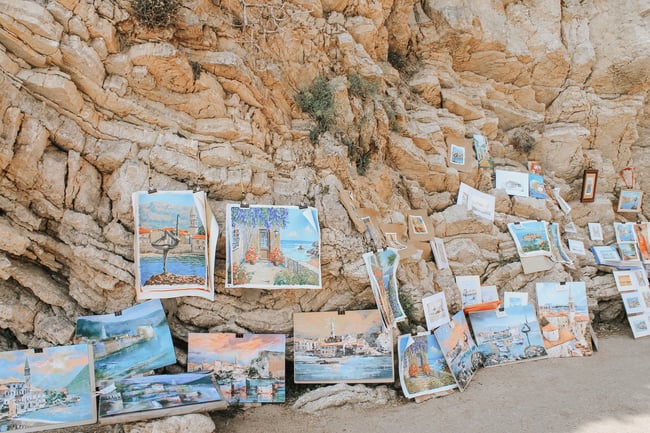 Churches Of Old Town
Just in Old Town (officially called Stari Grad) itself, there are four little churches, the oldest of which was built in 840 AD. They're all worth stepping inside, although they do require that visitors wear long pants or skirts that cover their knees.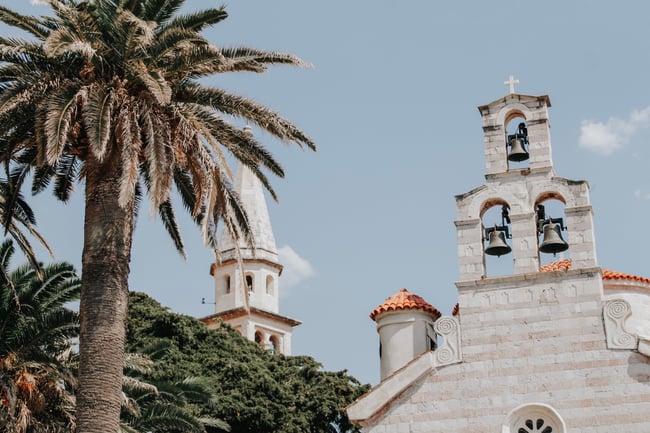 Old Town Walls
If you want a bird's-eye view of Budva and the Adriatic Sea, then head to the rooftops! There are several different stairways spread throughout Old Town that lead to the top of the walls. One such entrance is near the gate that stands across from the hotel, Avala. Plan on paying about 1.50 euros to walk around the walls. Definitely worth it!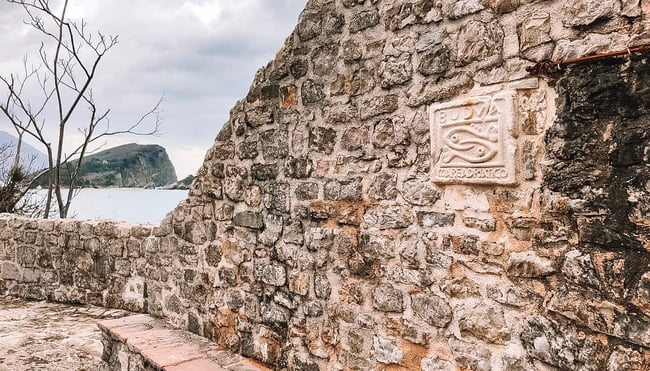 Little Red Submarine
If you're wanting to do something a bit out of the ordinary, taking a trip in this little red submarine is it! Stand on the top deck while making your way out into the clear water. After getting a short distance from the harbor, you can then climb below deck and scan the ocean floor through large windows.
Tourists can take a ride in the red submarine during the day, or even at night, since there are lights under the submarine illuminating the underwater scenery no matter the time of day. You'll find their tiny ticket booth right on the edge of the harbor close to the gates of Old Town. It costs 10 euros per person and the ride lasts about 30 minutes.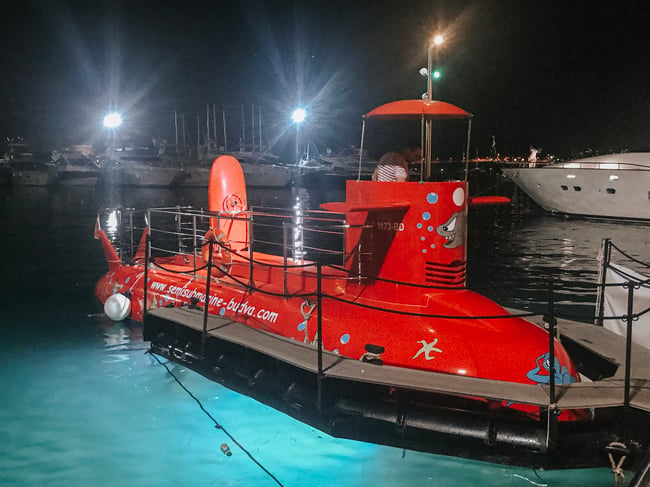 Chalkboard Of Wishes
This cutie chalkboard stands on the walkway between the old and new halves of Budva and was set up as a place for visitors to write down their travel dreams. Have a friend snap of picture of you adding yours to this collage of colorful phrases written in languages from all over the world.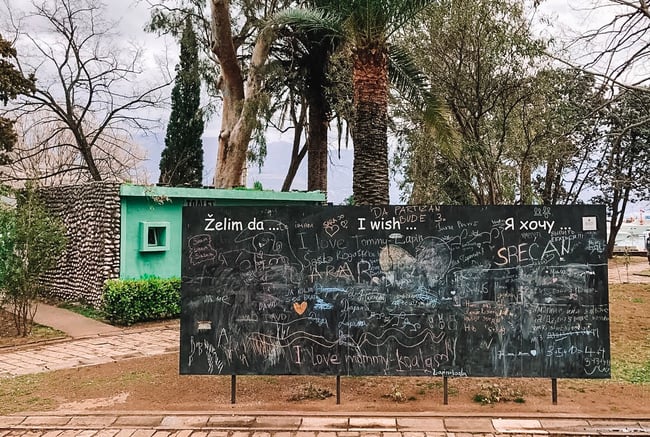 Beaches
Although some of the main beaches you'll find in Budva are not of the sand variety, you can still enjoy a very pleasant day on the pebbles. Renting two lounge chairs and an umbrella for the day costs 10-12 euros, unless you want to be on one of the rows closest to the beach and then it is usually 15 euros. You'll notice a few areas where tourists will lay out their towels on the pebbles to enjoy an afternoon under the sun for free. There is always music playing, and also plenty of ice cream stands nearby where you can purchase a soft serve cone for 1-2 euros.
If a sand beach is what you're wanting, then head past the ballerina statue and around the edge of the rocks. There you'll find not just one hidden beach, but two! Although the sand still isn't soft, it is less pebbly. You can also rent chairs on both of these beaches.
If you walk for about 30 minutes in the opposite direction, farther away from Old Town (or hire a taxi for about $8), you'll find other beaches that are more sandy as well. Just ask the driver to drop you off at Hotel Splendid, and then walk behind it in order to find these views.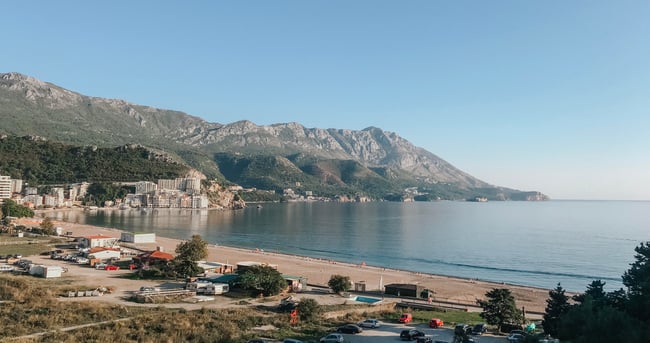 Visit Hawaii
This island, officially called St. Nicholas Island, sits just beyond Budva's harbors and is only reachable by boat. There are plenty of boat owners along the coast who will offer to take you the short distance for about 5 euros. The beaches on the island are all pebbly, but they are also more private. Along Hawaii's beaches, you'll find cafes and bathrooms, but the rest of the island is covered in dense forest.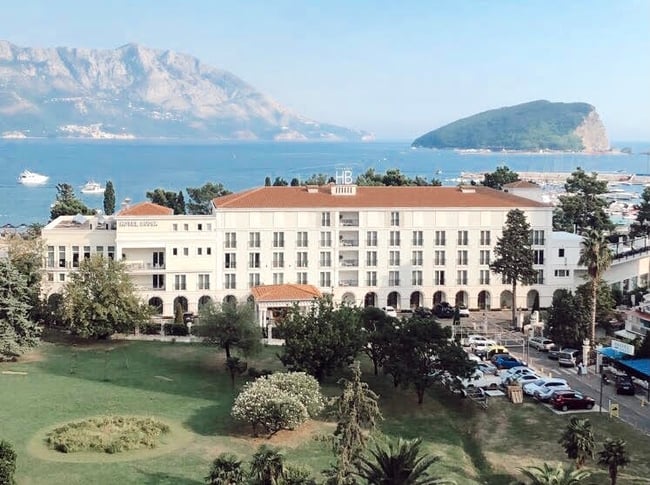 Dinner With A View
There's no better way to finish of a full day of play than with a big dinner as you watch the sun pass under the ocean-kissed horizon. And since this is such a popular activity among tourists, there are plenty of places to choose from in the summer months. Just walk along the coast and glance at the menus standing in front of each restaurant. If you need some help, check out our guide of the tastiest things to eat in Montenegro! You can have a great meal for $10-15.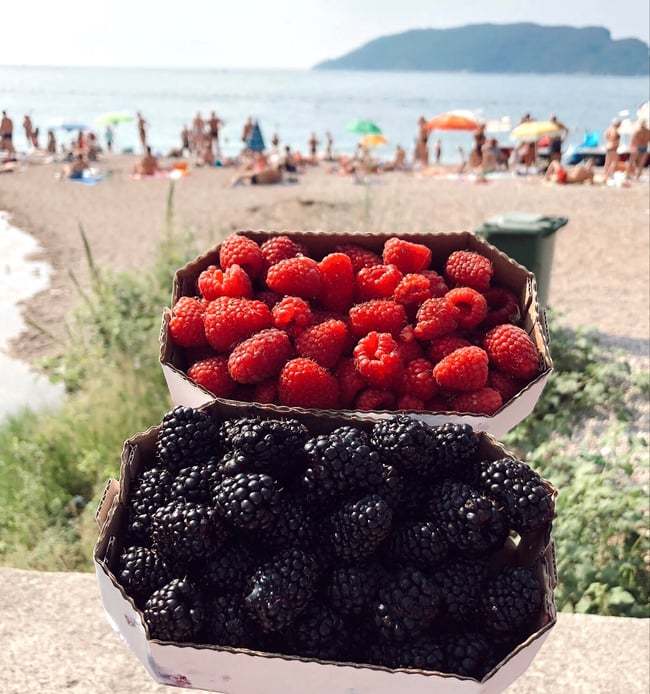 Interested in spending a semester in Europe? Or somewhere else in the world?
We have a lot of different countries for you to choose from, and every year we keep adding more to the list! Click the button below
to learn a bit about all of our locations: