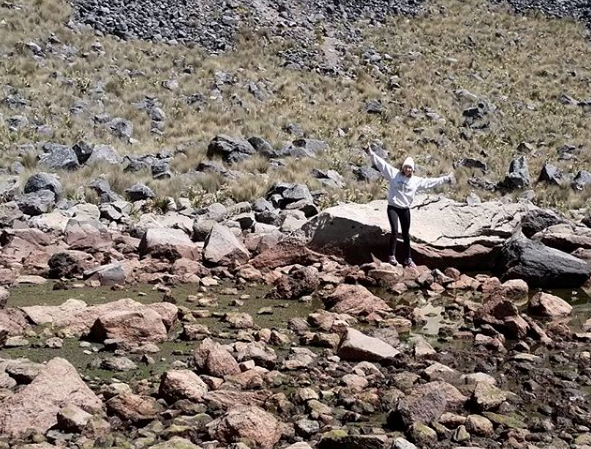 It's hard to pick just one thing to do while in Masaya, Nicaragua — but this nighttime lava tour might be one of the coolest things to do during your semester volunteering abroad.

If you don't know much about Nicaragua, you are in for an absolute treat. This country is bursting full of adventures, gorgeous beaches (like Nicaragua's Corn Islands), volcanoes to kayak around, hike and explore … one of which is nestled in the colorfully vibrant city of Masaya (it's a place you cannot miss). Good thing that city is just a day trip away if you'll be volunteering in Central America with ILP.
---
Wondering how make volunteering in Nicaragua actually happen?
That guide is full of what a typical day is like, and the inside scoop on applying and snagging a spot in this country.
---
While you're teaching English in Nicaragua, you'll be living in the rad city of Granada (which we also love), which means you're close enough to head to nearby Masaya for a day trip or short weekend getaway. Pretty prefect, right? Here are the details you need for the ideal trip:
Tips For Travelers In Masaya
How To Get To Masaya
The Things You Can't Miss
How To Get To Masaya
By Bus:
It's easy to snag a bus from Granada (where ILP volunteers live) to Masaya and will cost less than a dollar (don't you love the prices in Nicaragua?).
Chicken buses leave often from the bust terminal one (it's a block west of the Pali Supermarket). You'll get dropped off next to the Masaya Mercado municipal.
Get more info on taking the bus in Nicaragua, right here.
By Taxi:
Or you can take a shuttle or taxi from Granada, which will cost around $10 (remember: you can split this with your group!).
The Things You Can't Miss
Do A Masaya Volcano Tour
Picture yourself peering over the rim of a bubbling lake of lava, with the red embers glowing eerily in the dark … be sure to take a listen too; the lava pops and crackles like a massive bowl of Rice Krispie treats. You might also spot bats if you're up there at night.
If you go with a tour, you'll probably also get the chance to walk through the thick lava tubes created by volcanoes hundreds of years ago.
This impressive (and very active) volcano is in the Masaya National Park … you'll be able to find a driver to take you up once you get to Masaya. There are tours that go in the daytime and at night (anytime from 5:00 AM to 8:00 PM).

If you do-it-yourself, you can just pay the $10 park fee and hire your own taxi to the volcano and pay the $10 entrance fee. You can also pay $1-2 to ride the shuttle up to the rim of the volcano, or you can do the 5 km walk (it's slightly uphill and you just follow the road to the top).
If you'd rather go with a guide (who arranges all our transportation to the volcano), you can book tours (like Tierra Tours or through your hostel) for around $28.
Since the volcano tours run pretty much all day (5:00 AM to 8:00 PM).
Get To Granada After Your Tour:
After you see the volcano, just flag down a bus heading toward Granada on the highway outside the Volcan Masaya National Park. If you ride a chicken bus, you'll get dropped off at the bus terminal on highway 4 (which is northwest of Granada; a 5 minute taxi ride can get you back into the city, or it's a 20 minute walk).

If you flag down a microbus, you'll get dropped off at Parque Central. Tickets for either option will be less than $1 USD.

Swim In Apoyo Lagoon
If you need a little cooling off after your volcanic adventure, don't worry; just head over to swim in the lagoon created by a volcano! This extinct volcano has created the perfect swimming hole. Apoyo Lagoon sits between the cities of Masaya and Granada and is ideal for anyone who wants a dark-sand swim, a bit of kayaking, a little hiking or even a couple minutes of paragliding.

Some of the shore is owned by resorts (so they'll charge you $6 USD to use the beach, hammocks and chairs in front of their spot) but there are also public access beaches if you're willing to hunt from them.
Getting From Mayasa To The Lagoon

From Mayasa, it's easy to get to the Lagoon — several buses leave the city and take you on the 1 hour trek over. Buses leave the city at 6:30 AM, 2:30 PM and around 4:00 (but usually won't leave until they are full, so times fluctuate) and cost around $0.51 USD or 16 cordobas, one-way. Not bad!

You can also take a taxi, which should cost around $12-16, which is a decent price if you'll be splitting the fare with your ILP group.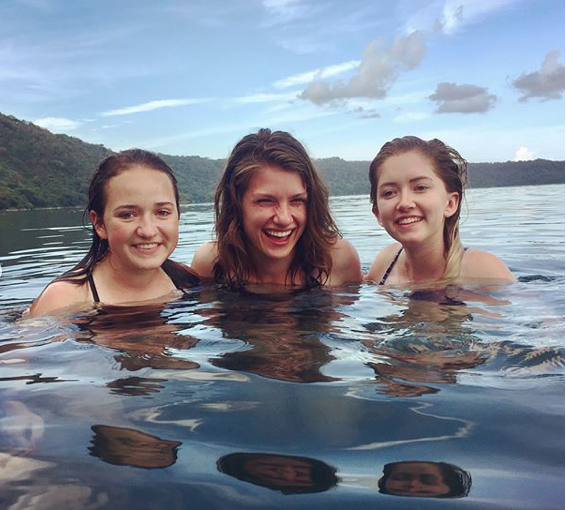 Visit The Markets
When in Masaya, the volcano might be the most impressive thing to see, but these markets absolutely can't be missed. Sprawling stands are piled high with local produce — like bunches of red and orange peppers and fresh passion fruit and pineapple. Also, if you're looking to do a little souvenir shopping, you'll be in heaven.

Plan a couple of hours to explore the huge market that is overflowing to artisan products — we're talking jewelry, paintings, colorful woven bags and purses, and the classic Masayan hammock; don't be afraid to barter and snag a great price!
Oh and please order up lunch while you're shopping. This part of the country is known for a local dish called "vigoron"; soft boiled yucca (sorta like a potato) and tangy cabbage, topped with crispy and salty pork. Yummmm.
To Get To The Volcano From The Markets:
After shopping go west down Calle San Miguel to Parque San Miguel. You'll see microbuses leaving for Managua (there's a small bus terminal a half block north of the park). Ask for a bus to take you to "volcano Masaya" and you'll get dropped off at the park entrance.
Tickets will be less than a dollar.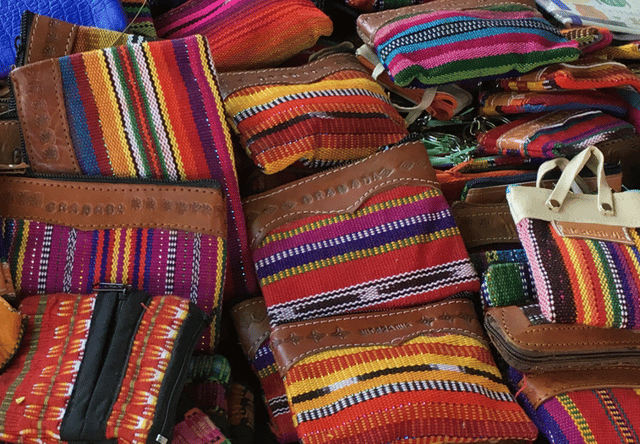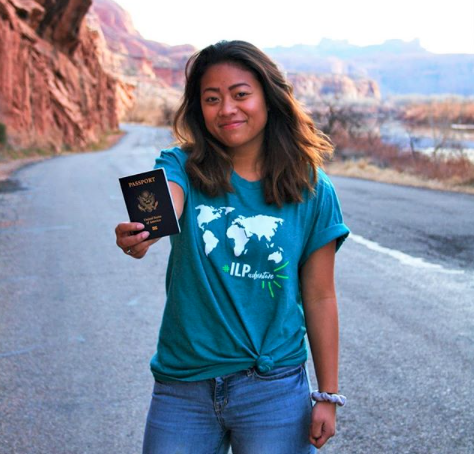 Come explore Nicaragua with us!
Come volunteer to be a part of one of ILP's humanitarian programs in Nicaragua. You'll stay busy teaching English during the day and exploring Granada, then can head out to Masaya on the weekends, and over to places like Costa Rica, Mexico or Panama on your ILP vacations.
Have a couple of questions? Not a problem! Come talk to an ILP representative about that and learn more about Nicaragua, right here: