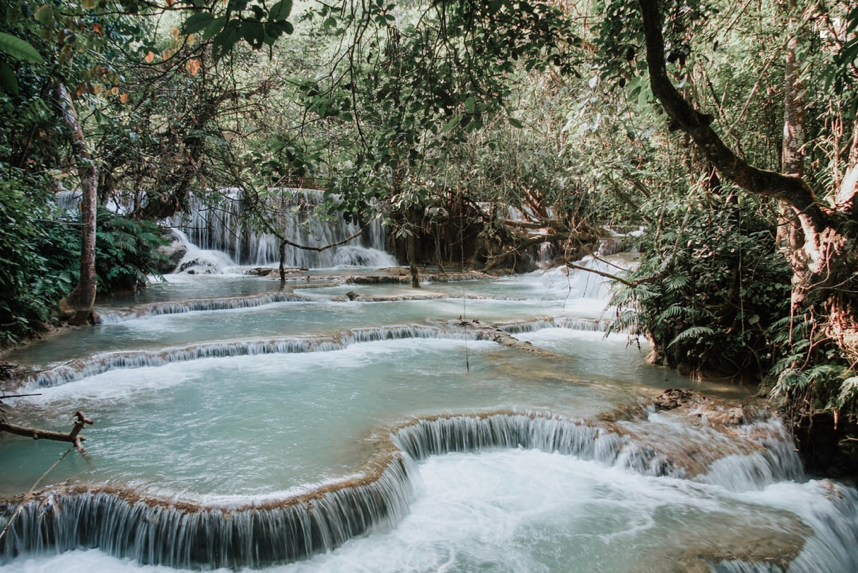 Not quite sure why everyone isn't taking a trip to Laos, because this country bursting full of thick jungles and boat trips to some "dreamy as heck" turquoise pools.
Laos is your new favorite vacation spot. Still need some convincing? Nestled right between Thailand and Vietnam, this country is hiding some of our favorite spots in all of South East Asia. It's a long and skinny country, crammed full of elephant adventures in the rainforests, towering French architecture in the cities, and thundering waterfalls in the misty mountains … totally a gem that gets overlooked unless you're one of our ILP volunteers in Thailand!


---
See more of Thailand than you can as a tourist
Come volunteer in Thailand for a semester!
---
ILP volunteers are living in nearby Thailand with vacation time to hop over to places like Laos, letting you come see for yourself our newest love in this country — the pale blue waterfalls found just outside of Luang Prabang: Kuang Si.
All About The Kuang Si Falls
Cost + Other Details
Getting To The Falls
Getting to Luang Prabang, Laos
All About The Kuang Si Falls
This is one of those spots that is just better than the pictures (if that's even possible). Kuang Si is a series of magically pretty turquoise pools that cascade into limestone swimming spots all fringed with that thick tropical jungle you know and love about this part of the world. The area is broken up into different levels, each successfully higher set presents deeper infinity pools, tumbling falls, and some stunning scenery. You're welcomed to jump into the swimming pools and hike around the base level of the falls, but we suggest doing some exploring. Some tourists just stop at the lower pools which are stunning, but the higher ones are hiding some really gorgeous swimming spots!
Some of the pools have a rope swing (fun!) and a couple of trees that lean over the rocky edges, creating a sort of natural diving board (even more fun!). The bigger pools are home to little fish, the ones that nibble in your toes and skin to get off all the dead skin if you sit still long enough.
To get up to the upper falls, you'll want to search for some nearly hidden steps. Find this "secret staircase" left to the wooden footbridge. It's about a 15 minute hike up on a sorta-of steep hike that can be a little tricky because there aren't railings to hold onto, and some of that azure water pours onto some sections. Enjoy the view from the top! Most of the crowds hang out in the lower pools, so you'll typically find a quieter swim and some views of the Laotian countryside on a clear day.
There is definitely enough to do here for a few hours, that's for sure.
Just something to be aware of though: there are some pools which are considered sacred by the local people and there are signs posted that tell you "no swimming" and "do not enter" in certain spots. There are plenty of pools that are all about diving in and swimming around that are open for tourists, so thanks for being respectful of those restrictions!

Cost + Other Details
Hours: 8:00 AM to 5:30 PM
Cost: 2,000 KIP
Are There Food Options? What's Available By The Falls?
Since the pools are the number one thing to do in this part of Laos, you'll find a few accommodations to make your visit here more comfortable. There's a picnic area down by the lower pools complete with changing rooms. Just a helpful tip: you'll want to change into your swimming suit once you arrive and are ready to swim, rather than wearing it the whole day. The culture here is very modest and appreciate the respectful traveler who stays covered up when they're not swimming.
Bring your own snacks and water for the day. There are some tables set up with a gorgeous waterfall view, but you'll also find a nearby restaurant if you'd rather eat there. When you enter the Kuang Si waterfall there is a little market right by the parking area. Typically you'll find vendors grilling up some BBQ and a few stalls selling local souvenirs and drinks. We're a fan of packing up lunch and snacks for the day but you can find some food options up there if you'd rather spend your money up there. Prices for food (and water in particular) are higher than what you'll find in Luang Prabang.
What Should I Bring With Me?
Dry bag

Swimming suit (there are changing rooms available)

Towel + change of clothes

Adventures sandals (you'll want sturdy, waterproof shoes to hike/swim in).

Snacks and plenty of drinking water
Bring some cash for the entry fee and to pay your transportation, but be sure to watch your valuables. This is a popular swimming spot, so like any public beach or pool keeping your valuables close is a good idea. That's why we suggest packing a dry bag where you can stash some extra cash, Go Pros, phones, and other items and carry them with you while swimming and hiking around.
When Should I Visit?
You'll want to visit after monsoon season, so the pools have a chance to settle again and show that gorgeous turquoise color. December through April/May is the prime spot but it's also the high season when it comes to tourists, so you'll also see some crowds. Monsoon season in Laos is from July to October and tends to turn that azure water to a muddy brown, and hiking around the falls is near impossible and quite dangerous.

To avoid the crowds on your visit, coming early is your best bet. Shoot to arrive around 10:00 AM at the latest (remember, the park opens at 8:00 AM!). Tours tend to arrive in the afternoon, around 12:00 PM or 1:00 PM. You'll also find less crowds if you visit on a weekday if you can make that happen.


Getting To The Falls
The falls are about 18 miles south of the city of Luang Prabang. We have some more details on getting to Luang Prabang below, but once you're there, you have a few different options to get to Kuang Si falls:
By Minivan
There are public and private options. Public minivans run daily from Luang Prabang each day, for about around 60,000 KIP. It's a pretty inexpensive way to get to the falls, but these public minivans leave at set times, so you're restricted at how much time you can get at the falls. Your hostel and hotel can help you arrange a public minivan pick up.
If you're traveling with a bigger group and want more flexibility when you leave the falls, book a private minivan. These are typically about 250,000 KIP, so not too bad if you can split that with your ILP group.
By Tuk-Tuk
Again, you have shared and private options. The shared tuk-tuks (songthaews) are easily found and arranged (your hostel or hotel can help you know where to go, but you can also ask around at the local post office or the Joma Bakery in Luang Prabang). These leave when full so you'll need to fill it up with your ILP group or wait for a few more travelers to hop on board. Plan on paying about 250,000 KIP split between 8 people. Like the public minivans, you'll get an hour or two at the falls before the public tuk-tuks head back to the city. If you miss your tuk-tuk back there are some at the falls, but you'll pay a lot of money to get a ride back down to Luang Prabang!
You can also hire a private tuk-tuk. You'll head Luang Prabang and negotiate a price and timeline with your driver. One blogger said they booked a tuk-tuk and paid the driver 300,000 KIP for a ride up and down from the falls, and to wait for 5 hours while they swam around if that helps you negotiate your own price.
Go With A Tour
Always an option with a popular tourist attraction. Most hostels will have some arranged tour or you can book online, like this bike-swim-hike-and boat ride adventure. It starts with a 15 mile bike ride outside of Luang Prabang to the falls, then you'll have swimming time and stop for lunch at the Kuang Si waterfalls. After your swim,, you'll cruise on a longboat down the Mekong River down to Luang Prabang all for $87 per person. Get details on this tour option here.

Getting to Luang Prabang, Laos
You'll Need A Visa For Laos!
Just a small reminder that you'll need a visa to visit Laos: they have visa on arrivals available which allow a 30 day visit for US passport holders. When crossing the border into Laos, you'll need to pay your visa fee in US cash. At the time this post was written, the fee was $35 for US citizens, though please check out the Travel State Department's website (in the travel section) for the most up to date requirements. This blog post walks you through exactly how to find what's required for a visa to the country you're traveling to (in this case you'll look at requirements for Laos).
By Plane
Luang Prabang does have an airport, so it's an easy option for those wanting to fly. You can find direct routes from Vientiane, Laos (a short, 50 minute flight) on airlines like Lao Skyway. Prices seem to be in the $45 - $55 range for a one-way ticket. You can also find flights from other nearby hubs like Bangkok, Thailand (a 1.5 to 2 hour flight). You'll find one-way tickets from Bangkok to Luang Prabang for $55 - $170 on airlines like Air Asia, Lao Airlines, and Thai Airways.
We love looking on skyscanner.com for flight routes and prices.
By Bus
Start in Vientiane, Laos which is the country's capital. We have a little go to guide for Vientiane which is full of a few can't miss spots, restaurant recommendations and some other tips because we highly recommend checking out Vientiane before heading down to Luang Prabang. It's a 10-13 hour drive and tickets are rather affordable, about $25 for a one-way ticket. They have sleeper bus options, too which is handy if you don't want to spend a full day just traveling. Instead, you can book a departure time in the evening, then wake up in the morning just in time to arrive in Luang Prabang. You can look up routes and prices for a bus route here.
By Boat
Calling anyone ready for quite the adventure! It's pretty common to take the slow boat to Luang Prabang, especially if you're starting in Thailand. It's a 2-day boat ride that has you on the muddy Mekong River, floating past the thick jungles on either side of you, passing little waterfalls and riverside villages. The boat journey typically starts in Huay Xai, a small border town between Thailand and Laos. The first day is a 7-hour boat ride on creaking wooden boats and past some pretty spectacular scenery. You'll spend the night in Pakbeng, Laos a tiny little town at the halfway point then you'll wake up and make the rest of your boat journey down the Mekong to Luang Prabang. Most tours will have you stop off at the Pak Ou caves which contain hundreds and hundreds of images of Buddha which is on the way to Luang Prabang.
You'll find tour operators that will arrange a van to take your from cities in Northern Thailand (like Chiang Rai, Chiang Mai, and Pai) to Huay Xai, where you'll hop on your boat and begin your tour! Mekong Smile Tour is one of the most reputable options to book with (you can read the reviews on TripAdvisor here).
A Few Tips
Pack your own drinks and food for the boat ride. There will be snacks and drinks available on board typically, but the prices are much much higher than you'll want to pay.
There's the option to take a speedboat to Luang Prabang but it's not recommended. Operators are iffy, and the thundering sound of the engines is more than distracting and deafening. The slow boat is the way to go!
Make sure you check what your tour includes. Some tours will have you book your own accommodation in Pakbeng, while others will have that included. Others won't have your visa cost, while others may have it covered.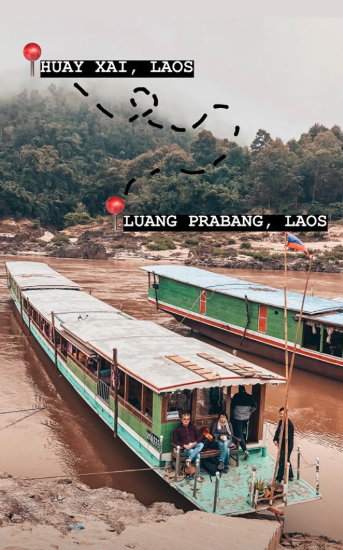 Come see if this place really is prettier than the pictures.
Visiting Laos is pretty easy if you're living next door in Thailand for a semester! ILP is now accepting applications for college aged volunteers who want to live in Thailand, do some traveling, and make a difference by teaching English at local schools.