The twenties can be a crazy time in life. Figuring out what you are doing with your life does not happen overnight and takes some real searching. Maybe these books can help
In your twenties, you may be living abroad, working a job you love (or one you don't care about), you could be in school or not in school ... could be married or not even dating anyone. It's a weird limbo stage with lots of choices. These books may help!
Pst: We've put all those things (+some helpful tips) in one place, just for you — All The Things To Do In Your Twenties.
We've picked our favorites when it comes to inspiration (they are also crammed full of a few useful life tips) that come in handy during your 20's (and on!). Head's up — the blue headings are hyperlinked so you can these favs right to your Amazon cart (you're welcome).
"Yes Please" by Amy Poehler
"My Year With Eleanor" by Noelle Hancock
"Walden, or Life In The Woods" by Henry David Thoreau
"Graduates In Wonderland" by Jessica Pan & Rachel Kapelke-Dale
"The Girls Guide To Hunting and Fishing" by Melissa Bank
"Oh, The Places You'll Go" by Dr. Suess
Starting it off strong with the one and only Amy Poehler. Of course this book is hilarious, but it also comes to some rad life advice. The sections in the book are titled: "Say Whatever You Want," "Do Whatever You Like," and "Be Whoever You Are" — important life lessons and will help you like yourself better.

Poehler goes into each of those in detail cracking jokes and golden one liners along the way (You'll want to keep a quote book of gems from this book, that's for sure). Read this and learn more about how to be you and not taking yourself for granted.
" My Year with Eleanor" is Noelle Hancock's story on how she followed the First Lady, Eleanor Roosevelt's advice to "do one thing every day which scares you." Hancock does just that, putting herself into situations and experiences she normally wouldn't for an entire year, finish on her 30th birthday. Inspiring to say the least, Hancock's journey of personal development and finding herself is an adventure you'll want to try for yourself.
This is a classic written in the 1800's, but is so applicable hundreds of years later. "Walden" shares Thoreau's poignant experiences are spread over the course of two years where he lives in a secluded cabin he built himself. His thoughts are beautiful (seriously, this book is incredibly poetic) and will really give you something to ponder.
It's packed with amazing gems — one favorite line reads "If one advances confidently in the direction of his dreams, and endeavors to live the life which he has imagined, he will meet with a success unexpected in common hours." SO GOOD — Walden may or may or not have had a huge impact on me wanting to go live abroad at least once.
This book follows two girls who became best friends their sophomore year of college. You follow them after graduation throughout their various triumphs and struggles (which happen to lead them to countries like China and France). This brutally honest book shows how hard it can be to get through your 20's in one piece, but how great it is to have a friend to do it with.
Another honest (and sometimes hard to swallow) book about the journey a girl takes to turn into a woman. "A Girl's Guide To Hunting And Fishing" features the protagonist Jane, and details her life of heartbreak, loss, a terrible career and of course, the incredible highlights that come along with life. Jane's life becomes increasingly relatable and is packed full of reminders everyone in their twenties need.
A Dr. Seuss classic which can and maybe should be read every day of your life (not just when you're five ... promise)! This colorful and clever book helps you realize your potential and how you can become who you need to be.
It also helps you realize that it's okay to feel lost- everyone does at one point or another.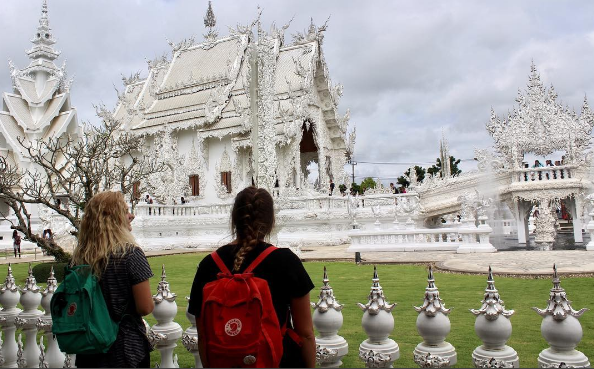 Think about packing these books along with you in a suitcase before you jet off for a semester in Thailand ... or another ILP country (we have quite a few ... with more on the way!) International Language Programs sends college-aged volunteers all over the world to teach English or volunteer in an orphanage — volunteers also have weekends off and vacations days to do some traveling.

Traveling really can change your life —maybe that's the push you need in your twenties. Here's what it takes to be an ILP volunteer and you can also check the button below to get your questions answered: