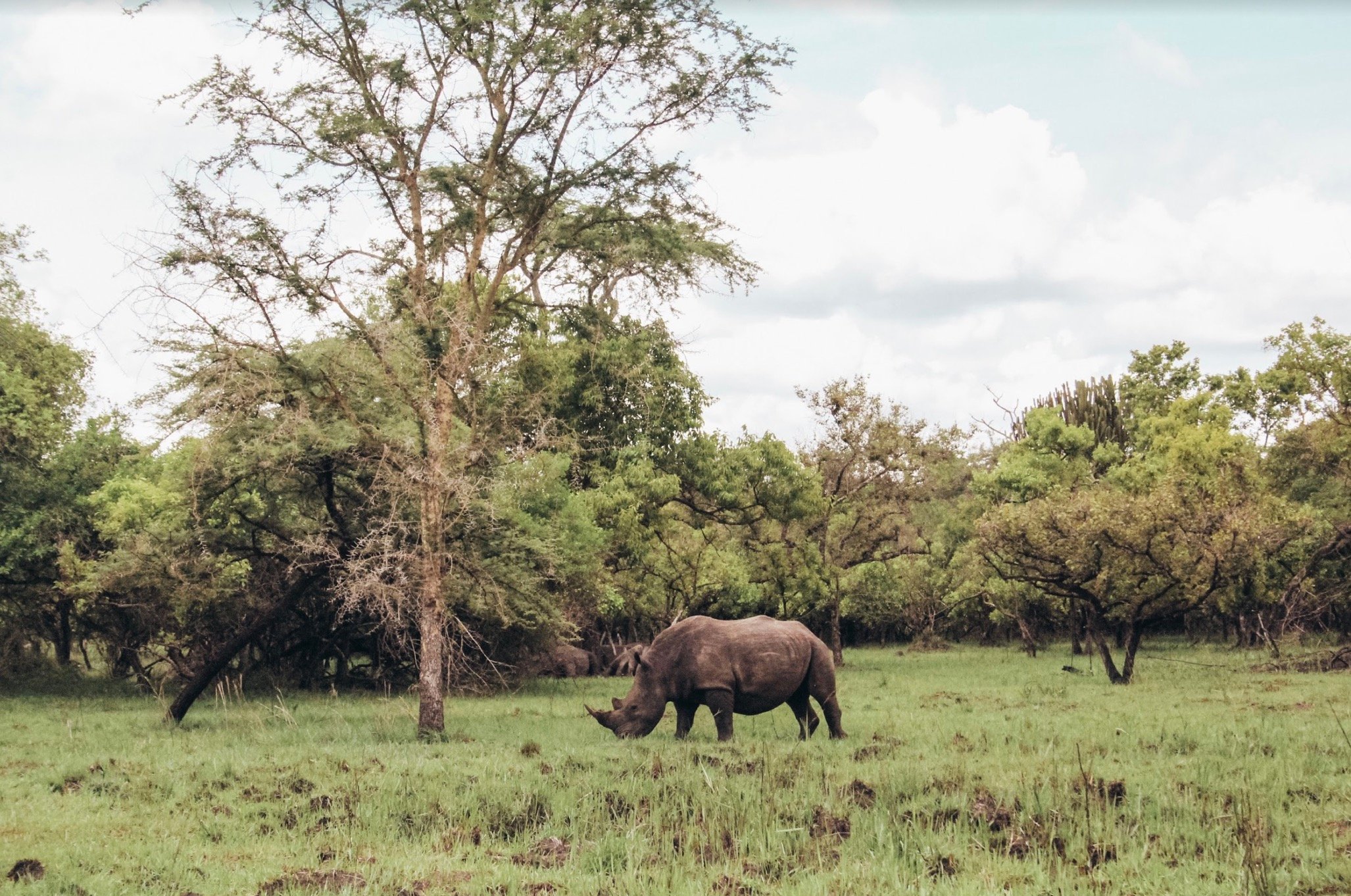 This is absolutely one of those once-in-a-lifetime adventures.
Everyone who comes to Uganda goes on a safari …. how could you miss out on seeing animals like giraffe, zebra, lions, cheetahs, and rhinos, right? Well, you're particularly in luck if you safari in Uganda because you'll be able to see all of the animals on your list if you make a trip to this special Rhino sanctuary just outside of Murchison Falls National Parks — it's the only place in the country where you can see these beautiful animals.
---
Come experience Africa
See what volunteering in Uganda, Africa is all about.
---
The Ziwa Rhino Sanctuary is home to the only rhinos in all of Uganda (27, to be exact) and a visit here means the chance to trek through the park with a guide and spot these animals. A pretty incredible experience since not that long ago, these animals were officially declared extinct in Uganda! It's absolutely something you should do on your ILP semester, and here's how to make it happen.
A Bit About The Sanctuary
Planning Your Visit
A Few Tips
A Bit About The Sanctuary
Rhinos in Uganda have a difficult history — People from all over world used to come to Uganda to illegally poach rhinos in 1970's and 1980's. It was so destructive that rhinos were officially declared extinct in Uganda in 1983. But then, some good news: a couple rhinos were gifted from Kenya and a United States zoo to help reintroduce them back into Uganda. These rhino were released in a huge sanctuary to be carefully protected so that they could breed and thrive in their natural habitat.
Now, the Ziwi Rhino Sanctuary has over 20 rhinos with plans to ultimately release about 15 of the animals into the wild once they have bred and raised 40 or 50. This is estimated to take around 10 years, so until then this is the spot to see these beautiful animals. Slowly but surely, the Ziwa Sanctuary is on its way to help rehabilitate rhinos in Uganda.
See this guy, with his friends hanging off to the right? So cool to see in person.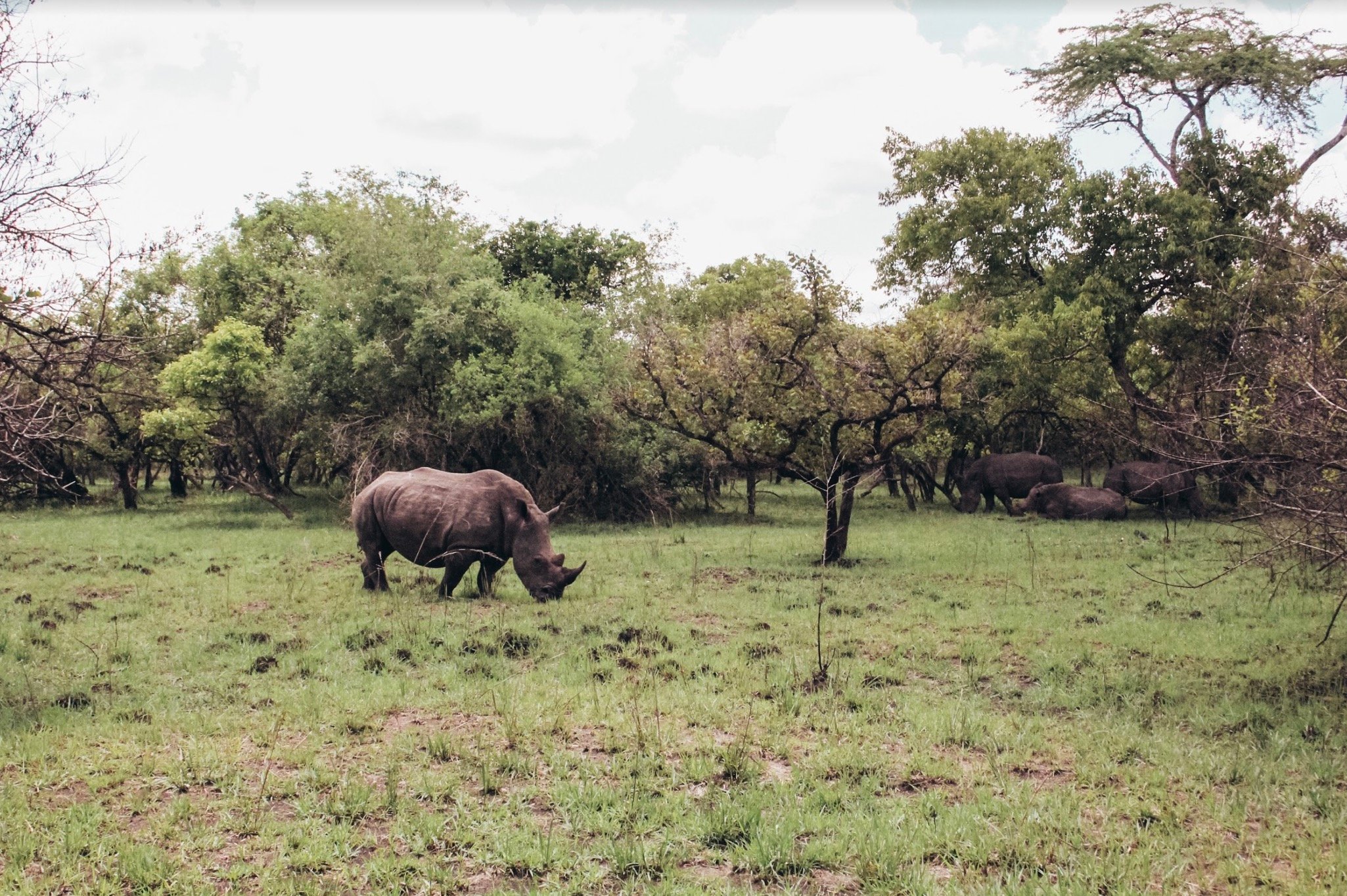 Planning Your Visit
Absolutely the best way to see this sanctuary is when you're already on a safari in Murchison Falls. This national park is one of the most popular places to safari because you really can see the animals you're looking for — big cats like lions and cheetah, and others like elephants, hippos, giraffes, etc. The Ziwa Sanctuary is just outside of Murchison Park, so it's easy to tack on a visit to the sanctuary for some rhino time.
You'll have to safari with a tour guide/company and they usually don't include a visit unless you ask, so be sure to add it on! It usually costs about $60 to add a rhino visit to your guide's Murchison Falls itinerary (which typically includes the gas and time to get there and the entry fee to the sanctuary).
What To Expect
When you arrive, your group will be set up with one of the sanctuary's guides who also helps take care of the rhinos .The entire sanctuary is heavily protected and watched and everyone involved is quite knowledgeable about the animals (and speak English!) so you can get all of your questions answered.
Before you trek out, you'll get some info about the rhinos, some background on the sanctuary, and some safety instructions. Then you'll walk out into the park to see the rhinos! Your guide will help point out any hiding in the bushes and keep your group a safe distance away from these animals.
Helpful Tips
What To Wear
You're going to be walking through tall weeds, brush, and sometimes even knee high puddles. You'll want good shoes for sure, it's actually required.
During the dry months, you're required to have at least close toed shoes (so tennis shoes or hiking boots would work great). During the rainy months, you'll want knee high rubber boots. When you arrive, you'll have a trekking guide that will let you know if you're dressed well enough for the current conditions and if you don't have the right footwear, the sanctuary has rubber boots that you can borrow to wear on your trek. No matter what time of year, bring your own socks! It makes sliding on those borrowed rubber boots much better.
The sanctuary also recommends that you wear long pants, but it's not required (unless weather conditions require it then).
So when is the rainy season? This is actually a tricky question to answer because weather is hugely unpredictable in Uganda. There's not a clear cut rainy season so you'll always want to be prepared for either rain or shine, but in general the wet season is from March to May and September to November. But like I mentioned, you could have a hot sunny day or heavy rain pretty much anytime of year.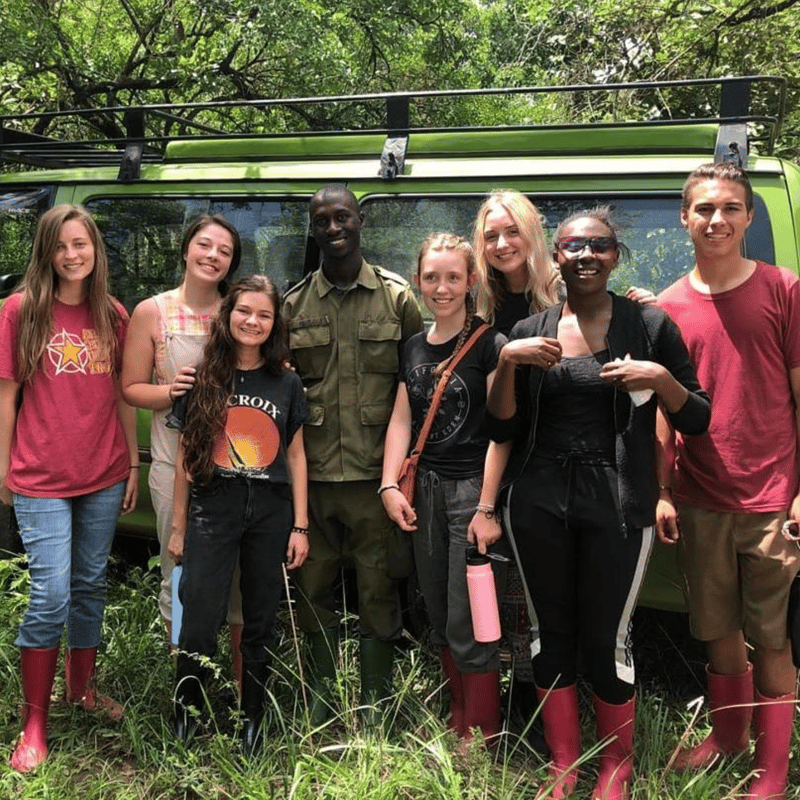 Things To Bring
You're close to the equator in Uganda so you will want sunscreen (remember to reapply) and a brimmed hat to try and keep the sun off of your face. The park has a few trees, but you'll be mostly exposed during your hour or so trek. We have a few more suggestions on what to pack on a safari here if you scroll down on that Murchison Falls safari post.
A Bit On Tipping
All the money you pay to get into the park goes towards helping the the rhinos, but if you'd really like to say "thank you" to your guide, you can leave a tip. It's customary to tip in Uganda so you'll see a tip box when you walk out, but know that it's totally up to you.
Africa is the experience you've been waiting for
Come take the chance to volunteer in Africa! ILP volunteers will spend part of their time teaching English and helping with humanitarian projects, and part of their time adventuring, like spotting rhinos and giraffes or hiking to waterfalls.