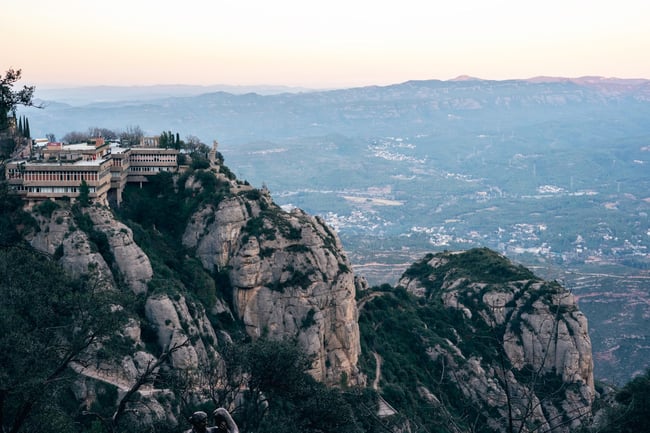 Hop into a bright yellow cablecar to a sprawling church, tucked away in Spain's jagged mountains. But wait, it gets better: this gem is just an hour outside of Barcelona and makes for the perfect day trip.
If you ask me, one of the best parts about Barcelona is the fact that you can hop on a train and visit Monasterio de Montserrat, a beyond-pretty mountain monastery, tucked away in the jagged hills. A visit to Montserrat means seeing the peaks and valleys of Catalonia spilling out below you while you wander around an ancient (and picturesque) monastery.
Still need a bit more convincing? You get to this place via yellow cablecar, which is hard to pass up. It's basically all the things you love about Europe, crammed into one day trip.


---
I loved visiting Spain while I was volunteering abroad
See what a semester in Europe is like with ILP
---

Our ILP volunteers who are living in Europe are pretty lucky. You can choose to vacation in 20+ different countries, including Spain (which is a consistent favorite). Since you're only volunteering part-time, you have vacation days + weekends to do some serious traveling ... and Barcelona is definitely one of the favorite places our volunteers visit.

We already have a full guide to Barcelona here, but below, you'll find all the info you need for a quick trip up to Montserrat.
A Bit About This Magical Place
When living in Europe for a whole semester, you'll see your fair share of churches and monasteries, but not like this. The Montserrat monastery's unique location is breathtaking, perched high on the unusual mountains of Spain, giving you an absolutely stunning view when you reach the top.
The monastery and surrounding mountains have been important religiously for thousands of years, before Christianity. A handful of hermit monks began taking pilgrimages to Montserrat (and building the first monasteries here) in 880 AD. It's still a popular site for pilgrimages, partly due to worshippers who take a peek inside the sprawling monastery to view the Virgin of Montserrat, one of the few Black madonnas found in Europe. It's a significant religious retreat, with many people taking a pilgrimage here once in their lifetime to see the sunrise crest over the sawtooth hills.
Now, tourists soak in the views, visit the Benedictine Abbey and the Basilica, then stop in to hear the world-famous boys choir. Art fans will want to visit the Montserrat Museum, which houses works from Renoir, Degas, Monet, and El Greco. And that's just a taste of what is perched on this mountain: we have more info on the highlights of Montserrat below.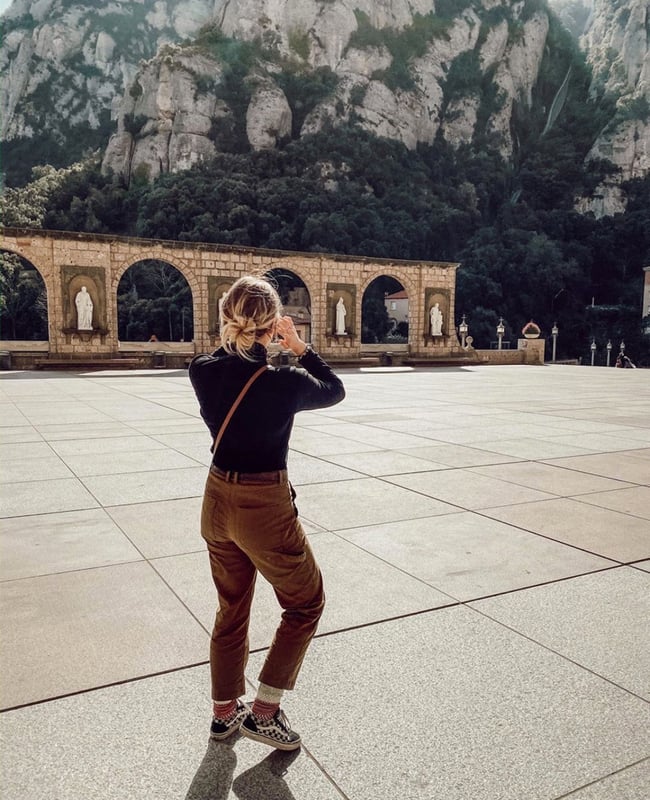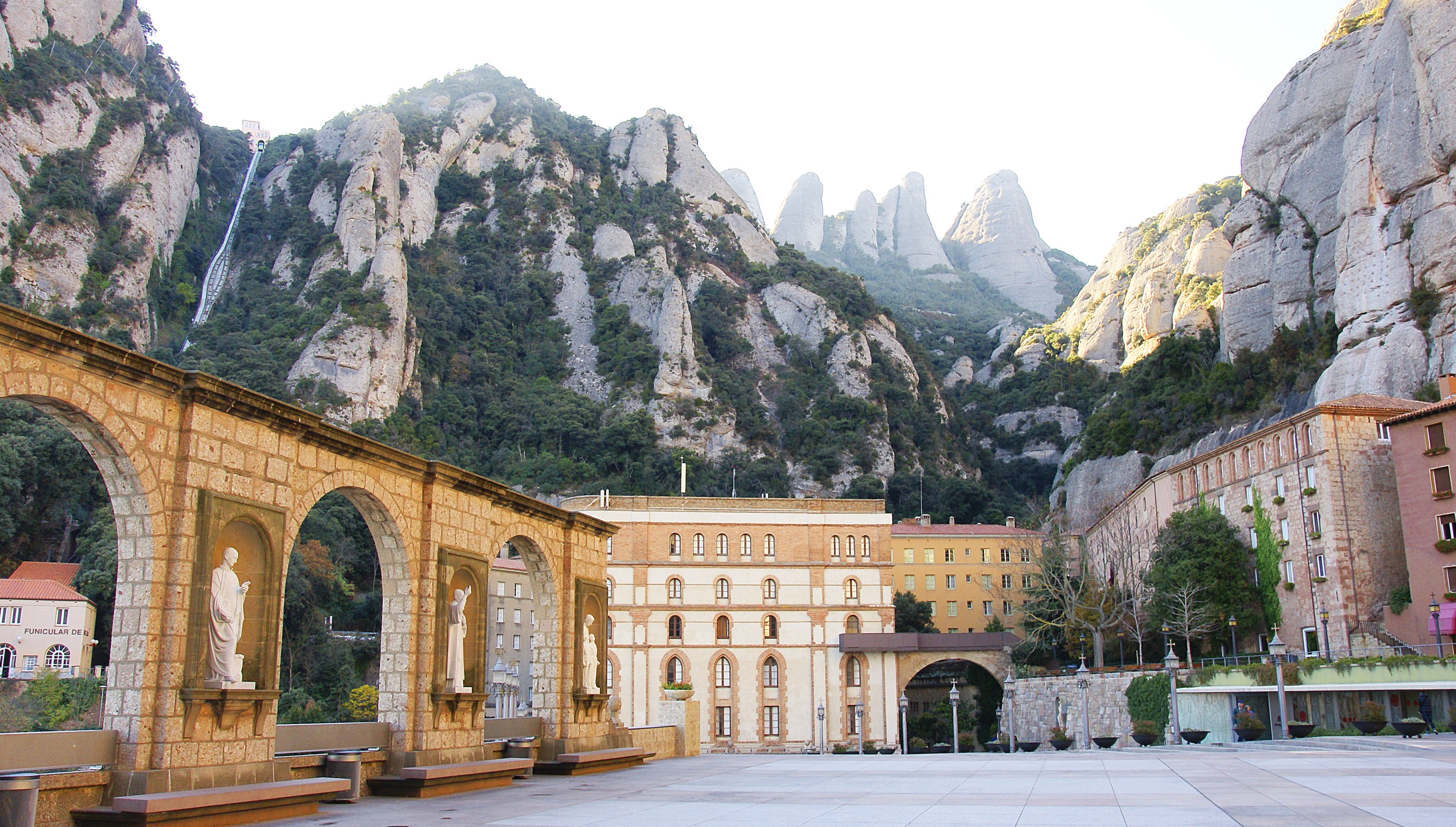 Hitting The Highlights
You're more than welcome to get to the mountain and do your own exploring, but you'll be able to get a little more info on each of these highlights by stopping by the info center. It's open 9:00 AM to 7:00 PM on weekdays, and until 8:00 PM on weekends and public holidays.
The Santa Maria de Montserrate Abbey
The Abbey is the main attraction, with roots in the 11th century (the one you can see today is a rebuilt version from the 19th and 20th centuries). It's still an active monastery (home to around 80 monks) with the ornate icon of the Virgin Mary as the main attraction. You'll most likely need to wait in line to view the icon, which can sometimes be as long as an hour! There are a handful of other paintings and icons inside the abbey, along with a few chapels.
The abbey is also home to a famous boys choir, L'Escolania. Typically there are two daily performances, but you can check schedules here.
Hours: 7:30 AM to 8:00 PM

Cost: Free to enter
The Montserrat Museum
Right across the big plaza that'll lead you to the entrance of the Basilica, you'll find the museum. Inside, you'll find 1300+ pieces from artists you're bound to recognize. Find works from Dali, Monet, Picasso, and more, along with relics from Egypt and the Middle East.
Hours: 10:00 AM to 5:45 PM (with longer hours in the summer)

Cost: €8
Get The Best Views On This Walk
The viewpoints you can get from the top are the real attraction of this day trip — they are absolutely stunning. Emerald green hills poke out from the unique rocky pillars that make up this mountain range. And you can get some of the best views by taking a stroll around the Santa Cova Chapel. There's a funicular that'll take you down to the paved walking trail which winds around the mountain ... it should take around an hour to walk the whole trail.
There is another walking trail around the Saint Miquel's cross. It's kind of difficult to find, so here are the GPS coordinates (41.592064, 1.835830.) via this blogger. Plan on a 20-minute walk (each way), soaking up the views, back across the abbey, all surrounded by the mountains. Gorgeous.
You can get more on the hiking trails nearby on this website.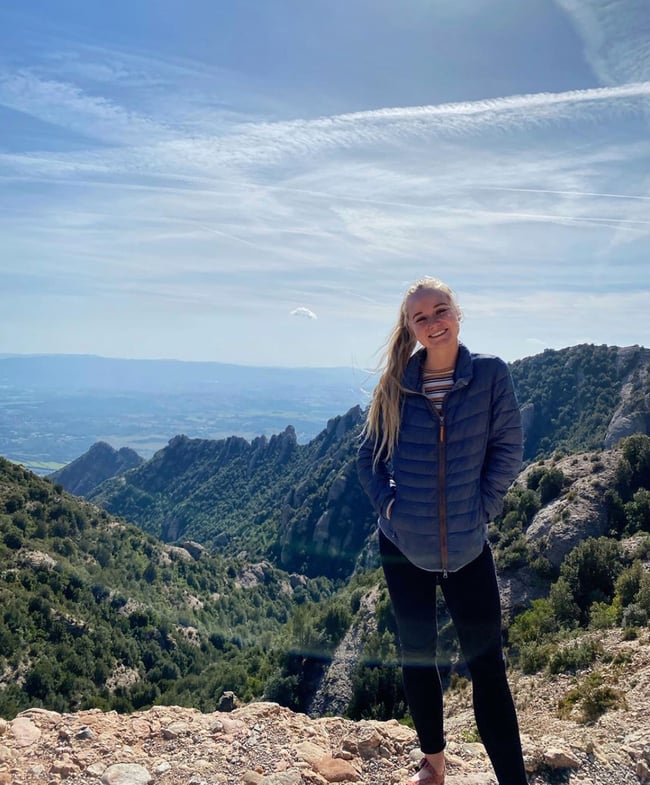 A Few Things To Know
It's An Easy Day Trip
Plan on transportation taking 1.5 hours (the 1-hour train ride, and 30-minute cable car ride), and spending a few hours at the top. How long you spend at Montserrat is up to you, but most tourists are fine with 3-5 hours, meaning it's easy to base yourself in Barcelona and just come for the day.
Restaurants At The Top
There are a few places to grab lunch or dinner up at the top if you don't want to pack snacks. The cafeteria has an affordable lunch buffet, or you can splurge and get a meal at the Restaurant Hostal Abat Ciserno.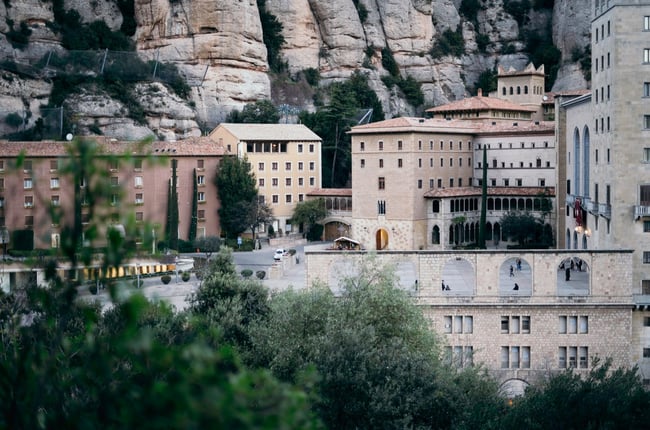 Getting To Monserrat From Barcelona
You have a few options, but most take the train, then the cable car up to the actual monastery. The train ride from Barcelona is about an hour, and costs around €5.25 for each way. The train departs from Barcelona's Plaça Espanya station (take the R5 line) and look for tickets to Aeri de Montserrat. Look at the bright blue R5 line on this map.
Once your train ride is over, a cable car ride whisks you up to the top, giving you panoramic views the whole way up. It's about a 30-minute ride to the top. Tickets for the cable car are €7.50 one way and €11.50 for the way back. The car runs frequently, every 5-15 minutes depending on the number of tourists that day. Check prices and schedule here.
You can buy a combined ticket (the train ride to Aeri de Montserrat + the cable car ride) for €23.00 at the Plaça Espanya station.
If you'd rather do quite a bit of hiking, you can train ride to Aeri de Montserrate, then stroll through the charming town of Monistrol. From there, some trails snake their way up the rocky mountain, leading you to the top. Plan on around 3 miles of hiking, which should take 2 hours.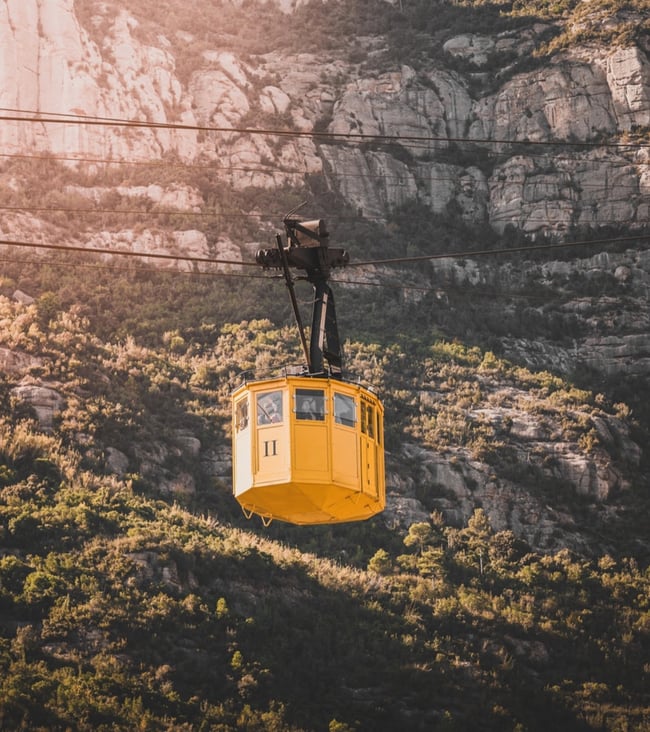 Have Spain on your mind?
Come visit on your ILP semester! ILP's a non-profit organization based in the US, who sends college-aged volunteers to teach English or aid in an orphanage. We have programs all over the world, but love our programs in Europe (can you see why?).