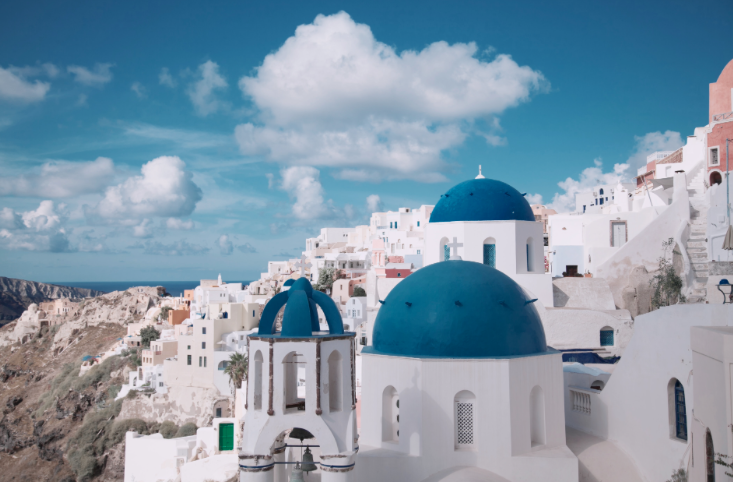 Santorini is one of our favorite places in Greece — for good reason. How could you not obsess over cobalt-blue and stark-white homes perched on cliffs?
Greece is a dream come true and while we adore so many popular cities here (hello, Athens!) one of the major reasons this country is a favorite are the Greek Islands … particularly the island of Santorini. If you'll be sticking to a backpacker budget, you'll want to know where to stay that lets you see what you want to see for cheap. We can help you with that.
Our ILP volunteers can't get enough of this island (get an overview of what your itinerary should include) and are happy to share where they stayed on their vacations.
Top Budget Places To Stay In Santorini:
The Greek Goddess
Youth Hostel Anna
Villa Manos
Fira Backpackers Place
The Greek Goddess AirBnB
One ILP Volunteer, Alyssa G. opted to do an AirBnB with her ILP group instead of going with a hostel. "We still talk about it, and the lady that runs it is awesome!" There are little lofts that fit your postcard-picture idea of what Greek Islands should look like, plus a pool. We're in love.
It's $200ish a night, but can house up to six people — not a bad price if you're splitting it six ways.

Book it here
Youth Hostel Anna
Right by Perissa beach (a fav, black sand sun spot) is this hostel. It comes very highly recommended by several ILP volunteers who love the air-conditioned rooms, great location and really helpful staff. Who wouldn't love a quick 2 minute walk to one of Santorini's best beaches?

Dorm beds are under $10 a night, which we also love.

Book it here
Villa Manos

Another good recommendation is Villa Manos; this hostel has superb reviews online, with lots of happy travelers commenting on the good location (right by Fira town and by a bus stop), plus good amenities. Cassie H. went to Romania with ILP and spent a few nights here on vacation — "This place is amazing! Super cheap and the people are so kind. And they'll drive you around the island as well." Can't beat that.
There are 6-bed private rooms from $80ish dollars, so less than $15 a person, per night.

Book it here
Fira Backpackers Place
This hostel has very good reviews on Hostelword, with ILP volunteers agreeing. It's very close to what you'll need during your trip (like the main square of Fira town, the Caldera cliffs for sunsets, plus banks, restaurants, a supermarket and other amenities).
Dorm beds are between $20 and $30 per night, with more expensive private rooms available.
A Few Tips To Keep In Mind

Santorini has some gems that are spread out — like the Fira-Oia hike and our favorite beaches (look at Akroiri, Emborio, and Perissa Beach to name a few. We also can't get enough of the sites at Adoumi Bay).
Picking a hostel that is close to the main things you want to do (whether that's wandering the neighborhoods or visiting the beach) is key. We also recommend finding a hostel that can help you arrange transportation around the island; there are some taxis, a public bus, and rentals (like a bike rental) to help you get around.
We also have a guide on picking a good hostel which may come in handy if you'd like to find your own.
Did we miss your favorite hostel? Leave a comment and let other travelers know where you stayed!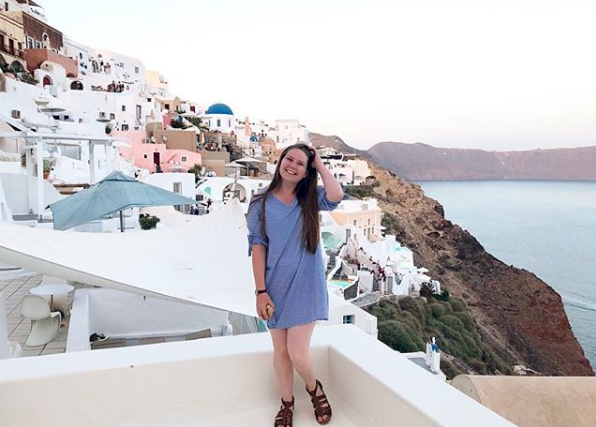 Volunteer in Europe for a semester and vacation in spots like Greece!
And one more thing — our ILP volunteers living in Europe get to call one of these countries home, and get vacations days to see places like Greece. They're also big fans of exploring countries like France, Germany, Sweden, Italy and other favorites. If you're a big fan of living in Europe then having vacation time to do all of that (and more), you might be a good fit for ILP!

See what volunteering with International Language programs is like, right here: