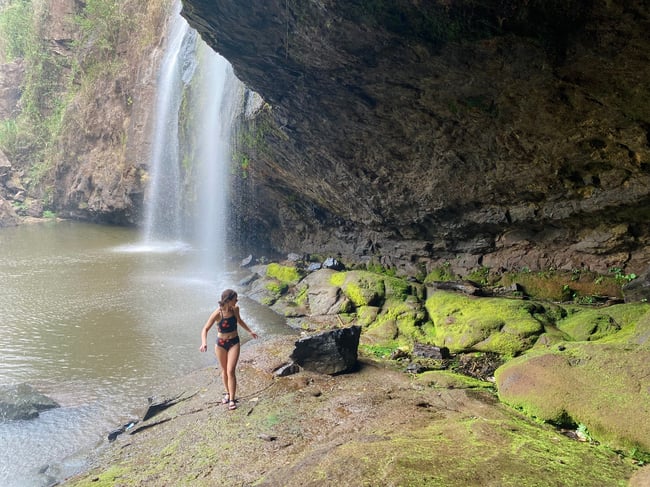 We are spilling all the secrets about these truly hidden cascades, complete with cave camping, zip lining, and more.
If you're hunting for the waterfalls in Nicaragua, you've come to the right post. I knew tumbling waterfalls were hiding in this country, but were proving tricky to find. Luckily for you, a recent trip to the more "undiscovered" corners of Nicaragua led me to give you all the details on two cascades which absolutely should be a part of your vacation planning. These elusive falls are way worth the effort and research it took to finally see them in person.


---
Read Next: The best vacation spots in Nicaragua, all mapped out
---

Though Nicaragua definitely has more waterfalls around than just these mentioned in this post, we're highlighting a few that are reachable from
Matagalpa,
an excellent mountain-jumping-off point to ecolodges, German towns, white water rafting, and more. Let's dive in (literally):
About Cascada Santa Emile
Sometimes called Cascade Blanca, this is an easy half-day visit from Matagalpa ... or, stay longer if you want to pack in a little kayaking, hiking, and yoga. Along with viewing the waterfall, there's enough to do to keep you here for a day, with some fun overnight options if you'd like to stay longer! The waterfall's entrance is found right off the side of the road, where you'll visit a little cafe and tiny gift shop, before paying an entry fee (100 cordobas) to pass through the gate that leads down a meandering pathway to the waterfall itself. There is a cafe and restaurant on site, as well as overnight options and activities to keep you busy (more on this later).
Here's a deeper dive into the details:
About The Falls
Cascade Santa Emile is a thundering waterfall that falls from over 55 feet. The water pours over a half-moon rim of cliffs with a cave underneath, with a thick jungle framing the whole scene. It's quite beautiful. You'll enter at the top, and take a decorated pathway to different patio spaces and viewpoints, all the way to the bottom of the pool. There is a mossy set of steps and a slick pathway that takes you around the pond, under the waterfall, and to the cave tucked under this cliff's rim. You can actually camp under this huge cave, falling asleep to the sound of the thundering water.
While you're out exploring around the falls, keep an eye out for a couple of massive boulders framing the water which are painted like elephants, dragons, and other animals.
All The Things To Do Here
As was mentioned, this waterfall is more than just a pretty stop on your road trip around Nicaragua. There are tons of activities available as well as overnight options meaning you can come for a short visit, make a full day of it, or even stay overnight if you'd like. Here are all the things to do during your time here (you're also welcome to just admire the falls and snag lunch or something if you're short on time):
Kayaking
Feeling like you need a paddle around this pretty spot? You can rent kayaks to paddle around the little lake area below the waterfall.
20 minutes for 200 cordobas

30 minutes for 300 cordobas

1 hour for 500 cordobas
Life jackets are included in the price of the rentals.
Massages
I'm not sure about you, but part of my vacation time during my ILP semesters was dedicated to a little relaxing (teaching can be oh-so-fun, but oh-so-exhausting) ... and a massage sounds just perfect. You can get an hour-long hot stone massage for 500 cordobas. Or, get a 30-minute massage for 300 cordobas or 20-minutes for 200 cordobas.
Yoga And Zumba Classes
Available Saturday and Sunday (free).
Tour In + Around The Falls
There are a couple of tours around the waterfall reserve. There is an hour-long option that takes you to the viewpoints in and around the waterfall. There is a second tour, which takes you deeper in the jungle for a 3-hour excursion which includes more hiking and more dramatic viewpoints around the canopy level. The cost for both is 15 USD (the 1-hour option does not include the entrance fee, but the longer tour does).
Places To Stay On Site
There are a couple to choose from — there is a hostel/hotel area in the same building as the restaurant, just right by the falls. Rooms have hot water, fans, towels, and WiFi for great rates. Their basic room is 30$ USD and includes dinner as well as breakfast.
Check-in is at 1:00 PM with an 11:00 AM check-out (find pictures of the rooms here if you are interested. You can message on Whatsapp (+505 5864 9876) for reservations.
Camping in the cave under the waterfall is also an option for the more adventurous! The facilities here rent out tents, mats, and other bedding, and do include breakfast during your stay. There are some picturesque swings around the campground as well as campfire access. The ground is really flat and smooth in the cave, which is perfect for a tent. Prices are in the 25$ USD range.
Check-in is at 1:00 PM with a check-out at 11:00 AM.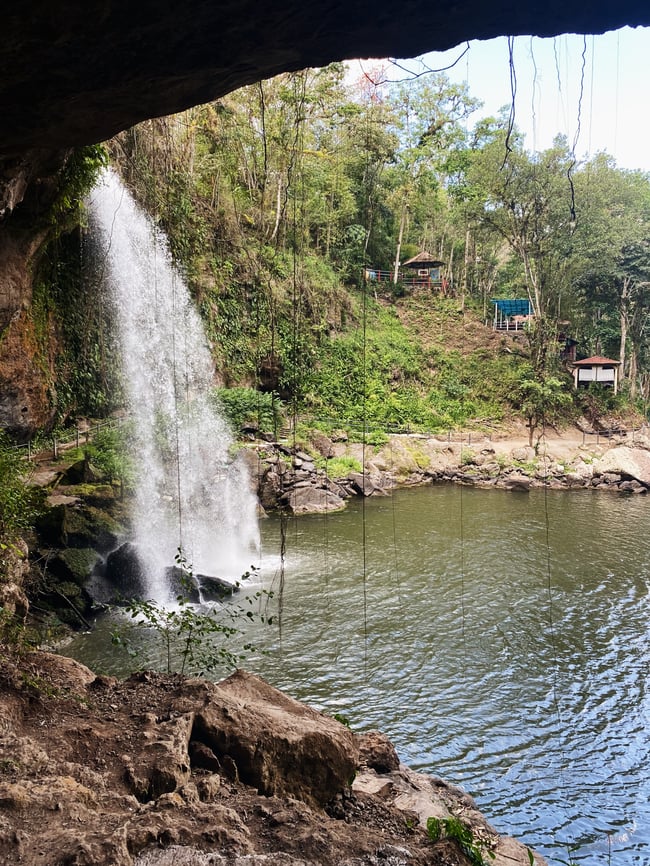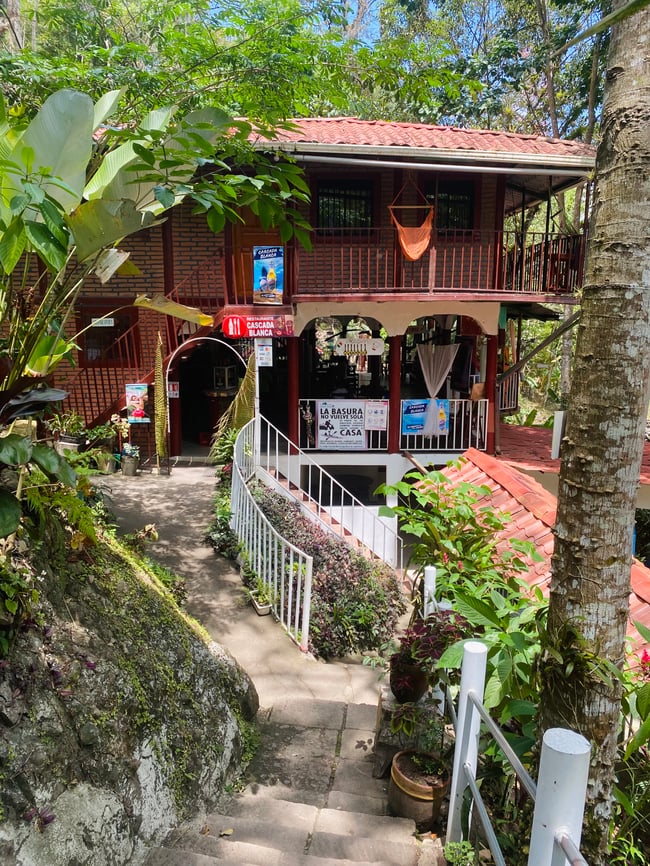 Places To Eat
There is a small cafe onsite when you first arrive, at the top of the falls where you can get something to drink if you'd like. We didn't stop here for a snack but we did peek at the menu. They have coffees, teas, juices, etc. for around 80 cordobas.
There is a secondary restaurant down by the falls with an indoor eating space along with tables set up on patios (connected by the walkway). If you want to eat your meal while admiring the falls, eat at one of these tables. They had a few to choose from on different patios, all with really great views. We snagged lunch at this restaurant, with a menu that had quite the spread. I had the ceviche (which was excellent) but the restaurant also serves a whole list of pizza, pasta, and rice/veggies/meat options. Prices are between 150 - 450ish cordobas if that gives you an idea.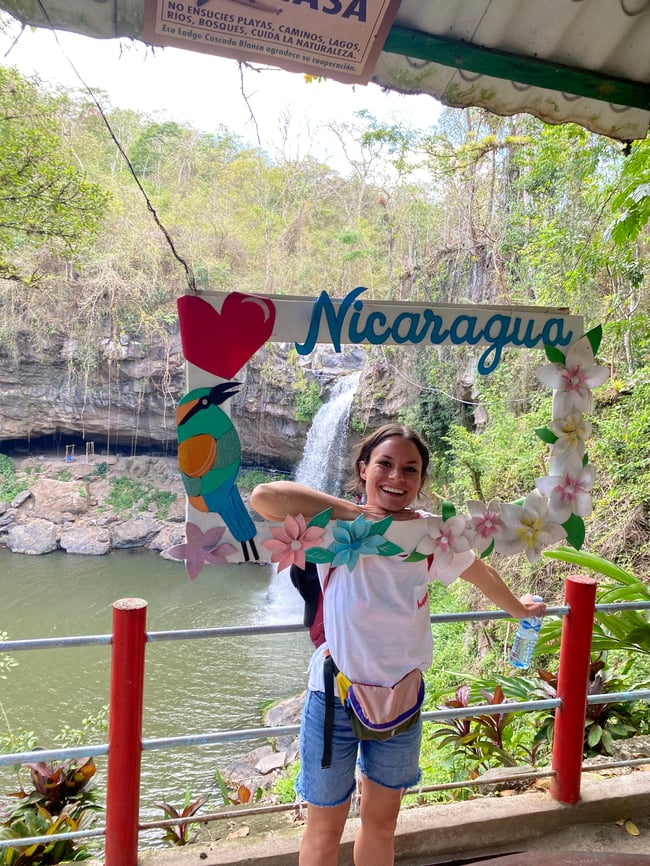 Getting Here + Costs + Other Info
Cost: 100 Cordobas gets you access to the Cascade Santa Emile, plus bring more for lunch, and other activities (onsite massages, kayaking, etc).
Hours: 9:00 AM - 5:00 PM
Address: km 147 El Tuma La Dalia road. It's about 30-minutes away from Matagalpa by car (taxis would be easy to come by, or you can catch a chicken bus headed to Tuma-La Dalia. Just let the driver know that's where you're headed).
WhatsApp: +505 5846 9876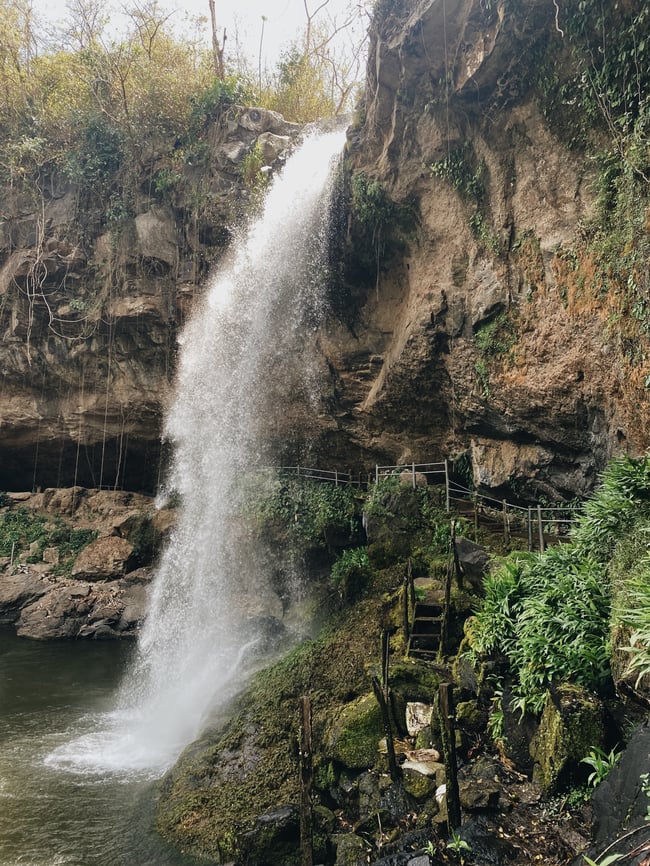 Cascada De Luna
You'll find quite a bit more infrastructure at Santa Emilia, but I loved this particular waterfall because it felt so much more remote. To find Cascada De Luna, you turn off the side of the road and drive down a dirt driveway in what looks like to be someone's backyard, then suddenly you're here ... you think? What you see is a little cafe and a stack of kayaks at what looks like a calm pond until you realize you're standing above the thundering falls. From where you are, you can peer below, to see the set of three waterfalls, or make your way down to see the waterfall from the bottom (and hop in for a refreshing swim!)
This waterfall itself is huge, coming in at over 130 feet! The falls are kind of split to create three waterfalls in a row over the expansive cliff that look quite different depending on when you visit. In the wet season (May to October) you'll see very full falls pouring thousands of gallons a minute (the first picture). In the drier seasons, you can still see the distinctive three falls that fall down the cliffside but are just less dramatic with less water (like the second picture below).
Another perk of these falls? Besides being pretty under the radar, you can choose between hiking and zip lining to see the falls from below.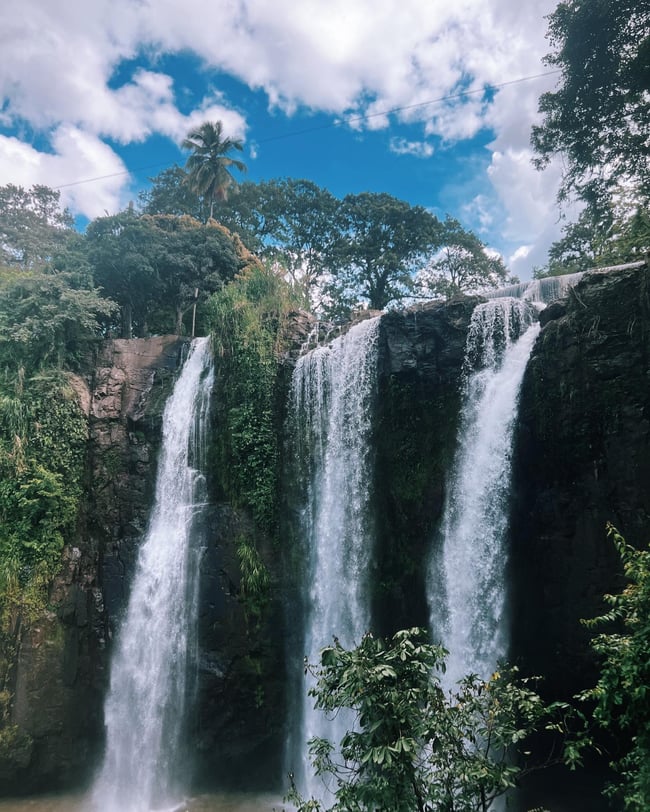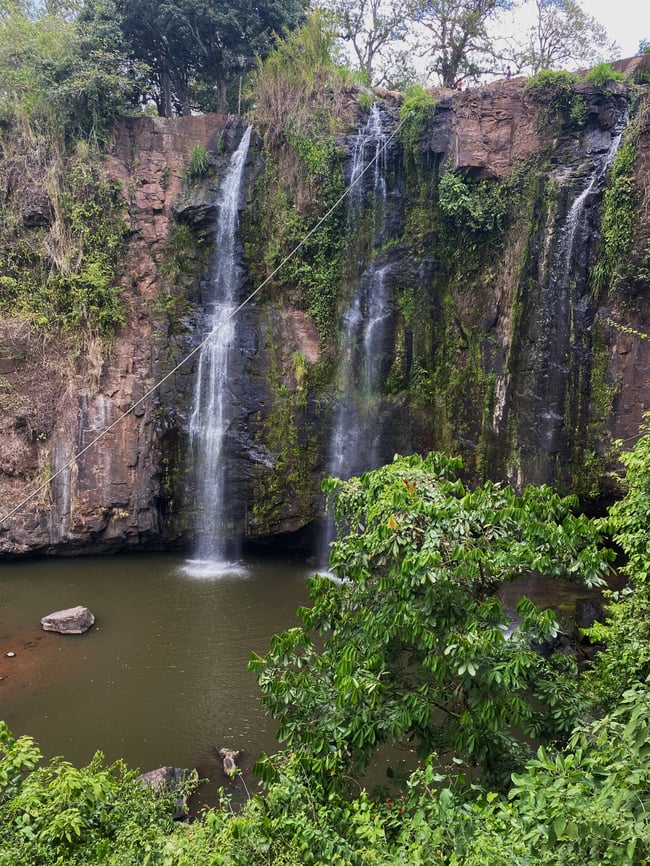 Things To Do
Zip Line Down
When you get to Cascade de Luna, you're at the top of the falls, so you'll either need to hike down or zip line down. For me, zip lining was absolutely the way to go. There was a little crew in the nearby cafe who set us up with helmets, harnesses, and gloves and got everything prepped for our zip line. You'll ride three lines down, zig-zagging across "Waterfall Moon" until you reach the bottom — all for about $5! It's a short track, but definitely worth the $5.
Cost: 200 cordobas

Go For A Swim
Once we reached the bottom, that water that pools at the bottom of the falls was all too tantalizing — time for a swim! You'll need to navigate the rocks to get into the water (and while you're swimming around), so I was glad to have waterproof shoes on (my Tevas). I also would recommend heading to the little alcove under the falls where you could stand in the mist and take in the views. Watch your footing, because it's slippery underneath the falls.
Wear your swimming suit or plan on changing in the little bathroom next to the snack stand (there's a 10 cordoba fee or so to use it).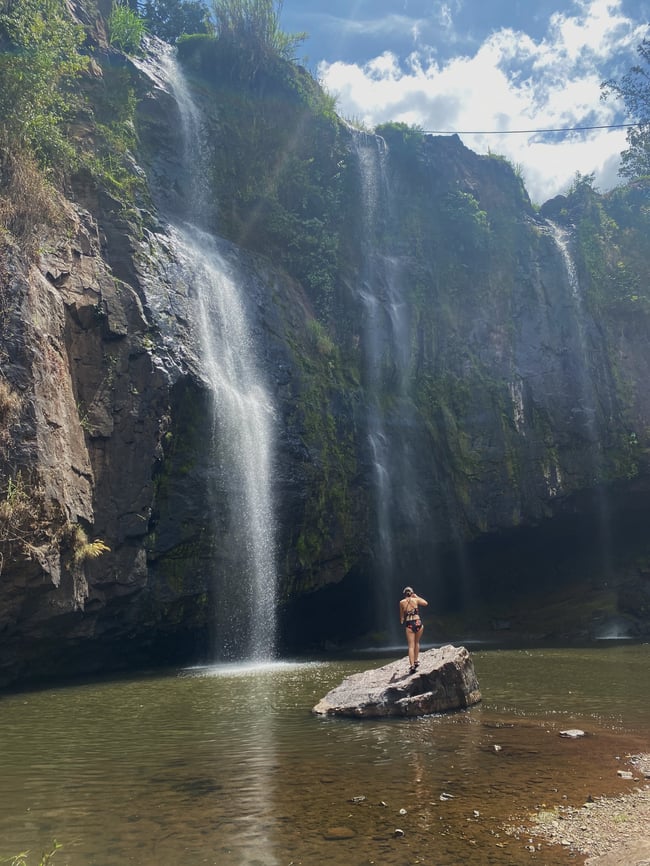 Hike On Up
After zip lining down and swimming around, it was time to hike up. The little crew we zip lined down with was nice enough to wait until we were ready to hike up after swimming (and carried up the harnesses, gloves, and helmets for us). Plan on around 15-minutes of hiking on a steep incline that takes you to the other side of the waterfall once you reach the top. You'll need to cross the pond (where it pools over the edge) to make it back to where you first arrived. There is a cement barrier for you to walk on (when we visited, there was a group of families doing their laundry in the calm waters here).
Hiking up or down has a small fee — 60 cordobas (or 50, if you mention you're here teaching English with ILP).
Go Kayaking
At the top of the falls, you can rent kayaks to paddle around the little pond area and connecting river. The kayaking area is small (really, you could paddle around for just a few minutes in the pond area, but could be fun if could head up the river a bit). Just know it's an option if you'd like.
Kayaks are 30 cordobas to rent.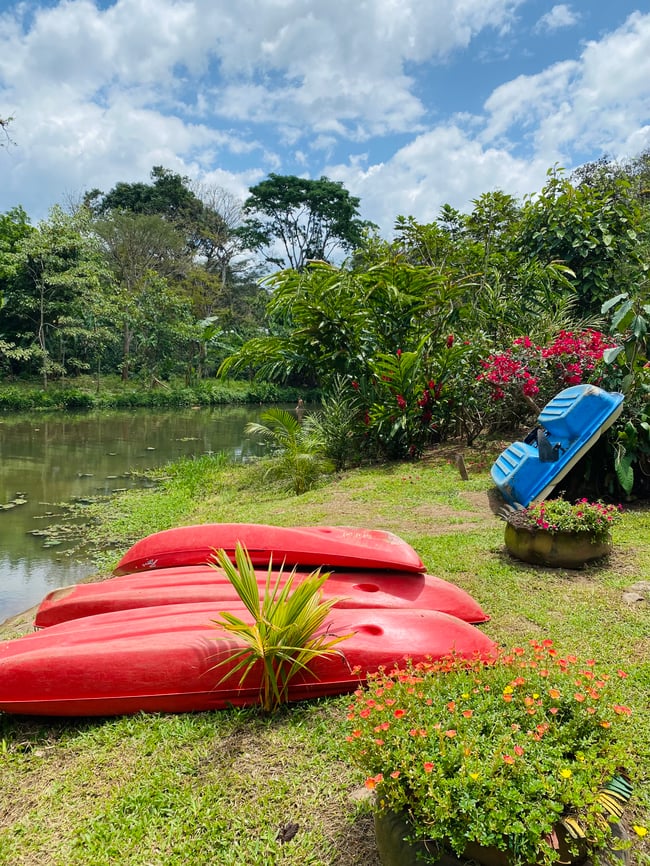 Getting Here + Costs + Other Info
Cost: The Cascada de Luna is free to just see (but remember you'll either need to hike down or zip line to see the falls from below).
Address: Find it here. It's about an hour away from Matagalpa by car (taxis would be easy to come by, or you can catch a chicken bus headed to Tuma-La Dalia. Just let the driver know that's where you're headed). Find this waterfall about 30 minutes away from Cascada Blanca.
WhatsApp: +505 8908 5346
Email: Cascadadelaluna@gmail.com
About This Ecolodge + Waterfall In Peñas Blancas
We're in love with the green jungles you can find near Peñas Blancas! Picture curving roads with rolling green hills, hibiscus flowers of all different colors hanging over the road, with little villages hiding between the massive leaves of banana trees and other tropical plants. It's just gorgeous. It's also an area seemingly untouched by tourism. You'll get that general "undiscovered" vibe while traveling in Nicaragua, but especially here. There were multiple times when I thought "how come nobody else knows about this place?" because it seemed too beautiful for us to be the only ones there.
Peñas Blancas is about two hours away from Matagalpa. You can get all the details about staying at this ecolodge (which is just minutes away from an onsite waterfall, plus hiking opportunities to nearby waterfalls). On my visit to Nicaragua, I stayed at the ecolodge, then visited Cascada de Lunda and Cascade Santa Emile on my way to Matagalpa (both are found on the main road there).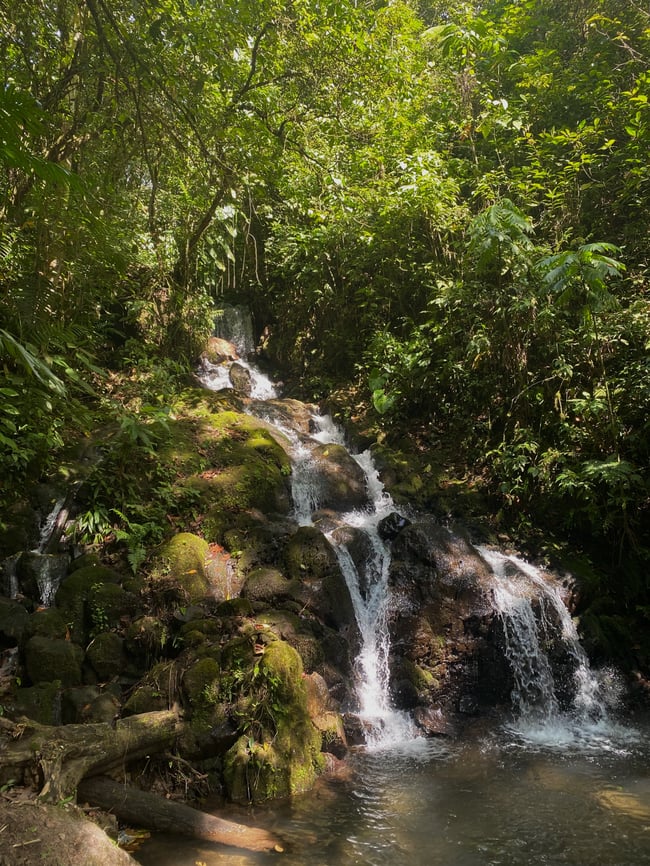 Spend a semester volunteering in Nicaragua!
Live in a new country for a few months with other American college-age volunteers. It's affordable. It's impactful (for both you and for the community you get to serve while you're there). It's more than memorable. Come make lasting friendships and experience real personal growth as you live and travel in a new country. We may be biased, but we think it's an opportunity you can't miss!