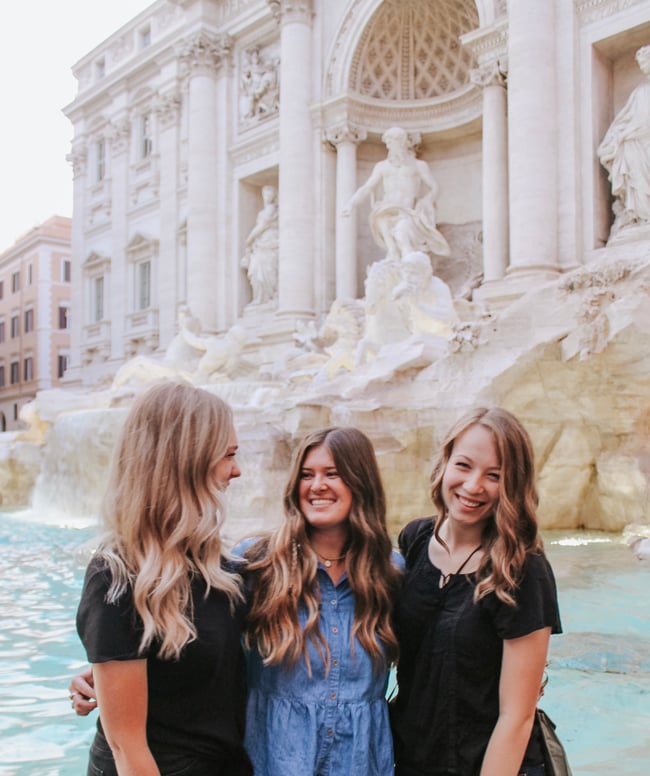 So you have a few days to spend in and around the Eternal City? Don't forget about these incredible day trips that are just a train ride away!
There are very few places that I dream about visiting again as much as I do Rome. It's a city that just has the perfect combo of everything I love about Europe! The history, the landmarks, the street performers. And we can't forget about the pizza, pasta, and gelato, gelato, gelato. Oh, I swoon! There is much about Italy to LOVE, so whether you're visiting during your semester in Europe as a volunteer through International Language Programs, or as a wandering tourist, this blog post is for you!


---
Want more amazing travel tips to help you plan your best adventures?
Trust us, you don't want to miss out.
Sign Up For Adventure Updates
---
While Rome might just be my very favorite city in this fascinating and scrumptious country, there are so many beautiful places not far from Rome that often get overlooked even though they absolutely enhance any traveler's visit to Italy. And the best part...the ones on this list are just a train ride away! So after you make sure you have enough time to explore the Eternal City itself, pick one or two or five and visit a handful of Italy's most priceless gems without ever having to move your luggage from your cutie Airbnb in the heart of Rome.
Our Favorite Daytrips From Rome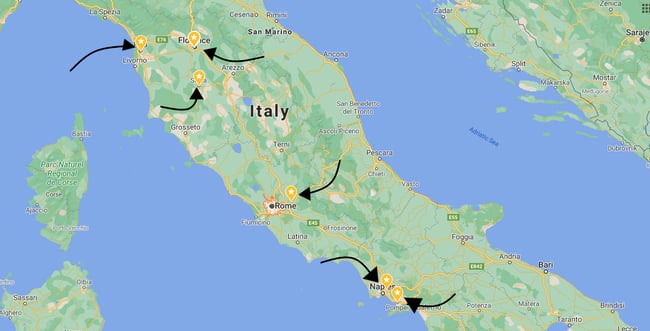 Pisa
Things To Do
While the most popular thing in Pisa is obviously the Leaning Tower, you can't forget about the Cathedral of Santa Maria Assunta, the Baptistry, and the Church of Santa Maria della Spina which you can find on the left bank of the Arno River. You won't need long in this city, just a few hours to enjoy all of the ornate displays of Italian architecture and of course a slice of pizza.
How To Get There
Your trip from Rome to Pisa will take 3-4 hours on the train, depending on which type of train you book. The price of tickets is also quite the range, so plan on paying $30-70 each way. The train stations closest to the Leaning Tower are Pisa San Rossore (for regional trains) and Pisa Centrale. In total, your trip to Pisa could cost anywhere from $80-$150 (including a slice of pizza) depending on how you plan it. Book your tickets here.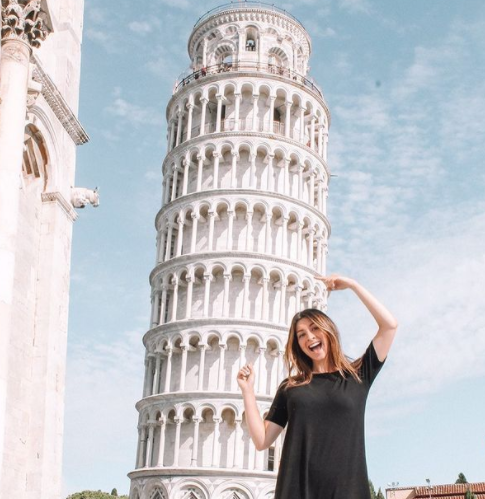 Florence
Things To Do
This is actually one of the places on our list of cities you HAVE to experience in Italy. Florence is just....there aren't words. Of all the daytrips from Rome, this is easily the one that you can spend the most time in. But how to choose what to see if you only have a handful of hours? There's the Uffizi Gallery, Michelangelo's David, the Ponte Vecchio, the Duomo, the Bell Tower...the list goes on. We'll leave those tough decisions to you, but whatever you choose to do, make sure your plans include getting a sandwich at All'antico Vinaio.
Here's our complete guide to Florence!
How To Get There
A train ticket to Florence costs about $50 each way and the station closest to the city center is called the Firenze Santa Maria Novella. But good news—the trip only takes about 1.5 hours! Book your tickets here.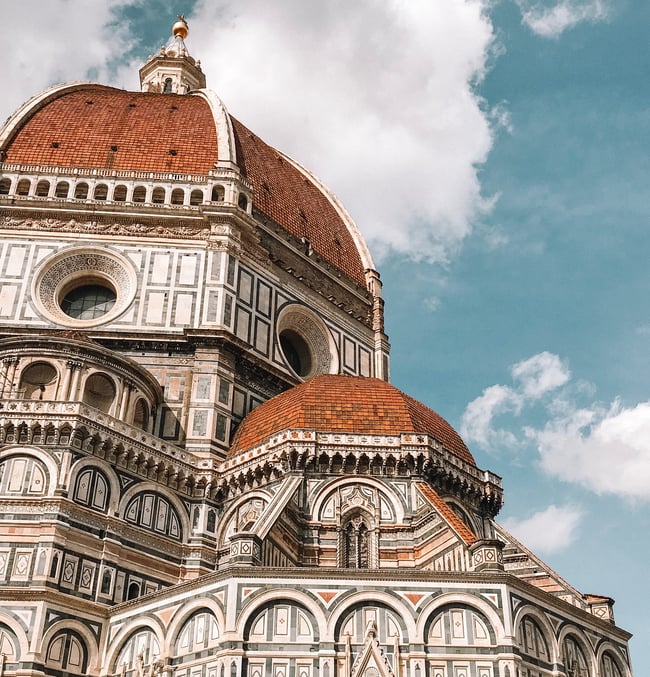 Siena
Things To Do
Chances are you probably haven't heard of this place, right? Well, we honestly can't figure out why it isn't more popular. This stunning Tuscan city will leave you feeling like you just took a giant step back in time! Make sure you stop by the beautiful Piazza del Campo, where Palio di Siena, a historical horse race anticipated by the locals of Siena, is still held twice a year. You also must visit the Cathedral of Santa Maria Assunta, which is covered in white and dark green marbles on both the interior and exterior. Inside you can see artwork created by Italy's beloved masters, including Michelangelo and Donatello. Just get the $20 Opa Si Pass so you can enter the entire Cathedral Complex, including the stunning Piccolomini Library.
How To Get There
It isn't likely that you'll find any trains that go directly from Rome to Siena, and you'll probably have to make at least one connection. The trip will take about 3.5-4 hours total, and similar to Pisa, the cost of a one-way ticket is $25-65. Book your tickets here.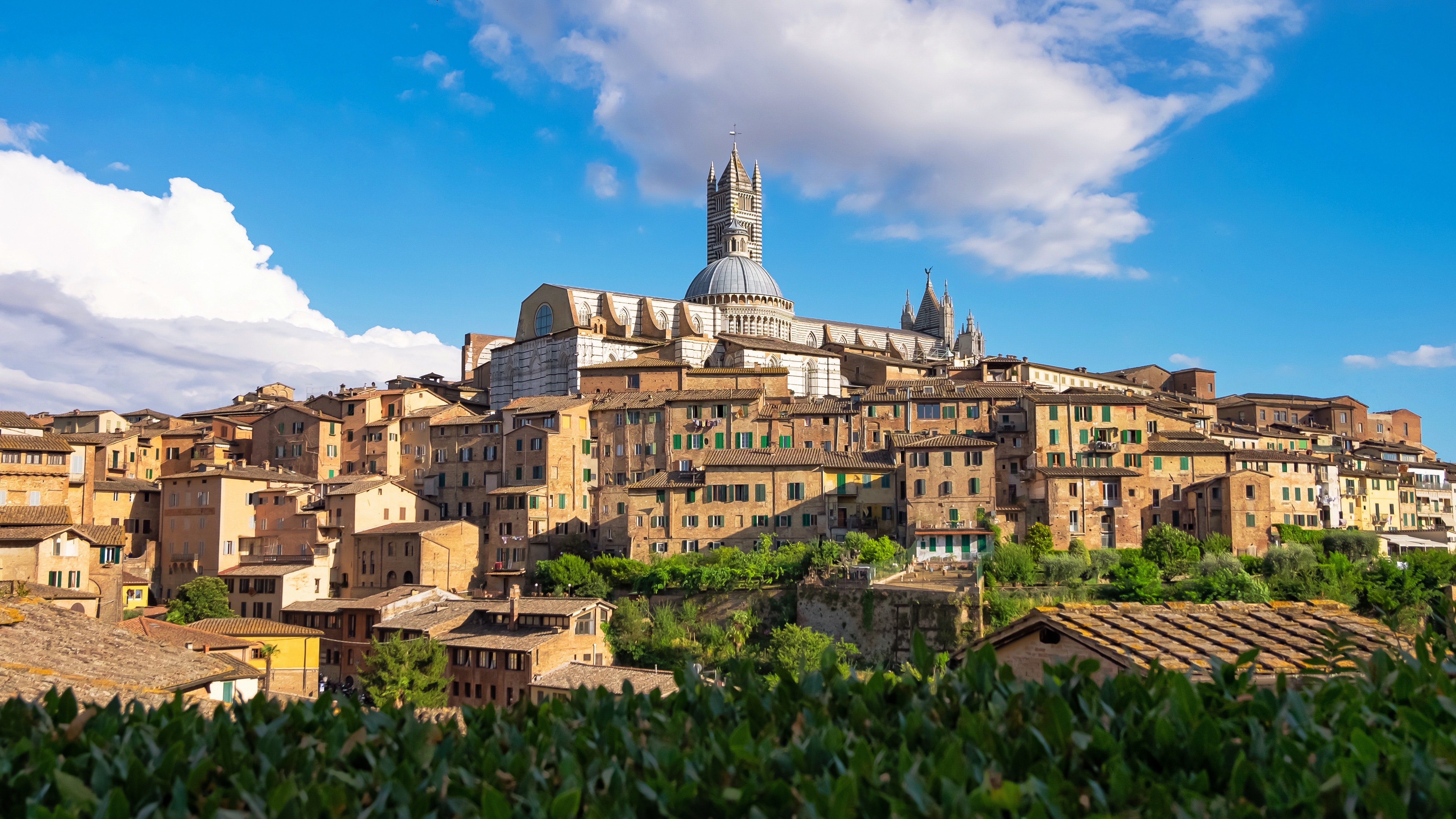 Tivoli
Things To Do
Have you been to the Palace of Versailles in France? Well, think of this as Italy's much smaller and less gold-smothered but equally beautiful version. And since it isn't as popular as Versailles yet, it's way less crowded! Your visit will start inside the Villa d'Este where you'll see stunning, colorful frescoes that depict scenes from both The Old Testament and classical mythology. Then, step outside to see the gardens which are overflowing with statues and intricate fountains, not to mention the views of the Tuscan countryside, which are incomparable! You'll definitely need at least a few hours to to explore everything there is to see here. If you have time, stop over at the Villa Adriana as well—a summer retreat of the ancient Romans.
To view ticket info and operating hours for Villa d'Este, check out this website. For all information about Villa Adriana, check out this website.
How To Get There
The train ride to Tivoli from Rome will take just under 1 hour. But, the tickets are only $4 each way! Once you arrive at the station, the walk to Villa d'Este is well-marked. Chances are almost everyone else on your train will be walking there too. Book your tickets here.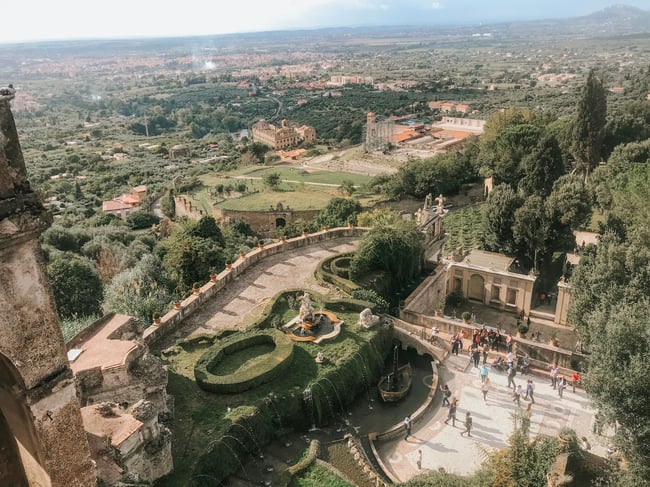 Naples
Things To Do
While traveling to Naples to get some of the very best pizza in Italy is obviously a good reason to visit, there are so many other things to see and do in the vibrant city! Your itinerary should include the marble sculptures at the Cappella Sansevero, the Catacombs of San Gennaro, the collections of antiquities in The Museo Archeologico Nazionale, the Galleria Borbonica (Bourbon Tunnel) which was used as a shelter and emergency hospital during WWII, San Domenico Maggiore, the cloister of the Monastery of Santa Chiara which is covered in lively majolica tiles, and the presepi shops on Via San Gregorio Armeno where you can check out all of the cutest little terracotta figurines. Quite the list!
How To Get There
This train ride from Rome only takes 1-2 hours. The train tickets for the 1-hour trip cost about $50, while the tickets for the 2-hour trip cost about $30 each way. Book your tickets here.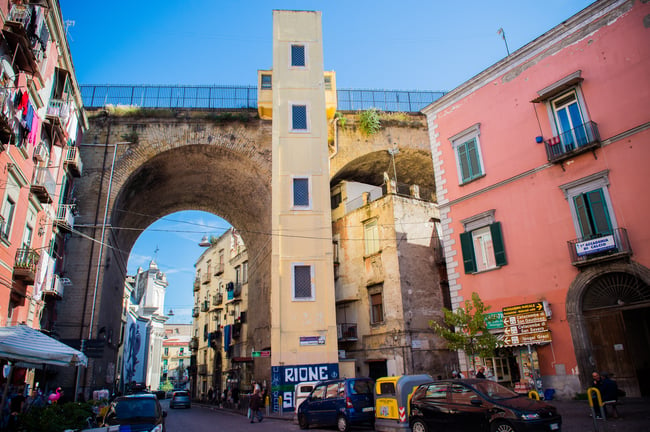 Pompeii
Things To Do
This is easily one of Italy's most popular attractions, probably because of the tragic story of the volcano that brought about the demise of 2,000 people while encasing their city in ash and stone that has survived the stress of time for centuries. Sounds like something worth seeing, right? As you wander through uncovered homes, shops, and public places, you'll get a very realistic idea of what daily life was like for these people. You've got to see the Temple of Jupiter standing on the edge of the Forum, the Stabian Baths, the Temple of Isis, the House of Menander, the Amphitheater, the House of Vettii, the Villa of Mysteries, and so much more.
For information about open hours and tickets, check out this website.
How To Get There
We recommend getting to Pompeii via Naples as there are no direct trains from Rome to Pompeii, but a train ticket from Naples to Pompeii costs less than $5 and the trip takes under an hour. Plus, a stop in Naples gives you an excuse to stop by a pizzeria and get yourself some of that world-famous pizza! Book your tickets here.
If you want to avoid having to figure out public transportation and all of the details yourself, booking a tour of Pompeii from Naples is another great option. You'll pay quite a bit more (about $75 per person), but you'll also get a lot more of the history from a guide who really knows what they're talking about. For a place this fascinating, that is totally worth it!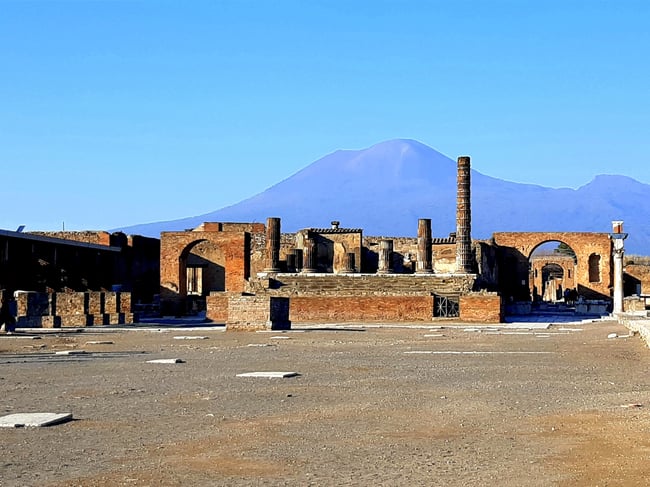 Want to spend a semester abroad as a volunteer but with plenty of time to explore iconic cities like these?
Totally get it! Which is why keeping your weekends free and giving you lots of vacation time is one of ILP's top priorities. We want you to be able to experience so many of the unique places this world has to offer! Wondering if this program is a good fit for you? Click the button below to find out.