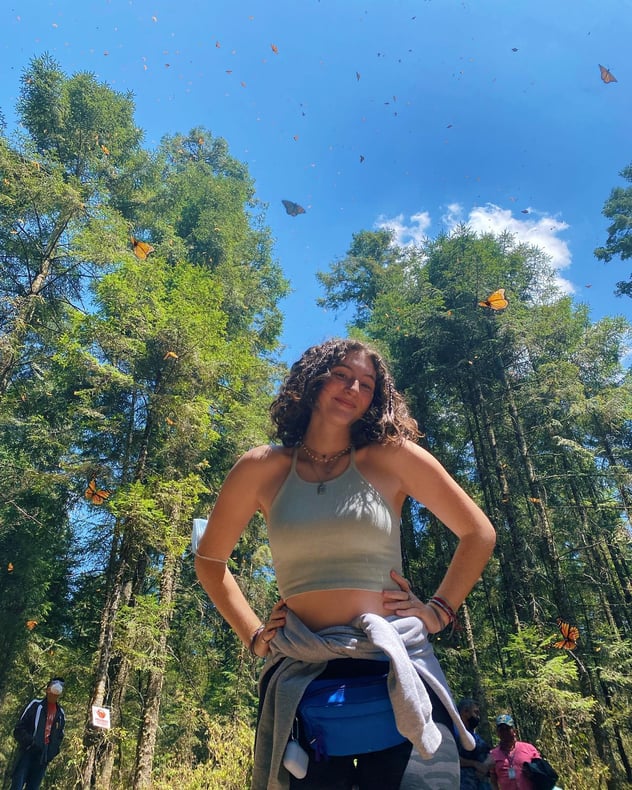 Picture standing in the forests of Mexico, surrounded by millions and millions of golden, Monarch butterflies — then easily make it your reality with all the insider info.
Mexico is the place for anyone with a bucket list. Think about it — in this country, you can not only hold baby sea turtles (cute!) but you can also visit a World Wonder by touring Chichen Itza.
There is crazy inexpensive zip lining plus dreamy beaches to explore and even a canyon full of natural hot springs colored the most impossible shade of turquoise. Plus, you can actually see one of the most amazing experiences that doesn't happen anywhere else in the world; the Monarch butterfly migration!


---
Read Next: The Best Weekend Trips In Mexico
---
Yep, Mexico is home to all of this and more, which is why it's a pretty good place to spend longer than a week or so! ILP volunteers live and teach English part-time in Mexico, which gives you plenty of time to soak up so many adventures ... and we are loving the info we just got back from a group who made the hike to experience millions of butterflies flying around them. So dreamy! Here's all the info you need to make this trip happen for yourself:
Why Is This Migration So Magical?
Where To Go + Stuff To Know
A Little More Info About Two Reserves
Getting Here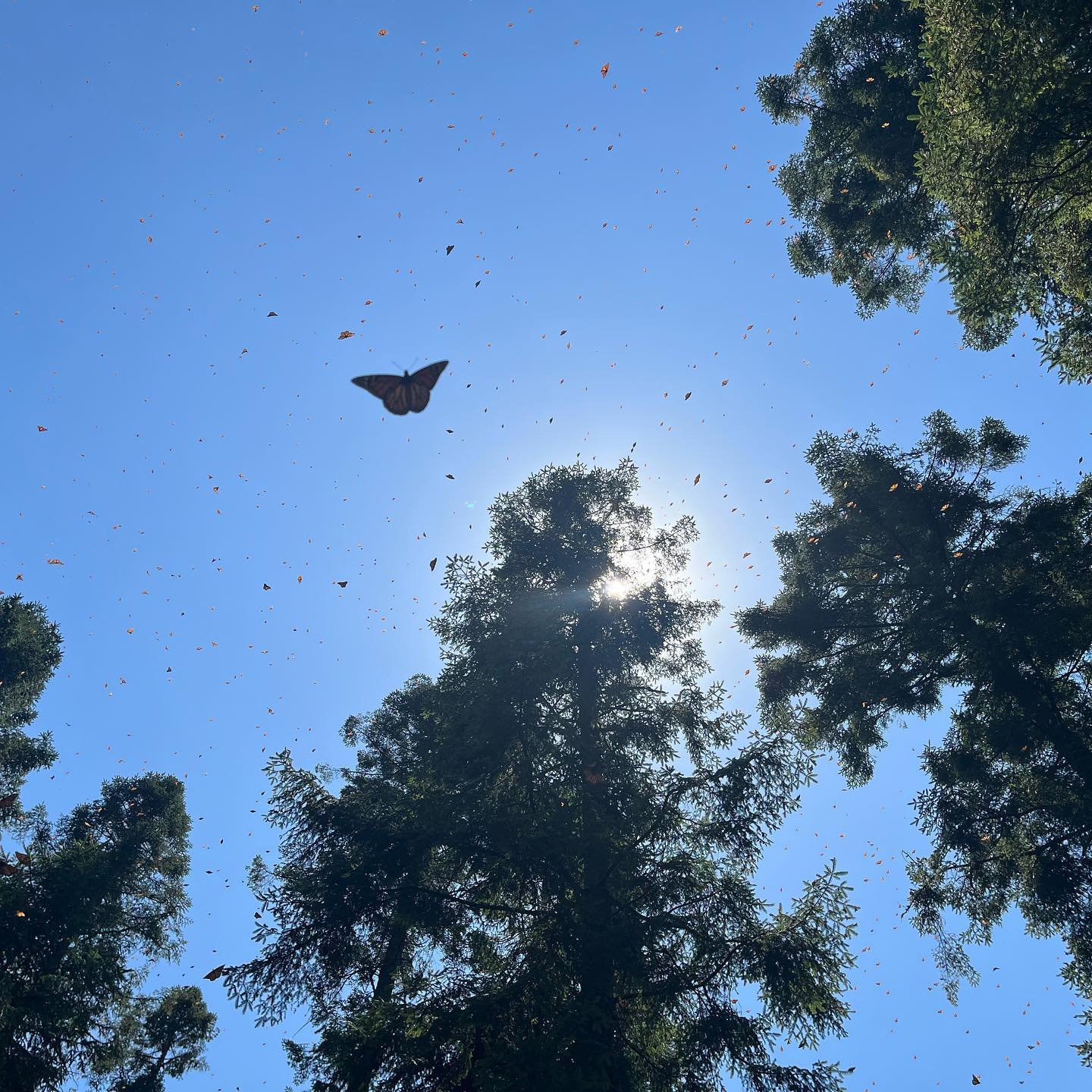 Why Is This Migration So Magical?
So, once a year millions — around 300+ million to be more precise — of Monarch butterflies migrate from Canada and the northern part of the U.S. down to sunny Mexico. These colorful butterflies can fly as much as 50 miles in a single day, just to arrive in Mexico before winter hits. These insects travel in massive colonies across the continent to reach their roosting homes in Mexico.
Around the middle of November of every year, the Monarchs start to arrive (and find their roosting trees in the tall Oyamel fir trees), which are common in this area of Mexico, and will cluster on the tree trunks and branches for the winter. Sometimes, you'll see huge piles of these butterflies (wings closed) all hanging on the branches ... but the real attraction is seeing all of these butterflies flying around!
If you head to the mystical mountains of Central Mexico, you can stand in the middle of a massive swirl of orange, completely surrounded by these beauties. It's amazingly magical, especially when you find thousands and thousands of butterflies hanging out on tree branches or create a colorful blanket of orange, black, and white on the ground.
At the end of the spring season, the butterflies rely on warmer air currents to help them make the migration back to North America. What's even more fascinating is the life cycle of these insects: because the lifespan on the average Monarch is 3-4 weeks, it will take multiple generations of butterflies to make the round trip journey. However, there is a unique "Methuselah" generation that can live up to 9 months — once they arrive in Mexico in November, they rest in Mexico, then make the journey north along with the butterflies who were hatched in Mexico (and have never made the long journey).
Some Important Stuff to Know To Help You Plan
Where Do I Go?
Morelia is the biggest city next to the butterfly reserve, just a couple hours drive west of Mexico City. Depending on which reserve you want to visit, either Mexico City or Morelia should be your jumping off point. We have some more info on how to get to Morelia and other transportation details below, but here's more info about the actual reserves.
There are several butterfly reserves in this area of Michoacán, with three or four or five (depending on who you ask) open to the public. Here are the most commonly talked about:
Rosario Sanctuary




Sierra Chincua Sanctuary

Cerro Pelón Sanctuary
Piedra Herrada
La Mesa

Most tourists tend to visit El Rosario (which is the most popular) or Sierra Chincua — we have info about these two below.

When Does This Happen? When Should I Visit?
The best time to see the butterflies is between late January and the end of March — the butterflies are there from mid-November, but the weather is a bit warmer in February and March — the butterflies flutter more when it's sunny out. As the weather starts to warm up, the butterflies hang out lower in the mountain, so you'll need to hike higher during the colder months (November to January).
Some recommend visiting in the later morning or early afternoon (and on a sunny day, if you can arrange that). The butterflies are rather static if it's colder out, so it's best to visit when it's warmer.
Something to note? Even in Mexico it gets chilly in the high altitude so pack a jacket (and a few other layers). It'll feel particularly chilly because these cuties hang out in the shade, and take flight when the sun shines.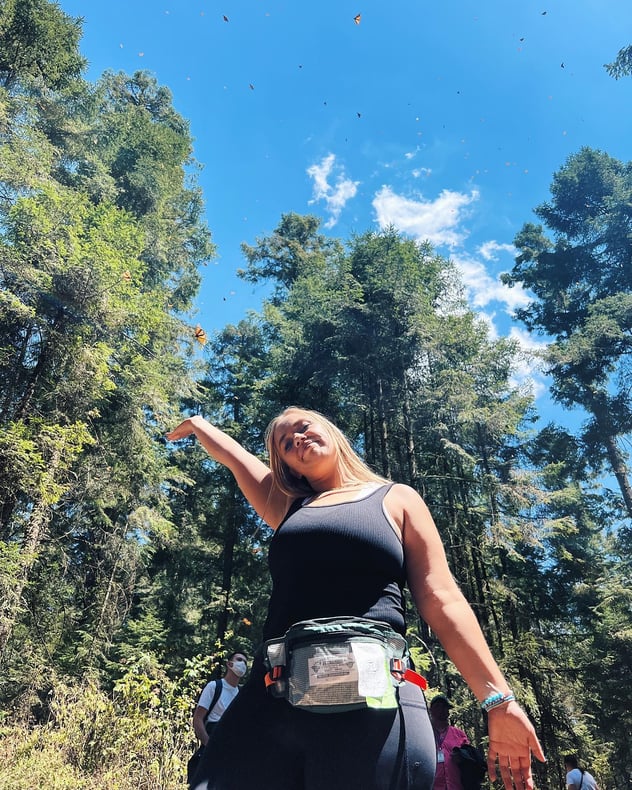 A Little More Info About Two Reserves
Like we mentioned, most tourists tend to visit El Rosario (which is the most popular) or Sierra Chincua, but we wanted to give some more detail and context about these two reserves so you can make the best decision for your visit (or decide to visit the others listed above):
El Rosario
El Rosario is the most popular sanctuary to visit. Visitors to this sanctuary mention that it's fairly well organized, with paths around the sanctuary that are clearly laid out — there's no need for a guide to help you get up to the main viewing platform. You're first greeted by a big welcome center where there are vendors selling souvenirs, advertising for restaurants, etc. There isn't much English available, just as an FYI.
It is a hike through the forest to get up there (some quote about 2+ miles) and it does involve some uneven terrain like stairs and tangled tree roots (in high elevation) so budget plenty of time to make the hike up. Some visitors recommended 30-45 minutes on the stairs, then about 15-25 minutes to navigate the last portion, which has the tree roots and a rocky dirt path. If you'd rather, you can pay 150 pesos (300 roundtrip) to make the hike on horseback, which takes you about 3/4 of the way up.
The uphill hike is beautiful, through these very tall and skinny trees — when you get closer, be sure to stay quiet to not disrupt the butterflies.
Cost: 80 pesos to enter, 150 pesos to ride a horse most of the way.
Sierra Chincua
This reserve is a bit more rugged and less developed than El Rosario, but you'll still find some gift shops and restaurants at the entrance. (If you're getting hungry, there are some food stands selling blue corn tortilla quesadillas that are yummy!)
Like the other sanctuary, visitors mention that you can hire guides, but the paths are pretty well organized, and many thought it was clear as to where to hike if you'd rather save some pesos and do it yourself. However, many mention that their guides were able to give some info and background about the Monarch migration, the local plans in the area, and other sites along the hike.
The hike up here is quite steep — a winding trail that goes uphill, downhill, and through the forest on a dirt (and sometimes rocky) path, so make sure you're prepared with the right shoes and the high elevation. Most said the hike took around 30-45 minutes, then it's around a 15-minute hike to the trees where the butterfly colonies typically like to hang out.

Cost: 80 pesos to enter, 200 pesos to ride a horse most of the way.
+ A Few General Tips
We've mentioned the weather and butterfly activity (best to visit when warm and sunny, towards the end of February and in March, if you can), but there are some other general tips to know before visiting any sanctuary.

It does tend to get busy on the weekends: if you're visiting on a Saturday or Sunday, be prepared for some crowds at the viewing areas and the hike up and down. If you can swing a weekday visit, you'll run into less visitors.

There will be a hike up to the best viewing areas, so please be prepared for the high elevation: bring lots of water and take your time if you need.

Watch your step while hiking. These butterflies sometimes stay low to the ground and you'll want to be aware to not crush any resting butterflies as you make your way up, down, and around the foresty areas.
Be mindful of your volume. You may be asked to stay quiet to not disrupt the butterflies, or limit your viewing for 15-20 minutes. Don't touch any of the butterflies.
Bring binoculars. Some visitors mention it's helpful to have a pair of binoculars to see some of the butterflies that are further away.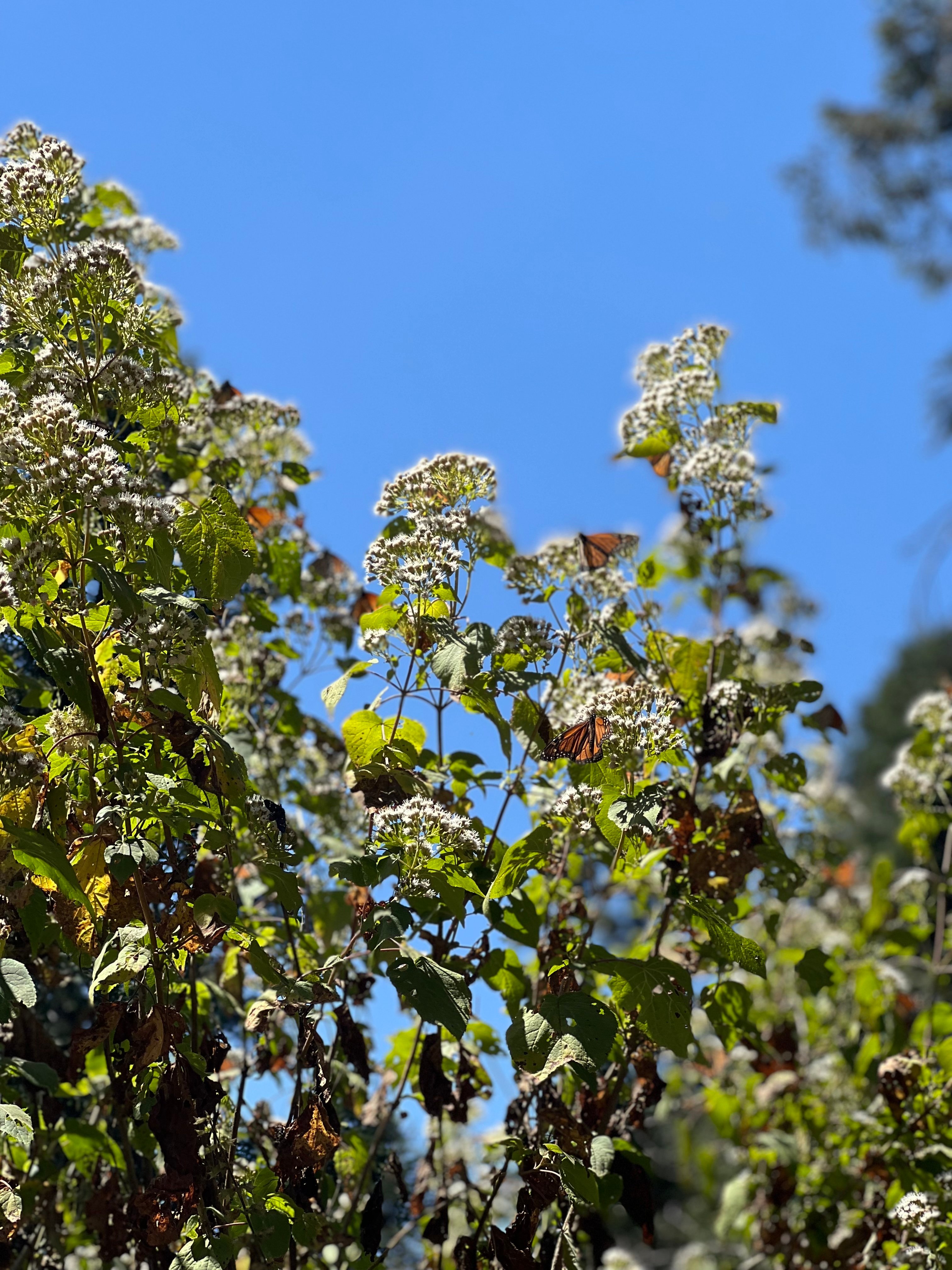 How Do I Get There?
Morelia and Mexico city are the best jumping off points. Plus, the city of Morelia boasts some gorgeous colonial architecture. You can also stay in Angangueo; a sleepy little city that's close to the Sierra Chincua and the El Rosario sanctuaries, but we are really big fans of Morelia.
We've had groups travel from wherever they're at in Mexico to Morelia first, (or sometimes Mexico City, then Morelia) all by bus. Then, you can get to the littler cities by bus or taxi, and reach the trailhead of your sanctuary. Here are some more instructions based on the sanctuary you're wanting to visit.


Get To El Rosario Sanctuary
First, decide whether you're staring in Mexico City, or Morelia.

From Mexico City, you'll want to get on a direct bus to Angangueo. It's about a 4-hour bus ride. From Angangueo, you'll need to take a local bus (ask around) or a taxi a bit south, to reach the trailhead of El Rosario Butterfly Sanctuary.

If you're starting in Morelia (we love all the things to do in Morelia), you'll want to get a direct bus to Zitácuaro, about a 3-hour ride. From then, hop on a local bus to get you to the small town of Ocampo (or you can take a local cab). The bus takes about 15 minutes and will cost $0.50, then another bus to El Rosario (30 minutes, $1). Both buses run hourly. You might also be able to take a truck (camioneta) straight to the reserves — about $32 for a group of 10 (so grab your ILP group and split the cost). Other visitors mention that you can take a combi to the entrance for about 50 pesos for the 30-minute drive.
It may be helpful to stay in Angangueo overnight to get some more details about transportation the next morning from your accommodations, or you can stay overnight in Morelia. We've had ILP groups stay at La Casa Azul if that's helpful to know.
+ Info About Tour Options
You can often find daily tours from Morelia which will handle your transportation. There are also tour operators that have you staying overnight in Angangueo, so that's something to consider.
Mich Mex Guides are a popular tour option that past ILP volunteers have opted to go with who can take you to the butterflies for about $800 pesos. According to one volunteer, "It was an amazing experience and I highly recommend it!" if you're looking for a recommendation, there are few to consider.

You can also find tour options around town if you prefer to book in person once you arrive in Morelia.
Get To Sierra Chincua Reserve
Again, decide to start in Mexico City or Morelia. In any case, you'll want to get to Angangueo — the butterfly reserve is about five miles north of Angangueo. Once there, you'll need to take a local bus headed to Tlalpujahua, or take a local cab from Angangueo to the trailhead (plan on about $10-$15 each way, for the 30-minute drive).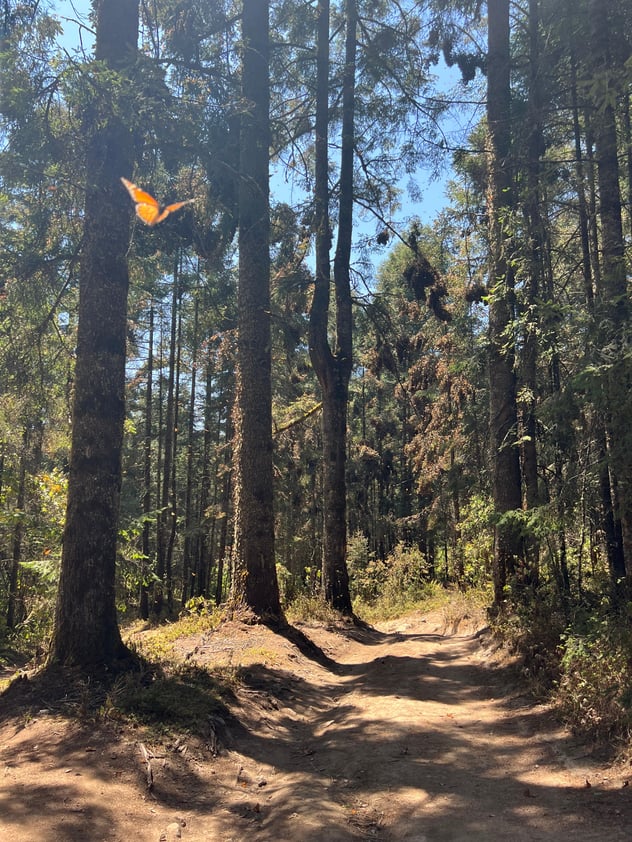 Come on adventures like this on a semester abroad
From butterflies to beaches, you really have it all in Mexico. And it's really a country you've got to experience for a semester, rather than just a short vacation there. Plan on seeing it all, experiencing the culture, and eating tons of tacos on an ILP semester in Mexico. You'll join a group of other American volunteers to have built in travel buddies.