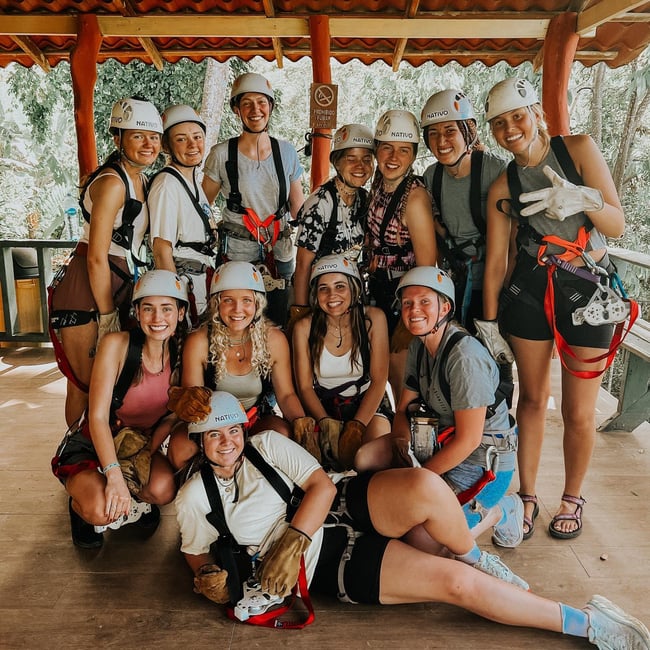 It's not a secret that Costa Rica is insanely gorgeous, but some of the best places to zip line might be a little hidden.
Trekking through the jungle and exploring is one of the best parts about Costa Rica. And one of our very favorite ways to soak in all of that lush jungle is by zip lining. Imagine seeing miles and miles of forest around you on a canopy tour, zipping by on a zip line! It's something you're likely to never forget, especially if you visit the best places to zip line in Costa Rica.


---
READ NEXT: Volunteer in Costa Rica and spend your days adventuring and teaching English in this humanitarian program.
---

Now that it's decided you're 100% going to go ziplining in Costa Rica, the question is where? Our volunteer groups typically only go ziplining once during their semester, so we've put together this list with recommendations from our alumni to help you handpick your preferred experience!
Where Should I Zip Line In Costa Rica?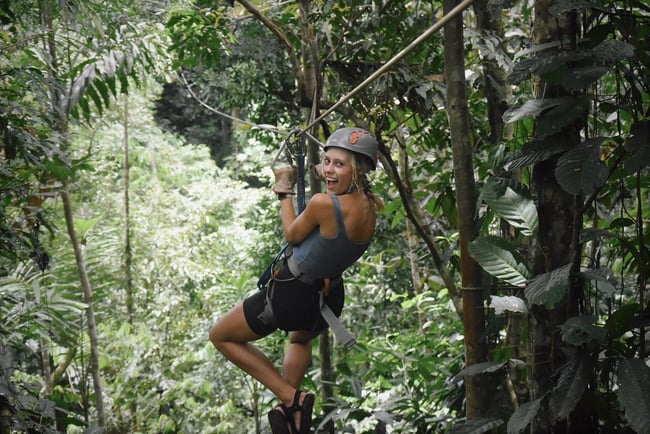 Southeastern Costa Rica
This zip line sits just north of the Panamanian border and just west of some of our favorite beaches on the Caribbean coast. So if you're hanging around spots like Cahuita, Playa Cocles, and the Bri Bri Waterfall, you might want to tack this adventure on to your trip.
One ILP group recently went with a local company called Nativo and they loved it! They said that the company organized transportation for them and that the staff was super fun! This experience includes about 18 ziplines, a "Tarzan" swing, and the option to try a Superman cable (for a little extra cost), and they were even served some fresh fruit before the trip. All of this comes to about $50 USD per person!
Check out their website here.
Monteverde
Now we're jumping over to nearly the opposite side of the country. Monteverde sits in the northwest, tucked deep in the jungles that are so iconic to Costa Rica.
The Monteverde area itself is a favorite destination in Costa Rica — it includes some surrounding towns plus an expansive and lush forest crammed full of towering treetops, suspended bridges that skim the skies and allow you to see the "Cloud Forest", spectacular hikes, zooming zip lines, hidden waterfalls, jungle adventures, 500 kinds of orchids, and some of your favorite tropical animals, like jaguars, parrots and sloths. It's really one of those more famous places in Costa Rica. You can't go wrong here.
But when it comes to zip lining, it's a fan favorite. Nearly all of our volunteer groups mention seeing this part of the country via zip line. There are tons of tour companies out there, but 100% Adventura is a popular one many of our volunteers book with. The experience is about 3 hours long and perks include:
The longest zip line in Costa Rica

The "Tarzan" swing

2 "Superman style" ziplines

Hammock bridges

all for about $60.
Another company that some of our volunteers have gone with in Monteverde is the Extreme Canopy Park! This tour includes options for transportation and of course, a Tarzan swing! It only costs about $50-55 for the whole tour.
Planning a trip to Monteverde? We've written a post with all the tips we've collected from ILP volunteers who've been — Learn more about your trip to Monteverede.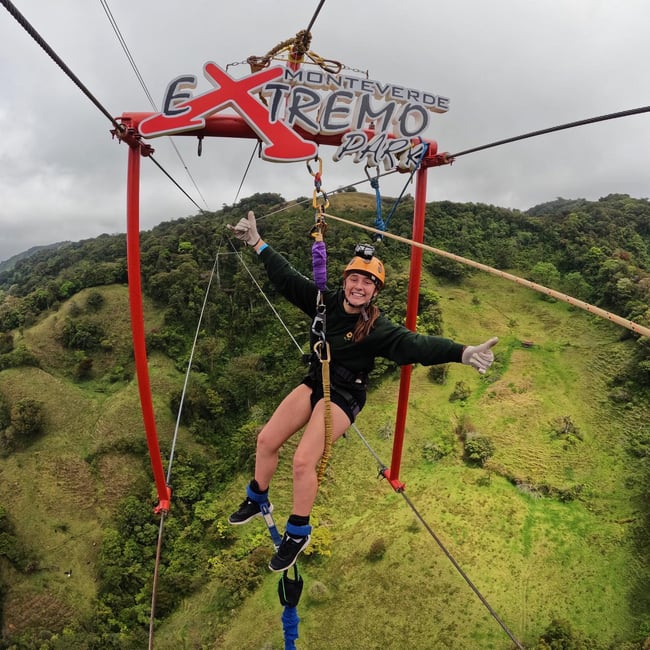 Arenal Volcano Zip Line
Not too far from Monteverde is an oh so famous volcano. There are several volcanoes in this part of the country, but the Arenal Volcano is a must-see while in Costa Rica ... and we especially love that you can see it by zip line!
For this zip line, you will take a tram up to the top platform and soar down from there. Keep your eyes peeled for monkeys and birds as you zoom through the trees!
Here's all the info you need to book your tour.
Price: $81 — bring your student ID for a discount, lowering the price to about $67
Superman Zip Line in Guanacaste
Way up in the northwest corner of Costa Rica sits the town of Matapalo in the state of Guanacaste ... home to this zip line adventure!
Here you can actually snag a view of the beach and that stunning Pacific coastline from the skies. It's also a little more unique because you're strapped in on your stomach, letting you soar "Superman" style! You're going to love it.
Here's the info to book the tour.
Price: $78
Rincon de la Vieja Volcano
Here's another option, way up in the northwestern corner for those who are in the Liberia area of Guanacaste.
We've had volunteer groups pack all sorts of adventures into a single day with this tour company — it offers so many activities in one adventure-packed day!
First, you'll tackle the ziplining, then move on to white water rafting, before finishing with a horseback ride at the hot springs. If you want an all-day experience seeing some of the best of Costa Rica, this is a goodie!
The zip lining course is a combo between canopy lines and canyon routes, where you'll zoom between a canyon over a coursing river. There's a mix of zip line cable lines, hanging bridges, and platforms in this course (which also includes a Tarzan swing).

$150 for a full-day of adventures.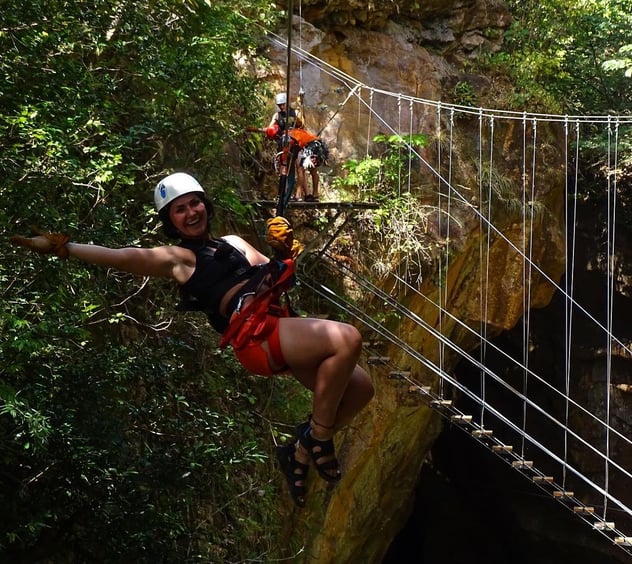 Jaco Rainforest Aerial Tram
Staying on the Pacific coast, we'll head down to Jaco. It's no surprise that again, this is an area that's a favorite to see for many activities.
And this isn't necessarily a zipline, but another adventure that's a little slower paced, but still gives those incredible views from the sky.
If you're looking for a canopy tour on the Pacific coast — head to Jaco! You sit down in a tram with your group and glide through the treetops with a guide teaching you all about the animals and history of the area. This spot is also near the coast so it makes for a fun weekend trip where you can head into the jungle after a day relaxing on the beach.
Here's the website with more info.
Price: $65 (there is usually a 10% discount code posted online).
Manuel Antonio Canopy Safari Zip Line
Just a bit further south down the coast from Jaco is Manuel Antonio, one of the most popular national parks in Costa Rica. And you guessed it ... you can zip line here!
If you're looking for something a bit more thrilling take a look at the Tarzan Swing, 11 zip lines, repelling, white water rafting, and suspension bridge. You're sure to get your heart rate up. Manuel Antonio is a spot you'll want to explore regardless of how much you want to zip line. It's a must-see place!
All the info you need is right here.
Price: The five hour zip line tour and breakfast will cost you $85 dollars. There are a lot of different packages you can get so check out their website.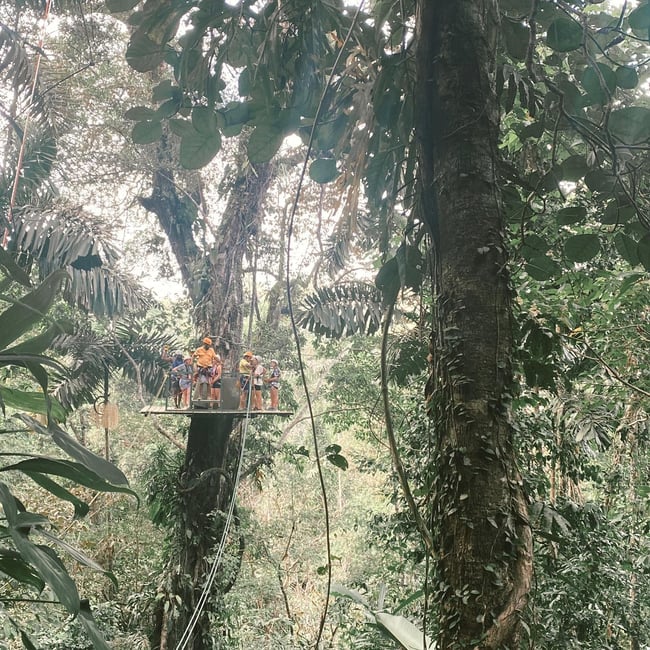 Hacienda Pozo Azul Canopy Zip Line
If you're in central Costa Rica, like around the San Jose area, this one's in reach. It sits just outside the town of La Virgen de Sarapiquí.
This course has nine zip lines and goes over a river canyon which gives you super cool views- oh and it's 90 feet in the air! Grab your ILP group and go because you'll looove this place.
Here's their website for more info!
Price: $56

Ready to really experience this country?
Volunteer with ILP for a semester abroad, make a difference, and travel to see all of this amazing country. ILP (International Language Programs) has years of experience sending college-aged volunteers abroad to teach English and travel the world.