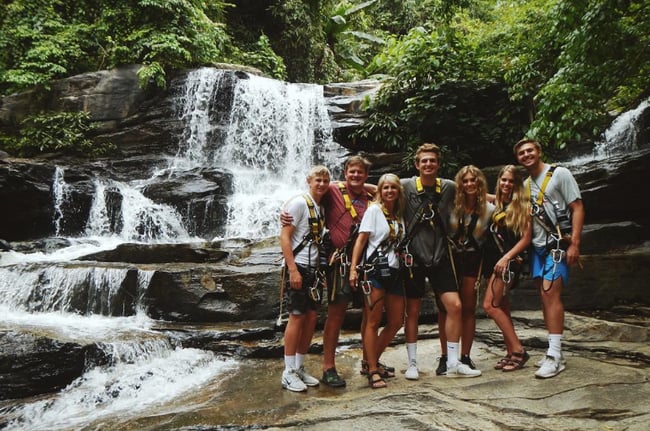 Visiting your volunteer in Thailand? Here's a list of recommended hotels all over popular places in Thailand, just perfect for a family stay!
Thailand is an especially fun country to explore because of the diversity of activities, temples, and beaches you can experience! Every city holds unique surprises and the people are some of the friendliest in the world! You'll probably notice the minute you step off the plane that there's a reason they call it the "Land of Smiles".


---
Worried about your volunteer living in a different country? Read this:
8 Ways ILP Takes Care of Their Volunteers
---

Your volunteer will be a great tour guide since they've been living in Thailand like a local. But chances are they've been staying in hostels that are great for young adult travelers, but not always the most comfortable for families. In order to help you plan the perfect family vacation, we've put together a list of some of our favorite, family-friendly, comfortable hotels all around this magical country!
Make sure you also check out our Thailand Destination Guide to find out more about the places you cannot miss!
Hotels in Thailand
Bangkok
The Islands
Chiang Mai
Chiang Rai
Phitsanulak
Hua Hin
Airbnbs
Bangkok
Since the capital of Thailand is such a tourist and business hub, most of the prices will be similar to those in the USA. But some of the city-views from pool overlooks and just the fact you'll be staying in Bangkok is not an experience you can get in the USA, so we definitely recommend spending a good 24 hours here!
Make sure you also check out what we suggest from an awesome weekend itinerary and some of the do's and don'ts to be aware of as a tourist in this colorful city!
Novotel Hotel
The convenience is the thing we love here, located right at the international airport. After a long flight from America, this is a perfect place to rest up before adventuring Thailand.
It is just a very short distance away through a skywalk from the terminal of the BKK airport. In fact, you don't even have to go outside the airport to get there since it's an indoor walkway. It's a beautiful hotel and they speak English.
Book your stay here!
Address: 999 Suvarnabhumi Nongprue, Bang Phli, Samut Prakan 10540, Thailand
Centre Point Hotel Pratunam
There are a couple of Centre Point hotels in Bangkok, and they all have very high ratings. This one is a little farther from the airport, but closer to the center of the city. Their facilities include a saltwater swimming pool, jacuzzi, sauna, fitness room, and a reading room. They are also walking distance from tons of fun restaurants!
Book your stay here!
Address: No.6, Soi Petchburi 15, Petchburi Rd., Rajtaewee, Bangkok 10400 Thailand
You know those hotels with the rooftop pools? Scroll down to the bottom of this post to see our favorites in Bangkok!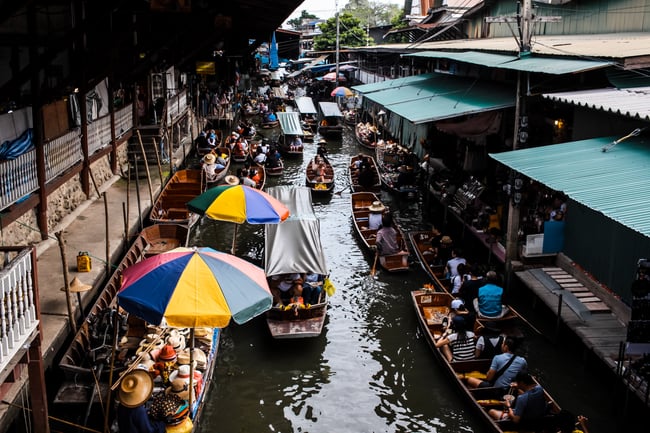 The Islands
With some of the best and most popular beaches in the world, this is THE place to visit if you're up for either relaxing on the sand with warm water licking your toes, or real ocean adventures like snorkeling with all the little fishies. Either way you'll see pretty quickly why this is such a popular place for tourists all year round.
Make sure you read through this guide for starting your vacation in the islands!
Wake Up
Just a six-minute walk from Ao Nang beach, this hotel is surrounded by mountains and totally budget-friendly for the quality you're getting. With free wifi, an airport shuttle (for additional charge), on-site restaurant, free parking, and luggage storage, Wake Up provides a clean and comfortable stay for your family.
Each room sleeps two people and depending on the time of year it will cost you about $80 per room. Book your stay here.
Address: 121/2 ,T A.Muang, 81180, Ao Nang, Mueang Krabi District, Krabi, Thailand
Beachside Cottages (MaiKhao Residence)
Check out these cutie little beach houses that are only 15 minutes away from the Phuket airport! You'll be paying about $100 a night for this tiny square house that includes 1 bedroom, 1 bathroom, a sitting area, and a kitchen. It's a short walk from the beach and the facilities include wifi and bicycles for guests to use! The area is quiet and you'll be just far enough away from the loud tourist hubs to really be able to enjoy a peaceful experience.
Book your stay here!
Address: 149/9 maikhao residence Maikhao Soi 8 MaiKhao Thalang, 83110 Mai Khao Beach, Thailand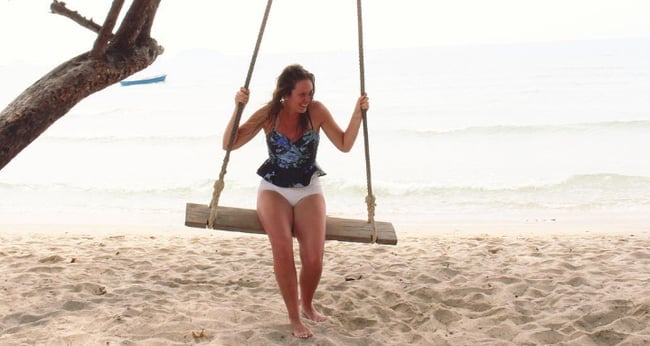 Chiang Mai
With so much to do in this popular city, it's a place you cannot miss! Temples, a waterfall that isn't slippery when wet, $6 massages, elephant experiences, ziplining, the night markets, and so much more make Chiang Mai a favorite for everyone.
Here's our how-to for visiting the vibrant Chiang Mai that's just as fun in the daytime as it is at night!
BED Chiang Mai Gate Hotel
Complimentary breakfast included with your stay here, plus wifi and a huge pool! The location is a winner and a short walk from many popular tourist spots. Heads up, this hotel will only allow adults to stay as guests.
Book your stay here!
Address: 9 ถนน Suriyawong 1 Alley, Tambon Hai Ya, Amphoe Mueang Chiang Mai, Chang Wat Chiang Mai 50100, Thailand
Rainforest Boutique Hotel
As a Trip Advisor's recipient of the 2018 "Certificate of Excellence", you know this place has got to be good. Just far enough away from the city to provide a peaceful escape, the two large swimming pools and surrounding gardens turn it into a paradise. And you'll also get to dine in their open-air restaurant!
Book your stay here!
Address: 23/1 ถนน เจริญเมือง ซอย 5 ตำบล ท่าศาลา Mueang Chiang Mai District, Chiang Mai 50000, Thailand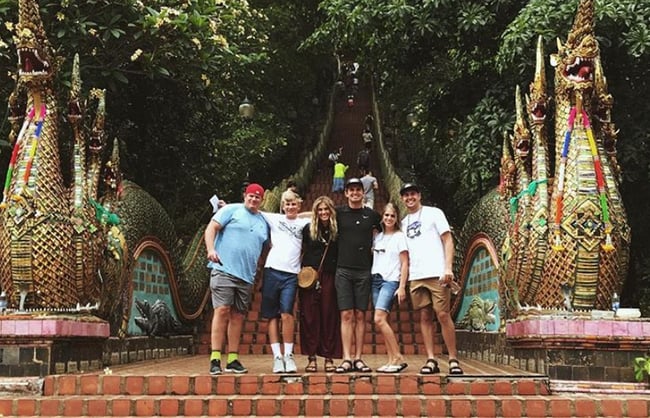 Chiang Rai
Just a three hour drive away from Chiang Mai, this is also a beautiful city and one we highly recommend! The black, white, and blue temples are some of our favorites! And don't miss out on the Golden Triangle, an overlook where you can see the borders of 3 countries (sometimes four if the sky is clear).
Here's everything you need to know about exploring this city of temples!
Laluna Hotel and Resort
Known as the "Urban Oasis", any vacation spent here would be very memorable. This collection of bungalows is hidden among tropical gardens surrounding a huge pool and jacuzzi, and it's only a few minutes outside of the center of town. It also includes wifi, a few places to eat, and you can hire private transportation to surrounding areas. And all of that for less than $100 a night! Win, win, win!
Book your stay here!
Address: 160 หมู่ที่ 4 Sanambin Rd, ตำบล รอบเวียง อำเภอ เมืองเชียงราย Chang Wat Chiang Rai 57000, Thailand
Grand Vista Hotel
Another beautiful spot, this hotel includes a spa and a whole variety of rooms to choose from! It's less than two miles from the center of Chiang Rai which would be a quick trip by tuk tuk. The whole place is very modern and luxurious!
Book your stay here!
Address: 185 Moo.25, T.Robwiang, A.Muang Chiangrai, 57000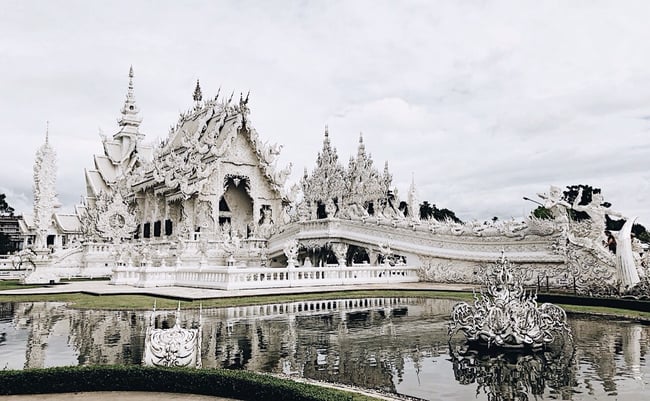 Phitsanulok
This city (pronounced peace-on-a-log) is in central Thailand and not a popular spot for foreigners. But it is a great spot to stay when visiting your ILP volunteer! Two ILP groups call Phitsanulok home while the 3rd group is just a 45 minute train ride away in a small town. You might even be able to meet the cute kids your volunteer has been teaching throughout the semester!
Hansanan Hotel
Even though you'll only be paying about $30 to spend a night here, you'll still get free wifi and a very comfortable bed! You'll also have a private bathroom (which is almost never the case at hostels) and may even get a balcony. And obviously you cannot beat that price!
Book your stay here!
Address: Ban Khlong, Mueang Phitsanulok District, Phitsanulok 65000, Thailand
Pattara Resort and Spa
As a place that's actually really popular as a "stay-cation" for our volunteers, we have to give it 5 stars! And if you're wanting a resort stay, this place is for you! There is an on-site restaurant, spa, swimming pool, library, and complimentary wifi! Plus, staying here will only cost you about $75 a night. So much cheaper than anything you could find for this same quality in the USA!
Book your stay here!
Address: 349/40 ถนนไชยานุภาพ เมือง Phitsanulok 65000, Thailand
Hua Hin
This beach resort city is one that most of our volunteers don't even know about. It's a common vacation spot for locals, Australians, and Europeans, plus it's the perfect place to spend your last couple of days relaxing before heading home since it's only about a 2 1/2 hour drive from Bangkok. Expect to pay what you would in other major tourist cities.
Make sure you check out the themed shopping areas/amusement parks where you can spend the day walking through Santorini, Greece and Venice, Italy.
My Resort
All the stars for this family resort! The rooms are white and bright, it has about 8 long pools and a kids' area, the on-site cafe is scrumptious, and it's a short walk from the beach. Their services include free wifi and a fitness center. You will pay about $130 for a 4-person room.
Book your stay here!
Address: 1/83 Nong Kae-Takiap, Tambon Nong Kae, Amphoe Hua Hin, Chang Wat Prachuap Khiri Khan 77110, Thailand
Visit this site to see the top 10 most affordable hotels in Hua Hin! All of these hotels are be-you-ti-ful and the hardest part will just be choosing which one!!
AirBnbs
We've got to leave a little note for Airbnbs because they are GOLD when traveling! And so cheap in Thailand. Sometimes the hosts will help you get to and from the airport, give you tips about the best places to see in their city, and even leave little snacks for you to enjoy.
When looking for an Airbnb, check the location on the map to make sure it's convenient and close to what you want to see, especially if you are relying on public transportation. Make sure you check to see what amenities are included (especially wifi), the sleeping arrangements, and read the reviews from past guests. Superhosts are those who are top rated for giving exceptional service to their guests.
Go here to explore all of your options! Here's a great example of a really good one for 5 people in Chiang Mai!
Check out this website for even more great suggestions of the top hotels to stay at in Thailand! This list includes everything from 5-star favorites to budget-friendly options!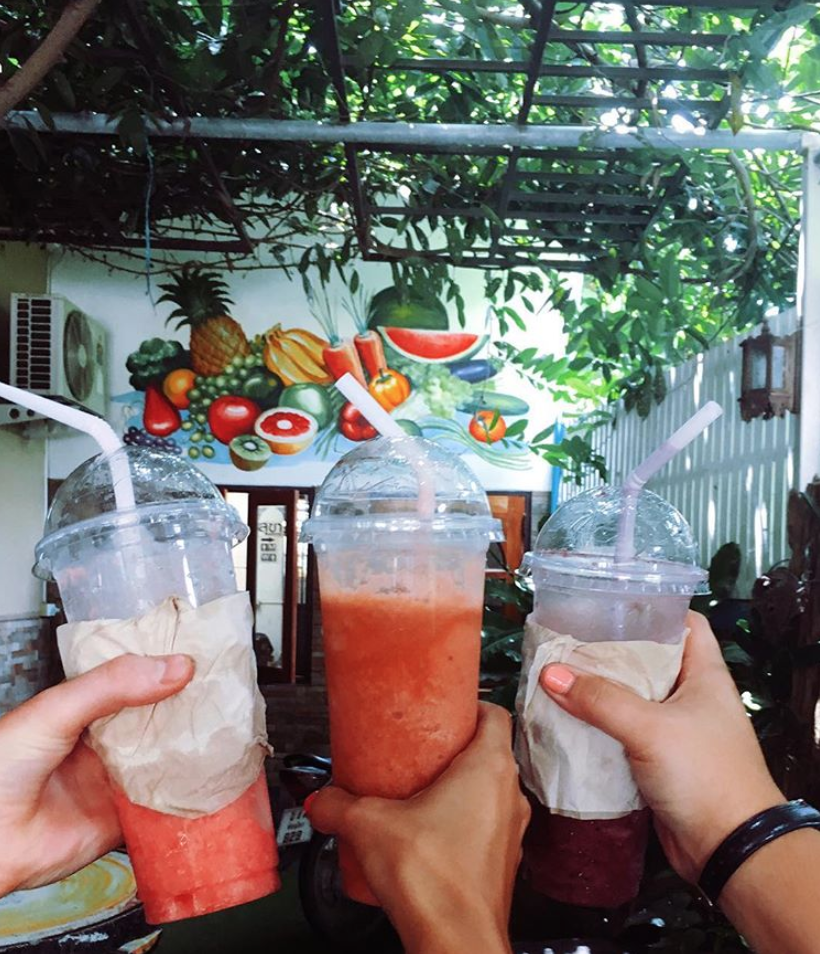 Want to talk to someone who has volunteered in Thailand?

Curious to know a little bit more about what living in Thailand is actually like for your volunteer? Click on the button below to talk with someone who as already experienced it!